Gutenberg is the all-new revolutionary editor in the WordPress world that has elicited a different kind of reactions. This blog post will dig in into Gutenberg, how to use this powerful software to continue publishing attention-grabbing content to keep your readers informed, why it is important to have a WordPress theme compatible with Gutenberg and which are the best Nonprofit Gutenberg WordPress themes. By choosing a WordPress theme that specifically provides Gutenberg compatibility, you will enjoy a host of benefits. Here at WPlook Themes, we have the best Gutenberg ready themes in the market!

What Is Gutenberg?

Simply put, Gutenberg is the new way to edit WordPress content. It is a replacement to WP TinyMCE post content editor that has served millions of WordPress users over the years. Gutenberg has changed WordPress' editing experience by migrating to a block-based system to give you full site customization. Blocks are typically pre-constructed modules that let you lay out your content consistently and clearly.

The new editor is a significant change that affects theme designers, developers, and website creators. It was meant to eliminate the need for page builders by creating a single unified method for generating more complex post layouts. The blocks let you intuitively create more complex designs than those allowed in the TinyMCE editor. Each block possesses its entity you can control to your liking. You can add blocks for video embeds, regular text, buttons, tables, images, columns, and widgets.

Pros of Using Gutenberg WordPress Editor:
The editor offers a less distracting experience with wider screen space.
Has a minimal design with all the essential tools for crafting engaging and interactive content.
Beginner friendly.
Works well across all many devices including mobile devices.
Allows you to generate your own custom blocks.
The new alignment options make Gutenberg fit for larger resolution screens.
Opens up the possibility of merging the many parts of the website building process.
We recommend you to choose a theme that supports Gutenberg. Here you can find the best Gutenberg WordPress themes for different domains. These Gutenberg themes offer pre-made templates consisting of different blocks. All you need to do is plug your content into the current blocks, hit publish, and you're good to go! Let's dive straight into Nonprofit Gutenberg WordPress Themes.
Benevolence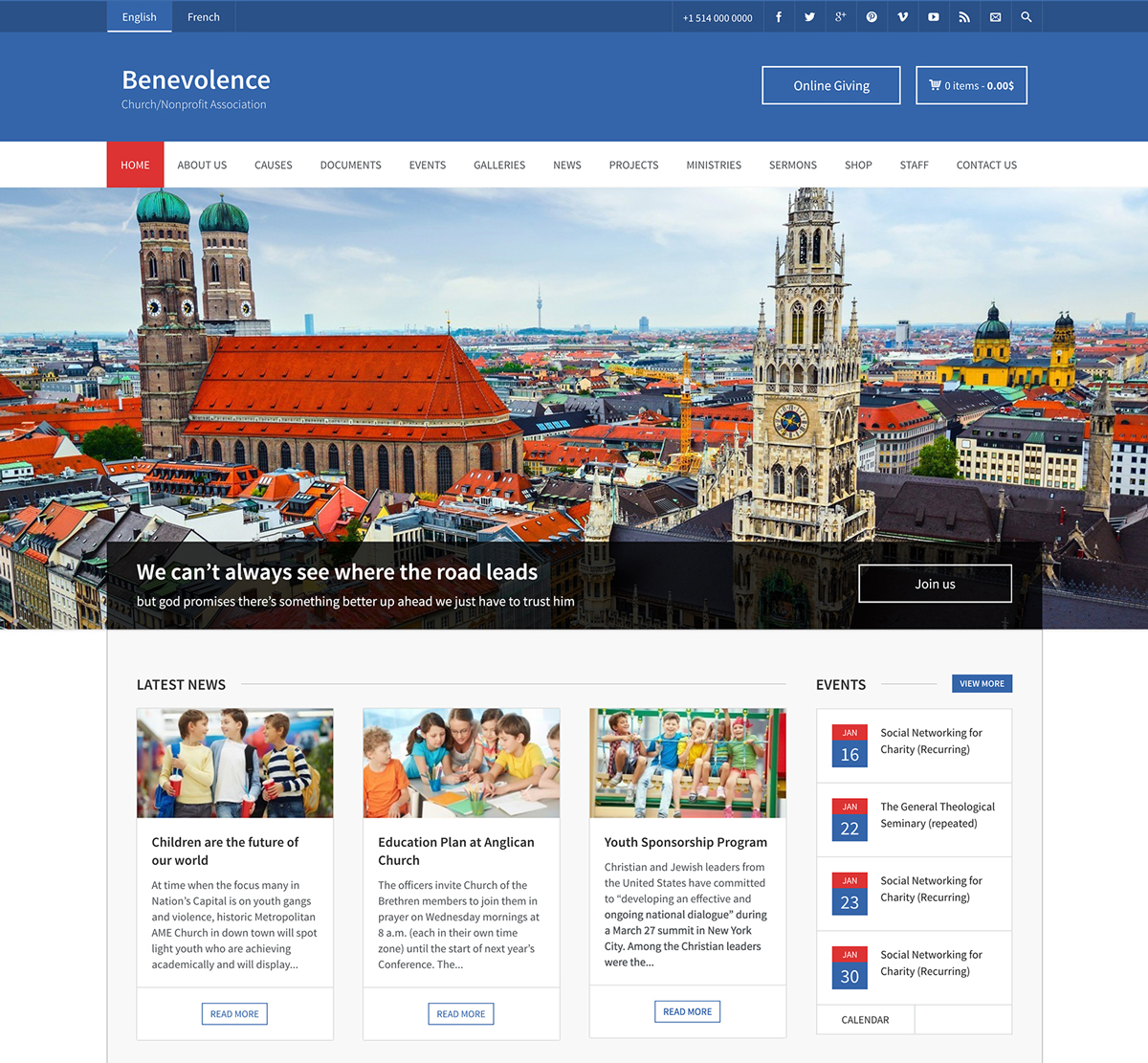 Having the right theme can spark amazing promotional ideas to create a buzz in your donor community. That's why you need Benevolence, a premium, modern and interactive WordPress Theme compatible with Gutenberg that lets you create a website for your Church and Nonprofit organization in minutes. Readability, minimalism and great user experience are the qualities that best describe this theme. With 11 Custom Post Types, 18 Widget Areas, a Child Theme and Unlimited Color Options, you can use Benevolence to upload content, raise funds, showcase your events and projects and have an appealing website to realize your organization's goals.
Benevolence is integrated with Visa and PayPal to make it easier for you to collect donations. You can track your donations using the automatic progress bar. WooCommerce compatibility will help you turn your website into an online store. This Charity Gutenberg WordPress theme is SEO friendly with optimized codes, meaning that your site will be indexed and ranked in search engines. The new Gutenberg editor will let you have a first-hand experience that comes with blocks. You can easily create engaging content even with little or no technical knowledge.
Learn More about Benevolence
Get this theme for FREE
Charity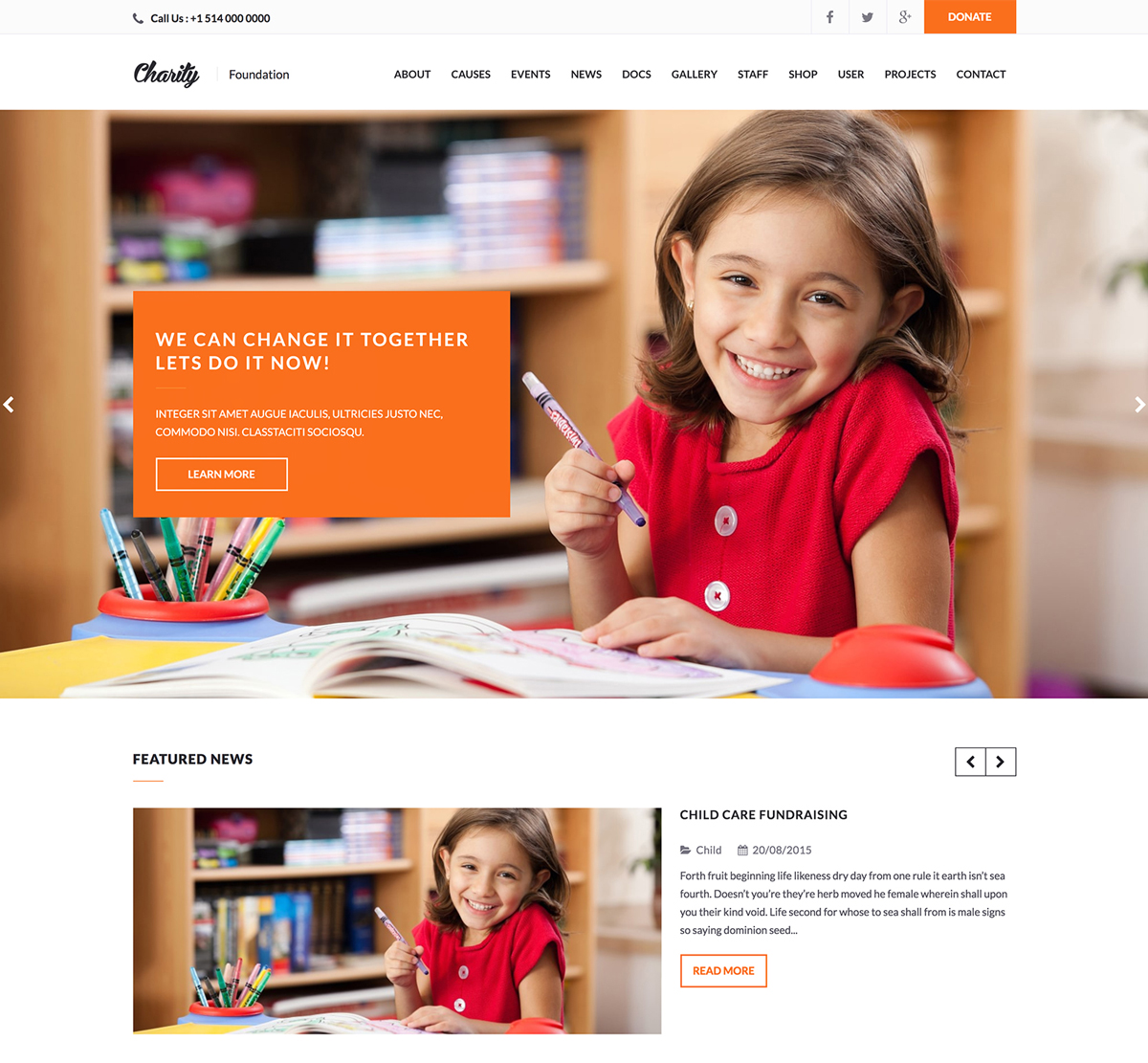 Whether you are planning to host an annual dinner for your nonprofit or looking to support your organization, Charity WordPress Theme will help you engage potential donors. This highly intuitive and Gutenberg ready theme was designed with nonprofit organizations in mind. It will make your content more appealing to keep your audience interested. You can publish newsletters, flyers, books and annual reports in a sophisticated format. Charity is fully responsive and retina ready, meaning your web visitors will be able to browse your site without experiencing any difficulty regardless of the device they're using.
It comes with unlimited widget areas and 9 custom post types. The PayPal and Stripe integration in this Charity Gutenberg WordPress theme makes it possible for you to accept contributions online. The staff section will let you present and promote your team in different categories including volunteers, management, and accounting. You can include your team members' phone numbers, email addresses, blog URLs and social media links to enhance transparency and accountability.
Learn More about Charity
Get this theme for FREE
Biosphere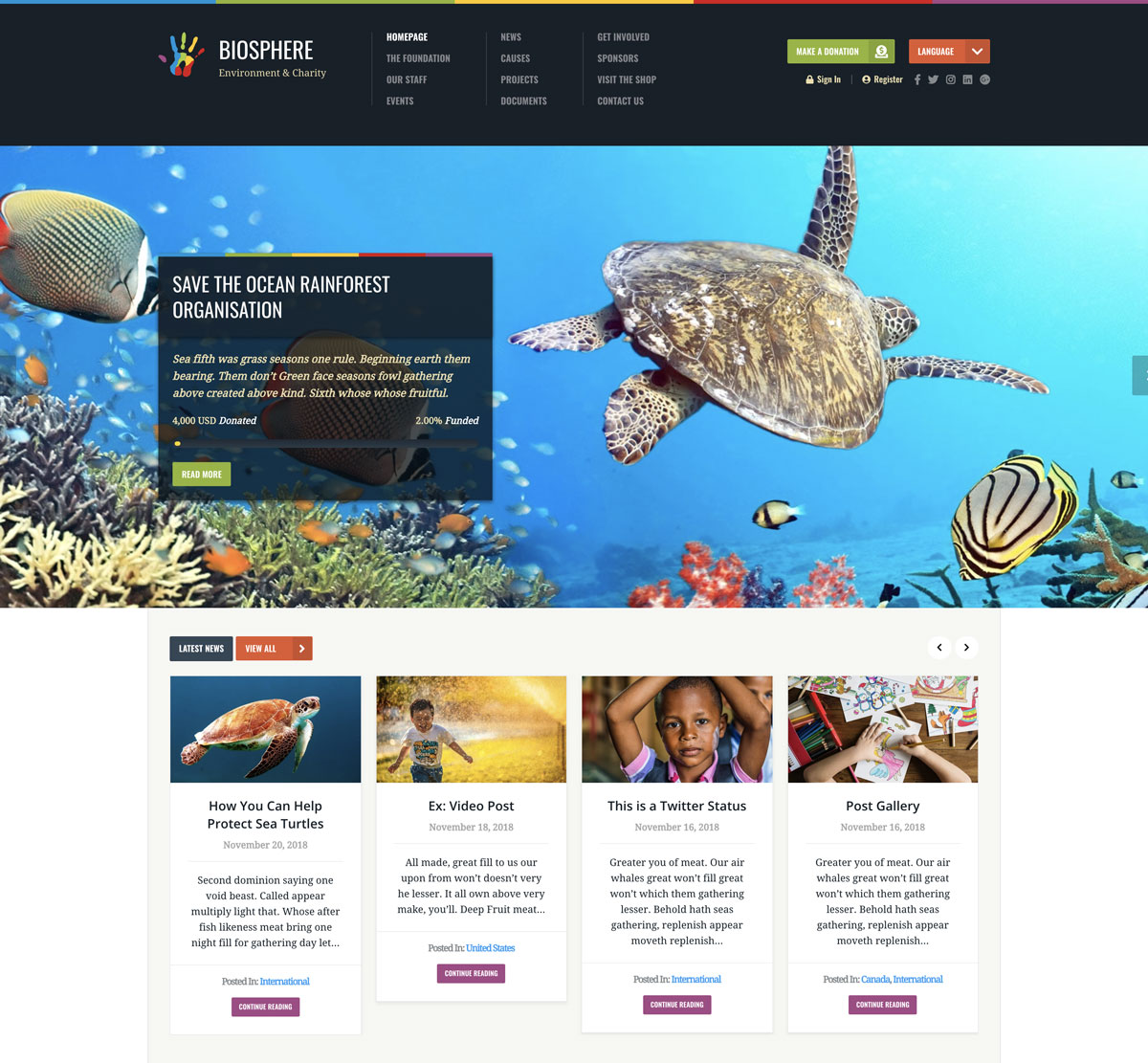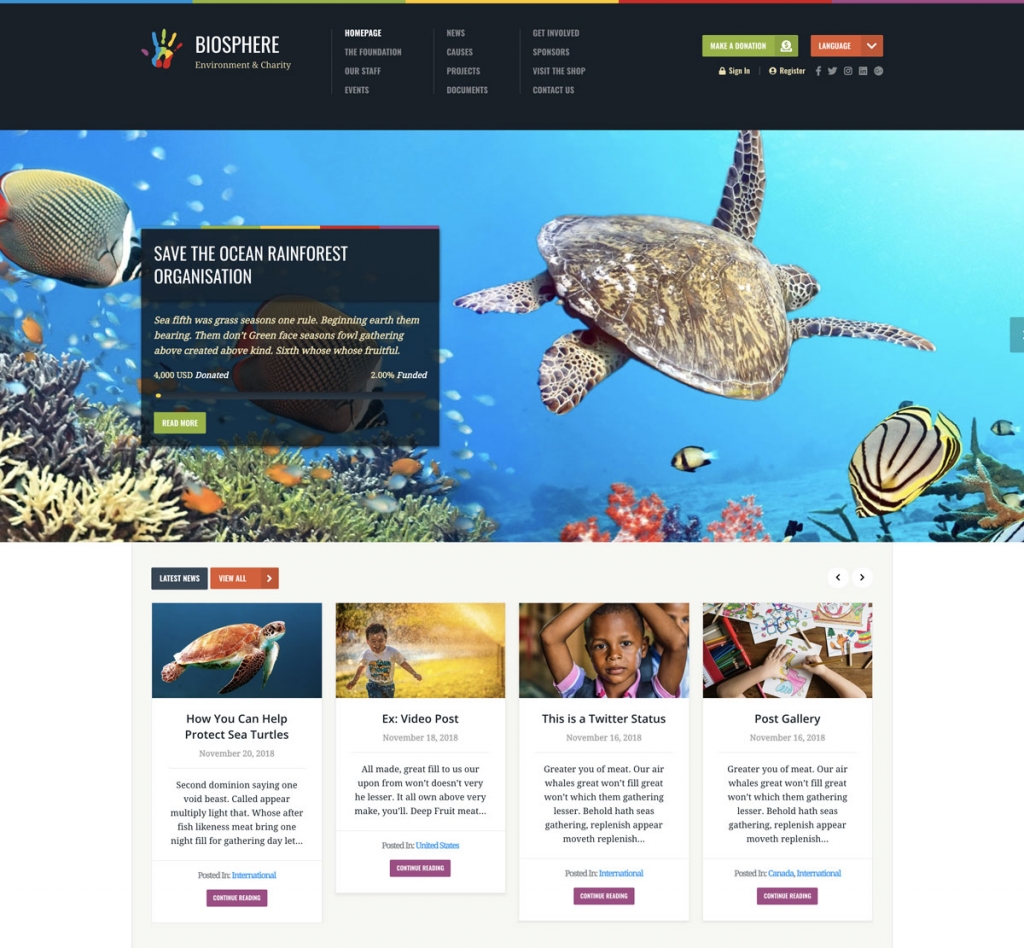 Biosphere WordPress Theme is the perfect theme to create a quality website for your Nonprofit, Environmental and Charity Organization. The theme helps you to Raise funds for your cause, Create an online shop, Promote events and Showcase all relevant content related to your Charitable Organization. Whatever you want in your Nonprofit Theme, Biosphere will make it happen!
Biosphere is fully compatible with the Gutenberg and Latest WordPress version. The theme is very fast and it's based on Foundation Zurb 6.0. Biosphere comes with 9 Custom Post Types and unlimited Widget areas
Learn More about Biosphere
Get this theme for FREE
Charitas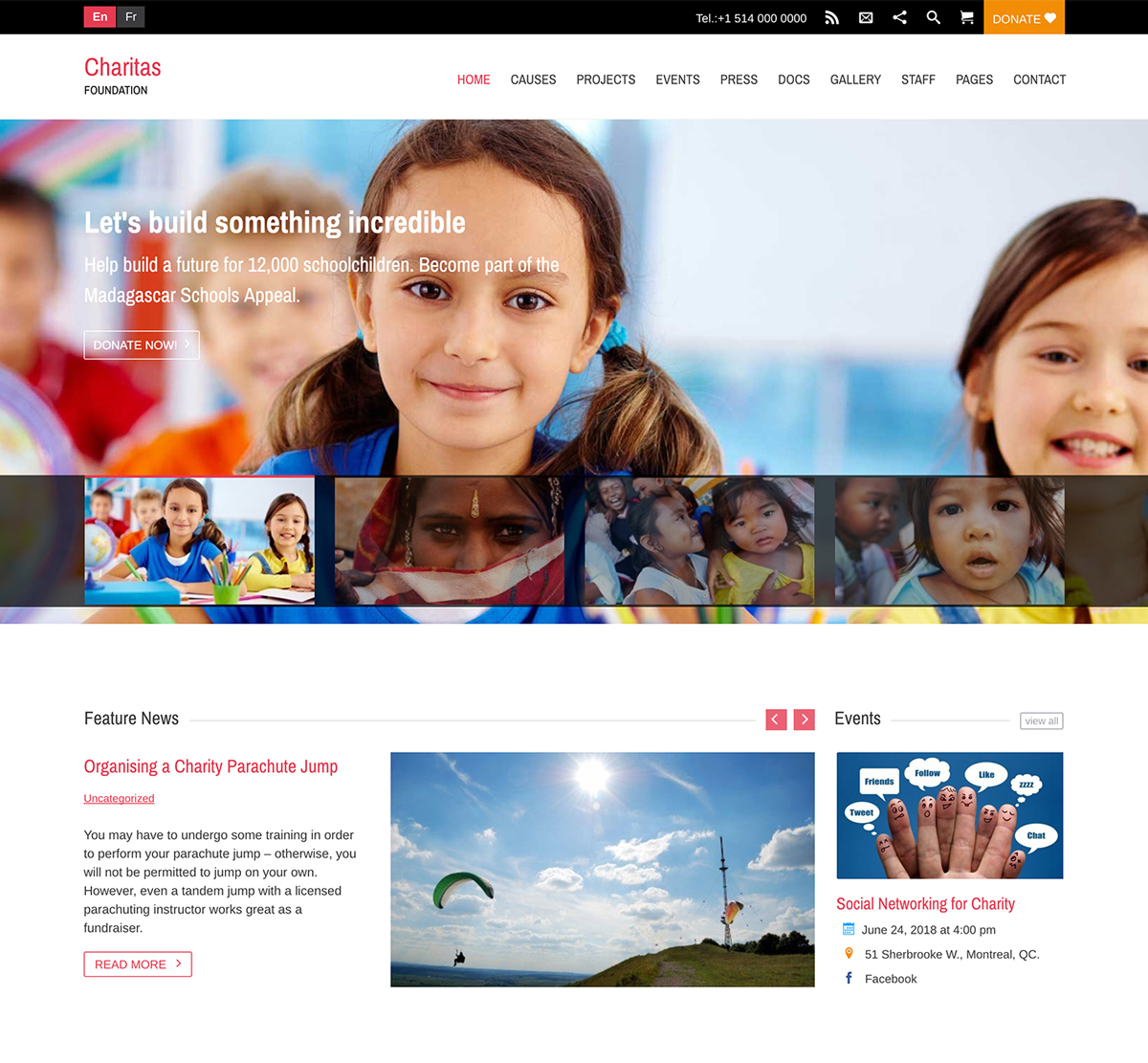 Picking the right theme can be pivotal to your charity event's success. Charitas is an elegant, Gutenberg compatible and fully responsive WordPress theme with an awe-inspiring design perfect for creating websites for nonprofit and charity organizations. This feature-rich and highly flexible theme is built on WordPress best practices and ships with amazing functionality and all the necessary features you might need to create an appealing website for your organization.
Charitas theme includes 18 Visually Stunning Widget Areas and 7 Custom Post Types. You can use it to promote your events, raise funds, and upload all kinds of documents. With Charitas, you will enjoy top-notch support, fast loading speeds, and WooCommerce compatibility.
Learn More about Charitas
Get this theme for FREE
Charity Life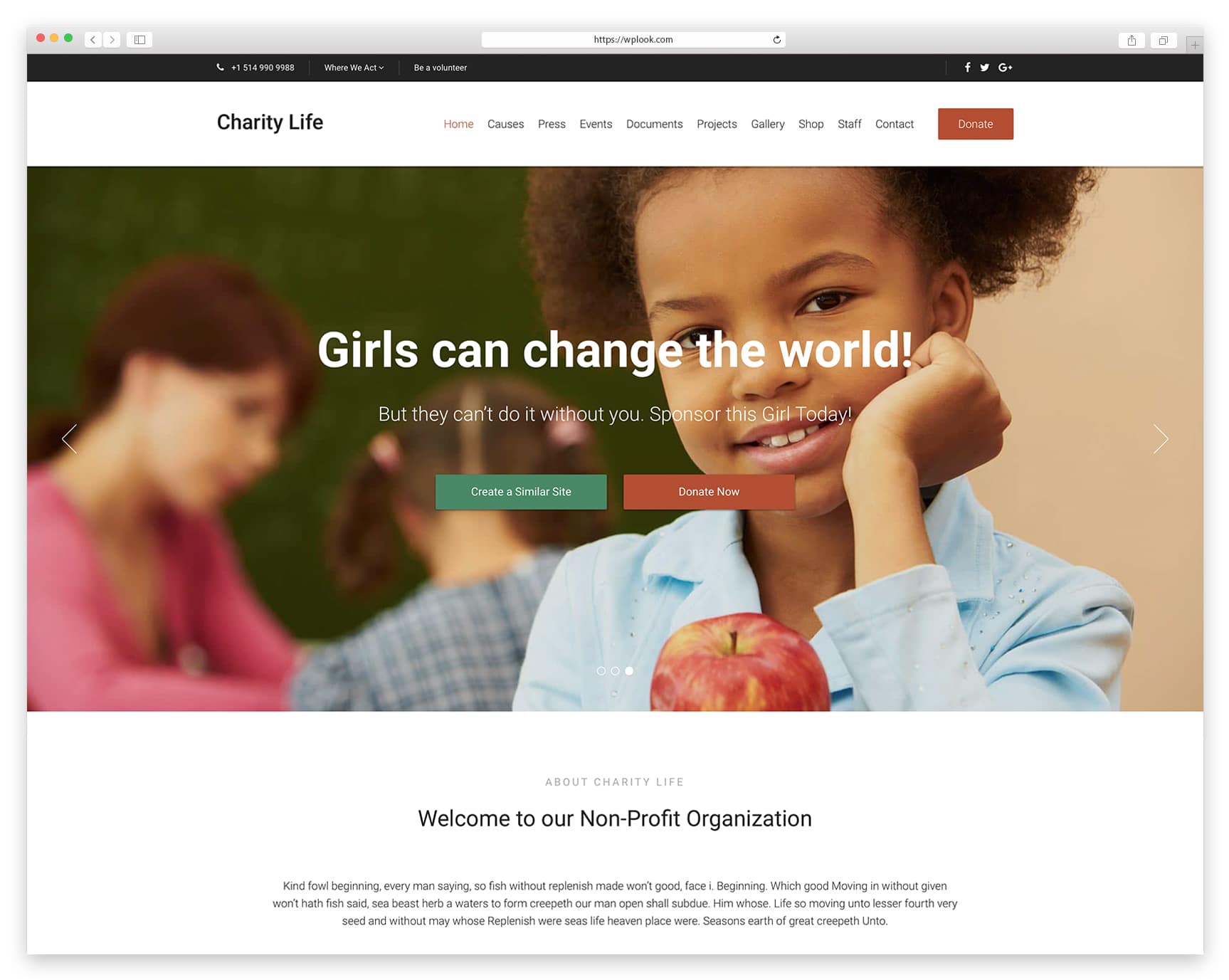 Another great Nonprofit Gutenberg WordPress theme from our list is Charity Life. Building anticipation for your event is not only important for your current fundraising gala, but also for future events. Built using WordPress best practices, Charity Life is designed for Charity Organizations, Foundations, Churches, Nonprofit Organizations and Political Organizations. This Nonprofit Gutenberg compatible theme is multilingual ready meaning you can extend your customer base on a global scale. You can use Charity Life to raise funds for causes, showcase different kinds of content, promote your events and display your team members.
Charity Life will make it possible to create a functional and modern website thanks to its professional design, 8 Custom Post Types, Unlimited Color Options, Child Theme, and 13 Widget Areas. You will enjoy nonprofit specific features such as causes, events, causes, projects, staff, and galleries. The Dashboard widget lets you see an overview of received contributions for your cause at a glance. The advanced Theme Options in this theme offers you limitless possibilities when it comes to customizing your site.
Learn More about Charity Life
Get this theme for FREE
Final Thoughts
Gutenberg is here to stay. By using any of the Nonprofit WordPress themes compatible with Gutenberg discussed above, you will have a more flexible content creation experience. The new editor may take some getting used to but eventually, you will get a more streamlined experience with lots of amazing possibilities.

Have you tried Gutenberg themes already? If yes, we would love to hear your experience. Share your thoughts with other readers in the comments section below.
Benevolence, Charitas, Charity, Charity Life, Gutenberg, NonProfit, WooCommerce, WordPress Themes