For churches, WordPress can be a convenient way of managing your entire church operations. Contrary to popular opinion, websites are not only meant for businesses. More and more churches are using WordPress websites to stay in touch with their members. In the digital age we're living in, the most accessible way to engage your audience is through the internet. A church website will make it possible for you to answer all the questions your members and visitors may have about your Church. It will also boost fellowship by keeping your members united via a common portal. WordPress themes allow you to customize your website's appearance to make it stand out from the thousands of other church websites. Today's article will focus on Free Church website themes that will help you cut on costs while providing you with a virtual presence. This kind of themes has readymade website frameworks that save you time and money that could be spent on hiring a costly web developer to do the work for you. The themes are easy to download, install and customize according to your preferred specifications. The right theme will enable you to share event calendars, sermon audio clips and priest information with your congregation.
Tips for WordPress Website Users Looking to Use Free Church Themes:
Remember to include details about your services.
Only go for themes with responsive designs.
Customize each page of your Church website with your contact details.
Give a clear message about your mission on the website.
Double-check details provided about upcoming events.
The market for Church themes is remarkably big and, most church website themes come with features like image gallery, widgets, custom color schemes and call to action. The many Free Church website themes make choosing the right one for your website daunting. This post has narrowed down the list to present you 10+ of the hottest Free Church website themes right now. All the themes have been verified by WordPress for stability and security.
Host Any Of These Themes on Google Cloud from $10/m
Charitas Lite (Editor's Choice)
To start us off is Charitas Lite, a free WordPress theme designed by WPlook Studio. We love that the theme has a modern look and that it is adaptive making it suitable for Churches, NGO, Non-Profit Associations, Charity Organizations, Political Parties and Foundations. Internet users using both tablets and smartphones are well taken care of with a responsive layout that adapts to any screen size and device seamlessly.
You get a large full-width banner on the homepage for displaying a welcoming photo on the website. The clean and simple interface of Charitas Lite will help you connect with your audience and raise funds for worthy causes. With over 2k+ active installs, you can never go wrong with Charitas Lite. This theme is among the best free charity themes from the market.
Standout Features:
Responsive layout
Exceptionally fast
Multilingual ready
Video and audio integration
Custom share buttons
Advanced theme options
Learn More about Charitas Lite
Host This Theme From $5.42/m
HB Charity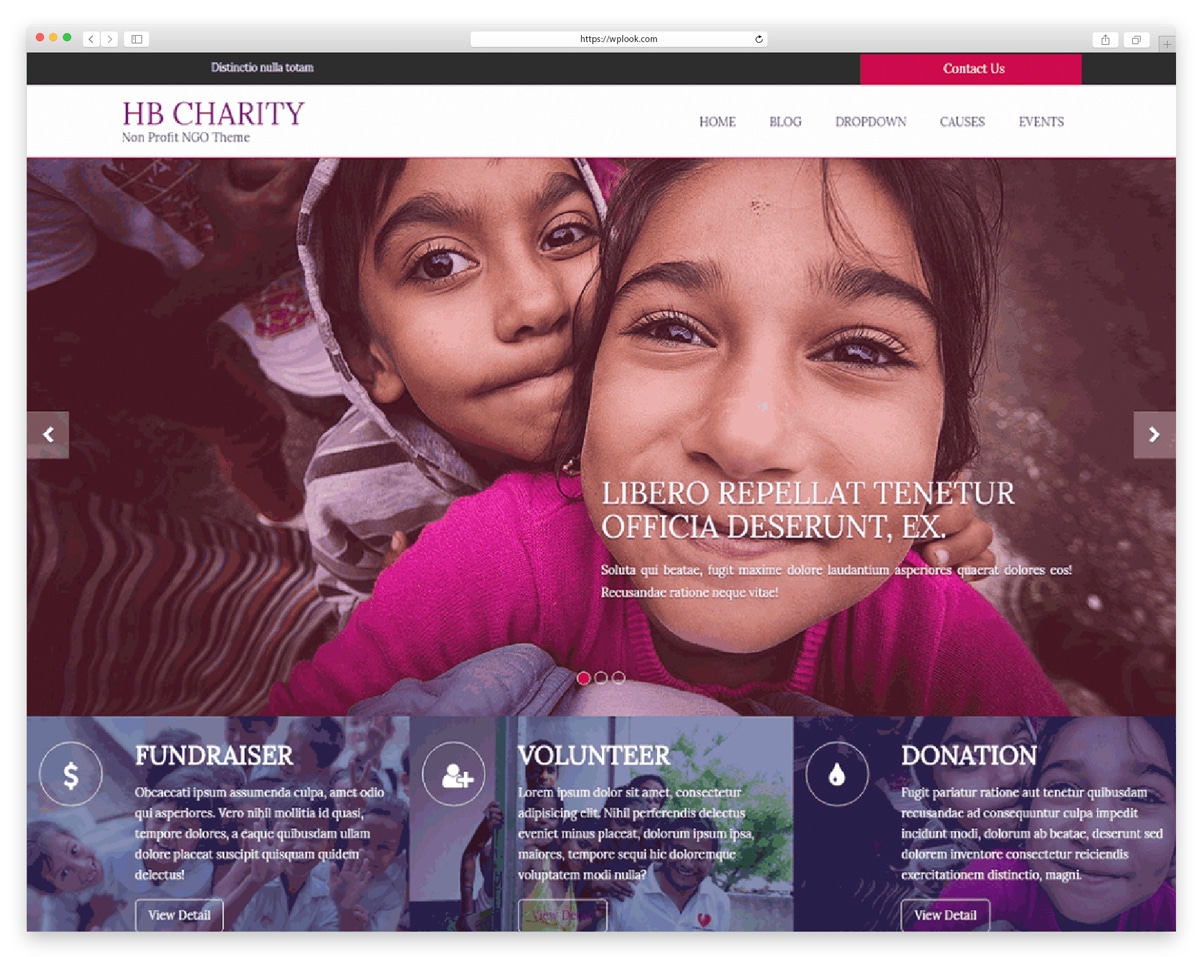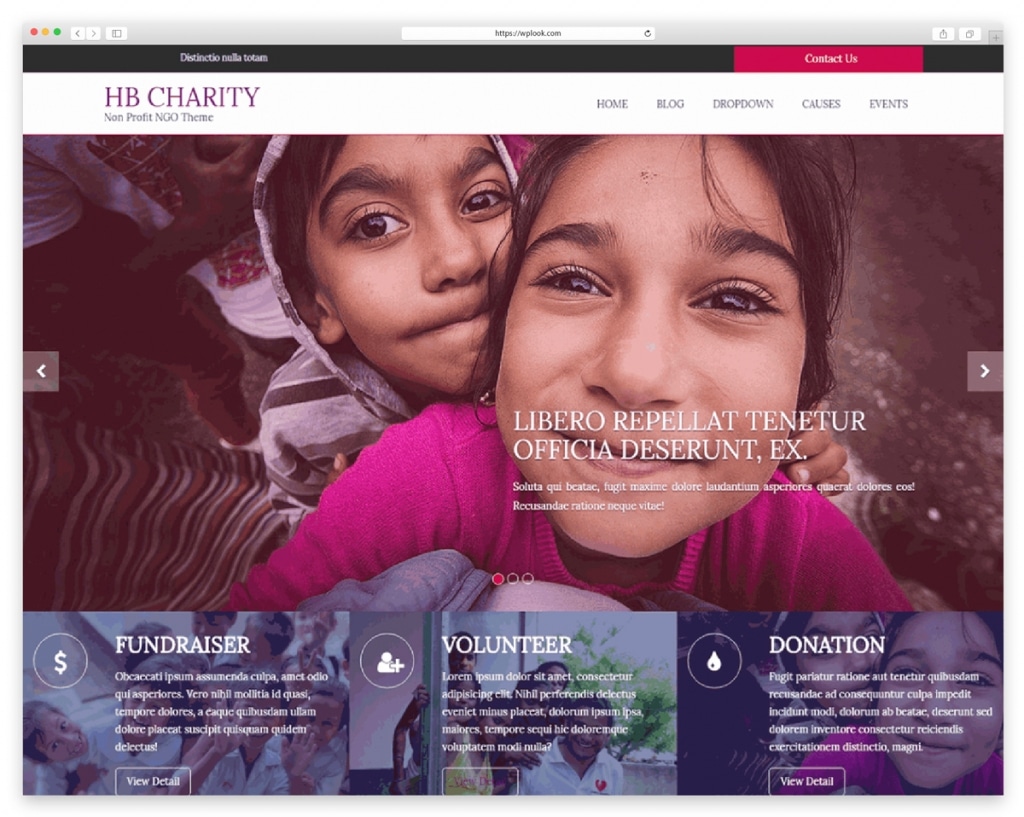 HB Charity is an elegant, fast loading theme by hummingbirdthemes that handles everything from service information to events updates. By choosing HB Charity, you get unlimited access to an array of color schemes to give you more control in branding your site.
You can incorporate related colors all over the website. This simple and flexible theme features a responsive design that makes it easier for members using mobile phones and tablets to access your website. It is compatible with Contact form 7 and is also translation ready, which means you can connect with members in different languages.
Standout Features:
Customizable logo and layout
Translation ready
Various color schemes to choose from
Learn More about HB Charity
Get Hosting
GivingPress Lite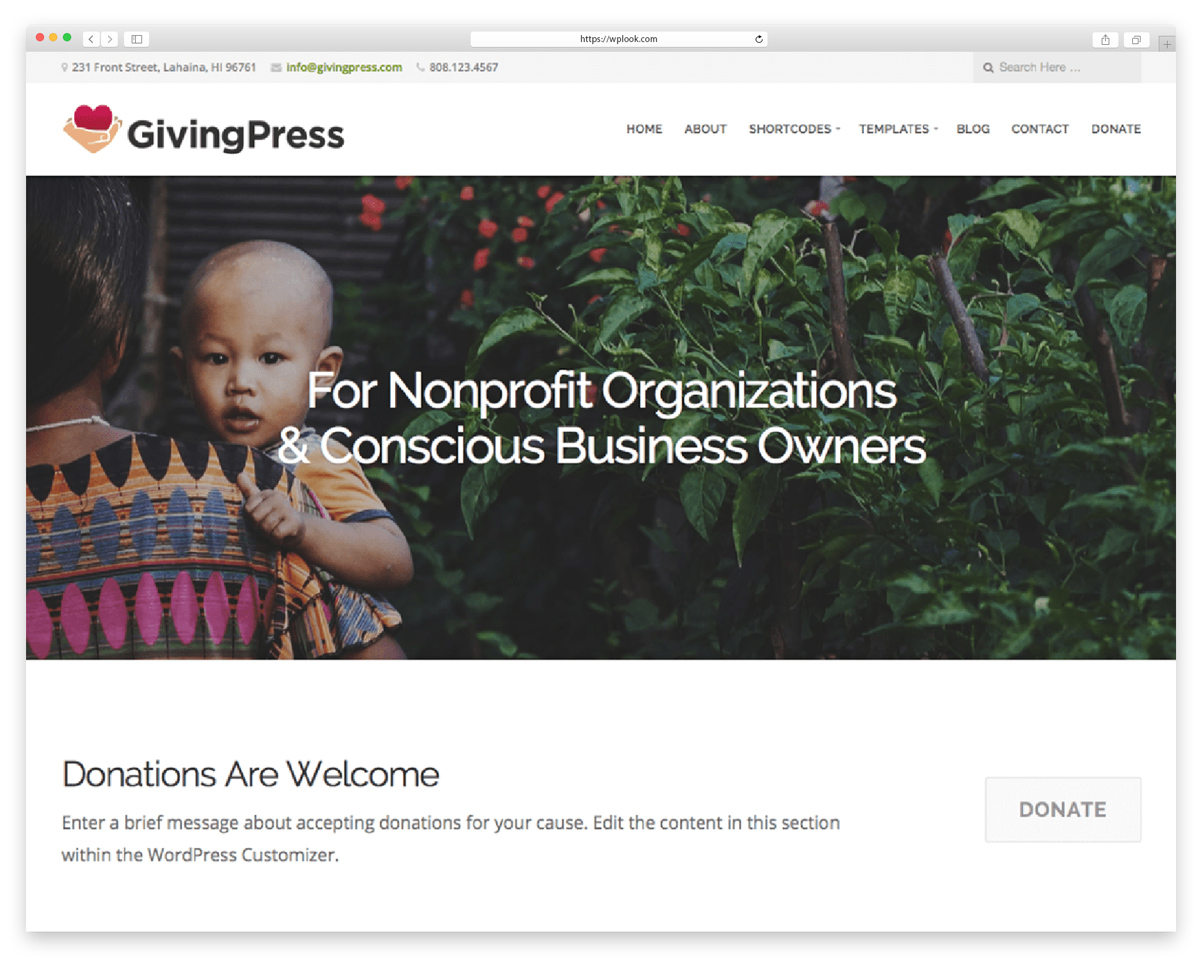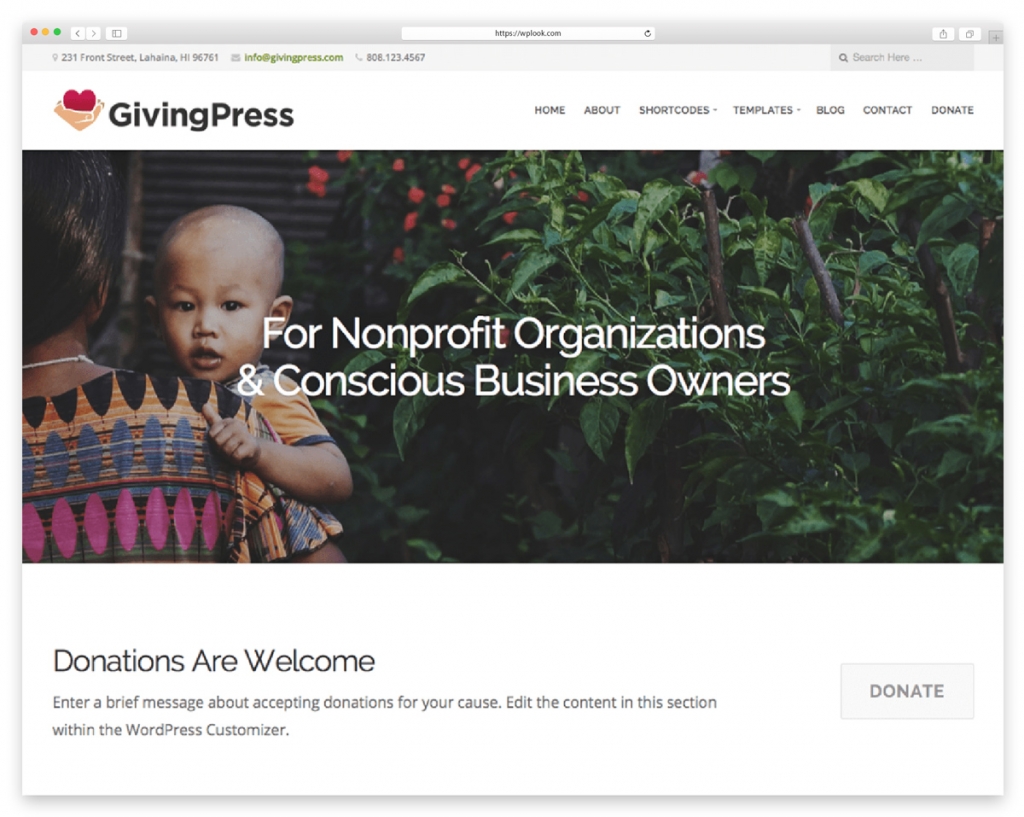 GivingPress Lite is a noble theme designed by Organic Themes with 2k+ active installs. The primary feature that comes along with the theme is the donation feature. This cool and refreshing free WordPress theme was designed with a system for collecting donations in mind. It is suitable for churches, charities, foundations, NGOs and cause-driven businesses.
The calming white space gives the theme a reassuring appearance that convinces supporters and donors to make donations. Your congregation and visitors planning to visit your church need to be updated on services and church events. The translation tool helps you to get donations from all over the globe. Because of its smart features, GivingPress Lite theme is among the best free charity themes.
Standout Features:
Responsive to desktops, tablets, etc.
Easy and user-friendly customization
Responsive design
Custom background
Featured images
Translation ready
Learn More about GivingPress Lite
Get Hosting
Charity Review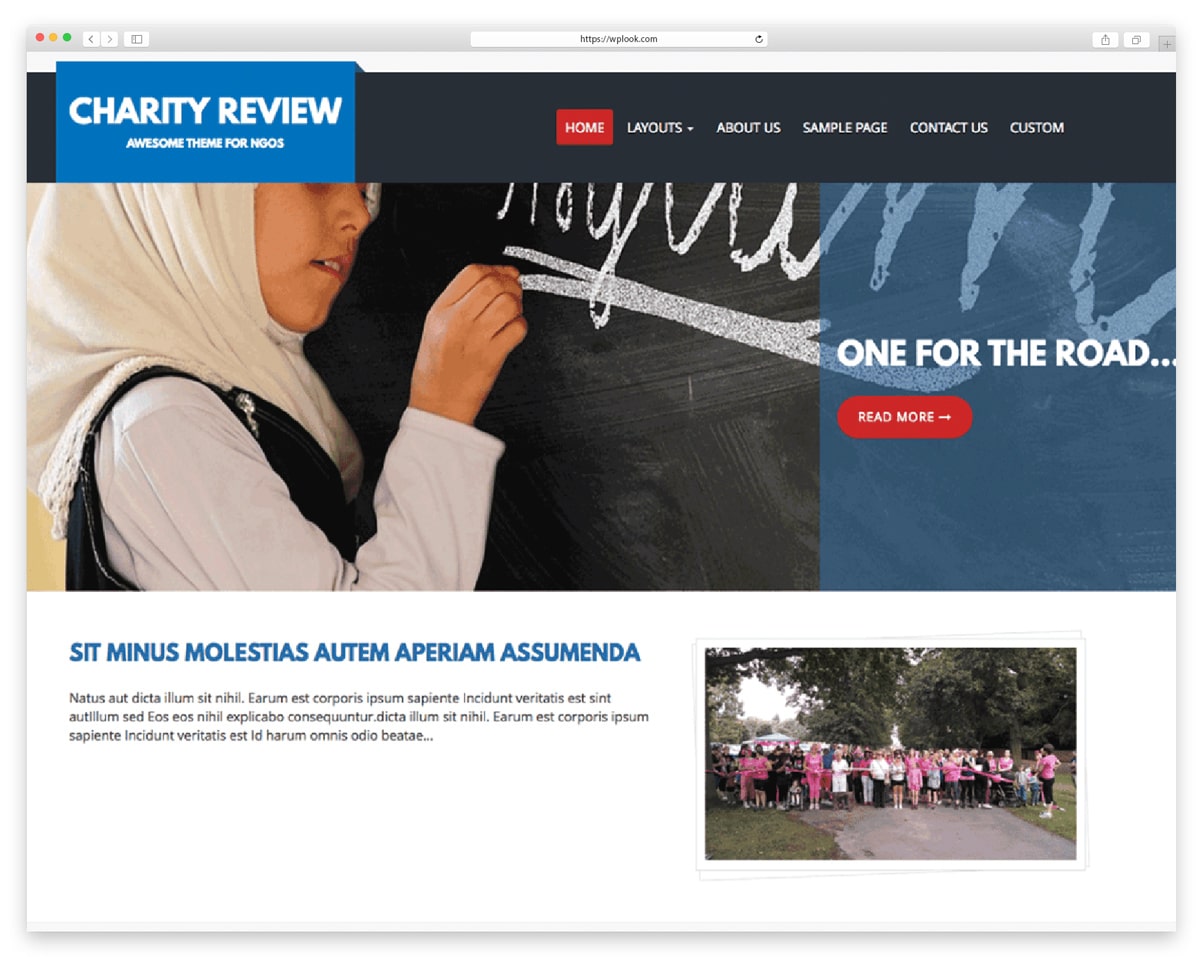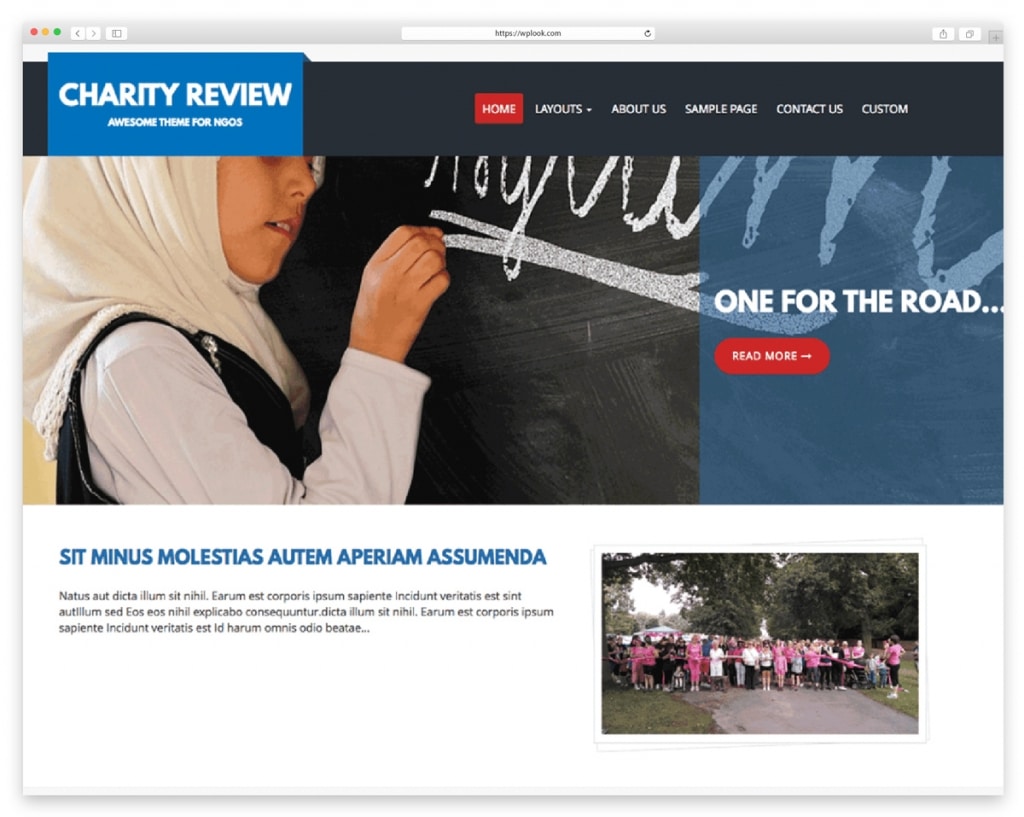 Charity Review is another free WordPress theme for Charity, Church and Nonprofits websites, designed to look good on any type of screen. It has an array of exciting features that will enable you to build an interactive and visually appealing website.
The theme will inspire, engage, and enlighten your followers to do more good in the world. Charity is translation ready which means you can connect with your followers from all over the world without any language barriers.
Standout Features:
Responsive and custom-friendly
Social media options
Custom CSS
Customizable Banner slides and Testimonial sections
Logo color settings
Learn More about Charity Review
Get Hosting
Vision Lite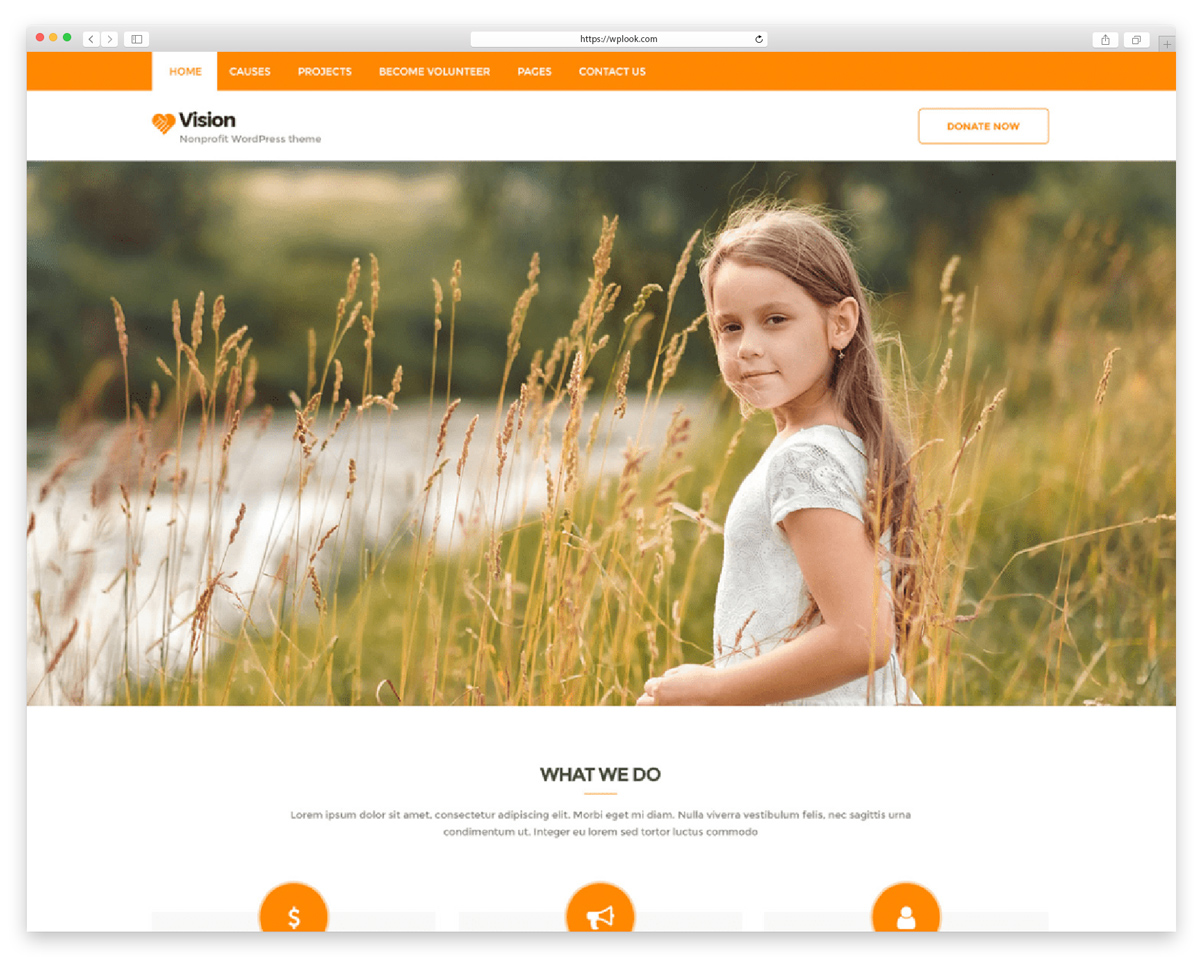 Vision Lite is a beautiful theme with some thoughtful design additions and helpful features that make it a great choice for your church. This lightweight and adaptable WordPress theme is built for churches, donations and fundraising campaigns and Nonprofits.
The responsive theme is widget-ready if you are thinking of expanding your Church website. It has other incredible built-in features and designs that helps you pass your message in the best way possible.
Standout Features:
Works well with all browsers
Threaded comments
Compatible with the latest version of WordPress
Learn More about Vision Lite
Get Hosting
Maisha Lite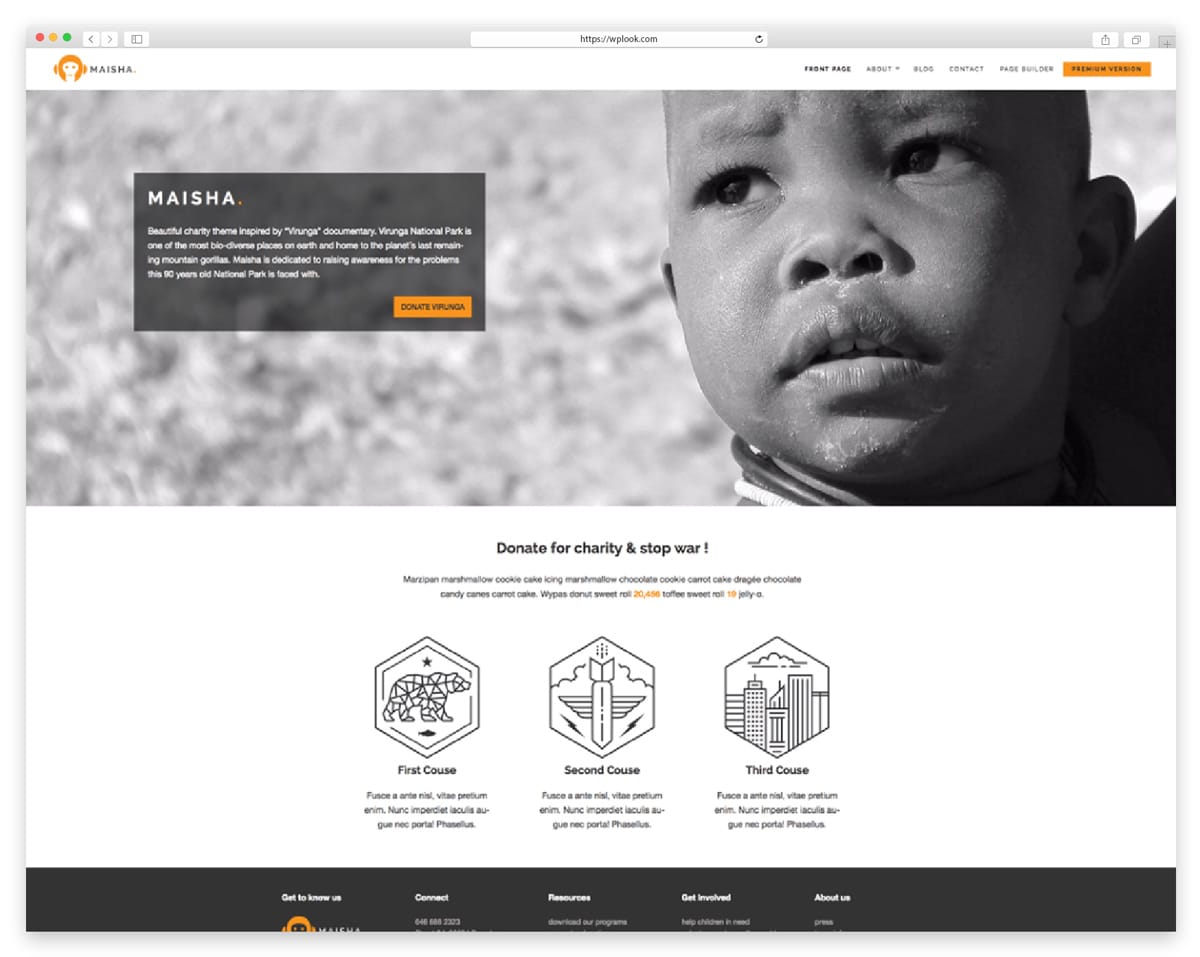 Maisha Lite is a professional designed, free and lite version the premium Maisha theme. The straightforward theme is packed with intuitive and useful features. It can be customized to match the primary color of your logo. Designed by Anariel Design, it has a modern and responsive layout that makes it ready for mobile and tablet screens.
Standout Features:
Audio and visual integration
Threaded comments
RTL language suppor
Flexible and customizable layout
Learn More about Maisha Lite
Get Hosting
Great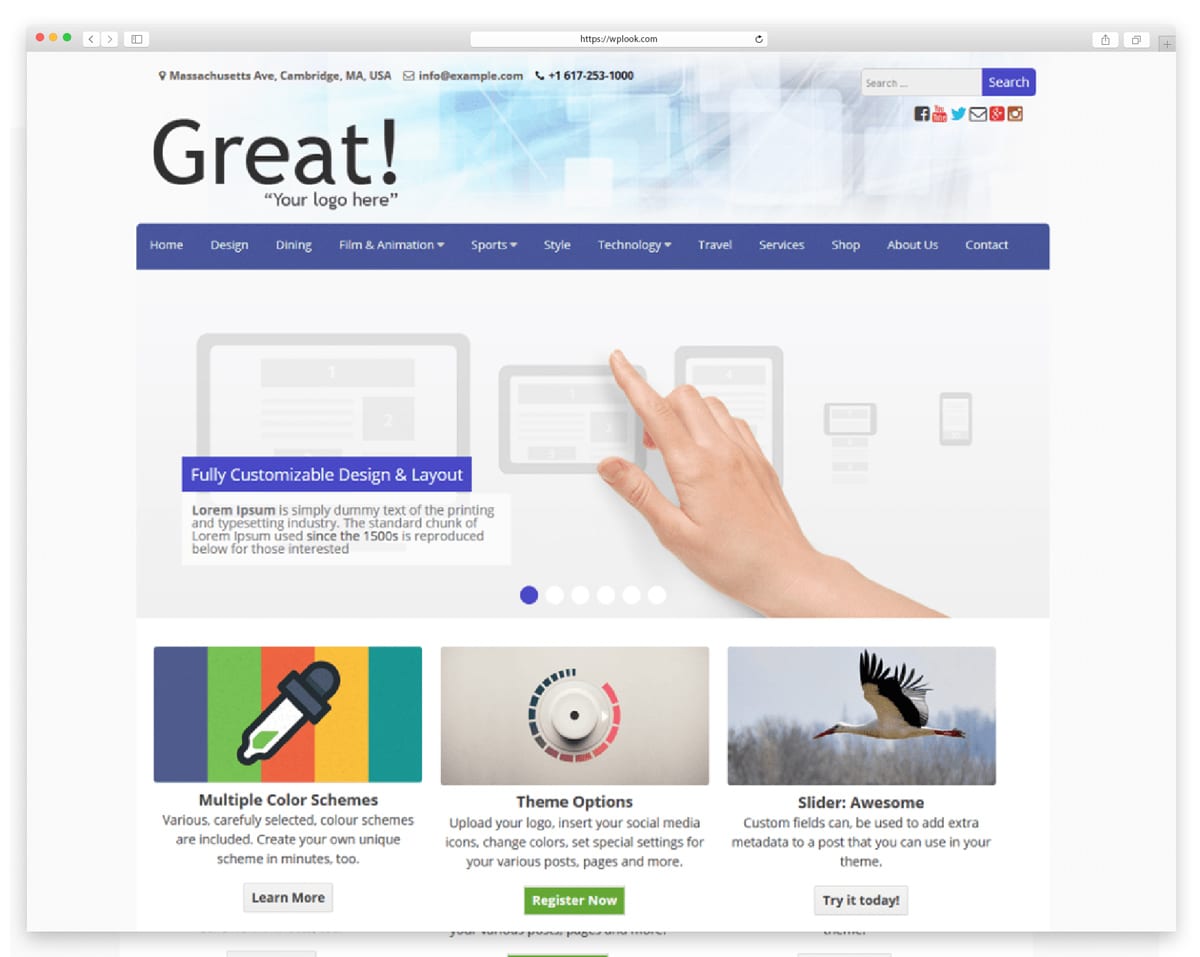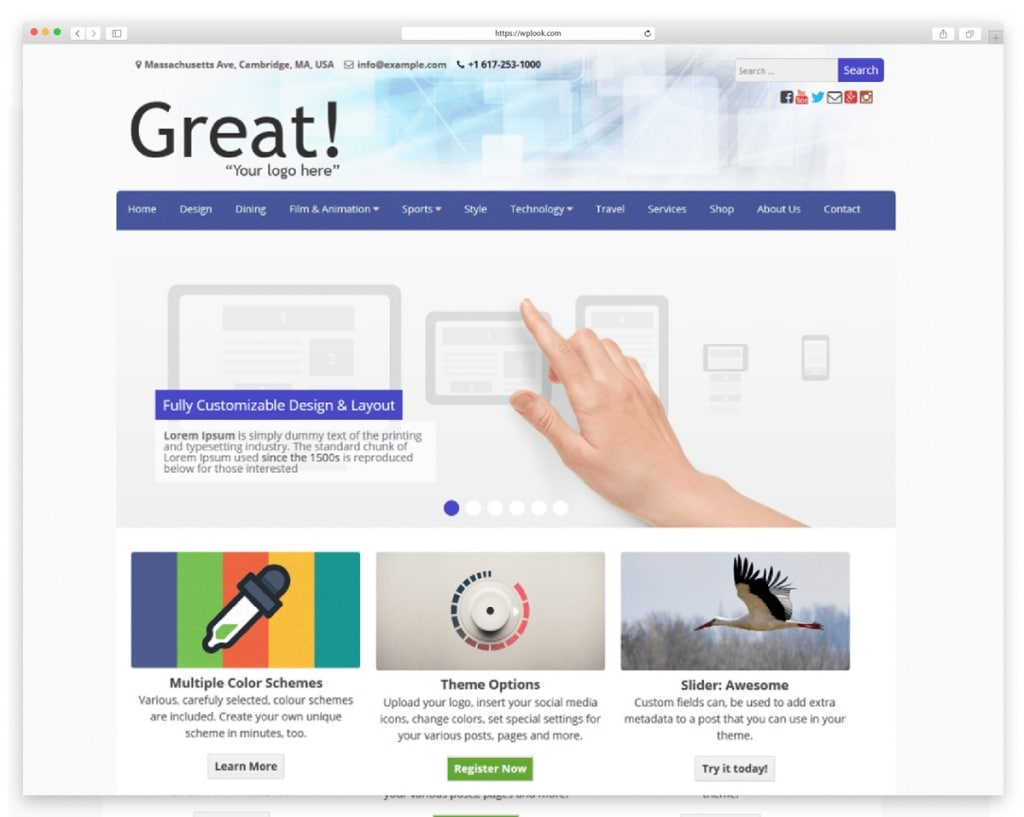 We like Great WordPress Church theme because the multipurpose theme has a proficient and spiritual appearance that will make visitors eager to know more about your church. Developed using CSS 3, the theme has a 5-star rating which means that it is well received by users. You can choose from the 4 amazing color schemes to customize your website.
Pick a color scheme that will make your website look outstanding and unique. Great is highly responsive and can easily be viewed on any device. The theme allows you to upload images to inform churchgoers on scheduling changes and event announcements through the homepage slider. You can post audio and video clips for people who did not attend the service to watch them at home.
Standout Features:
Easily customizable with many theme options
Custom backgrounds
Responsive drop-down menu
Featured page
Social media icons
Learn More about Great
Get Hosting
Faith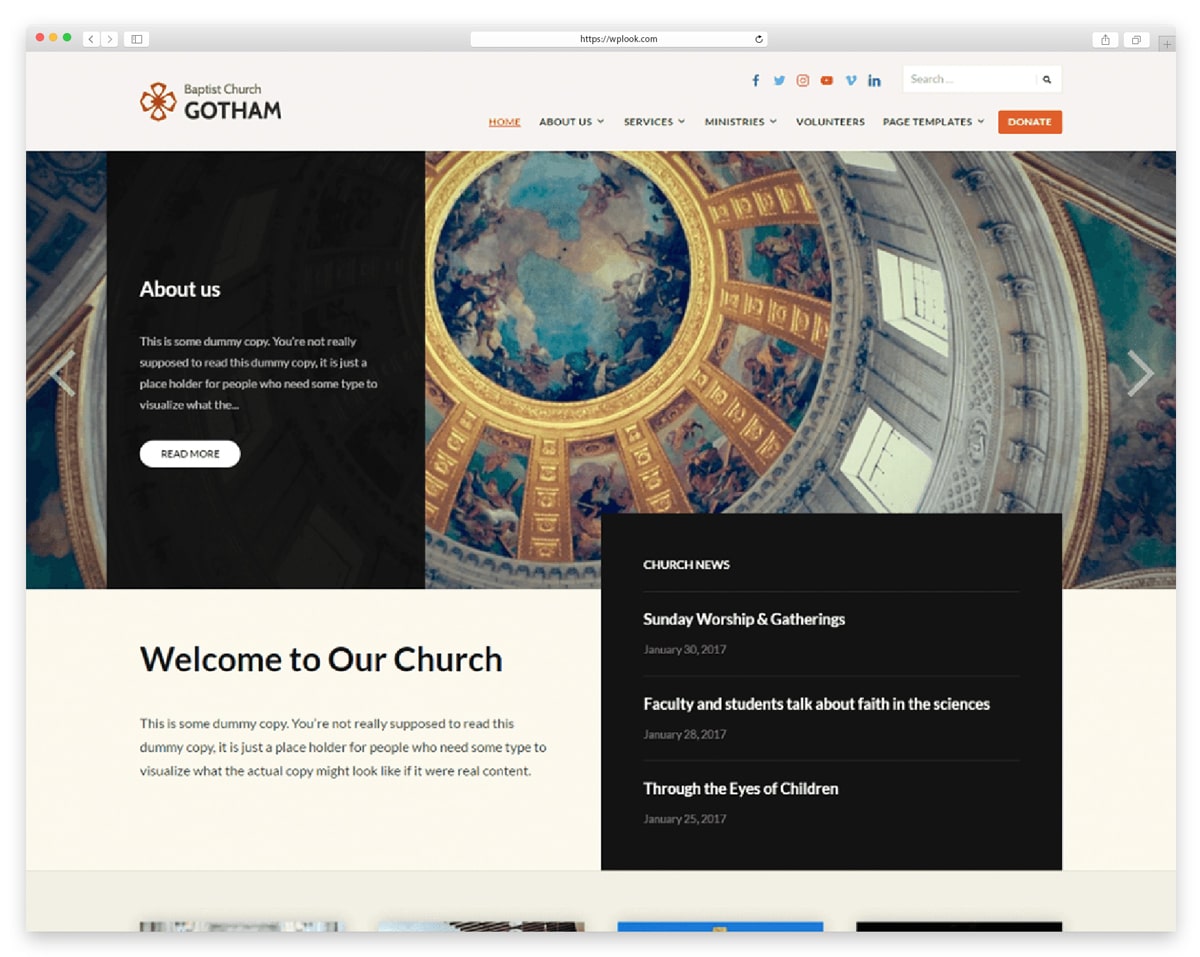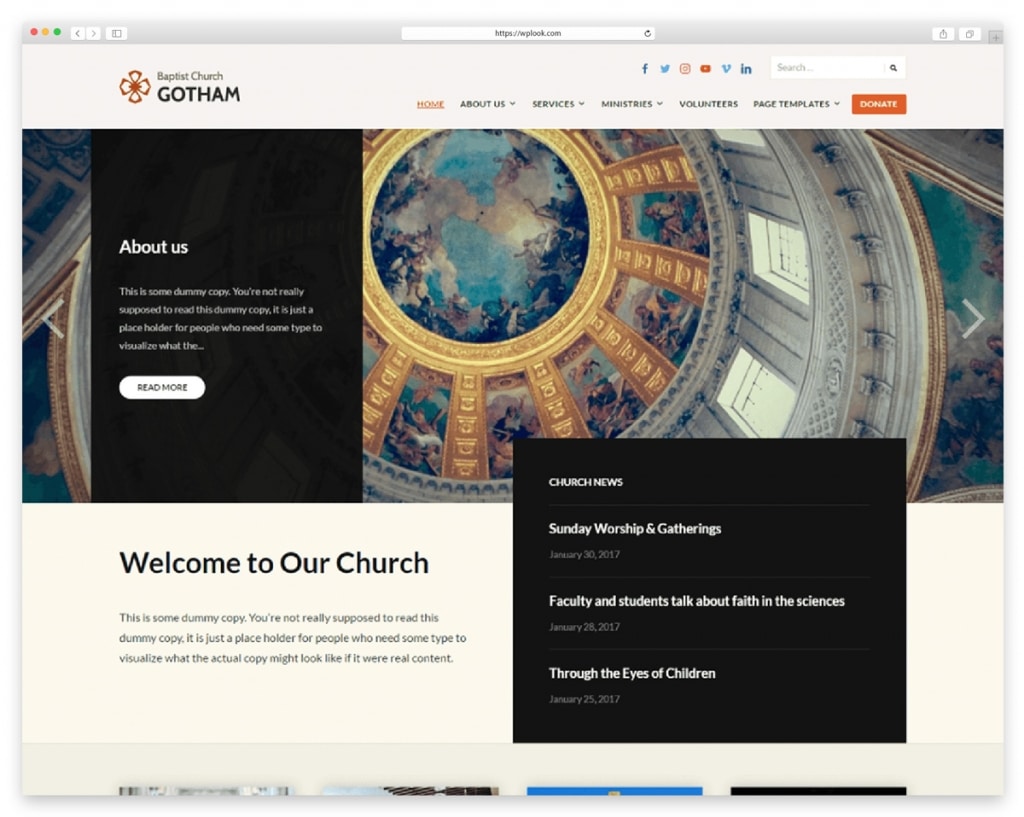 With over 1,000 active installations, this fast-growing theme is gradually rising the ranks as a popular church theme option. Faith was designed by ilovewpcom to help you ensure that your website has all the required pages. This allows you to make changes to your website with little difficulty.
Faith has a classic two-column layout that provides you with an area to list down service times. It has a beautiful user interface that will appeal to your members.
Standout Features:
Threaded comments
Custom color schemes
Footer widgets
Translation ready
Learn More about Faith
Get Hosting
Church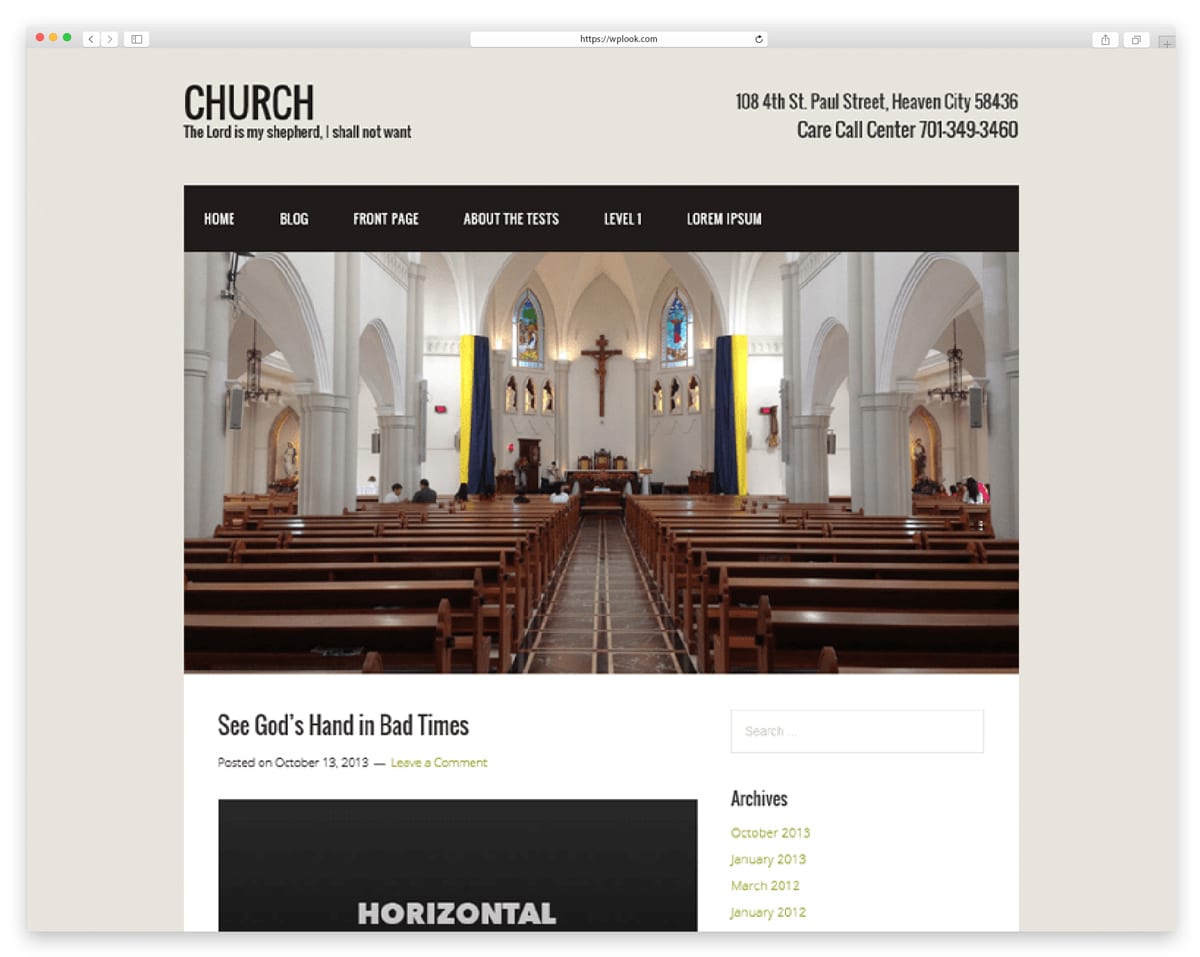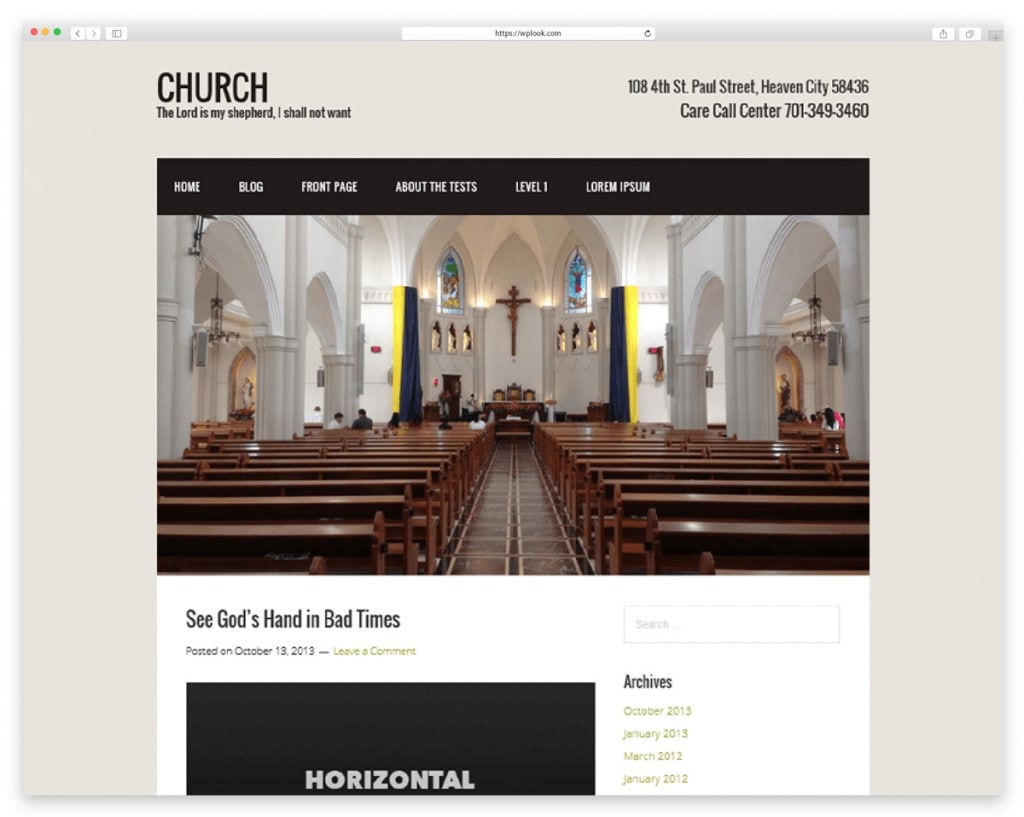 Church is an entirely free and handy HTML5 Omega child theme suitable for churches of all types. This theme has a large footer widget area that gives you space to implement many widgets. You can easily share your most recent blog posts and sermons in the widget area. Church WordPress Theme has a built-in customizer that enables you to generate content quickly. Play with the custom colors until you find one that best represents your brand.
The custom background enables you to send a welcome message to your website visitors. Suitable for both beginners and advanced users, this responsive HTML theme integrates with WooCommerce if you intend to sell some items or collect contributions from your members. The CSS area gives advanced developers more room to change elements with custom coding.
Standout Features:
Responsive layout
WooCommerce compatibility
Custom logo upload
Translation tool
Featured images
Sticky post and threaded comments
Learn More about Church
Get Hosting
FinRelief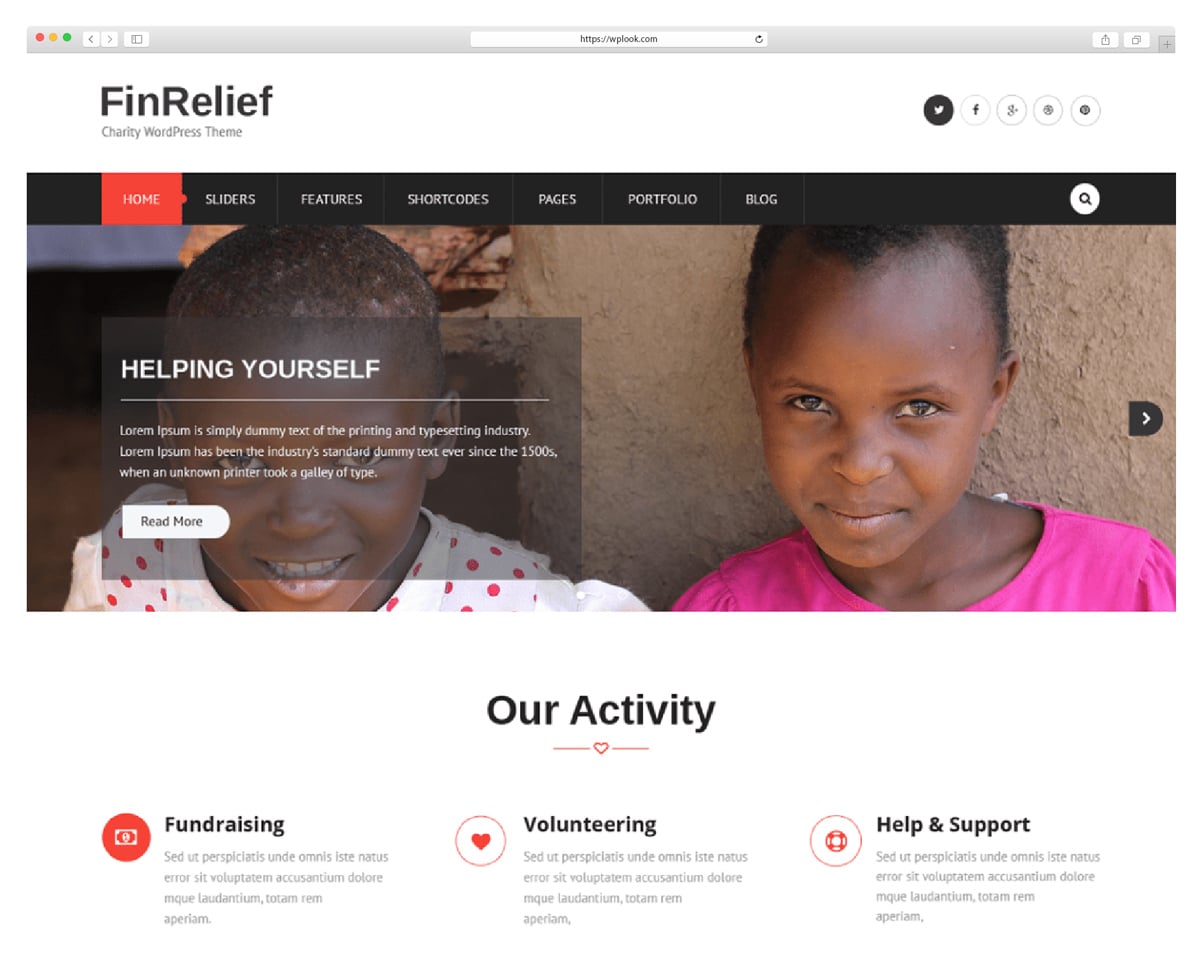 FinRelief is a modern WordPress Theme for Nonprofit and Charity organizations and it is perfect to build your church website. It is best suited to showcase all kinds of documents, to Promote your events, and much more. The theme is very versatile and can also be easily used by various types of corporations, business and any kind of sites.
Standout Features:
Responsive Design
Portfolio
Translation ready
Blog
Learn More about FinRelief
Get Hosting
Charitize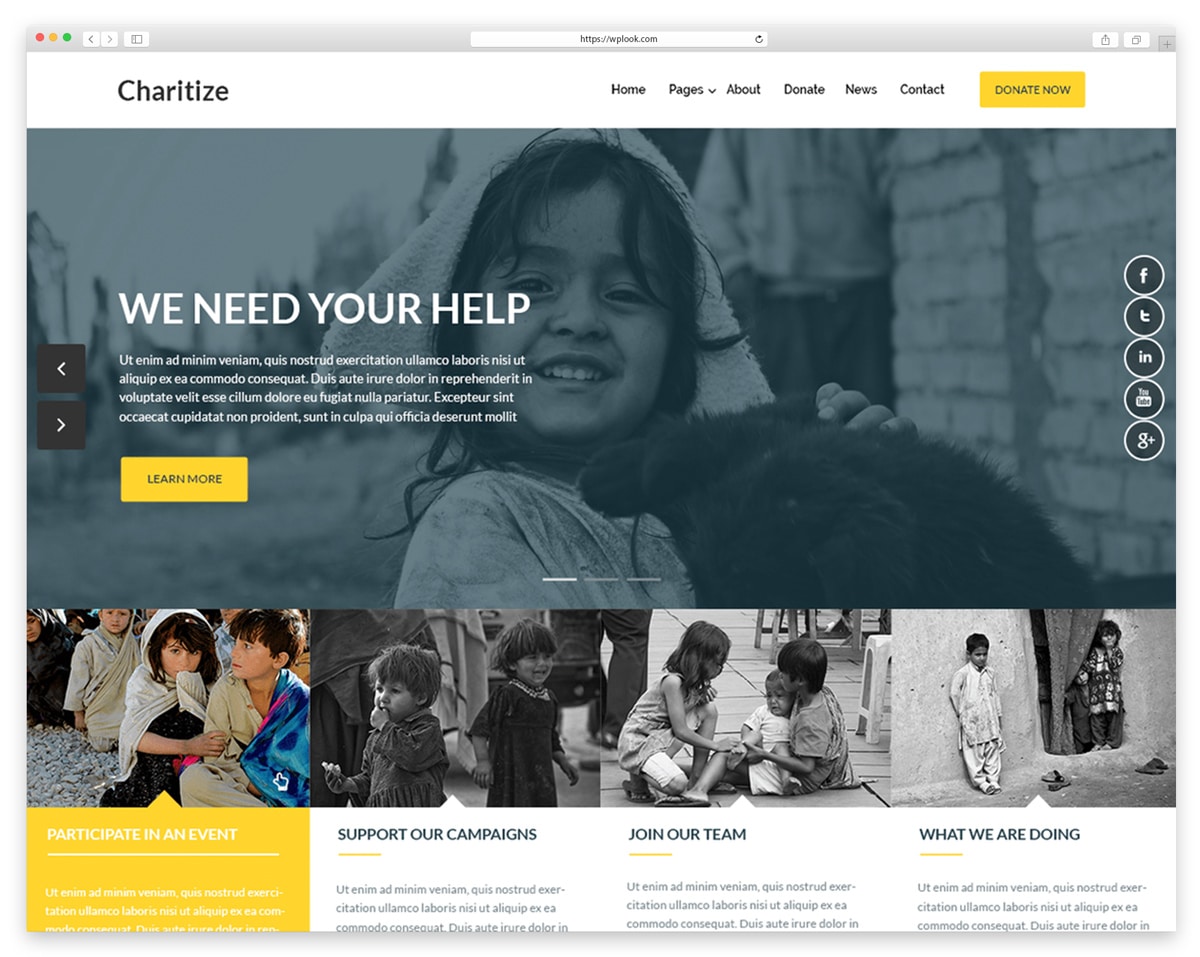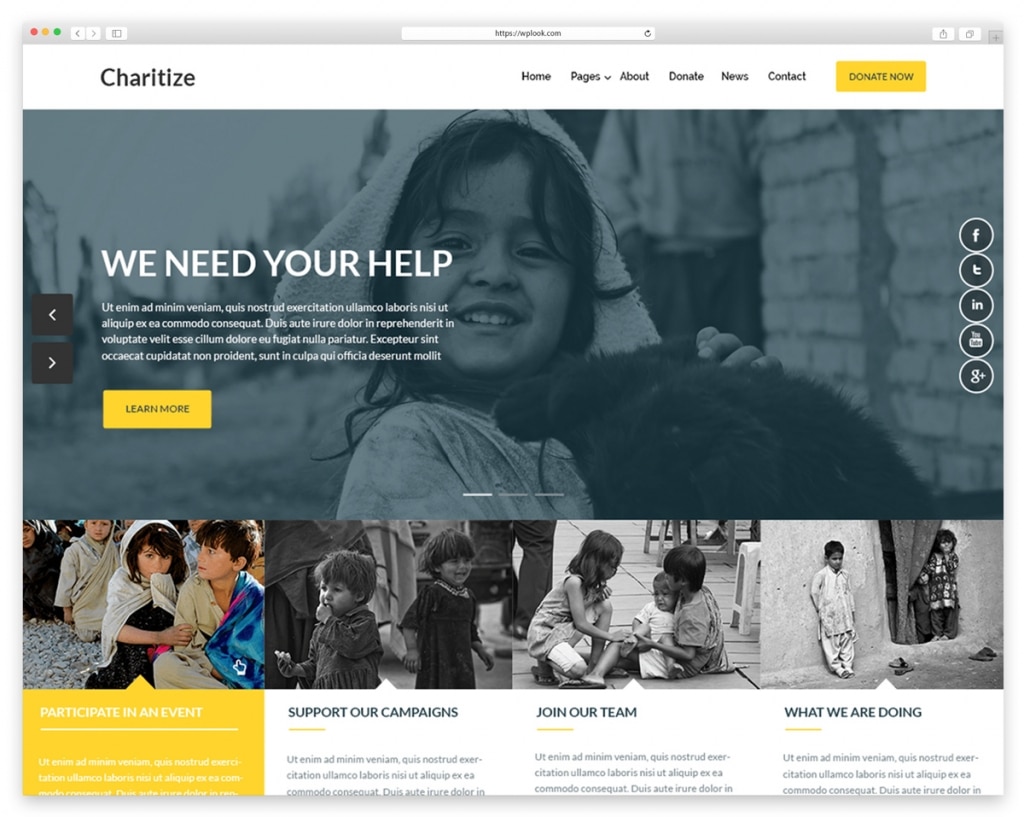 The work of a church goes beyond the physical walls of the building – and if you want to spread the influence of your church to the digital realm, Charitize could be the theme to help you do just that.
Charitize is a simple and clean WordPress theme by eVision Themes that has lots of customization features that will help you build a professional website for your church. Charitize supports most of the popular plugins including jetpack, contact form 7 and PS sitemap just to mention a few.
Standout Features:
Custom background
Sticky post
Translation ready
Supports popular plugins
Learn More about Charitize
Get Hosting
Conclusion
When you have made up your mind to design a WordPress website for your site, there is a wide range of Free Church website themes available online. All these themes discussed above are developed as per website owners' point of view maintaining all the features in mind that you would be looking for. Here at WPlook Studio, we highly recommend Charitas Lite Theme.
Didn't find the Free WordPress Theme for Your Church or Nonprofit Organization? Check  Premium Nonprofit Themes and start to build the dreamed website!
Charity, Church, Free Download, Free Themes, NonProfit, WordPress, WordPress Themes