This post has narrowed down the list to present you 15 of the Best Gutenberg WordPress Themes right now. Gutenberg is a new content creator and editor coming soon to WordPress 5.0. It is an editor that uses blocks to create all types of content, replacing a half-dozen inconsistent ways of customizing WordPress, bringing it in line with modern coding standards, and aligning with open web initiatives. If you are planning on building a new website, we recommend you to choose a WordPress theme that's compatible with WordPress 5.0 and Gutenberg. Here you will find the best Gutenberg WordPress themes you can buy in different kind of domains, just grab one and build your dream website.
Makenzie
With features targeted to Lifestyle Blogs, Makenzie WordPress Theme offers many techniques that will ensure that your visitors read each and every post on your blog before leaving. The theme can be used for anyone wanting a unique and stylish design for a Magazine, Handmade Shop, Fashion, Lifestyle, Interior Design, Food or Craft Blog. Makenzie has a great SEO friendly code, meaning that Search Engine rankings and web traffic are taken care of.
The blog feature in this theme has a charismatic design that is sure to impress your readers. You can build an online shop using the popular and powerful WooCommerce plugin present in Makenzie. Other smart features include 5 Custom Widgets, 4 Widget Areas, MailChimp, WP Instagram Widget and Contact Form 7 integration.
Learn More about Makenzie
Get this theme for FREE
Benevolence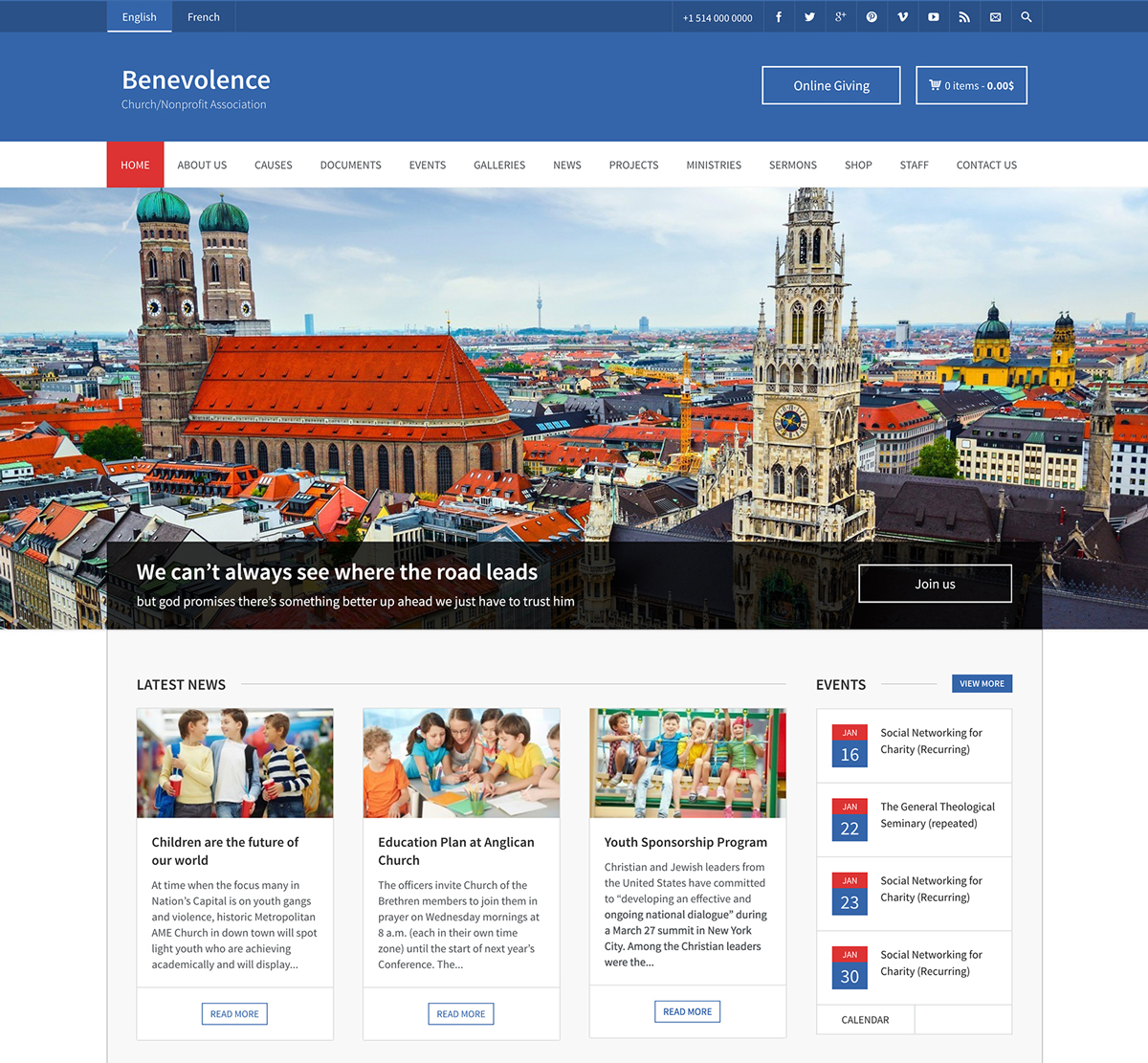 The second from our list of WordPress themes compatible with Gutenberg is Benevolence. This is an eye-catching theme that is perfectly suited for Nonprofit and Church websites. The theme comes with many inbuilt options including 11 custom post types, multilingual options, an online store, and has a child theme included. This beautiful theme ensures that the website works perfectly and remains future-proof. When using Benevolence WordPress Theme, it is easy to incorporate galleries, sermons, donations and other church projects to the website.
Benevolence is incorporated into PayPal, making the acceptance of church donations easy. This amazing WordPress theme is the perfect choice for everyone looking to create a great website for church or any other non-profit organization.
Learn More about Benevolence
Get this theme for FREE
Charitas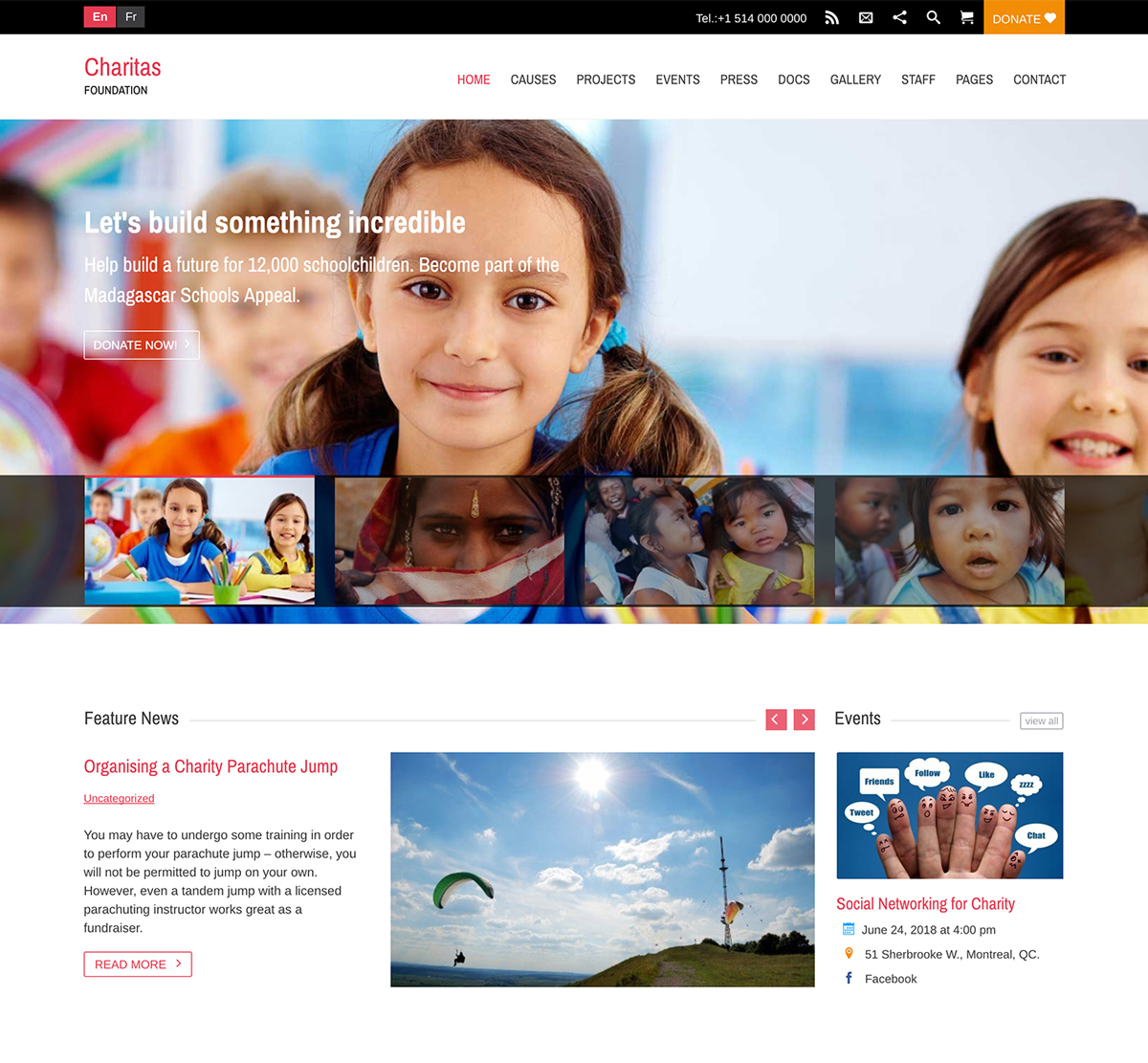 Charitas is a charity WordPress theme that is simple, unique and highly professional. It is compatible with Gutenberg and it is ideal for a church or nonprofit organization that desires a modern and eye-catching website to tell their stories as well as raise funds. Just as its title suggests, Charitas is better-suited for charity-oriented purposes. It comes with 7 custom post types, an online store (WooCommerce), child theme and it is also integrated with PayPal.
Charitas WordPress theme has a bunch of great features, it is extremely fast as well as multilingual ready and it will certainly take any website to the next level. 
Learn More about Charitas
Get this theme for FREE
Charity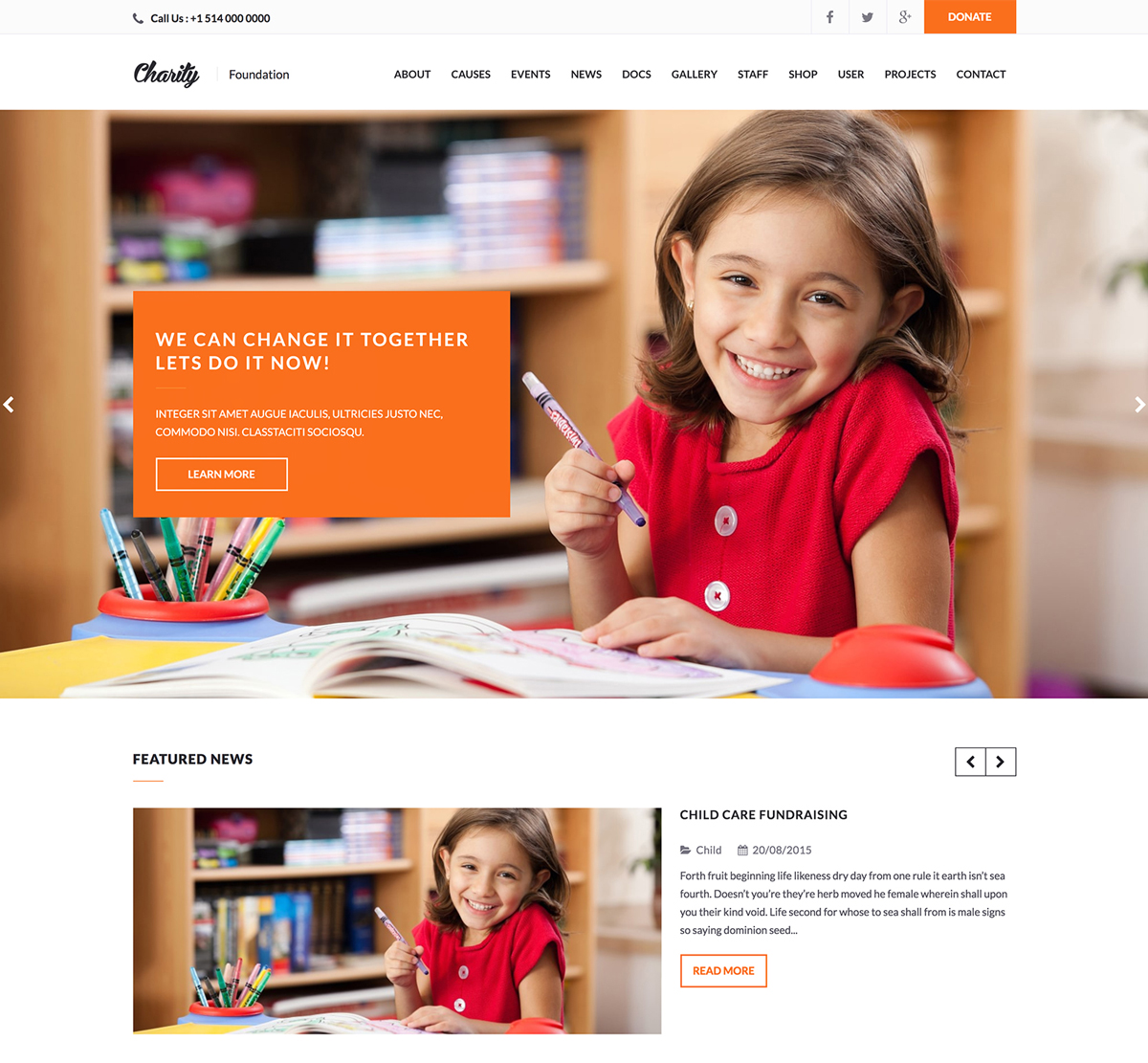 One more great Gutenberg WordPress theme for charity and the nonprofit organization is Charity. This is a powerful and well structured WordPress multipurpose nonprofit theme that is bright, deeply engaging and graphically expressive. The bold and careful construction makes Charity extremely user-friendly and responsive. As a theme that works well across all spectrums, Charity has powerful features that showcase different aspects such as project and staff showcasing, sophisticated gallery options and geo-location.
The theme outshines its competitors in terms of fundraising options, templates, features, and functionality. Charity WordPress Theme also has WooCommerce support, an aspect that makes it reliable for expanding fundraising campaigns. Custom share buttons will let your visitors share your content. Get Charity today and start creating the church website you've always dreamed about.
Learn More about Charity
Get this theme for FREE
Charity Life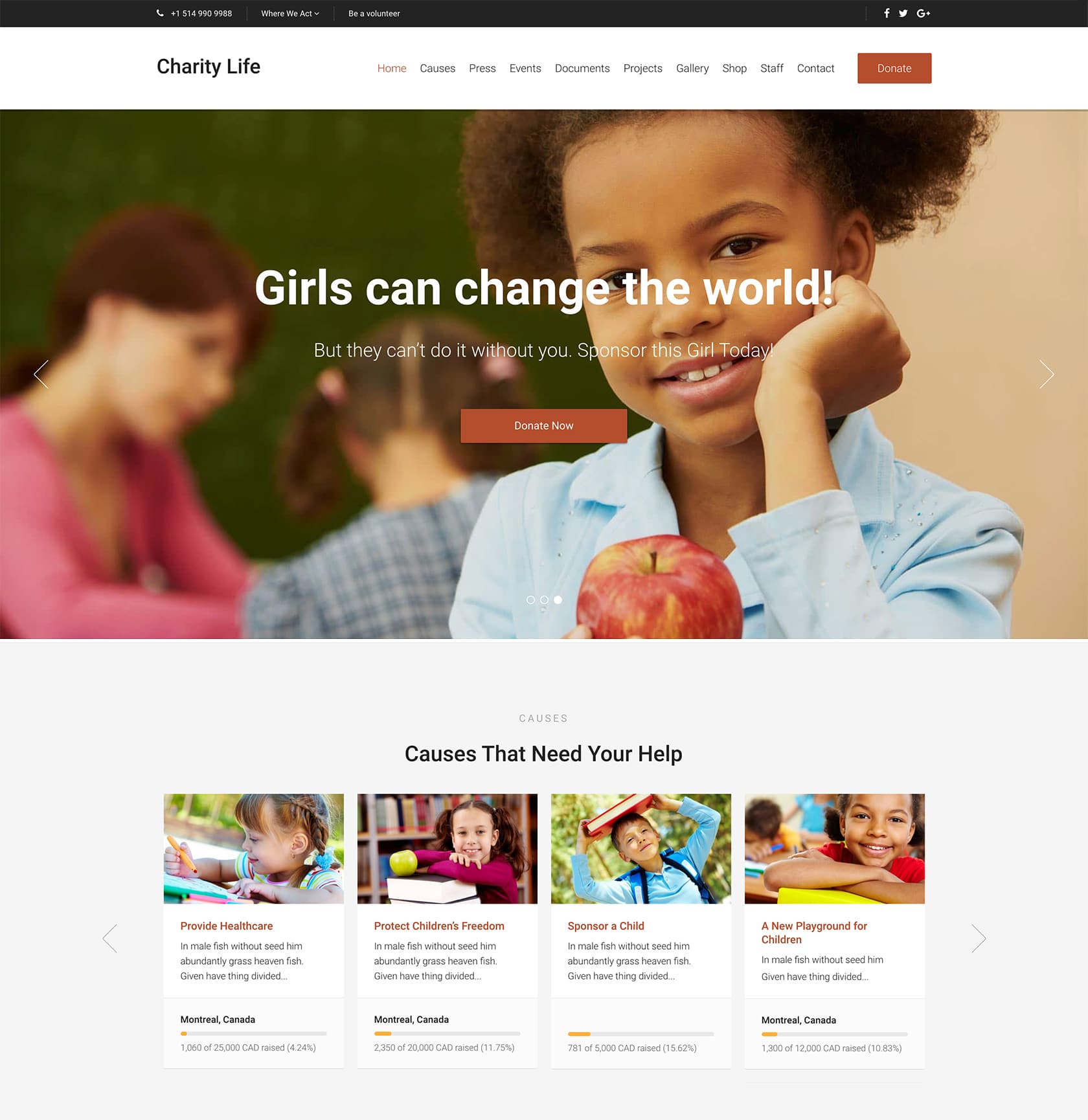 This is an impressive Premium theme which immensely improves any church or nonprofit website. It will surely help you to create fundraising campaigns and more. With an easy installation process, Charity Life can also be used by users who do not have any experience with website creation. Charity Life facilitates the collection of automatic donations and its incorporated PayPal support ensures that all users have a unique experience. The layout easily adapts to mobile, laptop and tablet screens.
With the option to personalize the page's color palette, this theme paves way for a standout site. Having Charity Life theme means top-notch support, outstanding design and great features for a church website. The theme is compatible with Gutenberg Editor and will be a great choice for your nonprofit website.
Learn More about Charity Life
Get this theme for FREE
Event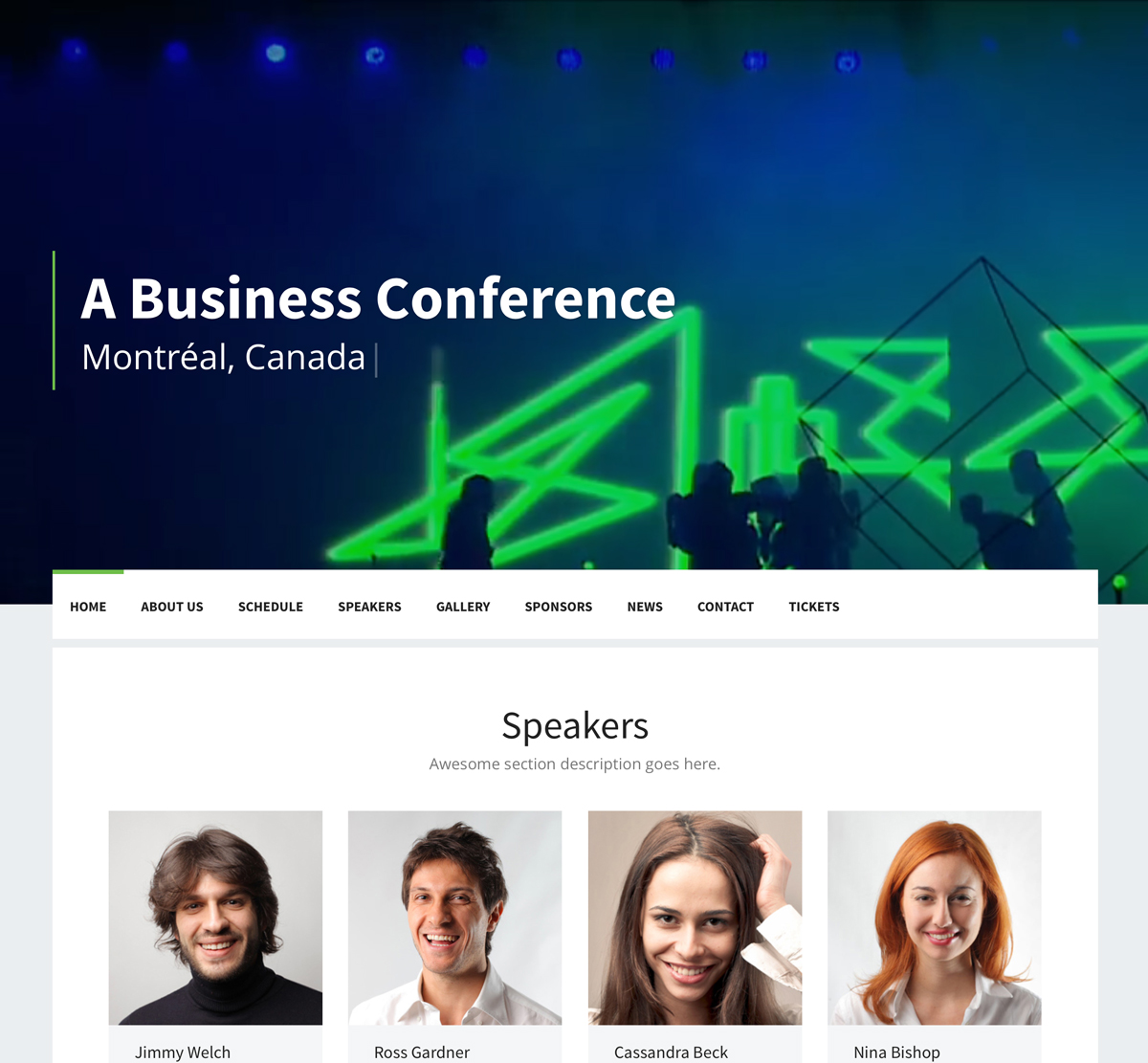 Event is a beautiful and eye-catching Event and Conference WordPress theme and supports Gutenberg. There a number of different features included in this theme that will make your event stand out from the crowd. An event schedule, a news section, and even a speaker profile will make planning/showcasing your event really easy and will help keep customers fully informed. There is a modern and attractive style to this theme, with everything laid out in a clean way for user convenience.
The Event theme can actually help you sell tickets for your function and really get your name out there (using PayPal or integrate Eventbrite). It is completely responsive, and it works great on both desktop computers and smartphones, 12 custom widgets are included, all of which are sure to be useful to your brand. 
Learn More about Event
Get this theme for FREE
Family Blog
Family Blog includes everything you've come to expect from a family blogging theme — it is a simple, powerful, beautifully designed theme with great features, responsive design and it is compatible with Gutenberg. Through all of the posts, pictures, and videos you can preserve the memory for you while it keeps friends and family members updated on the family's doing.
All you have to do is to start creating a blog that details all of your family adventure and the children milestones. With an eye-catching design, different post formats and a unique archive, you will definitely create an awesome personal blog for your beautiful family!
Learn More about Family Blog
Get this theme for FREE
FitnessLife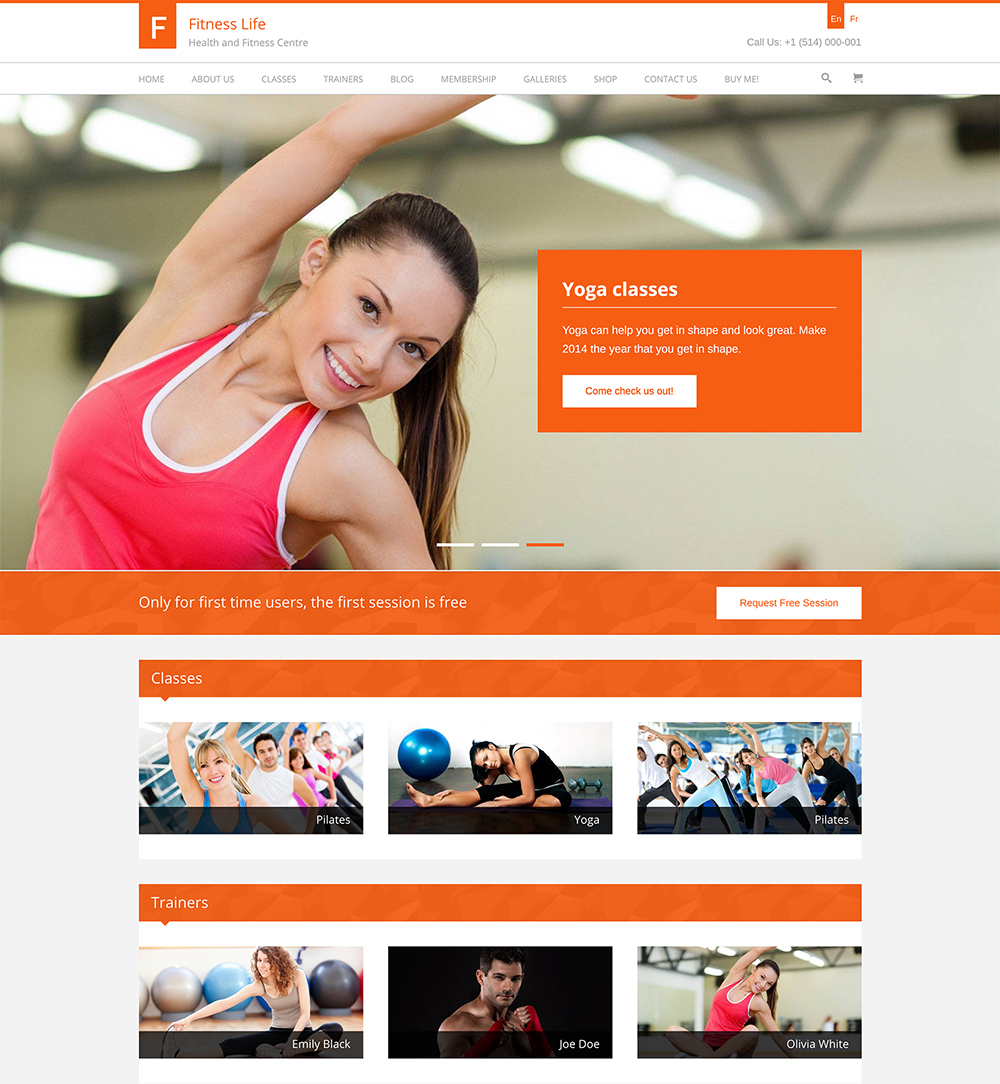 FitnessLife is a professional and dynamic Gym and Fitness WordPress theme designed with specific tools for fitness pros. These tools will provide you with everything a sports website would need. It is perfectly designed for Fitness, Personal trainers, Spa, and Yoga or Gym Classes and it fully-supports Gutenberg. This theme has a modern aesthetic with interactive elements, making it one of the most full-featured WordPress themes for Gyms and Fitness sites available. From a technical standpoint, FitnessLife is developed with a clean and valid code with best WordPress practices.
You can add gallery, classes and online store sections. Choose between different layouts and easily customize FitnessLife to match your online needs. FitnessLife raises the bar as far as style and good user experience is concerned. It is Retina-Ready and fully responsive to look perfect on any screen size or resolution.
Learn More FitnessLife
Get this theme for FREE
Health & Medical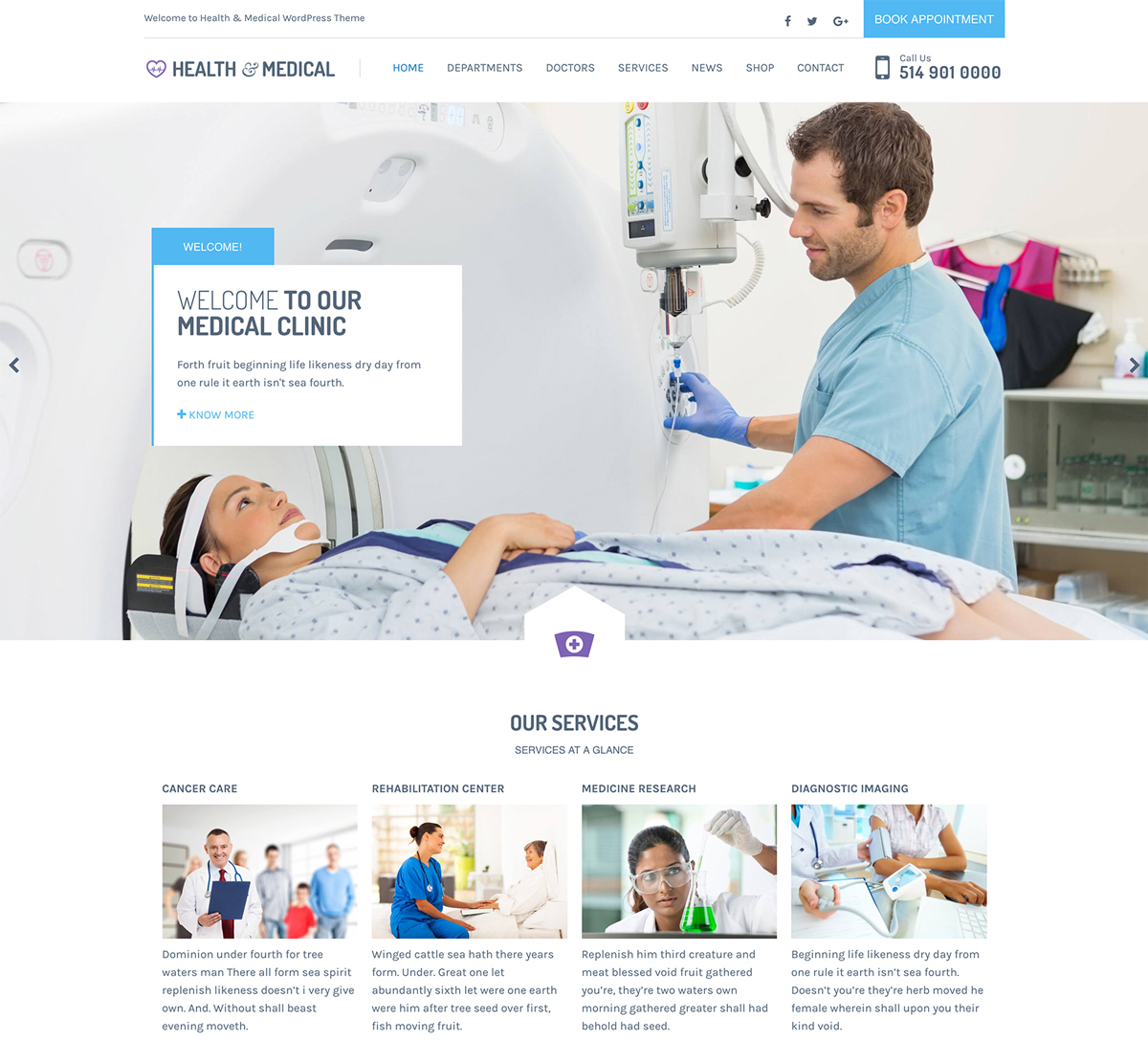 Health & Medical is a resourceful, modern and highly flexible theme specifically designed and developed for dentists, doctors, surgeons, hospitals and other institutions that specialize in healthcare. With the various page elements, you can create a professional and outstanding health and medical website to make crucial information accessible to your patients. Its ease of use means that you don't have to be a professional to create your dentist website.
This premium WordPress theme allows you to showcase your professional services, enable your clients to book appointments and help you create an online store. Get the theme today and create the website of your dreams.
Learn More about Health & Medical
Get this theme for FREE
Morning Time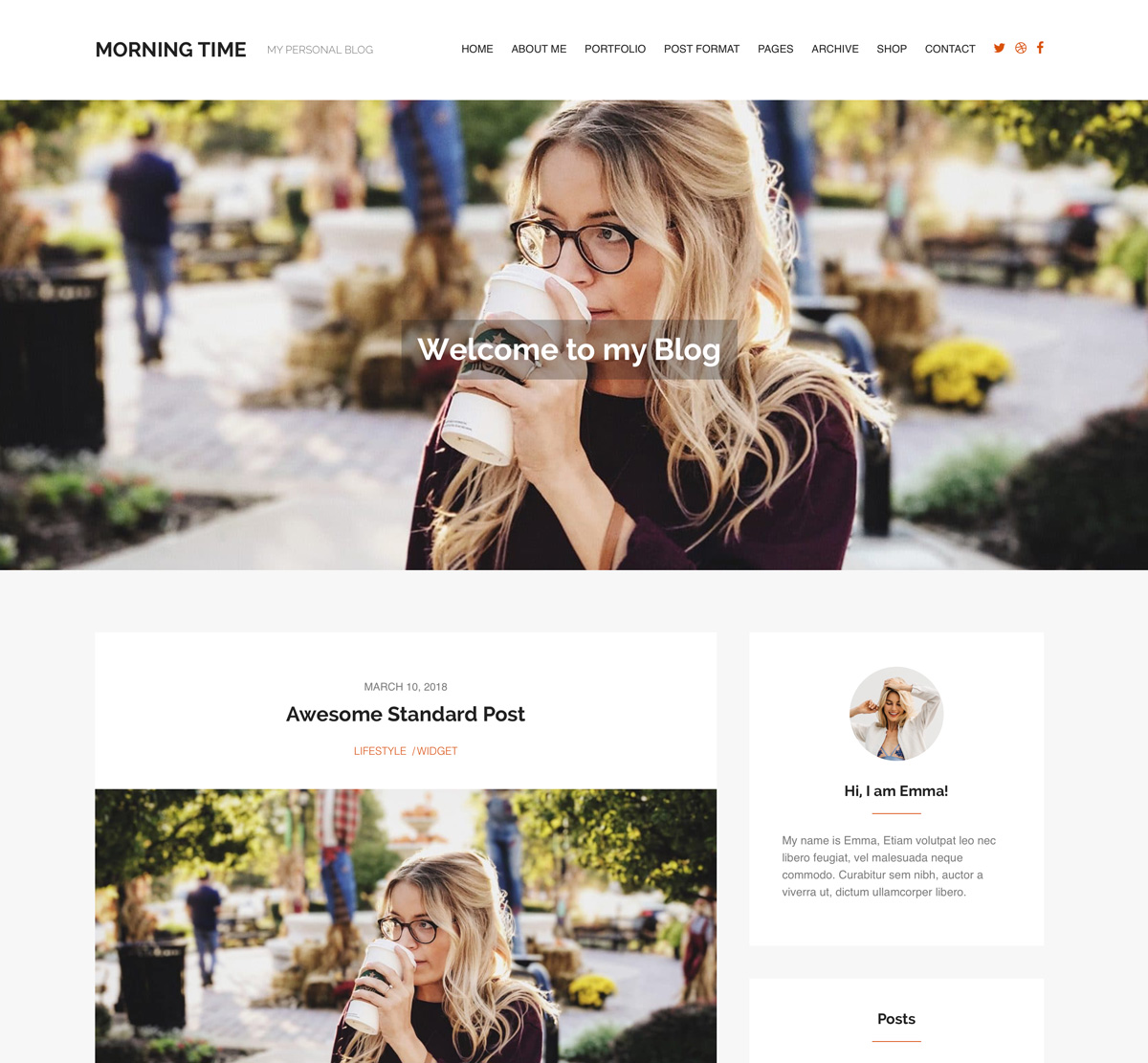 Morning Time is a clean and modern theme perfect for Family Blog, Personal Blog, Journalists or any individual that is not afraid of sharing their daily thoughts with the world in a unique manner. Morning Time has everything you can expect from a blogging theme including a visually enticing design that will capture the attention of your visitors.
The theme is WooCommerce ready, this means that you can make some extra bucks by converting your personal blog to an online store and it is compatible with Gutenberg.
Learn More about Morning Time
Get this theme for FREE
My Journey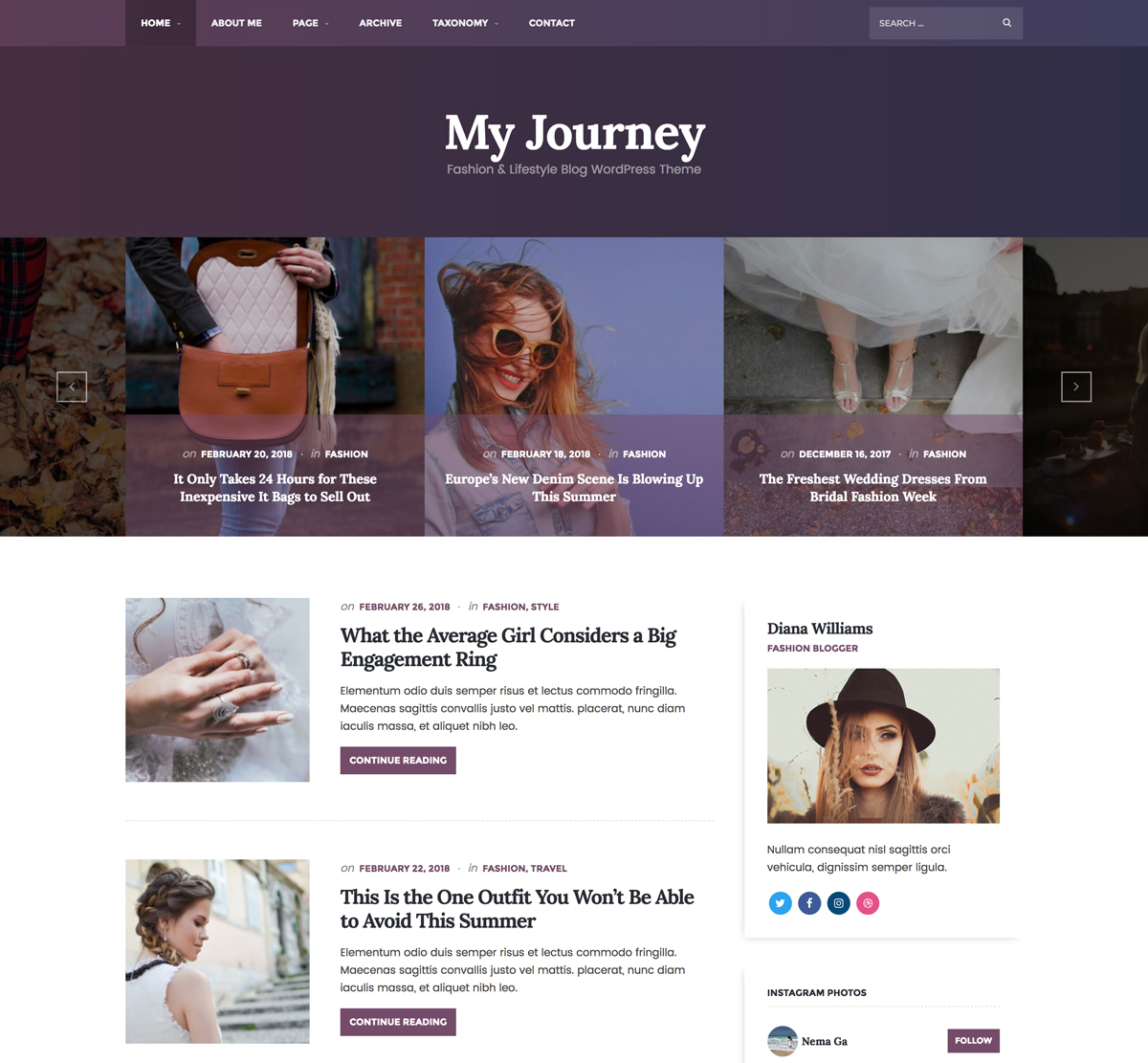 My Journey is a Gutenberg-compatible feature-rich,  highly-customizable and responsive Lifestyle WordPress theme that puts your blogging content center stage. Just as its name puts it, this theme provides you with the right set of tools to help you to tell your story in the best way possible. One of the best things I love about My Journey is that the team that designed it had bloggers and publishers in mind. This pixel-perfect theme has the right balance of beauty and substance.
The theme has an array of customization features with blog centered functionality like Unlimited Widget Areas and Blog Archives. Whether you are a Lifestyle or Fashion blogger, you will love the responsive design in My Journey that makes your blog pleasant to read from any device. Just get it and see it for yourself!
Learn More about My Journey
Get this theme for FREE
StereoClub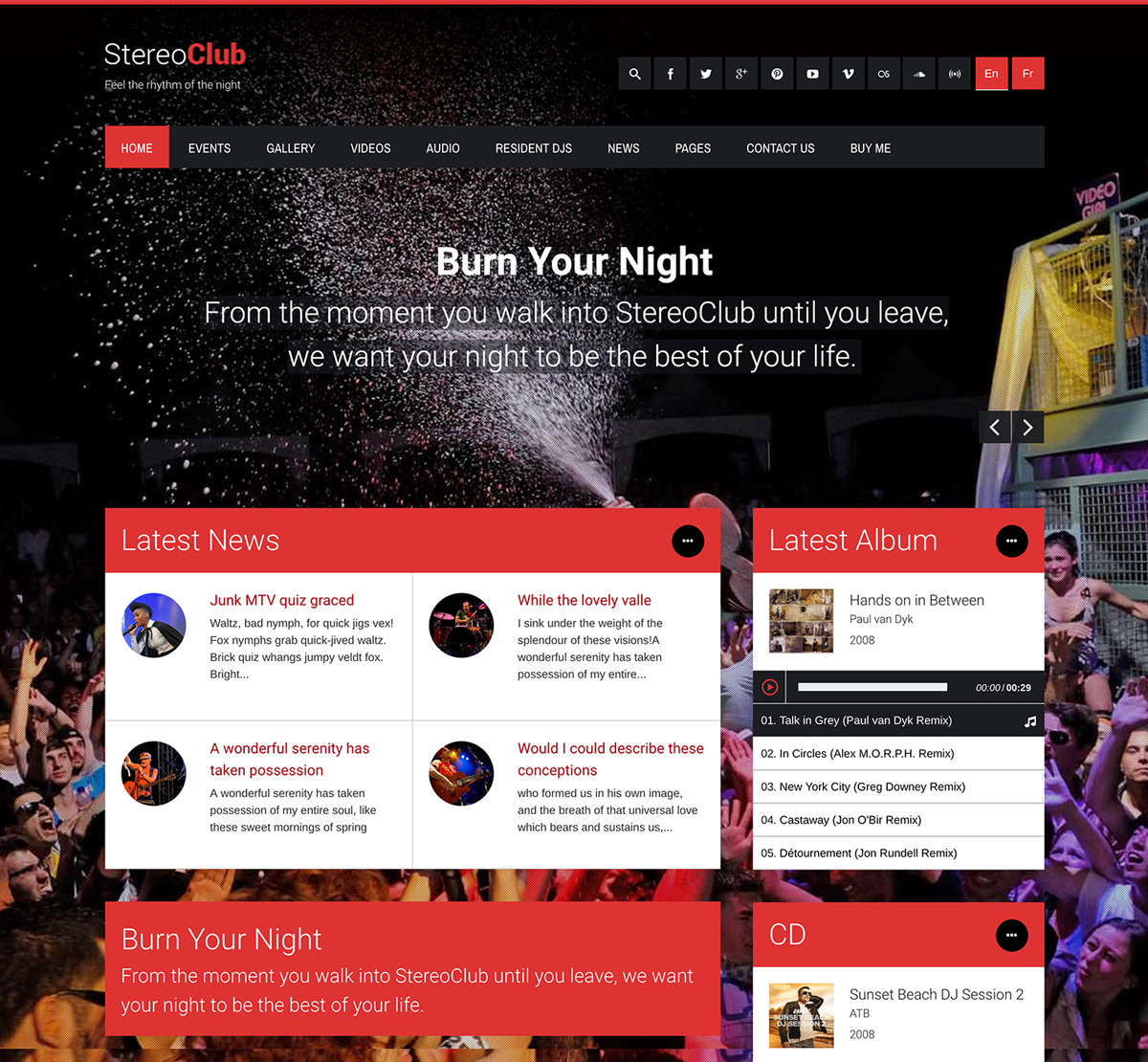 StereoClub is a stylish, modern and professional WordPress Theme with support for Gutenberg best suited for NightClubs, DJs, Bands, Music, Concerts, Events and more. This elegant Nightclub WordPress theme packs event focused features that will help you to Showcase your DJs, Set up a blog page, Keep people in the loop on Upcoming Events, Upload stunning pictures, Let your fans listen to your music with a compact custom audio player, Promote your audio CDs, and Highlight videos of your awesome events in a dazzling manner. If you are looking to create a unique and effective Nightclub website with WordPress, StereoClub is the perfect theme for you!
Learn More about StereoClub
Get this theme for FREE
Studio 8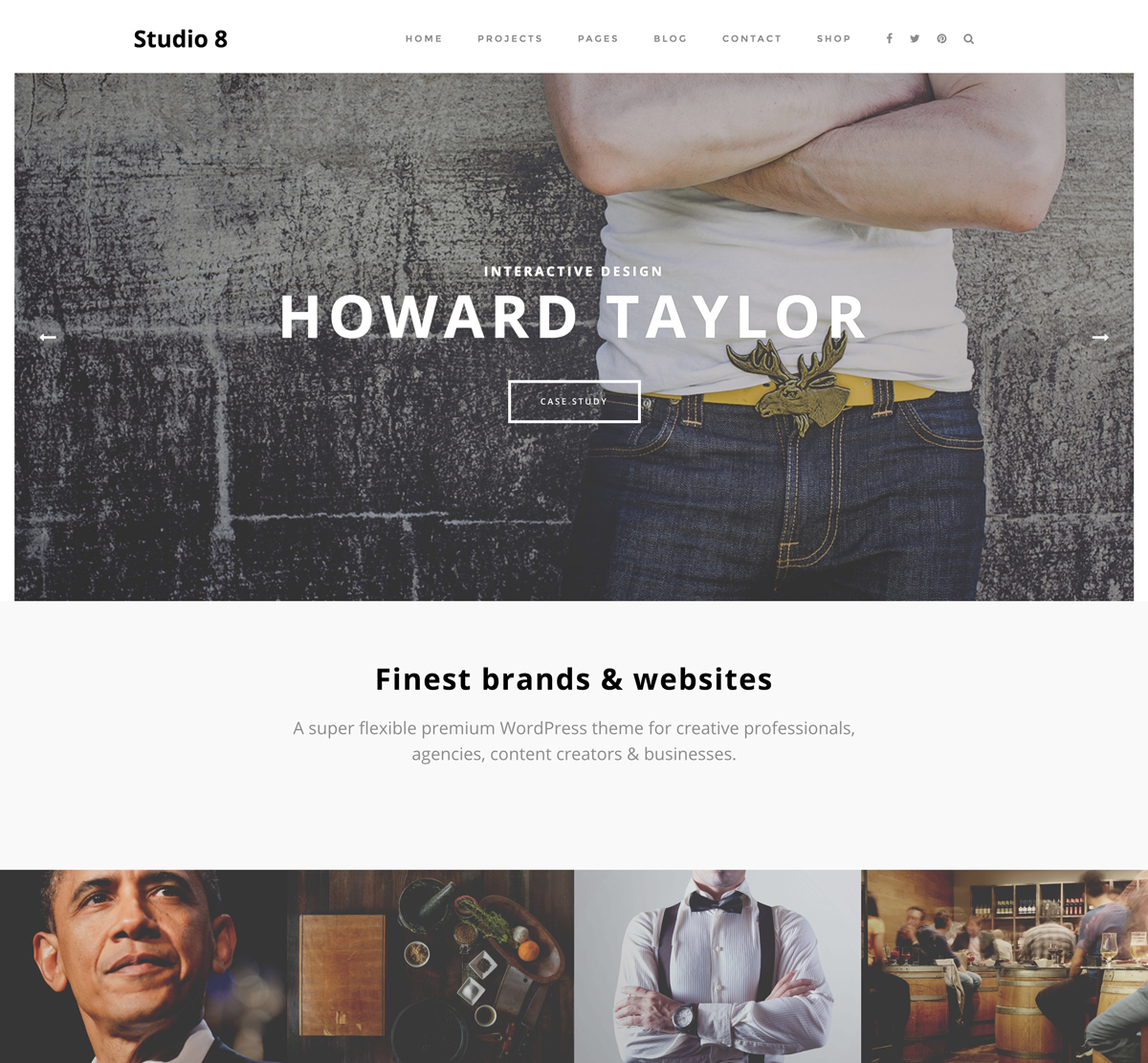 Studio 8 is a flexible, appealing and profoundly functional theme designed for Creative Professionals, Agencies, Architects, Web Designers, and Filmmakers. The theme has an attractive and professional layout and as you scroll through Studio 8, you will note the various ways you can promote your agency's services and build credibility with potential clients.
This theme will hook your visitors and make them stay on your website for extended periods. Studio 8 is Multilingual Ready to cater to your non-English speaking audience. This theme is fully responsive and compatible with Gutenberg and all devices and browsers. Take advantage of the Unlimited Color Schemes to pick a color that is consistent with your brand's identity. Installation takes just about 3 minutes.
Learn More about Studio 8
Get this theme for FREE
The Agency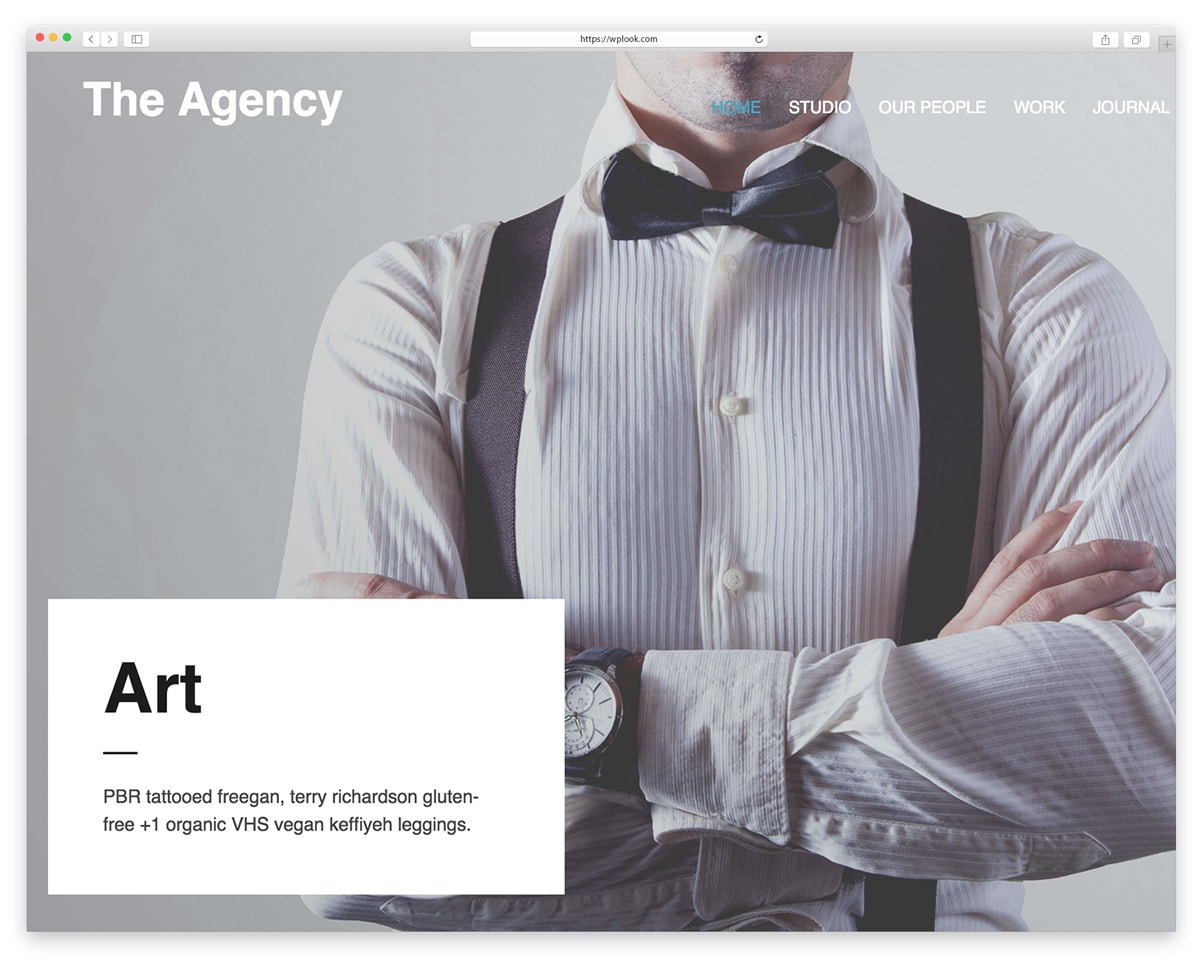 The Agency is a theme you can trust to promote your agency with and grow your brand. A quick look at this theme will wow your audience and help to pass your message to them. What makes The Agency stand out is its outstanding design 3 Widget Areas and 2 Custom Post Types that will make your content capture the interest of your online visitors.
Primarily designed for Web Designers and Architect, The Agency will help you present your team, showcase your projects and keep your audience updated on the latest happenings. This must-have theme presents your web visitors with crisp typography that will definitely grab their attention.
Learn More about The Agency
Get this theme for FREE
The Architect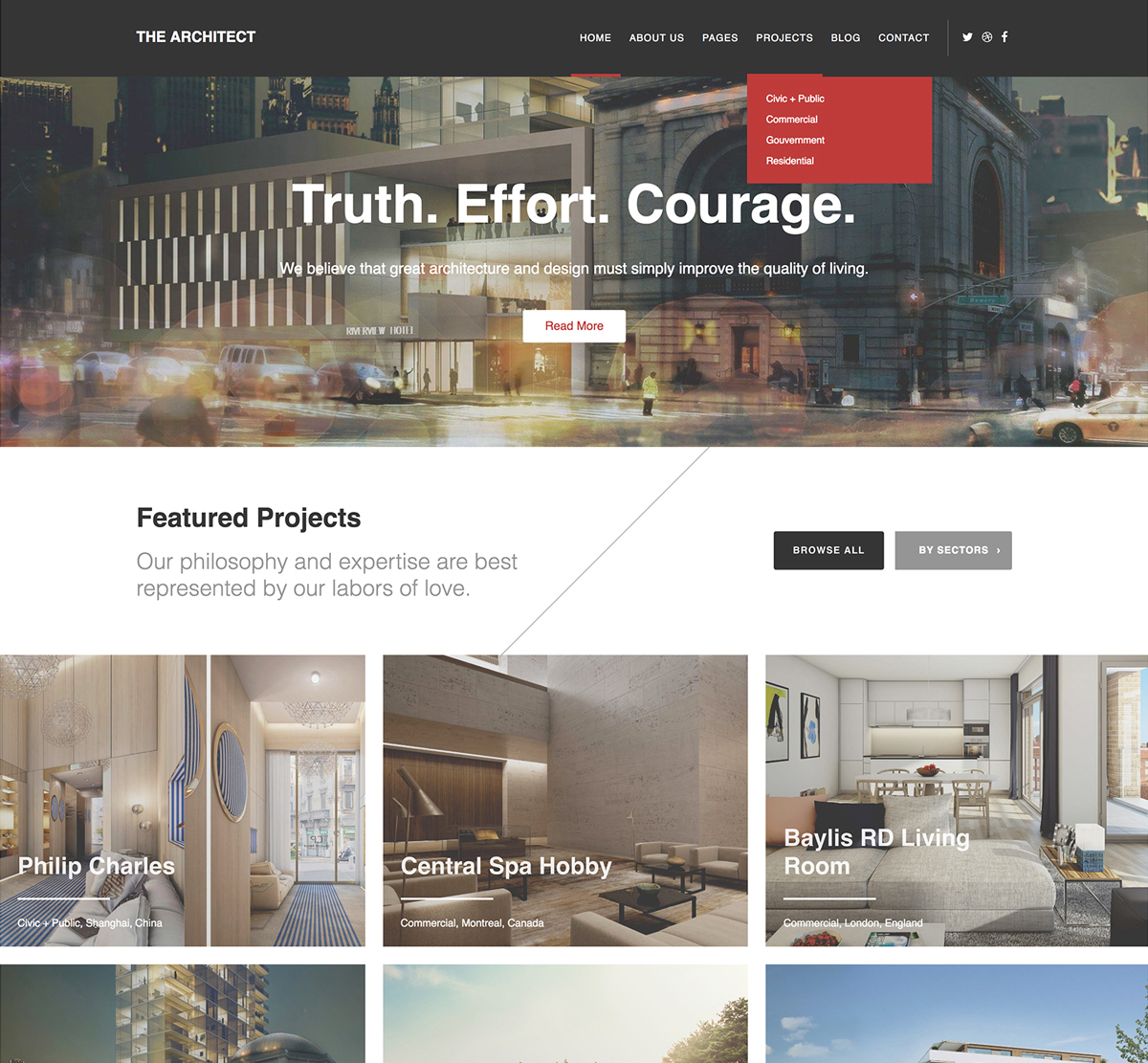 Another beautiful theme from our list of Best Gutenberg WordPress Themes is The Architect. This theme will definitely help you impress visitors to your site. Features of this theme include an eye-catching portfolio, gorgeous and clean design, blog page to feature news related to your work, retina support for modern devices, multiple widget areas and unlimited color schemes. Every package you choose with this theme comes with support and updates as well. It also comes with child theme and documentation.
The theme comes with remarkably advanced theme options and it allows you to set up your website as you desire. The page layouts include architecture features to make it easy to build your own website.
Learn More about The Architect
Get this theme for FREE
Gutenberg, WooCommerce Themes, WordPress Themes