Most events and conference organizers are always struggling to look for new and innovative ways to stand out and look professional when promoting their events. Whether you are planning a concert, exhibition, a business conference or a meetup, you need to have a modern and responsive website that looks great on all devices and which will give your event a head start. In order to develop a great website for promoting an event of any type, choosing the best WordPress theme for conference and event is paramount.
A good WordPress theme should have an appealing design and should make it easy for you to publish important information for you attendees. In this article, we explore the factors to consider when choosing a WordPress theme for conferences and events.
Ability to manage registrations
A great WordPress theme for Conferences and Events must have elaborate inbuilt customizable tools for registrations. The theme should provide the attendees with the ability to provide their personal details as well the ability to make inquiries on any further information they may require about the event.
Online ticketing
The best WordPress theme for conference and events should enable you to easily plan and set up tickets for sale. The theme should be compatible with popular ticketing services such as Eventbrite and payment sites such as PayPal. Further, it should come with integrations for most popular eCommerce extensions to handle ticket sales. These extensions include WooCommerce, Tickera, EventEspresso and so on.
Good navigation
A good theme should be able to provide easy navigation through the site. Such a theme facilitates customer to find information in your website thus helping to reduce the bounce rate and increase the client conversion rates.
Search tools
A conference and event theme should have an easy-to-use search functionality. This will allow customers to be able to search for events in your website based on different criteria. The event finder should allow a customer to filter events based on some criteria such as event category, location or a keyword search.
Customizable
The best WordPress theme for conference and event should be highly customizable to enable the event organizers to create different types of events such as exhibitions, seminars, product launches, conferences, trade expos and many others. The theme should be able to accommodate the unique characteristics of each of these event types.
Aesthetics
In order to attract many visitors, an event and conference website should have great aesthetics. In particular, a conference and event theme should have unlimited color schemes, support for Google fonts and support for popular plugins such as Slider Revolution, Visual Composer and so on.
Responsive design and support for mobile devices
A conference and event website should be pleasant to use for any kind of device including mobile devices. A responsive theme will ensure that your content is readable on any type of a screen from desktop to mobile and tablets.
Support
Though this is generic for all types of themes, select a theme from a developer offers great customer support. The developer should regularly update the theme to ensure that it's compatible with latest versions of WordPress and is able to support new features of updated versions such as widgets and tags.
After analysis of the many conference and events themes developed for WordPress, we recommend two themes which meet most of the above qualities.
Event WordPress Theme: Event is an easy-to-use, elegantly designed theme that will help you sell conference tickets online, add daily schedules and promote your speakers and organize wonderful events. The theme comes ready with eight custom post types, twelve custom widgets and unlimited color schemes thus making it easy for you to develop a world-class website for your events. The theme is easy to install, highly responsive and provides the fastest page loads for your conference website. This will greatly increase your websites client conversion rates. The theme also has original sharing buttons to allow your website visitors to share events on social media or other electronic means.
Learn More
Get Hosting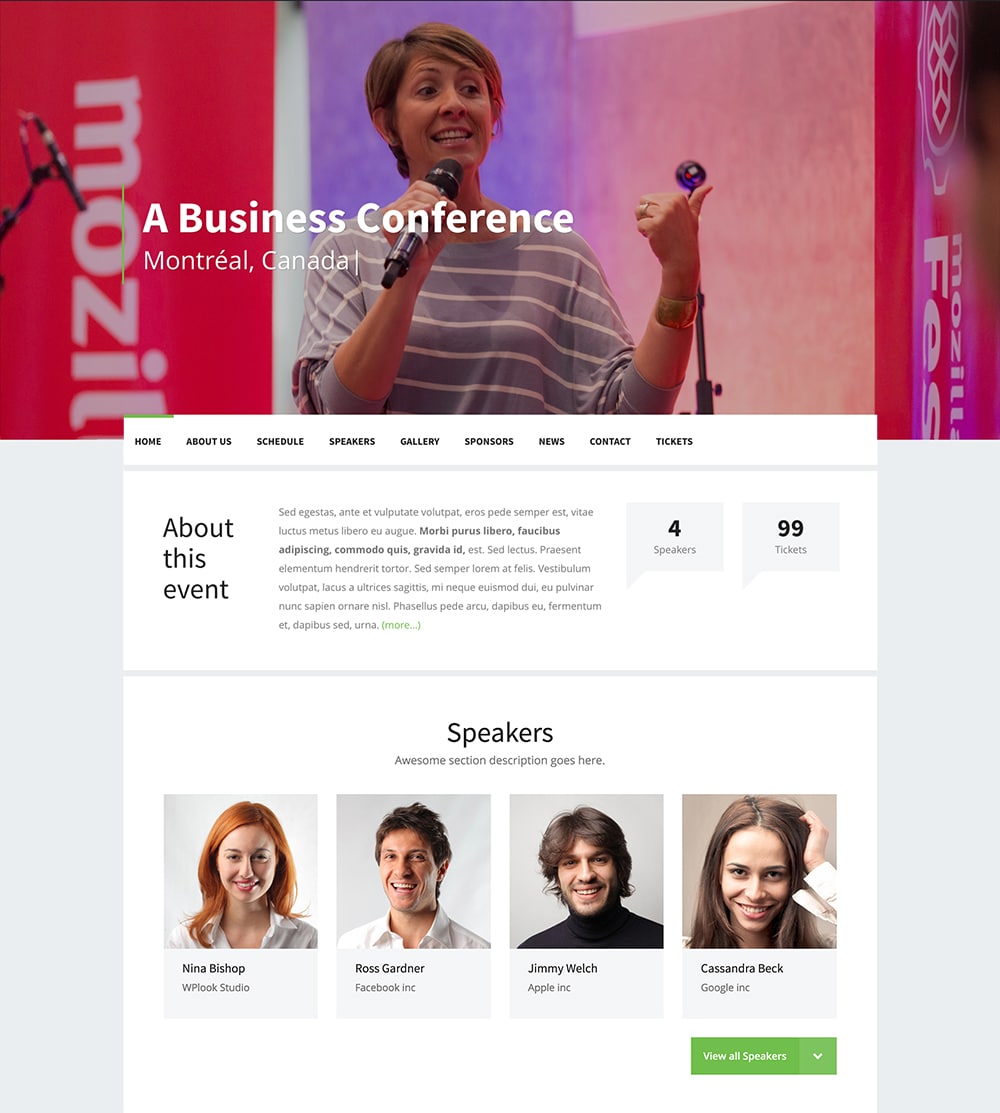 Conference WordPress Theme: For those organizing a conference, the Conference WordPress theme by WPlook is an excellent start. The theme is designed to meet all the needs for a conference. The theme is user-friendly and is designed with simplicity in mind. WPlook ensured that those using this theme have an easy time installing and operating it. The theme's options panel makes setting most features easy. Little work is needed in editing front-end content. No need for coding skills when setting areas of the theme since documentation is provided.
The Conference theme is integrated with Paypal and Eventbrite to make selling event tickets easier.  Not only the payment checkout is easy through Paypal, but also publicizing through Eventbrite. The buy button is customizable, so you can add any links to different platforms in order to sell Conference tickets. With 85% of internet users accessing the internet through mobile devices such as Smartphones and tablets, a responsive website is important. The theme is responsive to all screen sizes which makes navigation easy even on tablets and mobile devices. It has a beautiful end user design that attracts attention. The minimalist design gives room for focusing on the important details of a conference. With 8 custom post types included, the user can play around with different layouts of content (widgets) on the homepage. Unlimited color schemes and multilingual capabilities are included to suit specific audiences.
Learn More
Get Hosting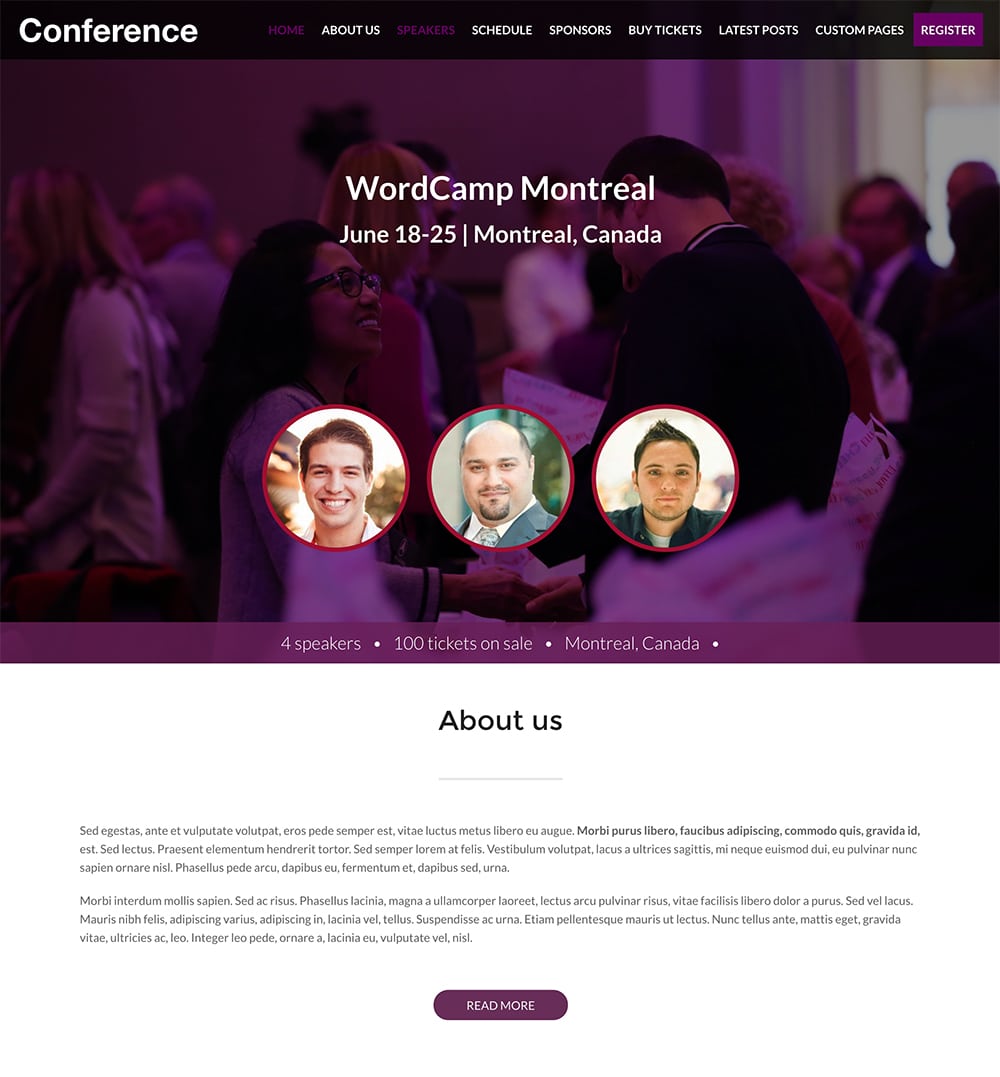 The WPlook team offers you world class customer experience, both for the tech-savvy and the not-so-tech-savvy users. For the non-technical users, the WPlook team will assist setup your website and install the themes.
We, therefore, recommend Event and Conference themes from WPlook.
Learn More
Get Hosting
Conference, Event, WordPress Themes