The importance of Charitable and Nonprofit organizations cannot be emphasized enough. These are organizations that have dedicated themselves to calling for generosity, philanthropy, and humanism. They champion the accomplishment of diverse goals for the common good. If you are running a Charitable Trust or any Nonprofit Organization, you are going to need WordPress Donation Plugins to accept funds and aid from sponsors and supporters. Recent studies have revealed that a big portion of donors prefers to donate through online methods.
WordPress has its own extensive library of plugins. These plugins are an integral part of any WordPress website that needs donations. They motivate donors, contributors, and subscribers across the globe to give a helping hand to those in need and to support worthy causes. Raising funds through donations can be a significant revenue generation method. The collected revenue will enable you to run your organization smoothly.
There are several free and premium plugins that are easy to use and customizable. As a Nonprofit, you are probably working on a tight budget. Lucky for you, all these plugins have handy features and functionally interactive performance to fit the various charitable and donation projects. Additional features include tracking donors and sending customized thank you messages.
Donation plugins give your WordPress website a complete look and functionality for any donation or fundraising campaign. Placing a donation request at a prominent place on your website is imperative. You can quickly add a Donation button to your posts and pages and customize the layout of the button through the individual settings of each plugin. It is also vital to state your objective clearly to your members and donors. Doing this convinces your members to take part in the ongoing campaigns and send their donations through the most accessible payment gateways.
This article has reviewed 8 of the best WordPress Donation Plugins right now. Pick one that suits your needs and start accepting Donations through your WordPress Website today!
Give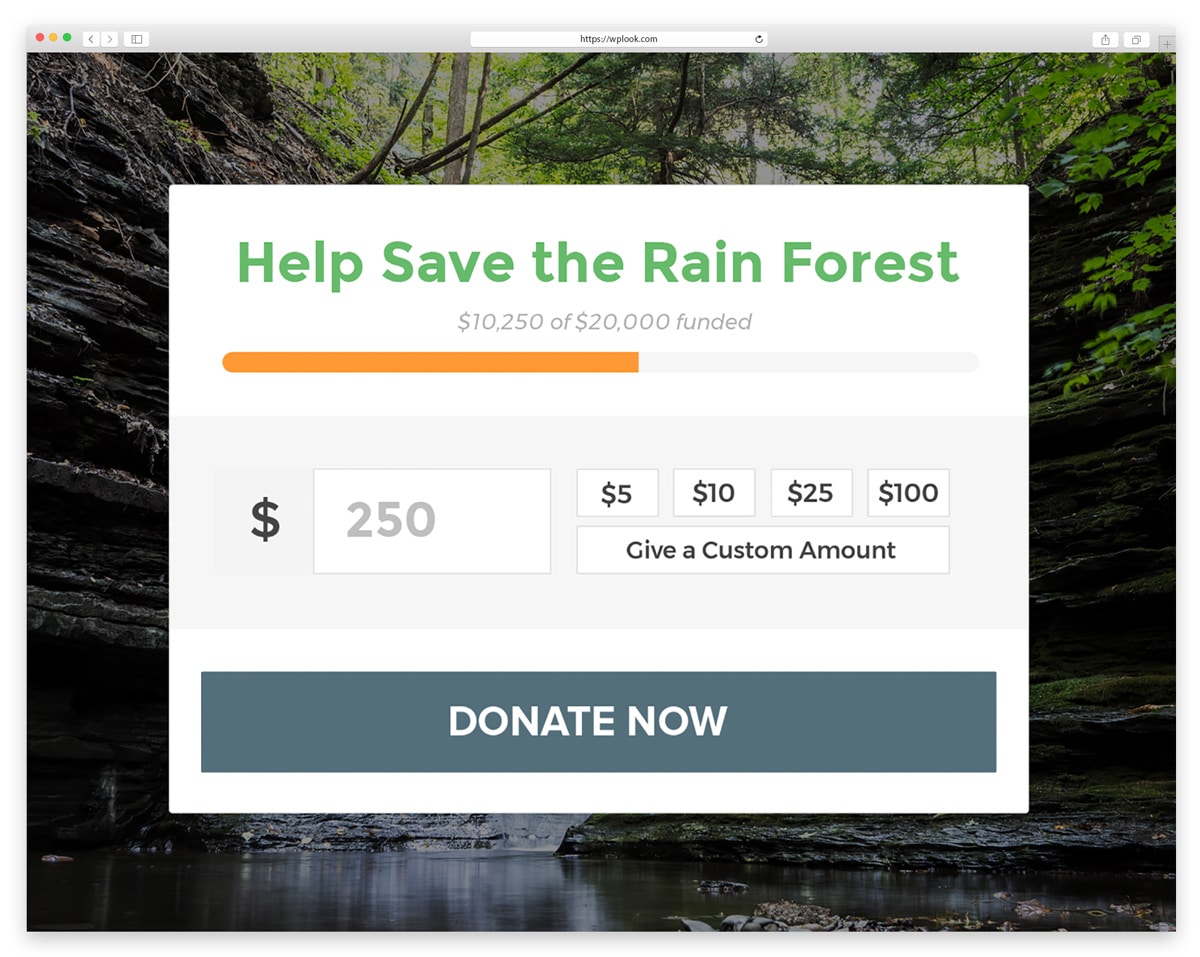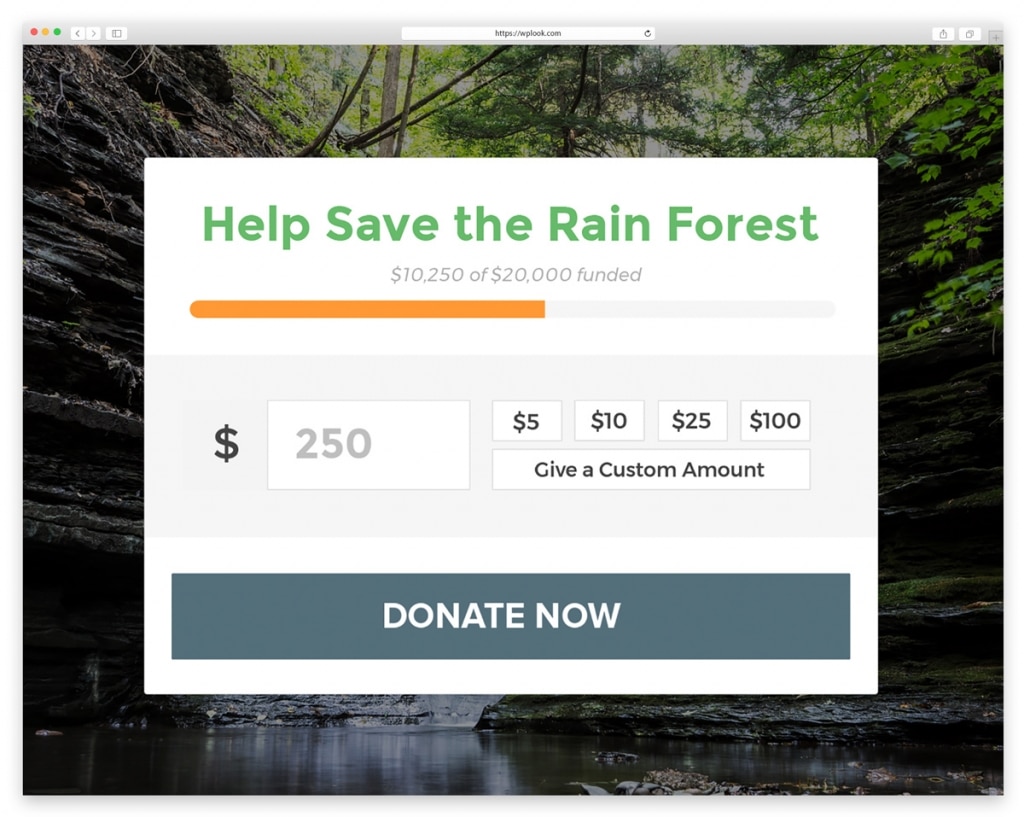 With 40k+ active installations, Give is a popular and by far the best WordPress donation plugin whose backbone lies within its forms. This lightweight, all-in-one plugin is designed to provide a flexible and intuitive solution to users. Give is miles ahead of other donation plugins in terms of add-ons, pricing, and functionality. It has advanced features that will suit the varied needs of charitable website owners.
You can embed donation receiving and management systems on your WordPress-powered blog or website quickly. This plugin is characterized by dynamic options that allow you to customize and configure your online projects conveniently. You have the luxury to specify whether the form is a single, custom, or multi-level account when creating it. You can receive payments through offline payment, PayPal standard, and other payment systems.
Key Features:
• Advanced reporting features
• No commission charges
• Dedicated support team
• Customizable thank you mails
• Goal tracking for every donation form
• Allows single, custom and multi-level donations.
Learn More about Give
PayPal Donation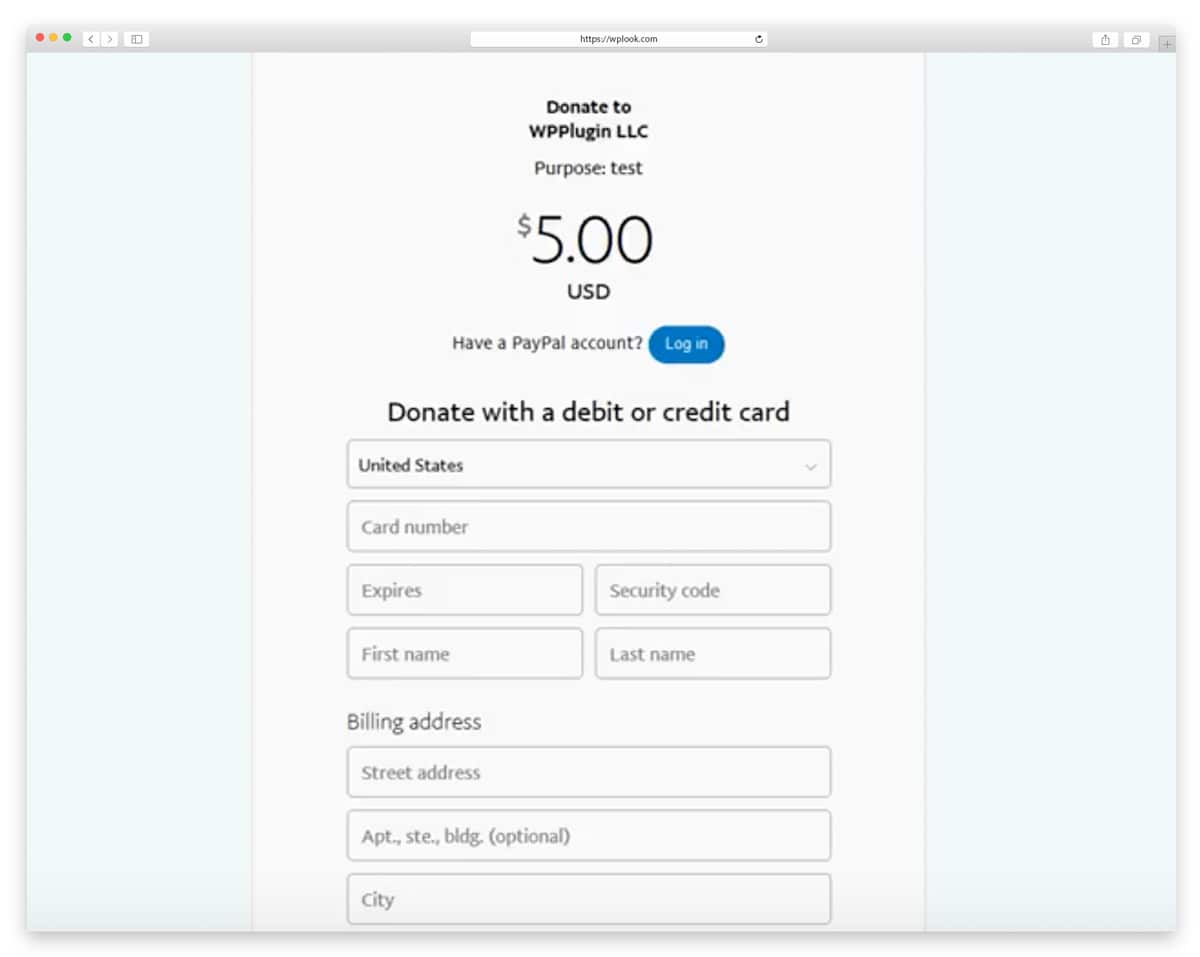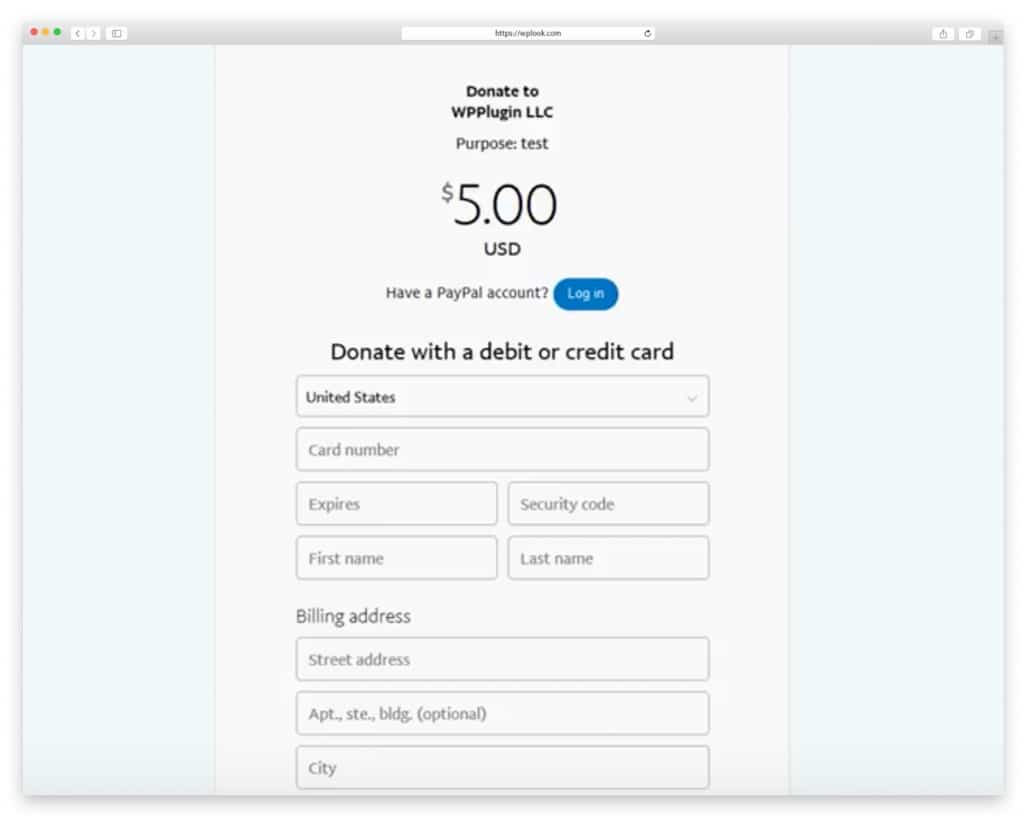 PayPal Donation is another widely-used WordPress donation plugin that enables website owners to easily add a PayPal Donation shortcode or sidebar widget anywhere on their sites.
PayPal Donation is a user and customer friendly plugin that gives you the option to localize the button and set currency. Donors can easily make their contributions with a simple click. This plugin supports many languages including French, German, Danish, and many more.
Key Features:
• Gives you currency options (25 currencies)
• Button manager
• Built-in support for 18 languages
• Shortcodes
• Allows you to customize payment page
• PayPal donations widget
Learn More about PayPal
Charitable – Donation Plugin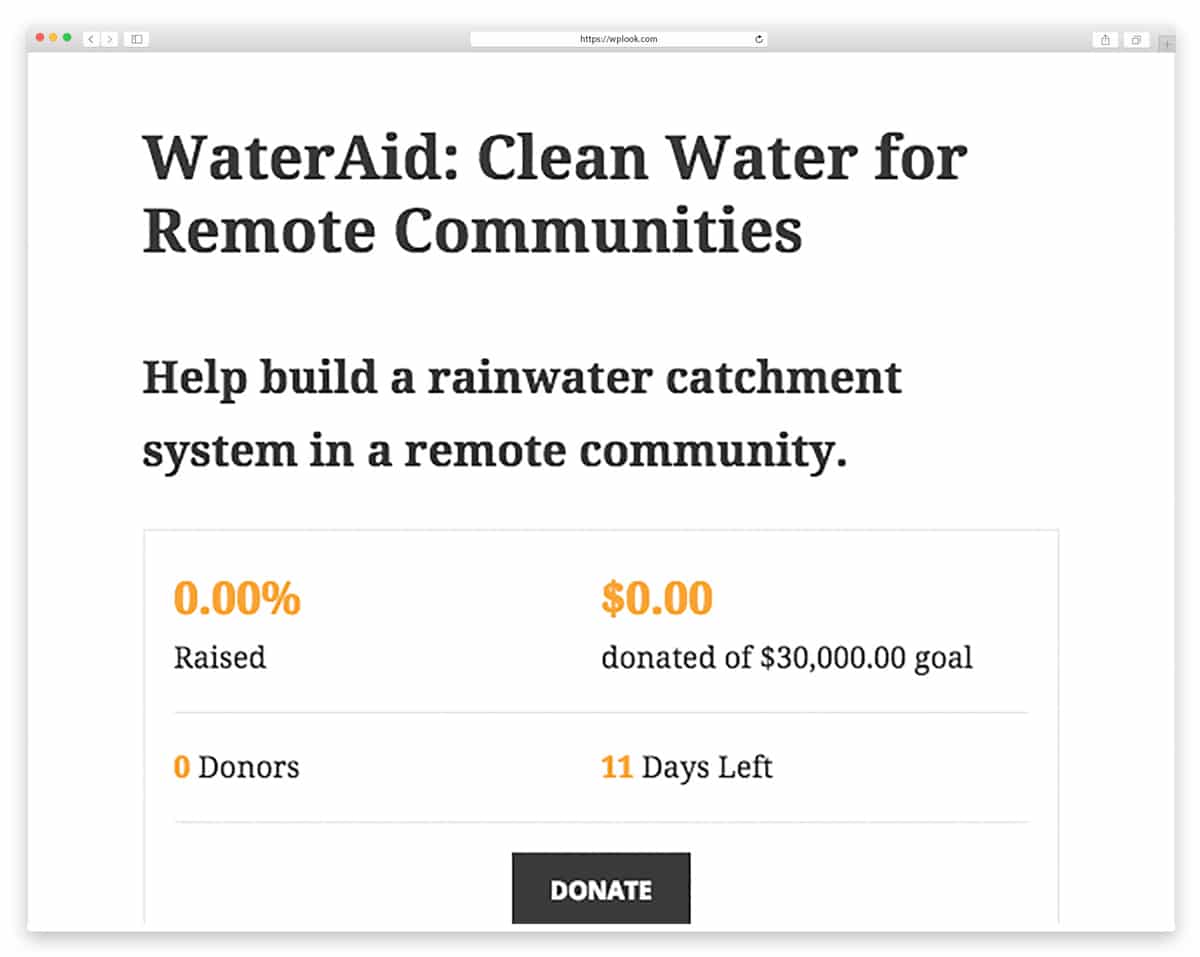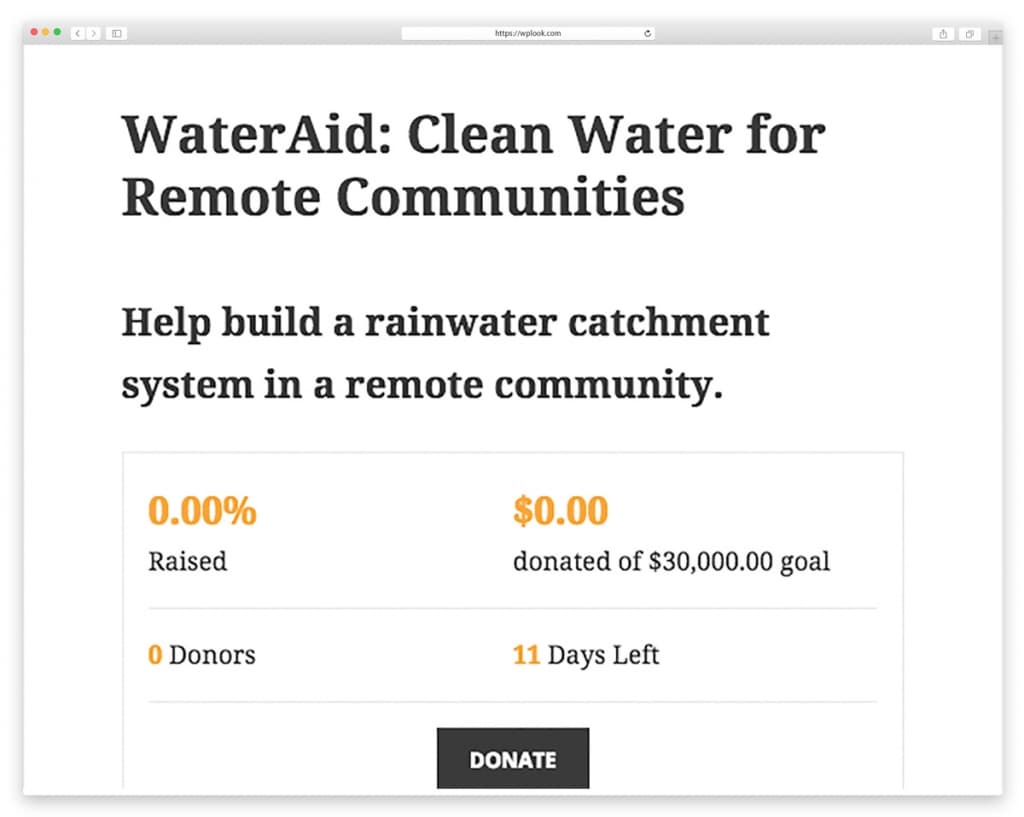 Charitable is another high-rated and free WordPress donation plugin. Charitable is an excellent online fundraising kit that works with any WordPress theme. This full-service donation plugin is easy to set up and allows you to set up as many campaigns as you want. You can smartly operate and control the donation process with no coding hassle.
Charitable gives you a chance to handle your website donation acceptance and management professionals. You can suggest donation amounts to give your members or donors an idea of how much they should give. This highly effectual plugin fully supports offline donation and PayPal. You can go for the premium add-ons if you want advanced features like peer-to-peer fundraising and recurring donations.
Key Features:
• Minimum setup time and activation
• You can easily manage donations from your WordPress dashboard
• Create donation goals
• Allows you to send email notifications to donors
• Supports PayPal and offline donation
Learn More about Charitable
Donorbox – Free Recurring Donation Form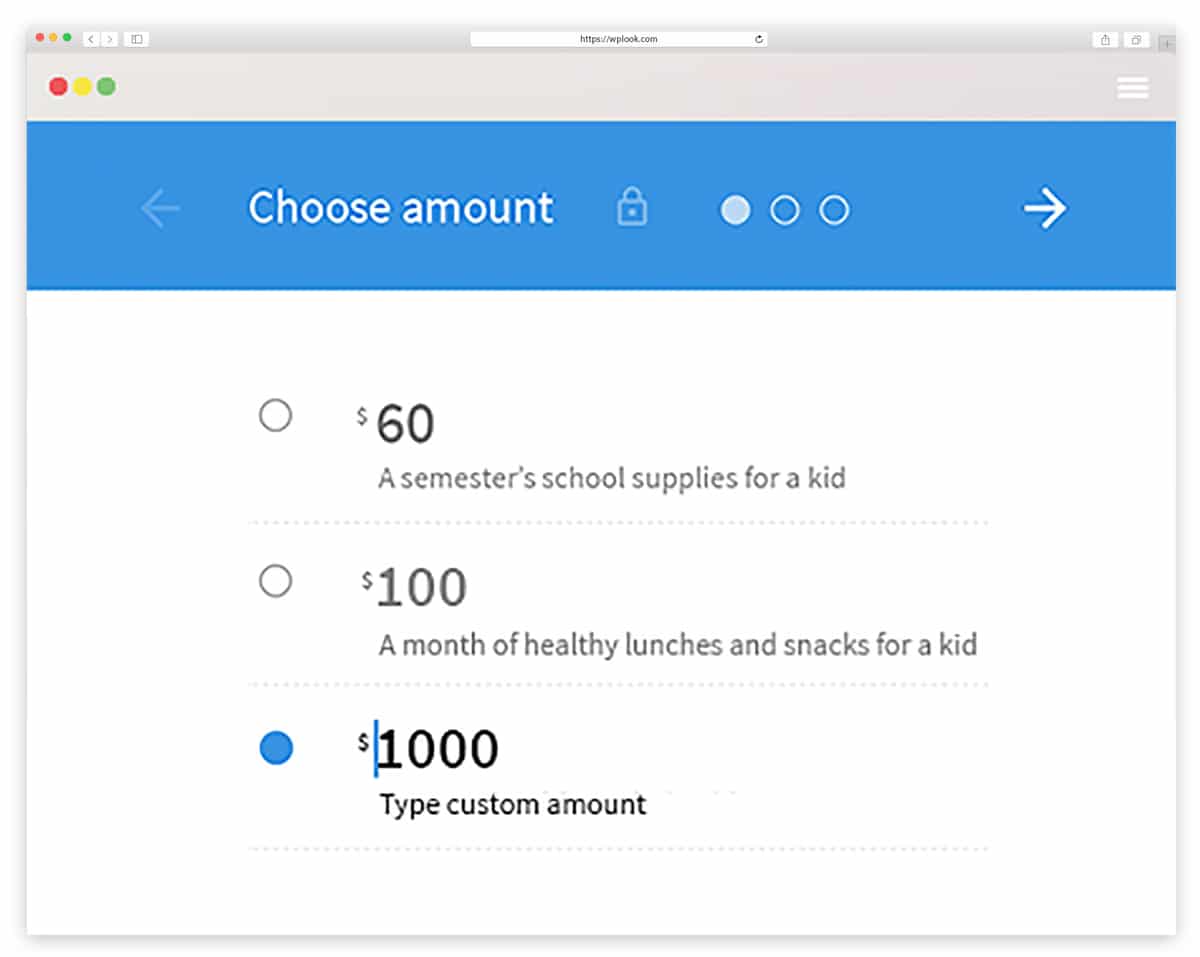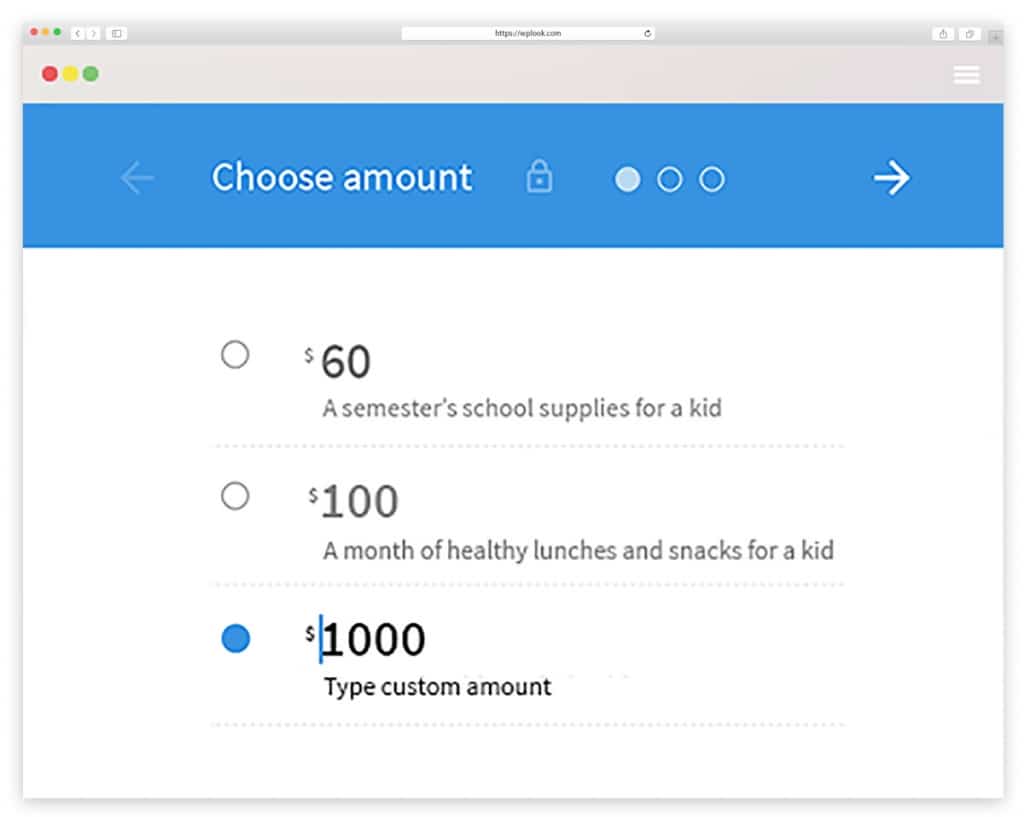 Donorbox is a distinctive and reliable WordPress donation plugin that allows you to optimize and embed recurring donation forms on your WordPress blog. This standalone donation service's interactive nature lets you collect custom questions from your donor or supporters.
You can inquire from your donor where to designate his or her donation. You can then go ahead and dedicate the donation in honor of someone. Donorbox is free up to $1000 in donations/month.
Key Features:
• Customizable receipt text
• Donation goal meter
• Multi-lingual and currency support
• Supports PayPal donation
• Salesforce and MailChimp integration
Learn More about Donorbox
Seamless Donations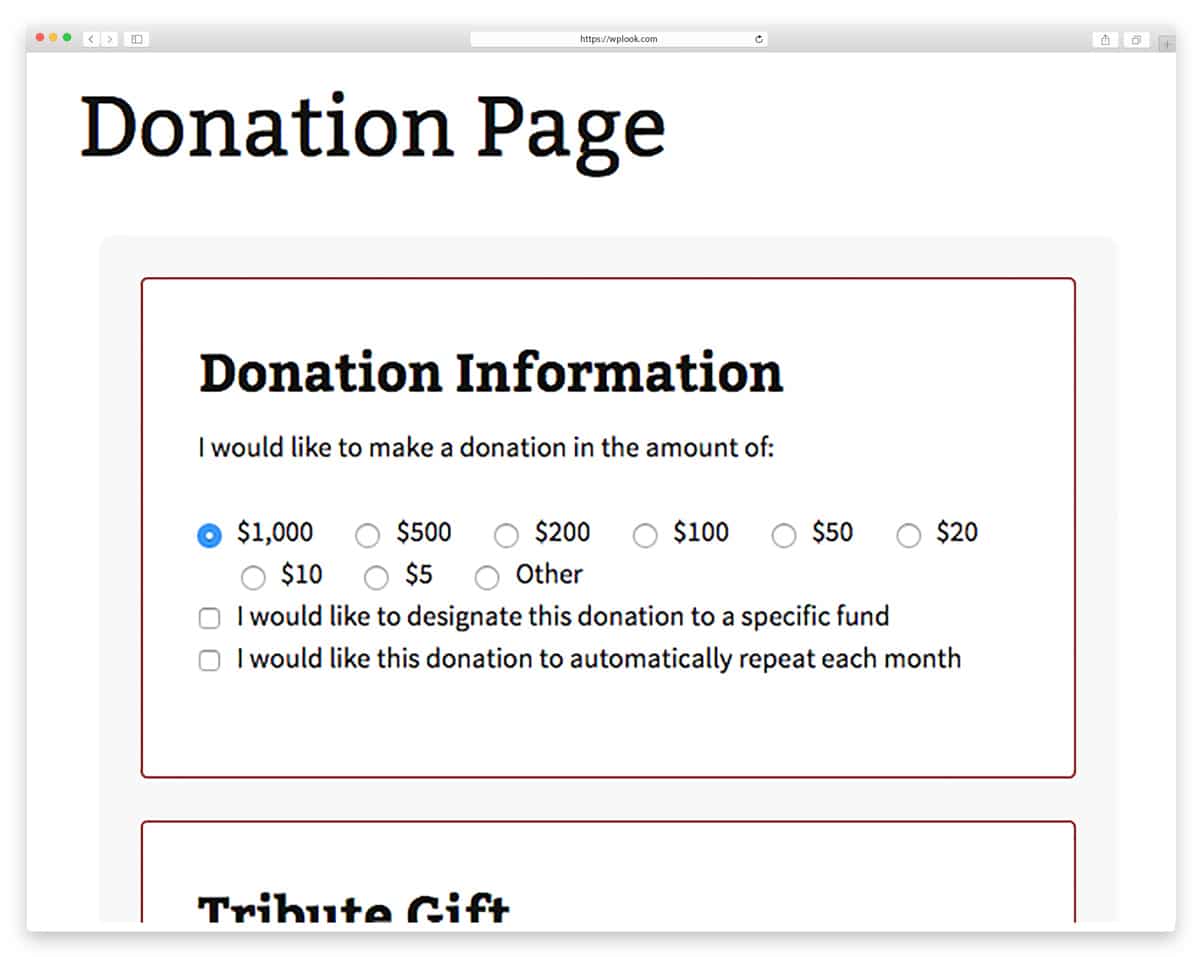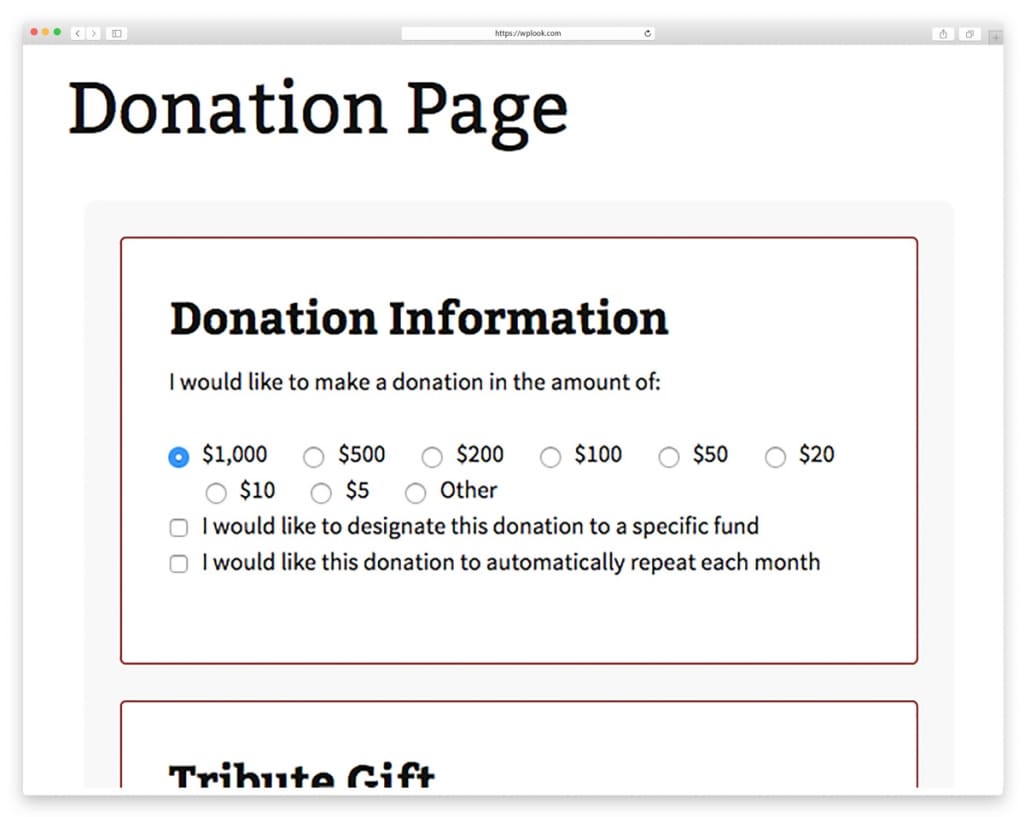 Seamless is a top-quality premium WordPress donation plugin that makes everything much easier. You can use this easy set up the plugin to support an online charity, campaigns, and projects, and donation events. It will enable you to extend the functionality of your organization and streamline the donation process. Seamless has a repeat donation feature that will allow your members to keep on supporting your course automatically.
Seamless also gives you the option to set up a thank you mail to your contributors after you receive their donations. Your members can be a part of a mailing list that enables them to receive your progress directly in their mailbox. For advanced features, you can buy add-ons and extensions. Popular add-ons include Anti-Spam, enhanced thank you marketing and CSV export.
Key Features:
• Controllable and trackable
• Allows embedding of its widget in any location on your website.
• Supports dozens of currencies
• Community forums and tutorial videos available
• 5-minute set up time
• Available in many languages
Learn More about Seamless
Stripe Payments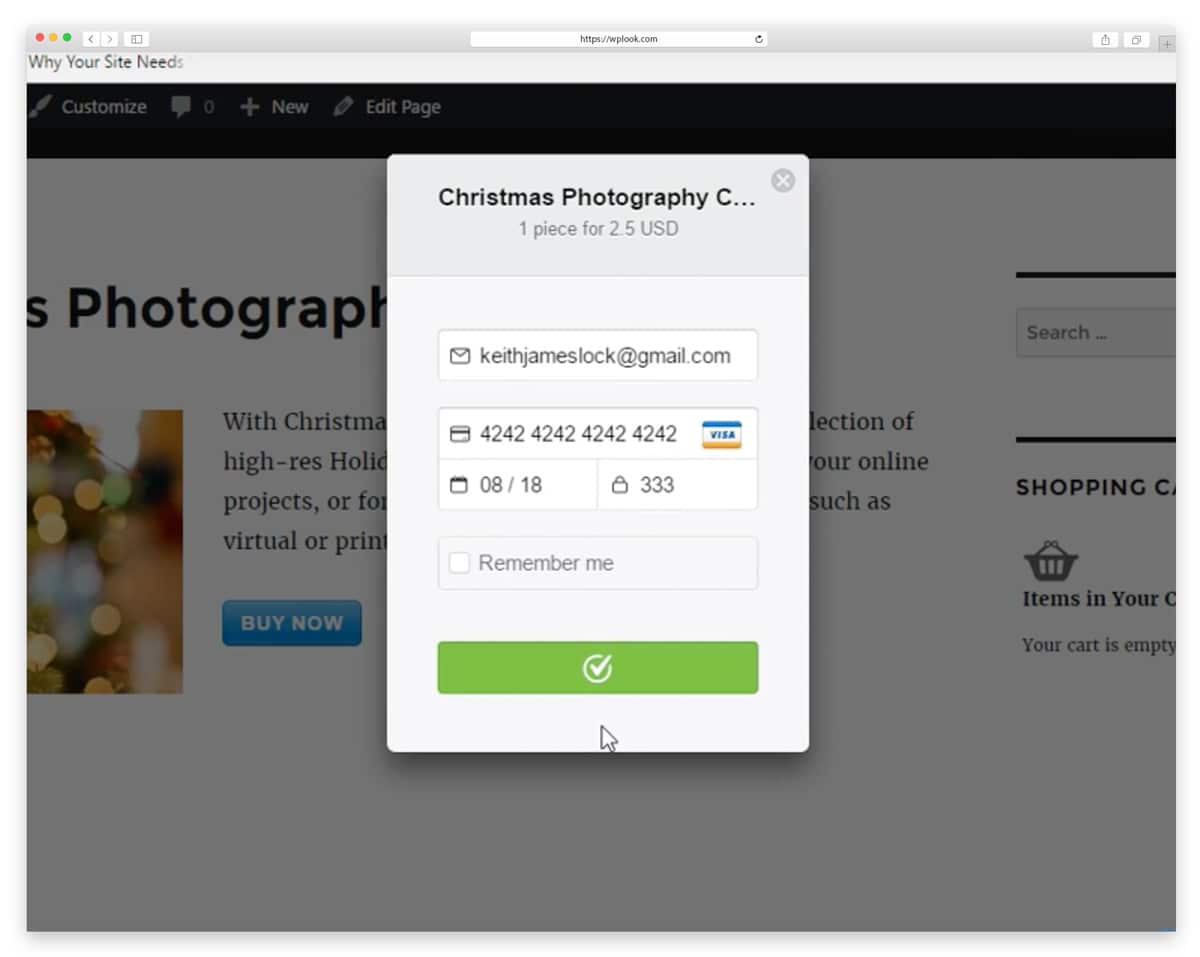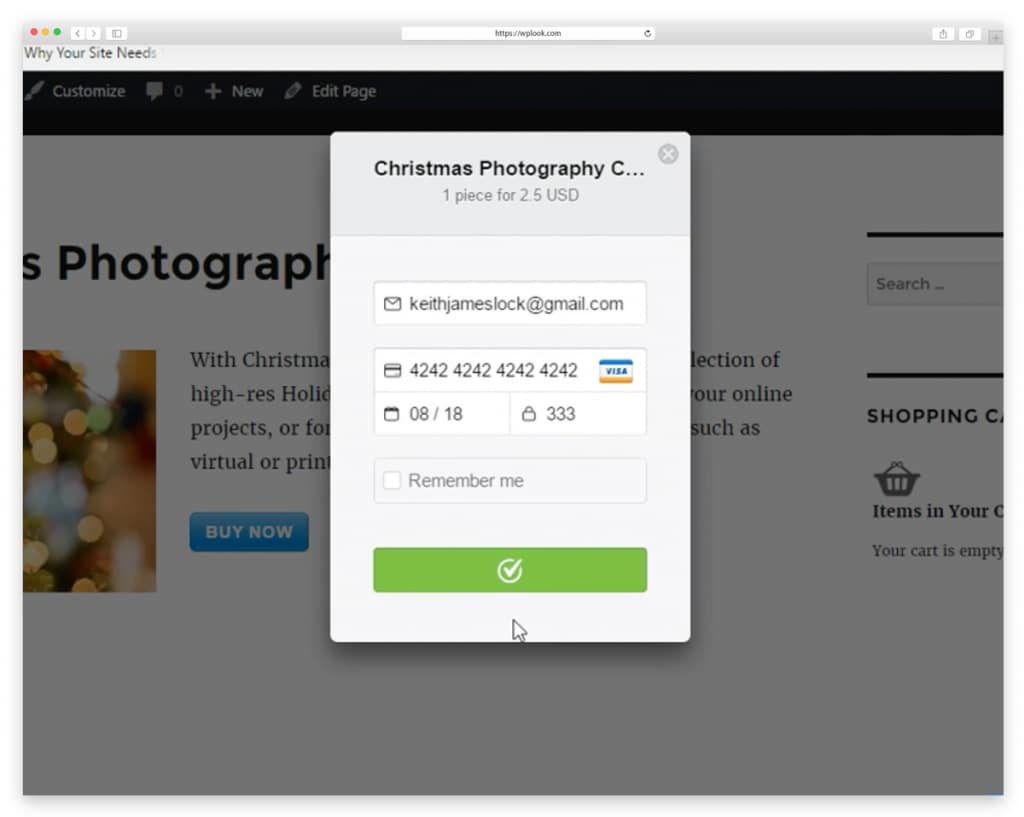 Stripe Payments is a powerful donation plugin for WordPress that allows you to accept credit card payments through Stripe payment gateway on your WordPress blog or website. Stripe's convenience and usability donation strategy will significantly improve your contributors' experience which means better results for your organization.
The simple shortcode allows you to fix the "Buy Now" button in whatever location you prefer on your website. With over 7000 active installations, this fast-growing plugin gives you full control over your organization's donations.
Key Features:
• Responsive design
• Easily view purchase orders from your WordPress dashboard
• Quick installation and setup
• Allows you to configure a notification email to be sent after purchase
• One click payment via Stripe
Learn More about Stripe Payments
Donation Thermometer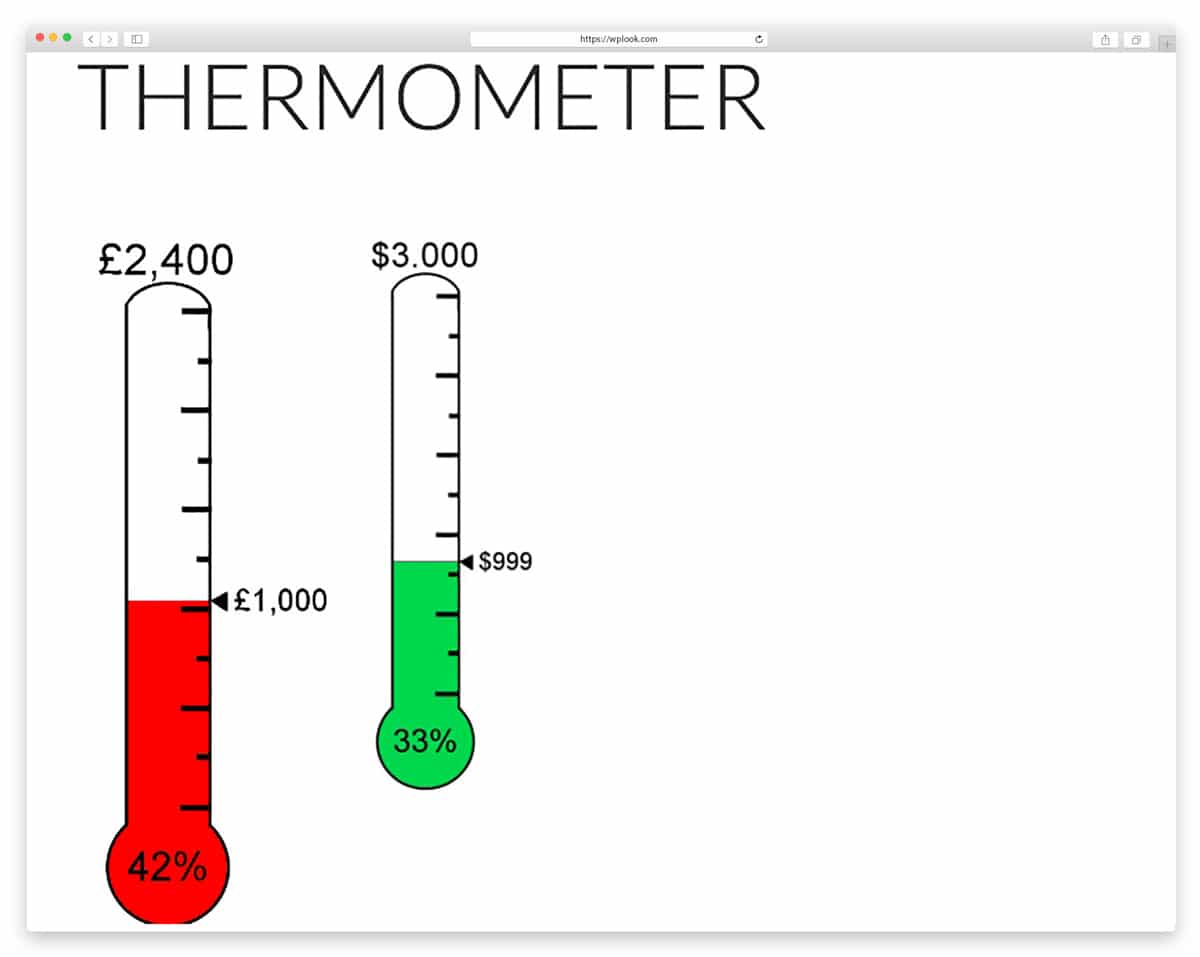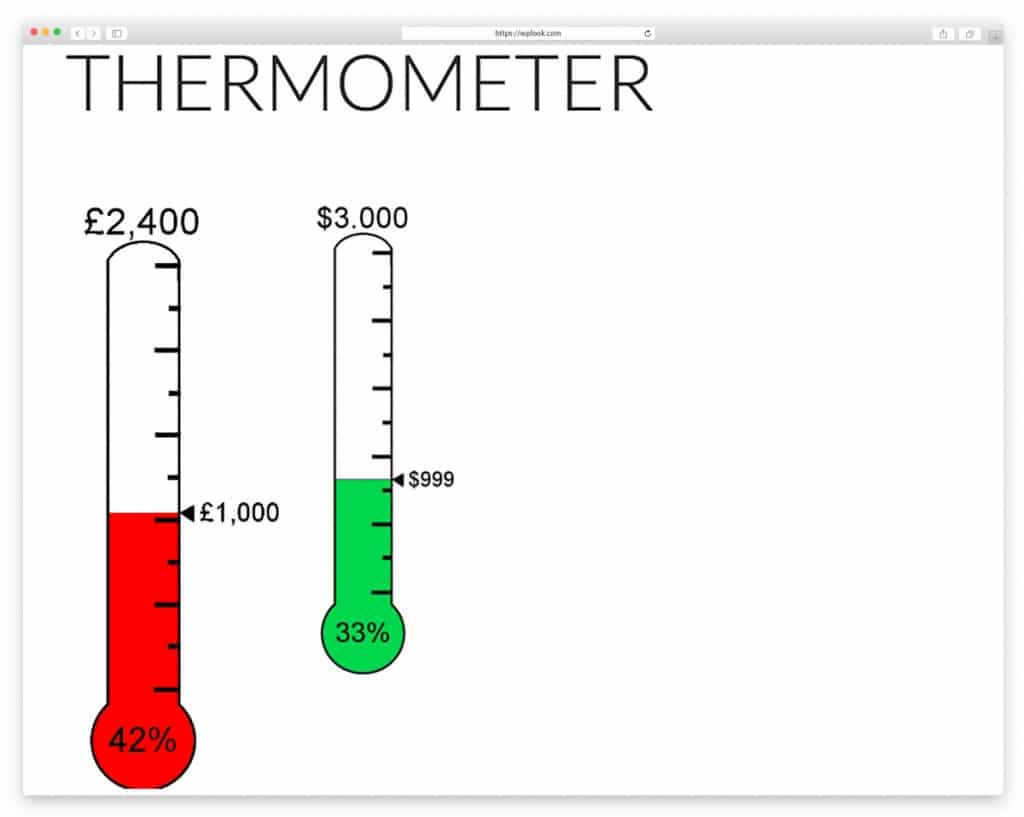 Donation Thermometer is a lightweight and intuitive plugin, yet impressively stable and secure tool for adding donation functionality to your website. This plugin offers you an eye-catching way to receive a donation. It uses a simple shortcode to display a custom thermometer image that represents your donation amount.
You can fully customize the thermometer images to show the amount, raised, the target, preferred currency symbol, and ideal color scheme. This simple plugin doesn't have a lot of features like the other plugins in this list, but it gets the job done.
Key Features:
• Displays donation goal
• Easy to customize
Learn More about Donation Thermometer
WooCommerce Donation Plugin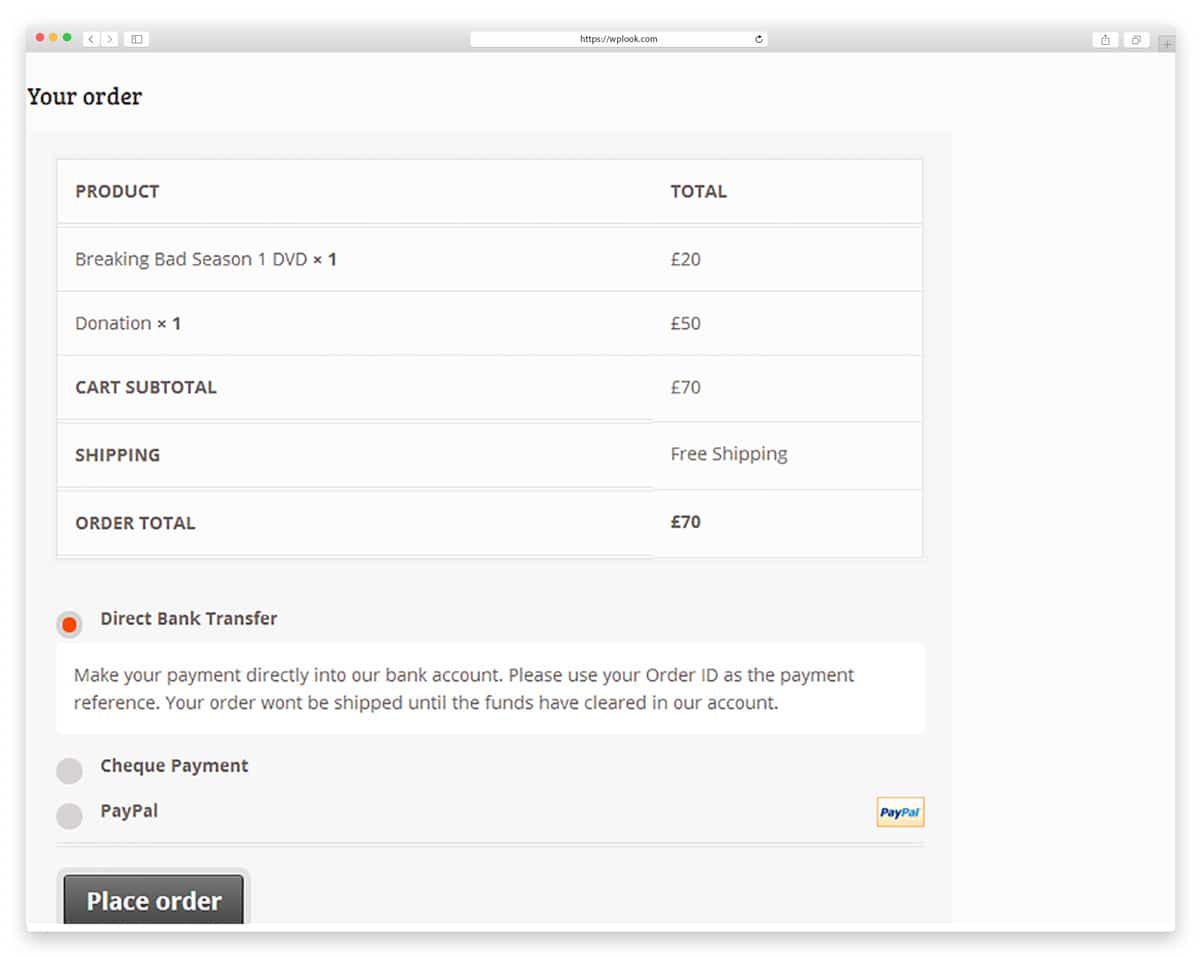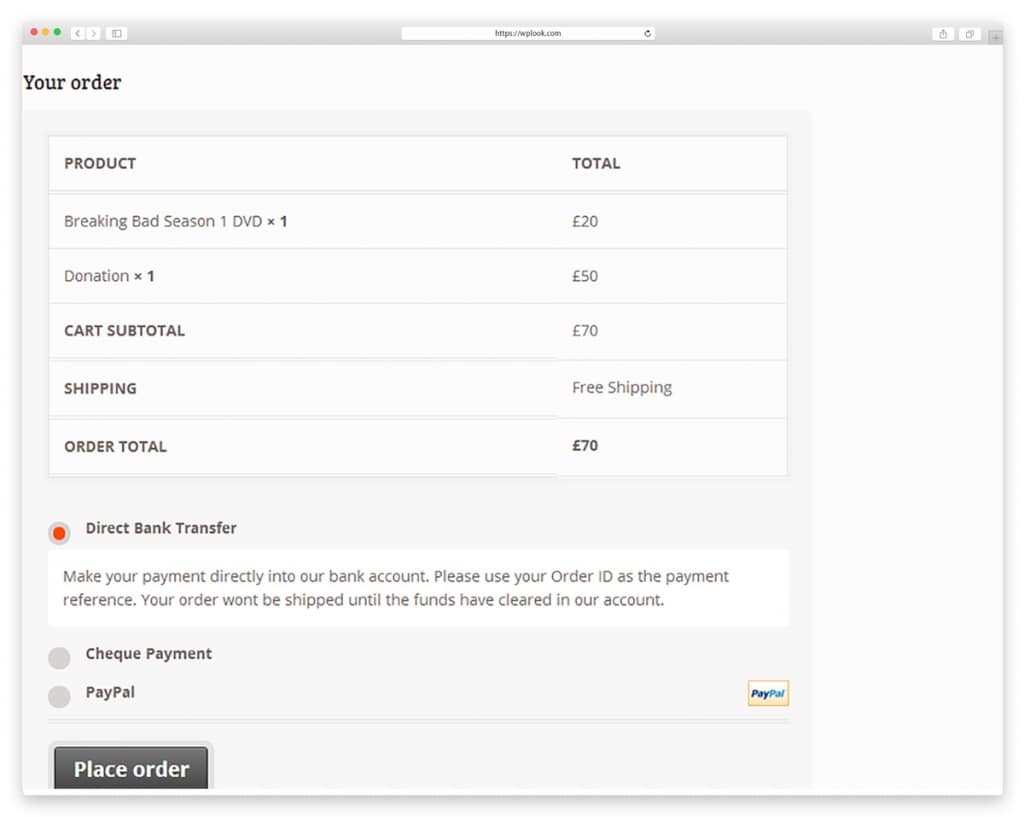 WooCommerce Donation Plugin allows users to donate funds to the cart. This plugin is suitable for website owners running e-commerce sites powered by WooCommerce. As the website owner, it is up to you to come up with a specified amount. The members can donate any amount they wish. The support team will guide you on how to make the most out of this plugin.
Key Features:
• Freedom to choose no taxable, shipping or not viewable options
• Detailed reports about donations
• You can name campaigns for easier tracking
• Accepts donations on the cart page
• Predefined donation amount
Learn More about WooCommerce Donation
Conclusion
Finding the right donation plugin can be daunting if you don't know where to start. The 8 donation plugins discussed above provide you a simple solution for accepting donations on your WordPress blog or website. Their features vary from basic to advanced. You can settle for the best WordPress donation plugin that works for you and your site.
Whether you are looking to build a crowdsourcing site or accept one-off or recurring donations, one of them will provide you the functionality you need. Here at WPlook Studio, all our Charity and Nonprofit WordPress themes are integrated with Stripe and PayPal, so there's absolutely no need for any donation plugin.
Charity, Donation Plugin, NonProfit, WordPress Plugins