The success of an event largely depends on preparations done by the organizers: from booking venues and getting the right catering service providers, to selling tickets and publicizing the event. It can turn out to be a tiresome task especially for ones organizing an event for the first time. Among the areas that need attention when organizing a conference or an event is having publicity. There are many ways a person can reach the right audience. As much as marketing is concerned, every event requires a website. There are many platforms and themes that a person can use to create an event or conference website. WordPress is the best website building platform because it's user-friendly and easy to optimize as compared to other platforms like Drupal or Joomla. There are many WordPress Themes to use in setting up an event site, below you can find the Best WordPress Conference Themes that you should consider before building your website.
Conference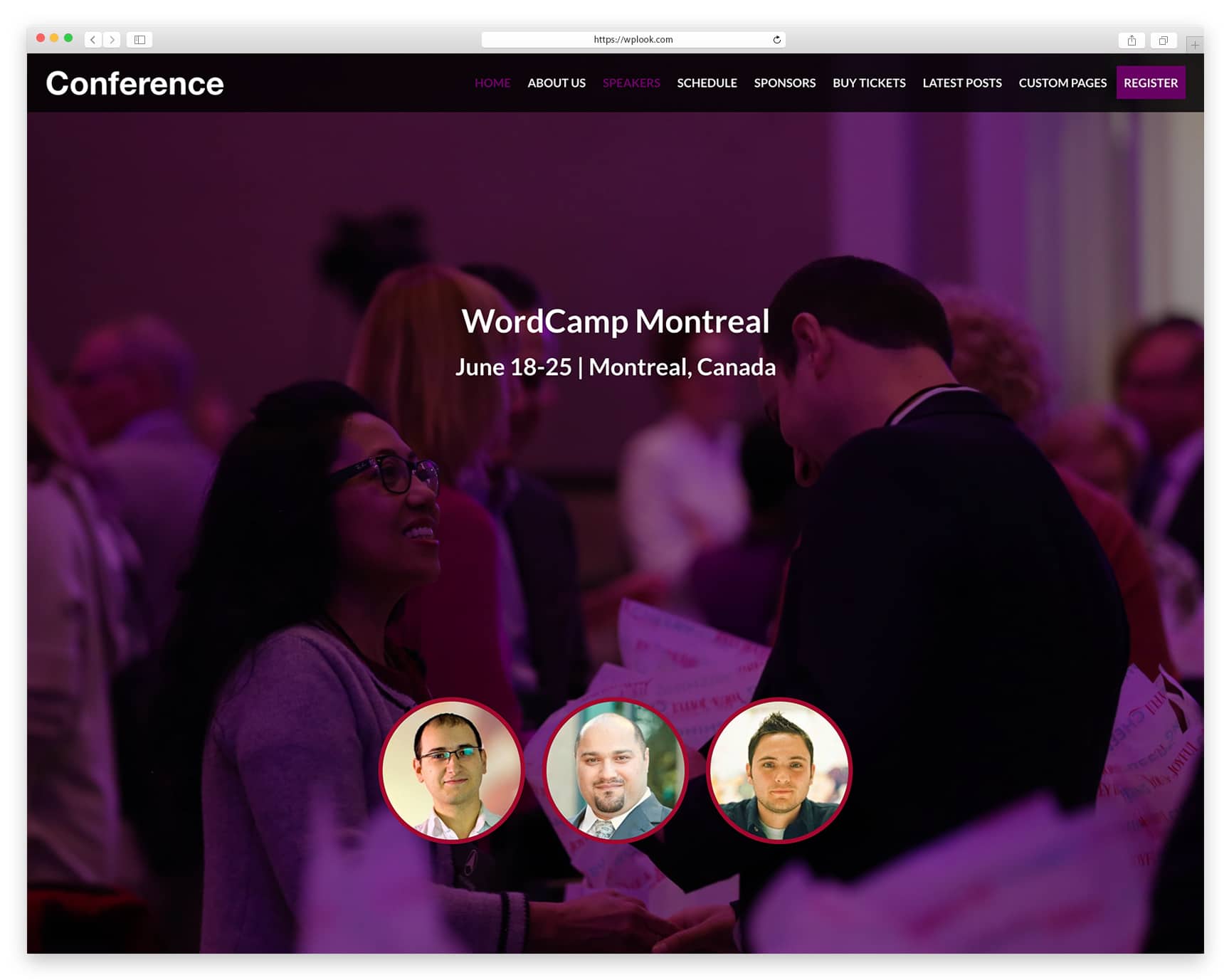 For those organizing a conference, the Conference WordPress theme by WPlook is an excellent start. The theme is designed to meet all the needs for a conference. Benefits of using this theme include:
User-friendly: Conference theme is designed with simplicity in mind. WPlook ensured that those using this theme have an easy time installing and operating it. The theme's options panel makes setting most features easy. Little work is needed in editing front-end content. No need for coding skills when setting areas of the theme since documentation is provided.
Payment Integrated: Among challenges solved when using the conference theme is selling of event tickets. Most WordPress themes require plugins such as WooCommerce when selling event tickets. The Conference theme is integrated with Paypal and Eventbrite to make selling event tickets easier. Not only the payment checkout is easy through Paypal, but also publicizing through Eventbrite. The buy button is customizable, so you can add any links to different platforms in order to sell Conference tickets.
Great Loading Speed: One thing that most internet users lack patience for is slow sites. A fast loading site is advantageous in retaining visitors, boosting conversion rate, and ranking. The Conference theme has a fast loading score of A97%. It is the fastest loading conference theme on the market that money can buy.
Responsive: With 85% of internet users accessing the internet through mobile devices such as Smartphones and tablets, a responsive website is important. The Conference theme is responsive to all screen sizes which makes navigation easy even on tablets and mobile devices.
Front-End: Conference theme has a beautiful end-user design that attracts attention. The minimalist design gives room for focusing on the important details of a conference. With 8 custom post types included, the user can play around with different layouts of content (widgets) on the homepage. Unlimited color schemes and multilingual capabilities are included to suit specific audiences.
Learn More about Conference
Host This Theme From $5.42/m
Event Theme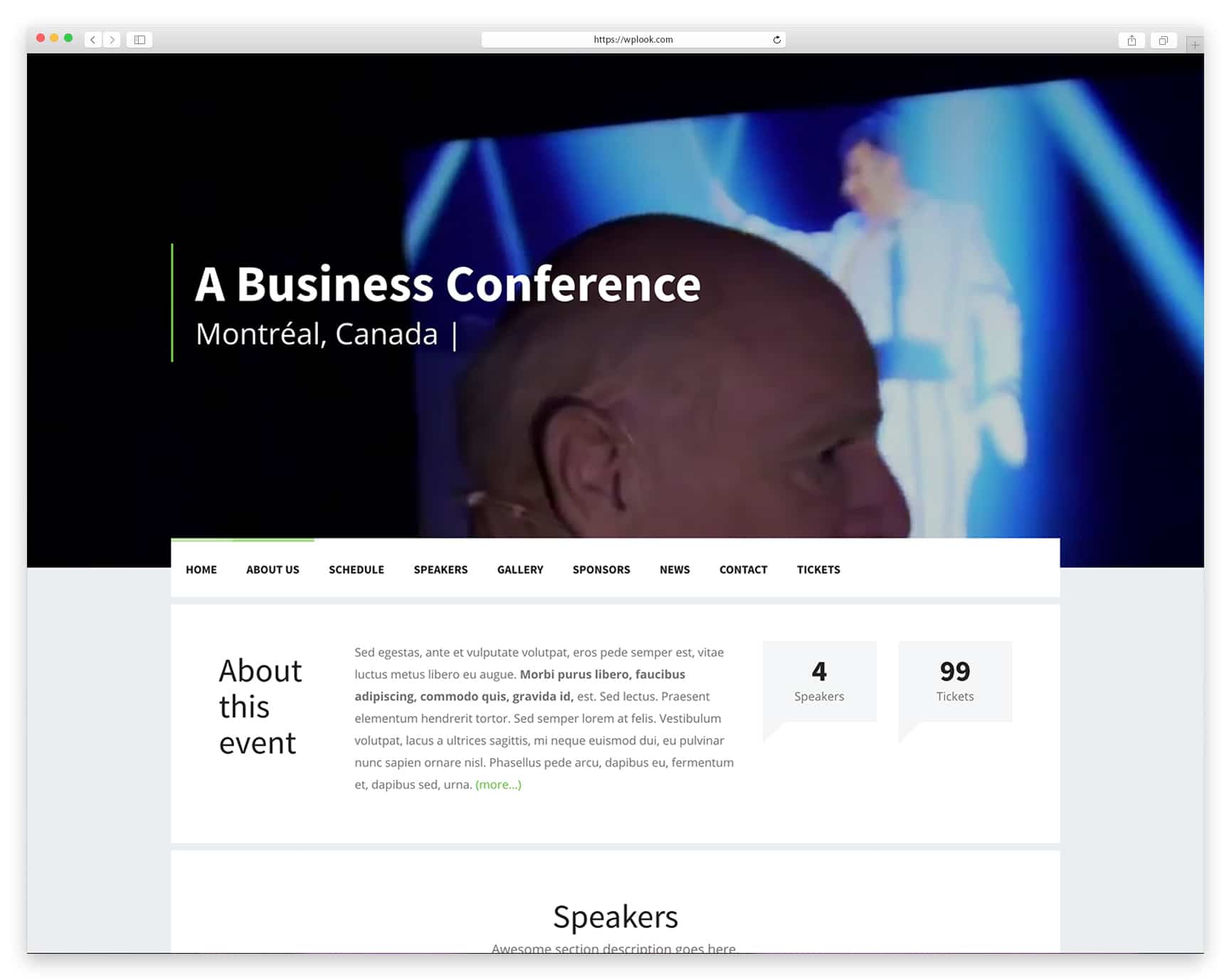 User-friendly: Just like the Conference Theme, the Event WordPress theme has user-friendly functionalities. Installing the theme is easy thanks to the easy-to-follow documentation provided by the author.
Payment Integration: the PayPal payment feature makes selling events easy. There is no need to install additional payment plugins. The buy button can be customized and redirected to different platforms like Eventbrite, the leading events selling third-party service. These two features are great for marketing events of any size.
Scheduling: If an event runs for a couple of days, it is easy to schedule all activities into days, hours, subjects and speakers. This liberty gives readers a chance to book for specific sessions depending on their availability.
Advanced Features: advanced features bundled in the event theme makes customization simple. With 11 widget areas, customizing the theme with different layouts become easy. The options panel helps in reducing the time needed to set the theme.
Beautiful Layout: Just like the Conference theme, Event theme is also simple in concept. The front-end is beautifully designed to capture a reader's attention.
Other great features of Event WordPress theme include a great loading speed of A95%, unlimited color schemes, and custom sharing buttons to help posts go viral. Useful widgets have been included in both themes which reduce the need for extra plugins. Along with other awesome features, Event theme has its well-deserved place among the Best WordPress Conference themes.
Learn More about Event
Host This Theme From $5.42/m
Attitude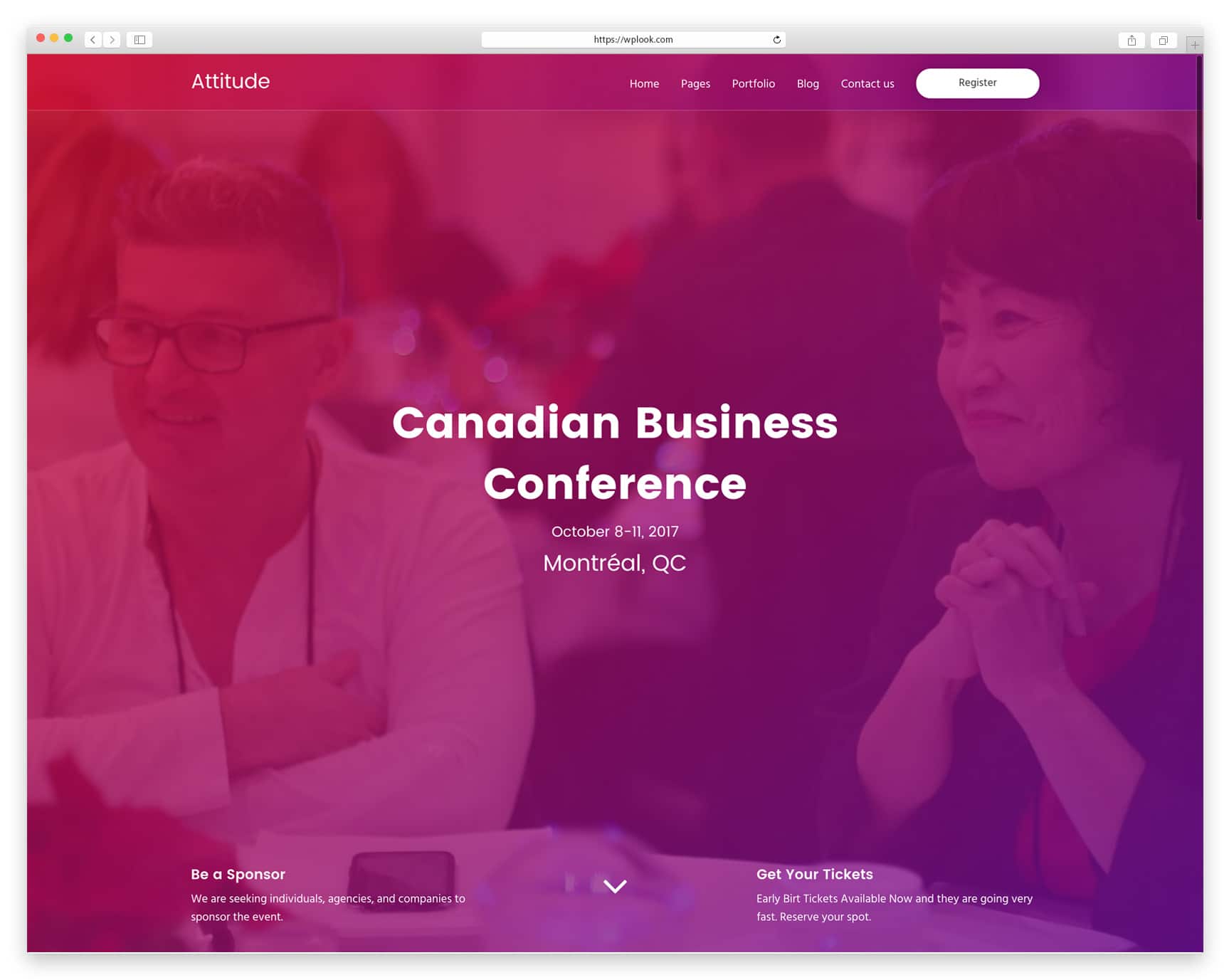 Visual Composer: Meet Attitude, a Multifunctional Drag & Drop WordPress Theme that you can use for your conference. The theme is integrated with Visual Composer and will help you to create beautiful content with the Drag & Drop function.
Multifunctional WordPress Theme: Attitude it's geared towards creating visual impact for site visitors and easy interface for web owners. This means anyone can understand how Attitude works, what it has the potential to do and bring to life any vision website owners may have.
Responsive Design: Your website's pages will render well on a variety of devices and window or screen sizes.
Easy to install: Attitude theme is very easy to install. The installation process is quite simple and it takes just about 3 minutes. In case you have questions or need help, the WPlook team offers top-notch, professional support and will help you to solve any issue.
Speakers: It is It is extremely important for an event to present the speakers in a beautiful way. Attitude theme offers you the opportunity to promote speaker's profile with their name, a photo, links to their social media profiles, etc.
Sell online tickets: There is a possibility to choose the pricing options for your event. You can even add a link to a website where people can buy tickets and describe the benefits of the selected option.
Learn More about Attitude
Host This Theme From $5.42/m
CampEvent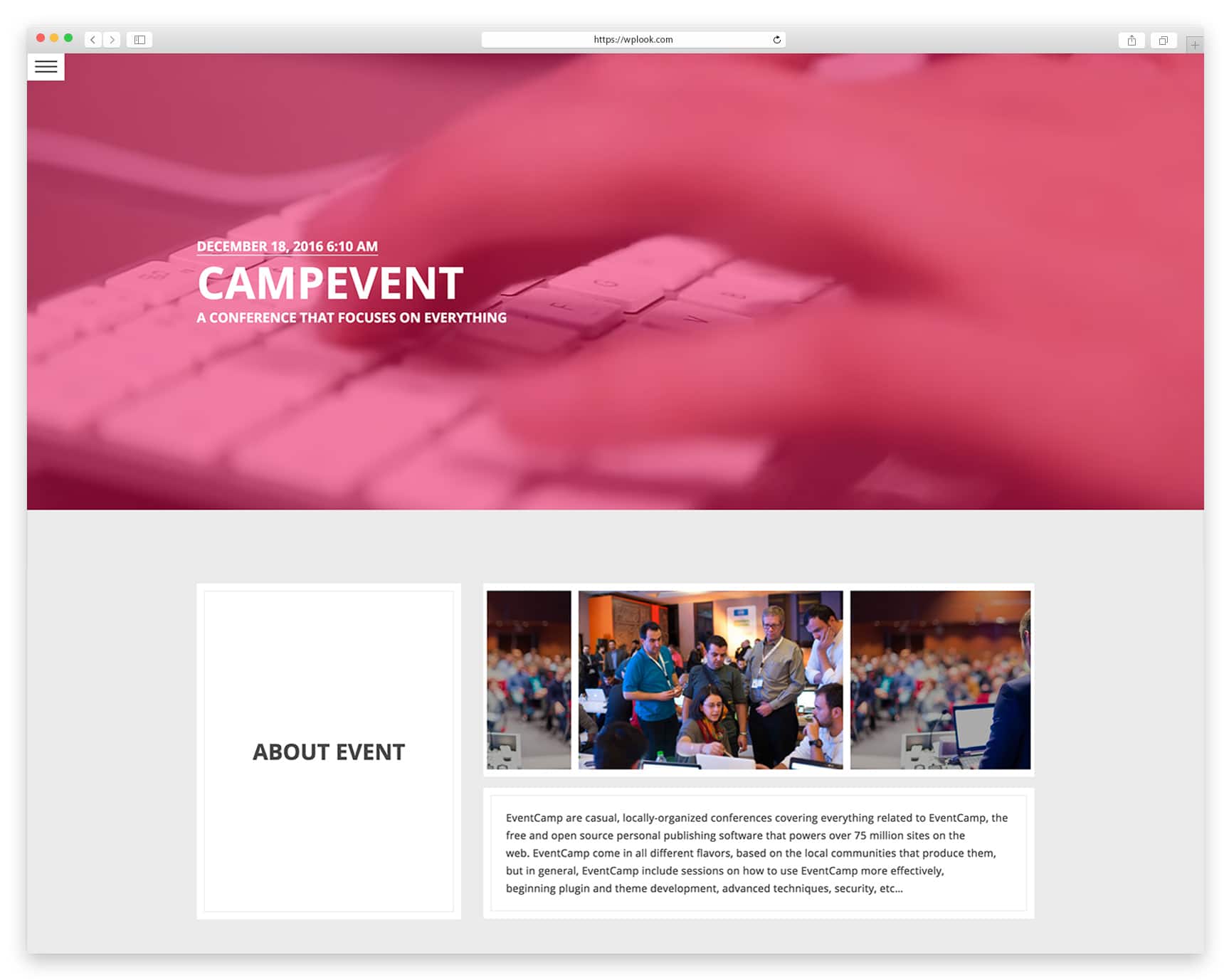 CampEvent is a WordPress theme that allows to easily configure event, trade shows, workshops, meetup and much more by adding detailed information about speakers, sponsors, schedule and much more.
Responsive design: your website will automatically adapt contents to fit properly on different sized screens, including mobile devices.
Well documented theme: The CampEvent theme comes with detailed documentation and a great support.
Unlimited Custom Colors: With CampEvent you can easily change any colors you need. Just be creative and enjoy the color options this theme has.
MailChimp integration: With this powerful email marketing tool used you will be able to send campaigns, newsletters, and other marketing activities. You will stay connected with your subscribers.
Bunch of other nice features: Video and image background, Font Awesome, Intuitive Shortcodes and much more.
Learn More about CampEvent
Get Hosting
The Keynote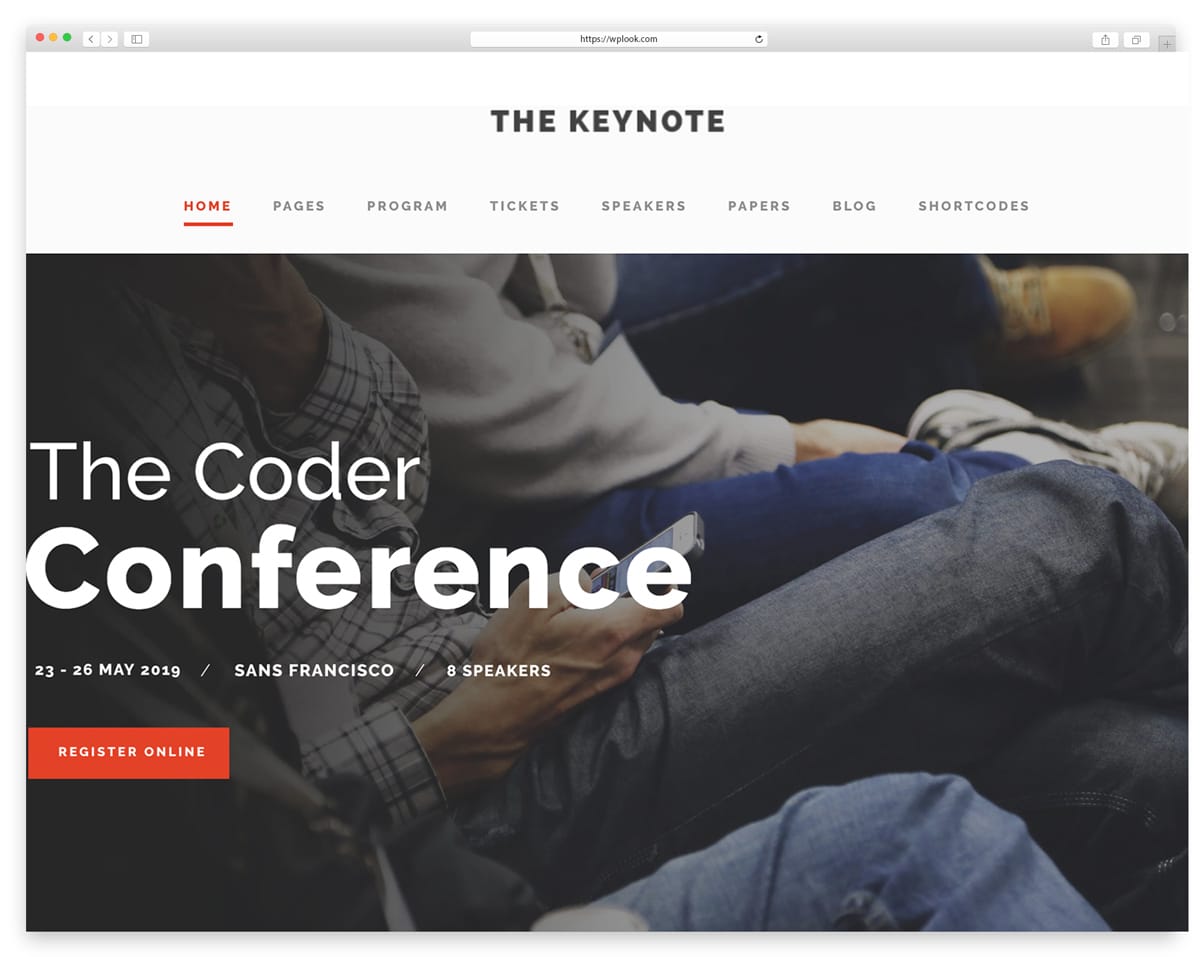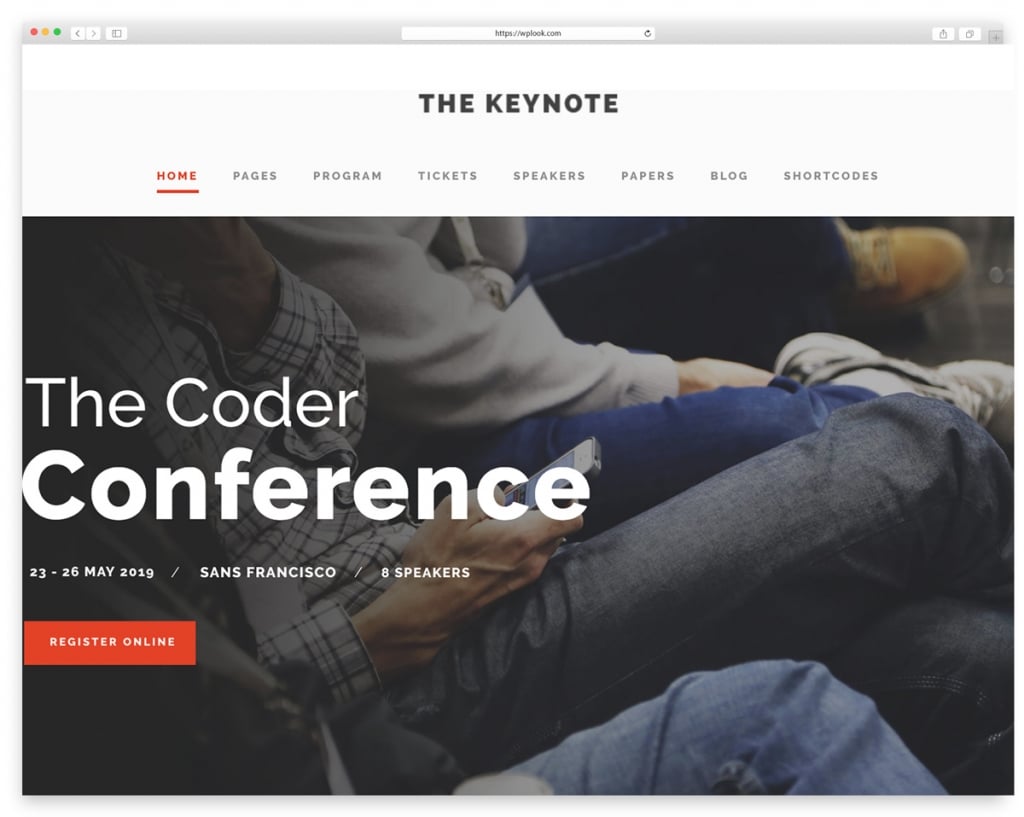 The Keynote is a clean WordPress theme build designed for Conference, Meeting, Event, Event Management and more.
PayPal payment: The theme is integrated with PayPal payment for ticket selling. Also, visitor's website can choose to send an email via contact form for manual purchasing.
Unlimited Color Options: You can turn your website into anything you need with color options the theme gives you. You can change almost every color elements.
WooCommerce integration: You can build your e-commerce website with The Keynote theme.
Fully Responsive: This theme looks and works flawlessly on major phones and tablets.
Learn More about CampEvent
Get Hosting
Since Conference, Event, CampEvent and The Keynote themes have a lot in common, all themes can be used for hosting any meetup event, conferences, exhibitions, seminars, workshops or congresses. WPlook team offers excellent pre-sale and after-sale support to customers.
Conference, Event, WordPress Themes