Spam can get into just about anything, and your WordPress website is not an exception. Spam accounts, spam product orders, and spam comments are three major problems WordPress forum-based communities face. Feedback is vital as it helps you know what your readers or customers think of your products or services. But anytime your site is interactive, you open yourself to spam requests in advertisement links that lead to external sites. Some websites have confessed to receiving hundreds of spam comments weekly. When spam comments become uncontrollable, they result in slugging website performance and damage your reputation with commenters and readers. Besides wreaking havoc on your website, forum spam can also affect your desktop by corrupting your MySQL databases. You need to stop forum spam and move in fast and thwart spamming attempts on your blog before they cause bigger damage.
Types of Spammers:
Spammers are surprisingly tech-savvy, and they are known to bypass basic security measures most website owners put in place. It is hard for software companies to keep up with the new tricks spammers come up with. Let's have a quick look at the two primary types of spammers.
1. Automated – automated spammers is primarily a script that registers accounts to websites and posts.
2. Human – unscrupulous individuals who spam websites to get backlinks to their shady sites using any means necessary. They are more difficult to distinguish from your regular readers in your forum.
There are a few proven preventative measures that you can quickly set up to keep spammers at bay. Blocking spammers manually can work in the short run, but it is time-consuming and ineffective. Spending hours scrutinizing analytics data to pinpoint which IP addresses are attacking you is laborious. You may still fall victim to bot attacks. It would be best if you had a permanent solution to solve the problem once and for all.
Lucky for you, handling spammers does not need to be a labor-intensive endeavor. If your WordPress website is configured correctly, you can install some handy anti-spam plugins to get rid of spam comments. Other methods you can implement to avert forum spam include blocking foreign IP addresses, installing CAPTCHA and honeypots, or monitoring your website visitors' browsing speeds. While the mentioned techniques may work, they are time-consuming and not as effective.
WordPress has an array of security updates across many reputable companies that release their products as plugins. This article will walk you through 4 WordPress Plugins and External protection measures that will enable you to protect your website and servers from these annoying bots easily.
Antispam Bee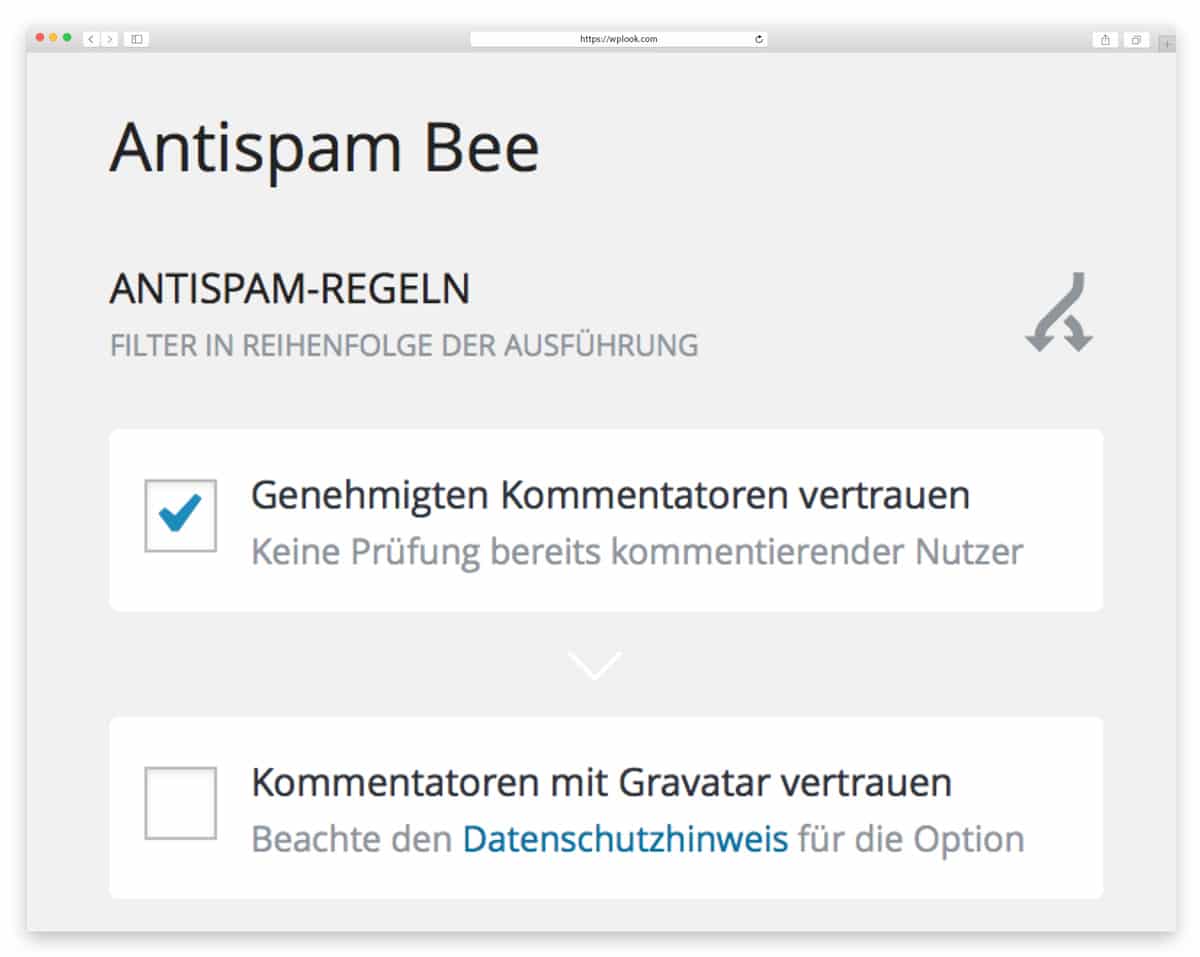 Antispam Bee has an extensive collection of anti-spam filters and tools. With over 300k+ active installations, it is one of the few plugins compliant with European data privacy standards. This ad-free and freemium plugin has built-in filters that give you a chance to make your comment approval process practical. For instance, you can automatically flag comments with BBCode as spam.
You can additionally block comments from specific countries or restrict them to a particular language. Antispam Bee allows you to clean your database periodically. You can easily access spam blocking statistics on your WordPress database.
Standout Features:
Allows you to trust approved commenters and those with Gravatar.
Filters comments to a certain language.
Notifies you about incoming spam by email.
Multi-lingual support (15 languages).
It treats BBCode as spam.
Displays spam statistics on your WordPress website.
Deletes spam after a set number of days.
Learn More about Antispam Bee
Spam protection, AntiSpam Cleaner by CleanTalk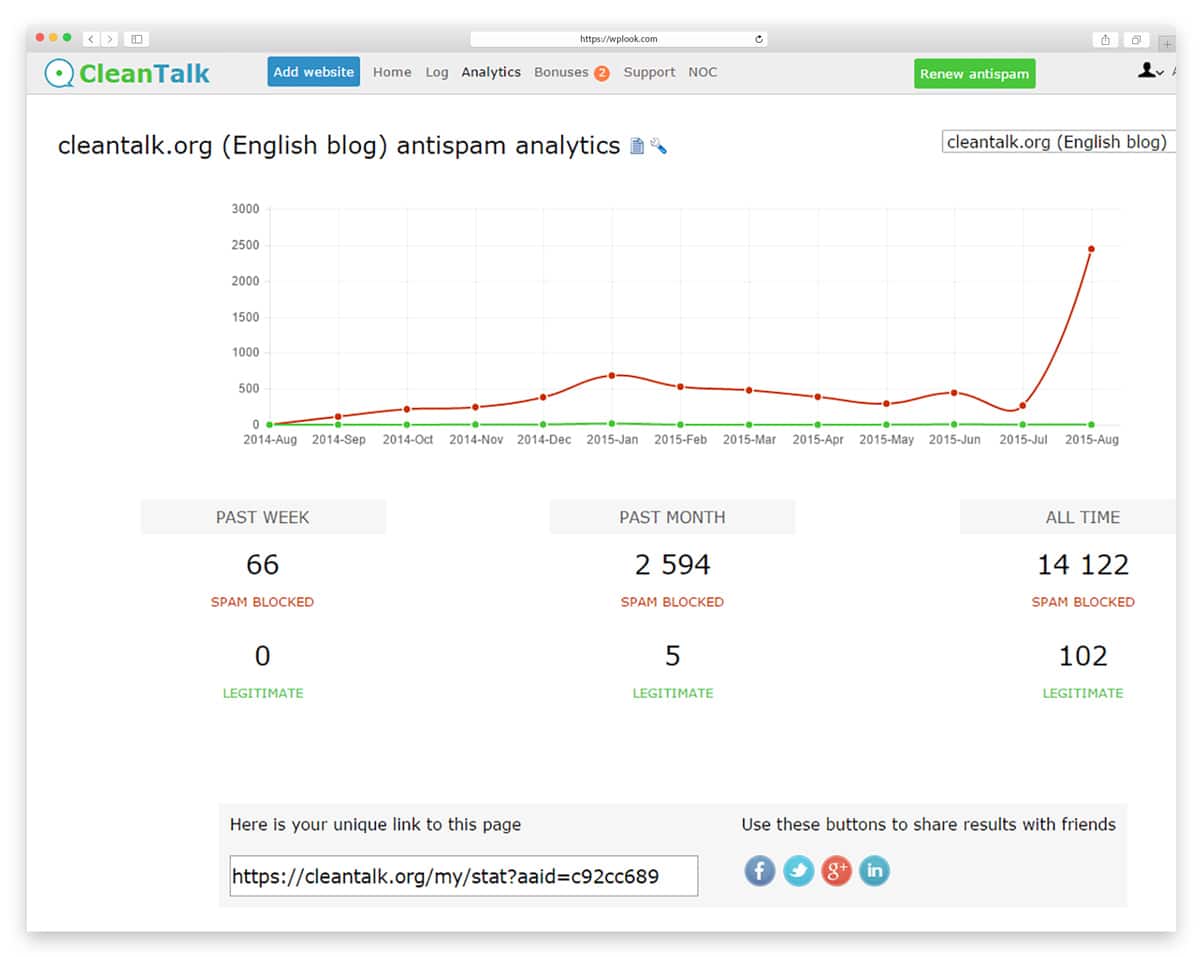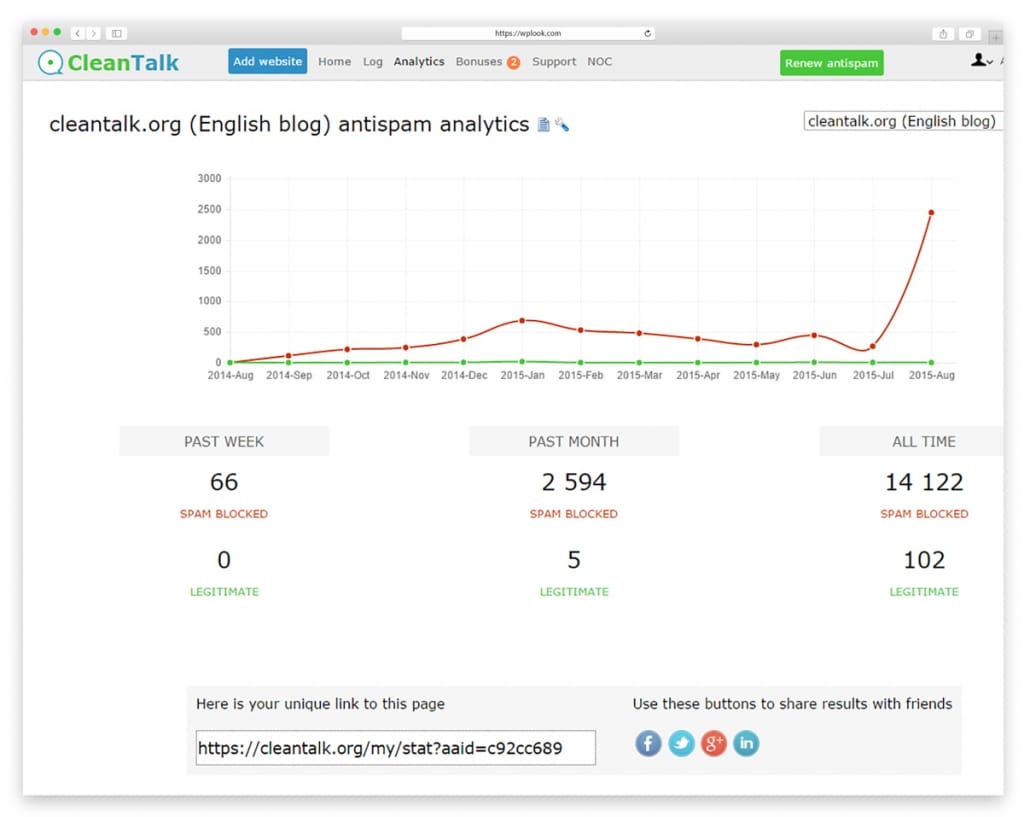 CleanTalk is a unique and super-fast plugin that allows you to lower the server load. It does not rely on completing any CAPTCHA forms, puzzles, or commenters checking boxes to prove they are not robots. Anti-Spam by CleanTalk integrates with other popular WordPress plugins like Contact Form 7, BuddyPress, WooCommerce, MailChimp, and bbPress.
With over 70,000+ active installations, this plugin can be used to efficiently stop comment spam, trackback spam, registration spam, spam bookings, spam subscriptions, spam contact emails, etc. You can play with the Antispam settings and disable specific types of spam when the need arises. You can select the option to ban forum spam comments silently or auto-delete comments from the spam folder. You get a free trial, after which you will be required to pay just $8/year.
Standout Features:
Block users by country
Multi-lingual support
Low false/positive rate
Has a spam attack log that records all filtered registration and comments
Private blacklist for anti-spam service
Has anti-spam algorithms to monitor visitor behavior
Learn More about CleanTalk
Akismet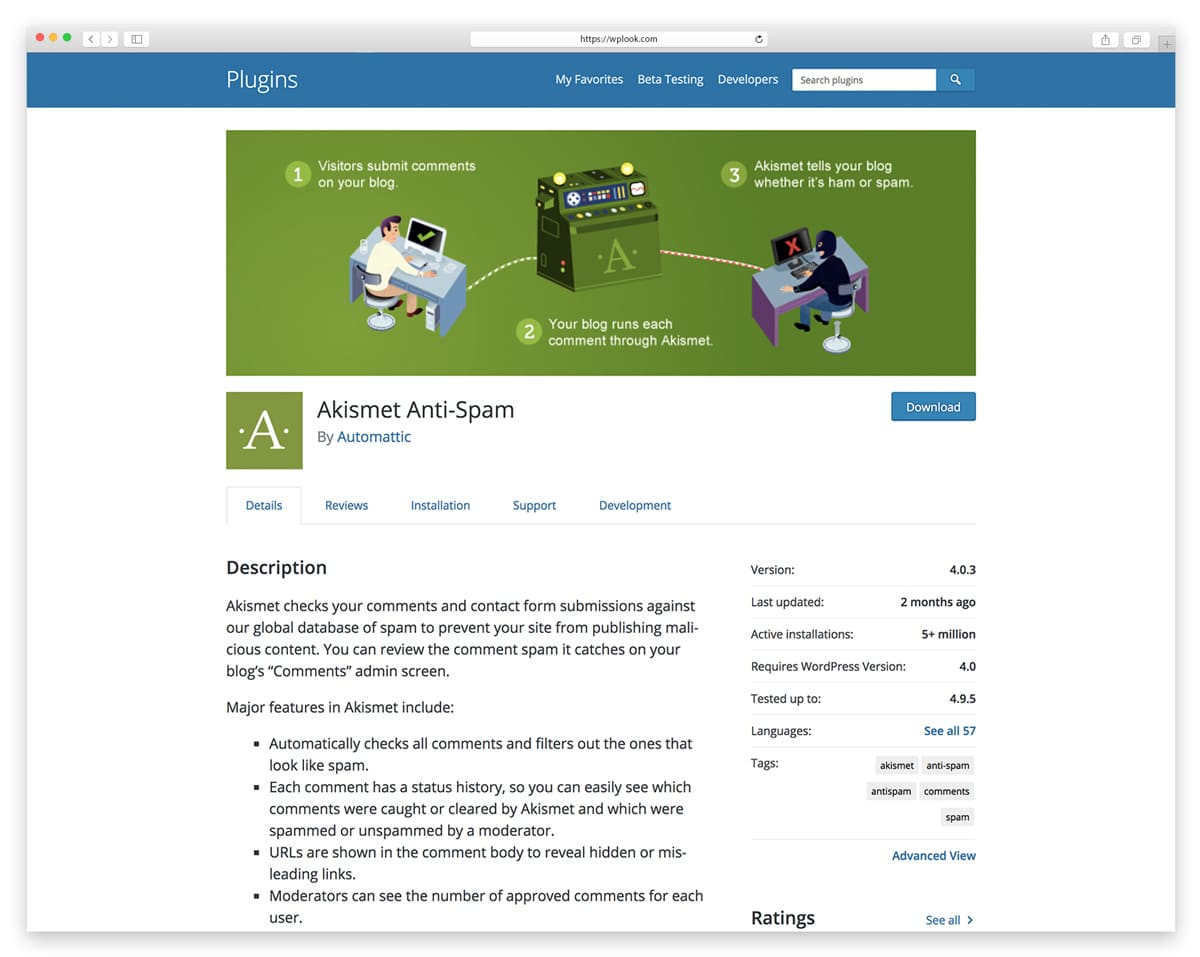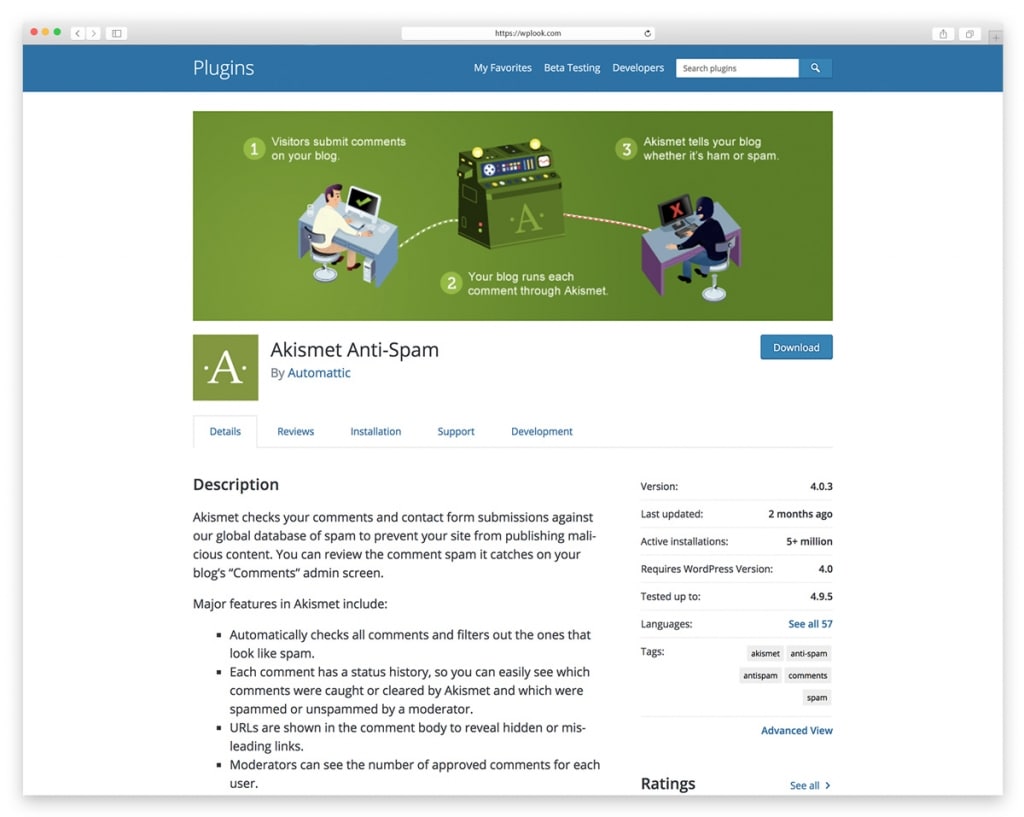 Akismet is an essential WordPress plugin that scans posted comments and contact form submissions to check whether they are spam or not. With 5+ million active installations, this default spam fighting plugin comes with every new WordPress installation. It has been tested and proven to do what it says. After receiving a key from their website, you will start enjoying protection from spam comments. The plugin checks all comments submitted to your site against their extensive spam database.
They then prompt you to approve or deny a comment. Obvious spam is deleted automatically. Though not 100% accurate, it gives you a chance to mark false positive reports as "Not Spam." You can prevent accidental deletions by sending all spam comments to the spam folder. This plugin displays the number of approved comments for each commenter next to their username to make your work even easier. This way, you can moderate comments without hassles and stop forum spam.
Standout Features:
Every comment has a status history.
Checks all comments and filters suspicious ones automatically.
Displays URLs in the comment body to reveal misleading or hidden links.
It has a discard feature that blocks severe spams straight away.
Learn More about Akismet
Stop Forum Spam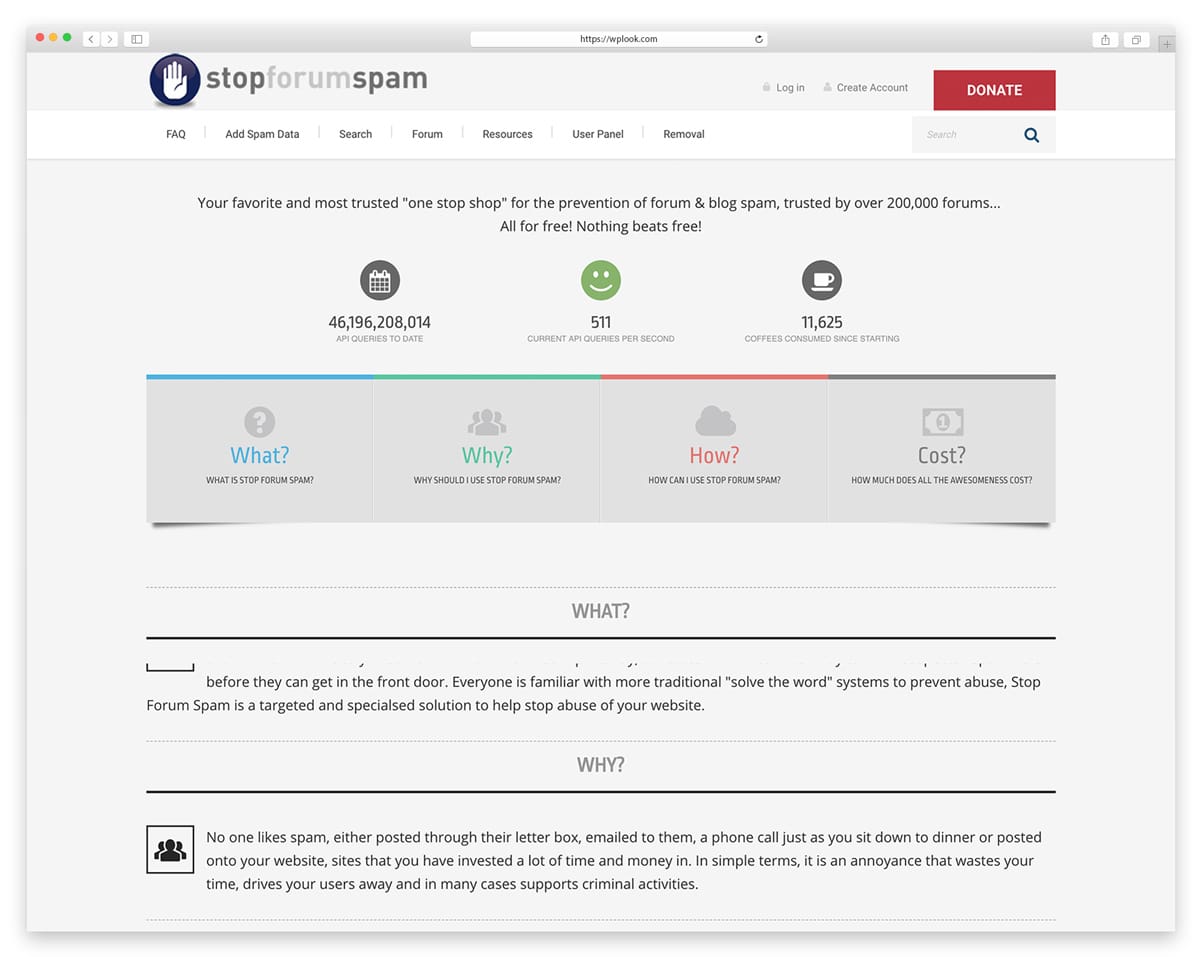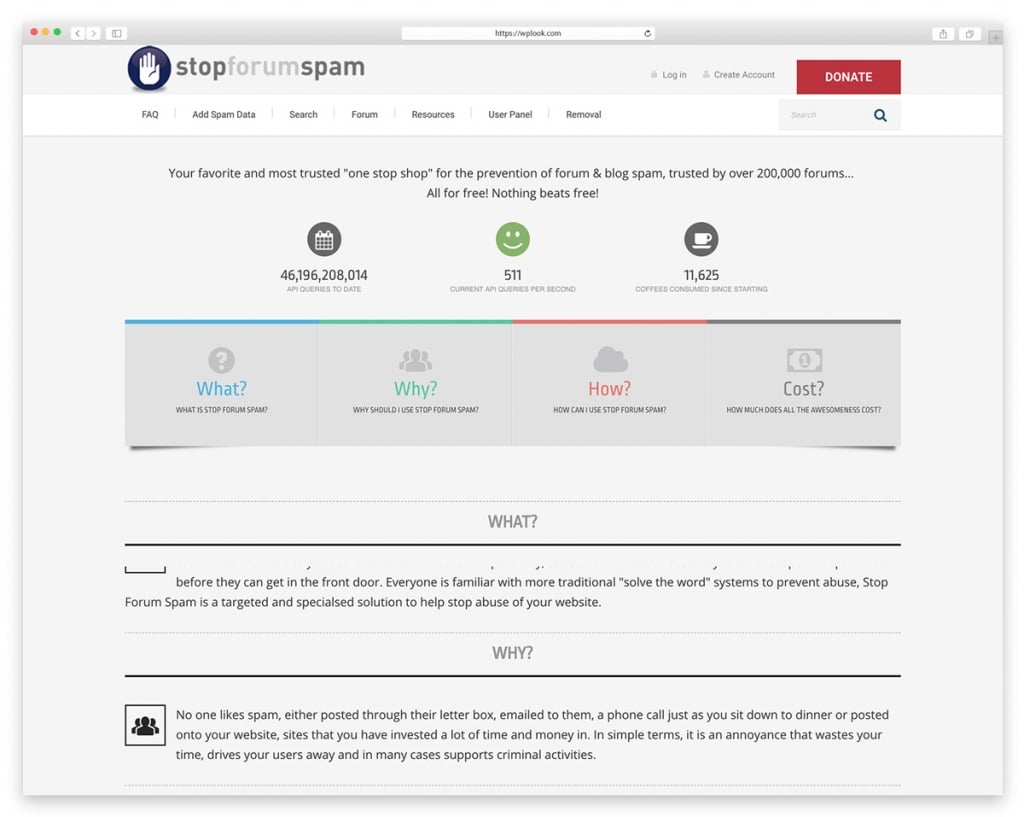 Stop Signup Spam uses email and IP addresses blacklisted by Stop Forum Spam to prevent the registration of known spammers. Stop Forum Spam is a simple collaborative database trusted by 200k+ forums. It is similar to Akismet, but instead of monitoring blog comment spam, it checks for user signup spam. Stop Forum Spam can be used with any web service, and it is not limited to forums only.
Developed by Leland Fiegel, this plugin integrates with giving, MemberPress, and Restrict Content Pro. When a user signs up for your website, it runs an API through the Stop Forum Spam database. If the user happens to be a spammer, they are not given a chance to register to your site. Is it pretty cool, right?
Standout Features:
Requires WordPress Version 2.7.0 and above.
Don't log any user registration info.
Stop Forum Spam can be used with any web service.
It doesn't need an API key to query its database.
Learn More about Stop Forum Spam
Conclusion
Spam is here to stay, so the earlier you embrace these plugins, the better it is for your WordPress website. If you are working on a tight budget, you probably lack enough funds to hire moderators. Hopefully, this guide will lead you in the right direction by creating a wall of defense against spam comments and helping keep the spam posts on your WordPress website to a minimum.
This will result in a more efficient and quicker website. No single tool can perform all the blocking. For better results, consider doubling up or tripling up the plugins.
WordPress Plugins