Cyber-attacks are a common occurrence affecting many WordPress websites. Most web owners often pay attention to SEO, Web Design, and Content and ignore the need for a Dedicated Security Monitoring service until it's too late. Web Security should not be underestimated. Even though following basic security measures by doing installations and managing websites and networks may work to some extent, it is not enough to keep up with and get rid of vulnerabilities. You need a practical solution for guaranteed protection, and this is an area where vulnerability scanners excel. A vulnerability scanner is a specialized tool that will give you an extra set of eyes to monitor your website and alert you in case of any potential threats. They can automatically scan your website and networks for various security risks/loopholes, define the vulnerabilities, highlight vulnerabilities that need to be patched, and direct you on how to remediate or stop them. There are many great options that cost NOTHING! This article has prepared 9 free website security scan tools that will help you automate the detection and remediation of security vulnerabilities.
With 50k+ websites being hacked every day, now is the best time to get your website a reliable vulnerability checker. Since you have already spent money on a secure host and premium malware software, there's no need to spend more on an online security scanner.

An online security scanner will look for problems such as:

Sensitive Data Exposure
Unprotected APIs
Malware
Broken Authentication and Session Management
Cross-Site Scripting
Unauthorized Ads, Backlinks, or Redirects
Infected Plugins and Themes
Insecure Server Configuration
Unauthorized Use of Bandwidth.
Quttera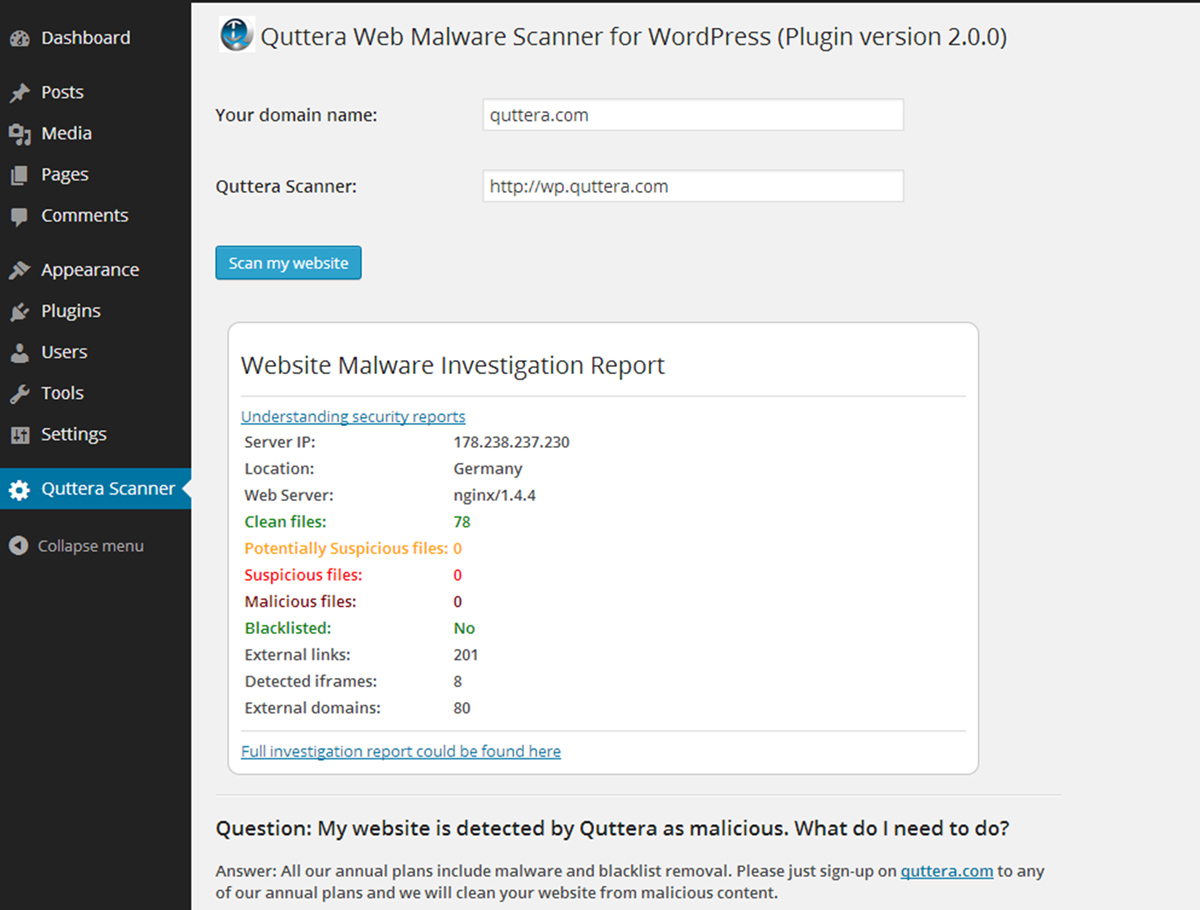 Quttera is undoubtedly the most popular free security scanner available on the internet. Quttera has dedicated malware checking tools that check your WordPress website for auto-generated malicious files, iFrame, external links, Trojans, spyware, suspicious files, and your site's blacklist status by Google and other blacklisting authorities. "Protecting websites in over 32 countries," this advanced tool additionally cleans and protects your site from sophisticated and evolving online threats that may be harmful to your site.
Quttera provides you instant alerts to get rid of malware from your website before search engines like Google blacklist your site in search results. To use this website scanning tool, simply add your web address it the input box and click on the Enter button. You will receive an instant notification and a comprehensive malware report. You do not need to sign up in order to use this amazing tool. The information security experts behind this incredible tool go above and beyond to enhance malware detection capabilities and deliver unparalleled performance.
Learn More about Quttera
SiteGuarding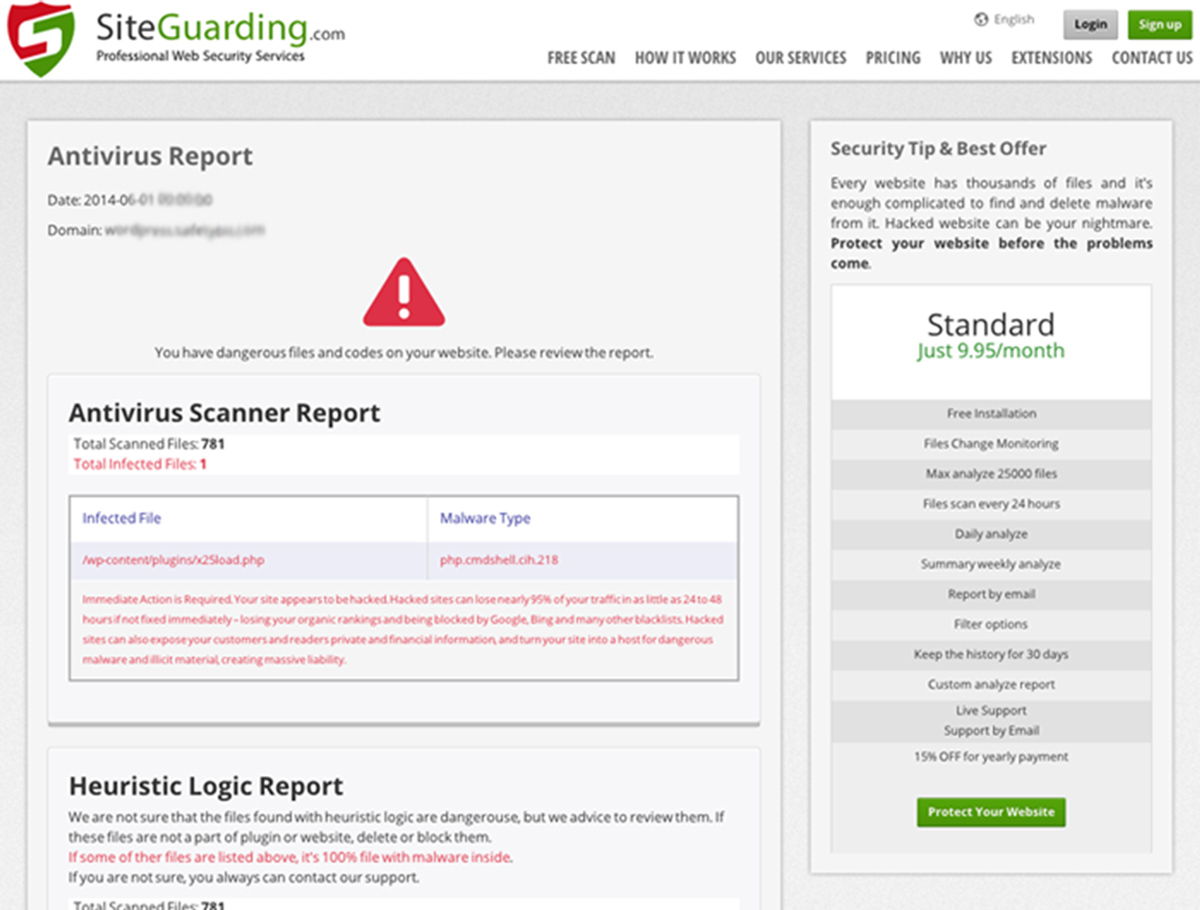 SiteGuarding is a freely available scanning service that allows you to audit your website's security. SiteGuarding crawls your site intelligently and scans your domain for possible defacements, Cross Site Scripting (XSS), malware, hidden iFrames, IP Cloaking, website firewall, website blacklisting, social engineering attacks, links and injected spam. You can use this website scanning tool easily thanks to its easy to understand interface.
SiteGuarding tool will help you decide on the level of security you need going forward. SiteGuarding updates their website scanner database every day to add new features that ensure the safety of your website. Their reliable 24/7 support will help you address any website security related challenge you may come across.
Learn More about SiteGuarding
WPScans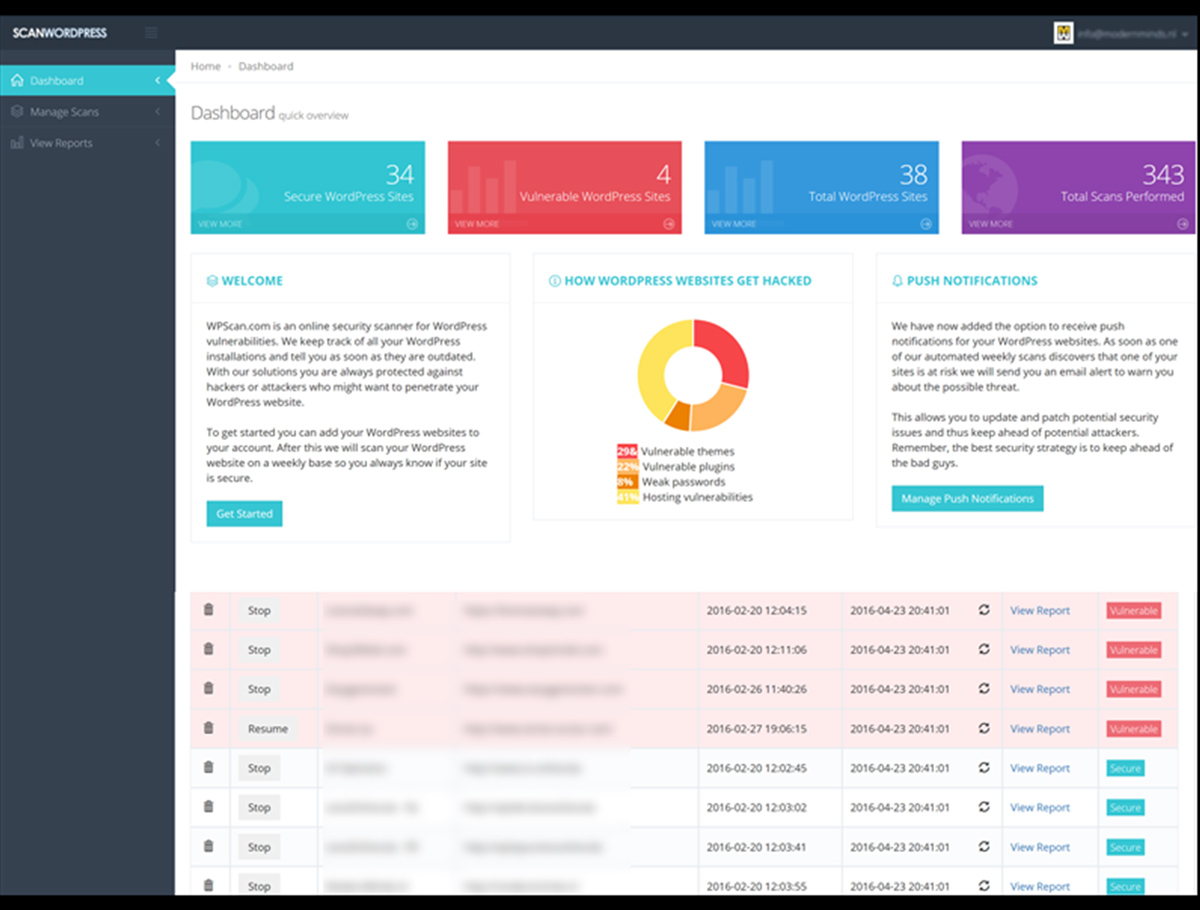 WPScans checks your website with the tool's intelligent algorithms. This WordPress-specific handy tool will scan your site for known bugs. These bugs are indexed in the WPScans' Vulnerability Database. The database boasts 4k+ reported vulnerabilities and common mistakes made during WP installation process. Priding itself as "The Most Comprehensive WordPress Vulnerability Scanner," WPScans will check your installed plugins and compare the plugins' versions against their extensive database.
An instant scan can give you quick access to a free advanced security report. If you are busy, you can schedule daily or monthly scans thanks to the automatic scans feature. An important point to mention is that this website scanning tool does not scan your server security. Push notifications in WPScans updates you when to update your WordPress via email.
Learn More about WPScans
WordPress Security Scan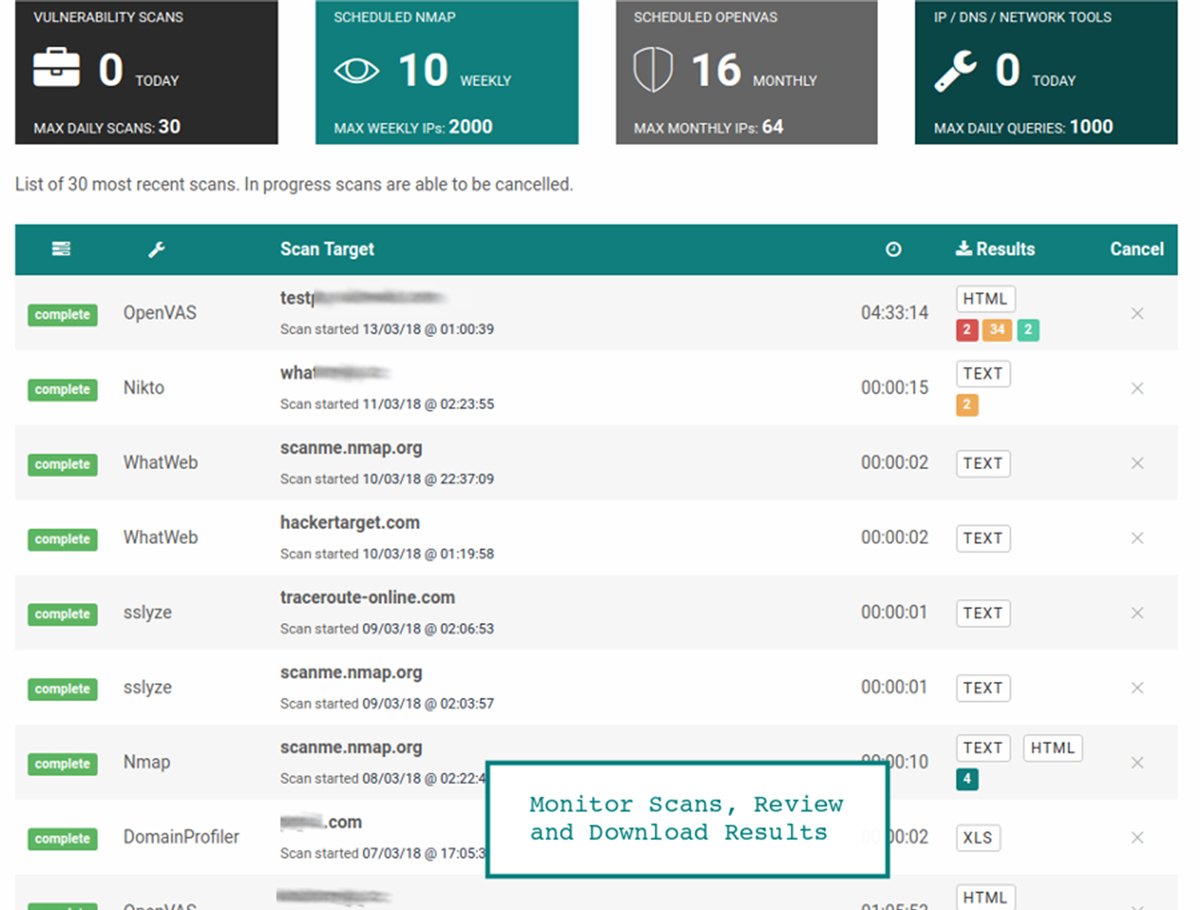 WordPress Security Scan is a powerful website scanning tool that gives you a detailed overview of your website's security status. WSS is the perfect tool to scan website security vulnerabilities, check for app security, web server, WP Plugins and hosting environment. It downloads a few pages from your site and executes analysis on the raw HTML code. WordPress Security Scan also checks for directory indexing, user enumeration, and linked sites, JavaScripts and iFrames.
You will also receive IP information and Geolocation, and get to check your site's reputation via Google Safe Browsing. By pinpointing vital data like your site's themes, plugins, and users, you will have a better understanding of the nature of attacks you get. This way you can perform further testing and tackle the threats once and for all.
Learn More about WordPress Security Scan
Sucuri SiteCheck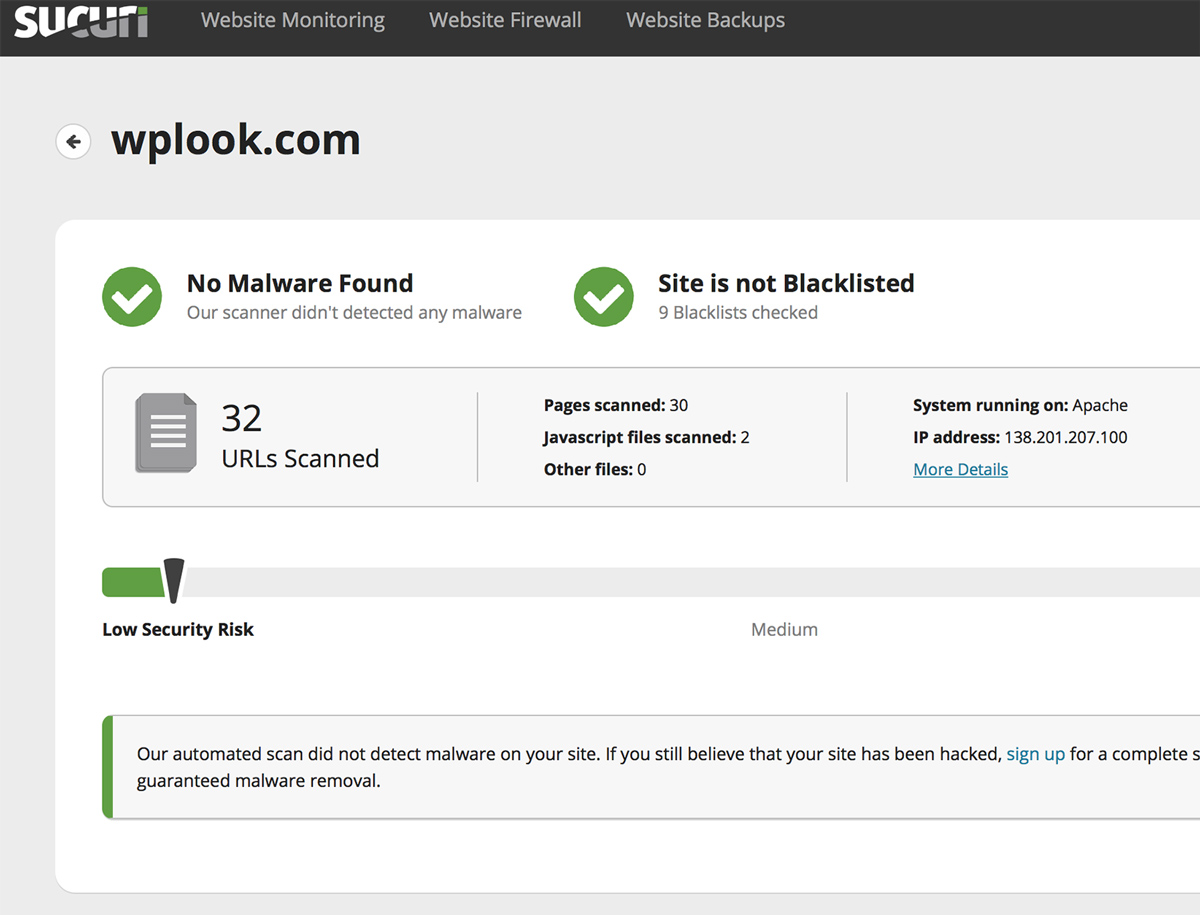 Sucuri SiteCheck is another familiar name when it comes to website malware and security scanners. Many web owners love Sucuri's quick and
interactive vulnerability scan reports. This online website scanning tool allows web Admins to scan website security vulnerabilities, defacements, backdated software, malware, website blacklisting, website firewall, malicious script and even links.
This website scanning tool will notify you whether your website has been blacklisted by Opera Browser, Google Safe Browsing, PhishTank, ESET, SiteAdvisor, and Yandex. SiteCheck additionally provides website owners with the necessary resources to recover a hacked website.
Learn More about Sucuri
CWatch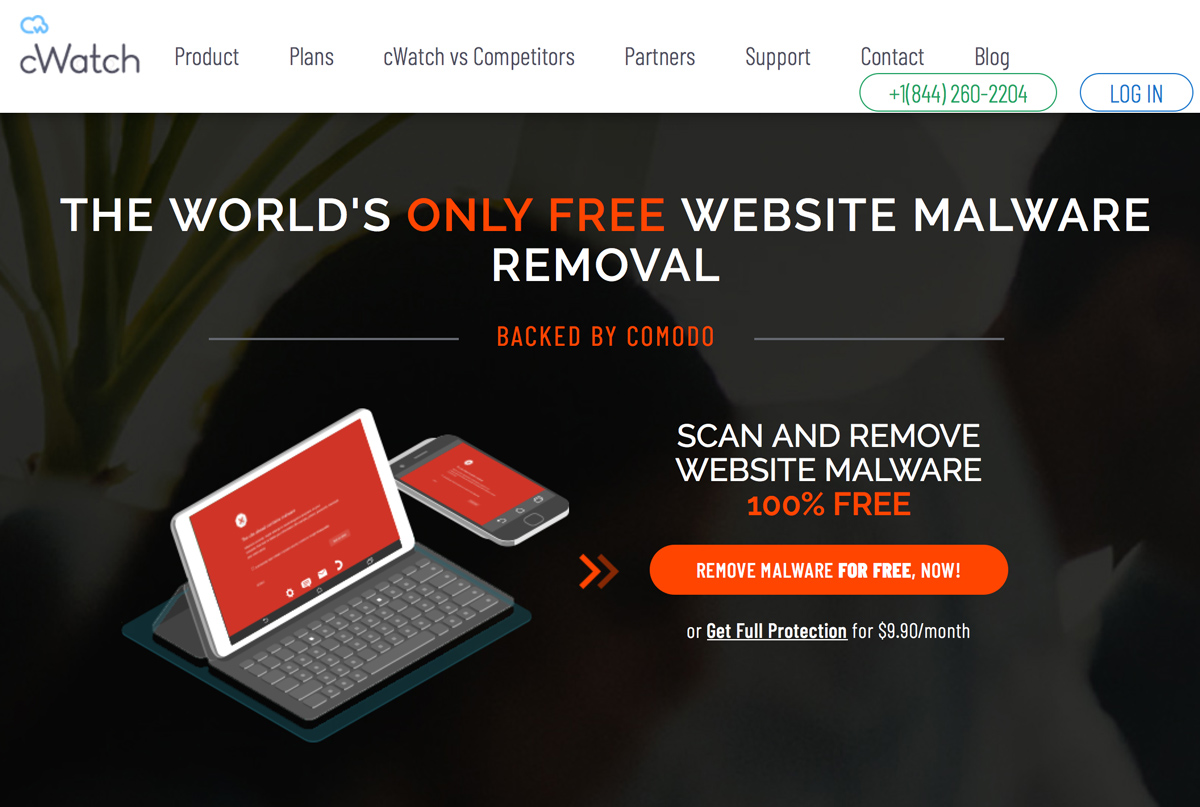 CWatch is a trusted entity in the field of cyber security. If the website scanning tool detects any issue on your website, it will point you to the right direction. Even a novice WordPress user will be able to use CWatch and get to know where their website's problem is.
CWatch promises to get rid of malware from your site in under 30 minutes. The 24/7/365 expert support provide round the clock assistance in delivering proactive protection from hackers.
Learn More about CWatch
Scanurl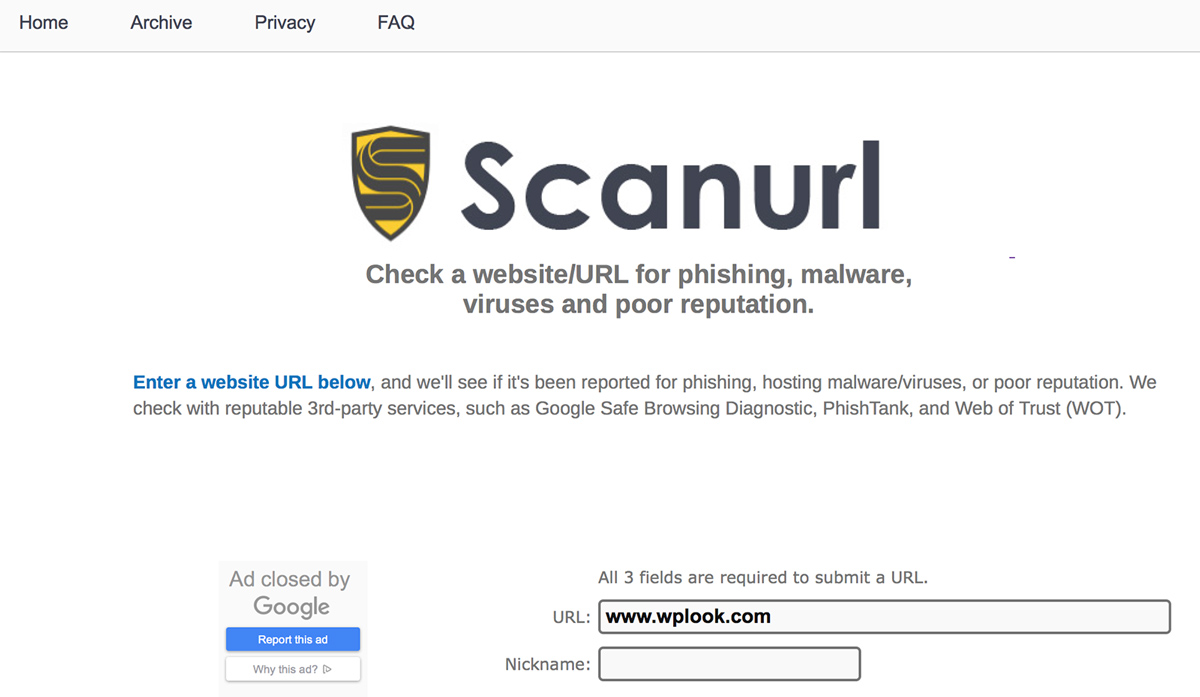 Scanurl works like other website security scan tools on this list. It checks your website on 3rd party services like PhishTank, Google Safe Browsing and Web of Trust for viruses, malware, phishing and poor reputation. This website scanning tool is very easy to use; you don't need to be an expert to use it. You will receive current and accurate reports with details regarding your site's security.
Some of the crucial data Scanurl will offer you include if your site passed Google Safe Browsing test, if anyone flagged your website as unsafe, if Web of Trust has any detrimental ratings on your website and if PhishTank possesses any file on your blog.
Learn More about Scanurl
Qualys-SSL Server Test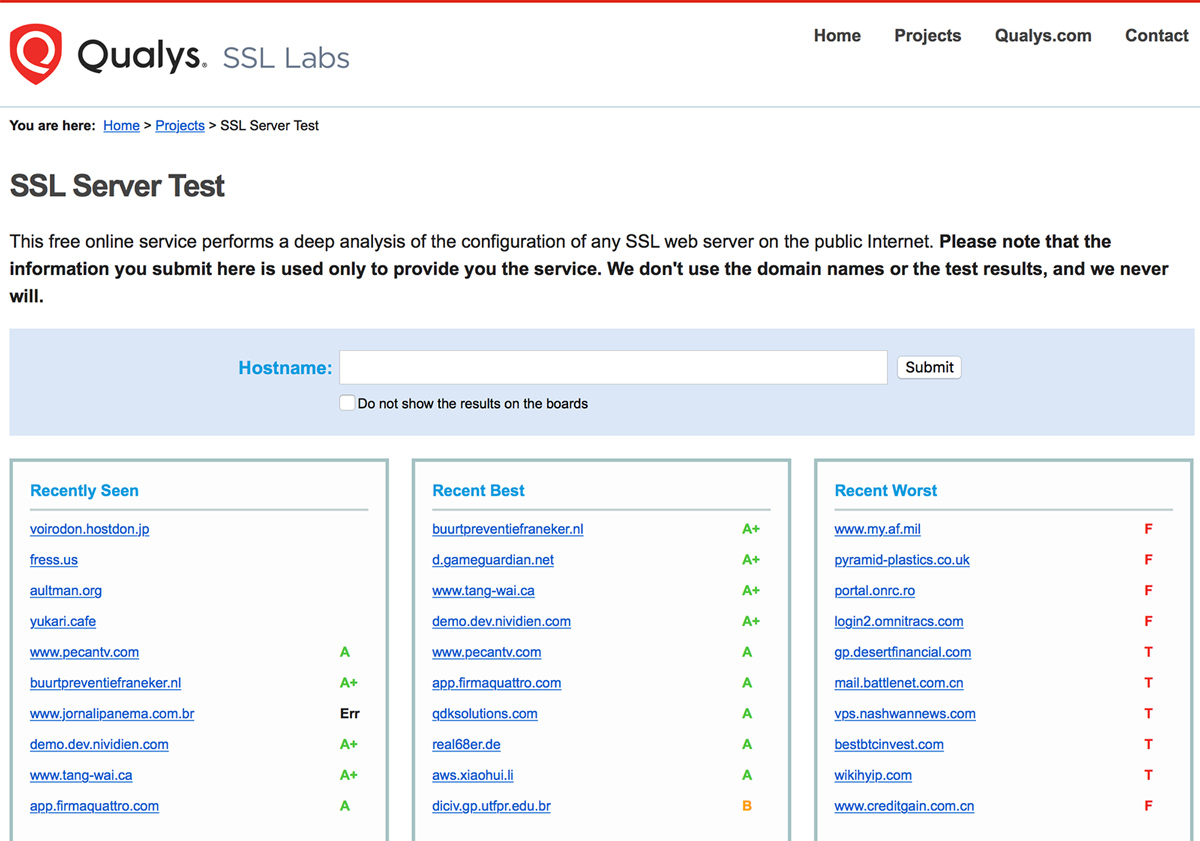 Qualys -SSL Server Test is a household name when it comes to scanning SSL Web Servers. This website scanning tool provides a comprehensive analysis of your https URL. You will get vital info on Cipher, expiry day, SSL/TLS version, overall rating, protocol details, handshake simulation and much more.
If you run the secure site (https), you should definitely give Qualys -SSL Server a try. The homepage prominently displays a list of recently seen, recent best and recent best websites.
Learn More about Qualys-SSL Server Test
HackerCombar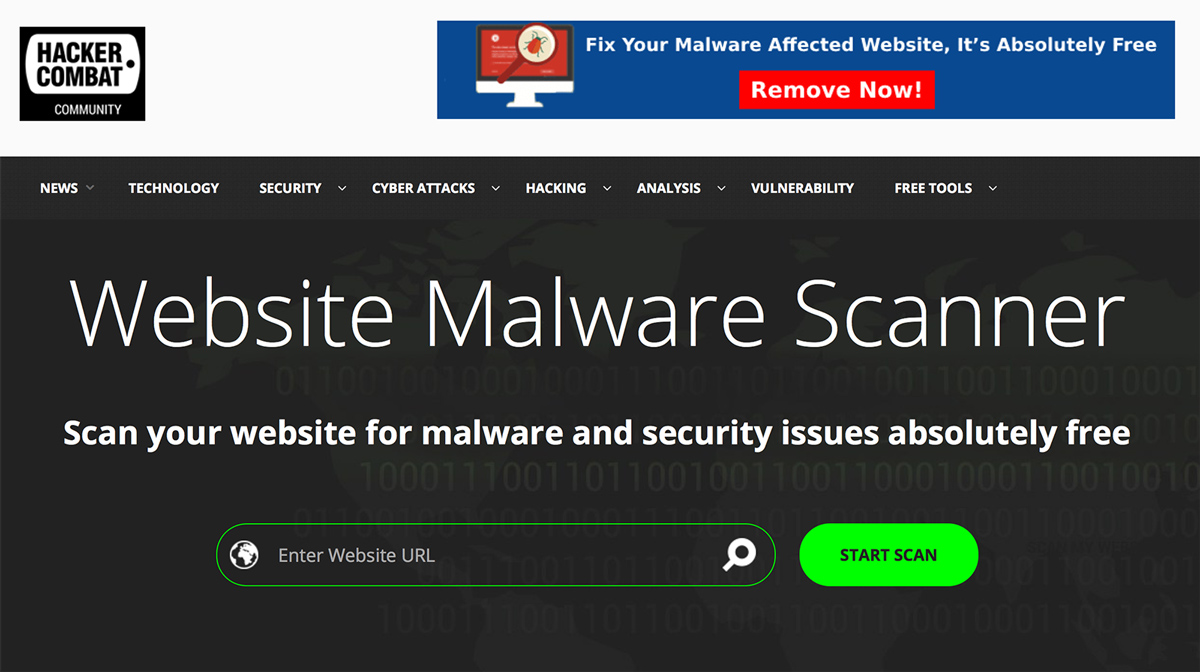 Last but not least is Hacker Combat. This cloud-based website scanning tools scan website security vulnerabilities, transaction protection, malware detection, malicious activity, phishing, Backdoors, worms, and Trojans.
Hacker Combat generates scan reports after checking your site for malicious code. Hacker combat will also warn you about the possibility of your blog getting blacklisted due to repeated security threats.
Learn More about HackerCombar
Final Thoughts

As long as WordPress continues to be a popular CMS, it will continue to be a soft target for hackers. Often, many website owners ask themselves, how do I make my WordPress site more secure? While there is no foolproof security system, regular web scans can protect you from opportunistic attacks.
Prevention is better than cure. Use our checklist of free WordPress Website Security Scan Tools to protect your website from malicious attacks that can cost you big time. What security measures have you taken for your website? Keep the conversation going in the comments section below.
Security, SSL, WordPress Plugins