Creating an online shop is becoming more of a necessity these days, it is no longer a venture left for large marketplaces only. Shoppers now prefer to search and purchase physical products, digital products courses, reservations, subscriptions, and services online as opposed to other shopping methods. Many websites are looking to earn some extra income from their sites by integrating eCommerce WordPress platforms. WooCommerce is one of these platforms that gives you full control over your store. It does this by offering all the vital and essential features of an eCommerce website including pricing, inventory and checkout process. Small to medium-sized companies now provide reliable and secure online shopping experiences, all thanks to WooCommerce. With 2 million+ Active Installs, WooCommerce is cementing its position as one of the most popular eCommerce solutions for WordPress. With the recent acquisition of WooThemes by Automattic, WooCommerce is positioned to be the future go-to solution for retailers looking to sell their products and services online. You can sell almost anything on WooCommerce, all you need is a WooCommerce compatible theme. A large number of extensions in WooCommerce makes the whole process of setting up an online store seamless. To give your customers a pleasant shopping experience, you have to extend your store's functionality with WooCommerce plugin.
Customizing your WooCommerce online store does not have to be a costly affair. While many official extensions are premium, there are also several free extensions that will allow you to personalize your store to provide your online shoppers more of what they want.
WooCommerce Stripe Payment Gateway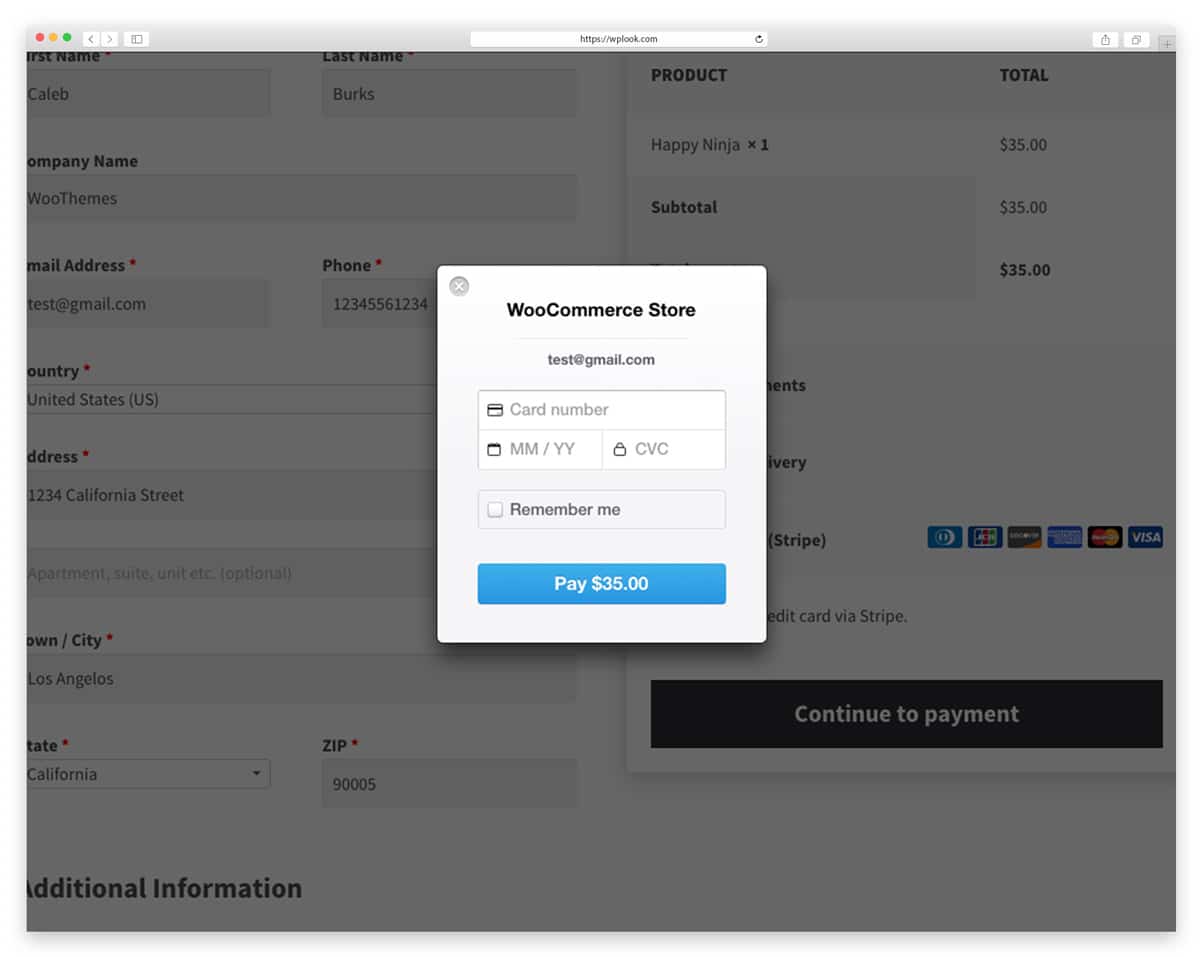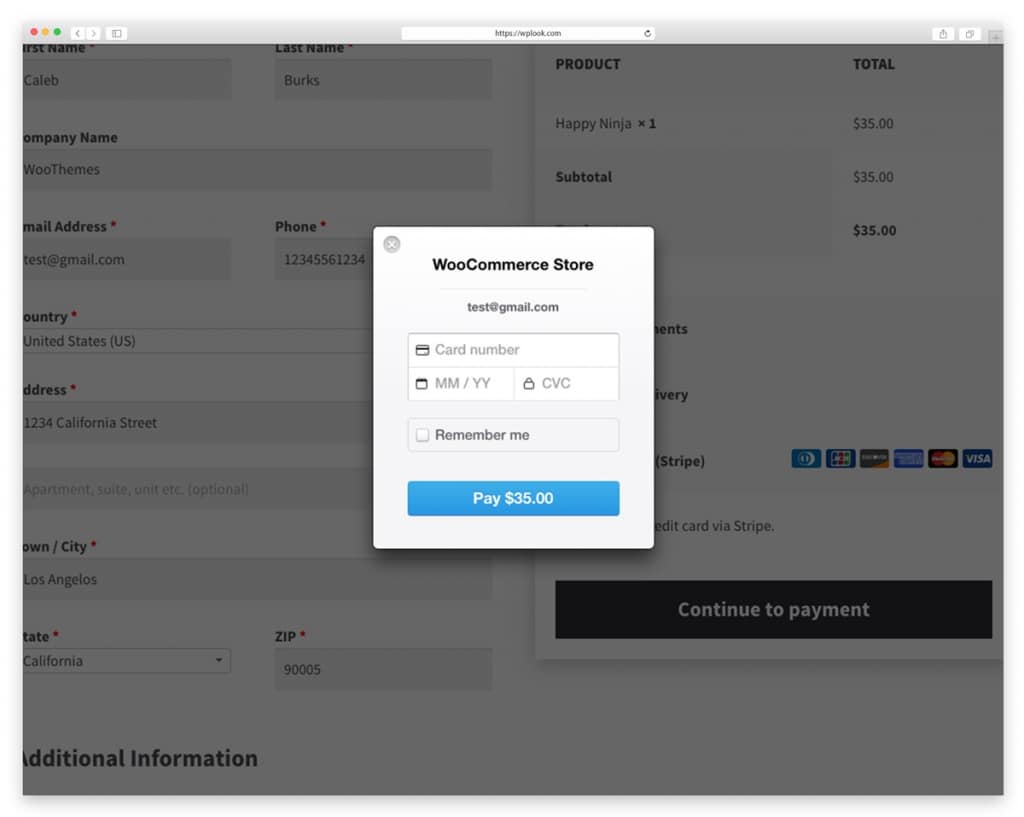 Stripe Payment Gateway for WooCommerce allows you to accept major credit card payment methods directly on your online store thanks to Stripe's API. Notable mentions include MasterCard, Visa, Discover, American Express, Alipay, iDeal, Sofort, SEPA, and JCB. With 300k+ active installations, your customers can now enjoy paying for products and services with Apple Pay for desktop and mobile.
Accessible in 17 international languages, Stripe is available in the US, Canada, Australia, UK, The Netherlands, Germany, France, Ireland and more. The only charges you get is when you earn money. Earned money is transferred to your bank account after every 7 days. There are no hidden costs, monthly fees or setup fees. The card re-using feature in Stripe WooCommerce plugin allows your online customers to make a subsequent order and check out using the same card.
Learn More about Stripe Payment Gateway
Instant Search – WooCommerce Search, Merchandizing and Navigation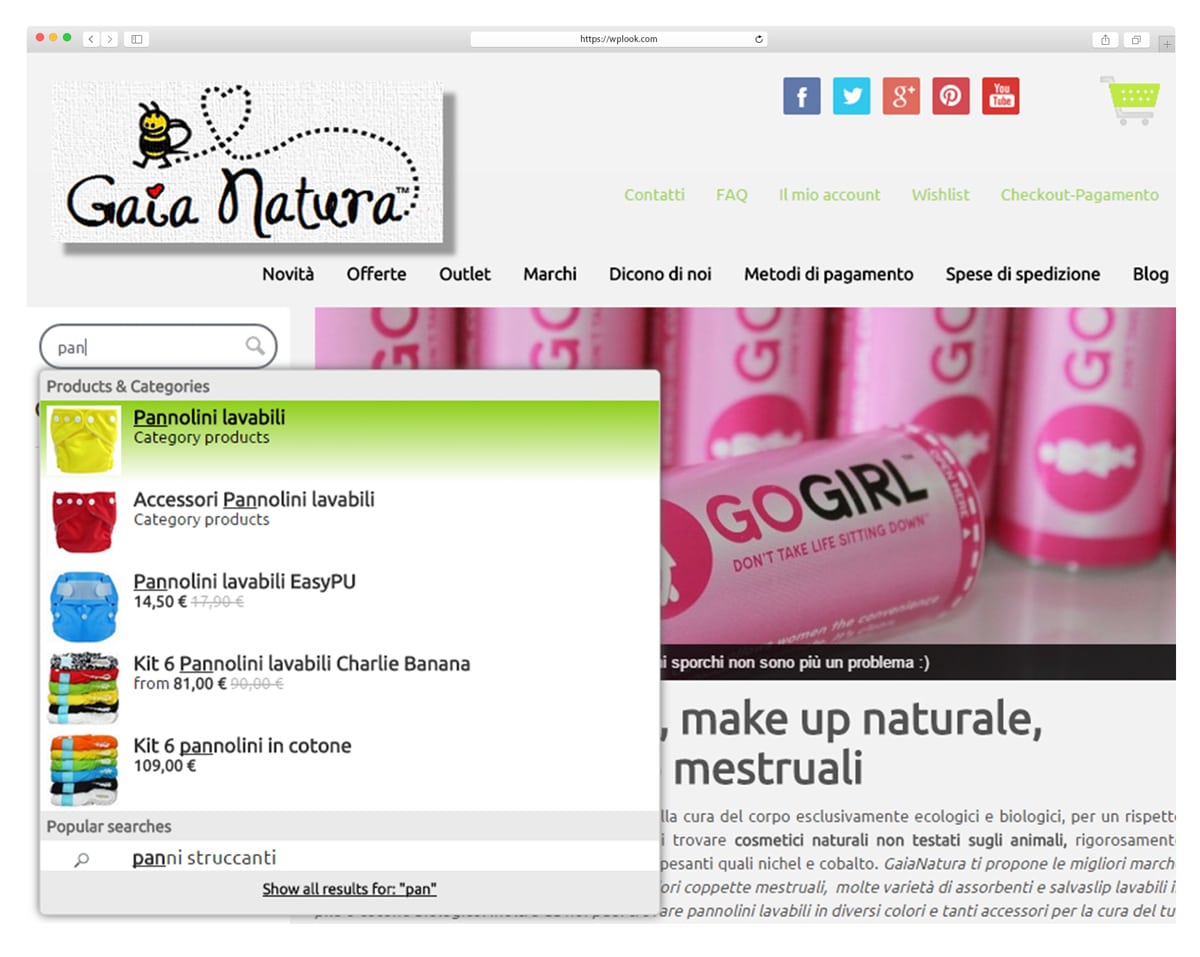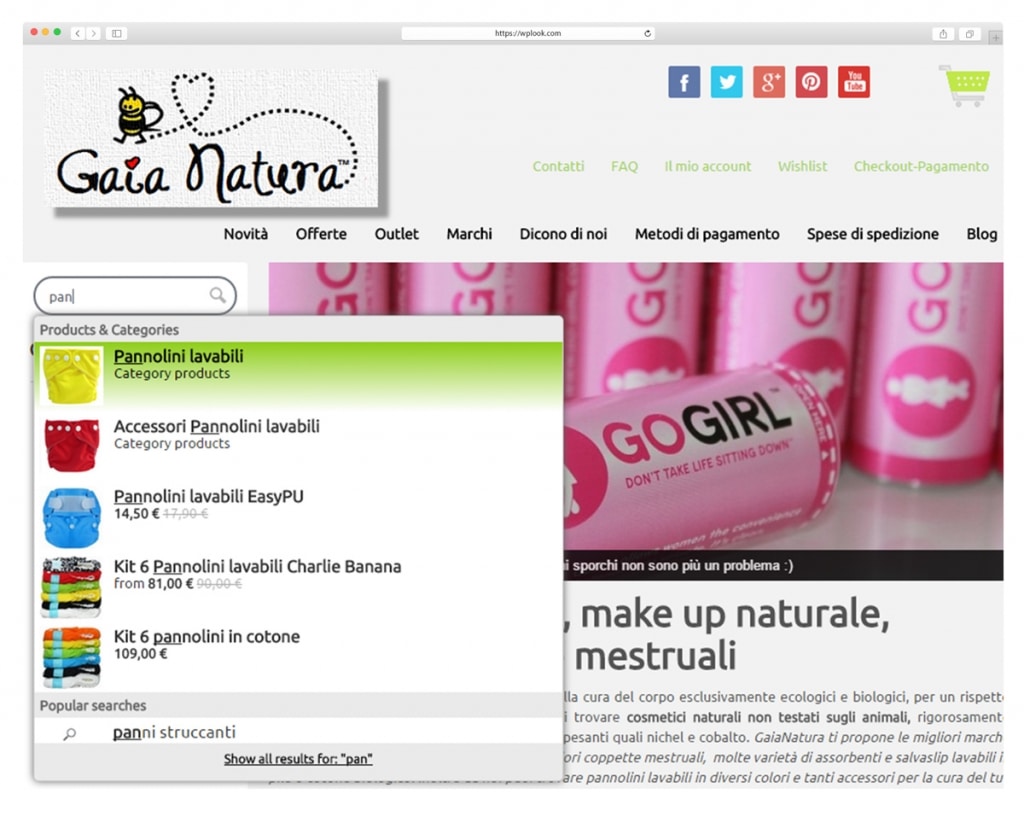 Instant Search is a blazing fast WooCommerce plugin for WooCommerce Stores. This plugin is free for online stores with up to 100 products. Larger stores retailing many products will be required to for a paid subscription that costs $19.99/mo. You get a 30-day trial period to have a first-hand experience of all the premium features.
Instant Search is available in 9 languages and prides itself as the most advanced, fastest and cloud-based instant search available for WooCommerce. This plugin supports all devices and installation takes just 2 minutes. Your users can search for details such as prices, product names, and images. A standout feature in Instant Search is the personalized instantaneous search query suggestions that help you get better conversions.
Learn More about Instant Search
WooCommerce PDF Invoices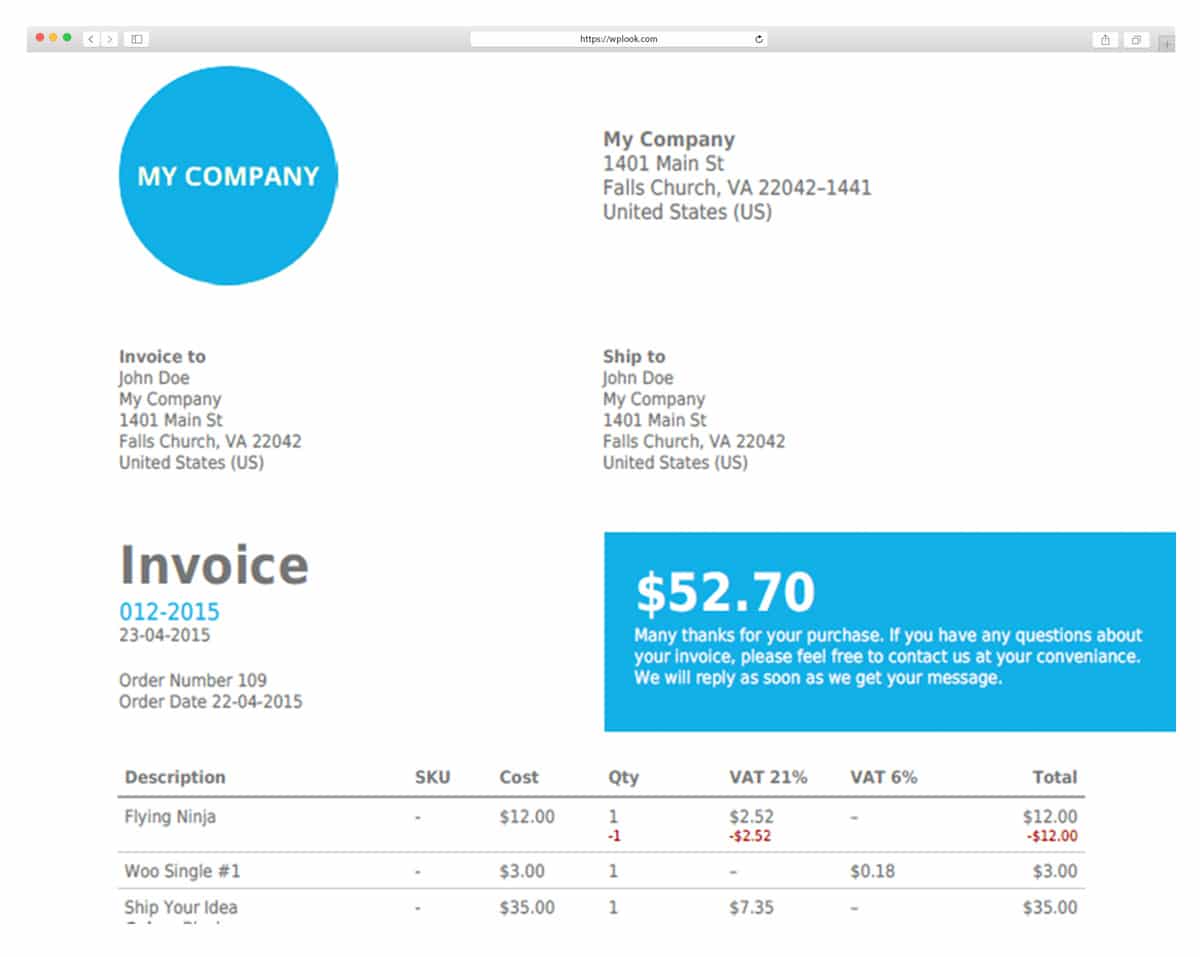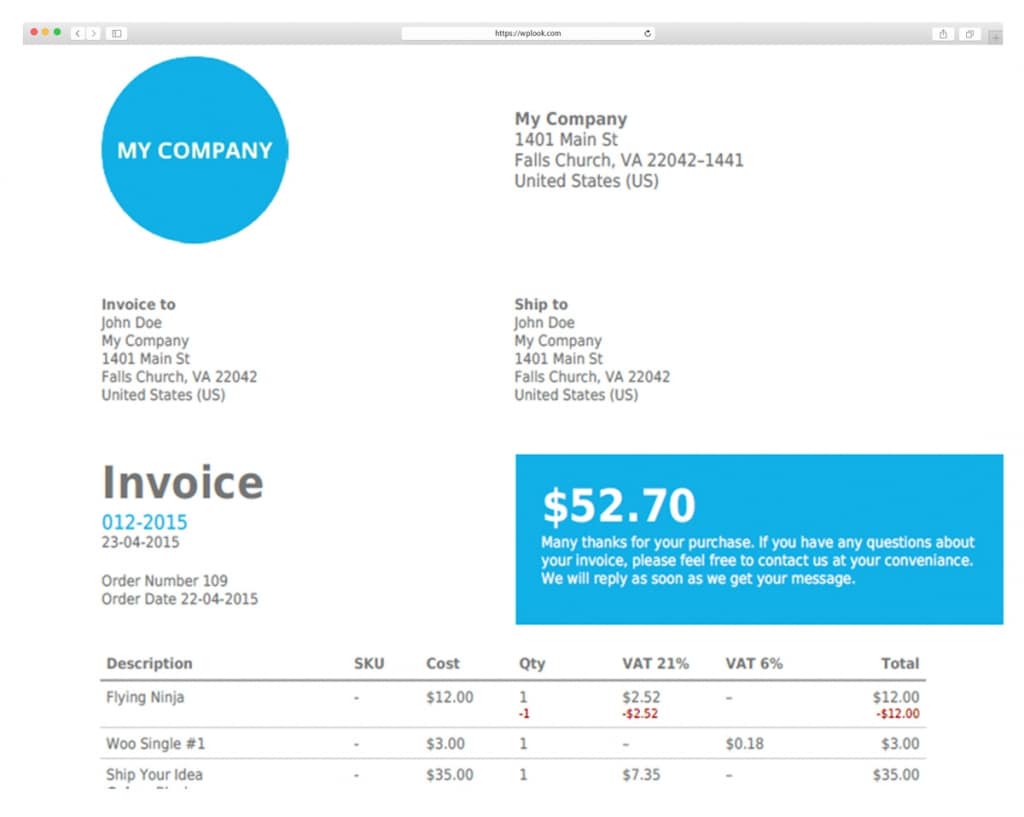 This WooCommerce plugin by Bas Elbers helps store owners to generate PDF invoices and packing slips. It then attaches the invoices and slips to different email types and automatically sends them to your customers' Google Drive, Dropbox, Egnyte or OneDrive accounts.
You have the freedom to choose between an array of clean and customizable templates. This plugin is compatible with the latest version of WordPress and is available in 8 languages.
Learn More about WooCommerce PDF Invoices
YITH Essential Kit for WooCommerce #1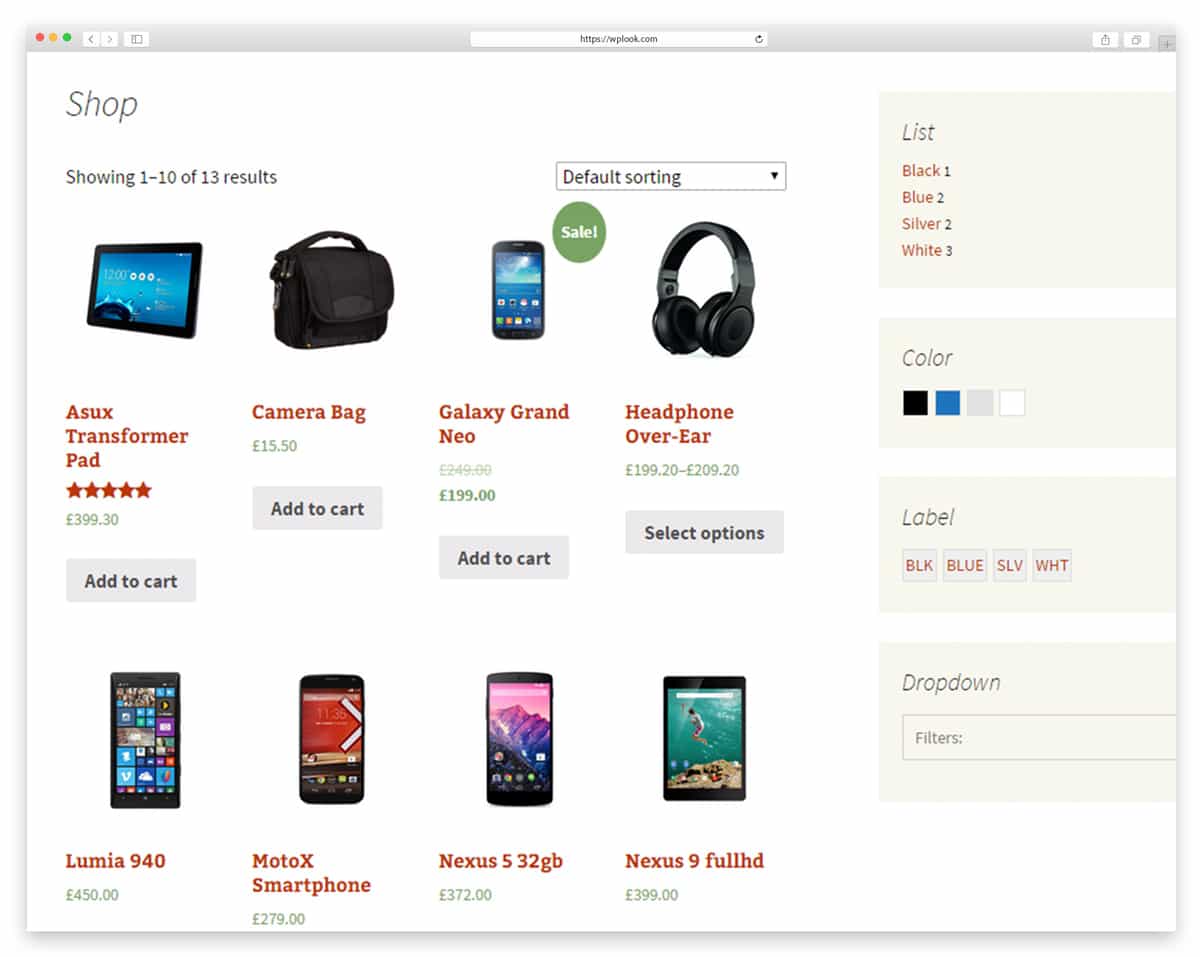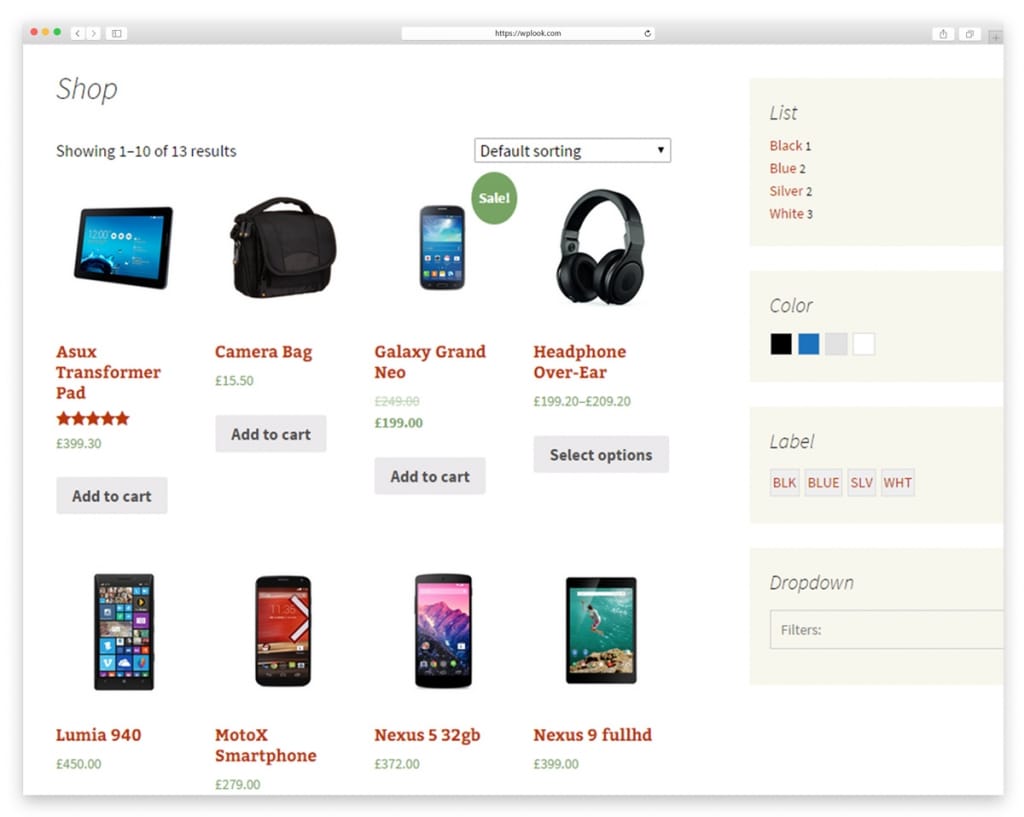 YITH by YIThemes is a flexible kit that enables you to customize your eCommerce site by adding new and powerful features by simply activating the plugins. You can easily add features like image zoom, wish list, credit card payments and quote requests straight from this collection of plugins.
YITH saves you the time you will spend browsing through thousands of plugins for the same. If you no longer need the plugins, you can simply deactivate them. YITH WooCommerce Ajax Search lets your users search products and service in real time. YITH Live Chat allows you to provide your online buyers with immediate feedback.
Learn More about YITH
Booster for WooCommerce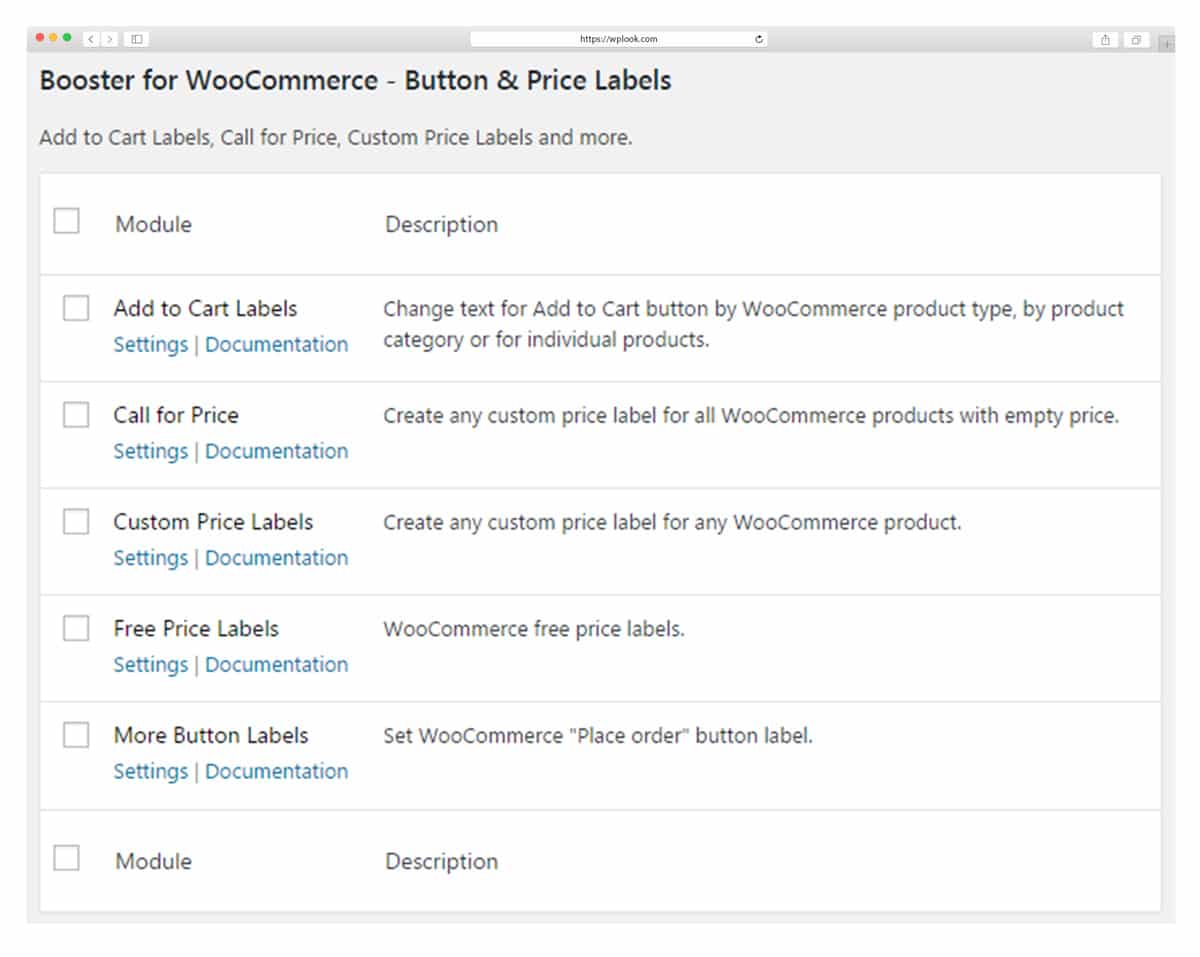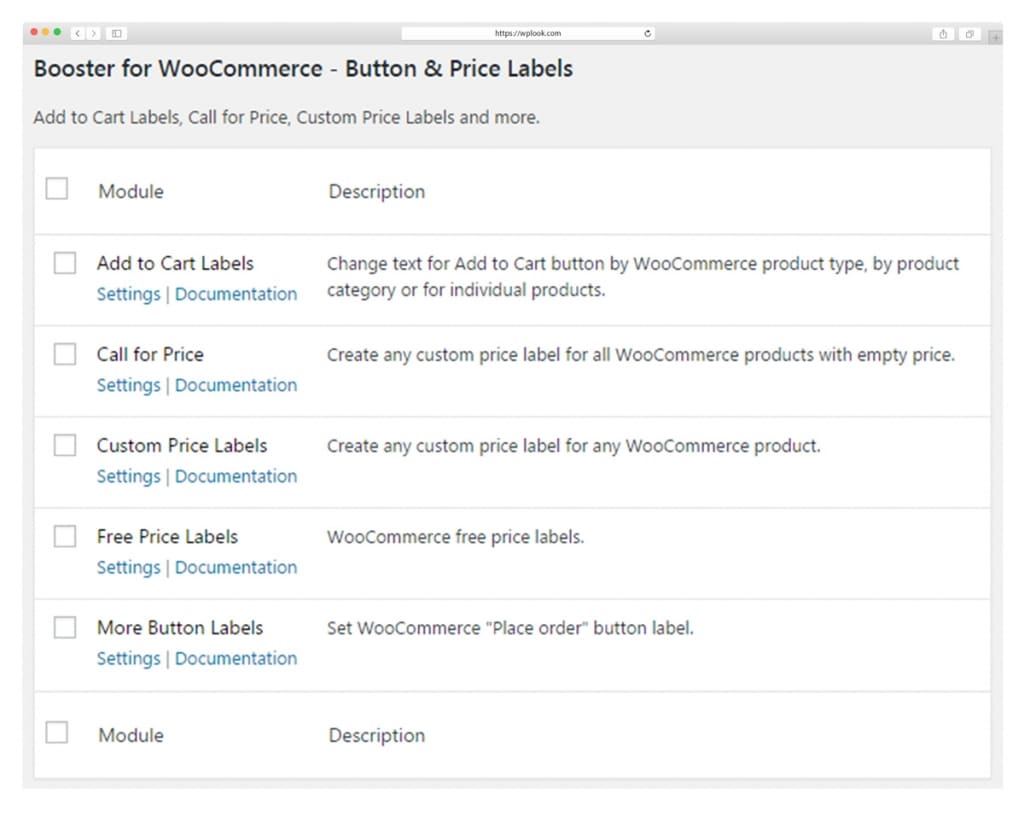 Just as the name puts it, Booster for WooCommerce is a plugin that lets you boosts the performance of your store with powerful features. If you are already using the WooCommerce platform, you probably know the importance of having an attractive store. This fast-rising plugin already has 40k+ active installations.
It allows you to include all World Currencies and Automatic Exchange Rates to make it easier for your international customers to shop in your store. Customers can also suggest their prices for products thanks to the "Offer Your Price" feature. Booster also allows you to add Crowdfunding Products to your store as well as multiple custom gateways.
Learn More about Booster for WooCommerce
Uni CPO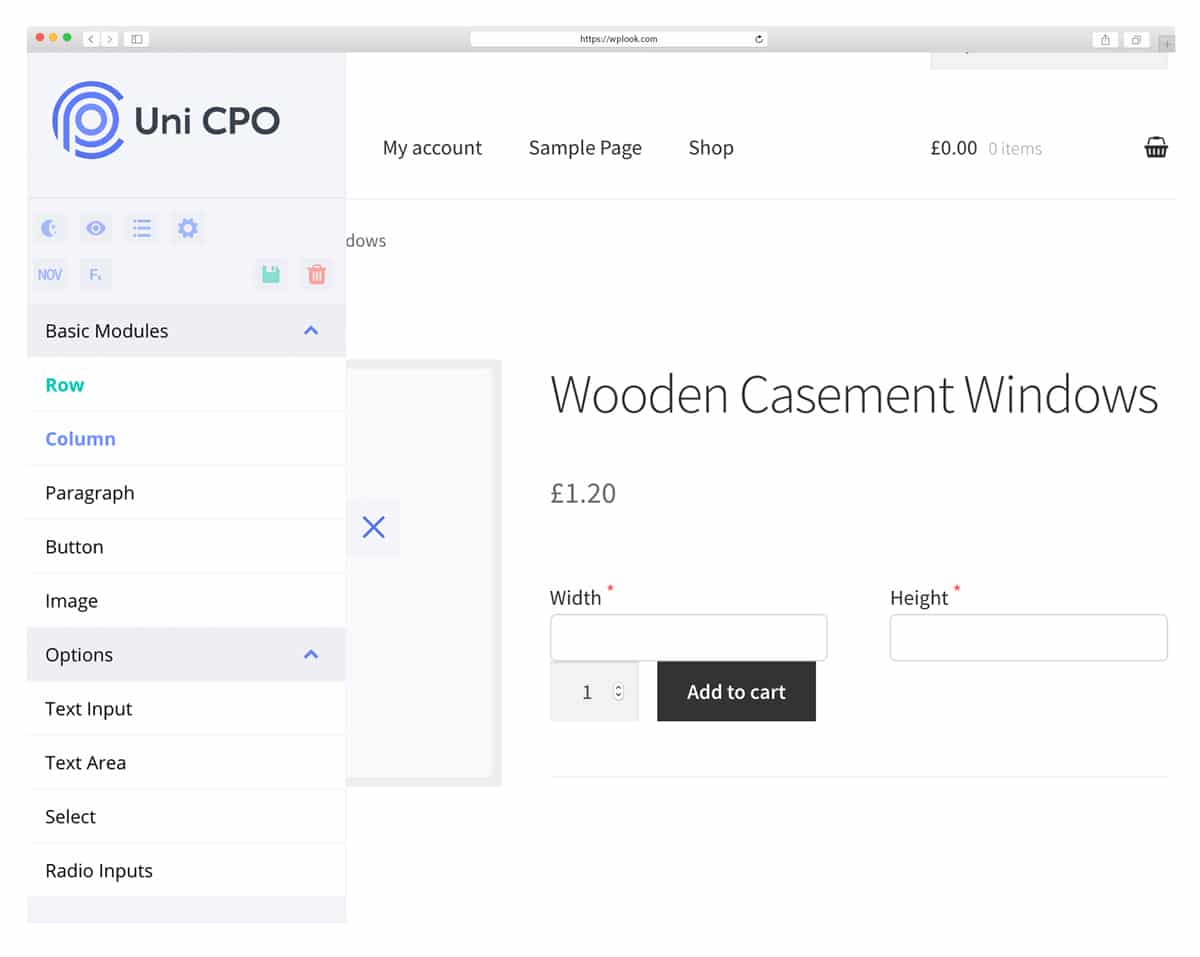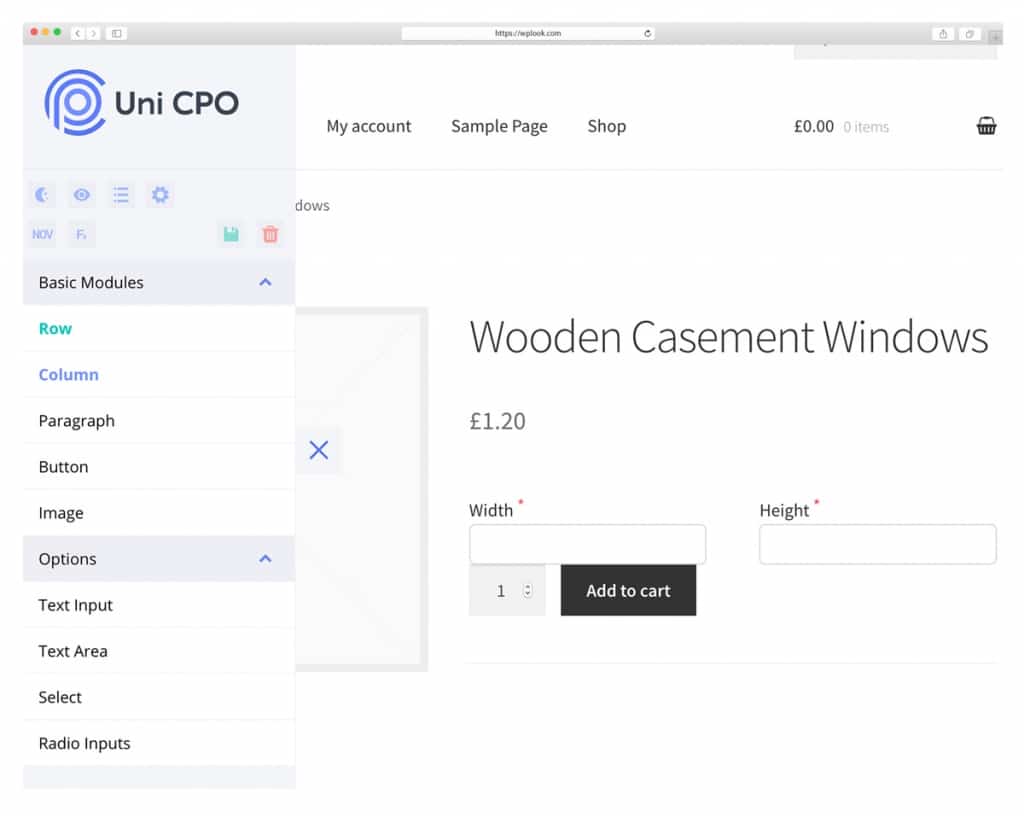 Uni CPO is a fully featured products and services options and price calculation formulas plugin by MooMoo Agency. This WooCommerce plugin provides stores owners with the chance to increase extra product options with the alternative to determine the price based on the selected options with the help of a custom math formula. Uni CPO lets you add a custom field to your products and showcase them conditionally.
Your online buyers have the luxury to personalize the products by adding things like comments, dimensions, and custom labels. With the built-in Visual Form Builder and 10+ Custom Product Options Types, you can customize your forms just the way you like it. The minimum requirements for this plugin are WordPress v 4.8 or greater, WooCommerce 3.2 or greater and PHP v 7.0 or greater.
Learn More about Uni CPO
WooCommerce Multilingual
WooCommerce Multilingual is an essential plugin by OnTheGoSystems that allows you to run your WooCommerce with WPML. This plugin provides a convenient translation management for products attributes and categories, and also enable you to run a single store with multiple currencies.
Your online shoppers will enjoy the same language during the whole check out process. They will also benefit from receiving emails in their native languages. This plugin is fully compatible with most of the popular WooCommerce extensions including WooCommerce Subscriptions and WooCommerce Tab Manager.
Learn More about WooCommerce Multilingual
WooCommerce Customizer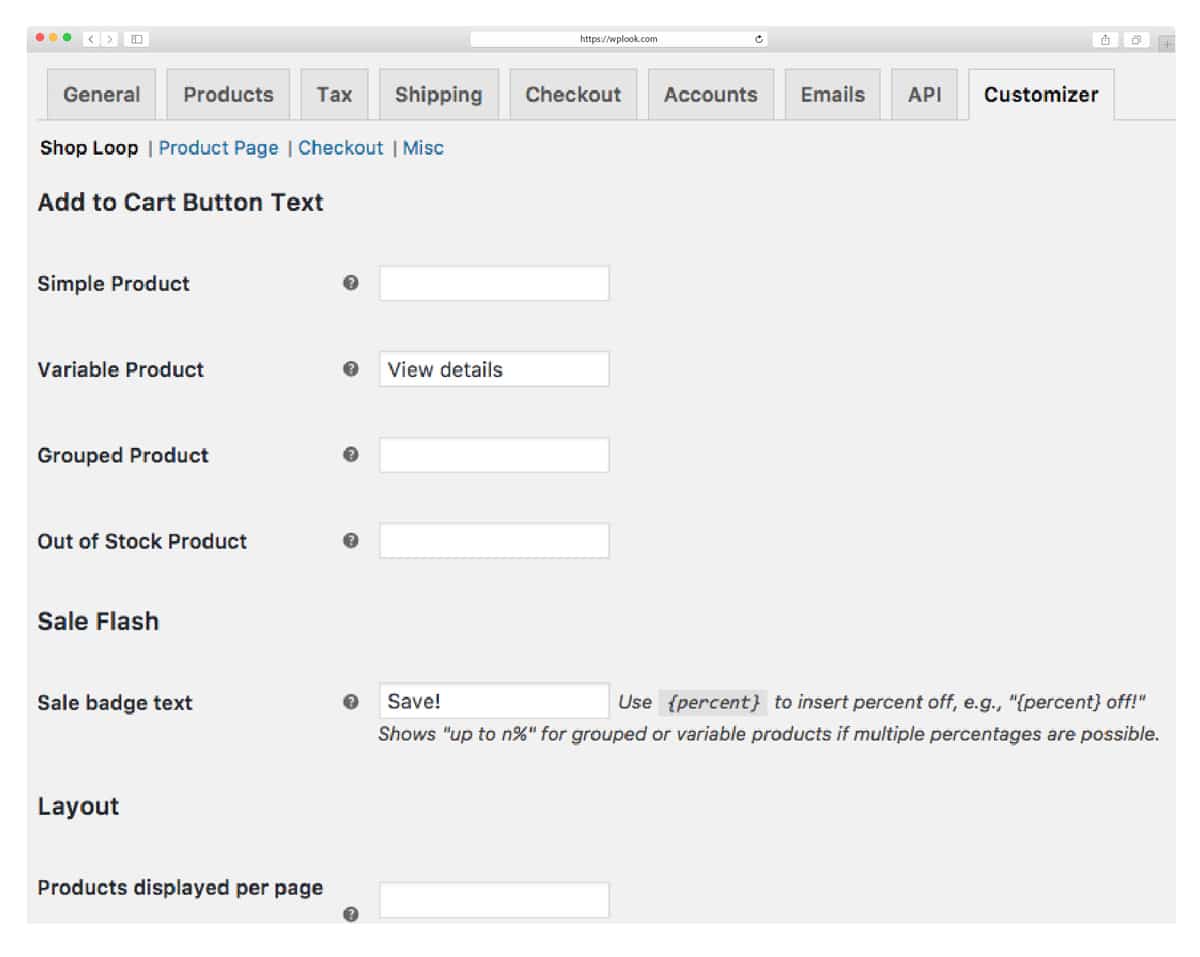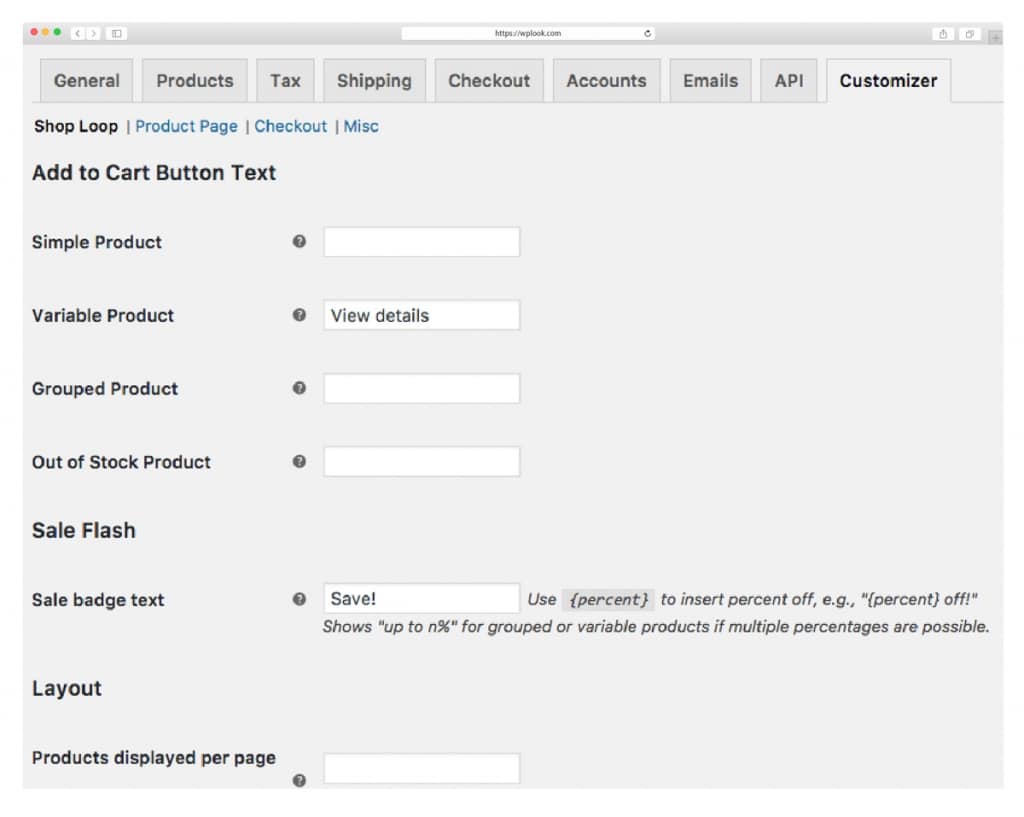 WooCommerce Customizer is a modern plugin that gives store owners a settings page where they can add and save customizations without modifying templates or writing any line of code. This comprehensive solution works only with WooCommerce 2.5.5 and above.
You have the freedom to pick the number of products to display per page, WooCommerce Customizer also lets you include Tax Label text, Sales Badge text, and Cart Button text for various product types.
Learn More about WooCommerce Customizer
MailChimp for WooCommerce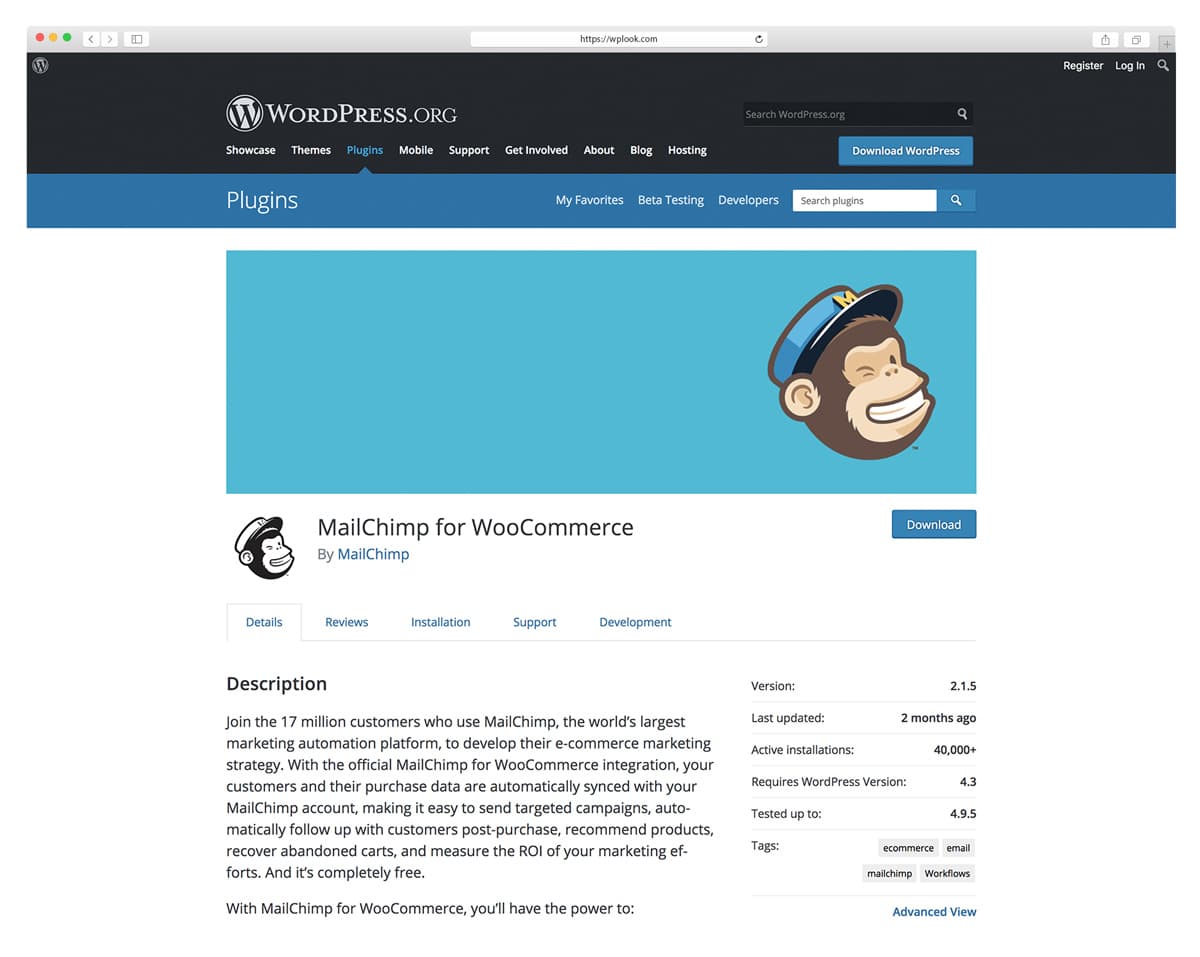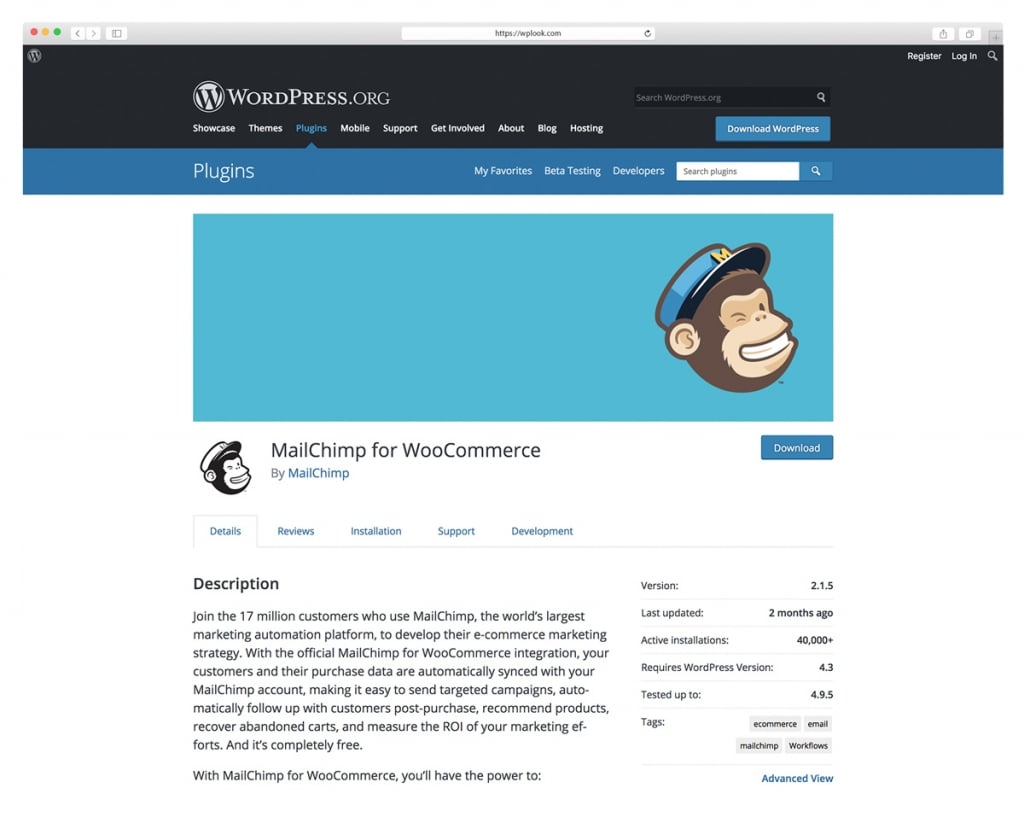 MailChimp is no doubt the world's largest mail automation platform boasting 17 million+ users. Integrating this platform with WooCommerce brings a plethora of benefits for store owners.
You can easily sync your customers purchase data with your MailChimp account which will make your work easier in terms of sending targeted campaigns, tracking buyers' post-purchase, recovering abandoned carts, showcasing product recommendations and gauging the ROI of your marketing efforts.
Learn More about MailChimp for WooCommerce
Smart Variations Images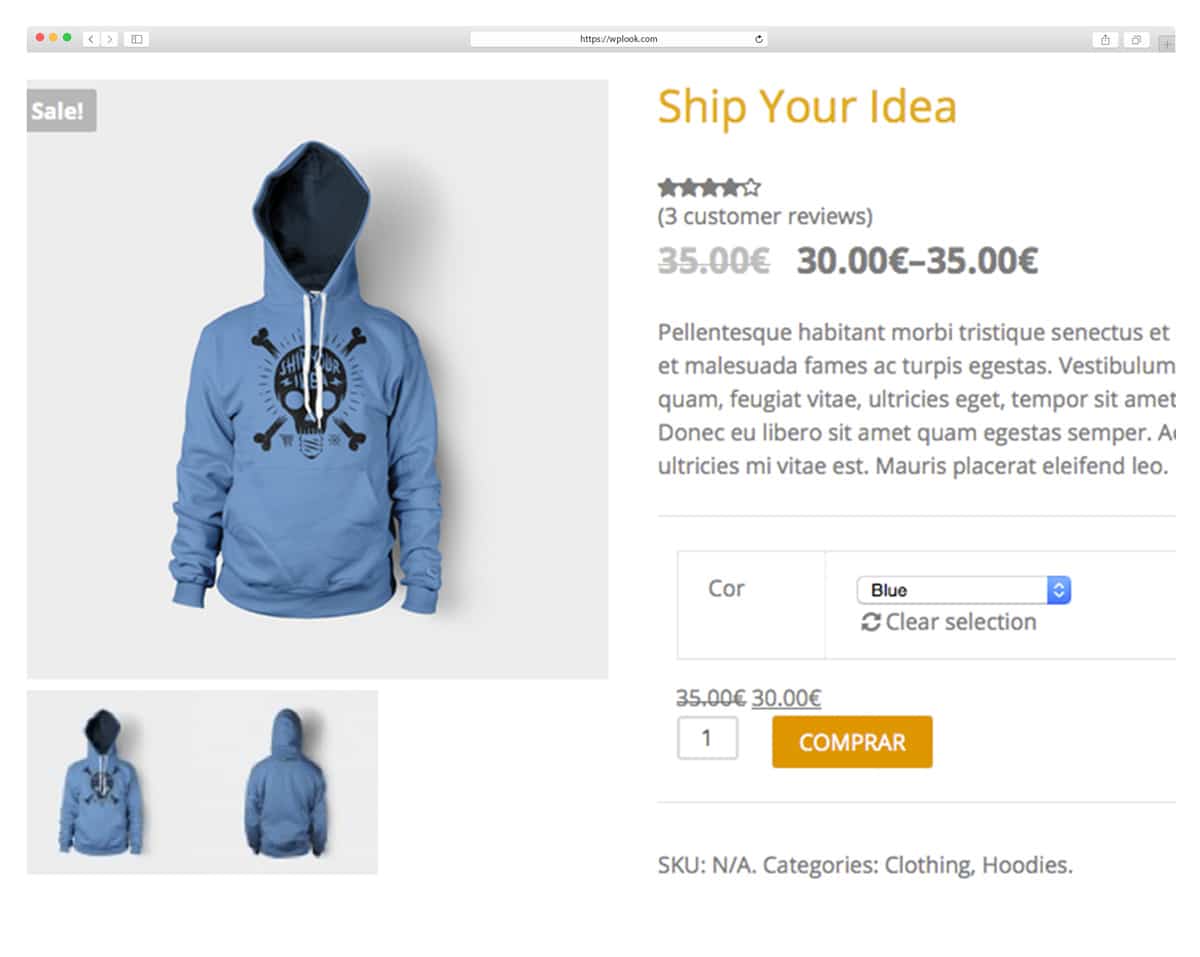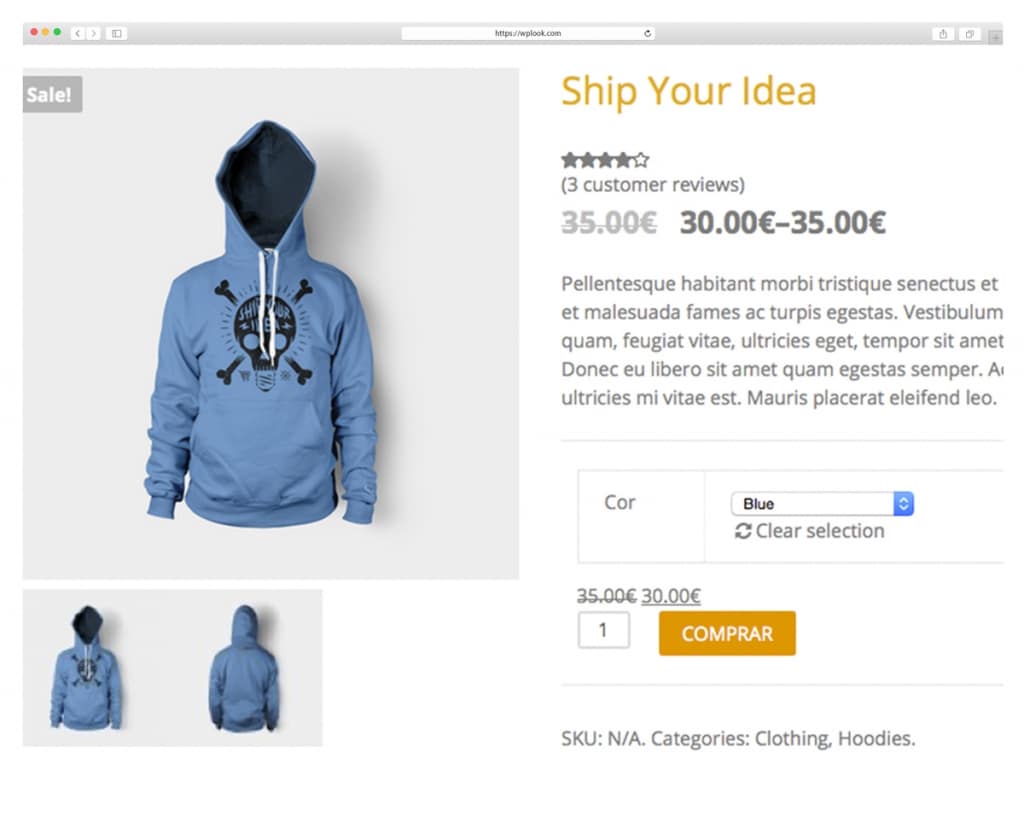 Smart Variations Images is a WooCommerce plugin by David Rosendo that makes adding custom images to variations possible. Your online visitors will be able to swap various images when they click on a product variation. This means that they will be able to view different images of a particular product in the same style and color.
To use this feature, simply upload all the variation imageries to the product galleries. Pick the matching slug of the variation on the drop down and you are good to go! This plugin is responsive, WPML Compatible and offers Priority Support.
Learn More about Smart Variations Images
WooCommerce Bulk Discount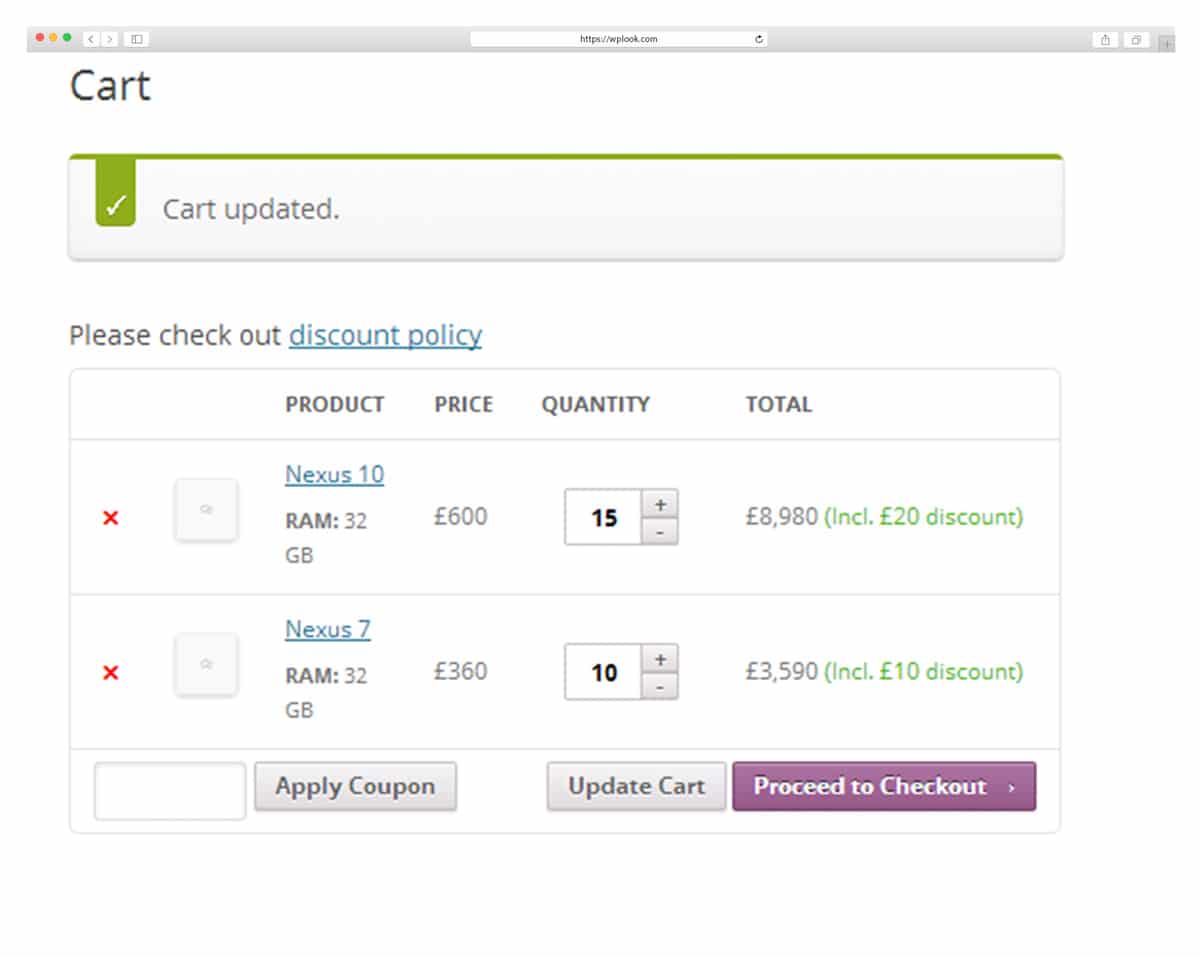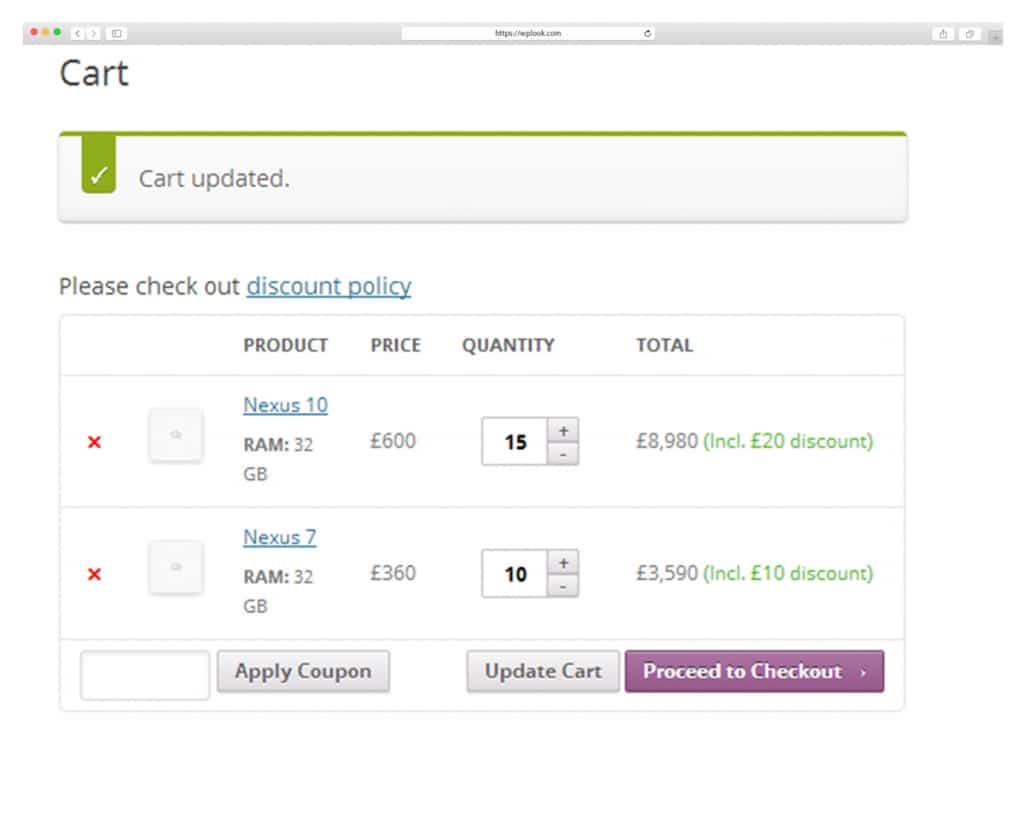 Whether you are a store owner or just a developer designing an online store, this handy WooCommerce plugin will help you increase sales. WooCommerce Bulk Discount is an interesting plugin by Rene Puchinger that makes it possible for store owners to apply reasonable bulk discounts to products in the shopping cart. The discount depends on the number of items ordered and the particular product.
This plugin is compatible with WooCommerce 2.0-33. WooCommerce Bulk discount has an extensive setting for discounts that provide you with wide-ranging discount policies for your store. You have the options to either set the discount individually per product or globally for all products. This plugin has been localized to Czech and English.
Learn More about WooCommerce Bulk Discount
WooCommerce Products Filter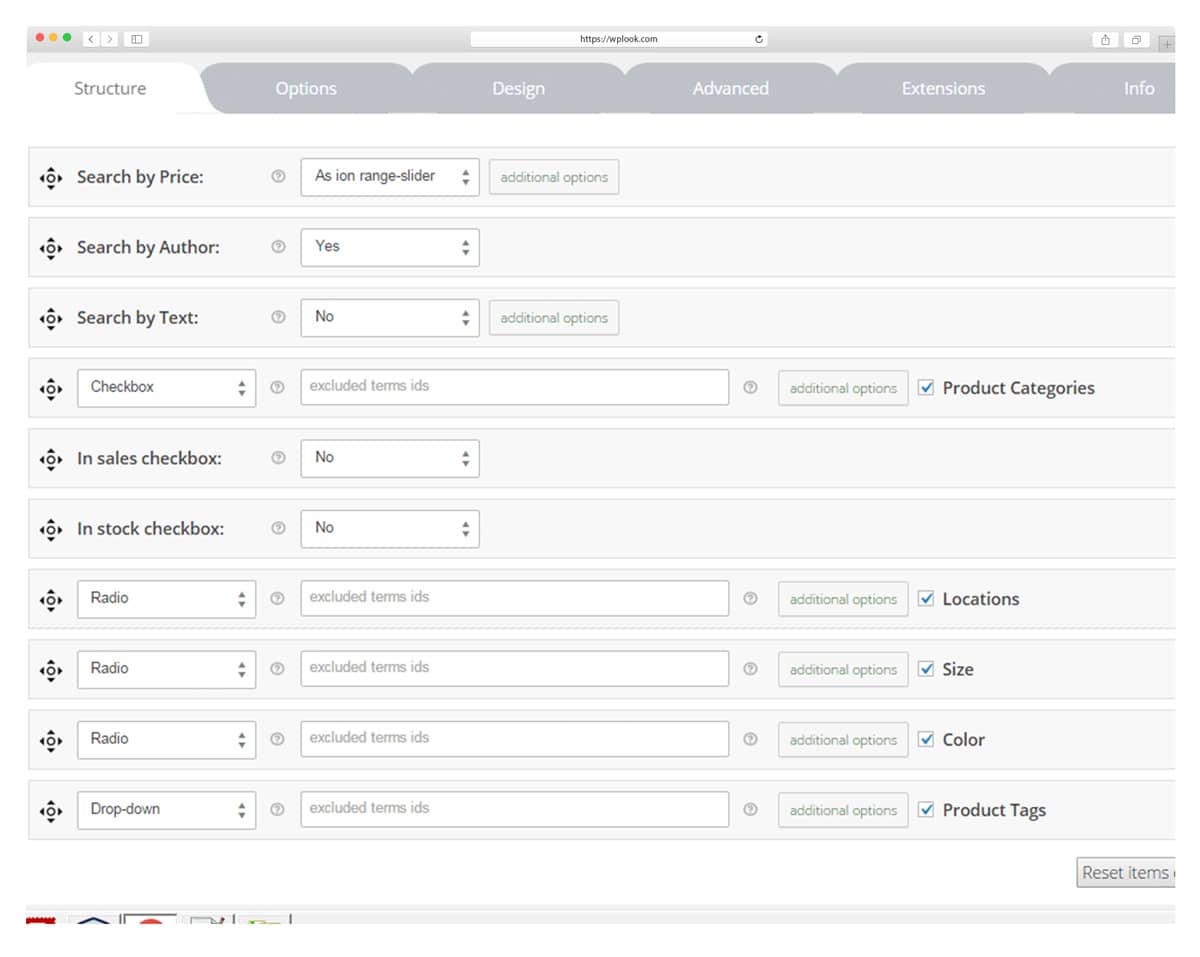 WooCommerce Product Filter, abbreviated as WOOF is a must-have flexible and powerful product search plugin by realmag777 with 60k+ Active Installations. This plugin allows your website visitors to filter products by attributes, categories, price, product custom taxonomies and product tags.
This plugin supports the latest version of WooCommerce and it utilizes native WooCommerce API only. WooCommerce Product Filter has a variety of skins for checkboxes and radio. It is compatible with popular WooCommerce extensions including WooCommerce Brands, WooCommerce Currency Switcher and WooCommerce Products per Page.
Learn More about WooCommerce Product Filter
WooCommerce – Gift Cards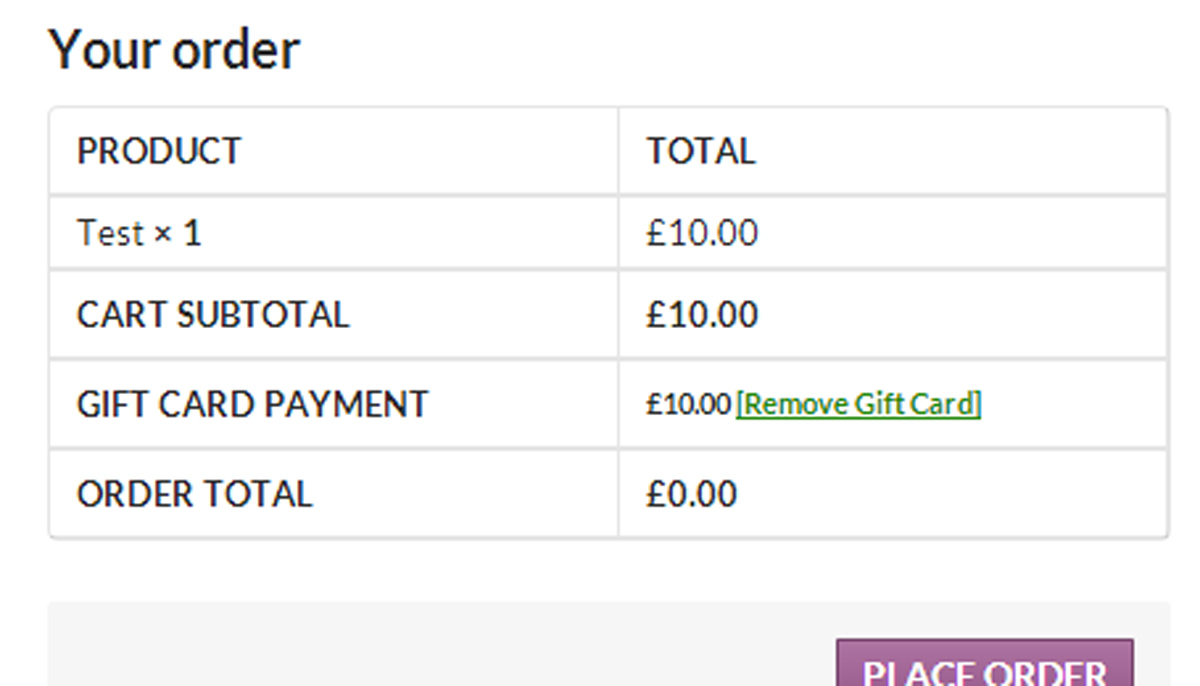 Last but not least, we present to you WooCommerce – Gift Cards, a free plugin which gives you the possibility to manage and sell gift certificates for your website. It has over 6.000+ active installations and it is updated regularly.
With this kind of plugin, you can sell gift certificates to your visitors, and accept payments through any of your other payment gateways. It will then allow your customers to purchase gift card on the site that you will manually create.
Learn More about WooCommerce – Gift Cards
Conclusion
There you have it! We sifted through 1000s of plugins to present to you the best WooCommerce plugins that will streamline your store management and boost your sales. Numbers don't lie, eCommerce is huge right now. Use the free WooCommerce plugins discussed above to impress your website visitors and customers and provide them with an unforgettable shopping experience.
WooCommerce, WooCommerce Plugin