Every Non-Profit, Foundation, or Charity Organisation (501(c)(3)) deserves to have a top-notch and beautiful website that would help to get a great online presence and to accomplish the main goal. Charities need quality WordPress Themes for Non-Profit with many great features intended to achieve particular demands for a Nonprofit Organization.
These 4 WordPress themes for non-profit have integrated features to help you raise funds for your cause through donation systems directly integrated into the theme, promote the events related to your charitable organization, Showcase all kinds of content, create an online shop, and much more.
Charity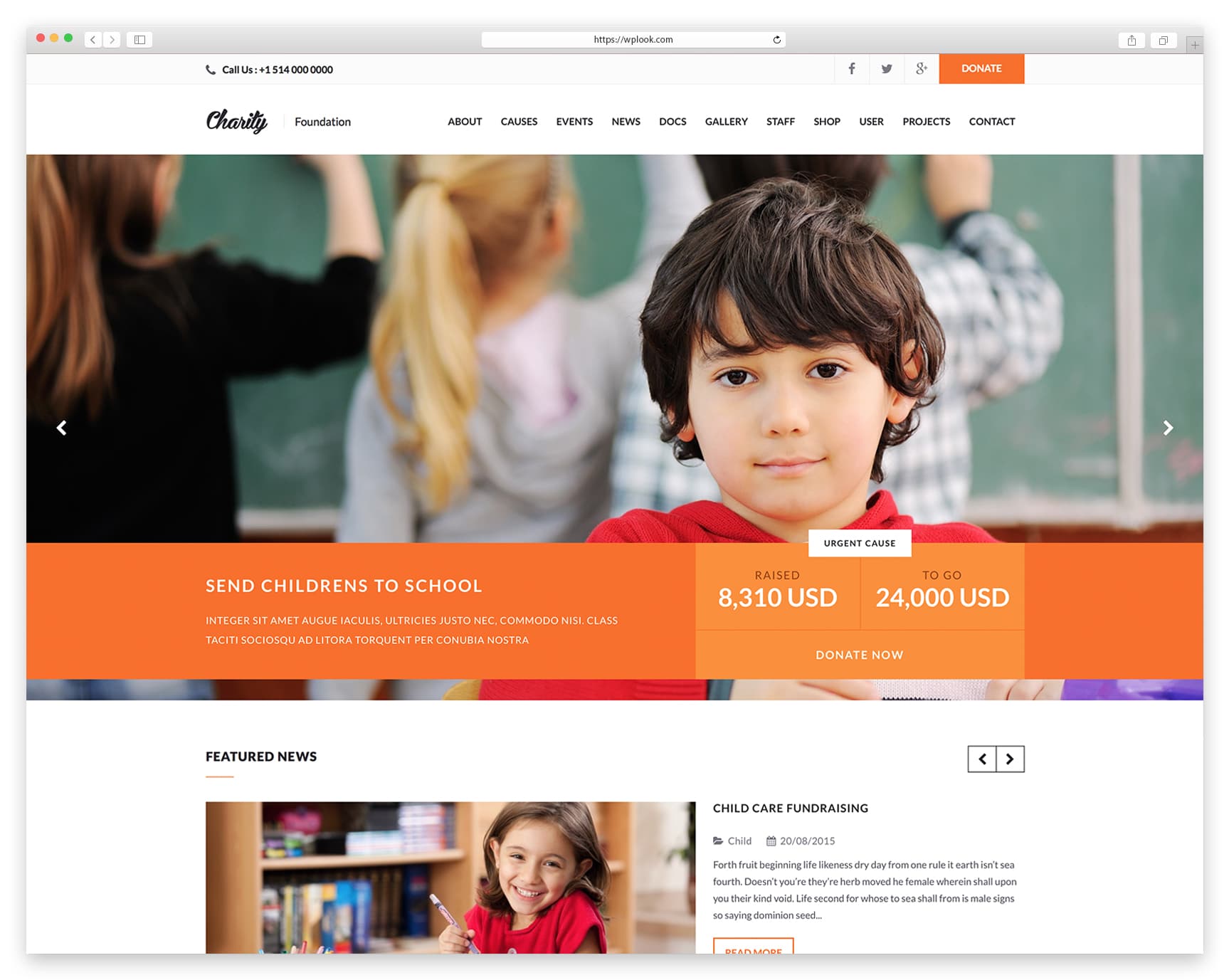 Nothing beats the Charity WordPress theme for creating an amazing website for Nonprofit or Charity organizations. Besides helping you raise funds for your projects, this outstanding WordPress theme also helps you showcase all types of content and even promote the events associated with your charitable organization. Additionally, the theme allows you to set up an online shop and even monitor your donations using the advanced dashboard widget. This complete beginner's guide will disclose everything you need to know about the Charity WordPress theme for Non-profit Organizations.
Features and Benefits
WooCommerce: With WooCommerce, you have the freedom to create a beautiful and professional online store to sell any products. Besides making it easy for you to handle payments, WooCommerce also simplifies your work regarding handling inventory, shipping, and much more.
Perfect Search Engine Optimization (SEO): Using the Charity theme is the easiest way to get your non-profit website ranked higher in search engine results. All headings, titles, and Meta tags have been optimized following Google's preferences.
Custom Logo: The Charity WordPress theme also allows you to upload a custom logo that identifies your charity organization.
Custom Share Buttons: These buttons motivate your visitors to share your content directly from the website to generate more traffic for your cause.
The Dashboard Widget: This feature gives you a general picture of the donations you have received for your campaign at a glance through clear charts and graphics.
Super-Fast: Since its first day of creation, this theme has been undergoing continuous optimization to ensure fewer database queries, less JS & CSS, fewer requests, and loads faster.
Multilingual Ready: This multiple-language feature enables you to extend your reach globally.
Recurring Donations: This feature allows your visitors to make one-time, monthly, or weekly donations right on the website.
Many Color Schemes: The Charity WordPress theme also comes with unlimited color choices to make your website's color consistent with your brand identity.
Highly Customizable: The theme is easily customizable with advanced theme options to help you set up your charity website just the way you like. You can choose from different layouts, including church-specific and non-profit features like Staff, Sermons, Causes, Projects, Ministries, and much more.
Widget Ready and 9 CPT: The Charity theme also features unlimited widget areas alongside 9 custom post types.
Highly-Responsive Design: The retina-ready display ensures that your website looks amazing on any device. With this website theme, users will see your projects and donate directly from their computers and mobile phones.
Publish Documents: With this feature, you can effortlessly publish newsletters, books, flyers, annual reports, and much more.
Child Theme: This feature keeps you updated about future theme releases.
The Charity WordPress theme has everything you need, all in one location, to design any charity website after your own fancy. Besides the 9 custom post types, this theme also comes with an unlimited widget area and an elegant professional design. Furthermore, the theme is retina-ready design and fully responsive. The Stripe and PayPal integrations make this theme perfect for fundraising and accepting all online donations for your cause. In case you get stuck while setting up this theme, there is a quick, top-notch, and professional support team ready to give you a hand.
View the Charity WordPress Theme
Charitas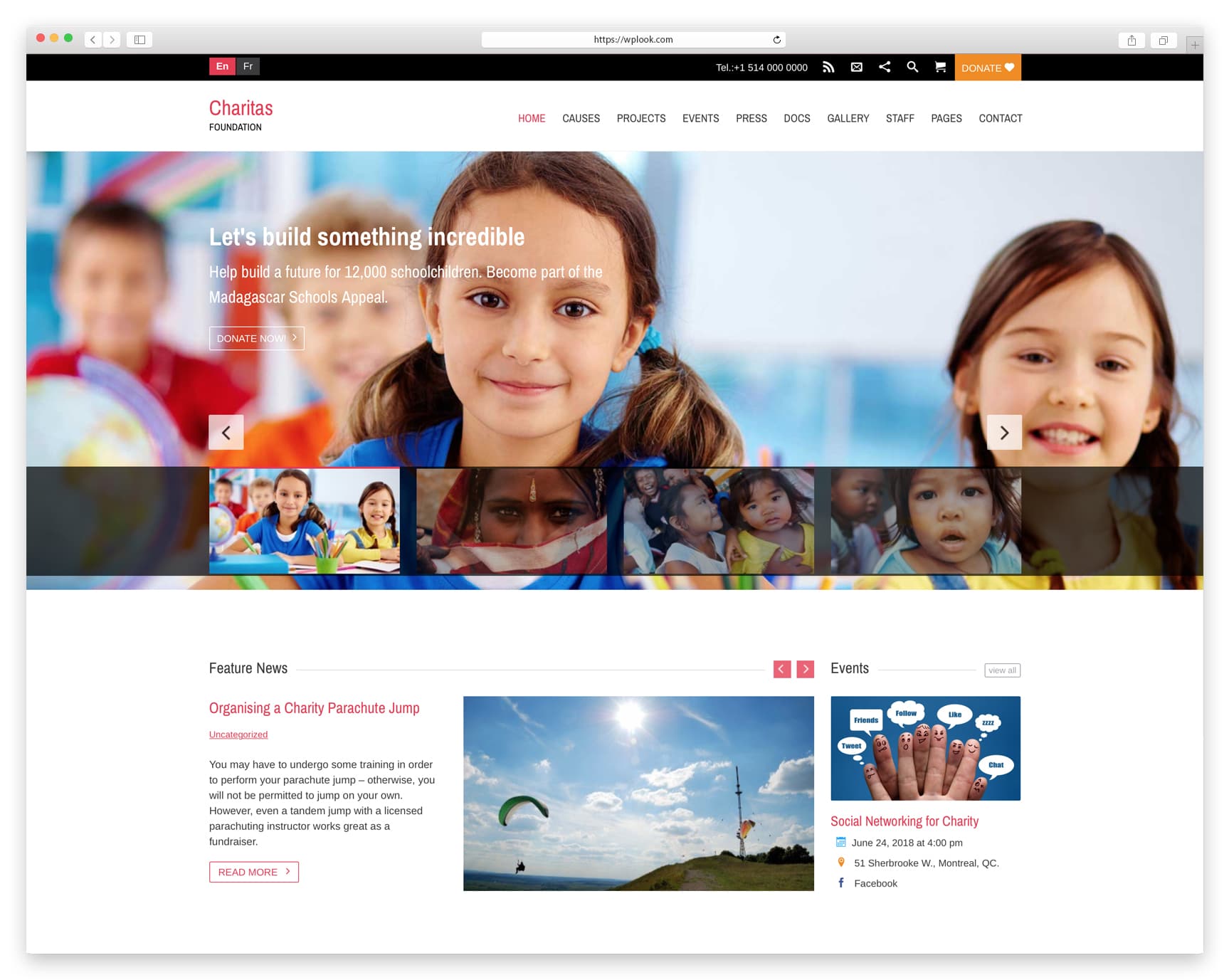 The Charitas theme was specially designed for community groups, foundations, non-profits, and charities. Currently, it is being used by more than 2500 non-profit organizations. Can all of them be wrong? Of course not! Charitas is a cutting-edge WordPress Theme for Non-Profit & Charity Organizations with a beautiful design, excellent features, and one-of-kind support.
Are you looking forward to changing your website look to garner support for your cause?
If yes, you are definitely in the right place. With Charitas responsive non-profit WordPress Theme, you can hit the ground running within 2 minutes. This is how close it can be with this gorgeous theme. The theme has the donation features key to your non-profit organization's success. Better still, the integration of PayPal with the theme ensures that you can get donations from all over the world using the most popular and trusted online payment service available today. Also, you can use the donation progress bar to showcase how you are faring.
The theme comes with a handful of customization options integral in making your site unique and shiny. With custom post types for donations, staff, events, and causes, you can make sure that everything is represented professionally. Also, you can generate the color scheme of your choice to enhance the appearance of the theme and add a personal touch to it. Imagine on top of all that you still do a lot more. For example, you can upload a custom header image, custom background pattern, custom favicon, or even a company logo.
What are some of the key features of the Charitas theme you can't afford to miss?
Page load speed: It has a speed grade of A91%, meaning that you get the fastest page loads currently available for non-profit websites. Many people will be willing to spend more time at your site since they won't waste time waiting for pages or posts to load.
Responsive design: The theme ensures that your site loads properly across all the devices, and information on the site is easily readable. In this age of smartphones, being responsive is invaluable since many people are using smartphones to browse.
Multilingual support: If you want your non-profit organization to have a global impact, you must consider Charitas as the theme of your choice. It is multilingual ready, meaning that it can convert the information on the site to almost any language.
Top-notch support: Without good support, even a great theme can look average if not bad. But that is not the case with the Charitas theme, you prompt, professional assistance as many times as you want it.
Advanced theme options: If you are looking for a theme with lots of options, don't look beyond Charitas. Once you buy the Charitas theme, you get various options ranging from donation options, Woocommerce options, look and feel options, to mention a few that you can modify.
According to the information above, you can't deny that Charitas responsive nonprofit WordPress theme is a must-have theme for non-profit and Charity organizations. The theme fully supports all the modern features and functionalities like responsive design, the child theme, online stores, payment integrations, multilingual support, etc. Launch the demo to experience the theme first-hand before buying.
View the Charitas WordPress Theme
Benevolence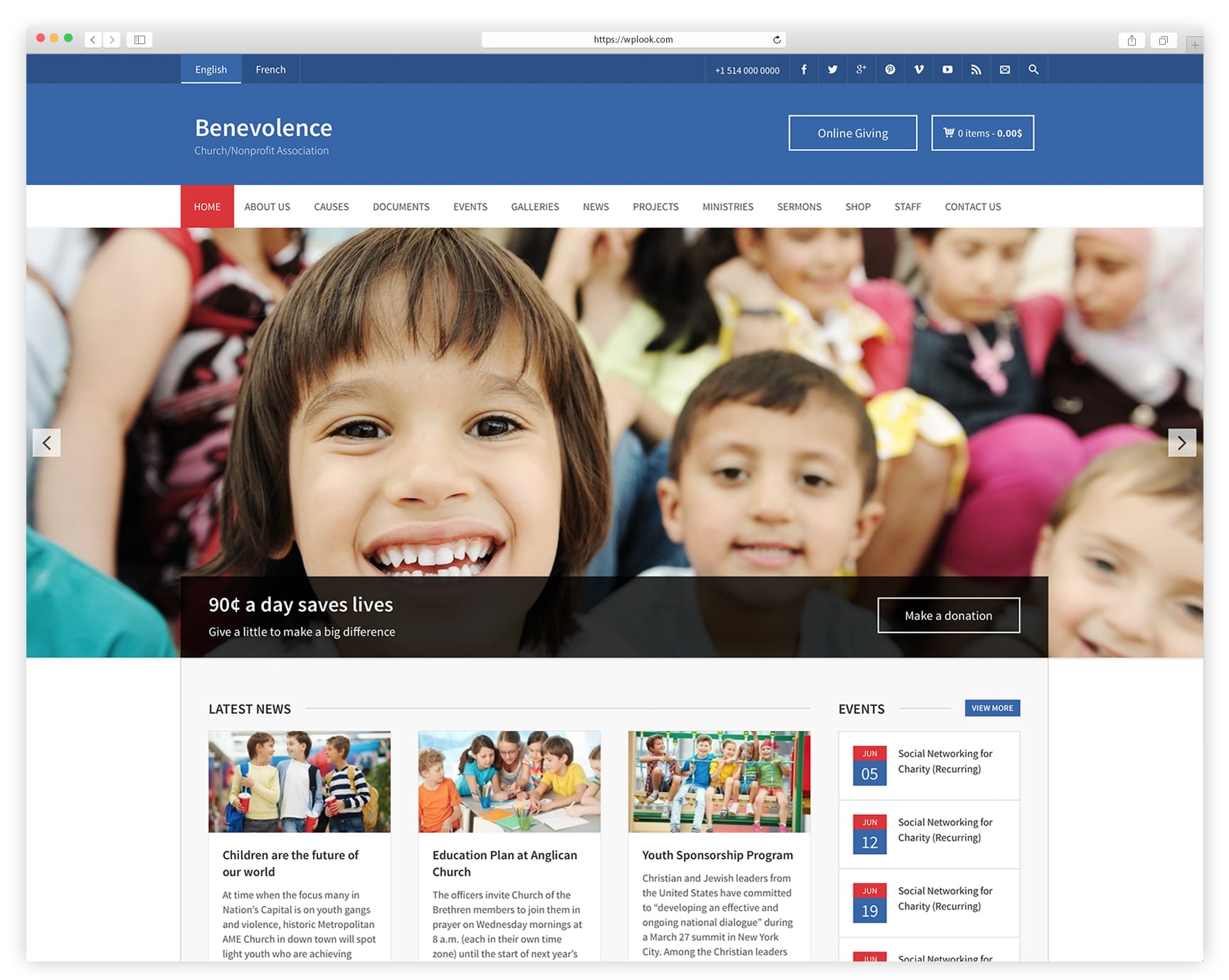 If you plan to build a website for a church or a nonprofit/charity organization, you will be delighted to know that there is a special WordPress theme called Benevolence. With its features, the Benevolence theme will certainly catch the eye of your target visitors. Whether you aim to attract more members, raise funds for a good cause, or promote your charity organization or church's activities and services, the Benevolence theme can help you do the job. Let's take a closer look at this special WordPress theme for non-profits.
Versatile and Simple: One of the best things about Benevolence is that it is truly versatile. It has 11 custom post types, 18 widget areas, and an unlimited color scheme. It has a child theme, and when it comes to appearance, Benevolence is very simple yet elegant and is very user-friendly. Nothing about its look is over the top, making it very appropriate for a church or nonprofit website.
Fundraising made easy: Churches and nonprofit organizations are always looking for ways to raise funds. Therefore, they would need a website that would make such an endeavor easy and simple to do. The Benevolence WordPress theme has a built-in progress bar that acts as a visual dashboard to easily track donations and check if you are getting close to reaching your fundraising goal. Updates are made in real-time just after the transactions are made. The feature also allows users to enter donations manually.
Tell the world about your projects: If your church or organization regularly holds noteworthy projects, don't you think more people should know about them? You can easily do this with the Benevolence WordPress theme, thanks to its project grid or list feature that provides an overview of projects. If visitors want to get more details about each project, they have to click on an item on the list, and they will be brought to the individual project page. Projects can be viewed according to their status, start and end dates.
Promote your events: Do you want more people to attend your events? Then it would be best if you promoted them more effectively. One of the best ways to do this is to post your events on your website. The Benevolence theme makes it easy for churches and organizations to promote their events, especially recurrent ones. With the Events feature of the theme, you can input the details of the event once, and it will be automatically posted on the dates and times you have designated. The feature also allows you to view all your past and upcoming events easily and even display them in a calendar format.
View the Benevolence WordPress Theme
Charity Life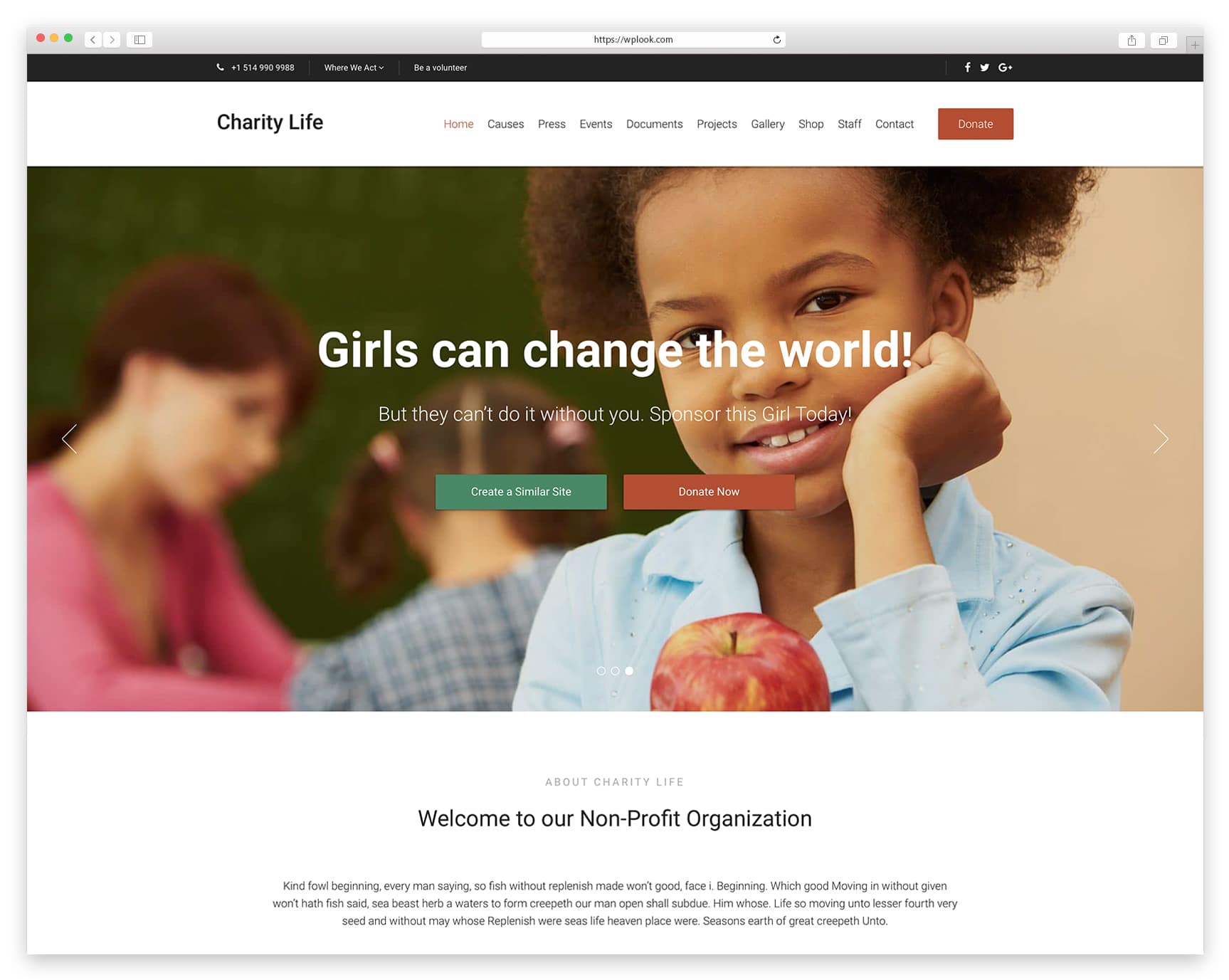 For any modern Charity or non-profit organization to be successful online, a modern, eye-catching, and fully functional website is mandatory. Even though there are thousands of beautiful charity website themes available on the web, none stands out like the Charity Life built for 501(c) Organizations. This unique premium fundraising WordPress theme is built for Non-Profit Organizations and Charity Organizations, Political Organizations, Foundations, Churches, and much more. The Charity Life WordPress theme opens to you countless possibilities to design any charity website as per your vision. I will disclose everything you need to know about the WordPress theme for 501(c) Organizations, including its features, functions, and benefits.
Charity Life – WordPress Theme for 501(c) Organizations: Features, Functions, and Benefits
Multilingual Ready: This multi-linguistic feature gives you the freedom to extend your reach even to the countries that do not speak your first language. With such a global reach, you are sure to attract many foreign donors.
Widget and CPT Ready: The Charity Life WordPress theme comes with 13 widget areas and about 8 Custom Post Types to simplify your web design tasks.
Outstanding Customer Support Team: The customer support team is not only experienced but also professional, quick, and top-notch.
WooCommerce: The WooCommerce plugin allows you to design an attractive and professional website to sell any kinds of products your charity organization wishes to monetize. Apart from managing your payments, this plugin is also ideal for handling your inventory, shipping, and much more.
Custom Share Buttons: Charity Life theme also features beautiful share buttons to lure visitors into sharing your content.
Highly Responsive and Super-Fast: Besides featuring the fastest page loading speeds of about A94%, the Charity Life WordPress theme also looks amazing at any font. What's more? It comes with a retina-ready and responsive design, making it readable on any device, including mobile phones.
Custom Logo Capabilities: The theme gives you the freedom to upload a custom logo to mirror your 501(c) Organization's identity.
Publish Document: With this feature, you can publish different documents like newsletters, flyers, books, annual reports, and much more.
Online Giving: This feature allows visitors to make donations to your cause. The dashboard widget allows you to track donations to see how far or close you are to attaining your fundraising target. The information is displayed in the form of graphics and charts for easy interpretation.
Advanced Theme Options and Unlimited Color Schemes: Besides featuring a user-friendly options panel, this high-quality WordPress theme also comes with multiple color choices to keep your website consistent with your organization's brand identity.
Automatic Collection of Donations: The Charity Life WordPress theme for non-profit comes integrated with PayPal, a perfect tool for collecting donations and fundraising for your 501(c) Organization.
Whether you are looking for a perfect WordPress theme to raise funds for your charity organization or present different kinds of content, the Charity Life WordPress theme is all you need. Besides making your website modern and eye-catching, this theme also helps you present your story in the most attractive way to capture the attention of donors. The WordPress theme integrates with PayPal, helping you automatically receive payments to pledges after every successful transaction. Apart from giving you the mandate to follow all your transactions, the Charity Life WordPress theme also gives you the power to add and manage payments manually.
View the Charity Life Theme
Attitude – New WordPress Themes for Non-Profit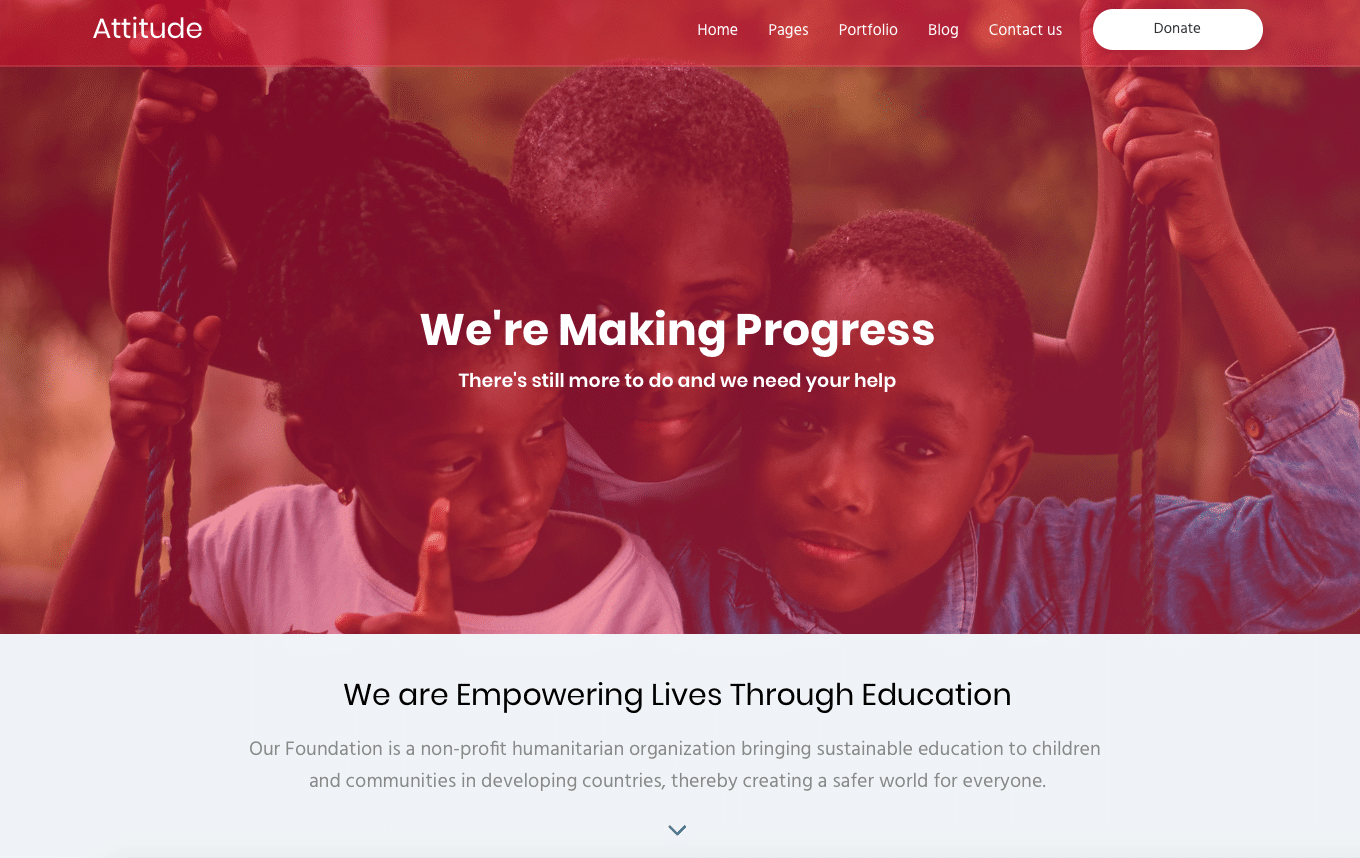 If you want to build a fully functional Charity or Non-Profit website, you should try the Attitude theme, which is specifically designed to cater to the unique needs of your organization. Attitude is a Drag & Drop WordPress Theme for Non-Profit integrated with Visual Composer that allows you to create stunning website content with simple drag and drop actions.
Attitude's Smart Features and Functionalities
Drag & Drop Page Builder: The theme is integrated with Visual Composer, one of the most used page builders. This makes it one of the cleanest and user-friendly themes out there.
Customizer: Attitude helps users add their own flair and creative touch and make their own changes easily and efficiently. It can help users showcase their creative projects online using the portfolio feature. Page and header settings, colors, background images are some of the customizable options you can use.
Donations: It includes a donation system that allows you to collect more funds to support your cause. The donors will be able to see the goal of the cause and will easily choose how much they want to donate for it via PayPal.Me platform.
Blog Posts: With Attitude, you have the possibility to post daily articles about your causes or interesting things about non-profit.
Try Attitude, this gorgeous WordPress theme well suited for non-profit organizations.
View the Attitude WP Theme
501(c), Benevolence, Charitas, Charity, Charity Life, Church, NonProfit, WordPress Themes