As a website owner, you want to know more about your visitors and their behavior. Google Analytics is a popular tool used for tracking website traffic, visitor behavior, and conversions. This free tracking and reporting system made by Google provides website owners with vital information about traffic driven to their sites. Google Analytics will help you learn more about your audience. Traffic stats are key to website growth. This invaluable tool will help you track website traffic and analyze them. The monitored information will help you make critical, data-driven marketing and design decisions like determining the types of posts to publish on your website.
If you are planning to set up a new blog or website using WordPress, I would highly recommend that you install the Google Analytics plugin for WordPress. Knowing how your audience interacts with your website will help you achieve your online goals. If you don't know where to start, no need to worry. This post "How To Set-up Google Analytics in WordPress" will explain in detail all you need to know about Google Analytics and WordPress integration. It is simplified to make it easy for non-technical users to follow it.
Before we go through the setup process, let's have a quick look at the benefits of Google Analytics. This will help you understand the importance of this tool to your blog or website.
Benefits of Installing Google Analytics to Your Site
The primary goal of starting a blog is to get more traffic and subscribers. You probably get a lot of visitors to your website every day. Over time, it becomes crucial to track the information about your website visitors. You can additionally track your website goals and marketing campaigns. There are many tracking tools out there but none of them matches the ease of use and effectiveness of Google Analytics. Installing this tool draws useful data from your website.
You can learn about:
The traffic source (Referal, Organic Search, DIrect, Social, Email, Paid Search, etc)
Browser information of your website visitors.
Their geographical location.
What time readers visit your blog.
The number of pages your visitors view on each visit.
What pages are most popular.
Duration of their stay on your blog or website.
Conversions and bounce rates.
The browser and operating system being used.
The device was used (Desktop, Tablet or Mobile).
Website speed.
The data helps you pinpoint your website performance. It highlights well-performing areas and areas that need extra attention. This way, you can begin optimizing your blog for better results.
Setting up Google Analytics in WordPress is easier than in hand-coded websites. This is because unlike other sites, you can simply use a WordPress plugin. The plugin would not interfere with your website's code and if configured properly, you will start enjoying the benefits of this powerful tool.
That said, below are steps to follow to set up a Google Analytics in WordPress
1. Creating your Google Analytics Account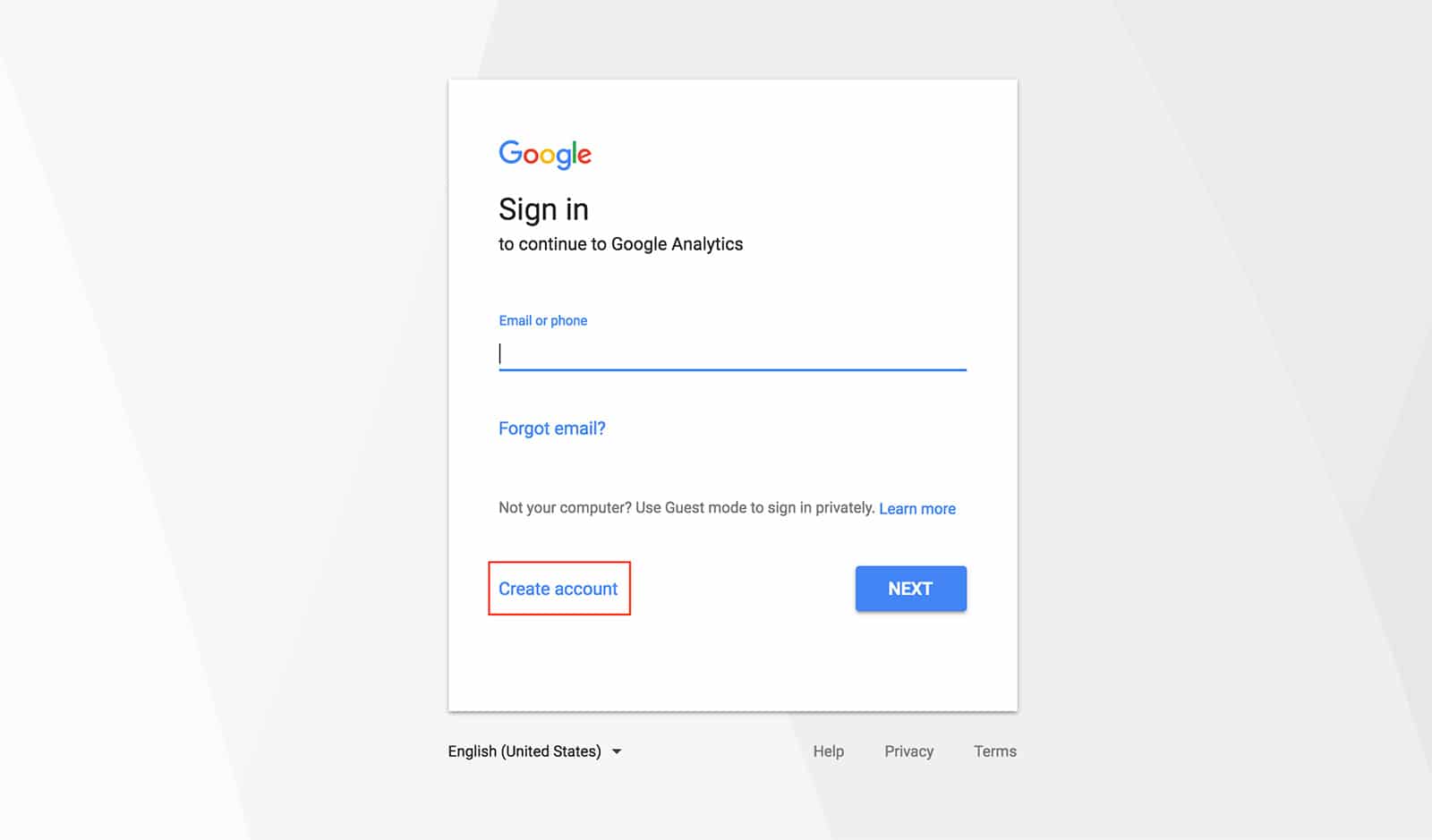 If you are doing this for your first website, use your Gmail account to generate a Google Analytics account. If you don't have a Gmail Account, you can quickly create one for free. Navigate to the sign-up page and here you will be directed to a Gmail Login page. Enter your login credentials and move to the next process.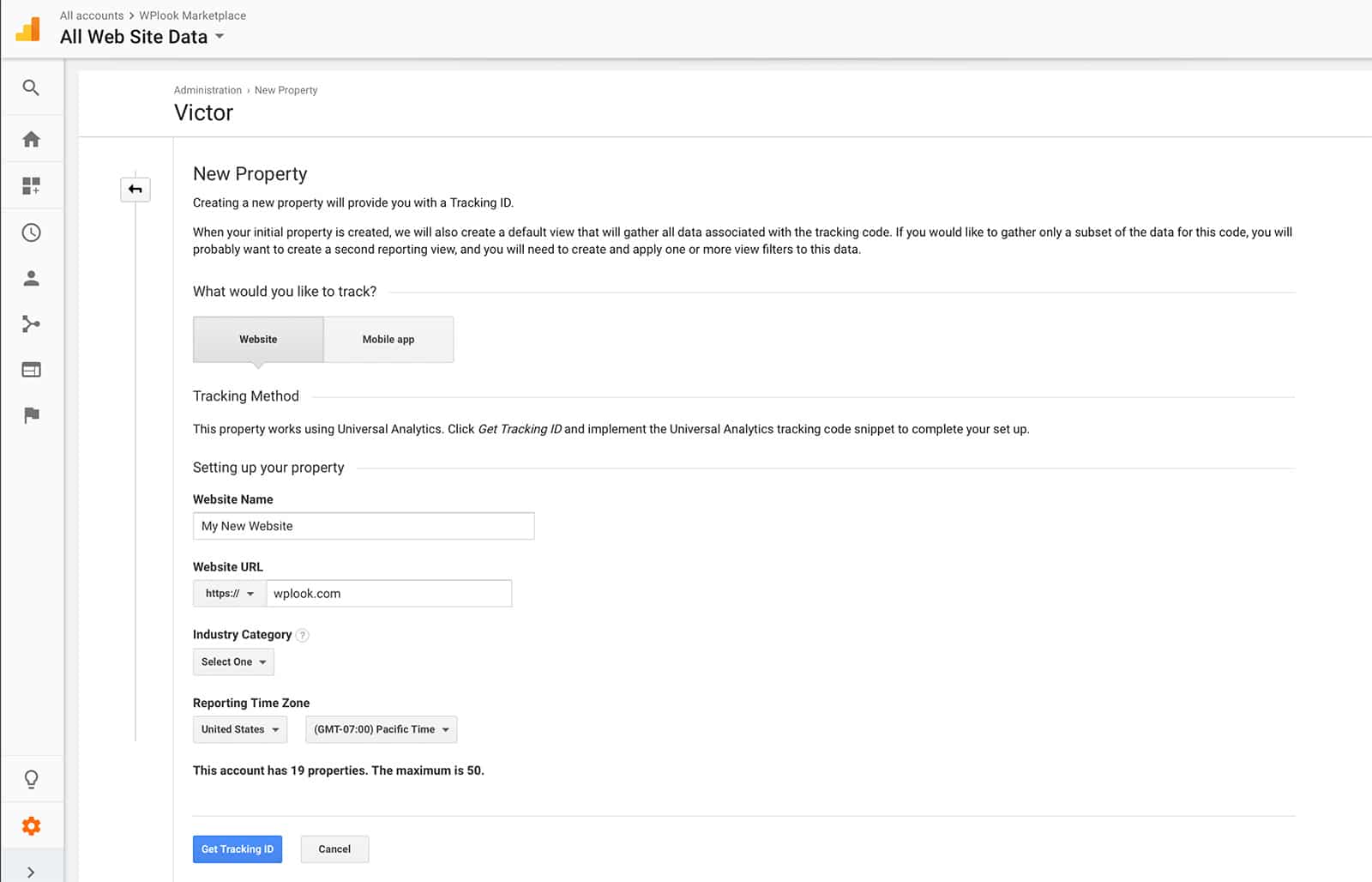 You will be given a choice to pick between app and website, choose the website. In the account setup page, you will be asked to add your website details and personal details. Fill essential information including your URL, website's name, and your industry. It is possible to track more than one website using the same account. Provide information on what you want to be tracked and remember to select your time zone for accurate tracking. You'll also be prompted to agree or disagree with the Google Analytics terms and conditions. Agree to Google terms of service usage to get your unique Tracking ID which will be in this format- UA-XXXXXX-X. Store the tracking code somewhere safe for the next step.
2. Installing Google Analytics
There are several ways to add Google Analytics to your blog. They include Google tag manager, WordPress Theme and Google Analytics plugin for WordPress. This article will focus on the third technique. There are many Plugins available but I highly recommend this free Google Analytics Tracker. I like the simplicity of this plugin and and how the author use the latest technics to include the code. It uses the new Analytics code and it offers a comprehensive way to integrate Google Analytics into your blog. It is also stress-free to use, all you have to do is to Install the Google Analytic plugin and add your tracking number. This Google Analytics plugin for WordPress uses the most recent and greatest features of Google global site tag. Just follo the exact steps like in the presented video and you are ready t track your visitors.
3. Testing Google Analytics
Congratulations! You have successfully integrated Google Analytics with your blog. The next phase is to assess it to ensure it is operational. There are many techniques to test if you have correctly integrated Google Analytics but I recommend Real-Time Analytics.
On the Admin page, click Reporting then Real-Time on the left-hand side menu. Tap Overview to see how your website is performing. After adding a new website, give GA a few hours to start receiving data. If your blog is new with no visitors yet, tell your friends to open your website. You can alternatively use another browser to do the same for yourself. Let them browse through a few pages to record your visits. Check if everything is functioning like it should. If it's receiving data, you can relax assured that your website data is being monitored. If you fail to see any traffic, try to re-authenticate your plugin with your GA account.
Conclusion
There is no need to a hire a developer to link Google analytics to your website. To use this WordPress plugin, you just need to create a Google Analytics account and a WordPress blog. Now you know how to create a GA property for your WordPress blog, how to install WordPress plugin and test it. You can now comfortably post relevant information on your website knowing that the required data is well captured. This world-class platform will help you understand your audience better and grow your traffi. If your website doesn't have this must-use tool yet, consider installing it today.
Google Analytics, WordPress Plugins