As a blogger, having your own website helps you to express your experience, ambitions, and ideas online for the world to see. Statistically, it takes just 8 seconds for someone to decide whether they like your blog or not. If you present your web visitors with distracting widgets, poorly written blog posts or uninspiring visuals, they will not take a second look. Don't subject your readers to the torture of having to navigate through your site to look for your best work. That is why it is imperative to have a well-designed website with attractive imagery and perfectly crafted posts. WordPress, which was initially started as a blogging platform, is currently the World's most powerful, flexible and full-featured CMS that powers 30% of all sites across the web as of May 2022. The ability to extend WordPress' functionality with the right plugins and themes makes it a top choice for many webmasters. There are many premium Personal Blog WordPress themes with advanced features and add-ons designed specifically to cater to your needs.
We have dug through thousands of themes to handpick 10+ of the best Personal Blog WordPress themes that will seamlessly complement your blogging efforts. This list will help you narrow down your search to a handful of WordPress blog themes that are SEO optimized, fully responsive and visually stunning.
Makenzie WordPress Theme
Makenzie is an elegant and visually stunning Personal Blog WordPress theme designed for creative people looking to provide an immersive reading experience. This theme gives you all the tools you need to build an excellent and professional looking online magazine for any niche including Travel, Food, Lifestyle, Fashion, and Blogging. This customizable theme has been designed with a heap of great features to help you make a unique looking website with media rich content that will keep your audience interested.
This great theme is packed with great features like WP Instagram Widget so you can grow your online community, share posts, and connect with your audience. You can grow your subscriptions and email marketing list thanks to MailChimp and get in touch with your visitors by using Contact Form 7. Makenzie WordPress theme comes with 5 custom widgets and 4 Widgets areas. The responsive design in this super-crisp Lifestyle WordPress theme will provide your readers and visitors with the best browsing experience.
Learn More about Makenzie
Host This Theme From $5.42/m
Morning Time WordPress Theme
Morning Time theme designed by WPlook Studio is another one in our extensive list of top Personal Blog WordPress Blog Themes. This clean and modern theme can be adapted to use for Family Blog, Personal Blog, Journalists or any individual that is not afraid of sharing their daily thoughts with the world in a unique manner. Morning Time has everything you can expect from a blogging theme including a visually enticing design that will capture the attention of your visitors.
Another standout feature on offer here is different post formats that will help you spice things up. Morning Time is WooCommerce ready, this means that you can make some extra bucks by converting your personal blog to an online store. On purchase, you will receive additional features like 24/7 top-notch support and lightning fast load speeds.
Learn More about Morning Time
Host This Theme From $5.42/m
Magazine WordPress Theme
Magazine is a flexible, sophisticated and stylish theme by WPlook Studio perfect for the modern Lifestyle, Magazine, Photograph and Travel blogger. This theme has an intuitive interface that allows you to create a blog that reflects your personality and brand without needing the services of a developer. Magazine WordPress Theme has a fresh look and multiple layouts that will make your personal blog stand out from the rest of the Personal Blog WordPress Themes. You can change the look and feel of your blog thanks to Magazine's built-in WPlook Styler and Unlimited Color Schemes.
Magazine also comes with 7 Widget Areas and 6 Homepages that enable you to insert your own custom content. This one-of-a-kind theme boasts the fastest page load speed for a personal theme. The true selling point is Magazine's Social Media Sharing integration that will help you extend your online presence and build your following.
Learn More about Magazine
Host This Theme From $5.42/m
My Journey WordPress Theme
My Journey is a Lifestyle feature-rich, highly-customizable and responsive theme that puts your blogging content center stage. Just as its name puts it, this theme provides you with the right set of tools to help you to tell your story in the best way possible. One of the best things I love about My Journey is that the team that designed it had bloggers and publishers in mind. This pixel-perfect theme has the right balance of beauty and substance.
My Journey has an array of customization features with blog centered functionality like Unlimited Widget Areas and Blog Archives. Whether you are a Lifestyle or Fashion blogger, you will love the responsive design in My Journey that makes your blog pleasant to read from any device. Just get it and see it for yourself!
Learn More about My Journey
Host This Theme From $5.42/m
Khloe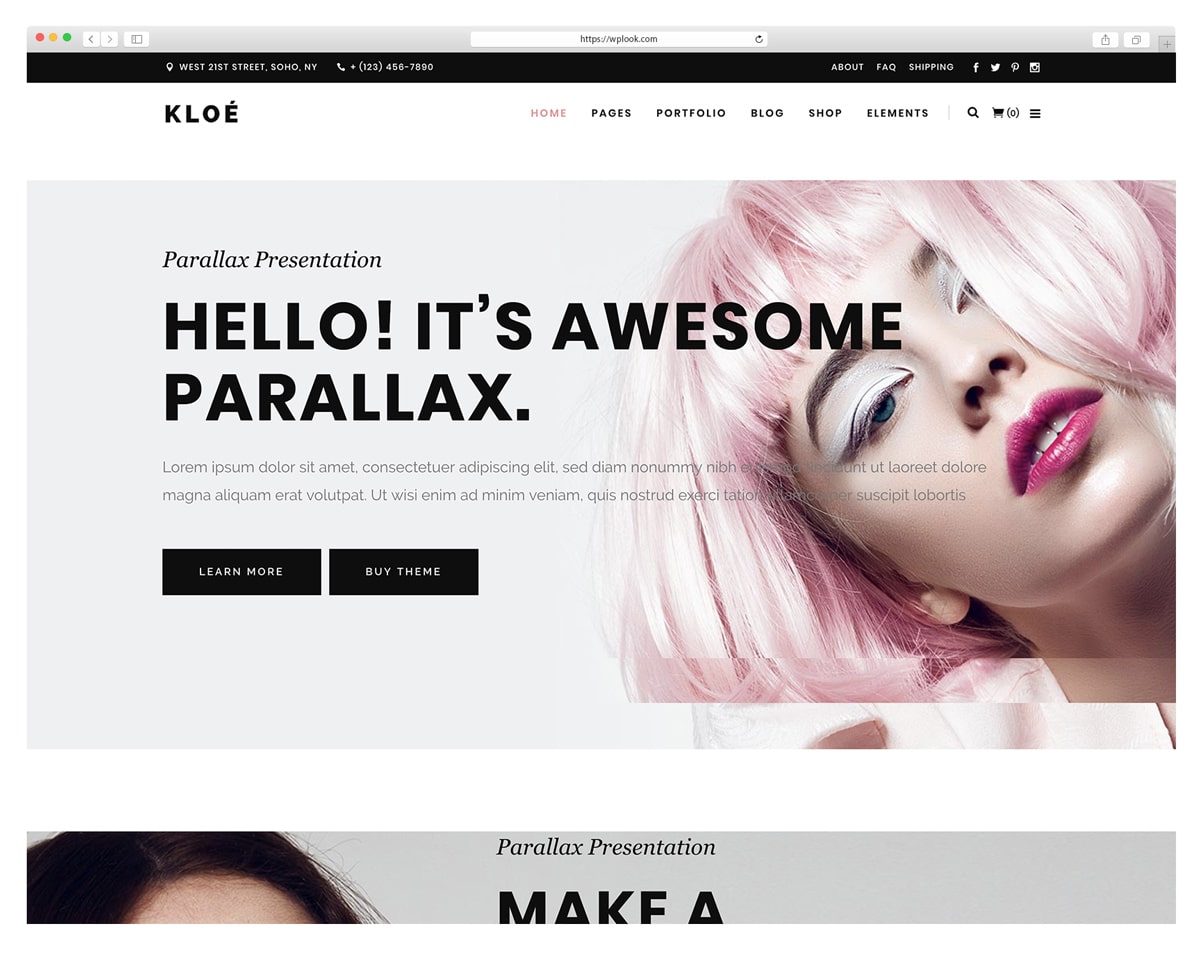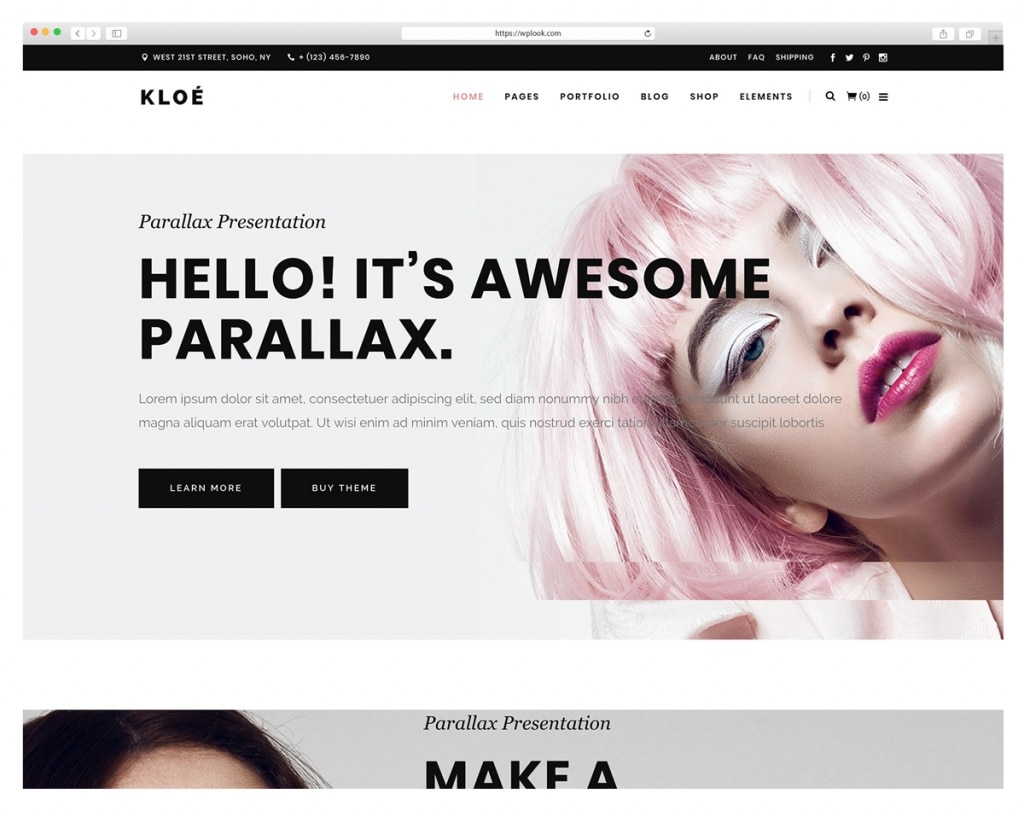 If converting website visitors to regular readers or customers is your primary goal, then Khloe is the theme for you. Khloe WordPress Theme is a lightweight, professionally designed and multipurpose Fashion and Lifestyle WordPress theme. It comes with tons of pre-set customization options including a large collection of layouts and pages, multiple header types, customizable mega menu and testimonial shortcodes.
All these cutting-edge features will help you to customize the appearance of almost every element of Khloe in real time. Besides, this magazine-style theme is 100% mobile-friendly and retina ready meaning that your visitors will enjoy going through your blog regardless of the device they are using.
Learn More about Khloe
Get Hosting
Wellspring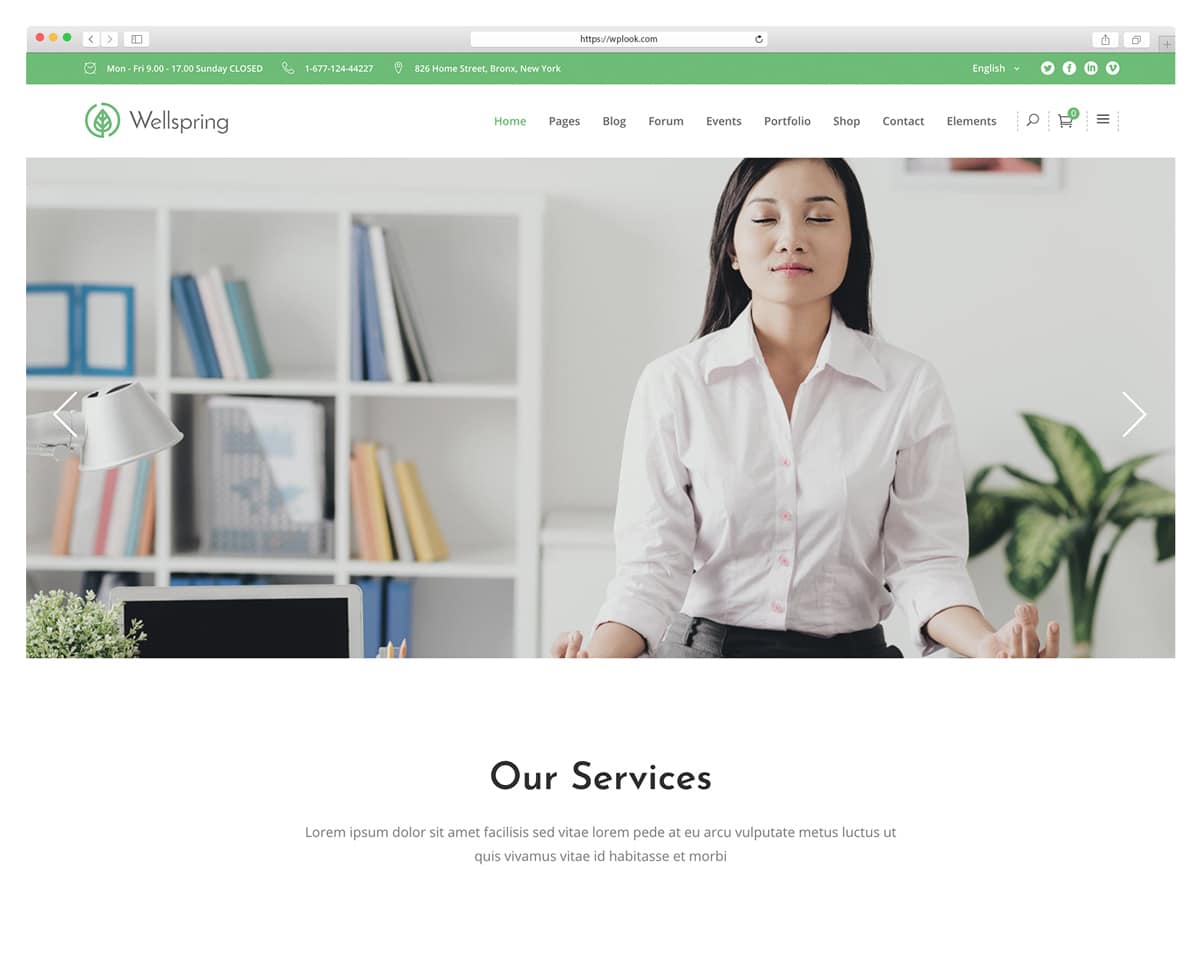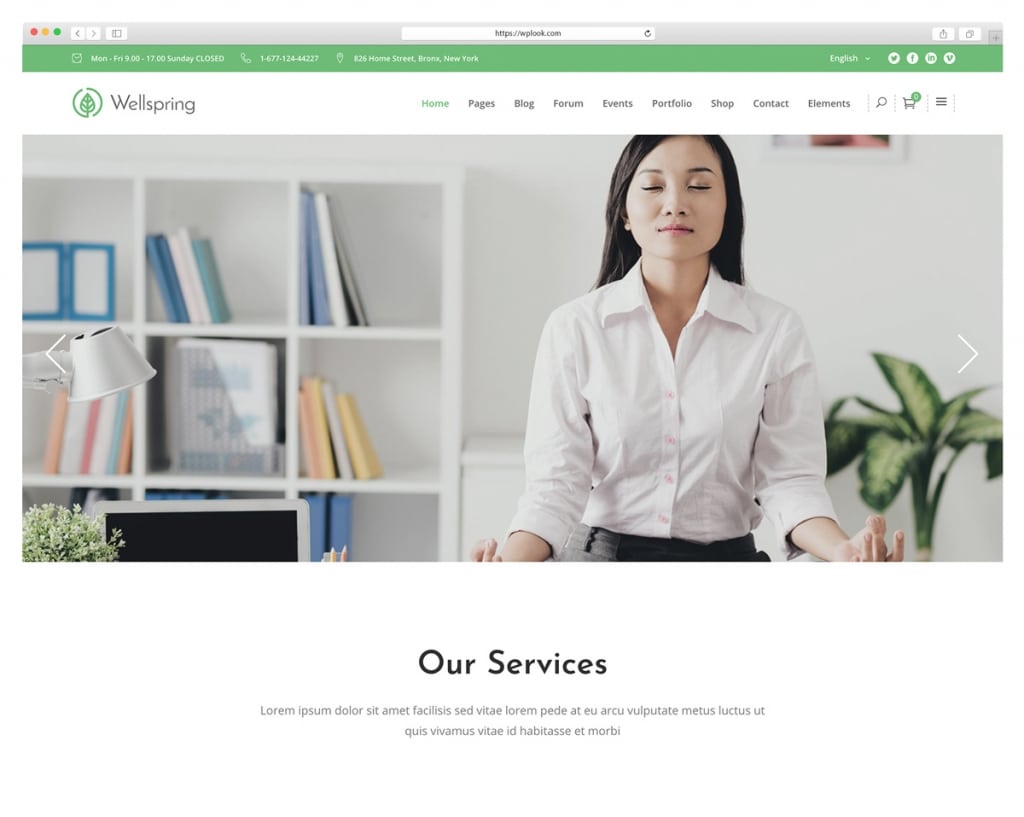 It is not every day that you will come across a neatly-structured theme that not only appeals to your audience but also delivers an outstanding browsing experience. If you have been fruitlessly searching for such a theme, today is your lucky day. I present to you Wellspring – a simple yet elegant Health, Lifestyle, and Wellness theme. Wellspring lets you organize your content in a manner that engages your target audience even if you are not familiar with the coding language.
Wellspring has a responsive and retina-ready design which means that it will open easily without errors on different screen sizes and resolutions. The Instagram and Twitter social share functionality in Wellspring will enable your readers to share your content with their friends straight from your website. Help build trust with your visitors by making use of this theme's Testimonials' section. Thanks to its amazing features Wellspring takes a well-deserved place among the Best Personal Blog WordPress Themes.
Learn More about Wellspring
Get Hosting
Lifestyle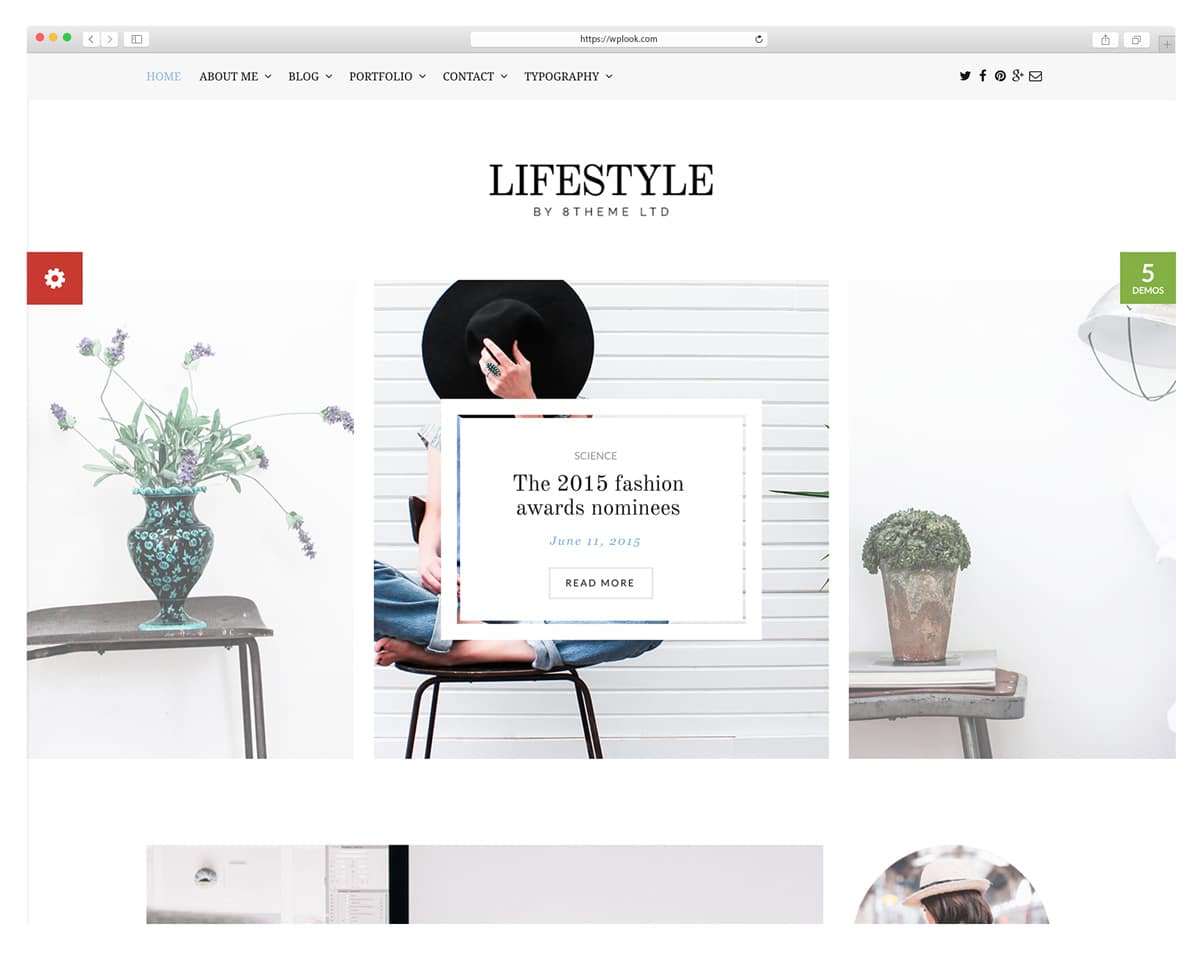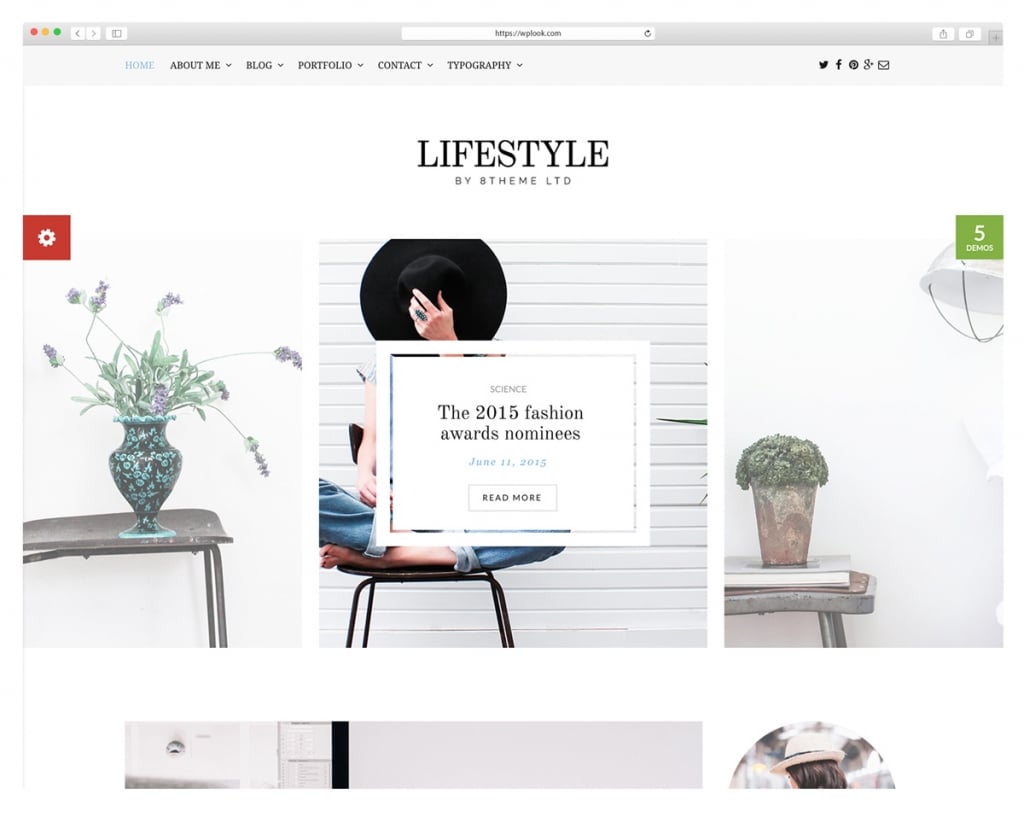 Lifestyle is an all-out responsive and fantastic looking theme perfect for a personal blog. This well-performing theme was designed using innovative design trends that make professional blogging simple. Lifestyle has fast page loading speed optimization that will not slow down your blog. The theme has an eye-catching design and a multi-functional Blog template that gives your blog an artistic appearance to captivate your readers' attention.
Let your readers know what is on your mind by making use of Lifestyle's several built-in post types. Whether you are into storytelling or sharing audio reviews, Lifestyle will help you showcase your content in the best way you can imagine. Check the theme and see its great features and you will understand why we included it among the best personal blog WordPress Themes.
Learn More about Lifestyle
Get Hosting
Florence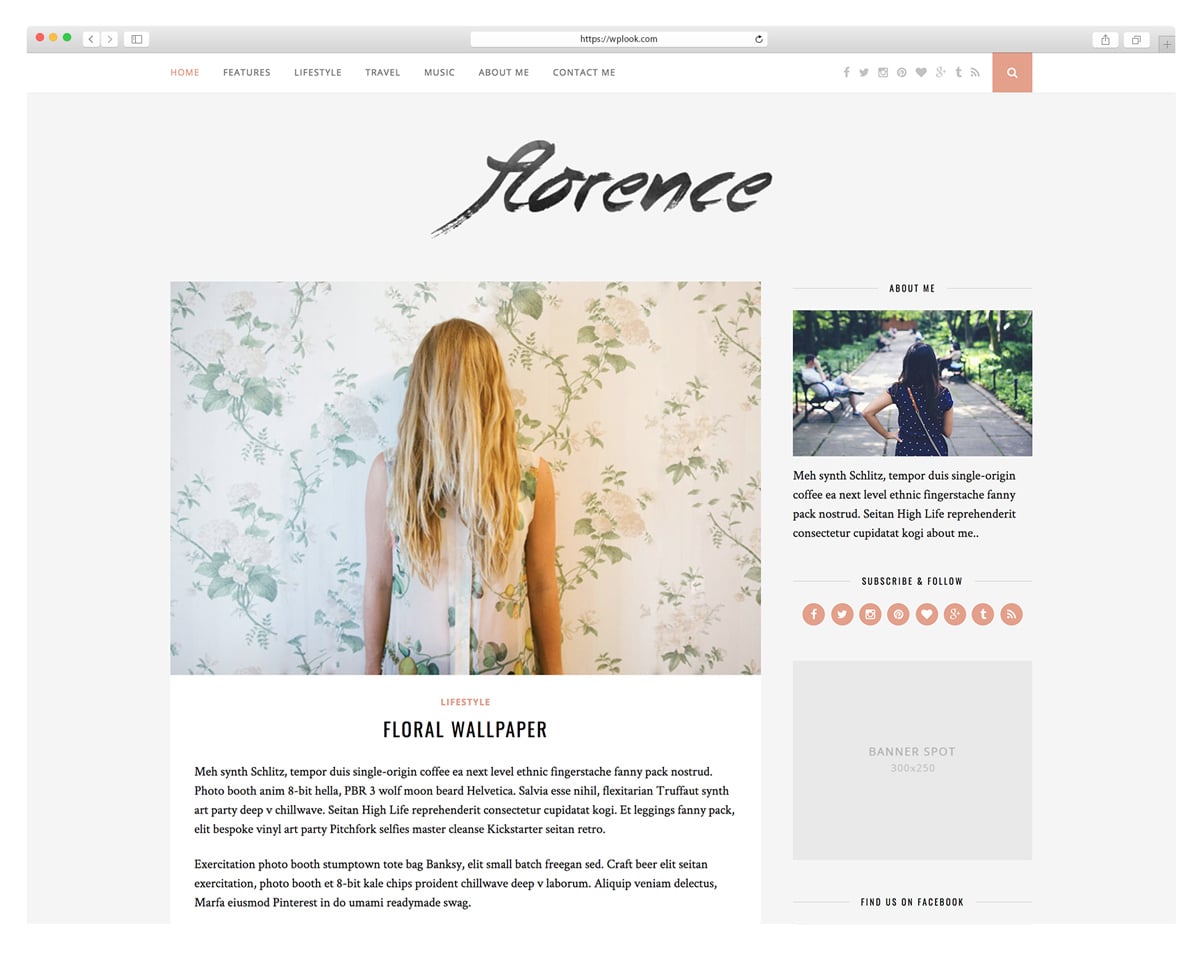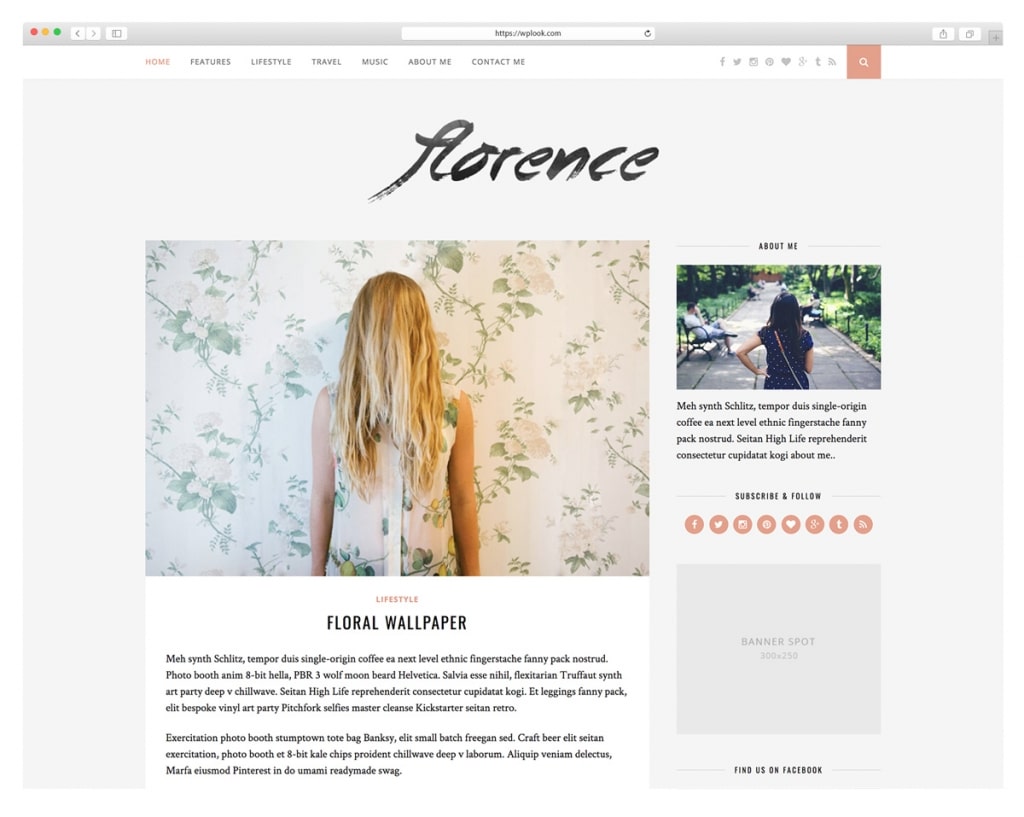 Florence is yet another beautifully designed and classically crisp magazine-style theme from our collection of Personal Blog WordPress themes. This optimized and well-coded theme allow personal bloggers to do what they do best-blog. Florence features an enticing Facebook like box widget that allows visitors to explore your content easily. Florence also supports different post formats including video, gallery, music and standard posts. Compatible with the latest version of WordPress.org, Florence is Translation Ready to enable your non-English speaking readers to read your blog in their native languages.
Thanks to the tons of customizable color options, you can get the look that's right for your brand. Wow your visitors with Instagram Feed and extra fast page load. An important thing to note about this theme is that it due to limitations in customization and website control, it is only compatible with WordPress.org. Florence won't function with WordPress.com.
Learn More about Lifestyle
Get Hosting
Lets Blog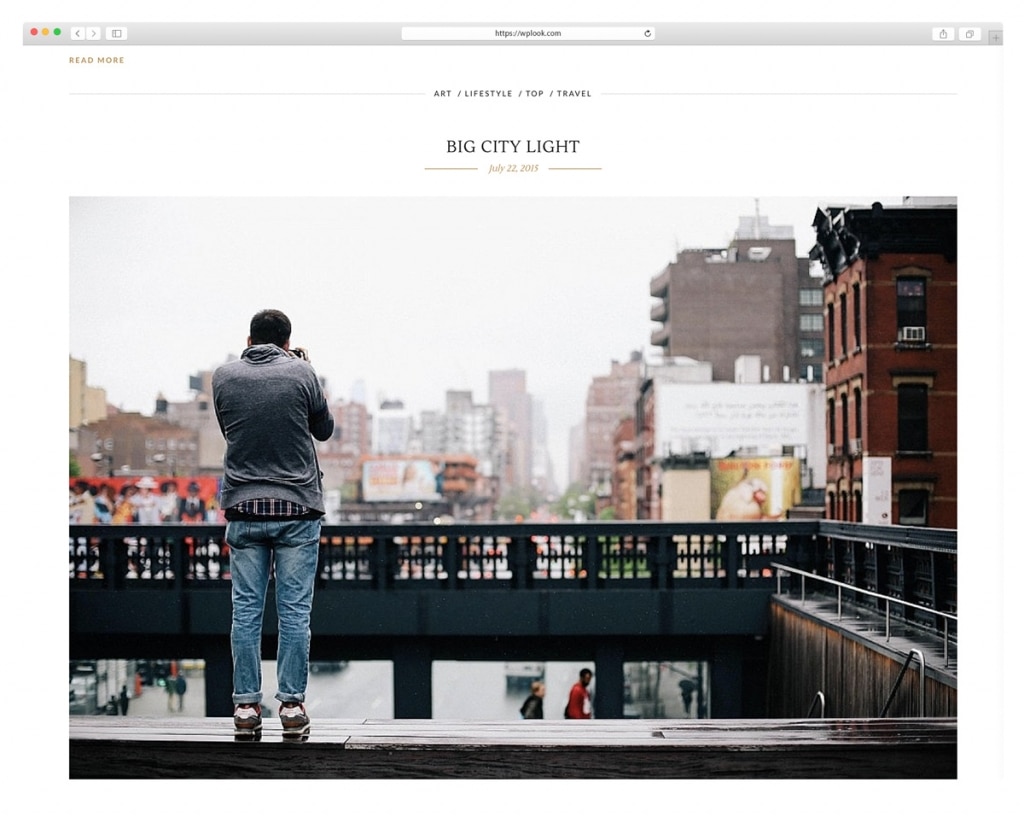 If you are ready to take your personal blogging to the next level, then Lets Blog has got you covered. Lets Blog is a minimalist and clean WordPress theme popular in the blogging community thanks to its simple styling and flexibility. Built using WordPress' latest technology, Lets Blog comes with wide-ranging premium-quality features including pre-defined styling that can be imported with a single click.
Not only do you get 10+ Slider and Blog Combinations, but this theme is also SEO optimized and translatable. Just like other Personal Blog themes on this list, Lets Blog has an Ultra-Sharp High-Resolution Graphics that will let your site look exceptional no matter the device your readers use to access your blog.
Learn More about Lets Blog
Get Hosting
Style Street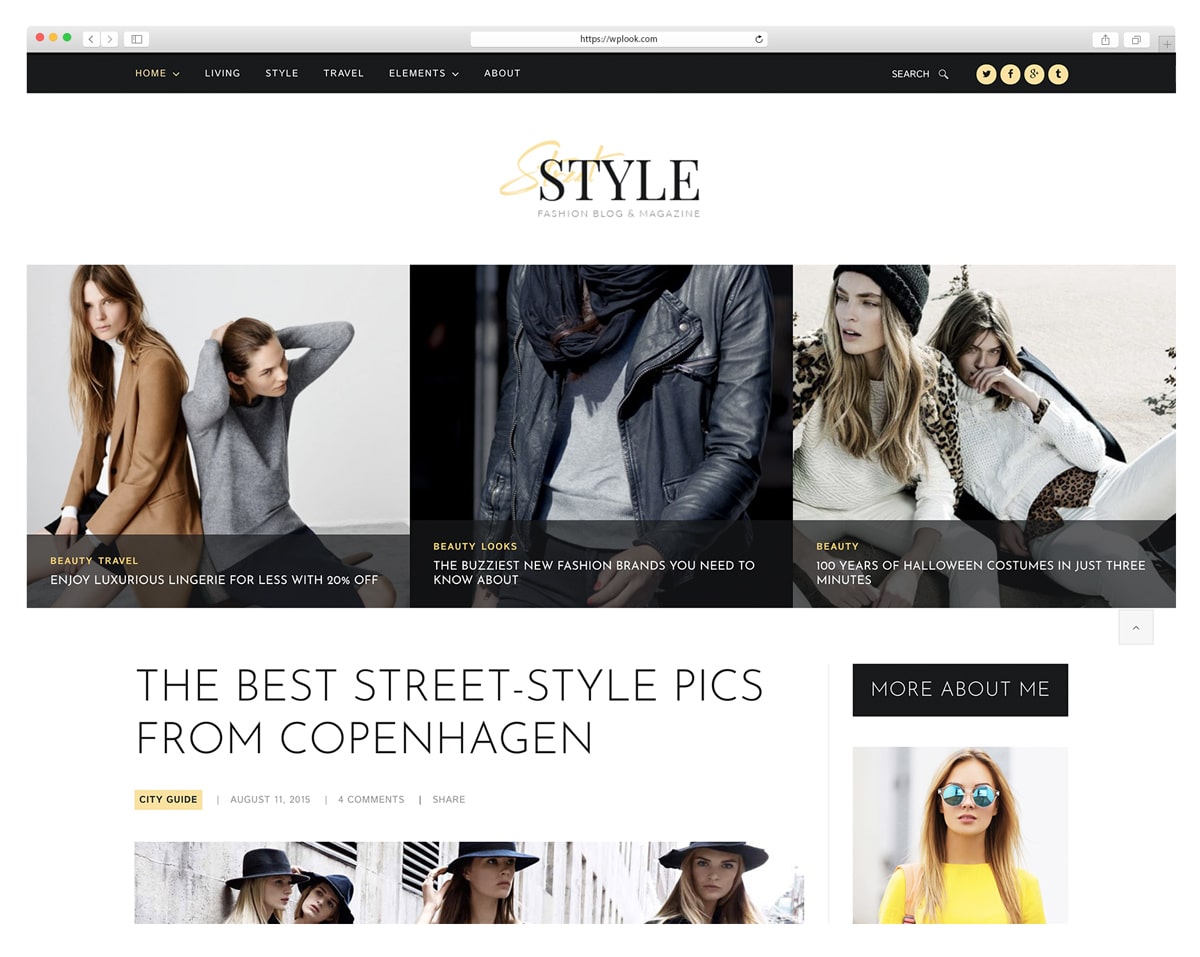 Style Street is a stylish Fashion and Lifestyle WordPress Theme that lets you create a personal blog that is in line with the current design trends. Style Street is best suited for Fashion Bloggers, Lifestyle Magazines, Style Trends Blogs, Health and Beauty Blogs, Healthy Lifestyle blogs and Creative Lingerie Designers just to mention a few.
The standout feature on offer here is WPBakery compatibility. The WP Customizer will help you to modify your website to your liking. You can play around with blog post layouts and find one that is more coherent with your brand's identity.
Learn More about Style Street
Get Hosting
Marmalade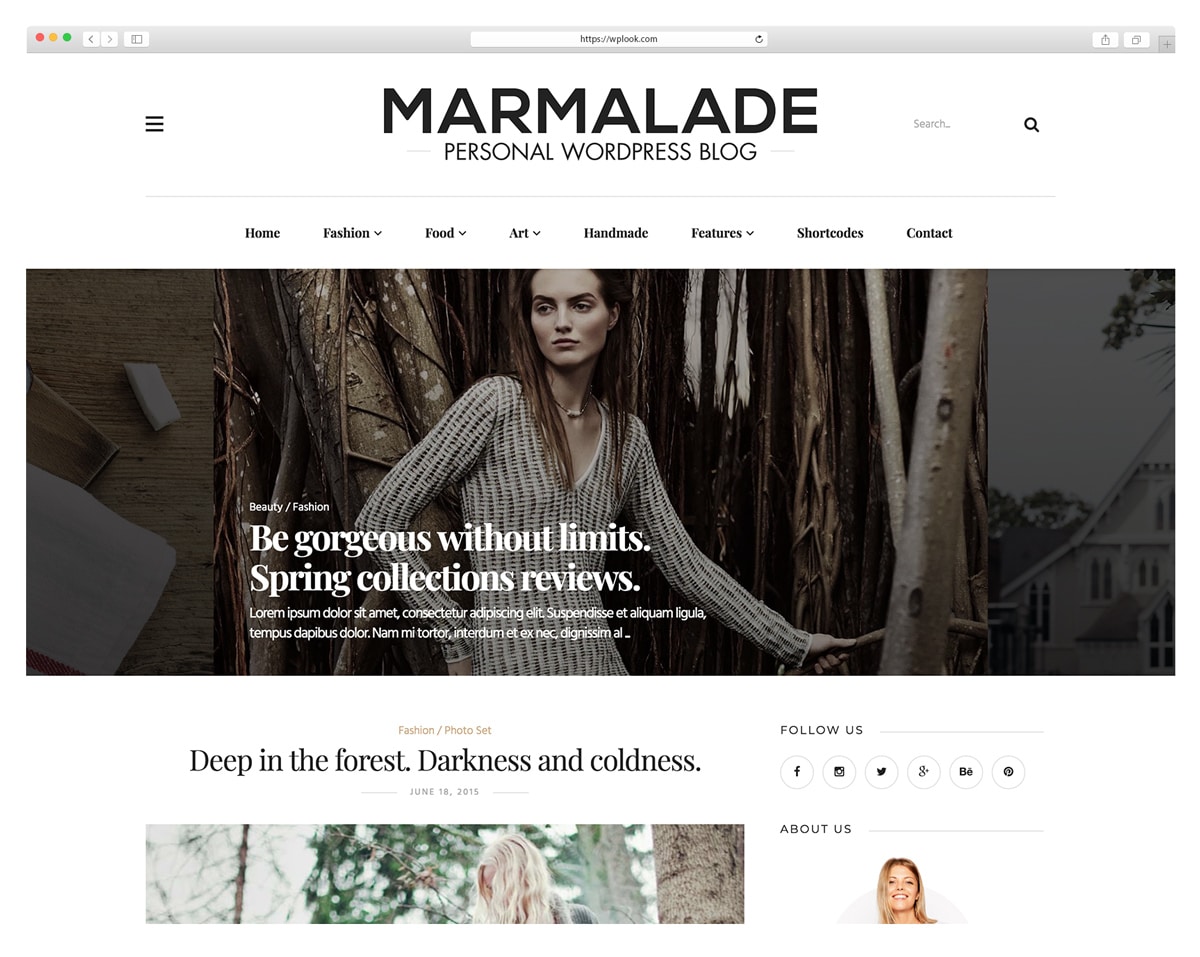 The Marmalade is a simple yet bold WordPress theme with a well-structured layout perfect for all sorts of blogging sites. This modern-looking theme ships with unique features like spotlight post type, post and page title and custom category right out of the box. Use different post formats to create an atmosphere that your visitors will enjoy.
The easy to install nature of The Marmalade theme makes it newbie friendly. This 100% responsive theme features blazing fast page load speeds that will subject your readers to an unforgettable browsing experience.
Learn More about The Marmalade
Get Hosting
Conclusion
The right Lifestyle WordPress theme can intensify your site's appearance, evoke emotions and provide your target audience with a memorable reading experience. Use our Personal Blog WordPress Themes list for inspiration and pick one that best showcases your style and hard work.
Family Blog, Hosting, Magazine, Personal Blog, WordPress, WordPress Themes