Time is a precious commodity we tend to take for granted. In this era of business and a crazy pace, time is the most valuable resource you have. You can always make more money, but you will never recover lost time. Not long ago, people tracked time manually, which was both ineffective and often inaccurate. Many designers and developers now realize the importance of time-tracking apps in their lives. Time tracking is a hot topic that has become a buzzword in the web design and development industry. Many time trackers go way beyond measuring time by providing additional features, while others are tailored to a specific clientele. If you are serious about managing your time, you should invest in a robust time-tracking app. The right time tracker will increase productivity by tweaking discrepancies in the workflow. If you are on the look-out for the best time tracking apps designed specifically for your field, you are reading the right article.
Why Should I Use A Time Tracker?
Often, people find themselves having too much work but too little time to do the work. The issue here is time management. Trackers deal with the very human habit of procrastinating. By fitting a time-tracking app seamlessly into your existing workflow, you enhance accountability. As a designer or developer, you can accurately measure the number of hours worked and time allocated for each project, task, and client throughout the day. A time tracker lets you track both productivity and efficiency and deliver your project within an estimated time frame. This way, you can aim to beat the previous day's productivity score.
With the tons of time trackers currently in the market, how do you pick one? It's a minefield out there. New options pop up every day, and they all seem to perform the same functions. But not all time trackers are created equal. These trackers may seem alike in general functions, but they are designed to meet different needs. To save you billable hours spent on sifting through 1000s of tracking tools and apps to find one that best suits your needs, we have made it easier for you. We have curated a list of the Best Time Tracking Apps for Designers and Developers in 2018. We considered the scale based on social impact and market share and customer satisfaction based on verifiable reviews.
Things to Consider When Choosing a Time Tracker:
Software Cost and Available Plans
Customization Options
Ease of Use
Platforms and Integration with Popular Tools
Mobile Compatibility
Extra Features
Customer Support Options
Export Capability
Let's now jump straight into our list.
Toggl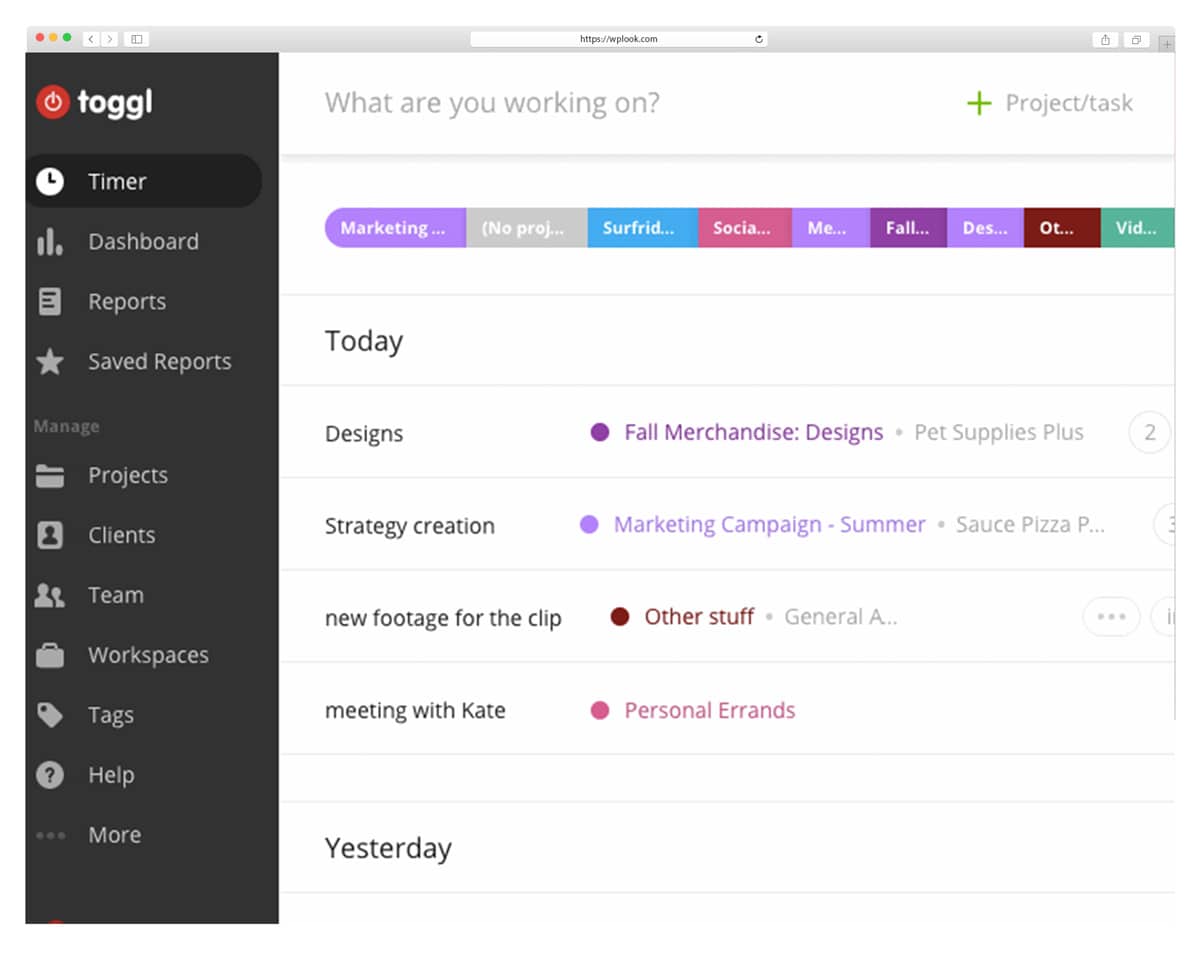 Toggl is another solid choice for designers and developers built for speed and ease of use. This simple yet highly functional time-tracking app enables you to divide your tasks and time them individually as you work on them. What sets Toggl apart from other time tracking apps in this list is its ability to integrate other programs and apps such as Google Drive, FreshBooks, Evernote, SalesForce, Github, and many other integrations. Toggl's desktop version allows users to start working without worrying whether or not the timer has started ticking.
Toggl is pretty much available on any platform you care to mention – Windows, Linux, macOS, iOS, and Android. It is also available in Firefox and Chrome Plugins. The premium plan gives you full access to insights, reports, and integrations, just to mention a few. Once a job is done, you can export reports to CSV, Excel, or PDF formats and share them with your clients. Plans include Starter, Premium, and Enterprise and start at just $9/mo/user. You get a 30-day free trial to test drive the premium packages.
Learn More about Toggl
Weekly Timelog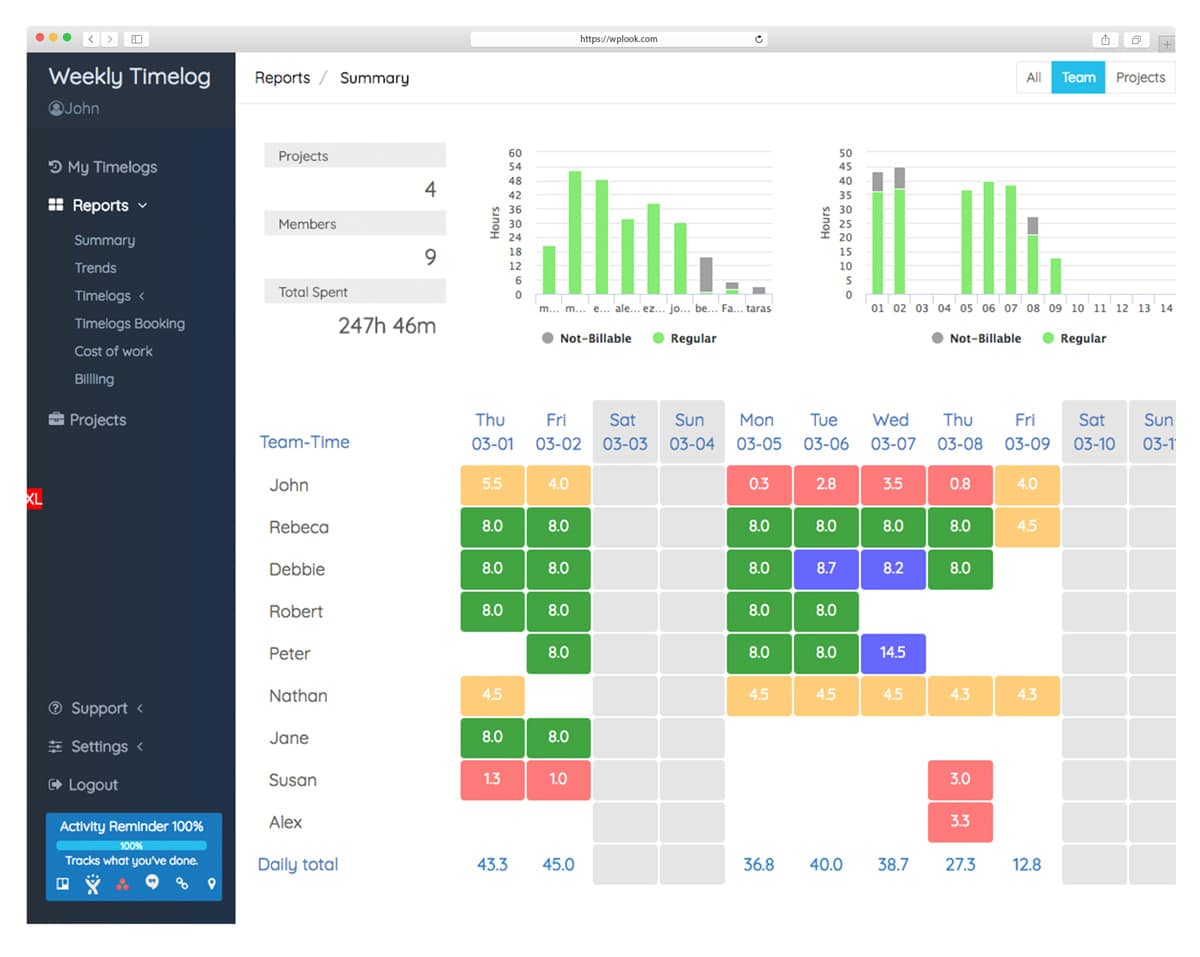 Weekly Timelog is a big name in the time tracking industry. Priding itself as "The #1 Time Tracker for Developers", Weekly Timelog comes in handy when collecting time logs, tracking team progress, and staying on budget. Oh, did we mention that it's absolutely free for startups and businesses? Not many time tracking tools can offer you advanced tools at no cost as Weekly Timelog does. It takes you just a minute to install and create an account using Weekly Timelog 's Chrome extension.
You can easily share weekly reviews with your team members and clients. This tool has some built-in memory that tracks all your online activity after you've set your timer. As a developer or designer, you will get useful data, including progress activity, cost analysis reports, and time logs.
Learn More about Weekly Timelog
Time Doctor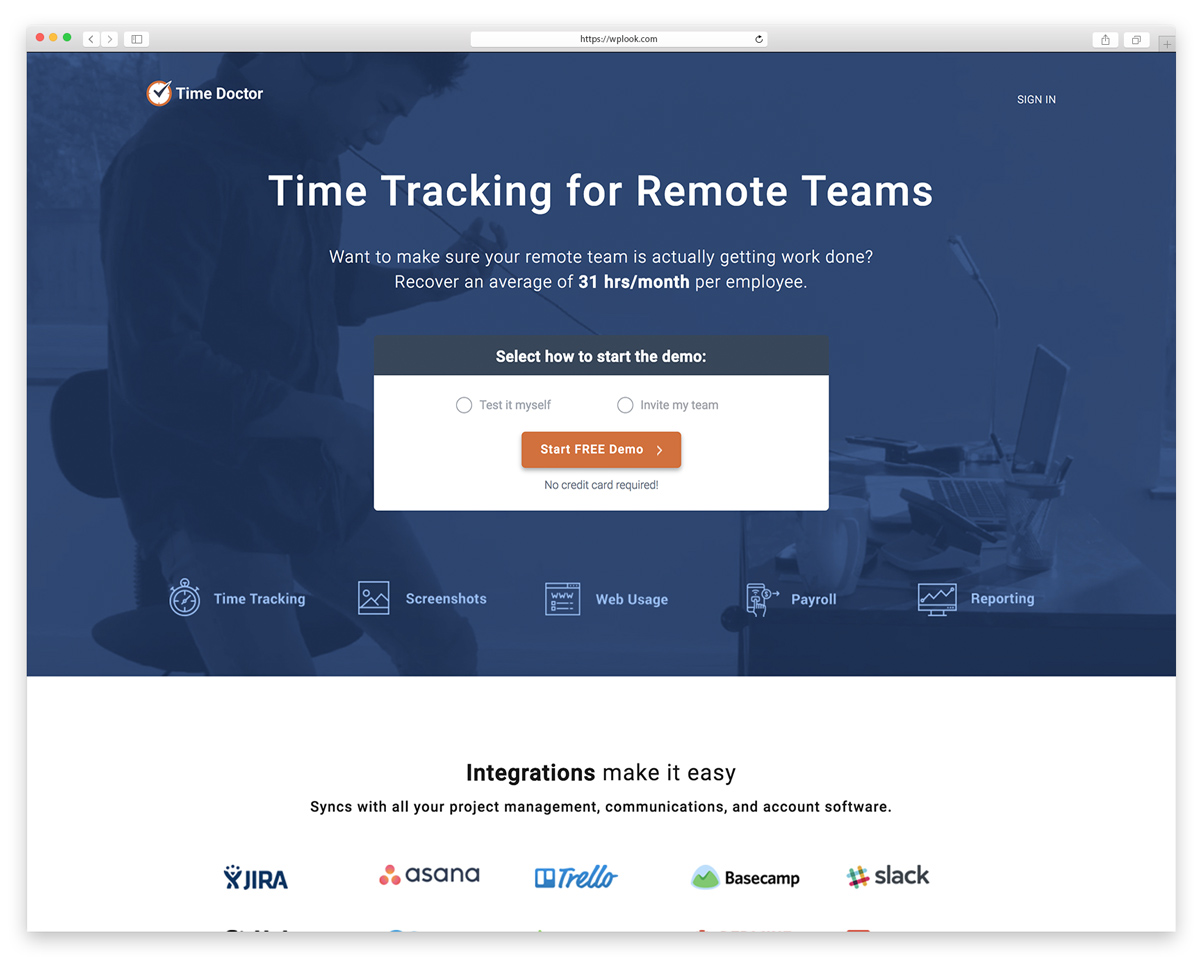 Time Doctor is an accurate and flexible time tracking and time management software that web developers and employers use to manage time to increase productivity by 22%. This web-based solution is a pleasure to use. The intuitive UI in TD makes controlling or managing outsourced workers so much easier. Founded in 2011, this refreshingly beneficial tool is available on multiple platforms, including MS Windows, Linux, Mac, Android, and iOS. Signing up, installing, and setting up multiple users takes just a few minutes. Smart Features in Time Doctor include screenshot monitoring and recording, work session monitoring, invoicing, reminders, and reporting tools, just to mention a few. This tool provides in-depth analytics of where and how time is utilized in the workplace. You can view sites and apps visited during work hours working and scheduled screenshots. This way, your team members can learn their weaknesses and boost their output. Some organizations use this data to have an accurate record for paying their employees through PayPal, Payoneer, and TransferWise.
This tool integrates seamlessly with Google Apps, GitHub, Freshdesk, Salesforce, and Basecamp. All your info is secured thanks to the world-class encryption used in Time Doctor. The only downside to this tool is that you need to have a Chrome Extension or Desktop App to use the stopwatch feature. Notable mentions include Apple (yes, you read that right), KPMG, PWC, Allstate, Verizon, and Keller Williams Realty. Pricing starts at $9.99/mo. You can test the app's full functionality by signing up for Time Doctor's 14-day free trial.
Learn More about Time Doctor
Harvest
Harvest is a flexible online time tracking app that lets you "Spend less time tracking and more time doing." Created back in 2006, this industry-standard tool has a built-in reporting function that gives users in-depth progress and updates on ongoing projects. 50k+ businesses now trust harvest. It features a responsive and intuitive interface that works perfectly across all mobile and desktop operating systems. You can use Harvest to track your time per project, client, and individual task. You can additionally track your expenses using the mobile version of Harvest.
To use this feature, snap and save photos of your receipts and log them into your expense timesheet. Harvest integrates with 70+ business management services, including Stripe, Slack, and Quickbooks. The company offers great customer satisfaction. If you are a single user, you can track 2 projects for free. For unlimited projects, you will have to pay $12/mo/user. By paying annually, you can save up to 10%. You can try Harvest for free, thanks to their fully functional 30-day trial.
Learn More about Harvest
Everhour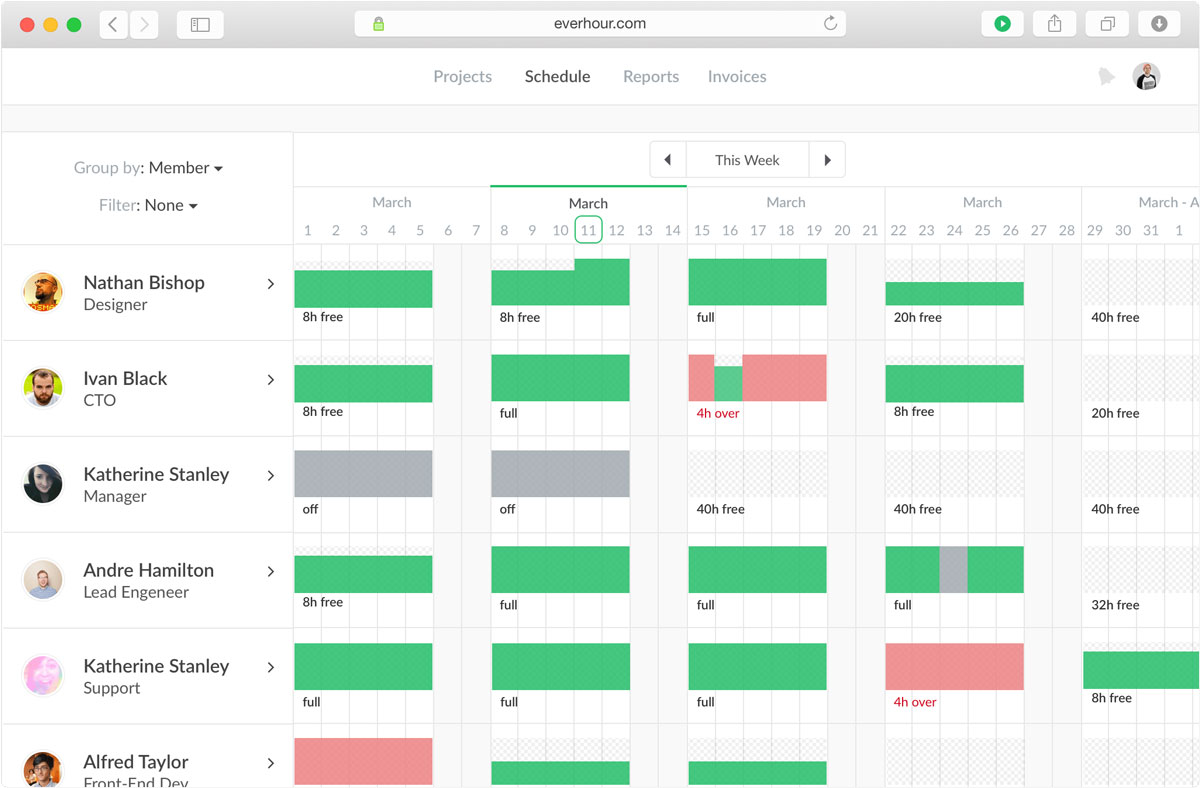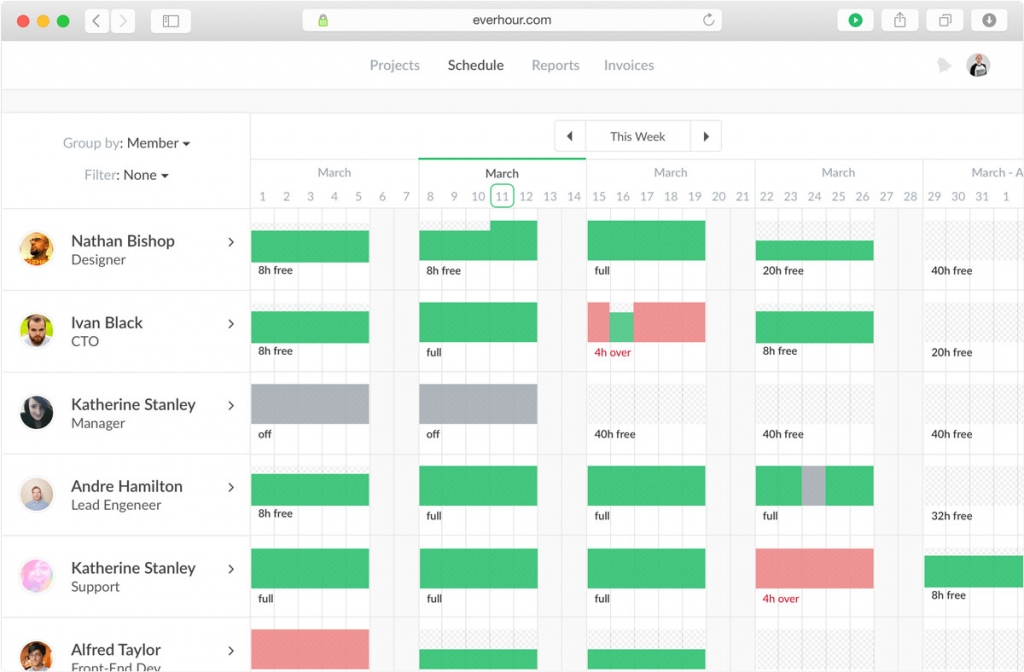 Everhour is a team-oriented time tracking tool trusted by over 2,000 businesses that let you easily track the time you spend working on tasks and your projects, schedule hours of your employees, or see their workload and time off, set budgets and alerts create invoices for your clients. Everhour is very helpful in strategic planning as a measuring tool. With this simple, easy-to-set up, and intuitive time tracking tool, you can efficiently generate and save reports for a given period of time with just a few clicks.
With this powerful time tracking, you can track time on tasks right from your project management or CRM tools like Asana, Trello, Slack, Basecamp, Jira Software, Bitbucket, GitHub, and much more!
Their support team is very dedicated, really responsive, and always answers your most complicated or simplest questions!
Everhour has a great eye-catching design, a clean interface, and a must-have tool for time tracking that will help you and your team get a lot more done each day!
Learn More about Everhour
Rescue Time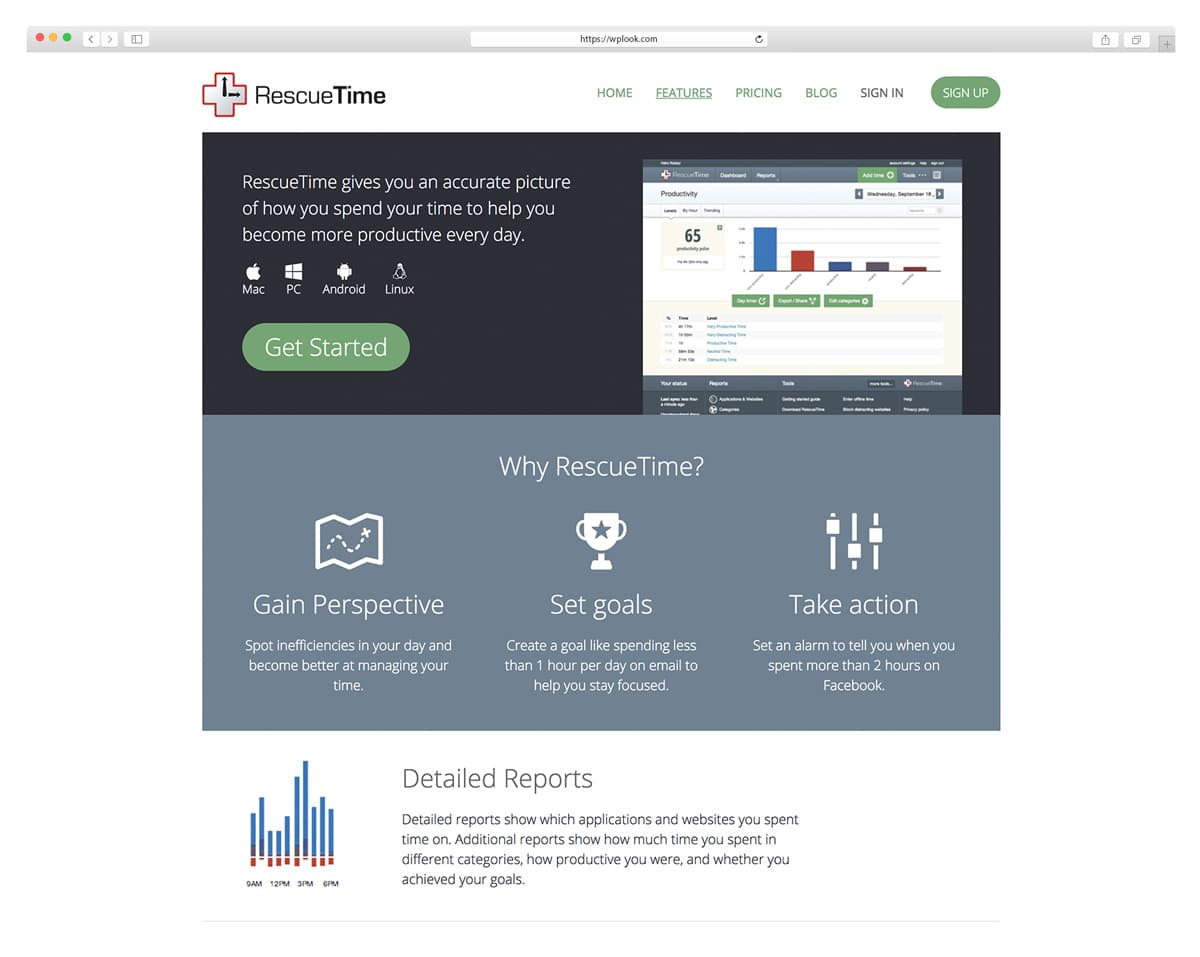 Distractions like Facebook can lead to loss of work hours which can adversely affect your productivity status. RescueTime is a comprehensive time tracking app that helps designers and developers track project hours being done and maintain a work-life balance. It collects and sends all the work data to the manager while merging securely into the background. It then automatically separates it into unproductive or productive. The working hour reports help you to track and manage your time to enhance overall productivity.
If you are working and feel that a page is distracting you, you can click on the "Get Focused" option to block that particular website. Built-in alerts will help you achieve your set goals. You will be notified of the day's progress in real-time. Rescue Time is compatible with Windows, Linux, Mac, Apple Watch, and Android. The only downside to this software is that you cannot export the collected data to standalone files. I highly recommend Rescue Time to individuals that fall prey to easy distractions on the internet. To get extra features and longer report history, go for the Premium version priced at $9/mo or $72/year. Otherwise, the free plan works just fine.
Learn More about Rescue Time
Tick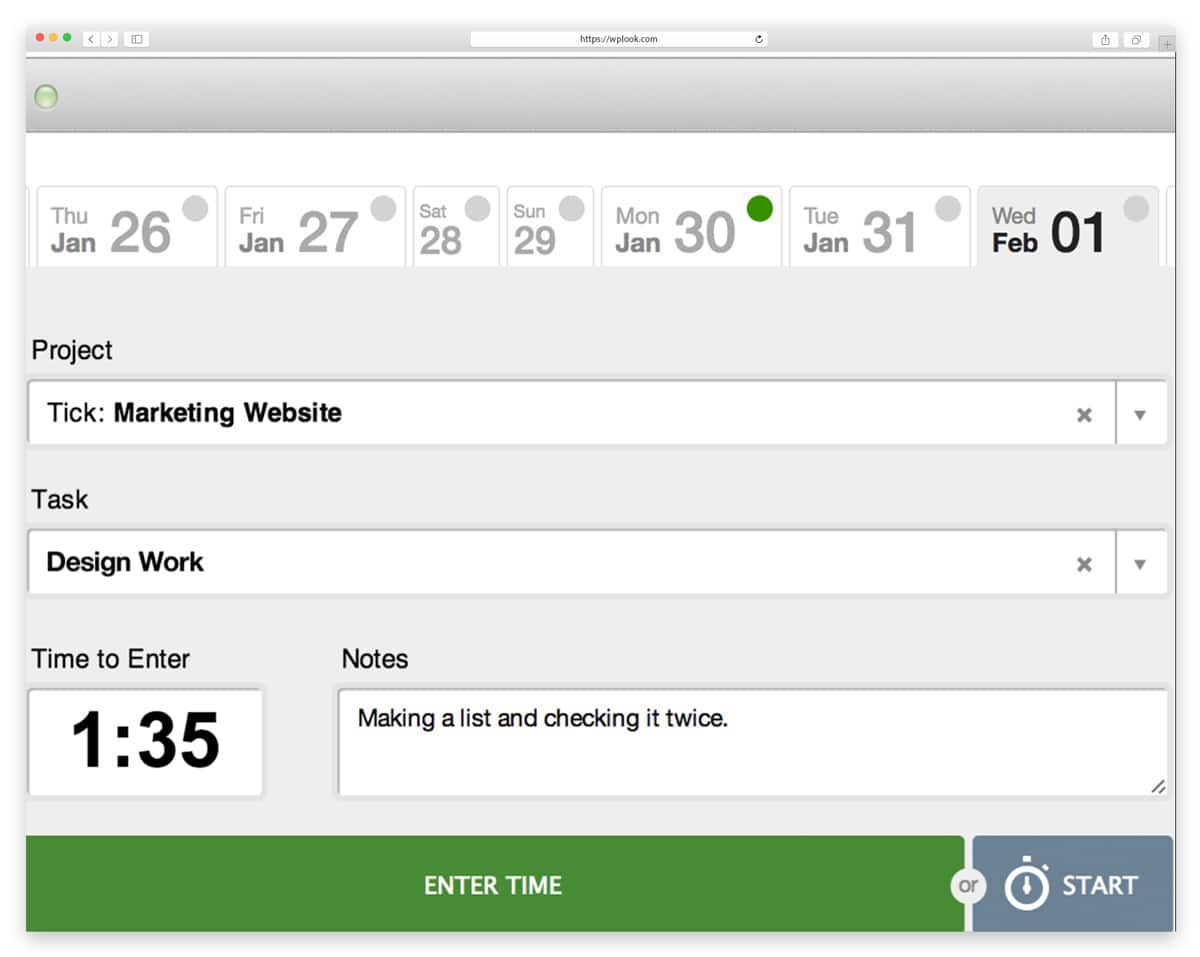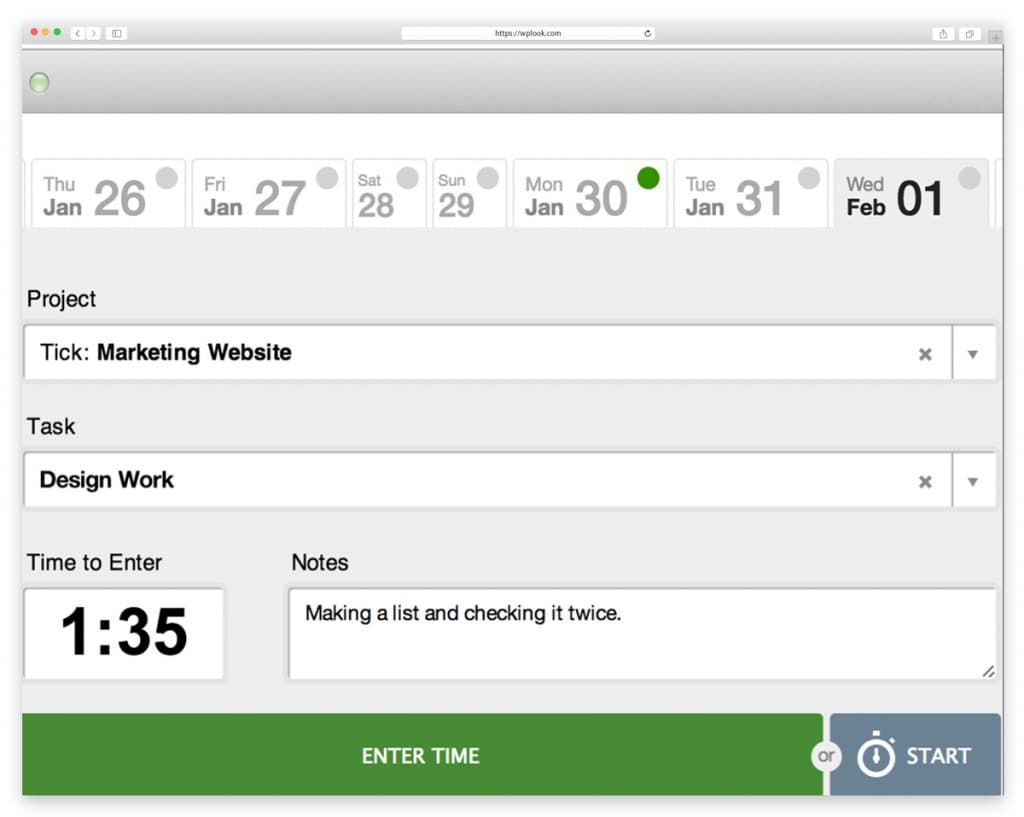 Tick is a straightforward time-tracking app with a strong focus on time management optimization, making it suitable for hitting budgets on big projects. One outstanding feature in Tick is that it automatically updates you on budget changes with every timecard. Real-time budget tracking saves you time and effort spent on tracking budgets in spreadsheets.
The many positive customer reviews on Tick mean that they are doing something right in terms of functionality. Tick integrates with 400+ third-party platforms and web apps, including FreshBooks, Basecamp, Asana, Trello, QuickBooks, and Zapier. Trusted by 60k+ businesses, this tool is free, but upgrades start at $19/mo for 10 projects. Just like other trackers on this list, you get a 30-day free trial period.
Learn More about Tick
TimeCamp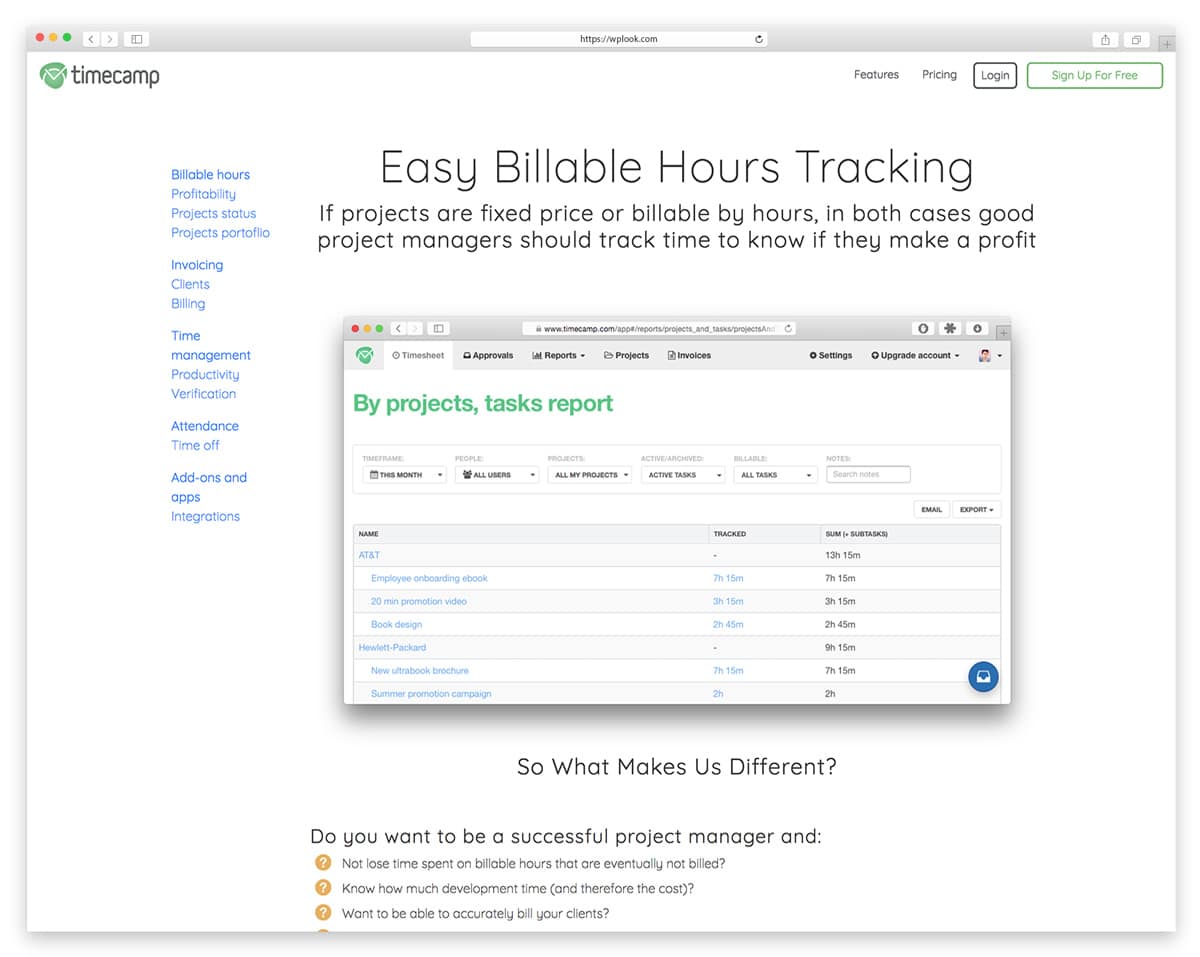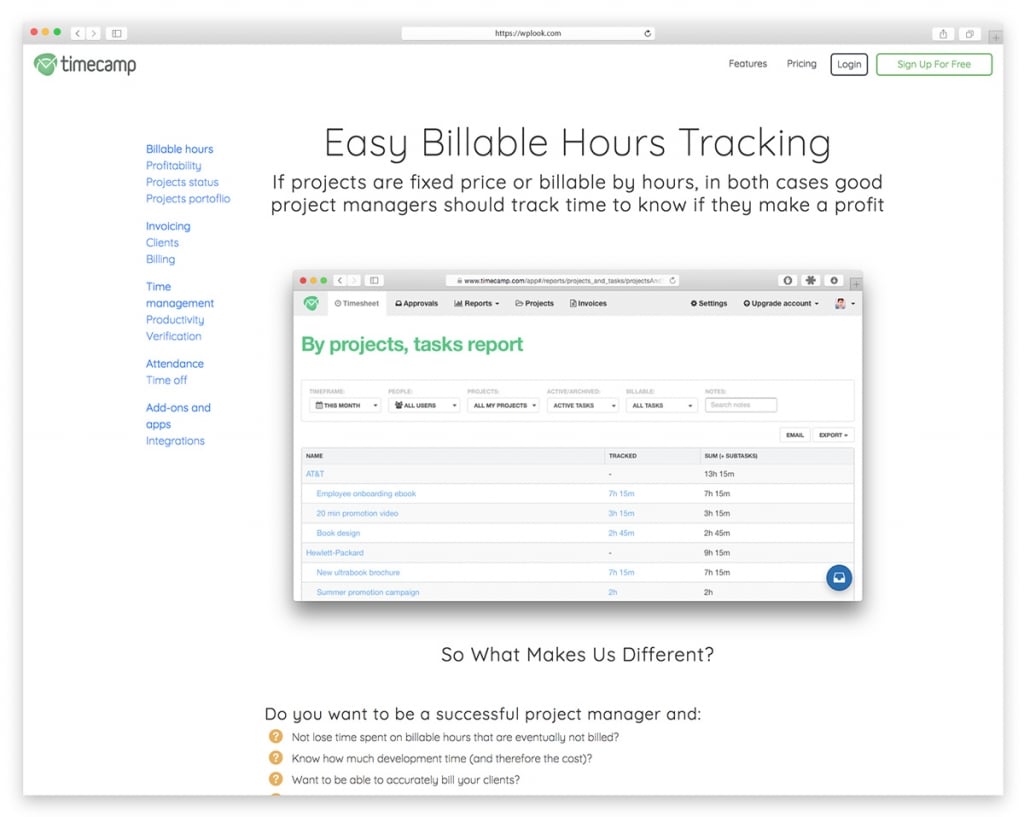 TimeCamp is another versatile time-tracking app that works great for both an individual user and a team of designers and developers collaborating on a project. This feature-packed tool integrates with several programs and is available in desktop and mobile apps. With 99.89% uptime guaranteed, your sensitive data is safe and secure with TimeCamp. It has an intuitive UI that is simple to use. Some of the popular tools it integrates include Insightly, Wunderlist, Asana, Trello, and Zendesk.
With the premium version, you can set goals and categories and also measure your productivity. TimeCamp has a clean dashboard that is easy to use. The competitive pricing structure in this software makes it popular among designers and developers. The Basic plan goes for just $5.25/mo. You get 24/7 Live Chat Support with this tool.
Learn More about TimeCamp
WebWork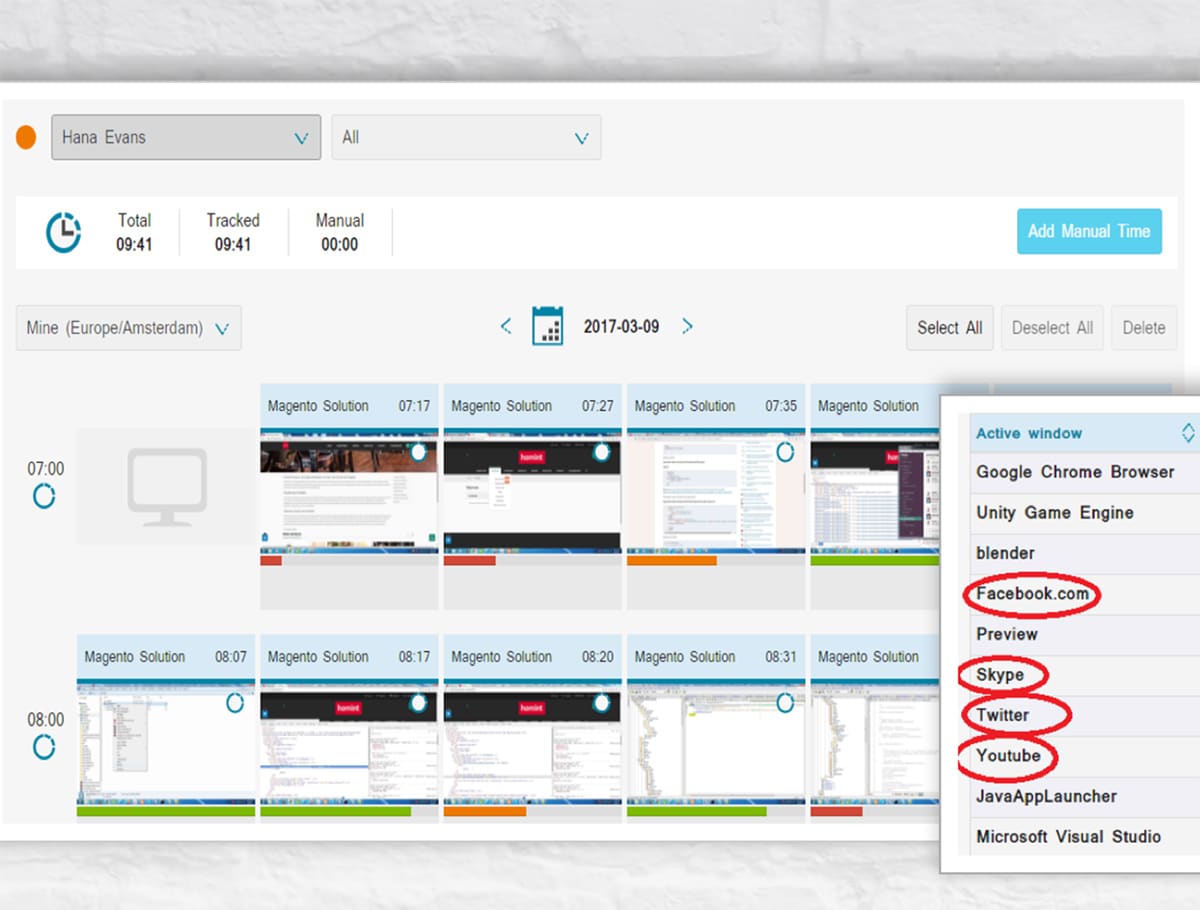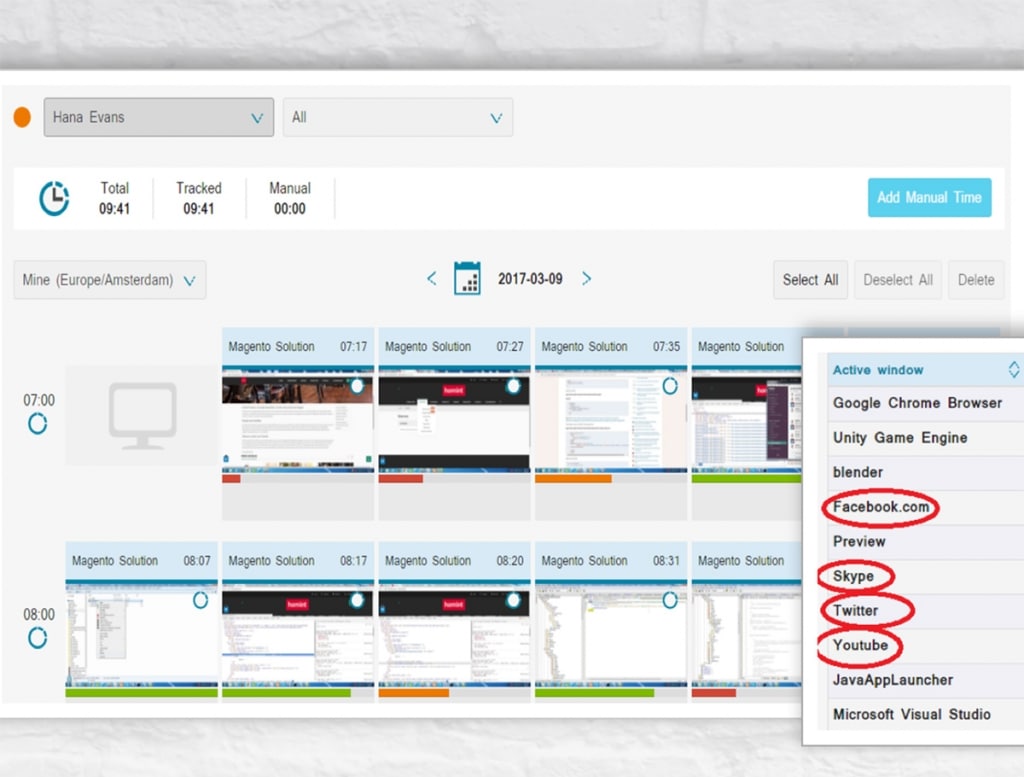 WebWork time tracker is a tool that tracks time and screenshots, generates invoices, and export timesheet reports. With 4 screenshot modes and accurate time tracking, monitoring your progress will be a walk in the park. A notable feature in WebWork is that it has a built-in invoice generator for billable contracts. WebWork has reliable customer support that provides round-the-clock expert assistance.
To use this tool, select a project, choose a task and describe your activity. This app will then take random screenshots every 10 minutes to keep track of your progress. You have the choice to keep or delete the screenshots. This tool is free for individuals. For teams and companies, you will have to part with $2.99/mo/user.
Learn More about WebWork
Clockify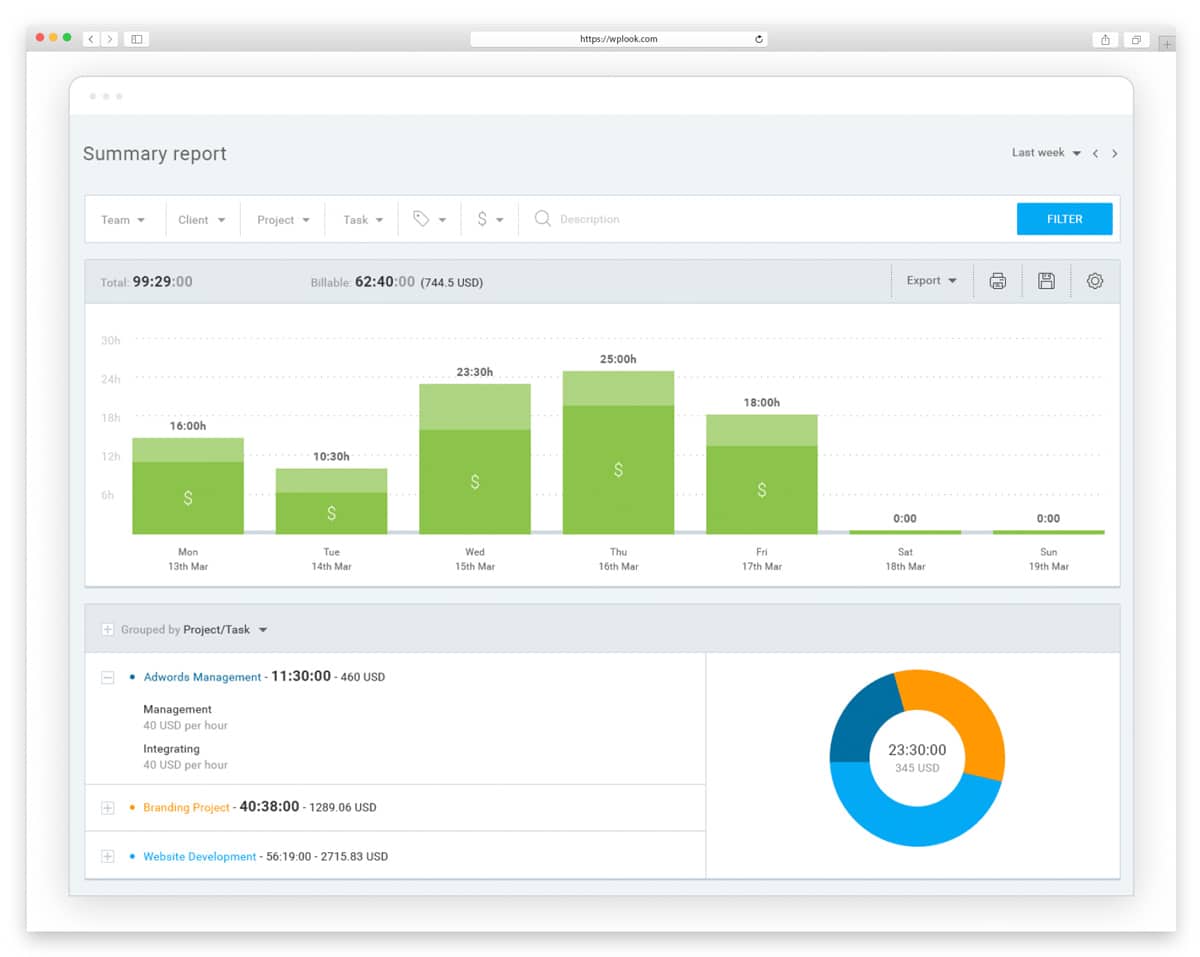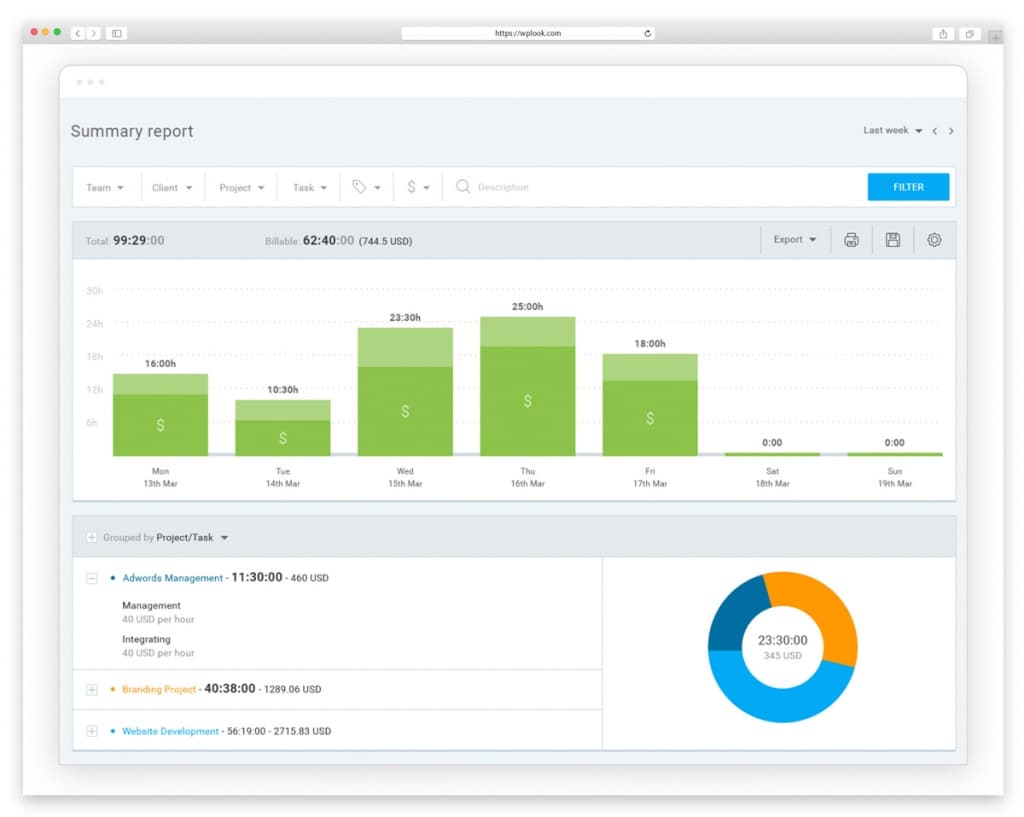 Clockify is a free and simple online time-tracking app that lets you and your team track the amount of time you spend working on specific tasks. I recommend this tool if you are working on a tight budget or if you have no budget at all. By seeing where your time goes, you can improve productivity. Clockify allows your team members to log their time, so you have a view of who worked on what and for what duration.
It features a friendly interface that is easy even for beginners. Clockify provides you with a comprehensive visual breakdown of all tracked time, and you can choose from 3 in-depth reports. You can save and share reports with team members and clients in CSV, PDF, and Excel format.
Learn More about Clockify
TimeLive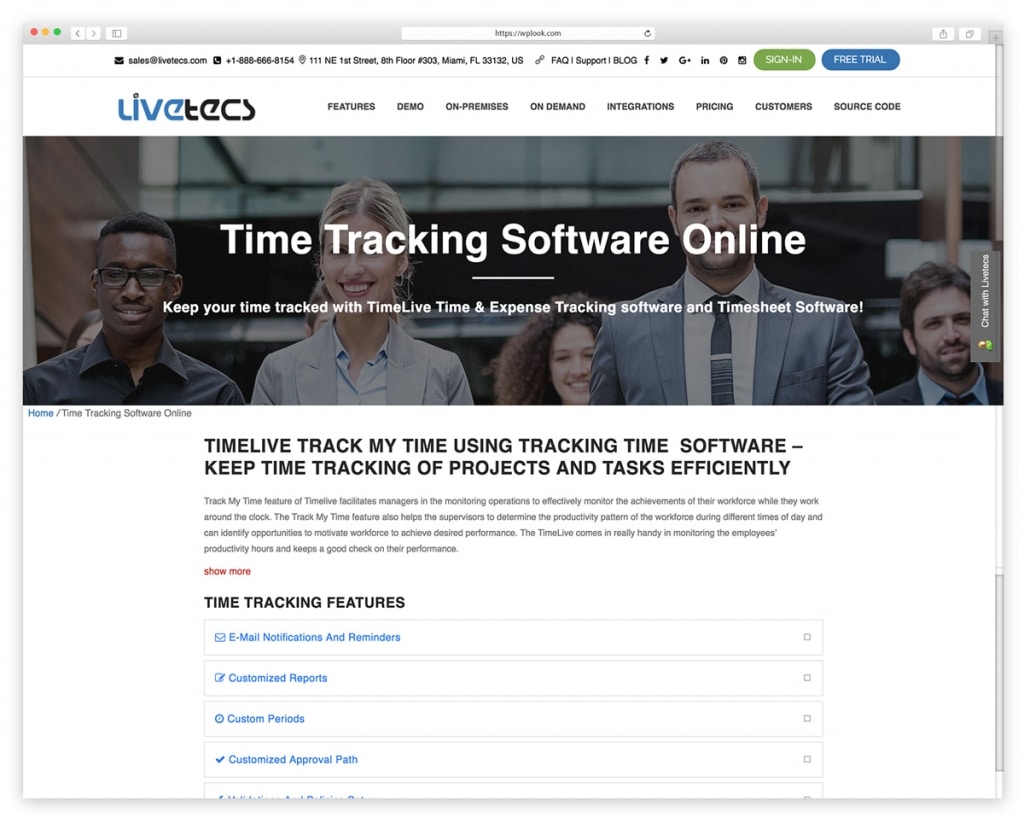 TimeLive is a web-based timesheet app that lets you track your expenses or performance against each task. If you have been unsuccessfully searching for a smart software that helps you track productivity, working hours, and expenses and generates customizable reports in real-time, you should definitely give TimeLive a try. You can have your app hosted on your own server, or you can let Livetecs, the company behind TimeLive, manage and host it for you.
You can also track time and expense on the move using TimeLive's mobile app. TimeLive has wide-ranging On Demand and On-Premises plans that suit different tracking needs.
Learn More about TimeLive
My Hours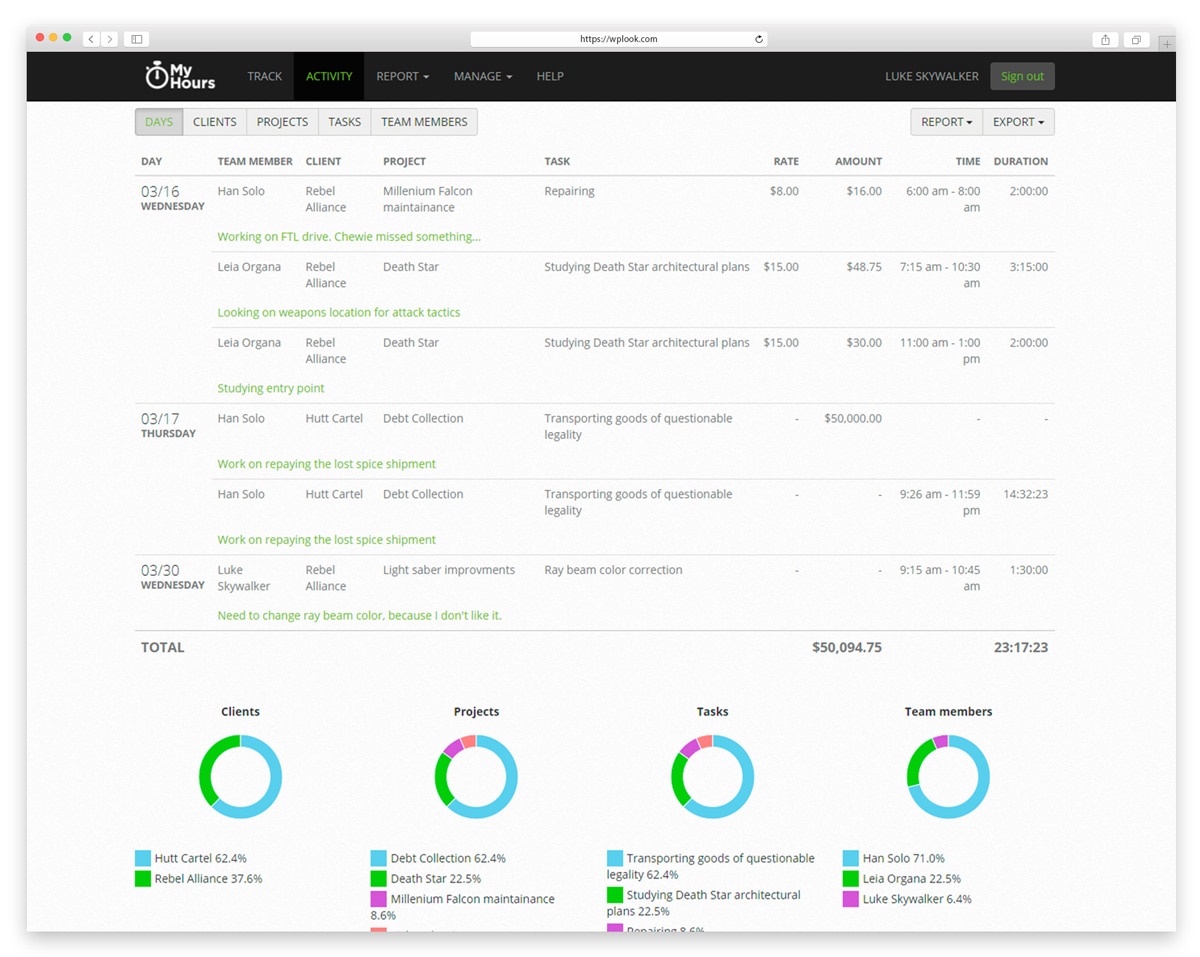 To wrap up our list of Best Time tracking Apps is My Hours. My Hours is a lightweight time tracking app for desktop and mobile that allows you to track and bill. It is simple to use and requires minimal setup. You can start or stop the timer with one click and seamlessly switch timing between tasks instantly.
If you need a coffee break, My Hours allows you to pause the timer. The app ensures that all your timesheets are up to date. This way, you can invoice your clients without any hassle.
Learn More about My Hours
Conclusion
In our progressively digitally-managed world, tools and apps provide a solution for virtually every problem you can think of. Time tracking has evolved from the old methods of being reliant on spreadsheets to streamlining task management and simplifying workflow thanks to modern time tracking software.
Is there any other time tracking apps you use that are not included on our list, and you want to share it with the rest of the community? Feel free to air your views in the comments section below.
Time Tracking Apps