Our innovative and multipurpose Benevolence WordPress Theme is specially designed for Church and Nonprofit Websites. This theme is highly customizable and enables you to showcase your content in an attractive way.  Benevolence is a feature-rich theme with a sophisticated outlook that helps church websites relay a straightforward message to their desired audience. Some of the information you can share with this theme includes details of causes, projects, and sponsors. It is also SEO friendly with optimized codes that will enable your site to be indexed and ranked by search engines. Benevolence supports church-specific post types like ministries, news, sermons, sponsors, events, and projects.
In today's article, I will show some examples of websites that used our Benevolence theme and created amazing websites. But before, let's see why it is the most popular theme for nonprofit and church websites.
Outstanding Features:
Creating nonprofit and church websites require you to consider a few key features in a WordPress theme. Some of the areas that designers emphasize on are the ability to easily upload documents, supporters and donors page support options for causes and charities, and event calendars just to mention a few. Benevolence has all the ideal features for church websites as discussed below.
Multilingual Ready – engage your audience in a language they understand. We realized that church websites have visitors from various parts of the world, all speaking different languages. We developed the multilingual option to address the language barrier limitation.
Integrated with PayPal and Visa – we have integrated two of the most widely-used and secure payment gateway to accept donations from whatever location.
Visually Stunning – Benevolence has an attractive look that will appeal to your audience. With unlimited color schemes and custom logo, you can customize your website to reflect your brand's identity.
11- Custom Post Types – with our comprehensive post types, you will never run dry from content to engage your audience. You can intuitively post various post formats like images, video, links, quotes and more. You can also make use of our 18 Widget areas.
Custom Share Buttons – these buttons will prompt your website visitors to share your content easily from your church website.
Fast and Responsive – this theme has been thoroughly tested an optimized for speed and faster load time. It is impressively fast with a Speed Grade of A94% which ensures a seamless browsing experience for your website visitors. Our responsive design allows you to view your websites on different devices.
Child Theme Included – Benevolence supports Child Theme and keeps you informed of new theme releases.
Google Calendar Integration – this handy feature makes church websites to look more organized. You can use it to bookmark church events, upcoming meetings, and get-togethers. Benevolence also supports recurring events which save you time posting such events now and then.
WooCommerce – Benevolence is e-commerce ready, as it supports WooCommerce integration. This feature allows you to turn your website into an online store. With WooCommerce, you can easily handle payments, shipping, and inventory.
Built-In Church Features – church specific features allow you to add your organization's information in each category.
Amazing Customer Support – we offer fast, professional and unparalleled support to all our clients.
3 Packages to Choose From – depending on your needs and budget, you have the luxury to choose from standard, developer, and club member.
Gateway Church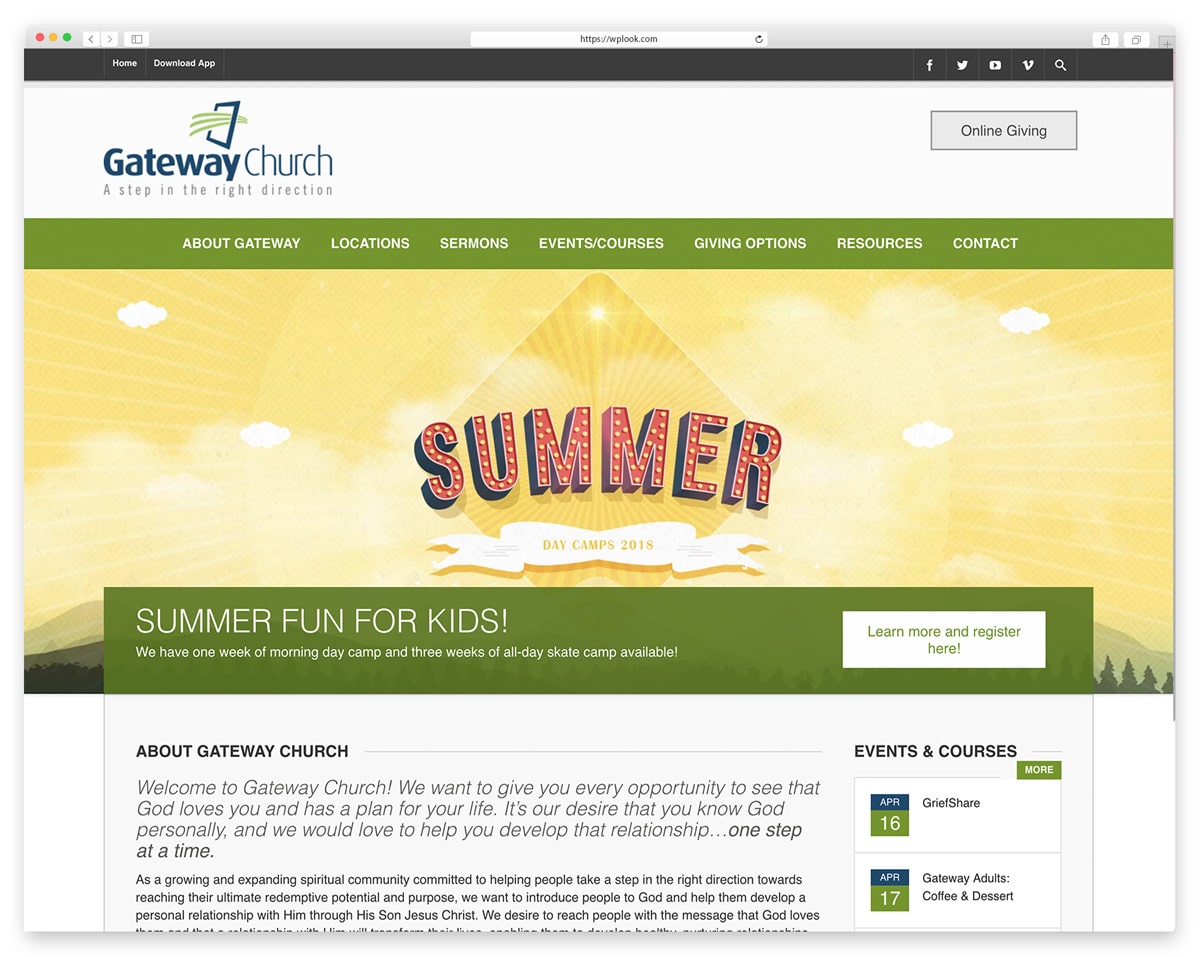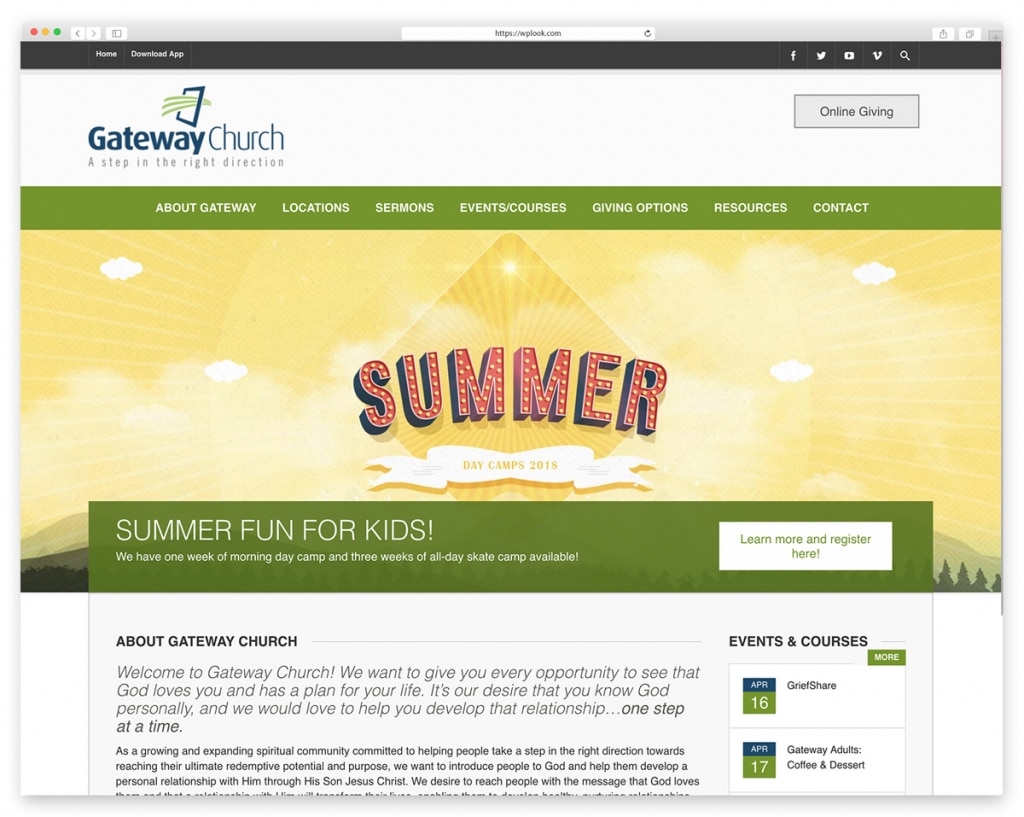 Gateway Church is a church affiliated with The Pentecostal Assemblies of Canada that aims at helping people take a step in the right direction toward realizing their full potential. Their theme features a stunning lime green/grey color scheme makes the website appealing to both members and visitors. The website's integrated calendar has included events, courses , and study schedules to make it easier for their members to plan when to attend. Gateway Church frequently updates its website with sermons and weekly service talks. You can easily listen to or watch recordings of the entire service online.
The website has incorporated all the popular social media platforms on their website for easier connection with their audience. The pages include Facebook, Twitter, Instagram, Vimeo and YouTube. The website also features an integrated online store where members can purchase music CDs. Their "online giving" button means contributions like Tithes, Mission and General Fund can be paid online through automated giving.
Visit Gateway Church
Islington Sustainable Energy Partnership
ISEP is a UK-based network of 60+ organizations that aims to cut energy costs, minimize carbon emissions and support the local community. They offer free membership to any interested organization based in Islington. Their website uses a Benevolence theme with a minimalist jungle green/get color scheme.
They provide regular practical support and help members get involved in local community projects. They have integrated Twitter into the website to connect with their partners and sponsors easily. Their Google calendar Events keeps visitors informed on upcoming events. You can click on an event to get more details.
Visit ISEP
American Business Women's Association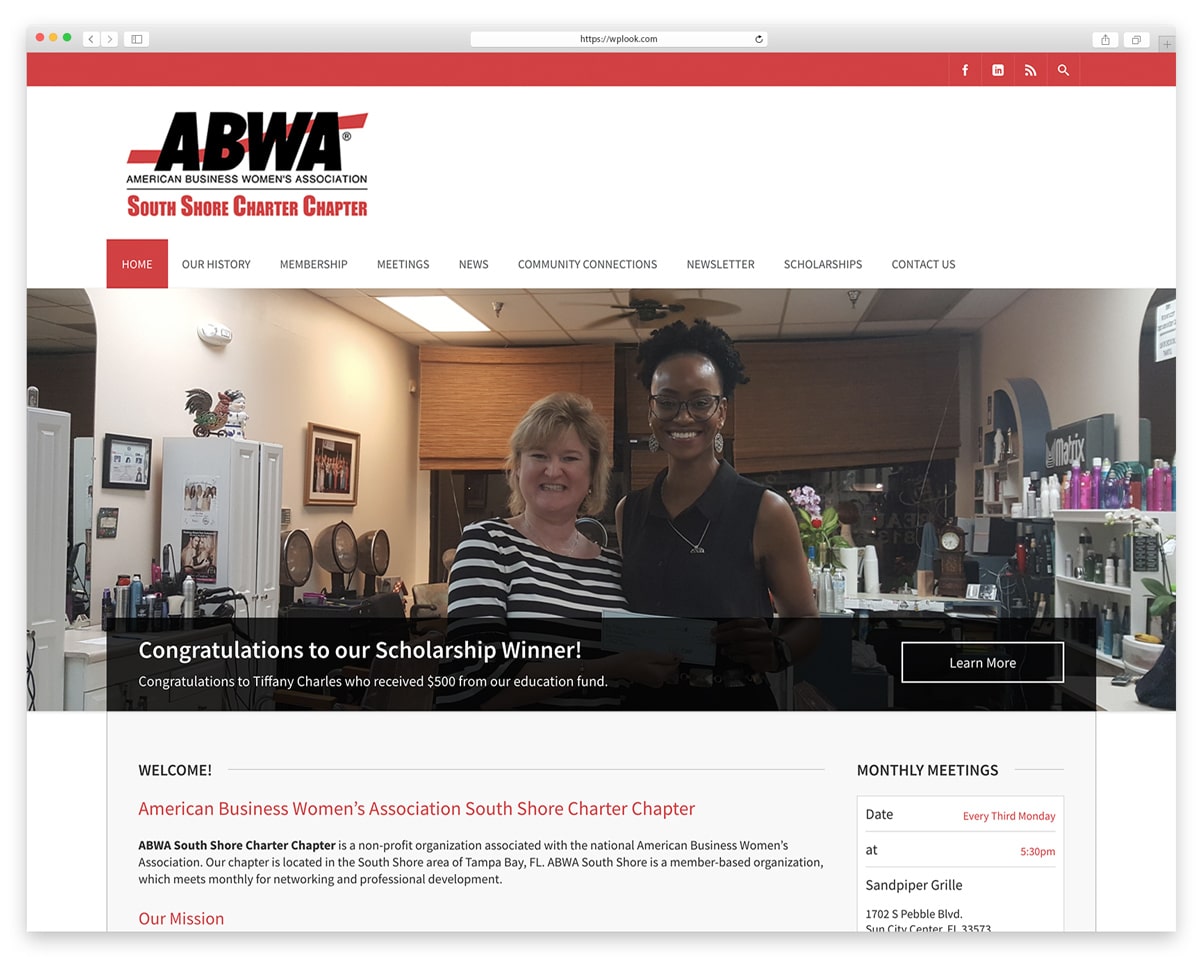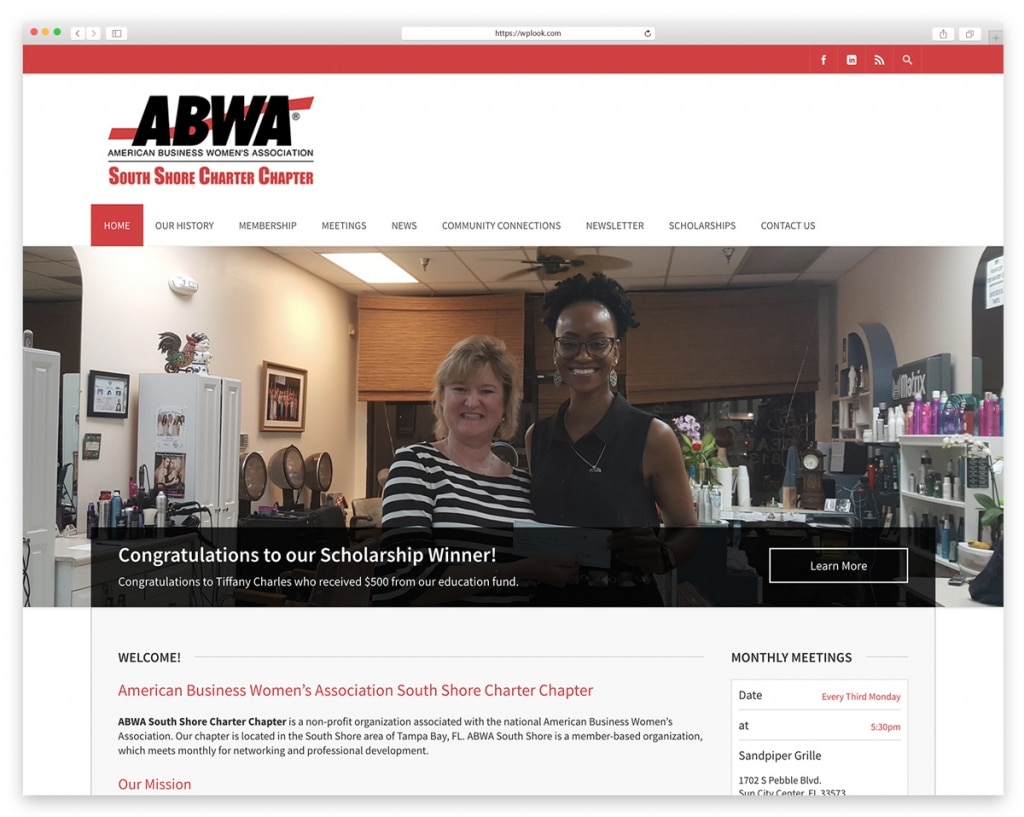 American Business Women's Association (ABWA) is a member-based NGO located in Florida. The organization focuses on connecting women of varied professions. It empowers women by providing them with leadership, networking, and educational opportunities to help them advance career-wise.
Their website has a nice-looking red color scheme that appeals to their members-women. The calendar integration updates members on monthly meetings. They have also embedded their physical location to make it easier for new members to locate them. Their news section informs members on the current happenings and developments. To engage with members easily, ABWA has integrated Facebook, Flickr and Linked in buttons.
Visit ABWA
Kloosterkerk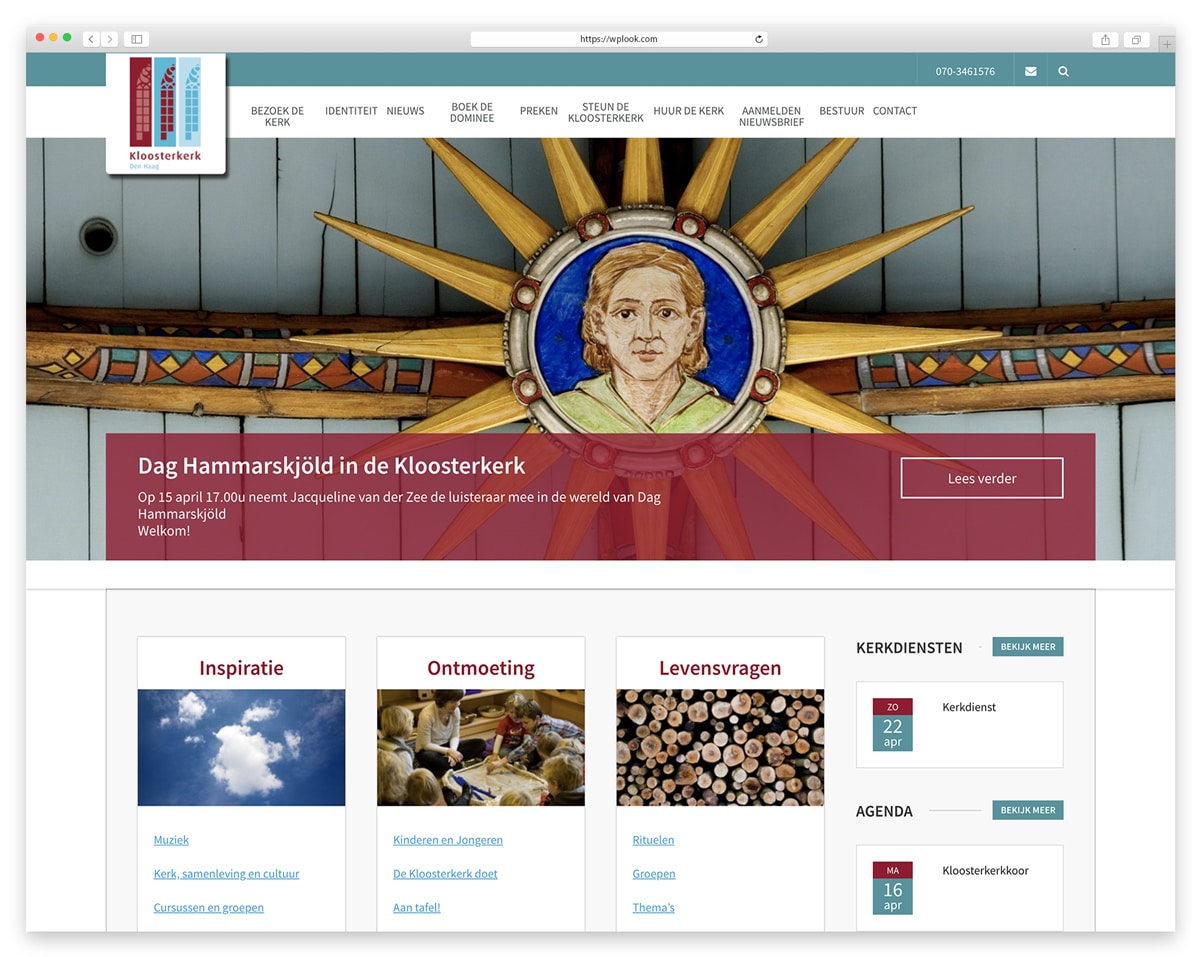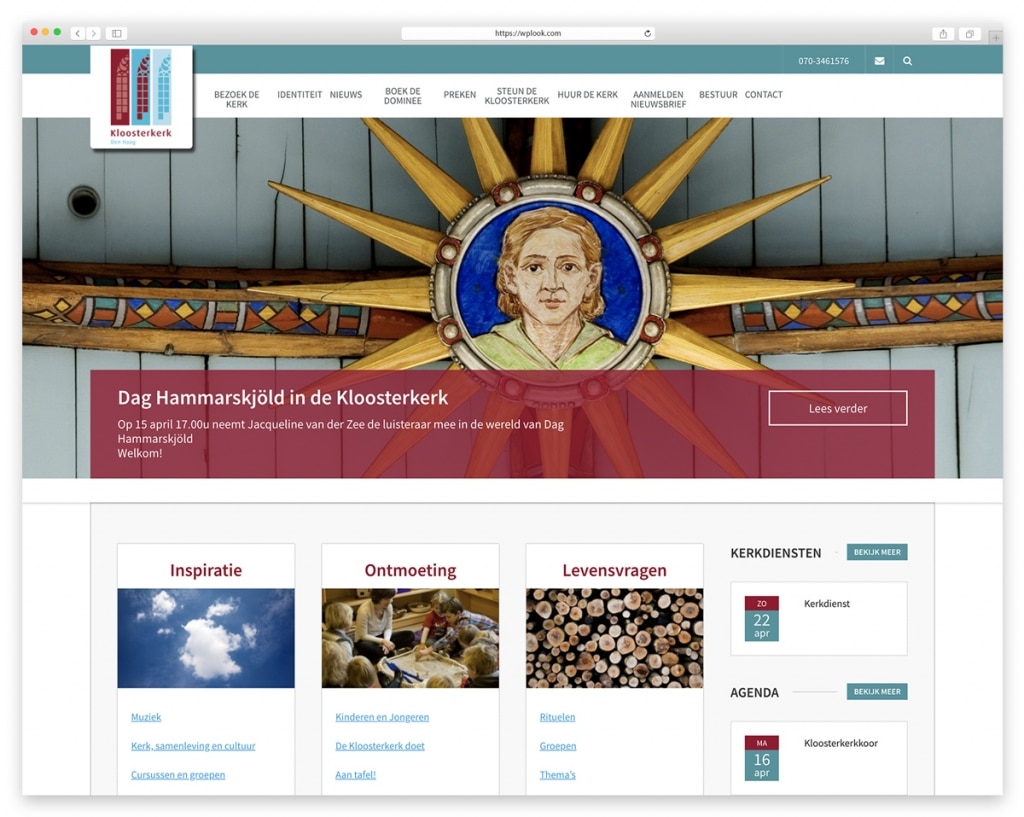 Kloosterkerk is a Protestant church that has a diversity of religious and cultural activities. The church uses the Benevolence theme to reach its members, supporter, and donors. There maroon/turquoise color scheme makes the site eye-catching. It has integrated Google calendar on their website to update members on upcoming events and church services. The website also updates members on the latest news on their homepage.
They have integrated their social media pages on the bottom part of the church website to enable their users to share content easily. Their regular posts address various aspects of life including Love and Marriage, Birth and Baptism, Work and Life, Separation, Becoming Older etc. You can support Kloosterkerk by becoming a member, making a periodic donation or a one-time donation.
Visit Kloosterkerk
Cancer Support Scotland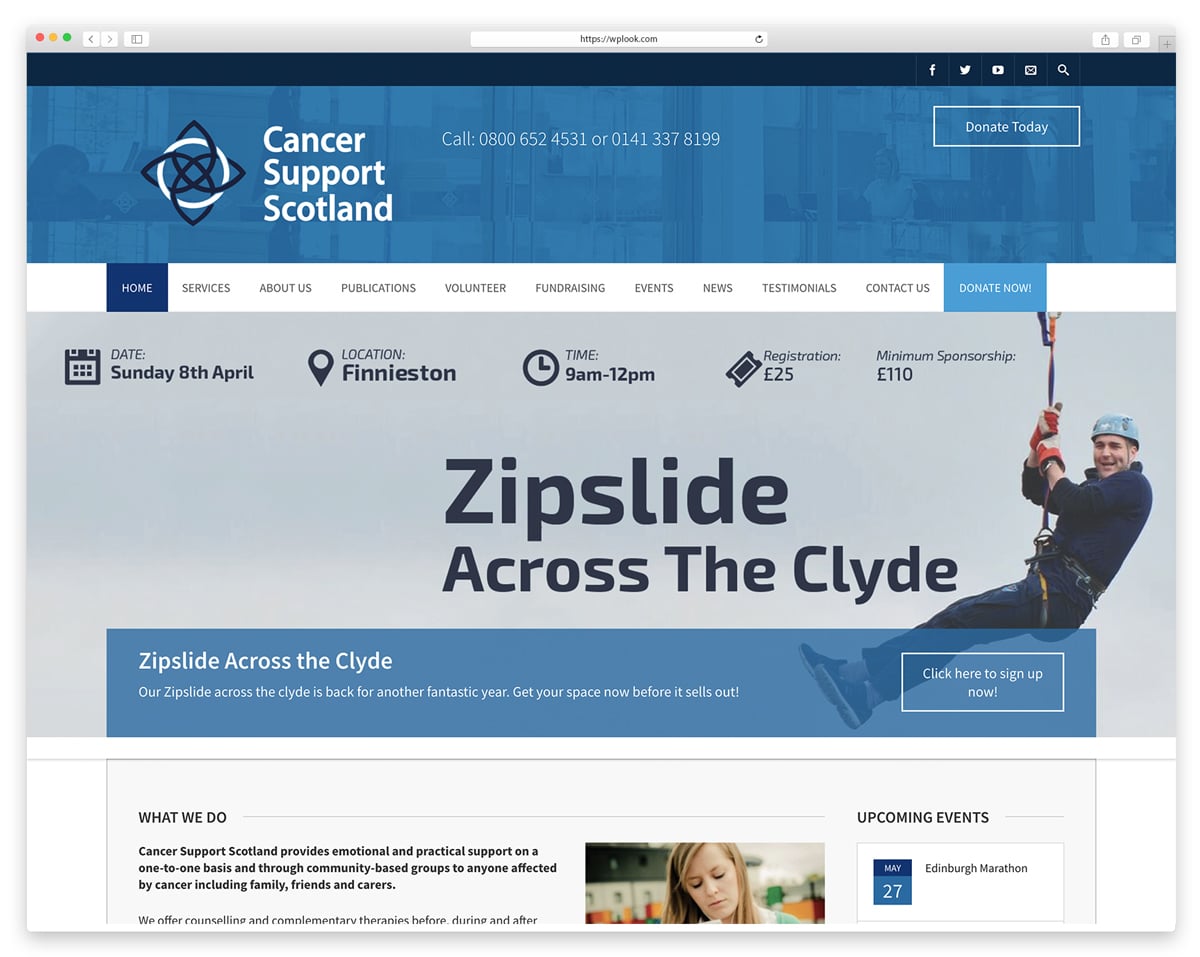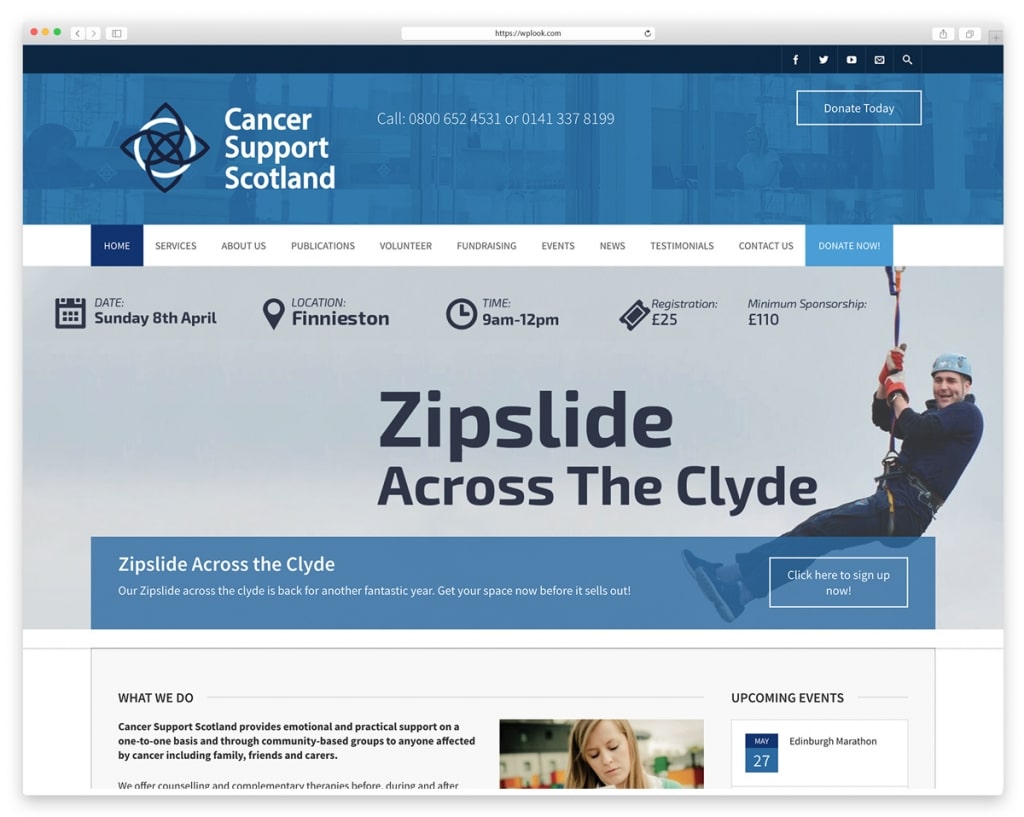 Cancer Support Scotland provides practical and emotional support to cancer patients, carers, and affected families through community-based groups. They do this by offering one-on-one counseling and complementary therapies. Their website has a simplistic blue color scheme that compliments the organization's goals. Their Google calendar integration showcases upcoming events. They have integrated their Facebook, Twitter and YouTube Channels to keep their visitors engaged. Custom post types include events, testimonials, fundraising, publications, volunteer and "donate now" call to action. They update the latest news on their homepage to keep donors and partners informed.
The organization relies on the generosity of partners and donors to fund their activities. They have integrated PayPal, JustGiving, and Virgin Money to make the donating process easier.
Visit Cancer Support Scotland
Oblati missionari di Rho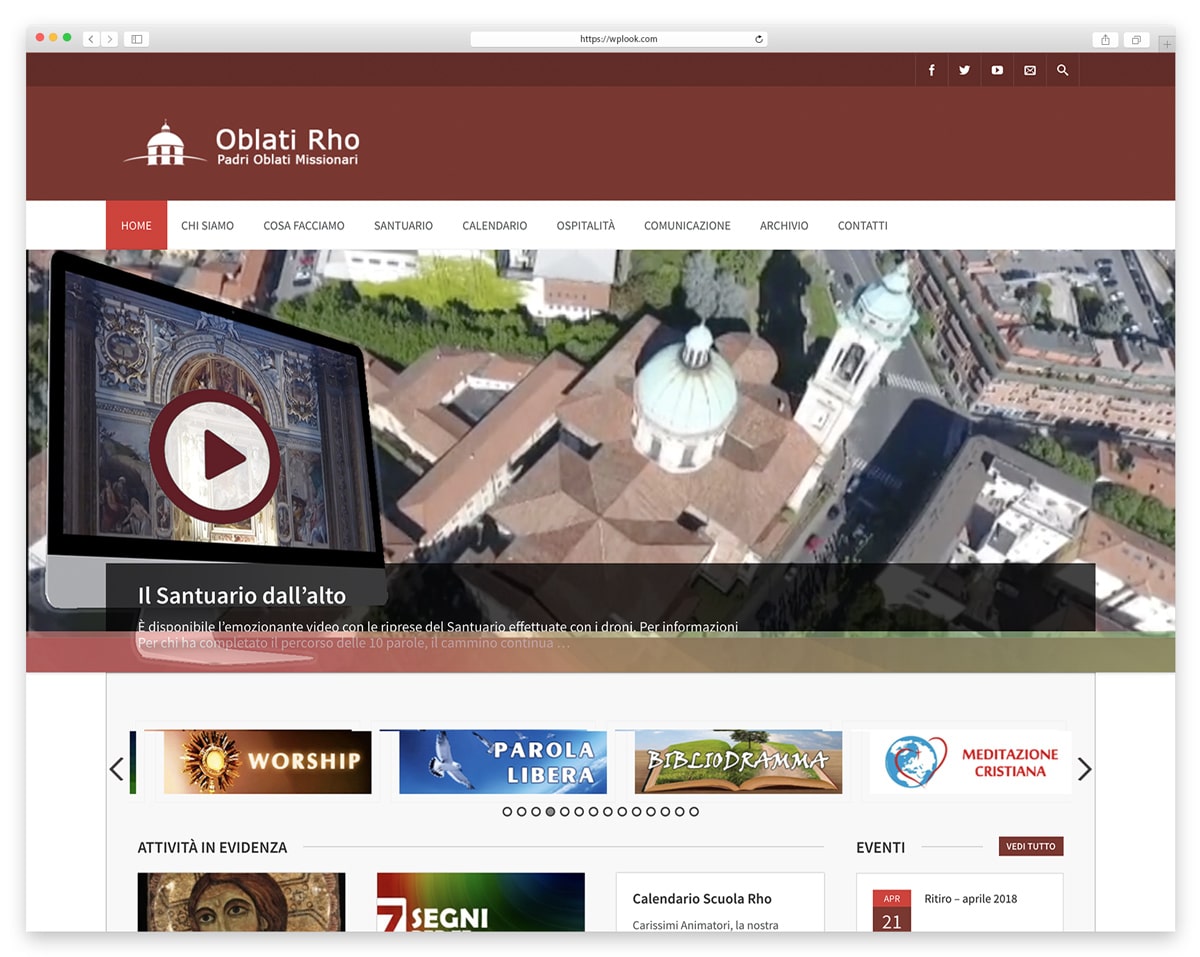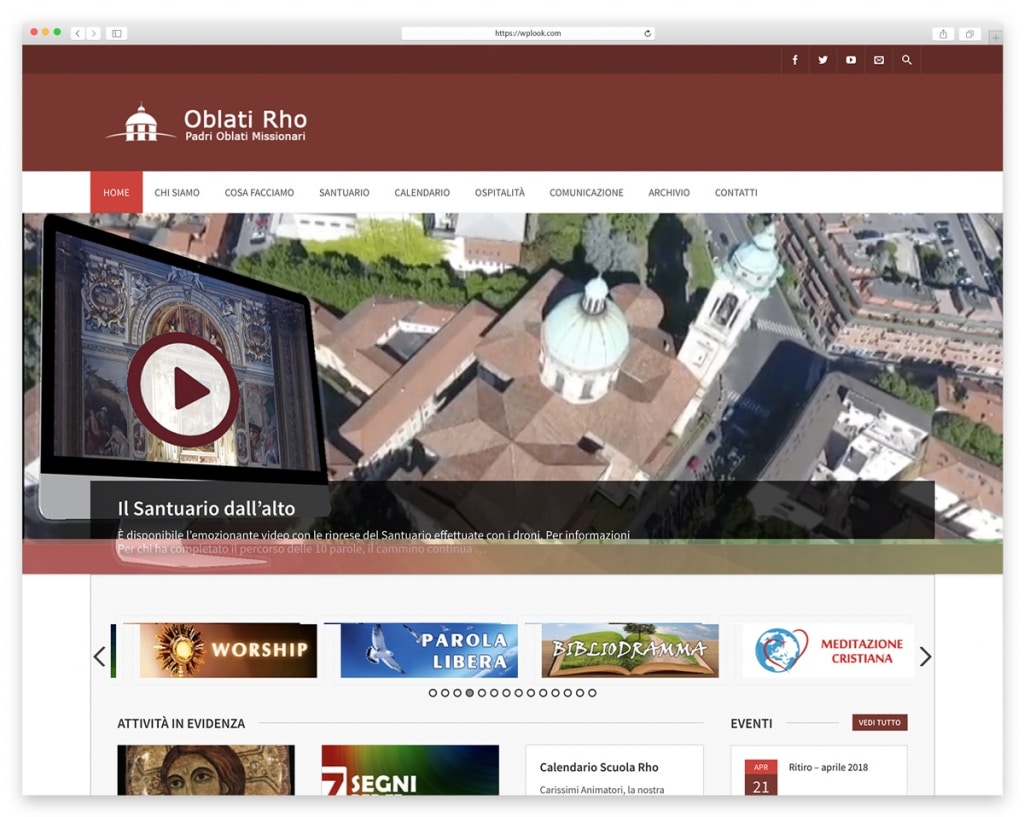 The Missionary Oblate Fathers of Rho are a group of diocesan priests who came together and dedicated their lives to preaching the Gospel and living in the community. The website features a Google calendar integration where they show upcoming events. The calendar has a "see everything" button that allows you to view past and more upcoming events systematically.
The website has also integrated Twitter, Facebook, and YouTube pages to help their followers get new information. The color scheme gives the website a professional and inspiring look. They update audios and videos on a regular basis.
Visit Oblati missionari di Rho
Rotarian Initiative for Succ. Employment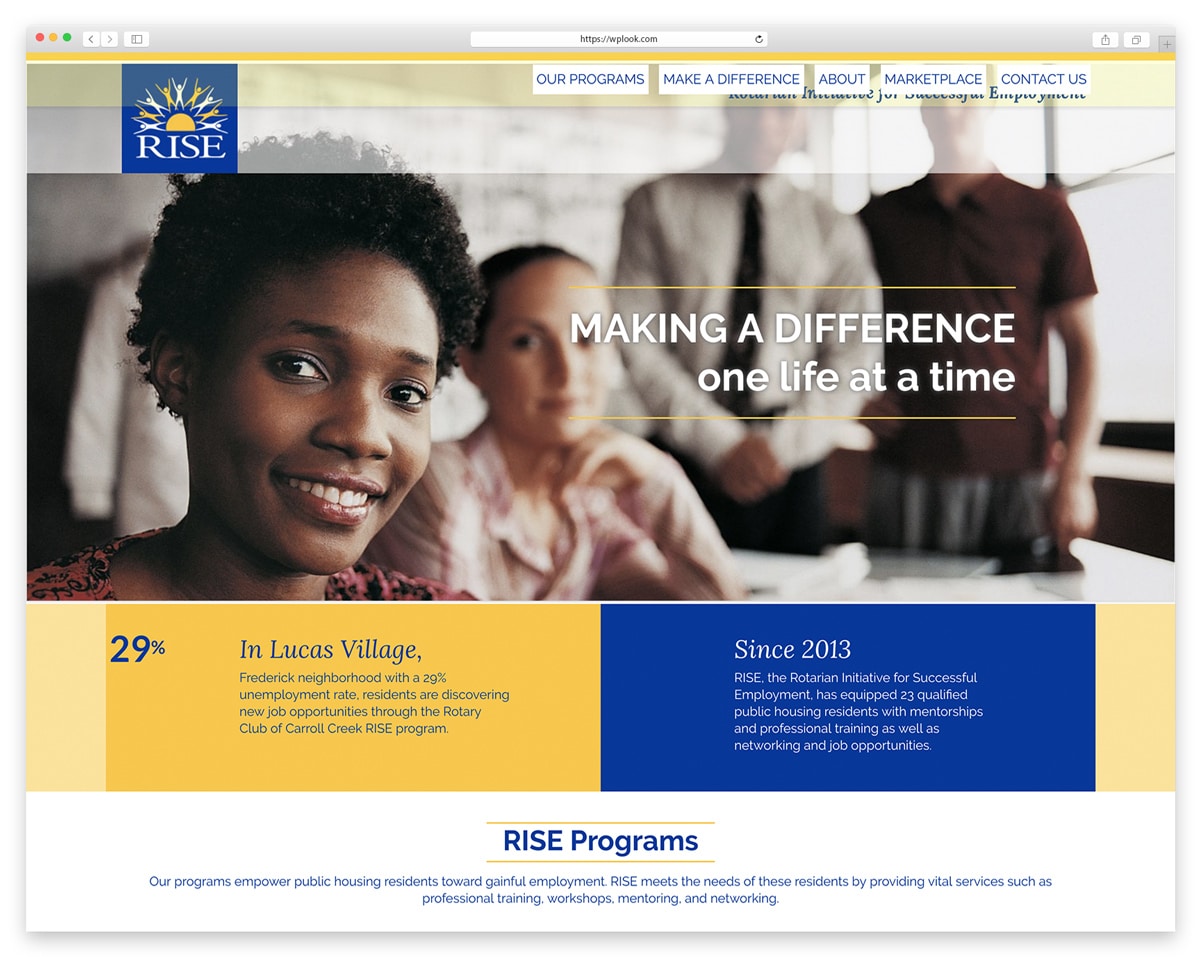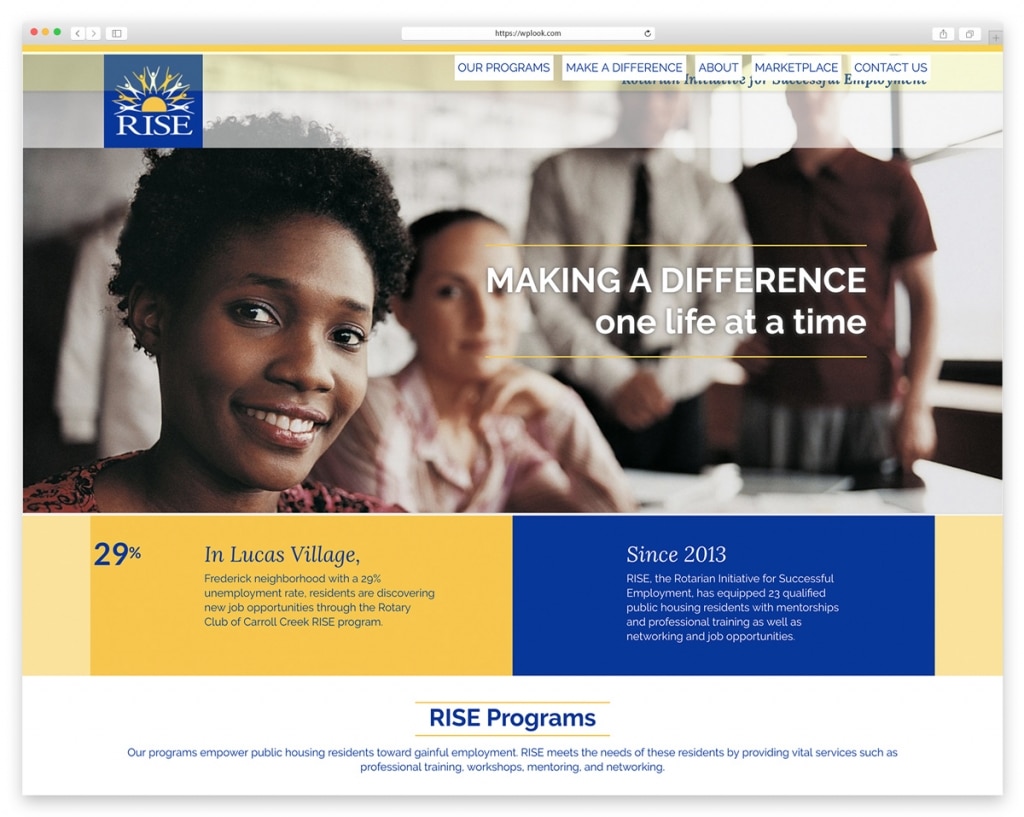 RISE is another beautiful Nonprofit that works in partnership with the Frederick community. It has been operational since 2003. It helps unemployed and underemployed individuals by offering them professional training, networking, mentorship and employment opportunities. Such opportunities help the participants move toward economic self-sufficiency.
Their website has adopted a blue/yellow color scheme that fits the organization. They have a "Support Now" call-to-action that allows supporters and donors to make contributions via credit card. Visitors just need to click a button to make a donation.
Visit RISE
Final thoughts
Benevolence is a modern Nonprofit and Church style WordPress theme that is perfect for building a website for your religious group or supporting a Nonprofit cause you are passionate about. Consider including a call-to-action message on your church website to help make your mission successful.
To have a clearer picture of how Benevolence will be helpful to your site, launch the Demo to see all the features and modules in action. With Benevolence, you will realize your organization's goals. By keeping the benevolent spirit alive, you will make the world a better place than you found it.
Get Hosting
Benevolence, Charity, Church, NonProfit, WordPress