Creative agencies offer solutions that enhance the image of a product or brand. They come up with branding and marketing concepts that bring a positive public perception. But there are times that agencies in the creativity field need help branding themselves. For such agencies to sell services to others, they must showcase their creativity. This is why we come with the Best WordPress Themes for Creative Agency!
Creative Agencies highly rely on creativity as an ingredient to achieve success. In most cases, the competition line between brands in the same market is thin. What makes a product stand out is the creativity in marketing and presentation. To achieve online brand presence, a professional website is needed.
Platforms such as the WordPress network have made it easy to create a stunning website. There are thousands of WordPress themes for creative agencies that one can use in setting up a website. But due to the high number of themes available, finding the right one can be tricky. A creative agency needs a clean, creatively designed theme to bring out their creativity. The right WordPress theme should be able to communicate to the audience what the agency does. Here are 4 Creative Agency WordPress Themes that are perfect for creating a website for an agency.
Studio 9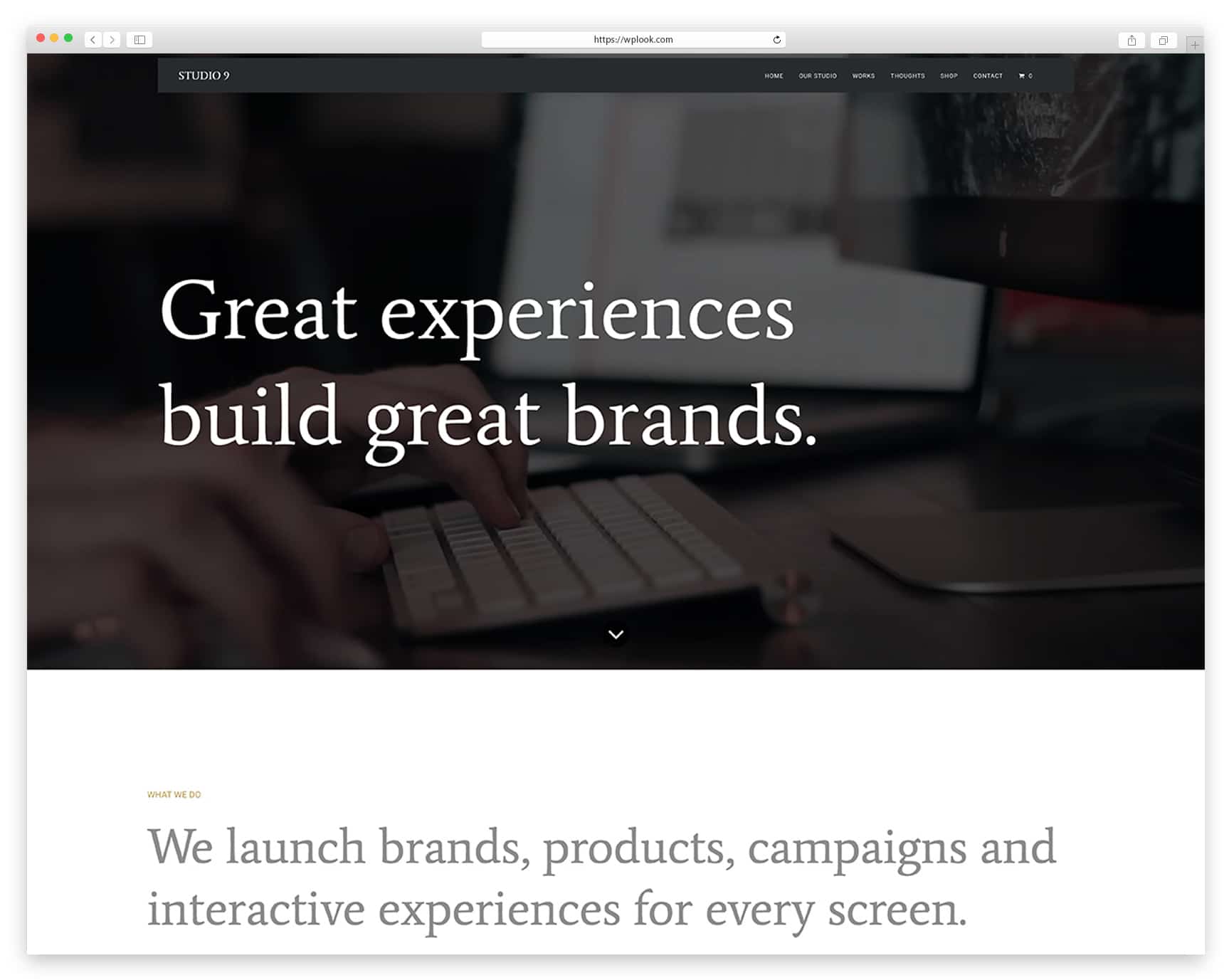 Studio 9 is a premium WordPress theme that meets the needs of a creative agency. The theme is user-friendly to the audience and the administrator. It takes less than 3 minutes to have the theme installed. Demo and documentation are available to use as a guide during installation and customization.
There are tons of useful shortcodes included in the theme to help with the setup process. The shortcodes aid with back end actions that can take time when doing manually. Studio 9 ranks as the fastest loading creative agency WordPress theme. The need for speed is one of the areas that the theme authors prioritized. Apart from fast speed, the theme is responsive and works well on all devices and is cross-browser compatible.
The advanced options panel makes it easy setting up important features of a website such as a header or a footer area. HTML5 and CSS3 files are included for customizing the theme's backgrounds. Visual grids included help give content clarity and order when placing elements on a page.
Other useful features include 3 different blog designs (Archive, 3 or 2 columns), a minimalist concept, unlimited color options, multilingual, 3 Widget areas and WooCommerce compatibility. So you don't have any limits if you want to sell your creative work.
Learn More
Get Hosting
Studio 8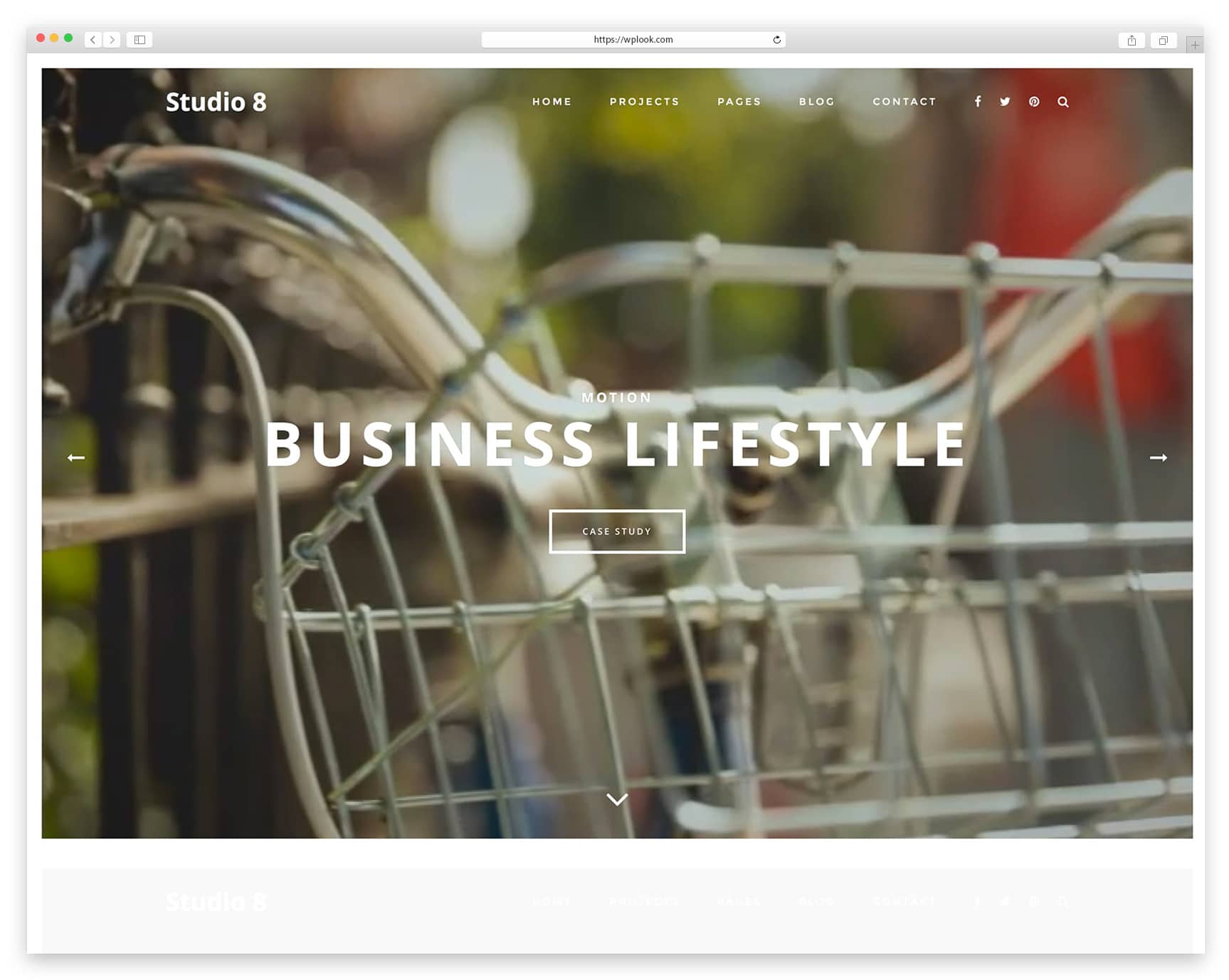 First impression matters and this is exactly what Studio 8 WordPress theme delivers. It's seamless and quality design gives the reader the right impression needed.
The theme is easy to set up. Using documentation provided, installing the theme should take less than 3 minutes. Customizing different sections of the theme is simplified by advanced theme options panel. Widget areas help set up eye-catching sections on the Homepage and blog section.
Studio 8 has beautifully designed homepage segments. Important sections such as work portfolio are well captured on the homepage. The child theme and PSD files are included in the theme Package and make it simple customizing in order to get the desired results.
The theme is designed to adapt to different screen resolutions. It does not lose its design when viewed on computers, laptops, tablets or phones. Another added plus for the theme is its impressive loading speed and cross-browser compatibility. A store can be created using the included WooCommerce plugin.
Using Studio 8 to create a creative agency website is affordable. Shortcodes included in the theme eliminates the need to buy a shortcode plugin. Built-in shortcodes help enhance appearance, navigation, and functions on the website.
Learn More
Get Hosting
The Agency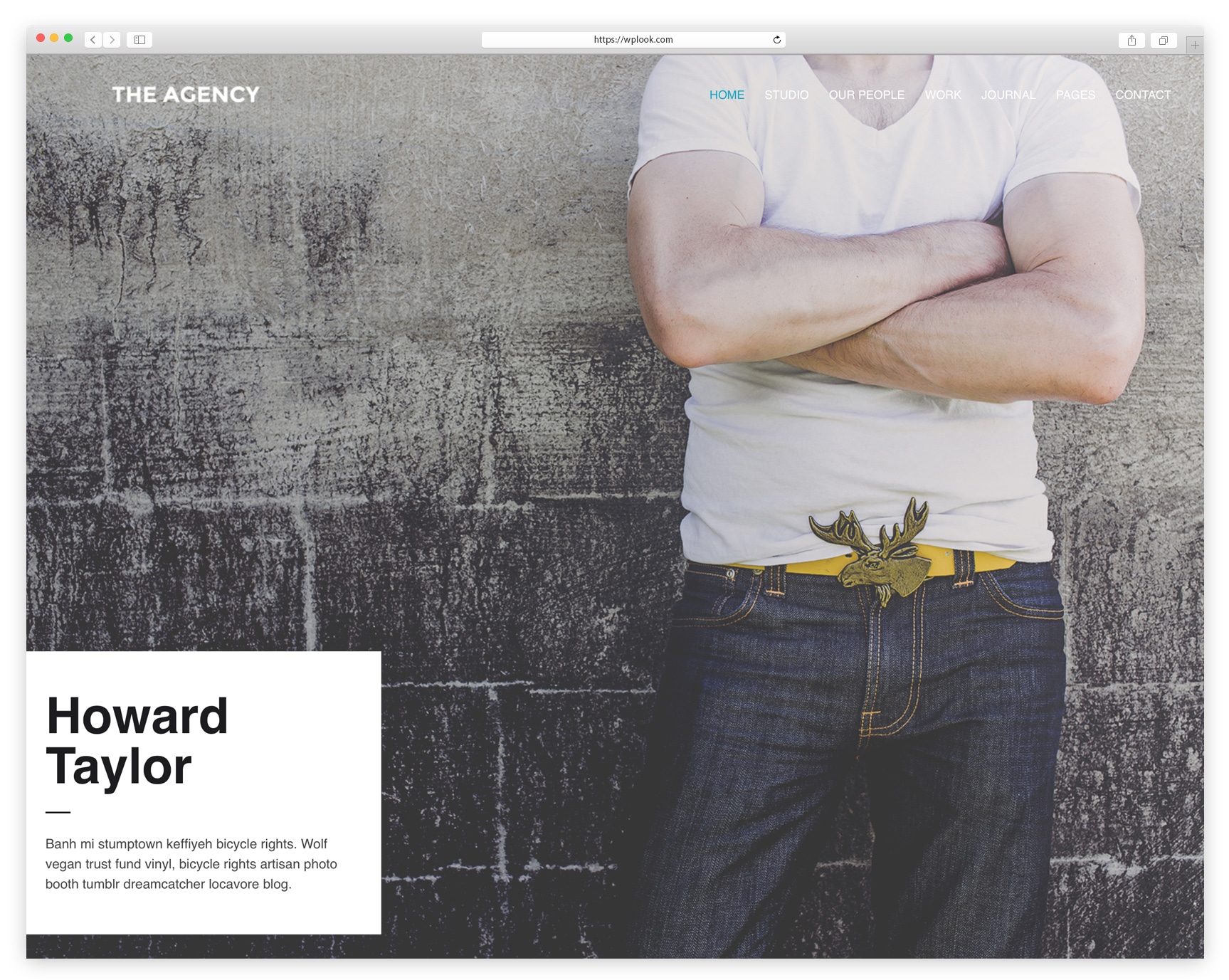 The Agency is a beautifully designed premium theme that is suitable for design, web and architect agencies. The design is simple, precise, and gets to the point by displaying work and portfolio. Its minimalist concept creates space to showcase projects and team in an organized manner.
Installing The Agency WordPress theme takes less than 3 minutes. Demo data and documentation is provided to fast track setting up a website using this theme. Customization of different sections of the theme is simplified by the advanced options panel.
The front-end has an attention capturing display. Pictures are well displayed on the homepage in a way that a visitor can't miss the finest details. Each scroll loads a different image which has word caption on the side. Unlimited colors option ensures the theme can be tuned to match the color scheme of the agency. The multilingual feature is ideal if creating a website aimed at a specific demographic.
Extra plugins are not needed for functions of the theme. However, the theme peacefully accommodates extra plugins if used. The theme also has an impressive loading speed and is responsive on most device screens, making it a good option for those who rank loading speed.
Learn More
Get Hosting
Architect WordPress Theme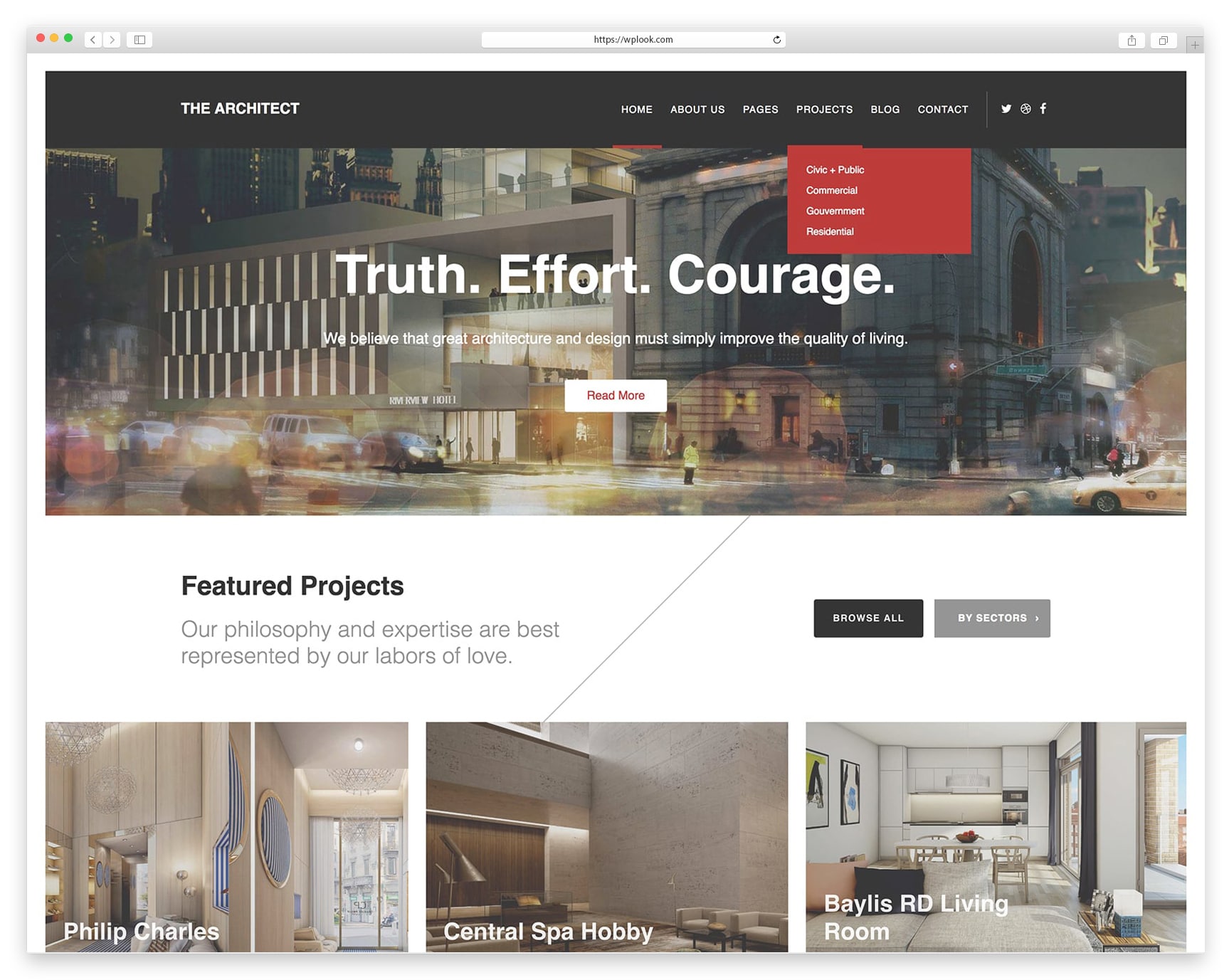 The Architect is a modern design premium theme best used for architect agencies. The theme comes loaded with tons of features to create a website that provides information and showcases the agency's work.
Installing and setting up Architect is simple and one can use documentation as guidance. The front-end is visual, displaying projects in a beautiful and easy to navigate design. A slider is included in the theme to showcase important content. The custom post types projects feature is ideal when setting how projects are displayed.
With a load speed of A97%, Architect ranks as the fastest loading architect design theme. The theme is also responsive and displays across all browsers. Unlimited color schemes and the multilingual features are ideal for crafting a website for a specific audience.
Learn More
Get Hosting
These WordPress themes come in 3 different versions with different objectives and pricing. One can pick a standard, developer, or the club member package. Each version has a demo and documentation to assist in setting up the theme. Other great features that come with purchasing any of the two themes includes:
SEO optimized
Reliable customer support
Clean coding that adheres to the latest WordPress practices
Child themes for those who want to customize the theme.
Creating a WordPress website is economical thanks to well-priced themes such as Studio 8 and Studio 9. WordPress themes for creative agency can go a long way in delivering desired results. Studio 8 and 9 provide the best choices for developing a creative agency website at pocket-friendly cost.
Agency, Architect, Business, Studio 8, Studio 9, WordPress Themes