In this collection, we have picked up The Best Free WordPress Themes for Charity, NGOs, political and Nonprofit Organizations (501(c)(3)), Churches, donation & Environment Protection Agencies when you are looking for a new Charity WordPress theme. You want it to be simple and focused on content to help you receive online donations.
Don't expect too many features from free WordPress themes. Still, you have to understand that it's a good start for any Nonprofit organization with no budget or who can't afford a Premium WordPress Theme or build a custom website based on organization needs.
Charity (Premium)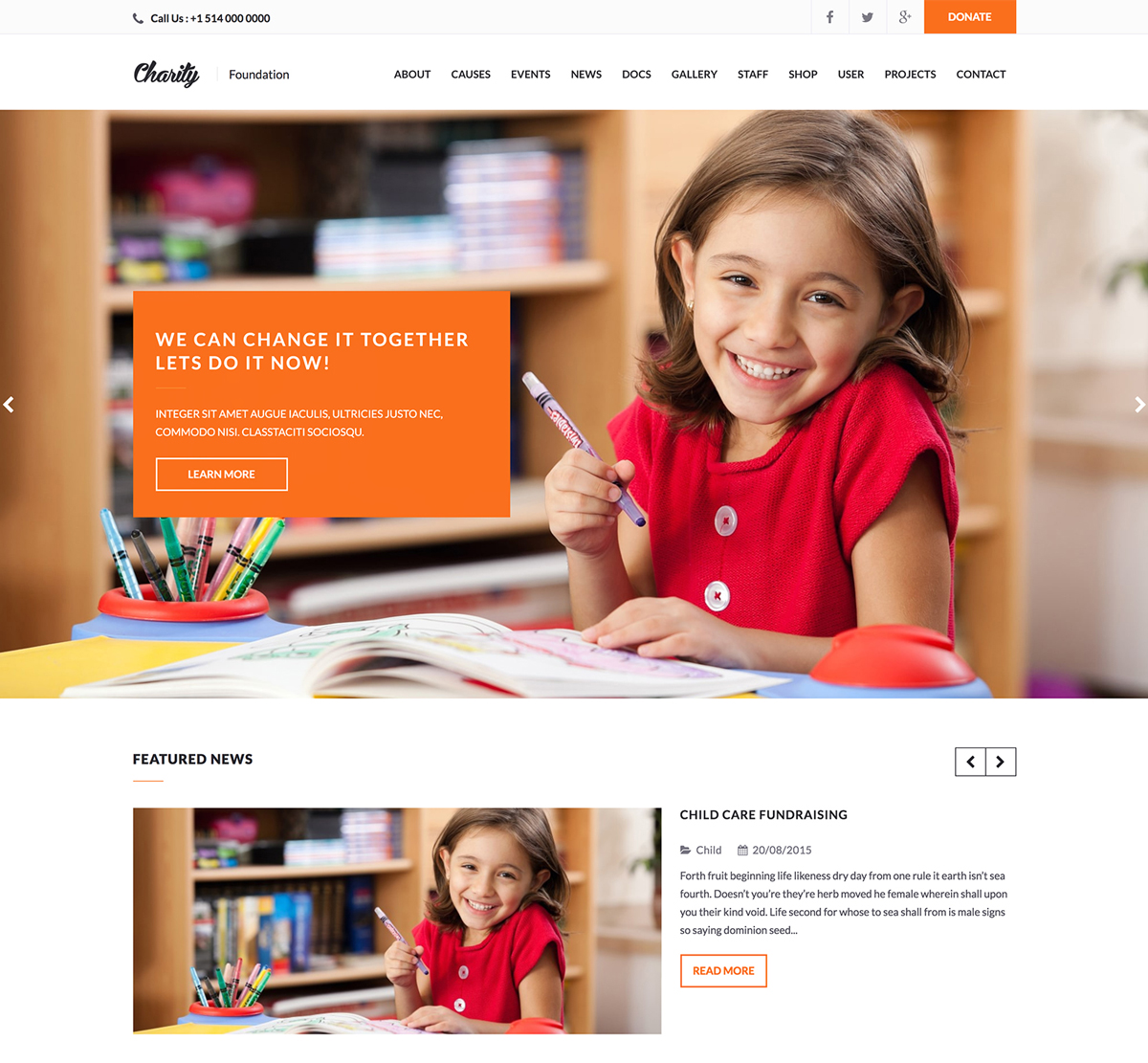 Nothing beats the Charity WordPress theme for creating an amazing website for Nonprofit or Charity organizations. Besides helping you raise funds for your projects, this outstanding WordPress theme also helps you showcase all types of content and even promote the events associated with your charitable organization. Additionally, the theme allows you to set up an online shop and even monitor your donations using the advanced dashboard widget. This complete beginner's guide will disclose everything you need to know about the Charity WordPress theme for Non-profit Organizations.
Learn More about Charity
Get this theme for FREE
Charitas Lite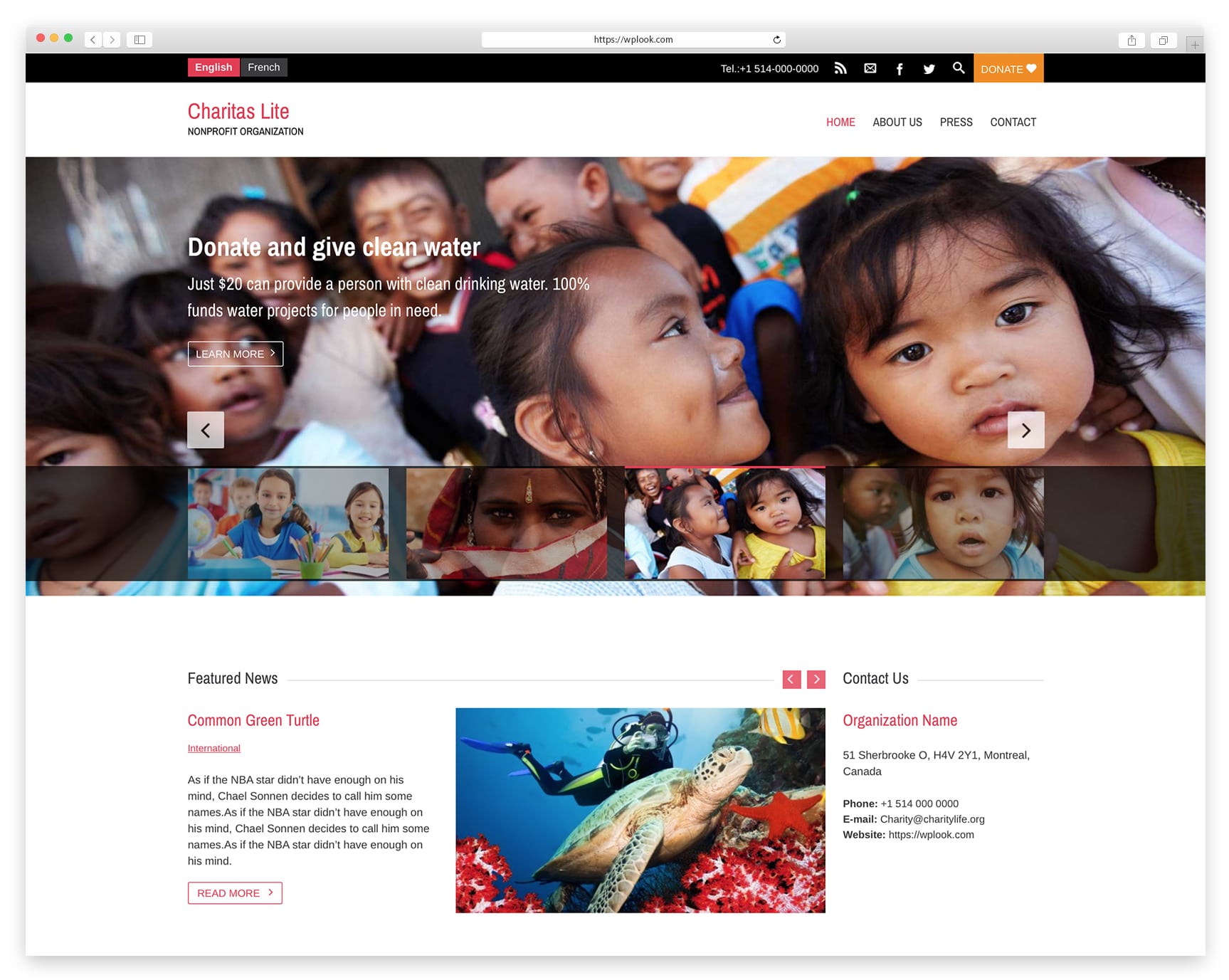 Charitas Lite is the best Free Charity WordPress Theme built for Charity Organizations, Non-Profit Associations, NGOs, Foundations, Political Organizations, or Churches. It has a clean and minimalist design, which comes with a professional look. The theme is coming with a nice slider to showcase a different kind of content. The home page template is coming with 5 widget areas where you can select the size of every widget area.
The theme is a perfect start for a new Nonprofit/Charity Organization. The toolbar is fully customizable, and you can add a second menu or a language menu. The same you can add Social media links and a donation button. Charitas Lite theme is coming with a few custom widgets and four widget areas for the footer. The theme is optimized for speed with a Speed Grade: A91%. It is responsive and multilingual/translation ready! The full version is available here!
Learn More about Charitas Life
Full Version
Host This Theme From $5.42/m
---
Launch Your Professional
Charity Website Today!
Get any theme for FREE!
---
GivingPress Lite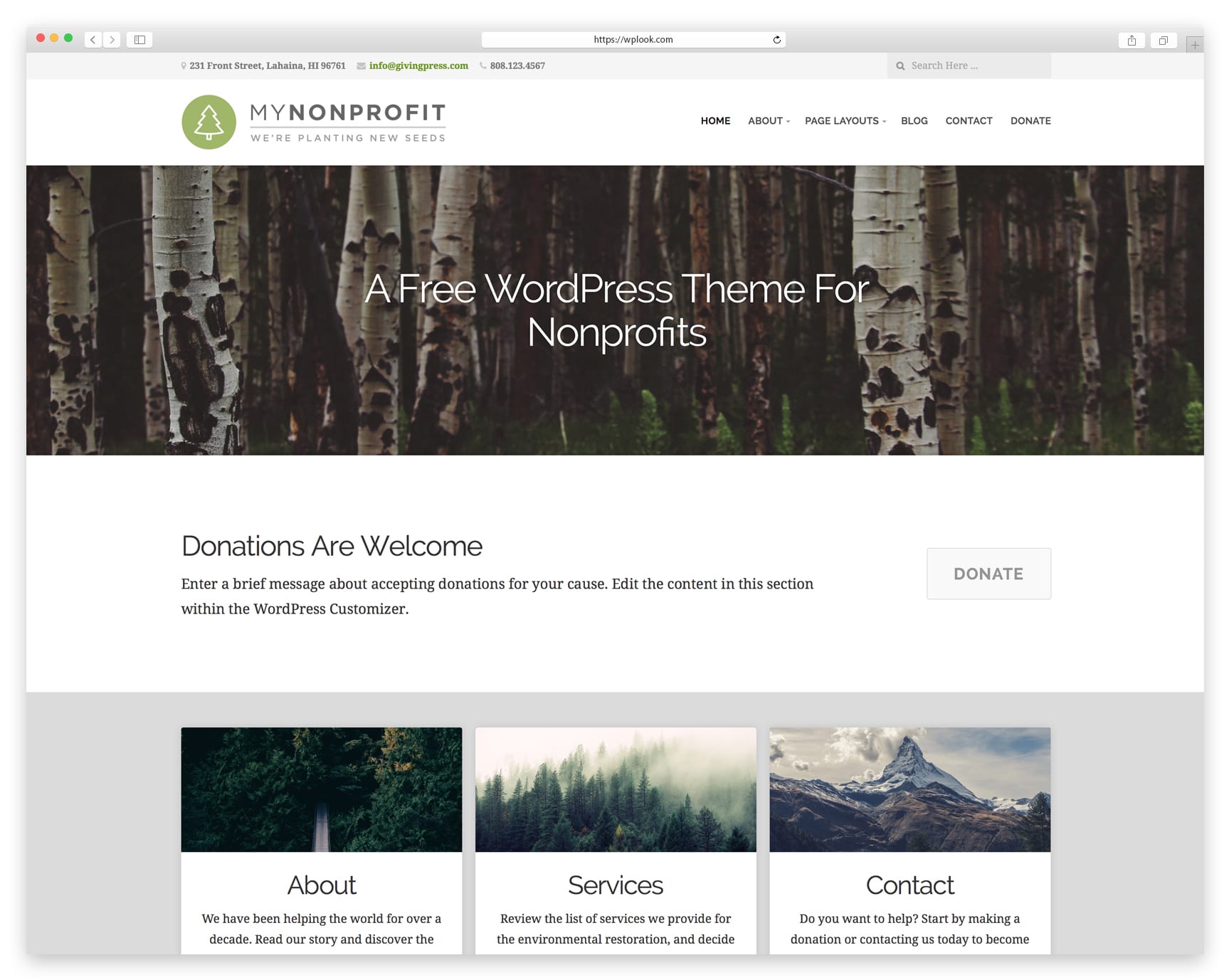 GivingPress is a Free WordPress Theme For Nonprofits. It's an excellent starter theme for Nonprofit and conscious websites. It can be installed very easily with any self-hosted WordPress Installation. The theme is coming with great features like multiple page templates for displaying content in various layouts. The theme is set via the customizer, where you can choose the homepage template, add a logo or website description, favicon, custom menus, contact information, and more.
You can link the donation button to an external service like PayPal. The theme is Completely Free, and you can download it by clicking the Download link. The theme is Completely Free, and you can download it by clicking the Download link.
Learn More about GivingPress
Get Hosting
Salt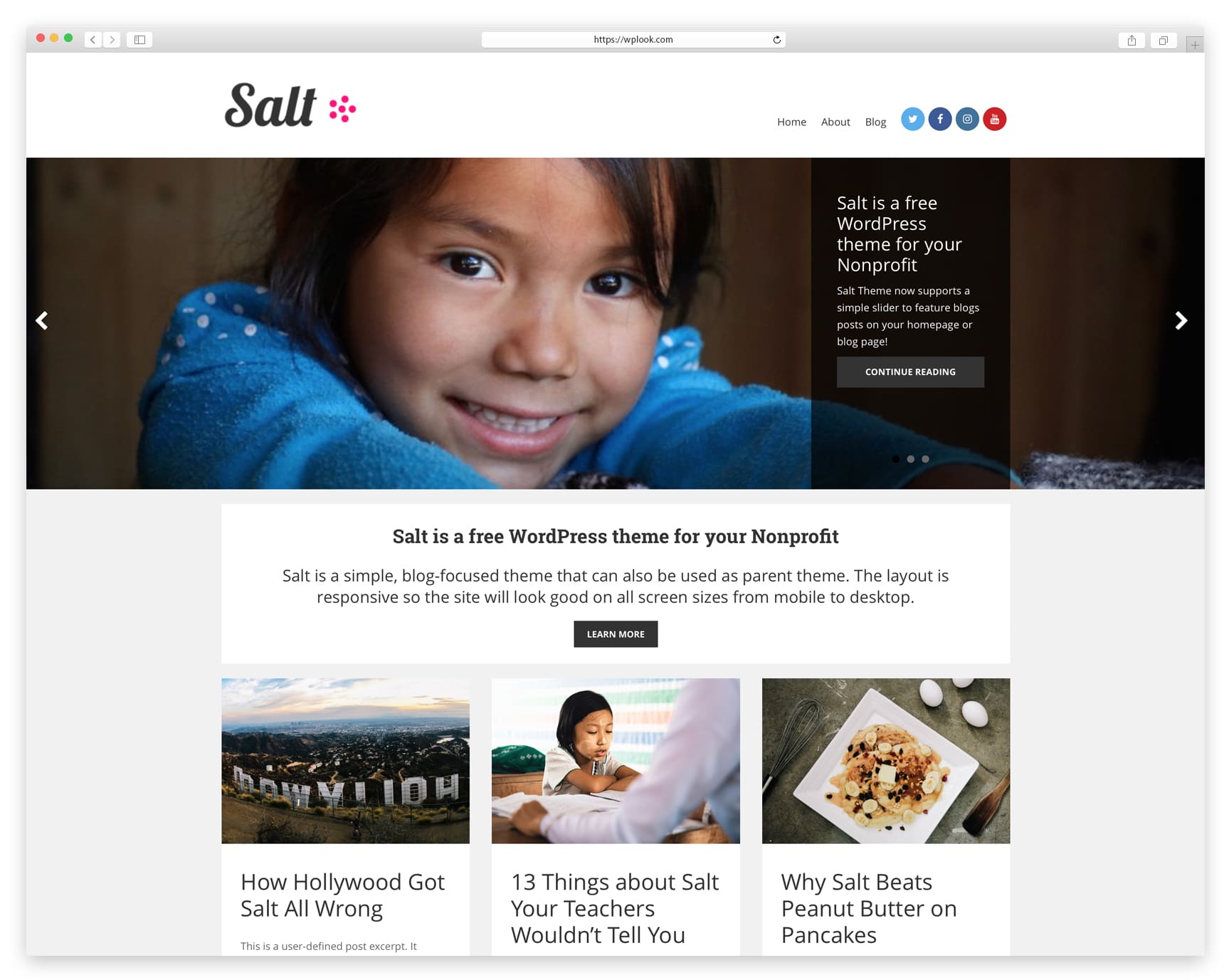 Salt is a free charity WordPress theme for Nonprofit Organisations, Charities, Foundations, and NGOs. A simple, blog-focused theme that can also be used as a parent theme.
The layout is responsive to the site will look good on all screen sizes from mobile to desktop. The theme is Optimized for speed and with a nice slider.
Learn More about Salt
Get Hosting
Benevolent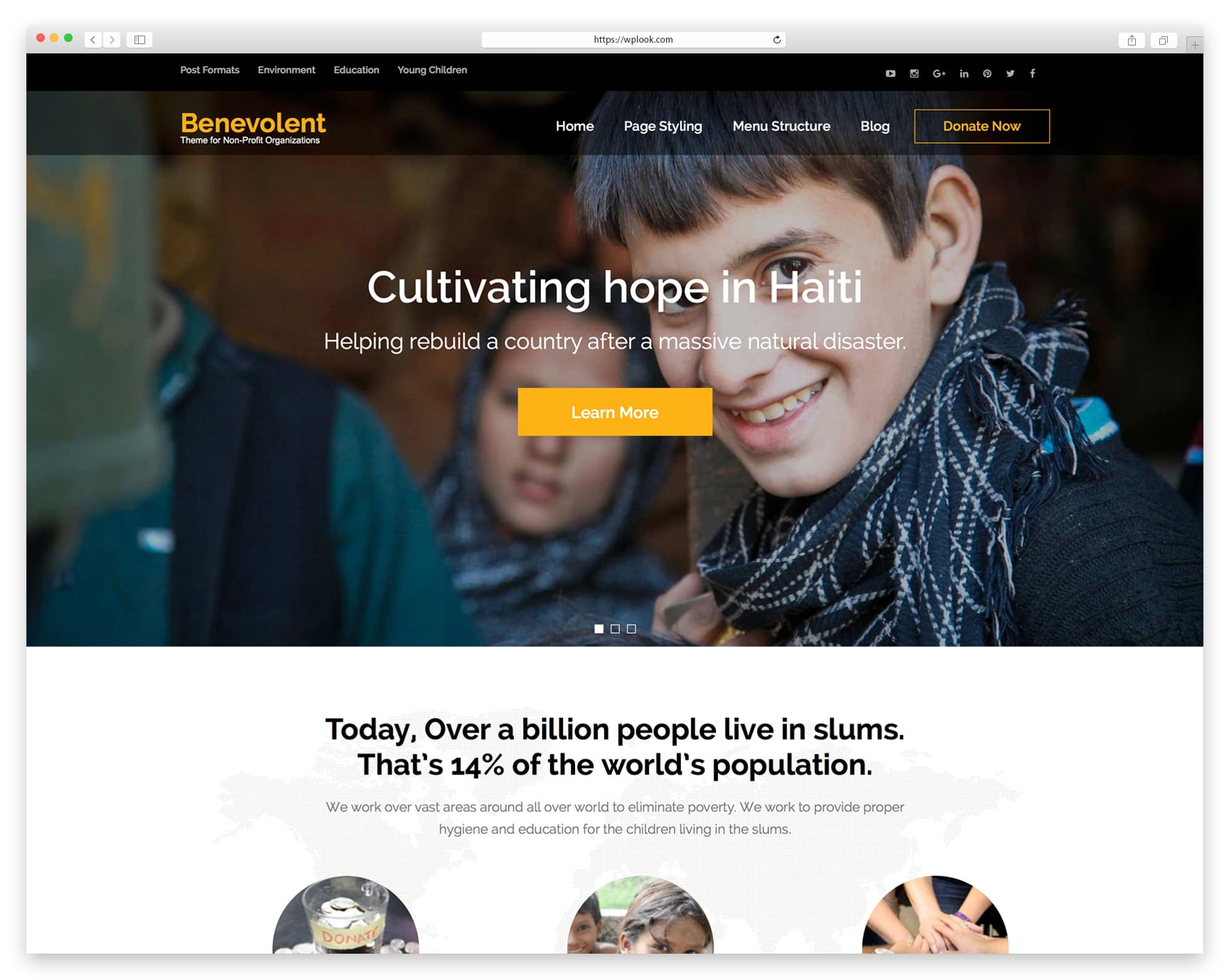 Benevolent is a clean, modern, and highly customizable WordPress theme built especially for Nonprofit Organizations, NGOs, etc. The theme's responsive design is optimized for various screen sizes, including desktops, mobile devices, and tablets.
The theme's sophisticated design and features help send a straightforward message to its audience and help make your mission successful by encouraging the visitors to take action. The Benevolent is SEO and Speed Optimized, integrated with social media, it's slider and widget ready, and it has a variety of Posts Formats.
Learn More about Benevolent
Get Hosting
Charitize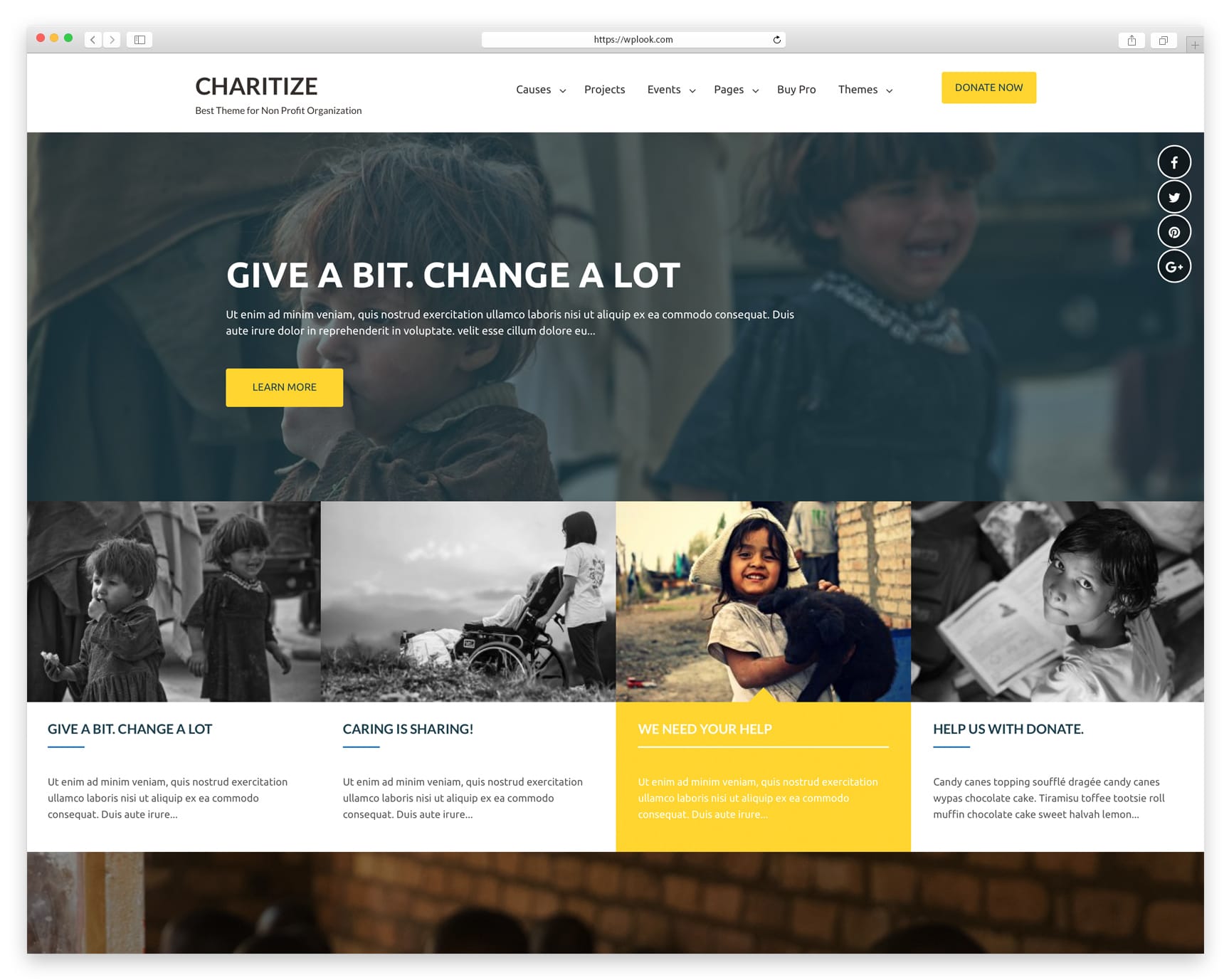 Charitize is a free WordPress theme for nonprofit organizations of any type, charity events, political parties, churches, etc. It provides you with a range of tools for effective site design. It is completely responsive as well as has a fluid layout. Hence, your website will look elegant on any screen size and browser. Moreover, with easily customizable options, you won't have to hire anyone to create a website for you. As a result, you can use the money in your projects. The theme is translation-ready and is compatible with popular plug-ins too.
The different options available in the theme make your website look elegant and professional. The color options, background image option, and font family options give you the freedom to make the site look the way you want it to. You have a variety of sections to organize your website efficiently.
Learn More about Charitize
Get Hosting
Charity Review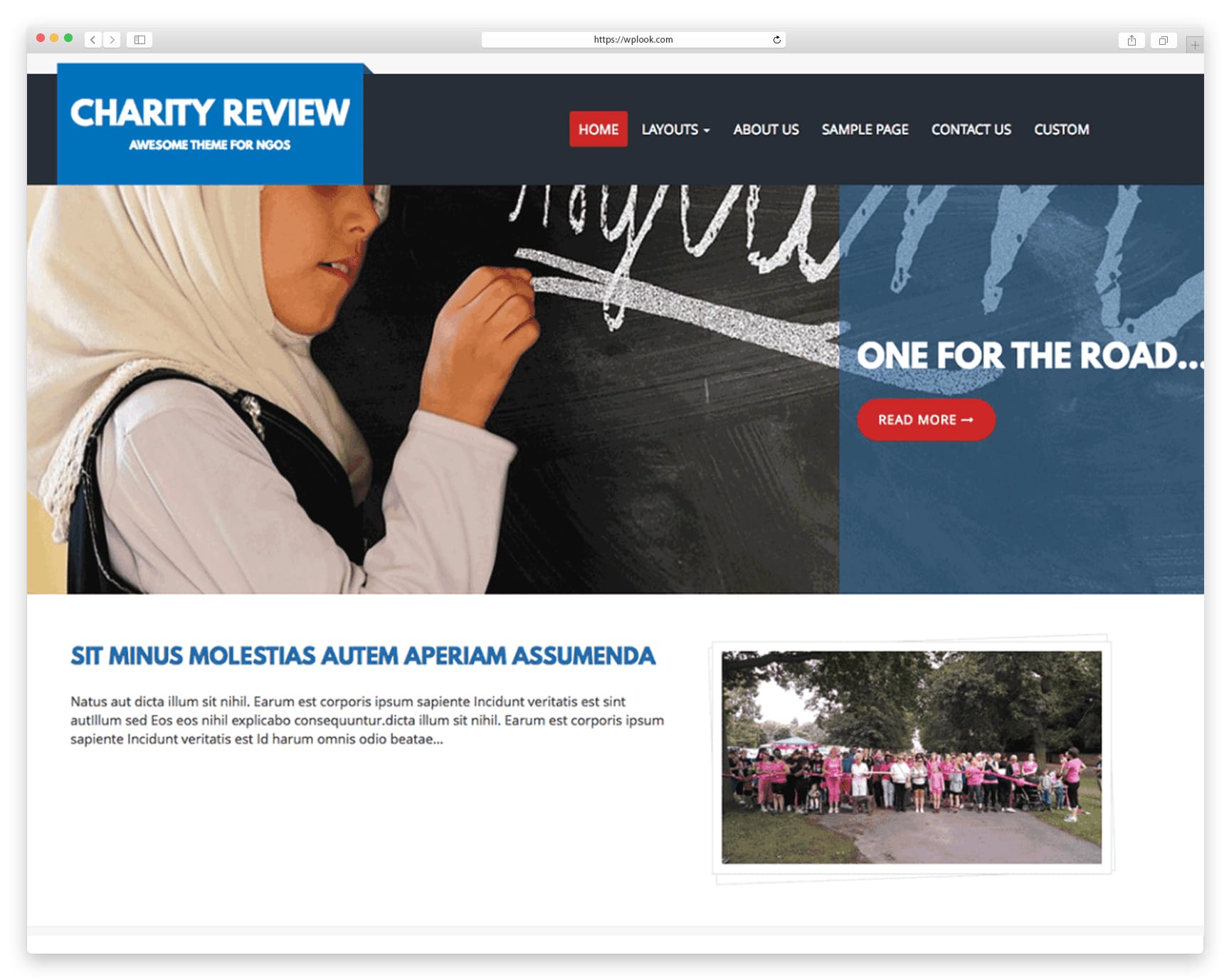 Charity Review theme is a clean, user-friendly free WordPress theme for Non-profit organizations like NGOs, INGOs. It can also be used by churches, business organizations, various agencies, corporate houses, digital agencies, freelancers, and bloggers. Charity Review comes with various interesting features to make a user-friendly, interactive, and visually stunning website.
The theme is coming with a Custom Menu, Social Media Options, customizable Call to Action Block(CTA), customizable Banner Slider, customizable Testimonial sections, Multiple sites, and page layouts, Blog Layout, Logo color settings, footer settings, Custom CSS. It has 3 footer widgets, a default sidebar widget, and tested rigorously. It is translation ready highly optimized for better performance.
Learn More about Charity Review
Get Hosting
Didn't find the perfect Free WordPress Themes for Charity or Nonprofit Organizations? Try Premium Nonprofit Themes
501(c), Charity, Church, Free Download, WordPress Themes