Using an image optimization plugin makes all the difference when posting images on your website or blog. With a good plugin, you don't have to worry about resizing your images before you post them. It makes the process of posting your images automatic saving you a lot of time. If you have been experiencing challenges with posting images to your site, then it's time to look for a good image optimization plugin. Below, you can find some of the most popular plugins to optimize images on WordPress:
Imagify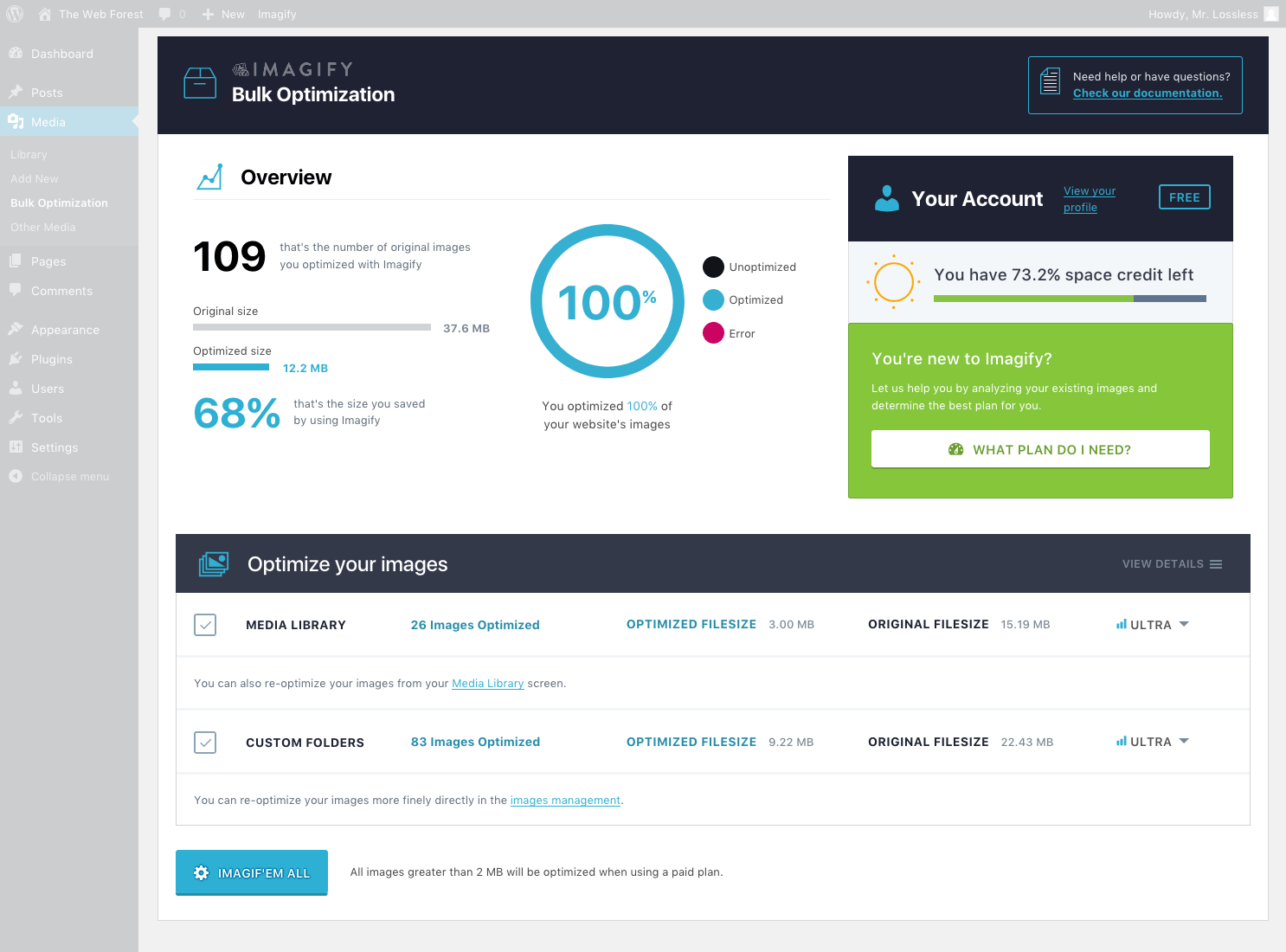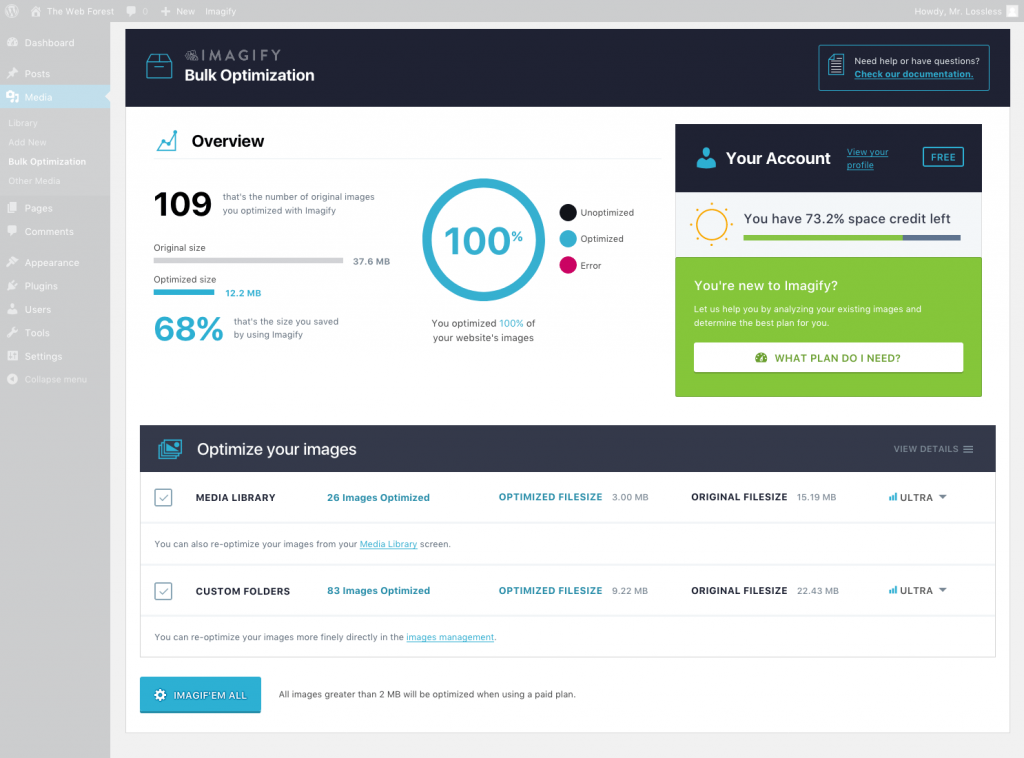 Imagify is a great tool that is powerful and easy to use. This plugin is perfect for users who want to increase the speed of their website or blog. It works on the compression technique of resizing images and as a result, the images are light without compromising the quality. Once you install Imagify on your WordPress site, all the images will be automatically optimized. You don't have to worry about resizing images every time you want to upload them.
The best thing about this plugin is the ability to optimize images that are already uploaded before installing it. Imagify is compatible with WooCommerce and NextGen gallery. You can optimize for free ~ 250 images/ month and you will receive a 25MB bonus upon registration.
Learn More about Imagify
WP Smush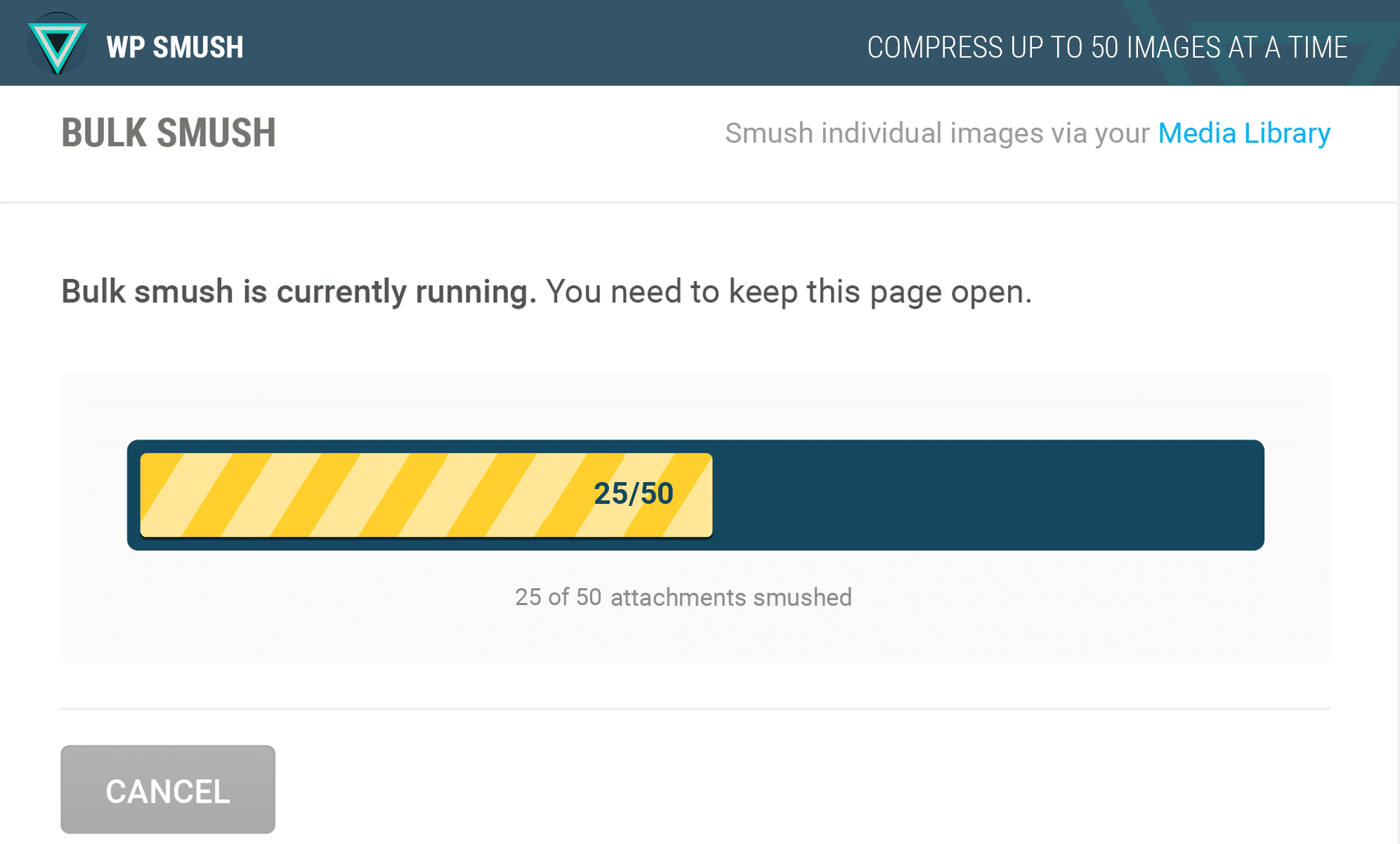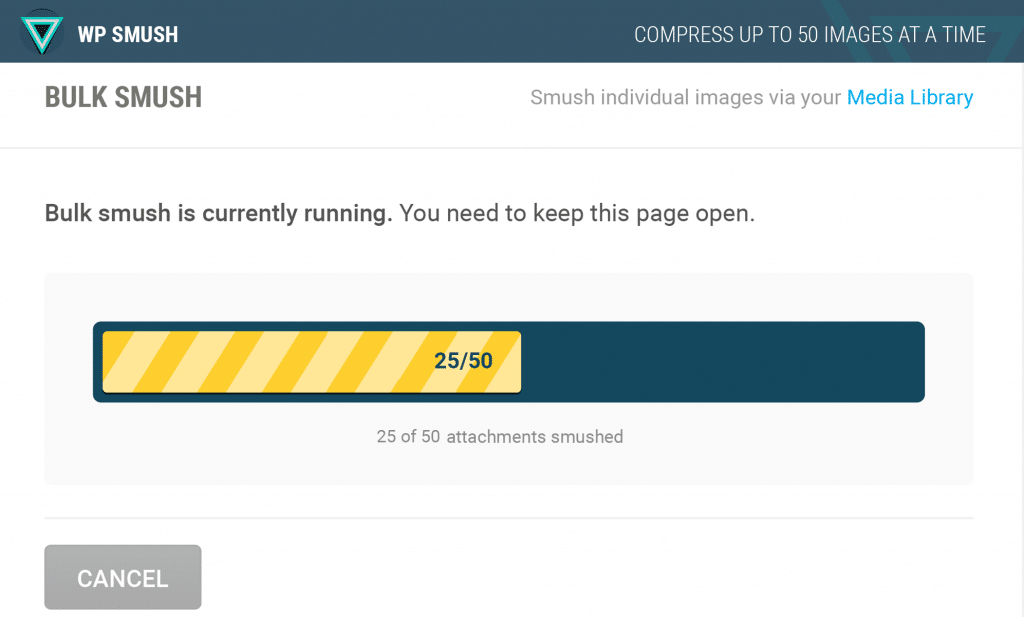 With over 2.7 million downloads available today, Smush is one of the most popular image optimization plugin for WordPress. This awesome plugin gives you control when optimizing your website and you have the freedom to choose the width, length, and height of your images before they are optimized. It is a great plugin that compresses JPEG, GIF and PNG images. After choosing the dimension, the optimization is done automatically from the server for all images you are planning to upload and also the existing ones. This plugin makes the images less bulky by eliminating all the information that you don't need in the images.
You reduce the storage space and still maintain the quality of images. Smush Image Compression and Optimization is compatible with most of the media library plugins and it images in your library one at a time or bulk smush up to 50 images at a time.
Learn More about WP Smush
EWWW Image Optimizer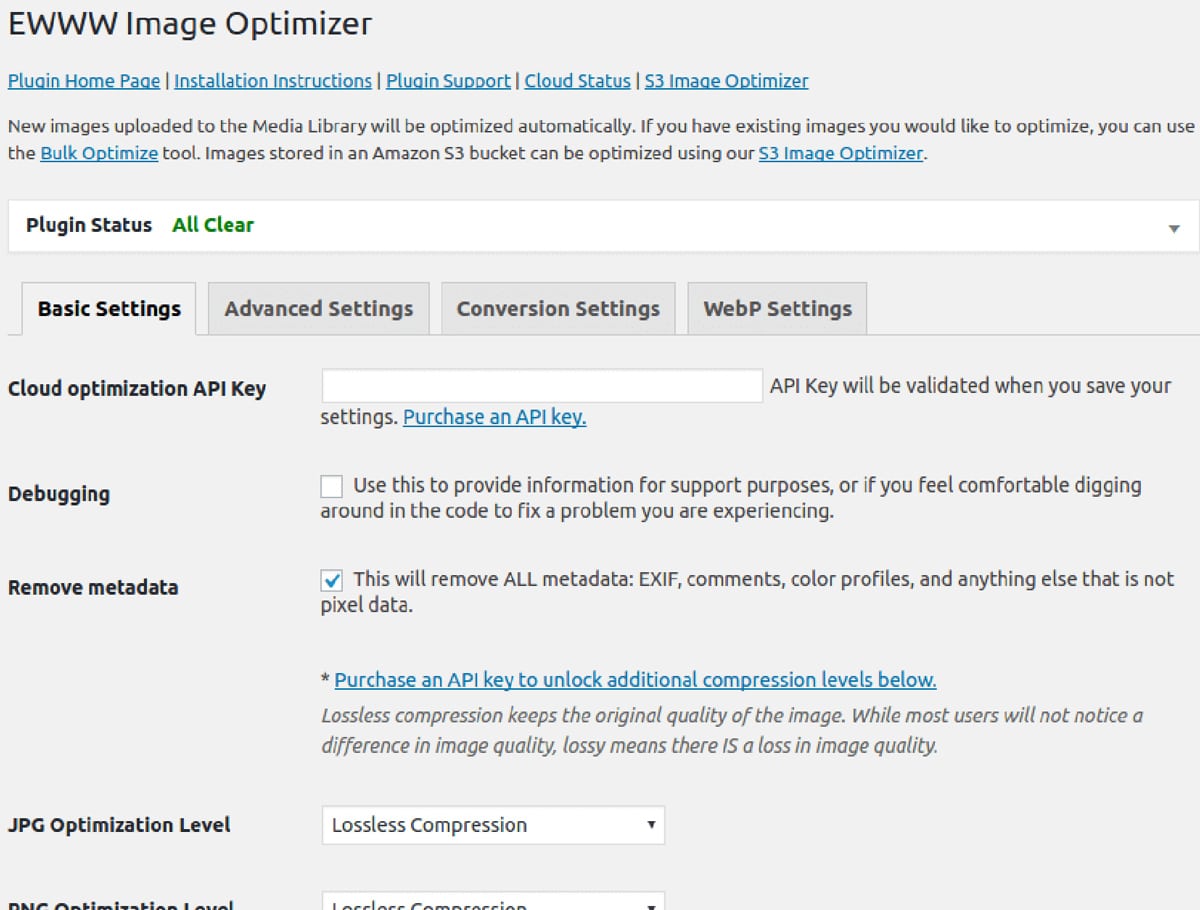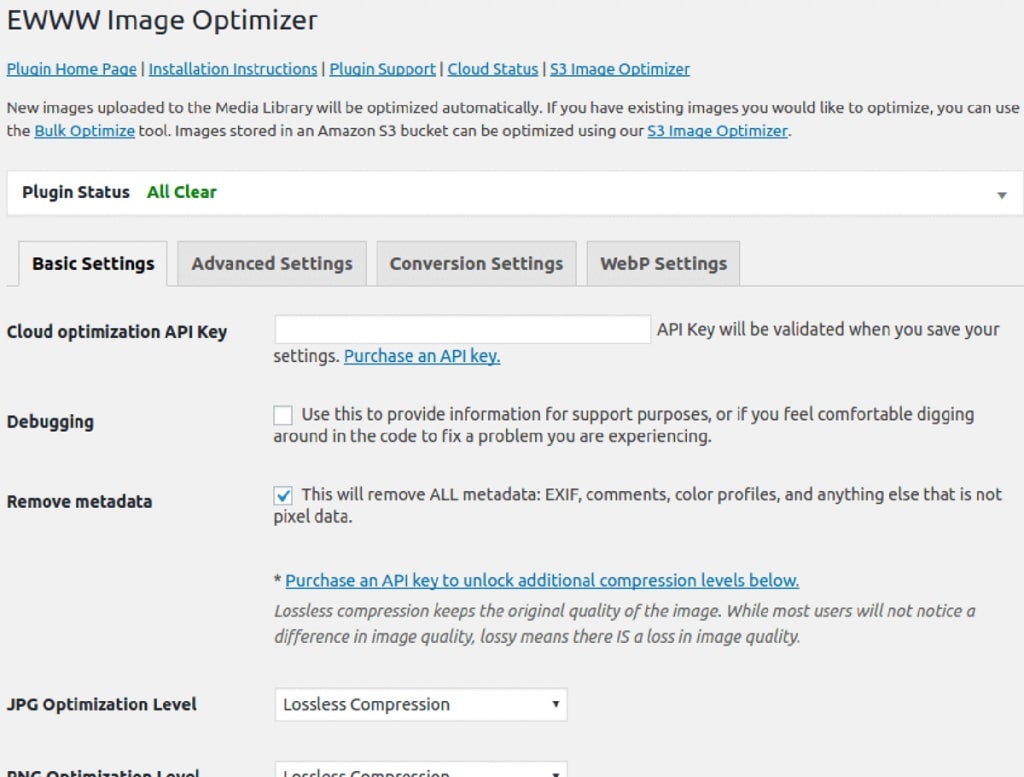 EWWW Image Optimizer makes it possible to choose perfect compression or high compression. With high compression, the images will be less appealing, but with perfect compression, the images are optimized without affecting quality. EWWW Image Optimizer allows you to optimize all the image formats that are available and you can upload images without delays.
With this kind of plugin, you can optimize all your images from a single page using the Bulk Scanner. This includes the Media Library, your theme, and a handful of pre-configured folders.
Learn More about EWWW Image Optimizer
ShortPixel Image Optimizer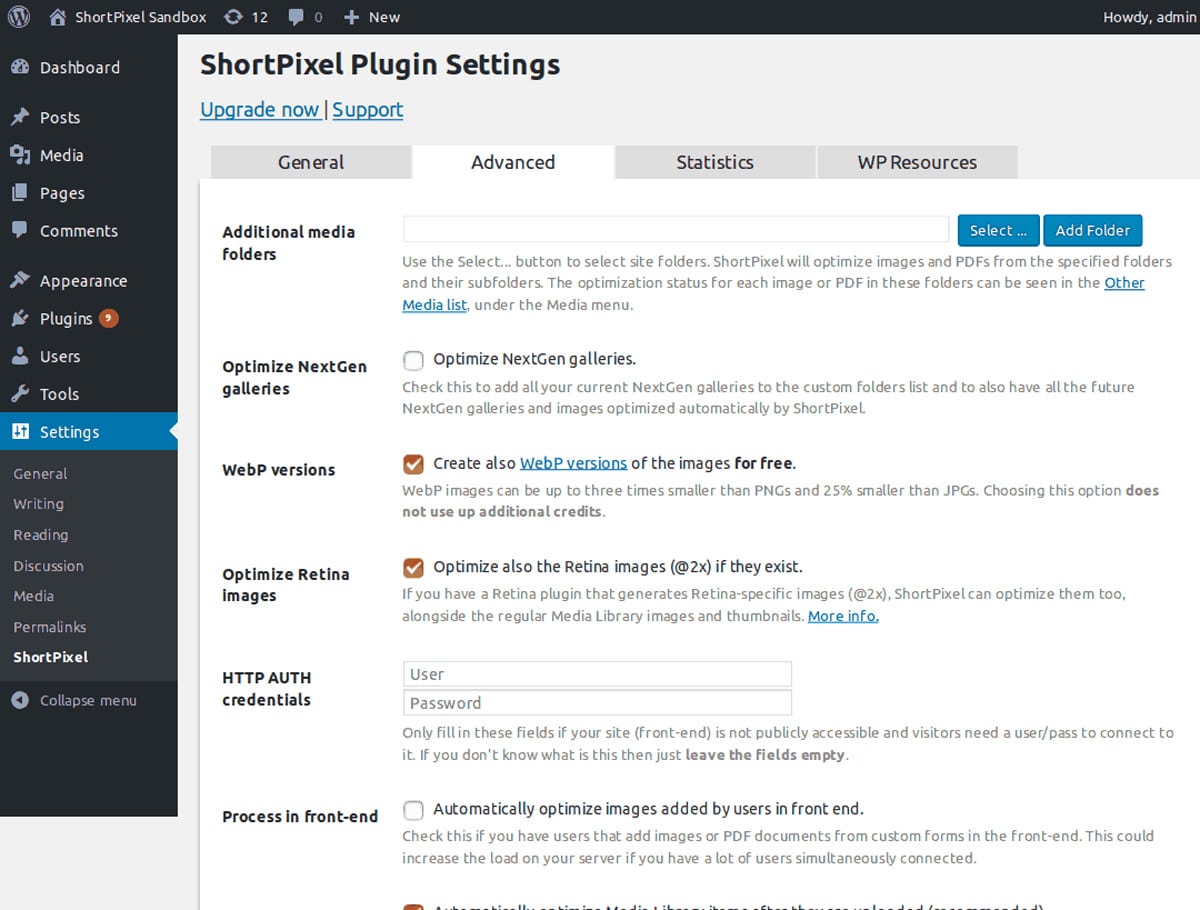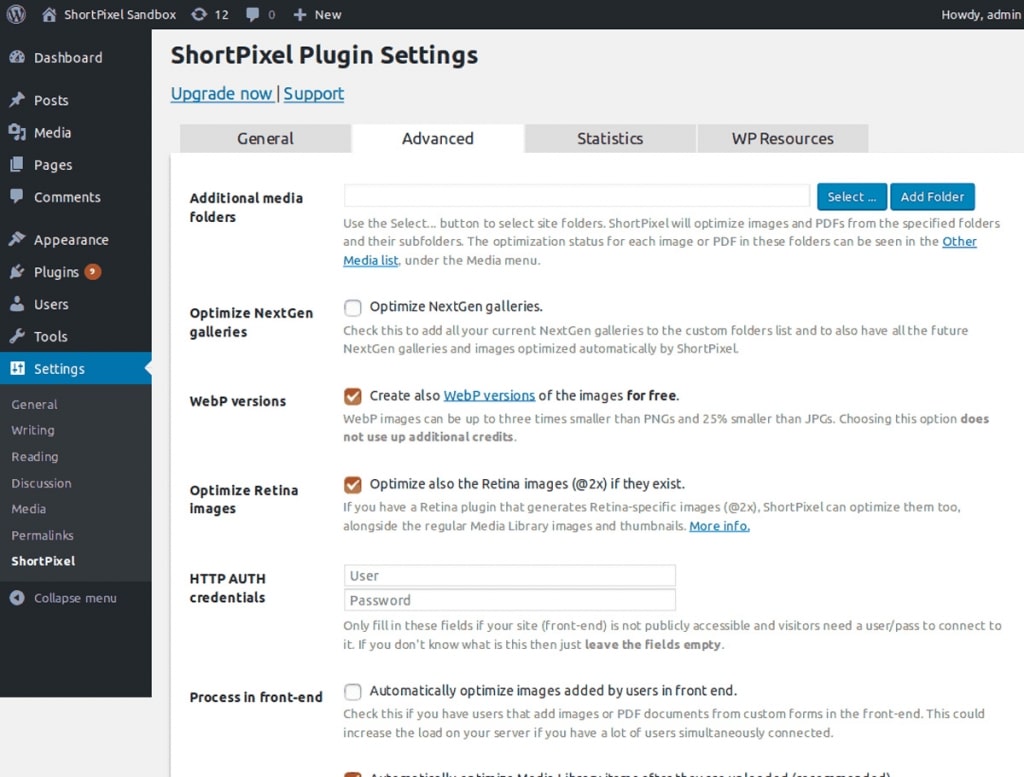 When looking for an image optimization plugin, it is important to consider ease of use. If you do not consider yourself tech-savvy, then ShortPixel Image Optimizer is the best plugin for you. It is easy to use, stable and you will always get customer support whenever you encounter a problem. The best thing about using ShortPixel is the fact that it does not have a file size limit.
It is also possible to optimize all the image formats including PNG, JPG, GI, and others. Since this plugin makes your website fast, you will notice an improvement in your page ranking. It comes with 100 free credits/month and additional credits can be bought with as little as $4.99 for 5,000 image credits.
Learn More about ShortPixel Image
Imsanity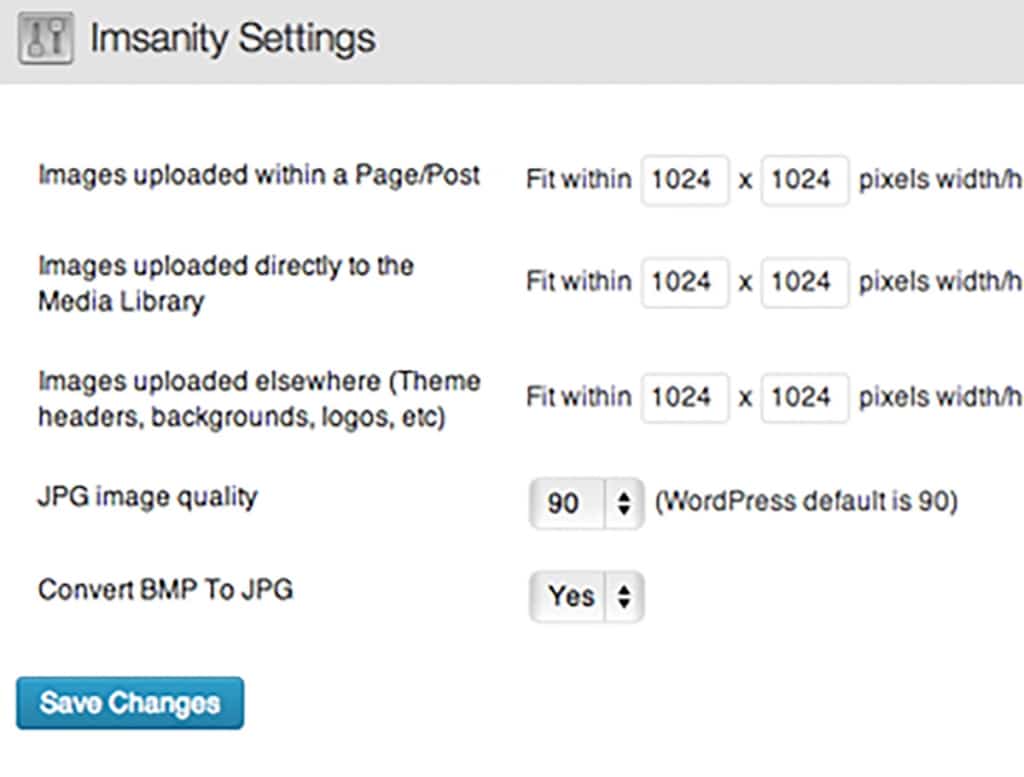 If your blog does not require the use of original and high-quality images, then Imsanity is the right plugin for you. Once you install it on your site, you will be required to configure the width and length of images that you want to be uploaded.
Every time you upload large images, they will be automatically resized to the size of the configuration. The plugin is available in many languages, and once you install it, you can always adjust it to the language of your choice.
Learn More about Imsanity
Compress JPEG & PNG images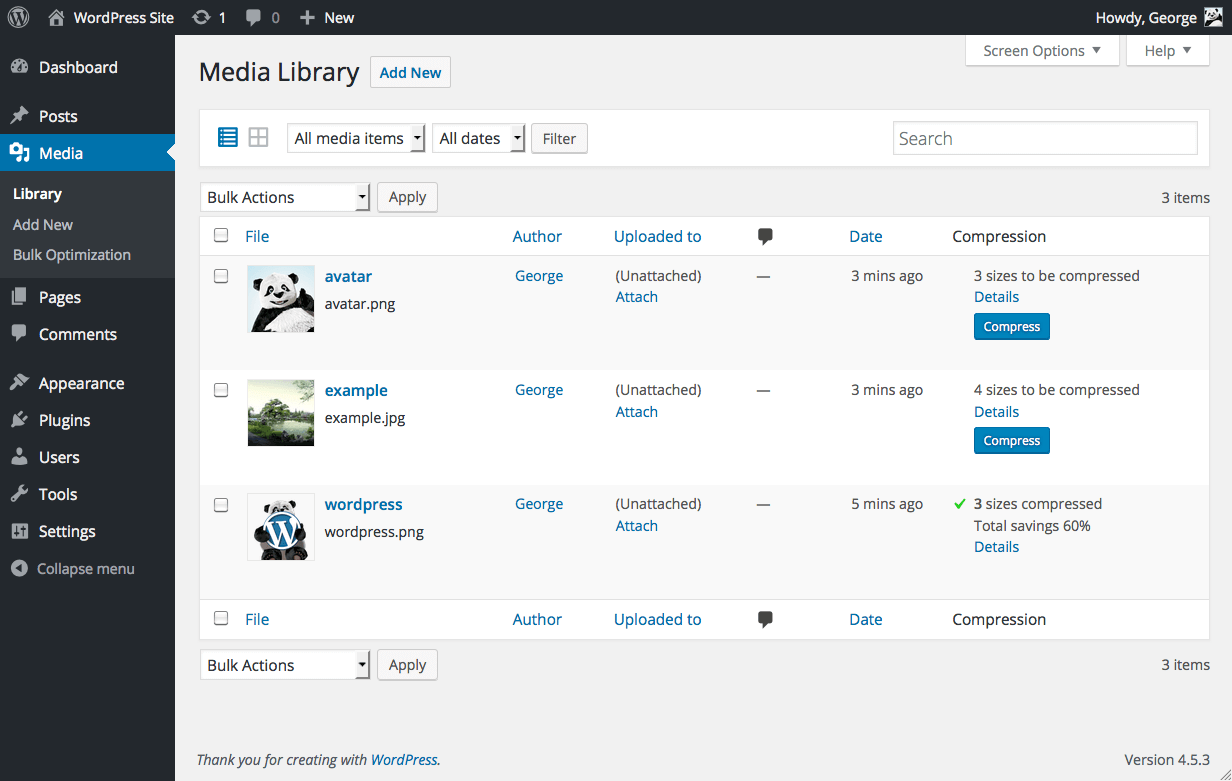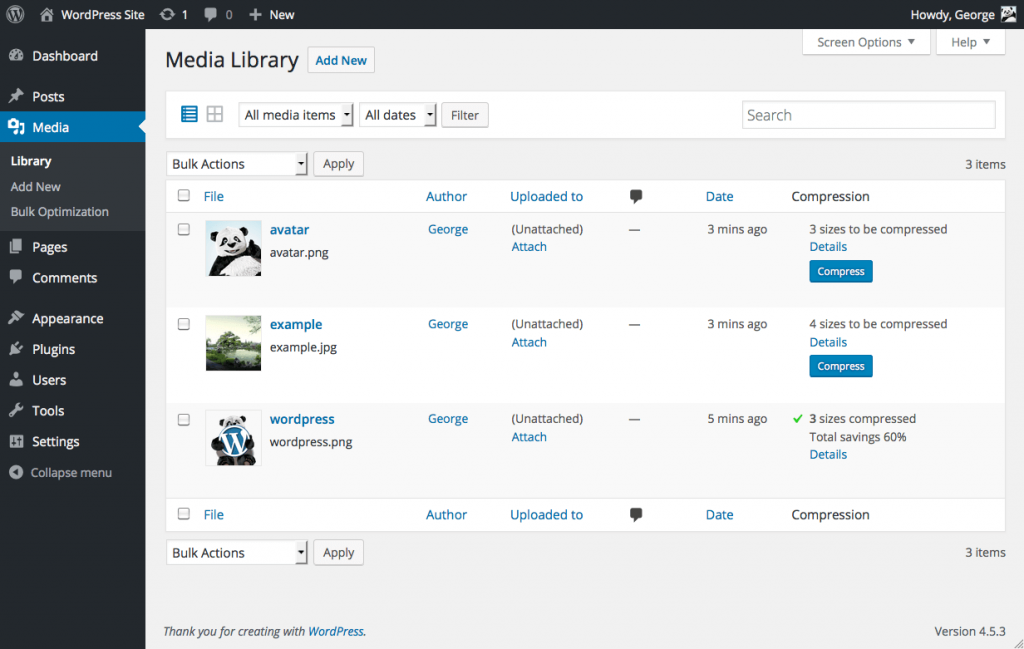 Using Compress JPEG & PNG images plugin, it is possible to optimize JPEG and PNG images. It does not have a file size limit, and this means that you can optimize as many images as you want.
This plugin gives you the freedom to optimize already existing images from your file as well as the images that you are planning to upload. It is easy to use, and you can upload up to 100 images per month. Heavy users might want to upgrade by paying a monthly fee.
Learn More about Compress JPEG & PNG images
Optimus – WordPress Image Optimizer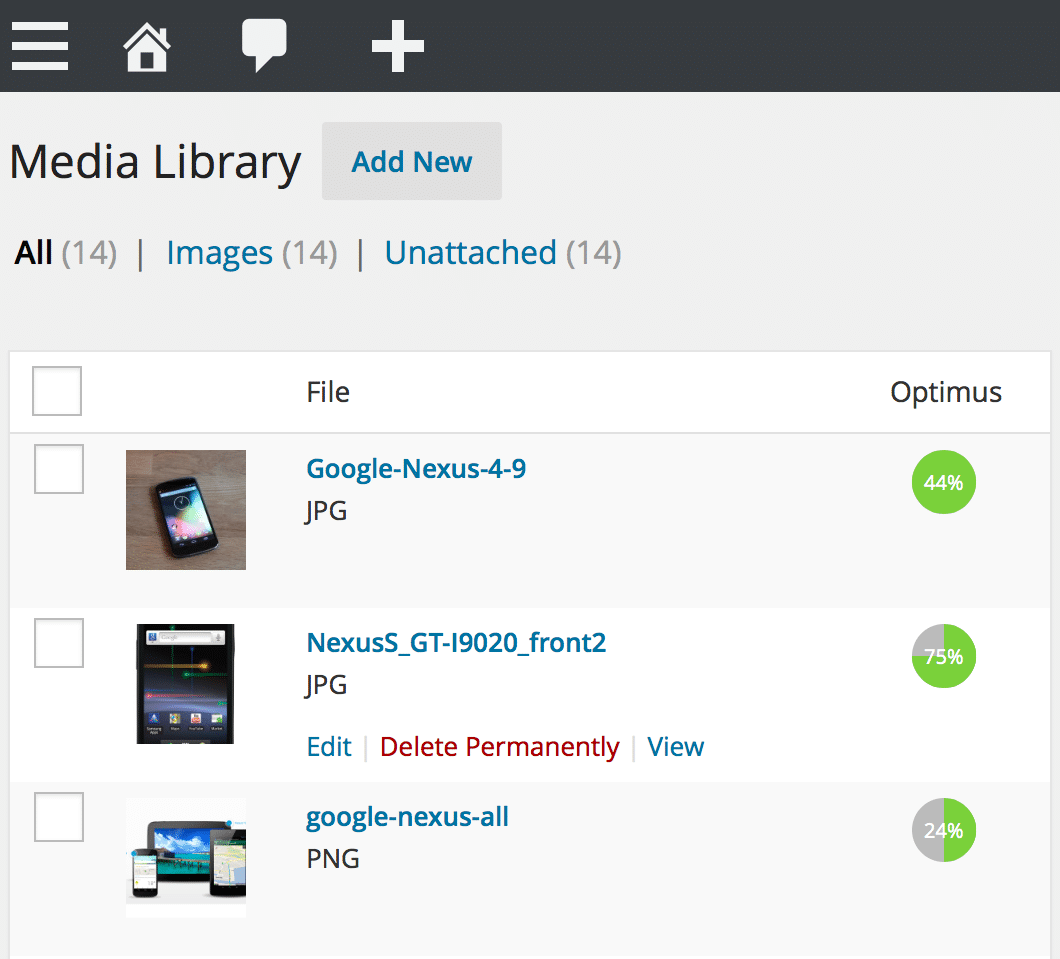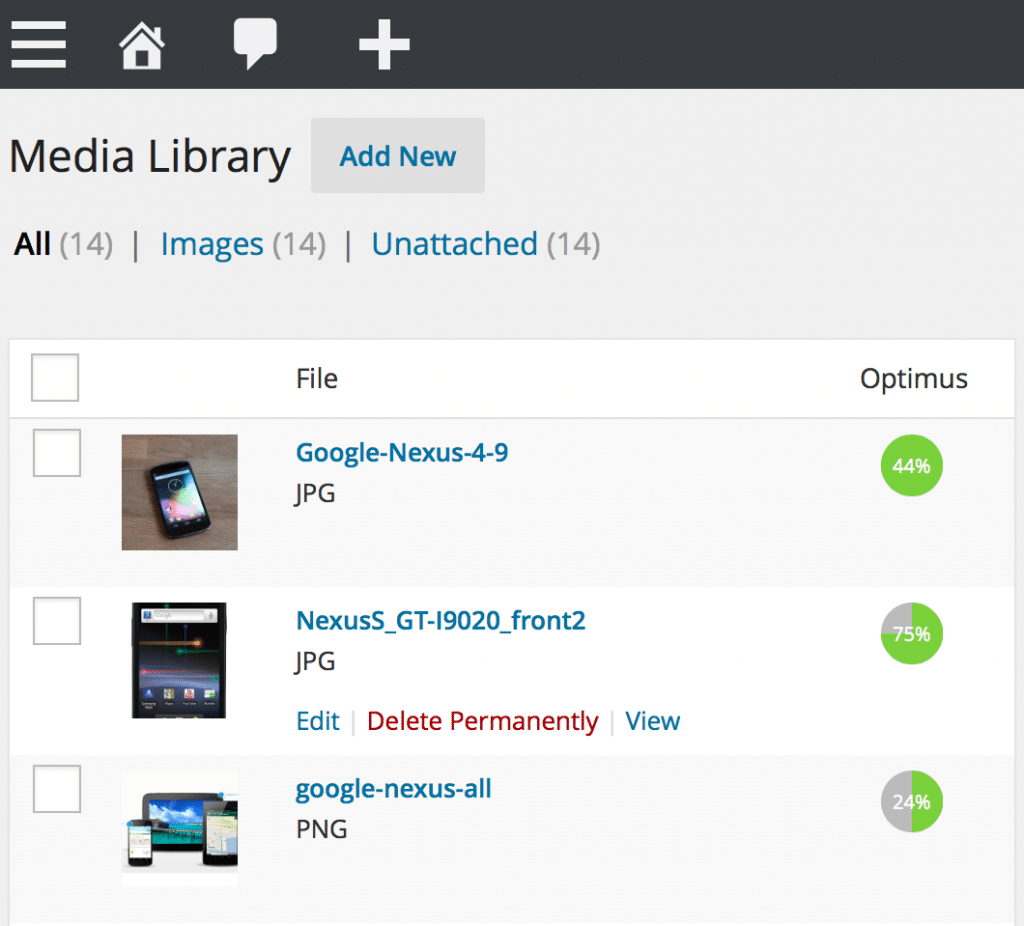 Optimus uses advanced compression technology that can reduce the size of the image and maintain technology. With Optimus, you have the freedom to choose the three versions that are available: Optimus free, Optimus HQ and Optimus HQ pro. The resizing and optimizing process is automatic, and it is done depending on the image format and size. You don't need to set any code before optimizing. The optimization is done in the background using advanced compression tools.
Learn More about Optimus
Conclusion
Image optimization plugins make the work of bloggers and online easy. Adjusting and resizing images takes a lot of work and especially when posting a lot of content. You need to have a plugin that will help you reduce the work and also improve the performance of your website.
Image Optimization Plugins