Domain names are your ultimate gateway to the online world. When you come up with a brilliant idea for your website, a compelling domain registrar is always a necessity. They are known for selling website domain names, and these domain registrars should offer a combination of the best features, services, and support. With more than 2,900 existing registrars, choosing the best one may be a daunting task. So which is your ideal option? Below we have compiled the best places to buy a domain name:
WPlook (Editor's Choice)
There is no list of website domain name registrars complete without WPlook. This company is a top-level provider that has an abundance of advanced features. Known for its cost-efficiency, high-grade security, automatic enhancements, reliability, scalability, in-built features, and impressive uptime.
It will always meet you at your point of need. WPlook offers the possibility to browse extensions by category .com; .net; .biz; .org; .info; .ca; .eu just pick the one you want . It also places an emphasis on good customer support, and it starts from $ 19.95 per year.
Visit WPlook
NameCheap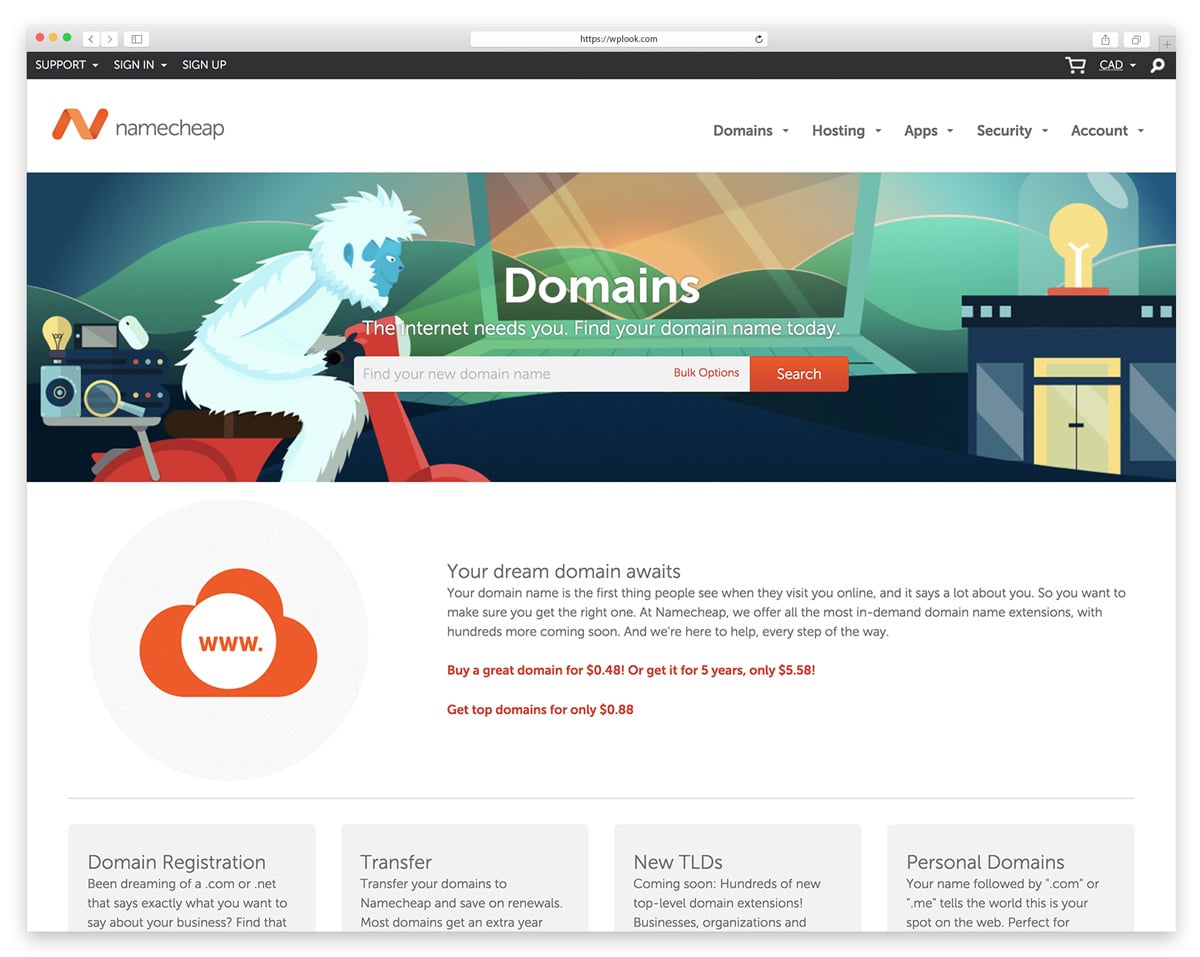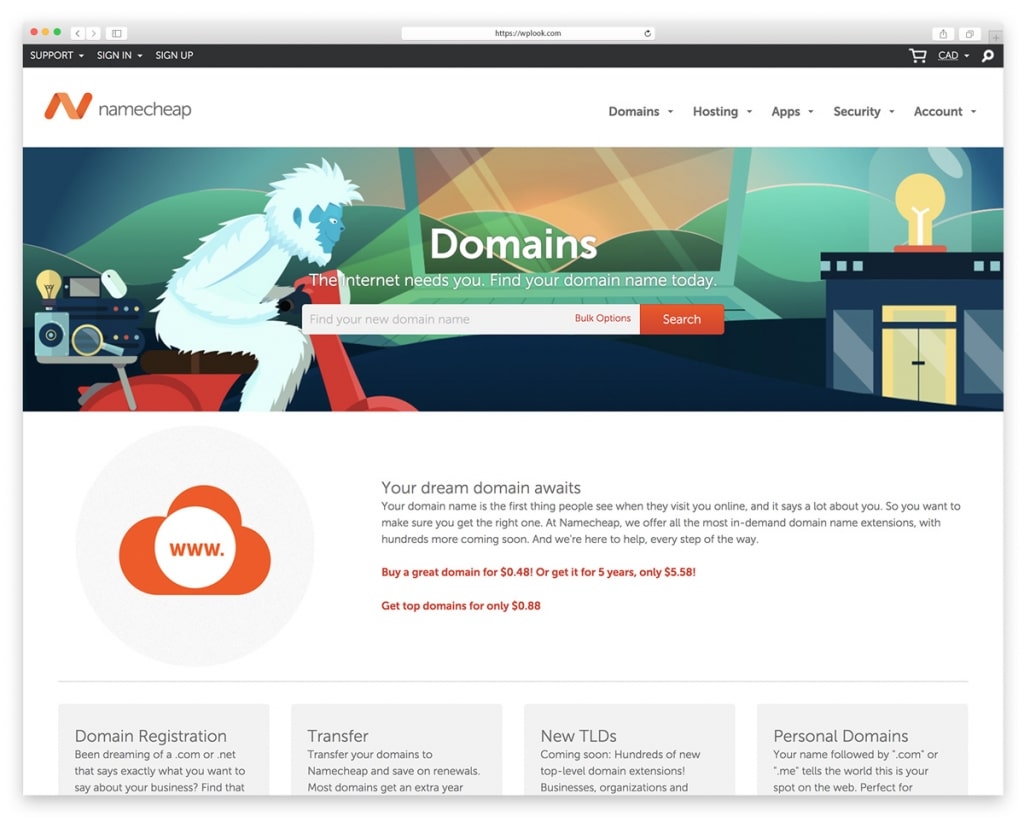 This is a solid choice for buying your domain name. It has a highly intuitive platform that is equally easy to use. NameCheap makes it possible to manage DNS or registrar transfers and enjoy WHOIS privacy during your first year. This is incredibly helpful for first-time buyers. The domains are reasonable in price and have extra features such as SSL encryption for those who are looking to secure their domain names.
When buying from Namecheap, you will enjoy rare prices and offers for specialty domains such as .tech and .blog. Namecheap's checkout process is swift and will ensure that you do not run into any setbacks. Domain extensions are as low as $12 to others running at $20 to $60 on a yearly basis.
Visit NameCheap
Bluehost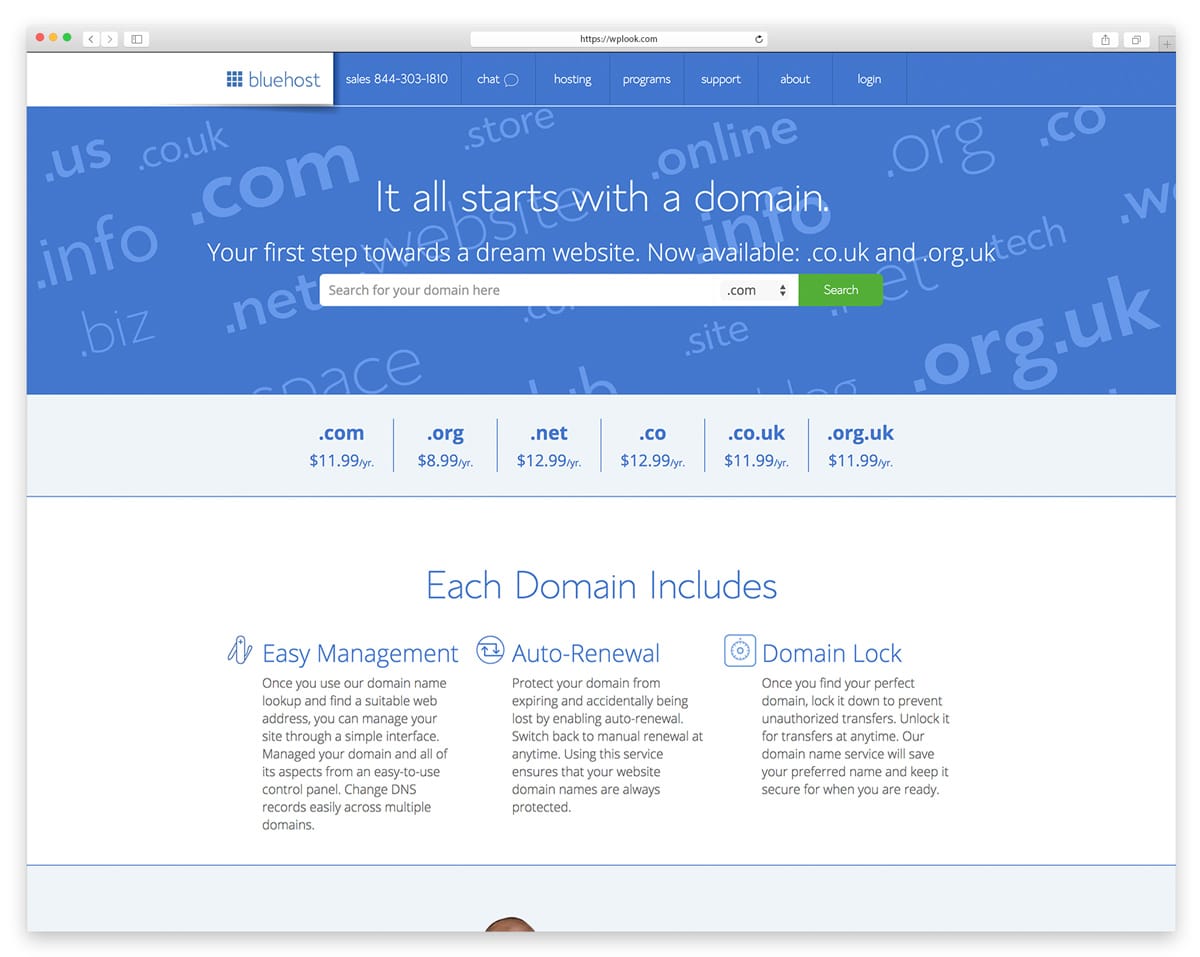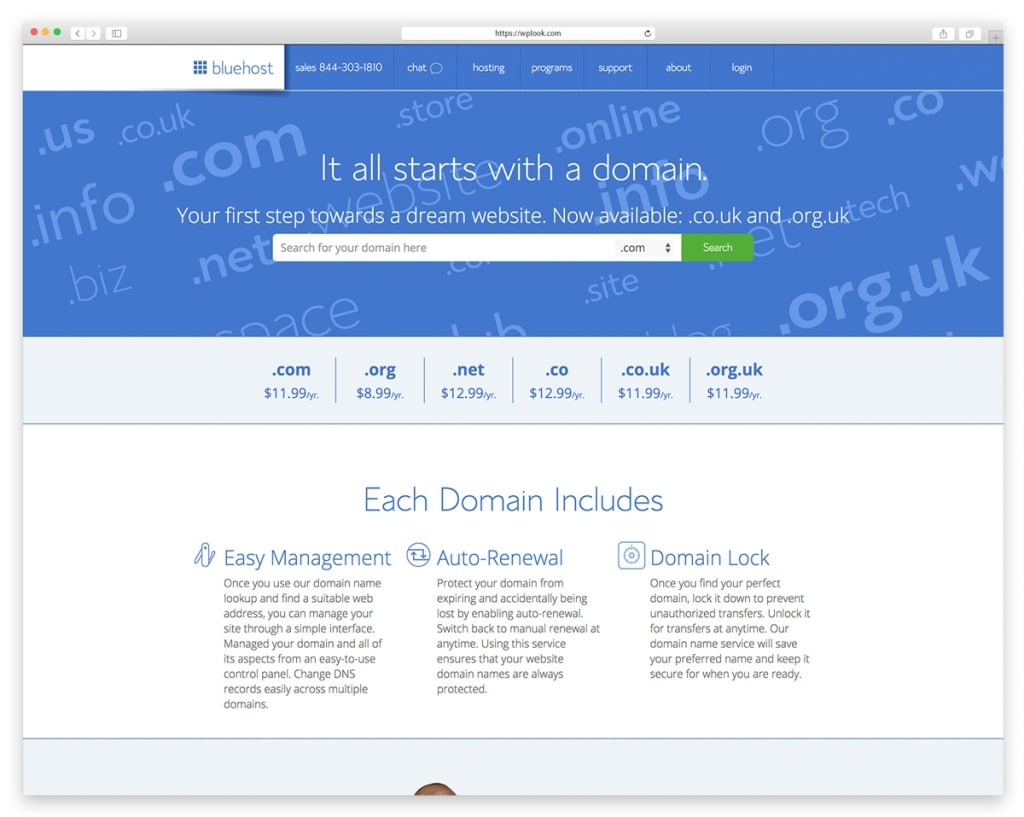 Bluehost is a veteran domain registrar that provides reasonably priced domain plans. For $2.95 all the way to $150, it has become popular amongst many small business owners. Its loading time of 0.93 seconds sets it apart from its competitors.
It also comes with enhanced security features that will ensure your website is well protected, free domain names and 14 top-level domain extensions, shared hosting, WHOIS privacy easy site transfers and a variety of packages for a variety of businesses.
Visit Bluehost
Google Domains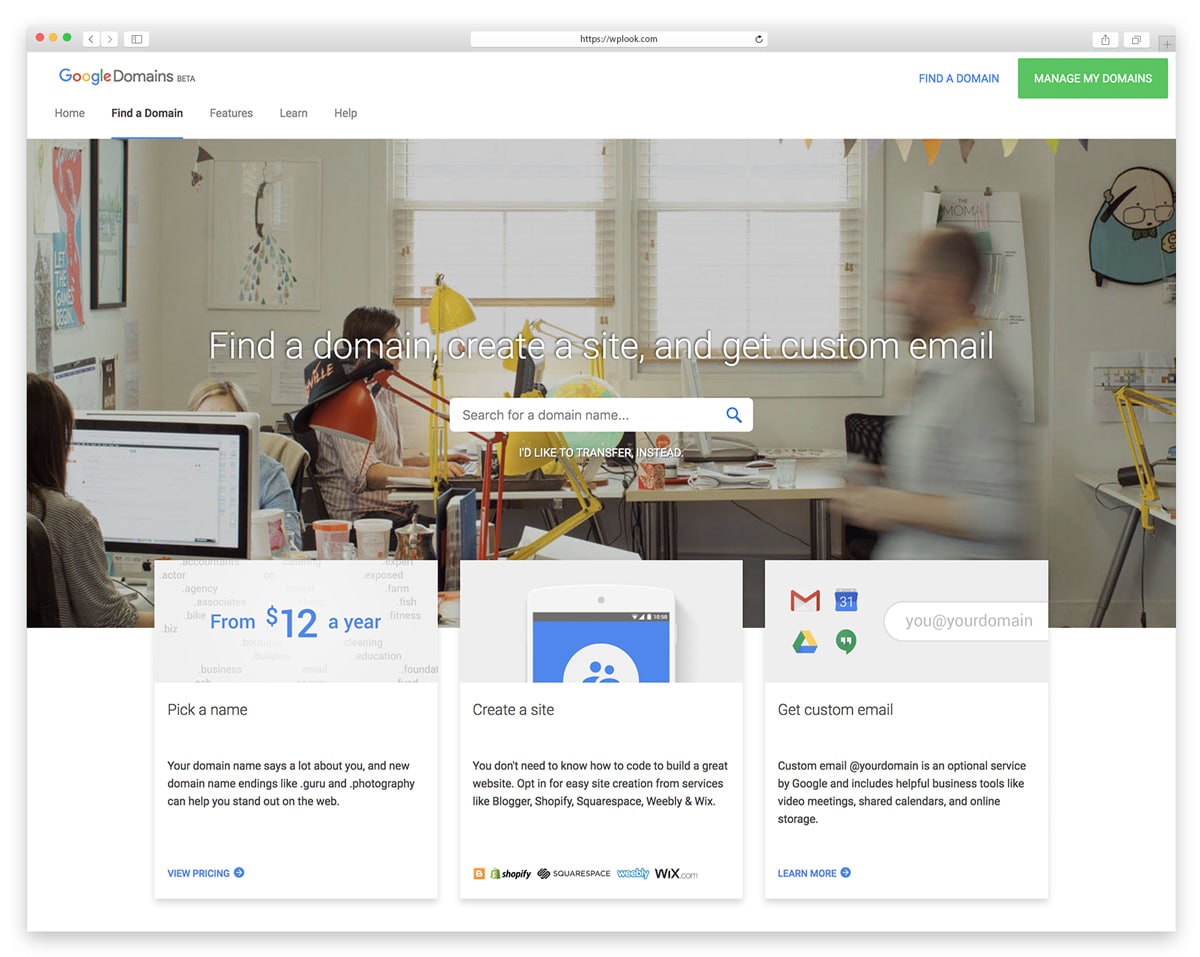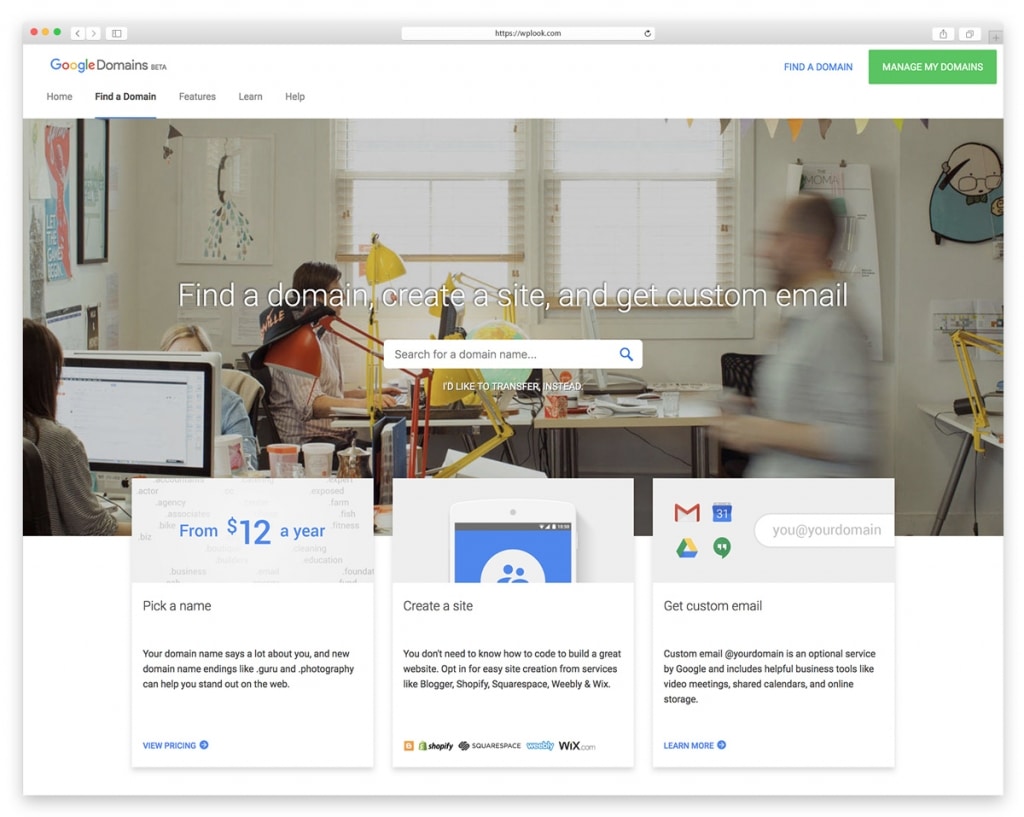 Google Domains is another great place to buy your domain name. Needless to say, Google has always been a reliable company. As such, you can expect nothing short of clean, simple and straightforward domain names that work exactly as intended. The real benefit of Google Domains is the fact that you can get things running in a swift and efficient manner.
As your domain list is already consolidated in your Google account, most of your information is safely stored. While you will pay up to $12 annually for top-level domain names, a majority of extensions can be purchased for $20 to $120. Each domain name is bundled with WHOIS privacy.
Visit Google Domains
DreamHost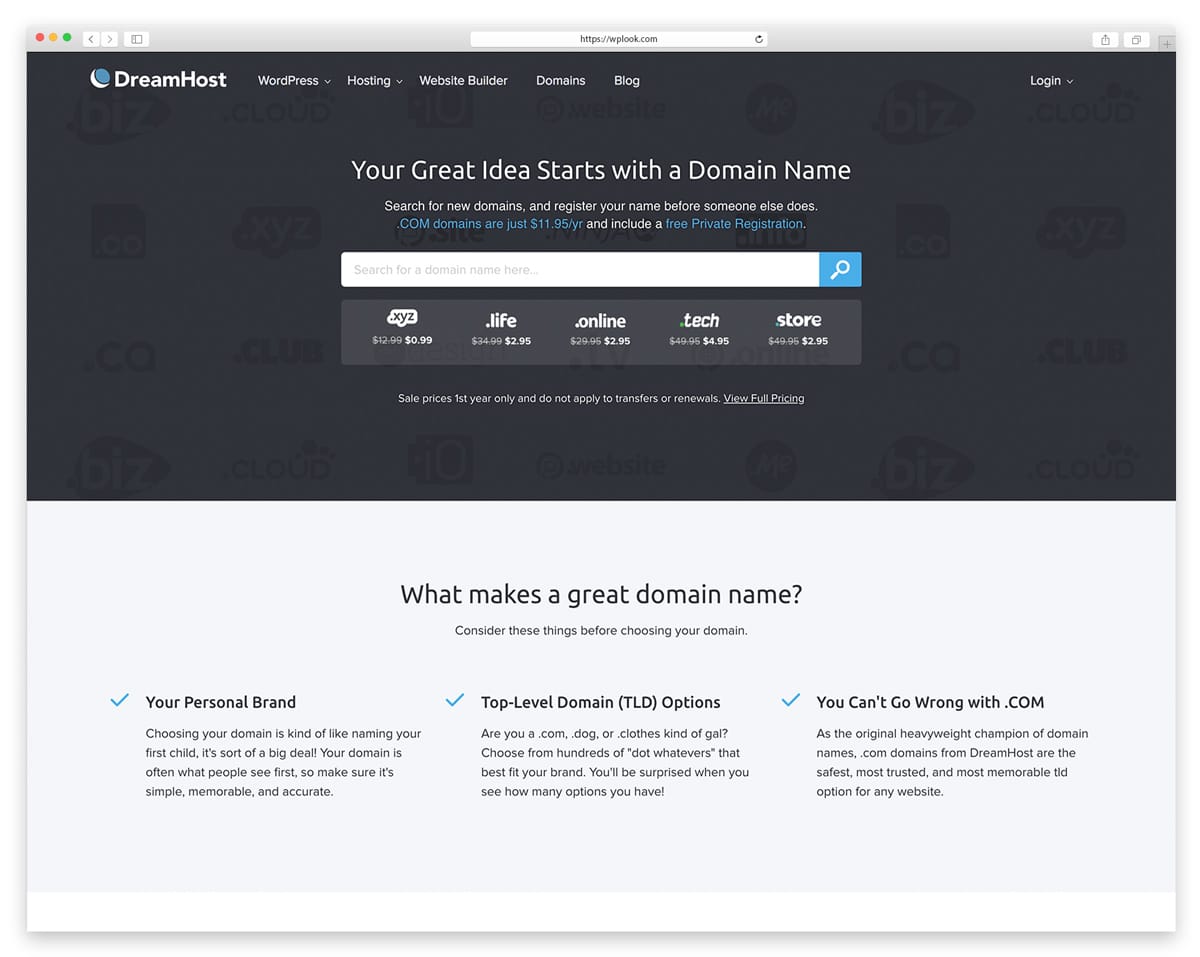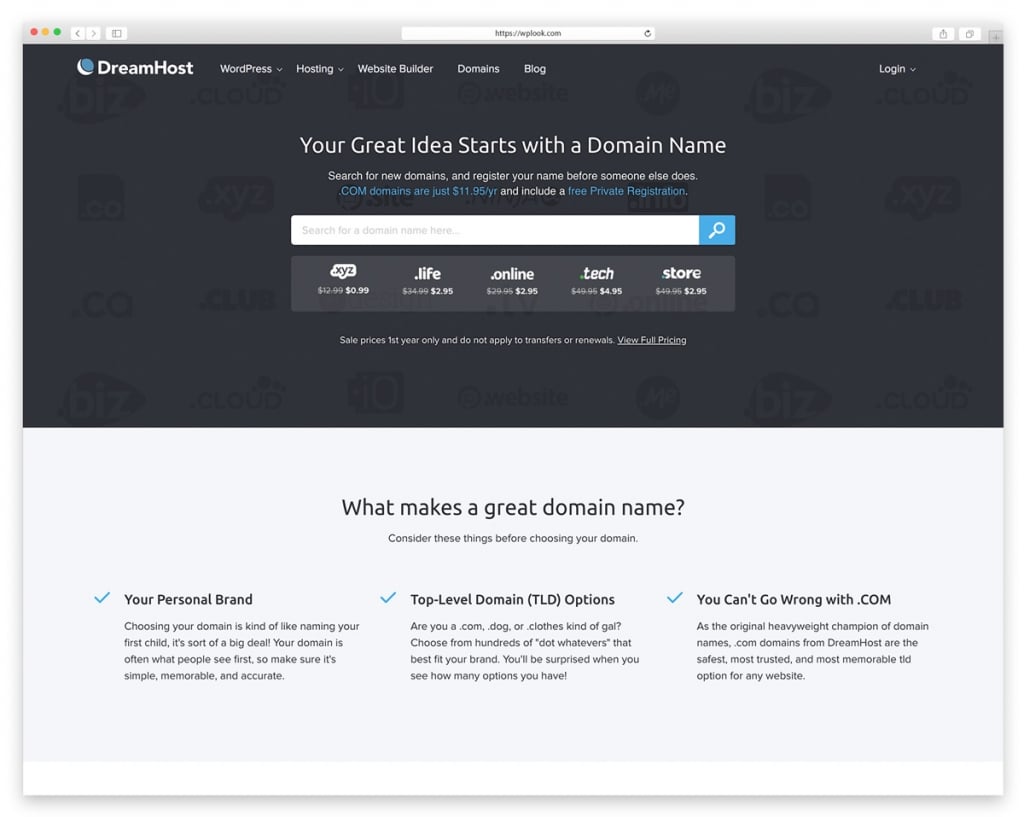 Founded in 1997, Dreamhost is a fully-fledged domain registrar. Boasting of more than 1.5 million websites and more than 400,000 customers, it is an ideal choice if you are looking to buy a domain name that is accompanied by hosting services. There are over 400 domain names that run around $12 to $15. Additionally, domain extensions are as low as $0.99.
With exceptional features such as an unlimited number of domain name extensions, free WHOIS protection, easy setting controls, a high level of free domain privacy and a solid refund policy, you can be certain that you will only get the best services from this registrar.
Visit Dreamhost
Name.com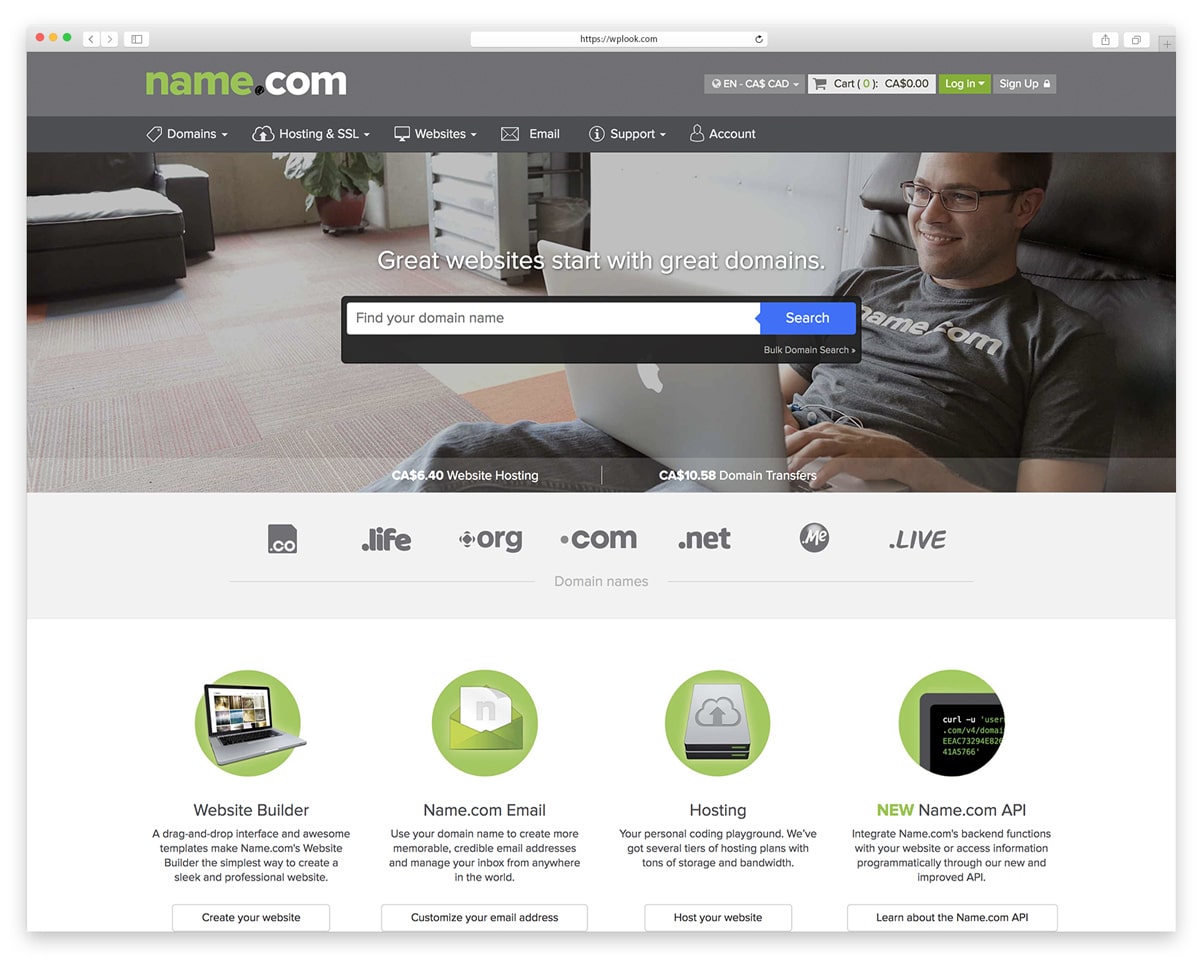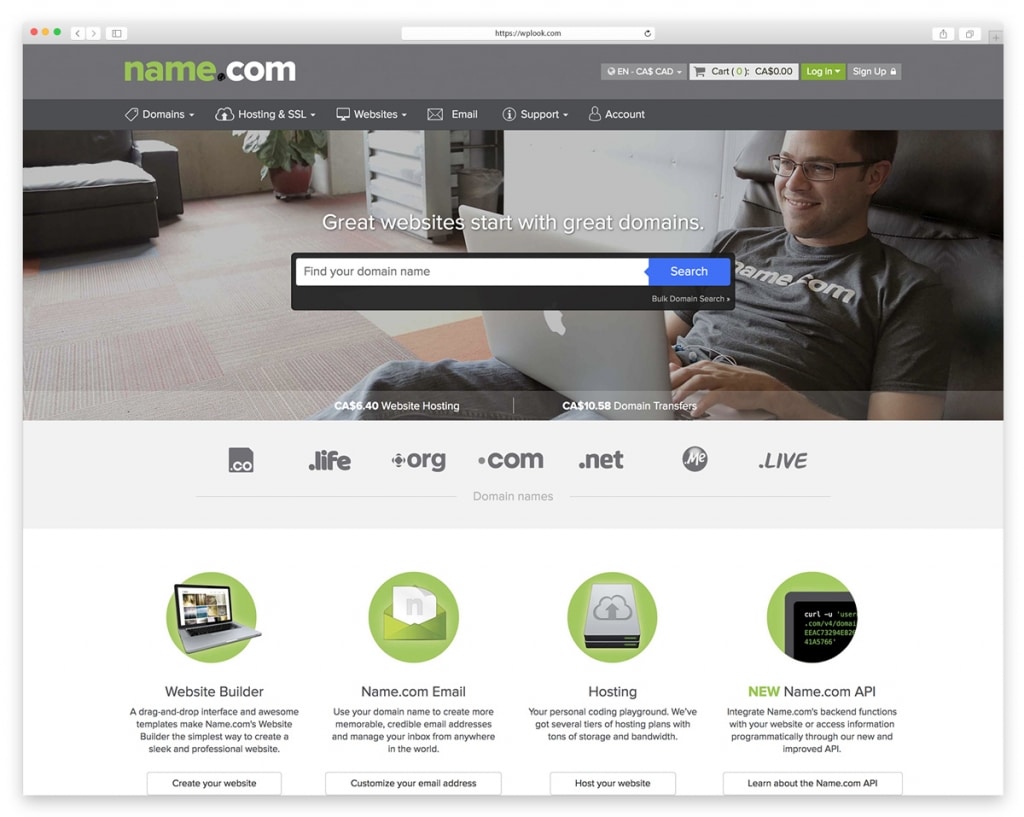 When searching for a domain name registrar you should take into consideration Name.com. This provider offers also web hosting, premium and expired domain names, and SSL certificates.
After choosing the domain name you will get free URL and email forwarding, free forwarding to social media, free Two-Step Verification, and free DNS management.
Visit Dreamhost
1&1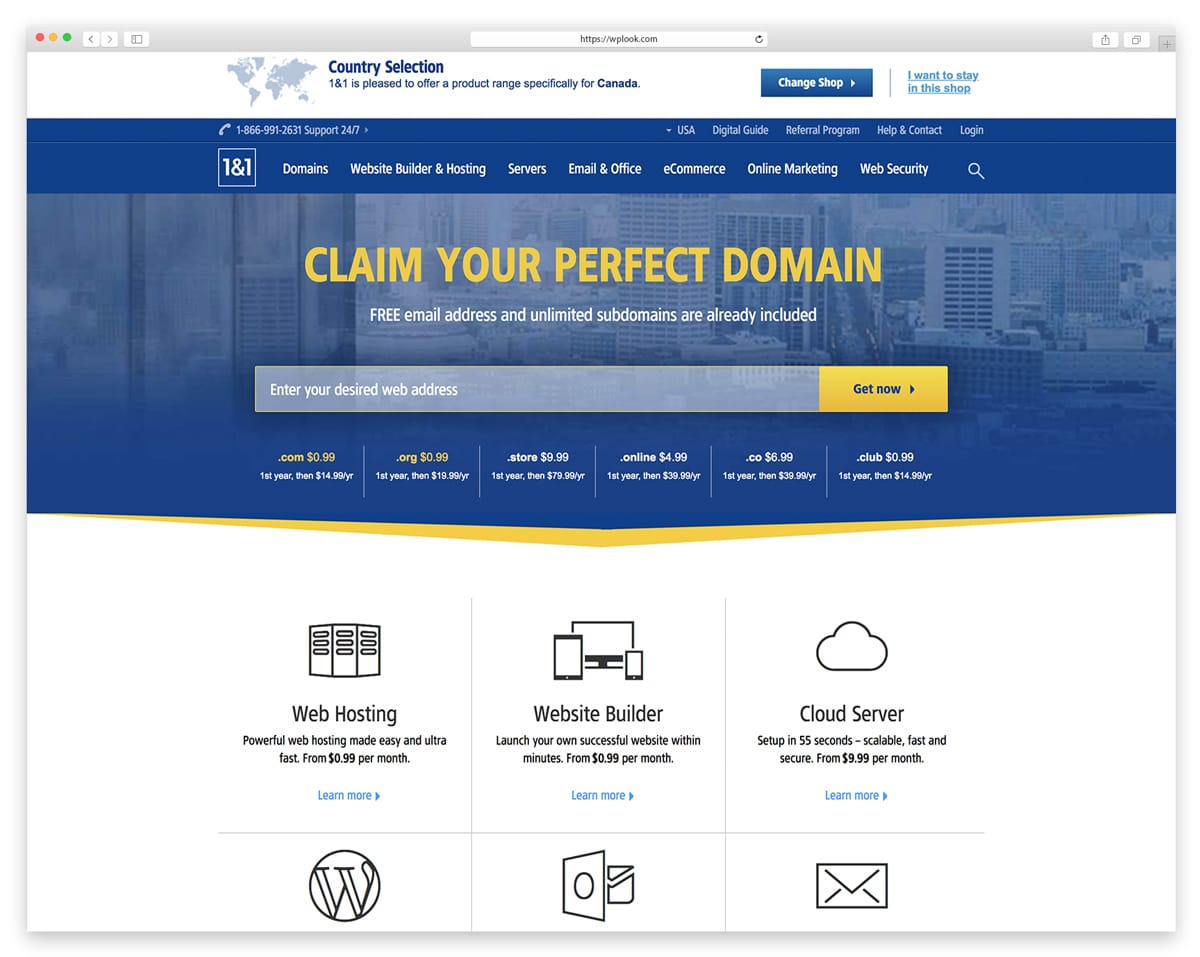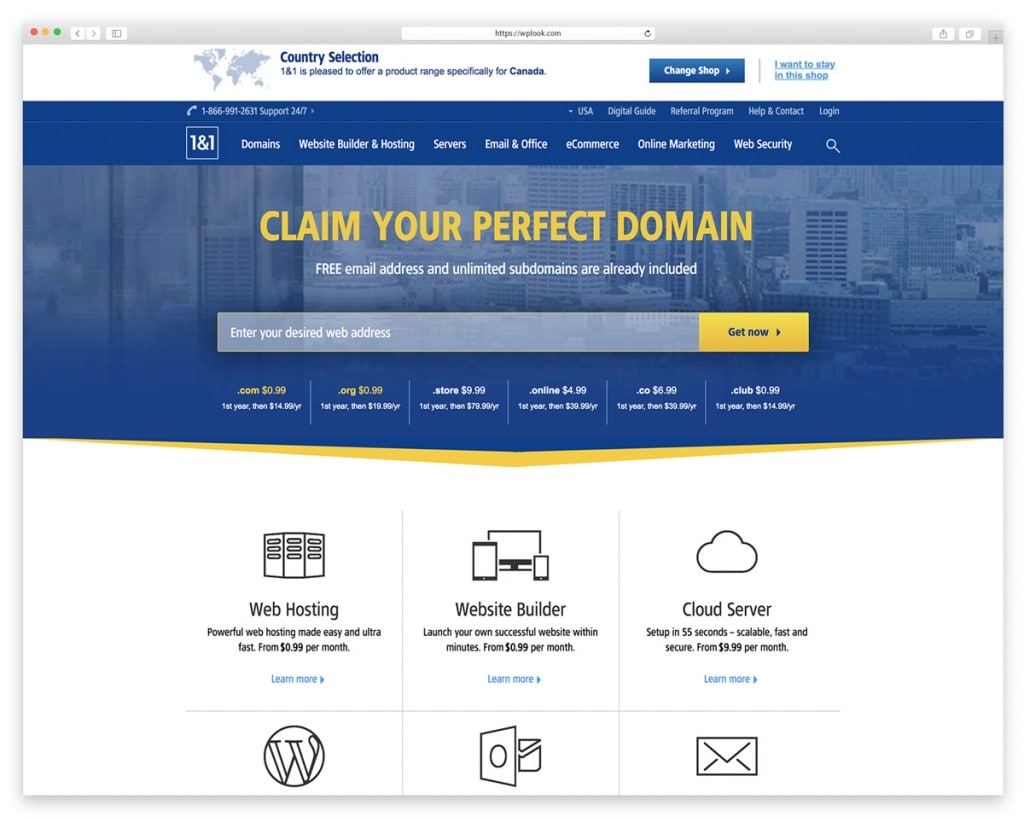 This is another domain registrar that has been in existence for quite a long time. Currently managing 19 million domain names worldwide, you can count on 1&1.com for the best deals on domain names (up to $14.99). If you are working on a budget, it is certainly an option worth considering.
Despite its affordability, 1&1.com does not skimp on features and is well-known for special domain extensions such as .mobi and .ninja, a standalone email, a highly accessible G-suite, security encryption, windows and Linux hosting and other advanced web solutions. Apart from selling domain names, this registrar also offers eCommerce solutions and website or email hosting.
Visit 1&1
GoDaddy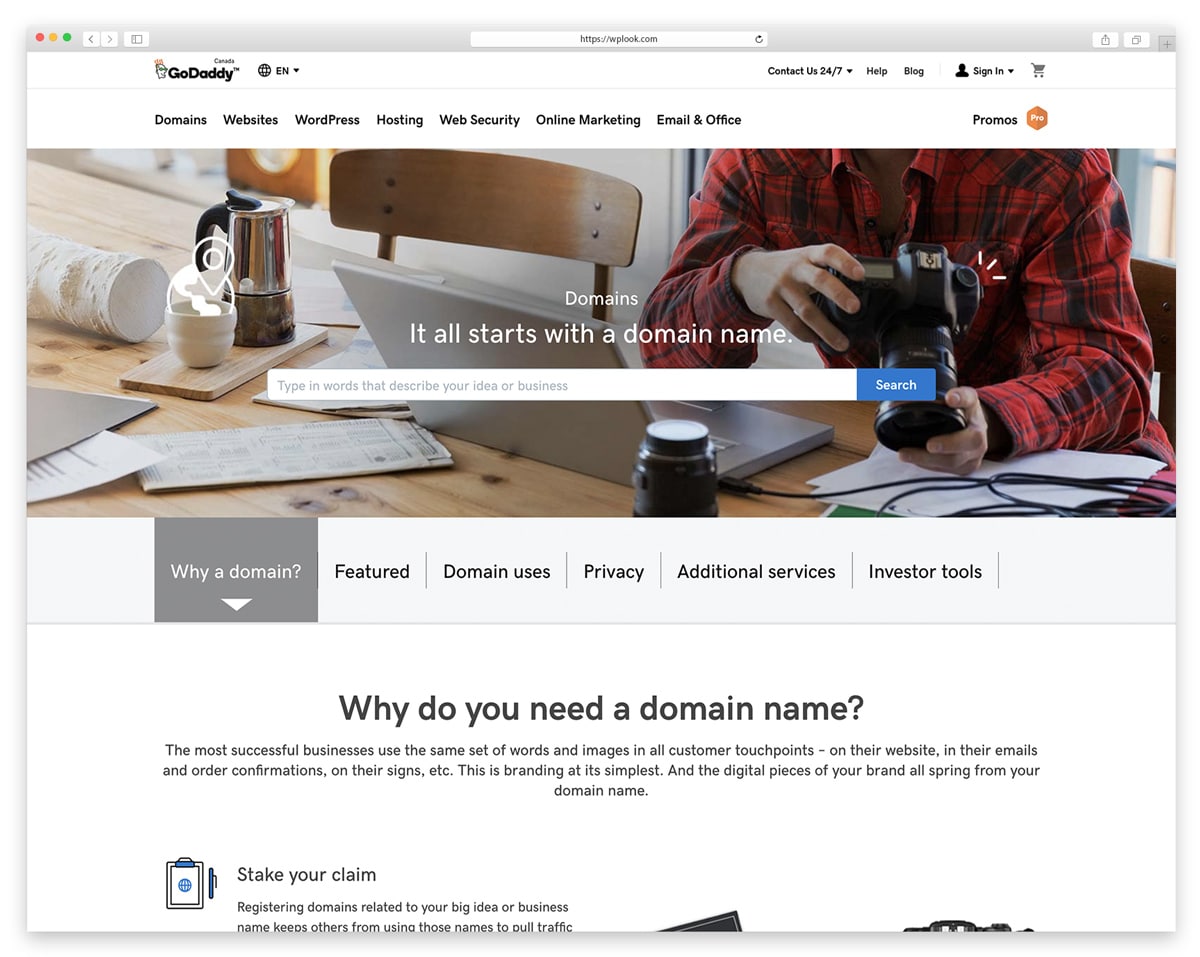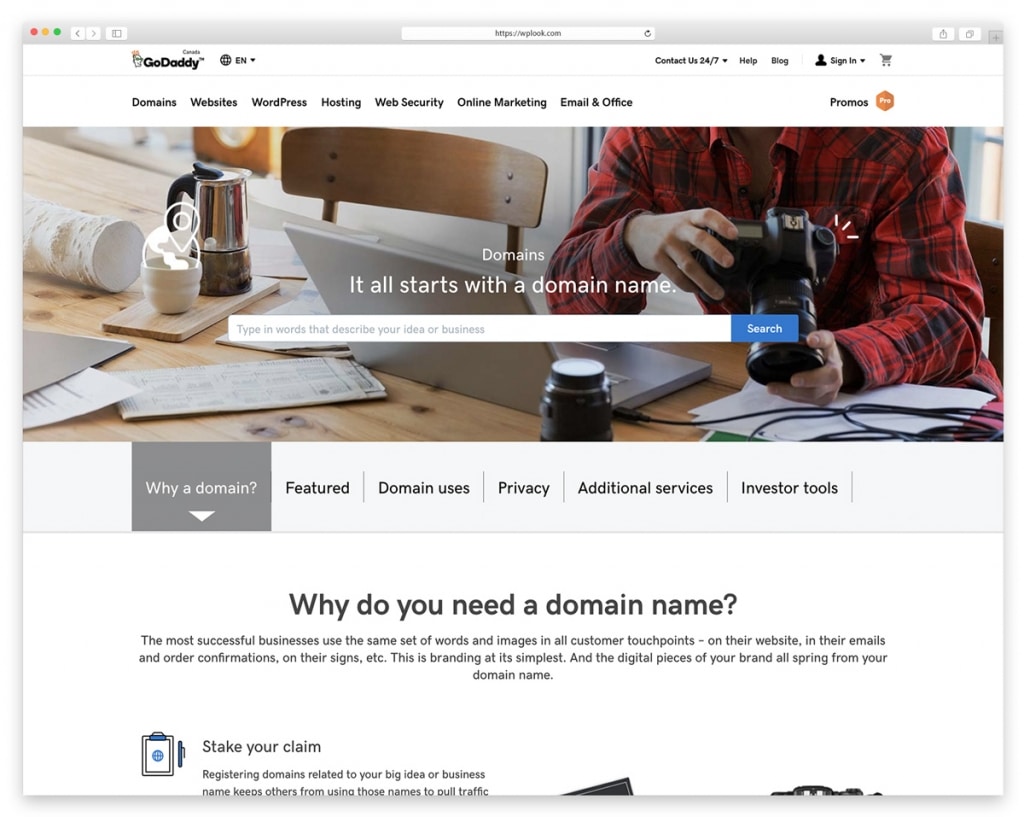 This is one of the biggest and long-existing domain registrars and hosting companies. It is perfect for beginners who do not want to deal with web forms but is looking forward to a step by step tutorial. It boasts a reliable DNS, email upsells and three tiers of WHOIS privacy for your website. In addition to this, GoDaddy offers a decent number of annual hosting packages that will be the perfect accompaniment for your domain name.
You can look forward to extras such as a photo storage space and shared hosting services. When you buy your domain name from GoDaddy for prices between $7 to $ 14.99, you will enjoy these features and much more. You can also look forward to stellar support services that will instantly enable you to fix any domain problems that you may encounter.
Visit GoDaddy
Conclusion
Buying your domain name from the best registrar or hosting provider is fundamental to the success of your website. Whether you are a beginner or simply looking for a change, the aforementioned options are the best that you will ever find. They will address any of your specific needs and budget. They will also have a positive influence on your website. I suggest you also to read a useful and interesting with tips that will help you to find the perfect domain name!
Need Hosting?
Domain Names, Site Speed