A great hosting provider is a fundamental factor in the success of your WordPress website. You may ask yourself, why WordPress hosting providers? This kind of platform has customized services and server architecture that is optimized specifically for hosting WordPress websites. Choosing the best one can be discouraging for many reasons, especially if you are a beginner. The rising popularity of WordPress CMS has seen a significant increase in the number of web hosting providers. This competition results in better services from web hosts. As a website owner, you need to pick the right host that addresses your specific needs and budget. The quality of a web host pretty much influences everything else on your WordPress website.
Before deciding on one web hosting provider, you should consider the following aspects:
1. Management options
2. Price
3. Security options
4. Uptime
5. Reliability and Control
6. Available storage size
7. Server speed
8. Customer support
Different hosting options include shared hosting, cloud hosting, virtual private server hosting, dedicated hosting and managed hosting. There are many web hosting reviews online, most of them just steal the words directly from respective websites. We decided to round up 7 of the best-known WordPress hosting providers and reviewed each provider comprehensively. Each review is based on experience and actual data.influences everything else on your WordPress website.
WP Engine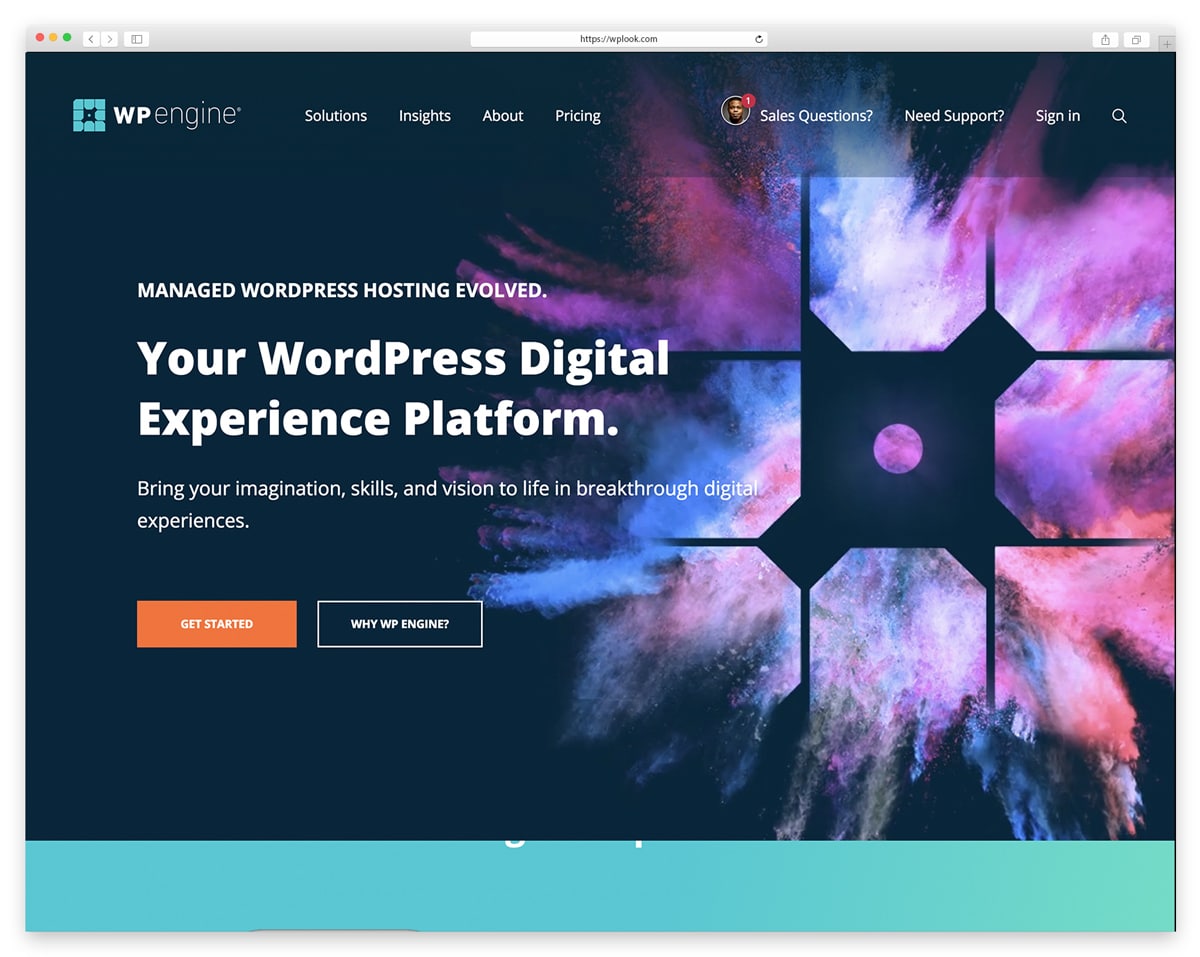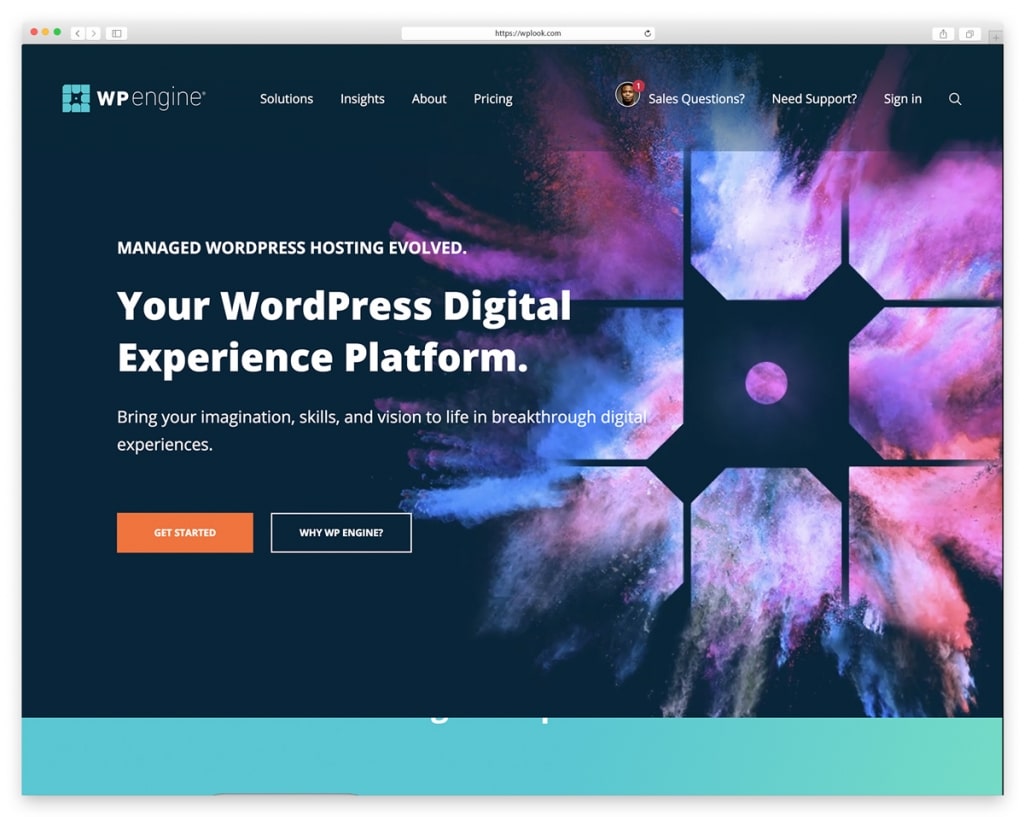 No list of best WordPress hosting companies could be complete without WP Engine. WP Engine is an industry leader enterprise-level provider that has more advanced features when compared to other providers on this list. It was founded to empower WordPress users. The features include high-grade security, scalability, and automatic performance enhancements.
The built-in security features mean that there's no need for installing third-party plugins. It has an average loading time of 0.94 seconds. The downside is that all these features do not come for free. The cheapest WP Engine plan starts at a whopping $29 per month. It hosts a total of 5 hosting plans including personal, professional and business. It is backed by a knowledgeable 24/7 professional engineering team.
Pros:
• Incredible loading speeds.
• Unlimited data transfer on all plans.
• Remarkable security measures.
• Custom scalability options.
Cons:
• Expensive plans.
• Extra charges for SSL and CDN support.
Get Hosting
WPlook Hosting
WPlook has been around for some time now and is arguably the best WordPress provider around. The company has been making a name for themselves in the WordPress community. Since its inception, it has managed to gather critical acclaim from creative agencies, designer, and website owners. The web host provides users with targeted special features.
It has 3 feature-packed hosting plan options to choose from: starter, professional, and premium. All plans have unbeatable low prices and are paid for either monthly or annually. Paying once in a year can save you the hassle of monthly payments. All plans have distinctive features that make them unique. Their 30-day money back guarantee gives you the chance to test drive their service before picking a suitable plan.
Pros:
• Cost-efficient hosting plans
• 1-click WordPress installation
• Free SSL certificate
• Full-Managed with cPanel and expert support
• 30-Day money back guarantee
• Amazing technical support
• 99.9% Uptime Guarantee
Cons
• None.
Get Hosting
Site Ground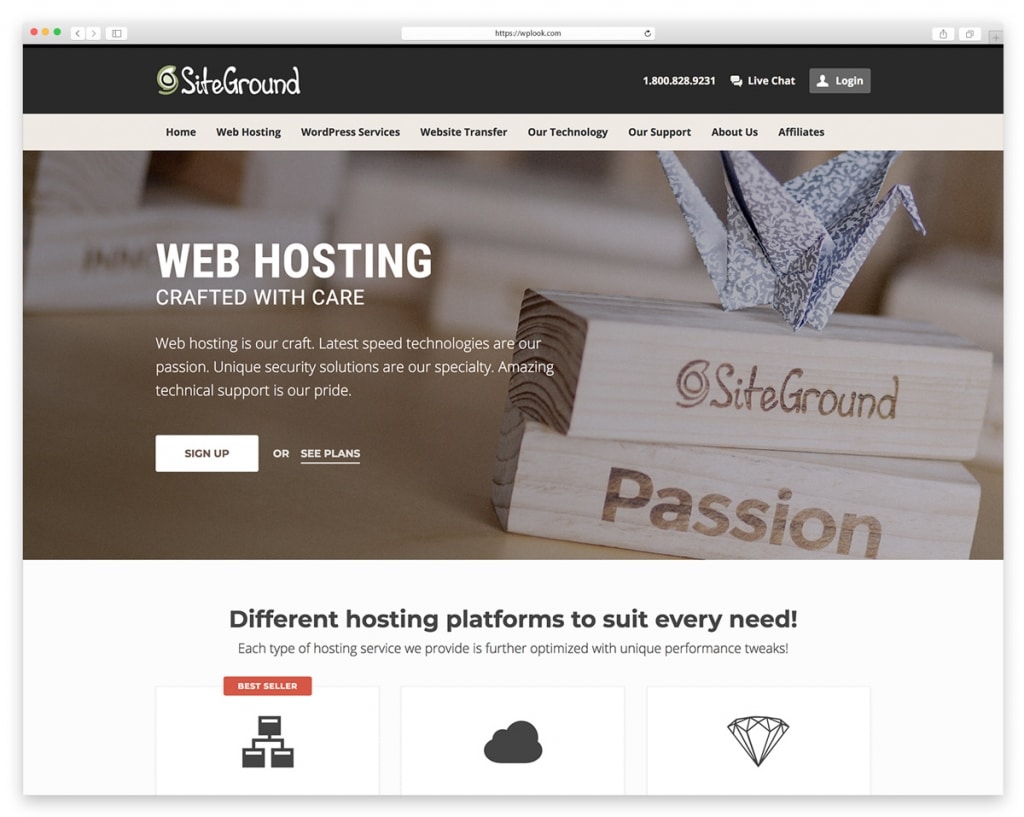 SiteGround is another big name popular due to its focus on speed, competitive pricing model, and quality hosting services. It has an average loading time of 0.74 seconds. It started from humble beginnings back in 2004 and has risen to become one of the most reputable websites hosting providers. They offer carefully personalized cloud, managed, shared and dedicated hosting services. SiteGround's 24/7 technical support staff is exceptionally good.
They respond promptly via live chat, phone, and tickets. Starting at just $3.95 per month, you receive many advanced features that making the price more of a deal. Their StartUp plan is arguably the cheapest shared hosting plan you can come across. Other plans include GoGeek and GrowBig. It is ideal for blogs, small websites and e-commerce sites. You also get a 30-day money back guarantee.
Pros:
• Competitive pricing model.
• Fast loading speeds.
• Free SSL and site transfer.
• Unique security solutions.
• Responsive and knowledgeable support team.
Cons:
• To get the best prices, you must subscribe annually.
• Lack of control over server configuration.
Get Hosting
Bluehost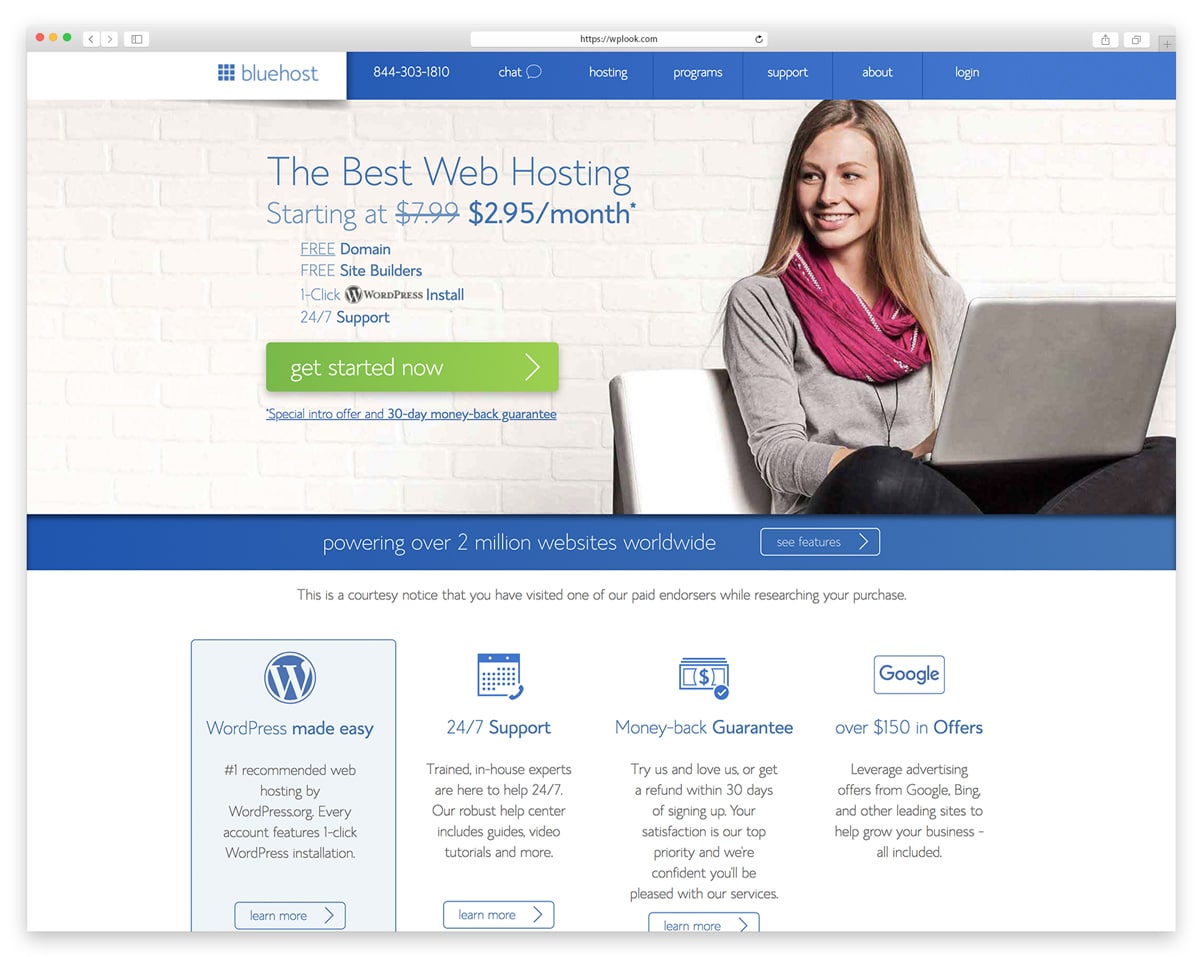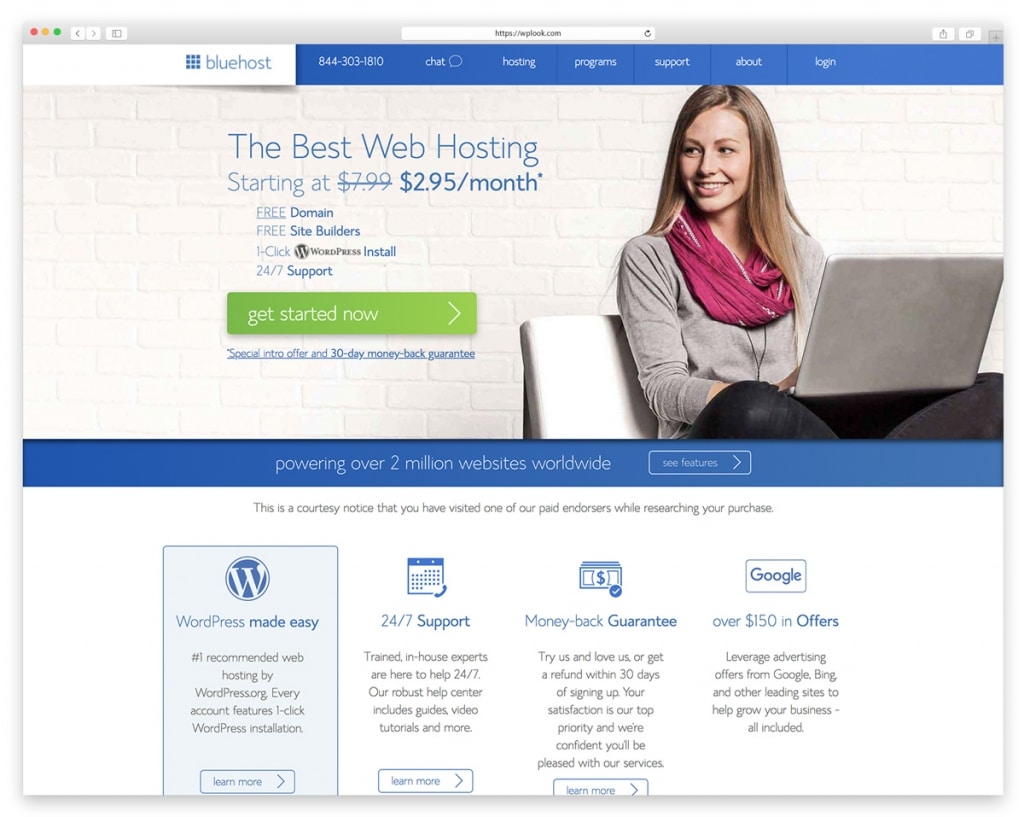 Bluehost is a reputable WordPress hosting provider with a wide-ranging reasonably priced plans. This makes it popular among bloggers and small business owners. The veteran provider boasts a superior cPanel interface and dedicated backups. It has an average loading time of 0.93 seconds.
It also offers enhanced security tools to users to take care of firewall duties and malware detection and removal. Bluehost currently hosts over 2 million websites and is one of the few hosts officially recommended by WordPress.org. Their hosting plans include basic, plus and prime.
Pros:
• Adequate security features.
• Free domain name and site transfer.
• Across-the-board plans at midrange prices.
Cons:
• Slower loading speeds when compared with other providers.
• Unreliable support.
Get Hosting
DreamHost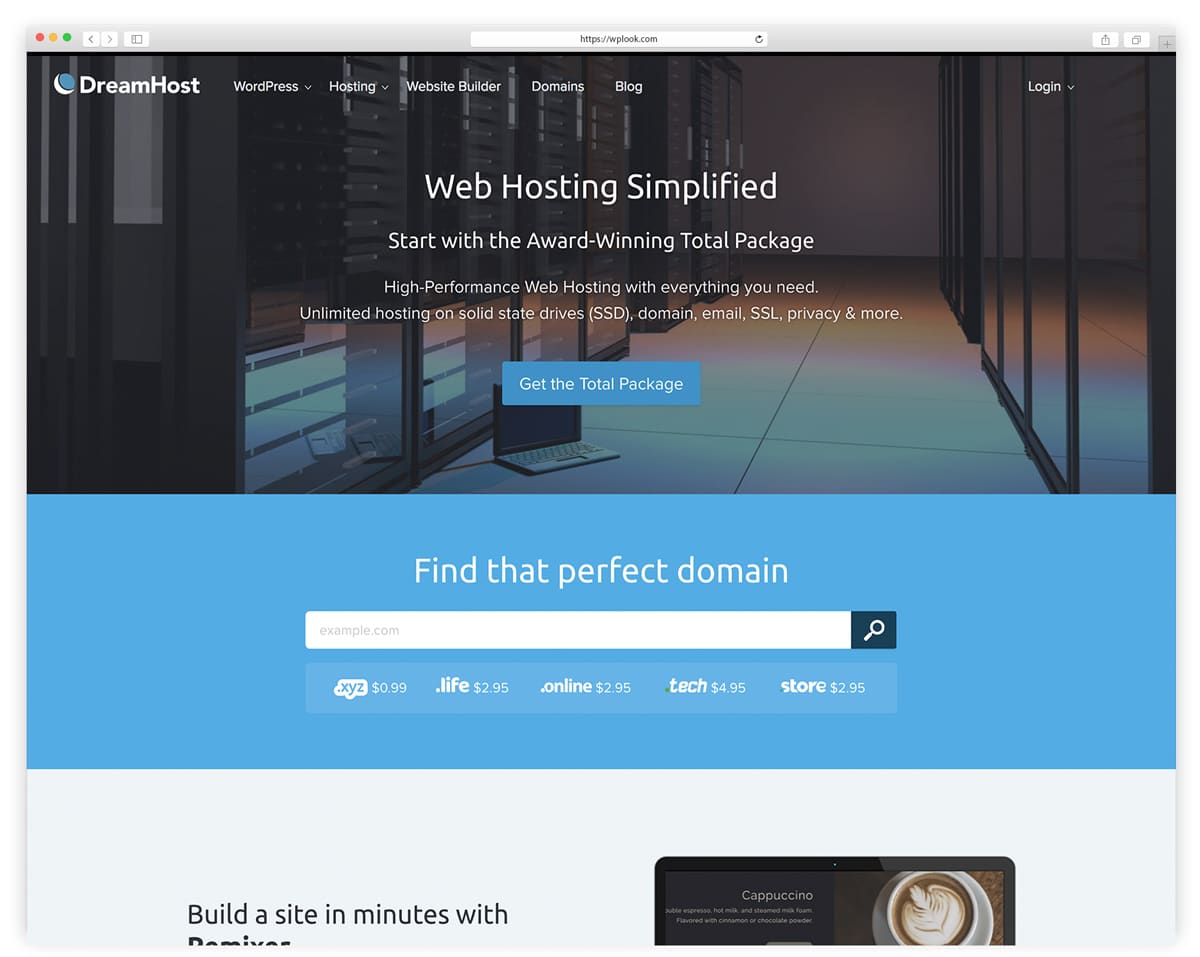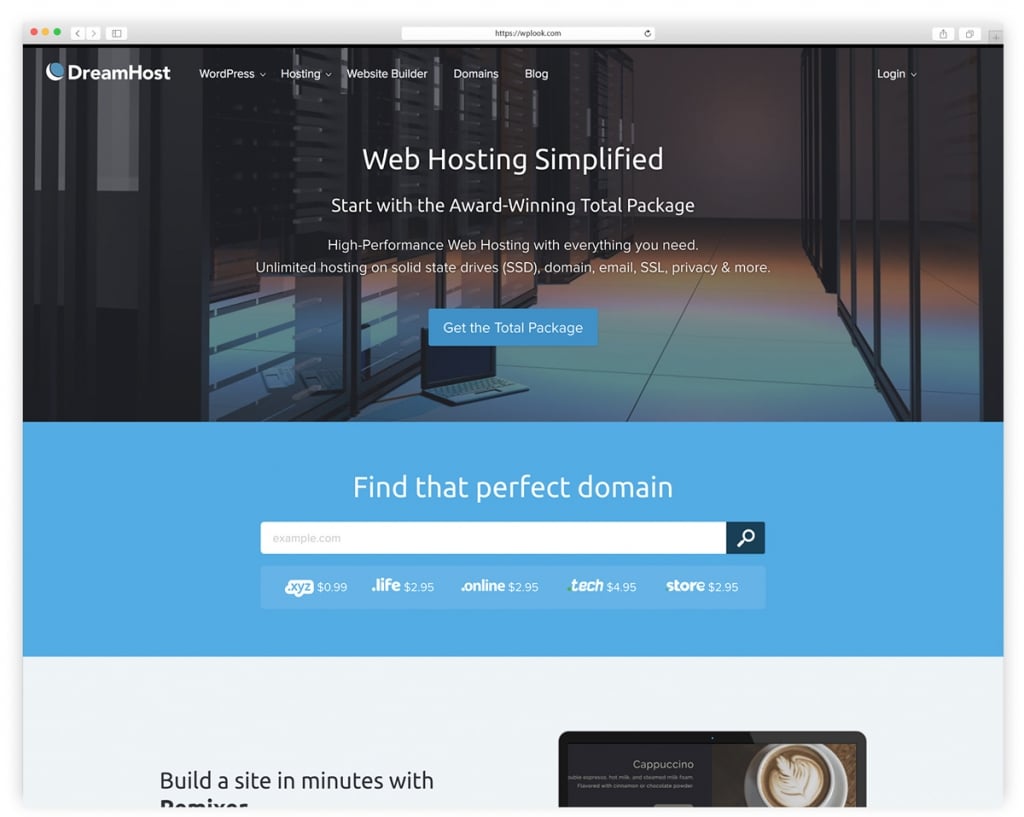 On the next contender for the best web host is DreamHost. DreamHost is a provider popular for offering varied plans. They have an impressive network of over 1.5 million websites. It has an average loading time of 0.84 seconds. You can contact support through live chat. For managed WordPress hosting services you will have to part with $16.95 per month and for regular shared hosting the price is $7.95.
At that price, they throw in a few other good add-ons like unlimited bandwidth and 97-days money back guarantees. Many providers usually provide 30 days only.
Pros:
• Responsive and knowledgeable support staff.
• Automated backups and updates.
• Offers two ideal WordPress plans (shared and managed)
Cons:
• Annoying loading speeds.
• Doesn't offer wide-ranging plans.
Get Hosting
HostGator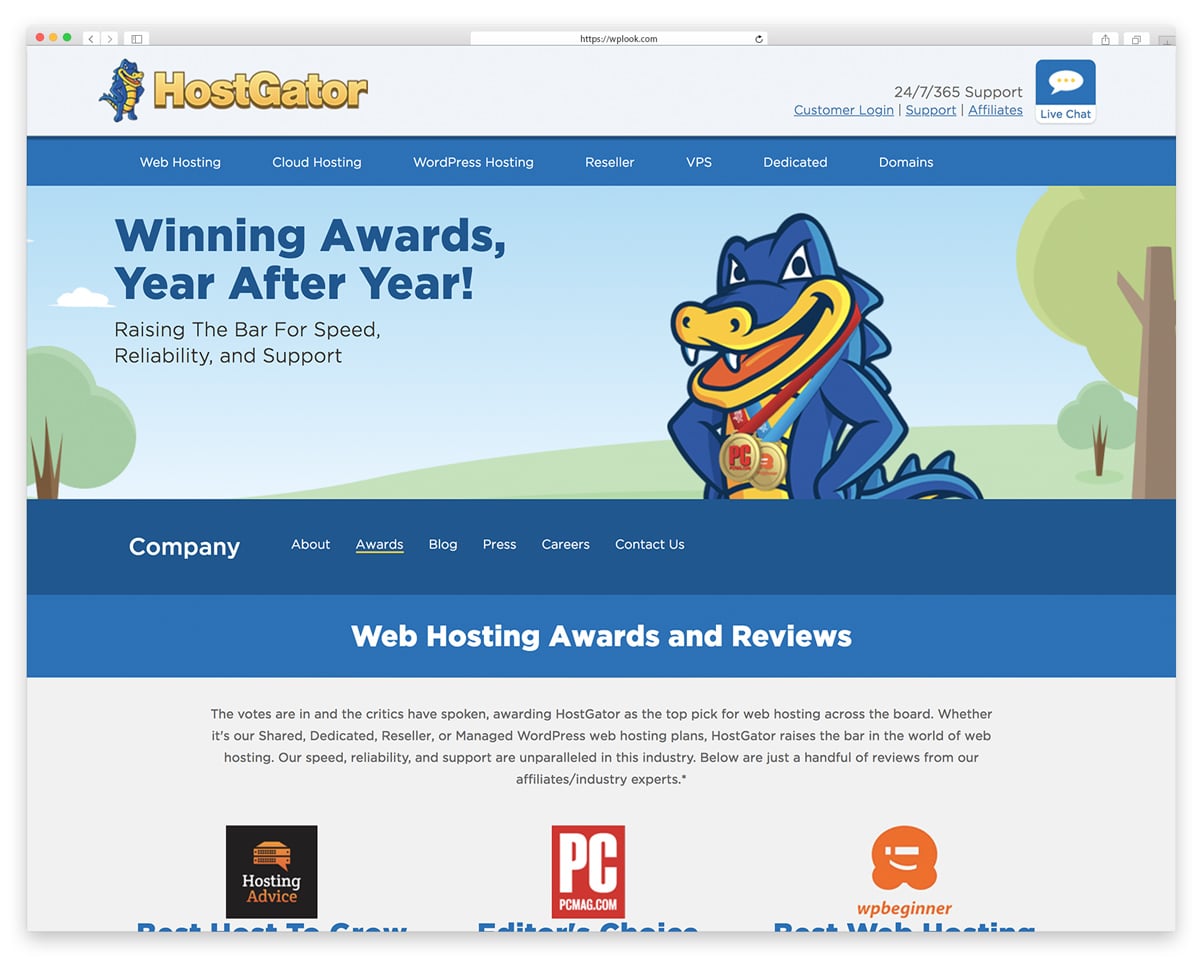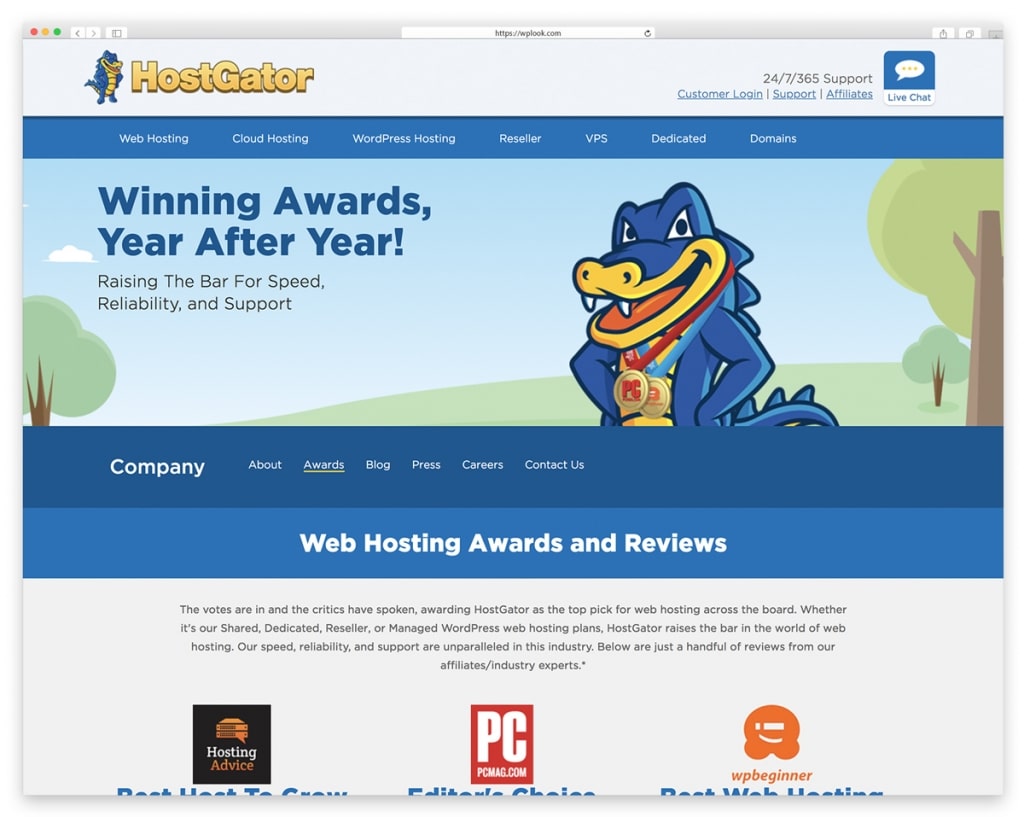 HostGator is a household name when it comes to web hosting. Founded back in 2003, the provider currently hosts over 10 million domains. The provider boasts super-fast Cloud hosting plans that include both shared SSL certificates and free migrations. It has an average loading time of 1.35 seconds.
Their pricing model is relatively competitive. When you choose to commit annually, you will part with $5.95 per month. Prices get higher if you opt for an enterprise-level range of plans. They offer a 45-day money back guarantee.
Pros:
• Amazing 24/7/365 technical support.
• One-click install for WordPress.
• Seamless scalability.
• Super-charged loading speeds.
• Reasonable starting plans.
• One free site transfer.
Cons:
• Other HostGator plans are costly.
• High renewal fee.
Get Hosting
GoDaddy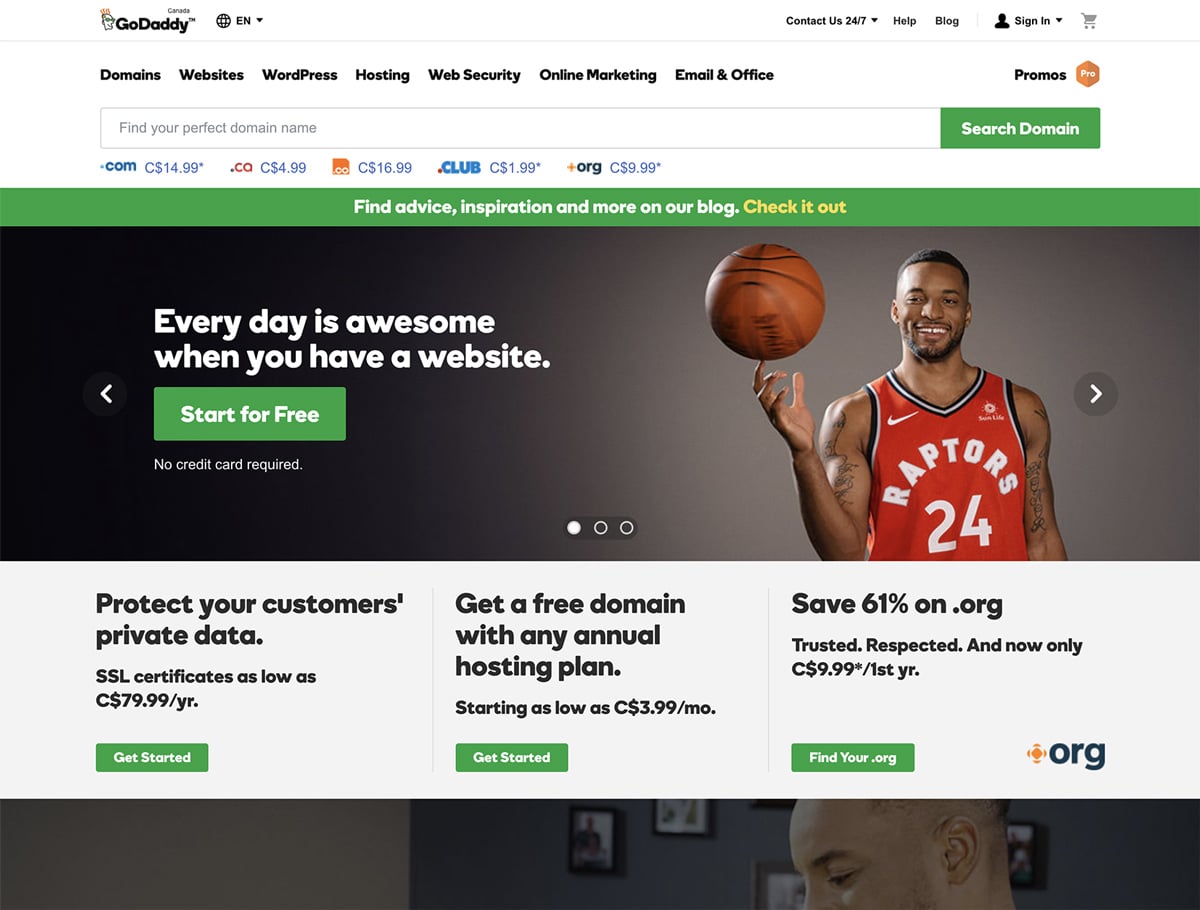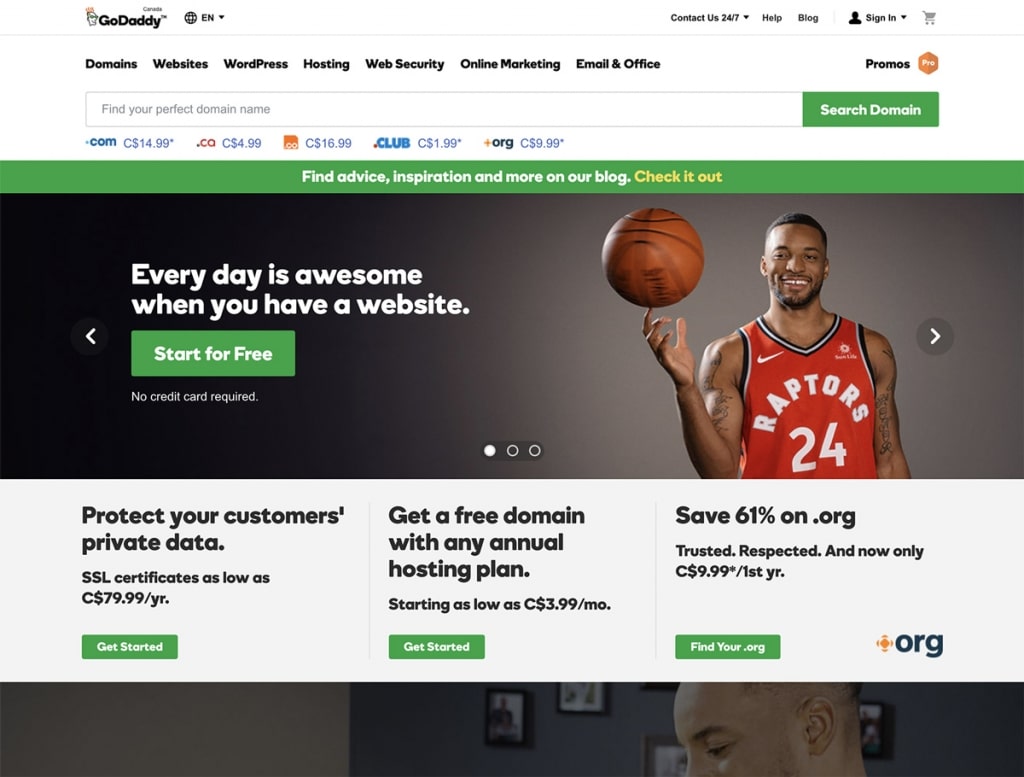 GoDaddy is a well-known name for website hosting. The dependable and high quality hosting provider powers thousands of websites online. It has an average loading time of 0.45 seconds. They offer feature-rich plans at reasonable prices. You have the luxury to choose from 4 hosting plans. The plans are basic, deluxe, ultimate and developer.
They have advanced security features that protect users from hackers and auto-install feature. They have a reliable 24/7 customer support team that will answer any questions you might have about website setup. They provide support via live chat, phone and community forums.
Pros:
• You get a free domain with their annual plan.
• Automatic security updates.
• Award-winning support team.
• Easy-to-use interface.
• One-click migration tool.
Cons:
• Their plans can be costly for beginners.
Get Hosting
Conclusion
Now that we have ranked the web hosting companies, it is up to you to choose one that fits your needs. There are many website hosting providers, each claiming to be the best of all. The above list is meant to simplify your web hosting search. Keep in mind that your website's health relies heavily on the web host you choose. Make your decision based on your specific requirements.
Hosting