When you apply for a job, the first thing a potential employer will notice is your CV/resume. Having a resume that stands out means you are already ahead of the competition and have a much better chance of securing an interview. It's the layout of your resume that will first get noticed, so ensure it looks perfect.
Having a resume online allows your information to be more like a website, which is very appealing to people who might want to hire you. Below you can find the Best Resume Website Templates to give you a helping hand in getting your CV looking as good as possible.
Studio 9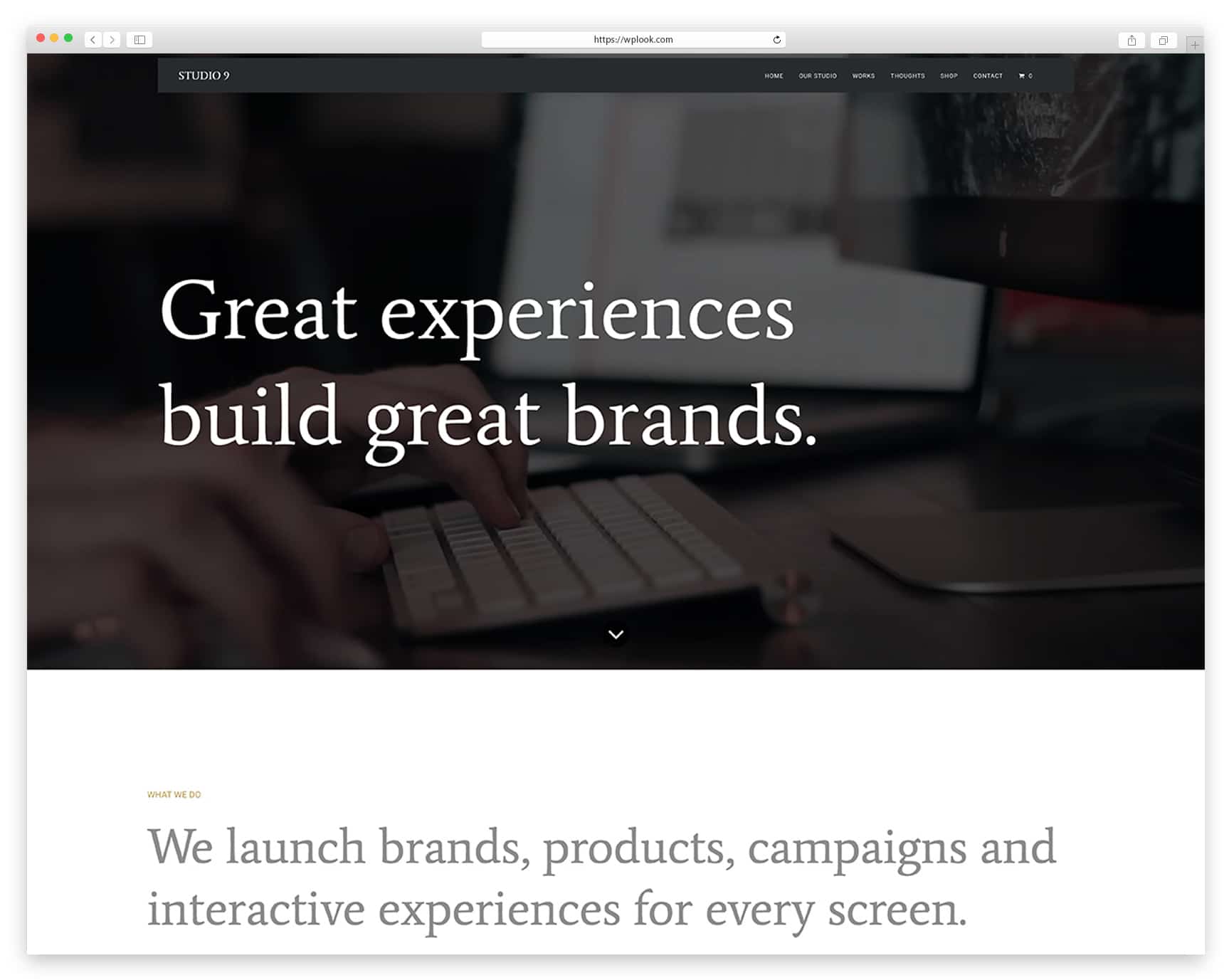 Studio 9 is a perfect Resume Website Template build for Creative Professionals, Filmmakers, Photographs, and much more. This beautiful resume website template is designed to showcase your portfolio projects in a great and user-friendly way. Studio 9 comes with an advanced panel modified with lots of shortcodes and a clean code.
It has one-click demo import installation and multisite set up compatibility. You will get an amazing documentation and great support. Studio 9 is compatible with all browsers and screens, being then mobile friendly.
Key features:
Responsive Design
Shortcodes Plugin
Multilingual ready
Extremely fast
Child Theme Included
Learn More about Studio 9
Get Hosting
Alpha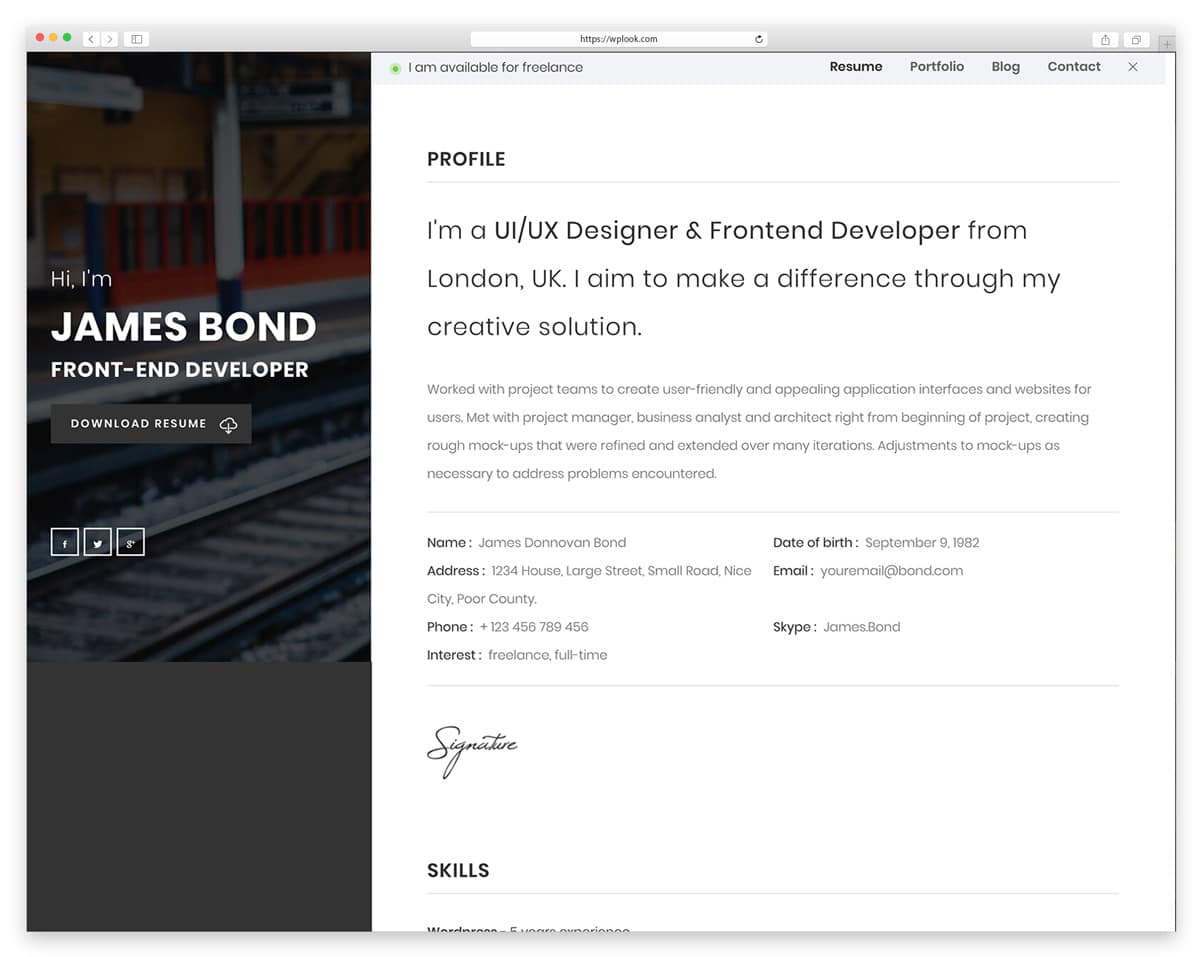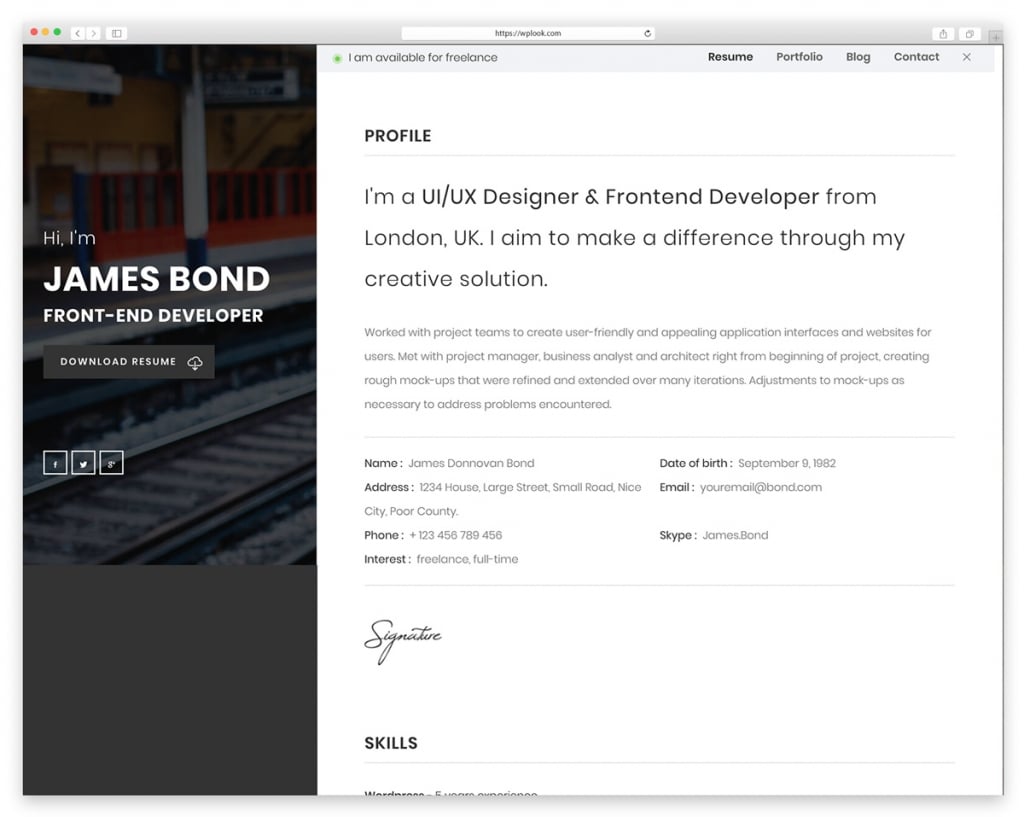 The Alpha resume website template looks stylish, modern and has everything necessary to tell a potential new employer all about you. This online resume is a great choice for the developer, designer, photographer, lawyer, health professional or a small agency. It is styled in black, it is laid out really well and would stand out to the eye right away! With your name in a bold and large font on the left of this document, nobody is going to forget who you are in a hurry.
There is space to include previous job history, qualities, contact information and more. The background of the CV can be plain or filled with the image of your choice in order to really stand out. The Alpha is made with Bootstrap 4, it is retina ready and fully responsive. Give Alpha resume template a try!
Key features:
8+ HTML Pages
12+ Home Page Versions
4+ Navigation/Menu Types
9+ Portfolio Versions
6+ Portfolio Details Page
Compatible with all browsers
One Page design with ajax page load
Learn More about Alpha
Get Hosting
Matresume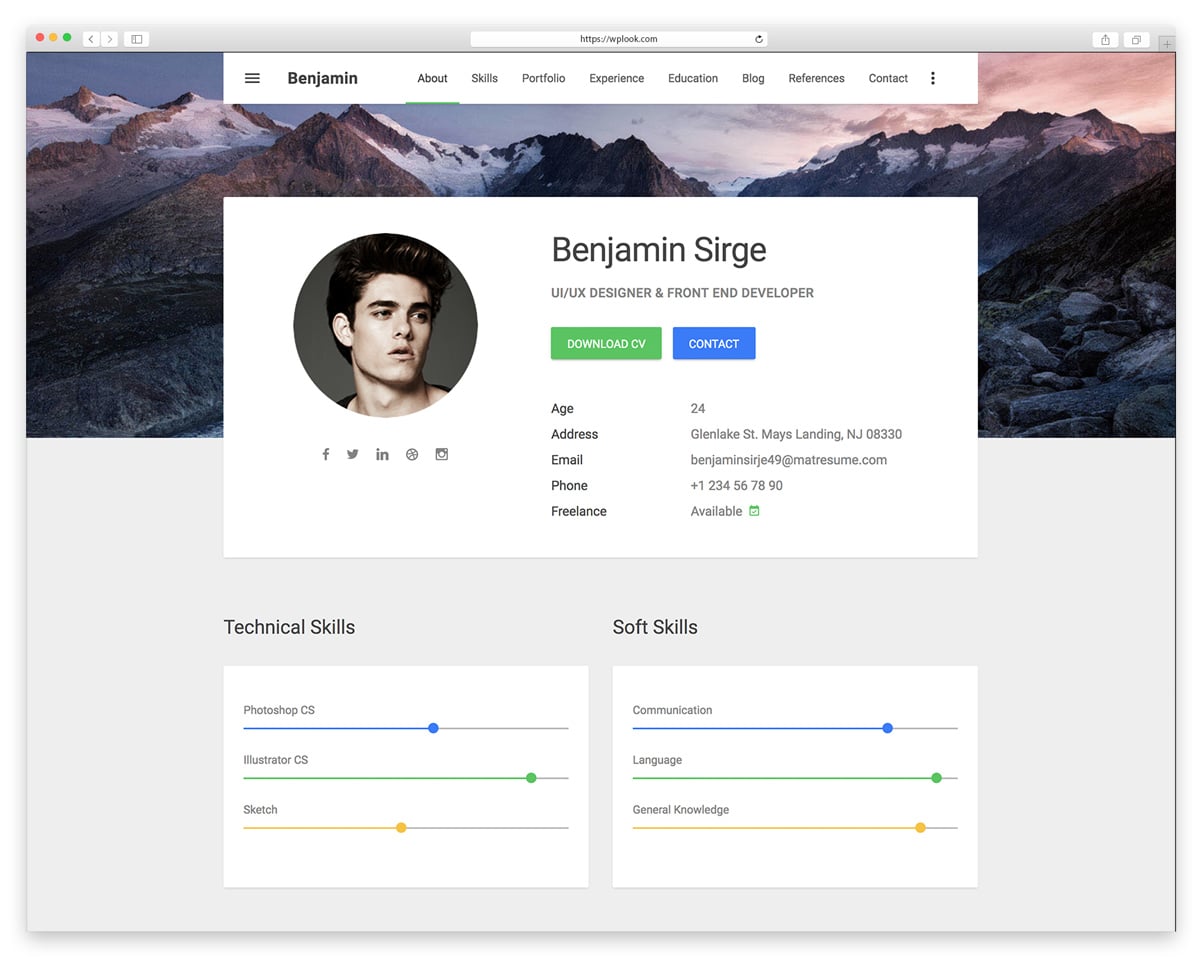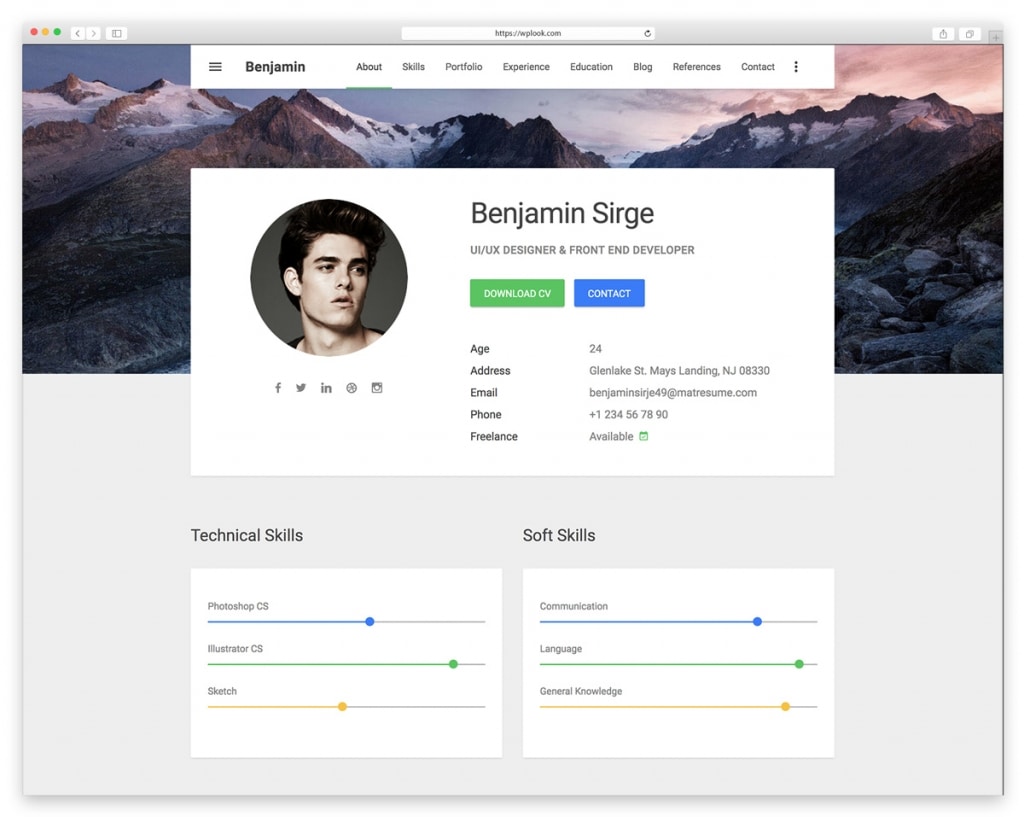 This Matresume website template is more like your standard type of CV but still has features that make it really eye-catching and it is a good template to choose in general. It is specially built for Developers, Designers, Artists, Marketing, and all kind of other creative people. The overall layout is spacious and leaves the necessary gaps for you to fill out your information including your skills, job experience, where you studied and so on.
There is even space for you to fill in your social media information and anything else that may be of use to future employers. On the whole, this is a simple but attractive resume template that can easily show off who you are as a person. Matresume is fully responsive offering great user experience across various devices and screen resolutions.
Key features:
Powered by: HTML5 I CSS3 I jQuery I Sass I Bootstrap v3.3.6 I Angular js I Material Design Lite
Code: Semantically Correct I HTML5 Validated I Fully Optimized I Well Commented
Easy to Use and customizable
Free & Friendly 24×7 Support
SEO Optimized
Learn More about Matresume
Get Hosting
Profile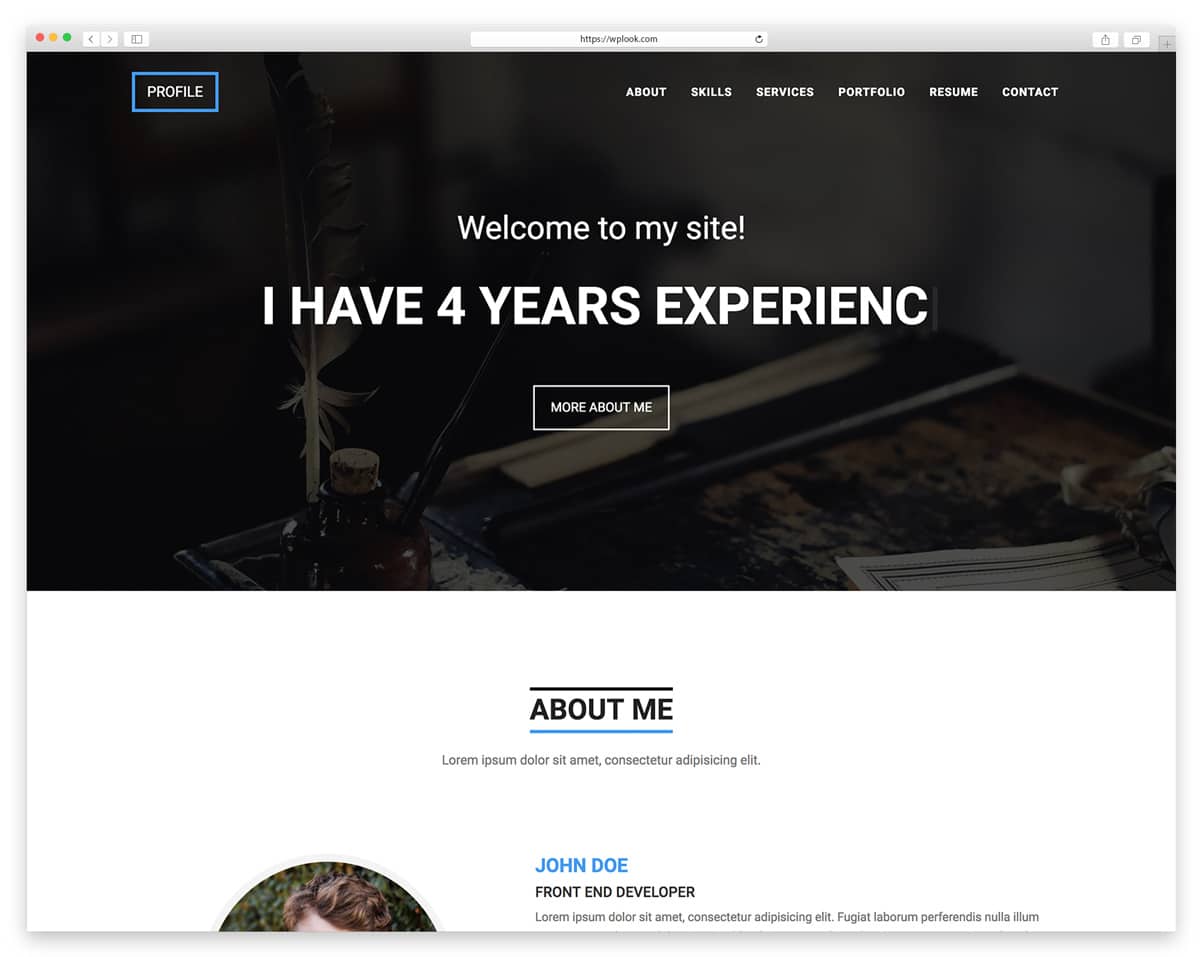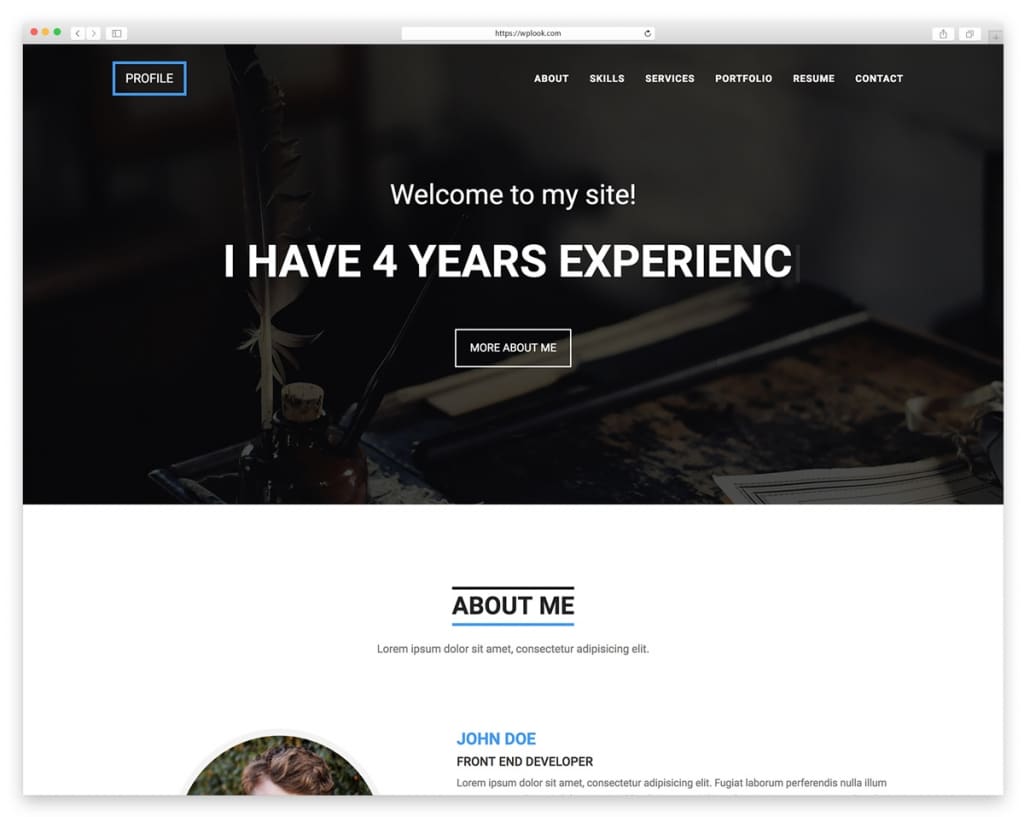 This fully responsive One Page CV is very modern and is really a go-to for any aspiring business people out there. This online resume has all the various sections on different pages which is different but will definitely help you stand out from other applicants in a positive way. From about, skills, services, resume and more – show off who you are and all you have done with this One Page CV.
If you choose this resume website template, it will really show off your creative side and will definitely get employers noticing you. If you are willing to put such an effort into your resume, then they are going to have high hopes for you as an employee. Profile resume is built with Latest Bootstrap Framework and is Valid W3C HTML5 and CSS3.
Key features:
Fully Responsive One Page Template
Valid W3C HTML5 and CSS3
Unique and Modern Design
Cross Browser Compatibility
Built with Latest Bootstrap Framework
Animated chart skills
Creative Portfolio
Learn More about Profile
Get Hosting
Smart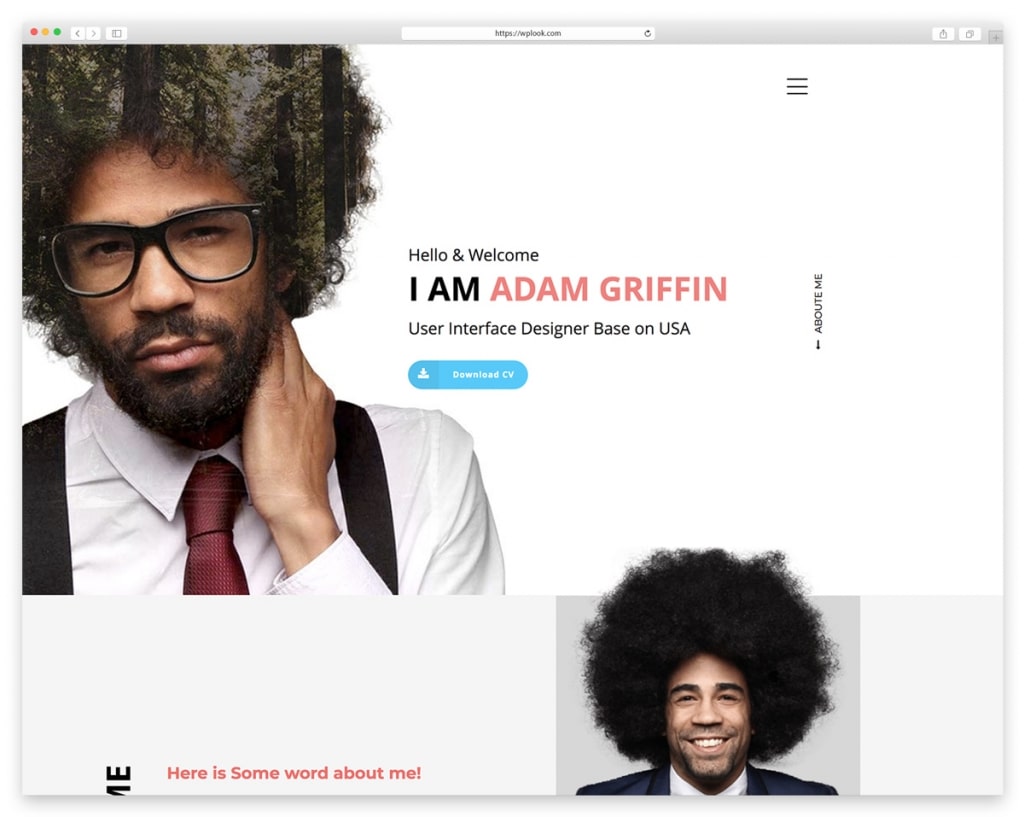 This Smart resume website template will allow you to broadcast your CV in a brand new way on your website. It is certainly a great resume choice for Politicians, Personals, Athlete, Dentists, and others Celebrities. There are actually a number of different layouts available but with the idea of having your image large, in order to get noticed. This resume is colorful, with all the necessary spaces to fill it with information about yourself.
It is laid out so well on the page so that people will actually want to read it. Smart is based on Bootstrap 3 the most popular responsive frontend framework, it is easy to customize and has a clean code. This CV is really easy to edit, it looks good and it allows you to bring an old resume, well and truly into 2018!
Key features:
Fully responsive
W3 validate code
Easy to edit
Touch-friendly slider
Learn More about Smart
Get Hosting
Applicant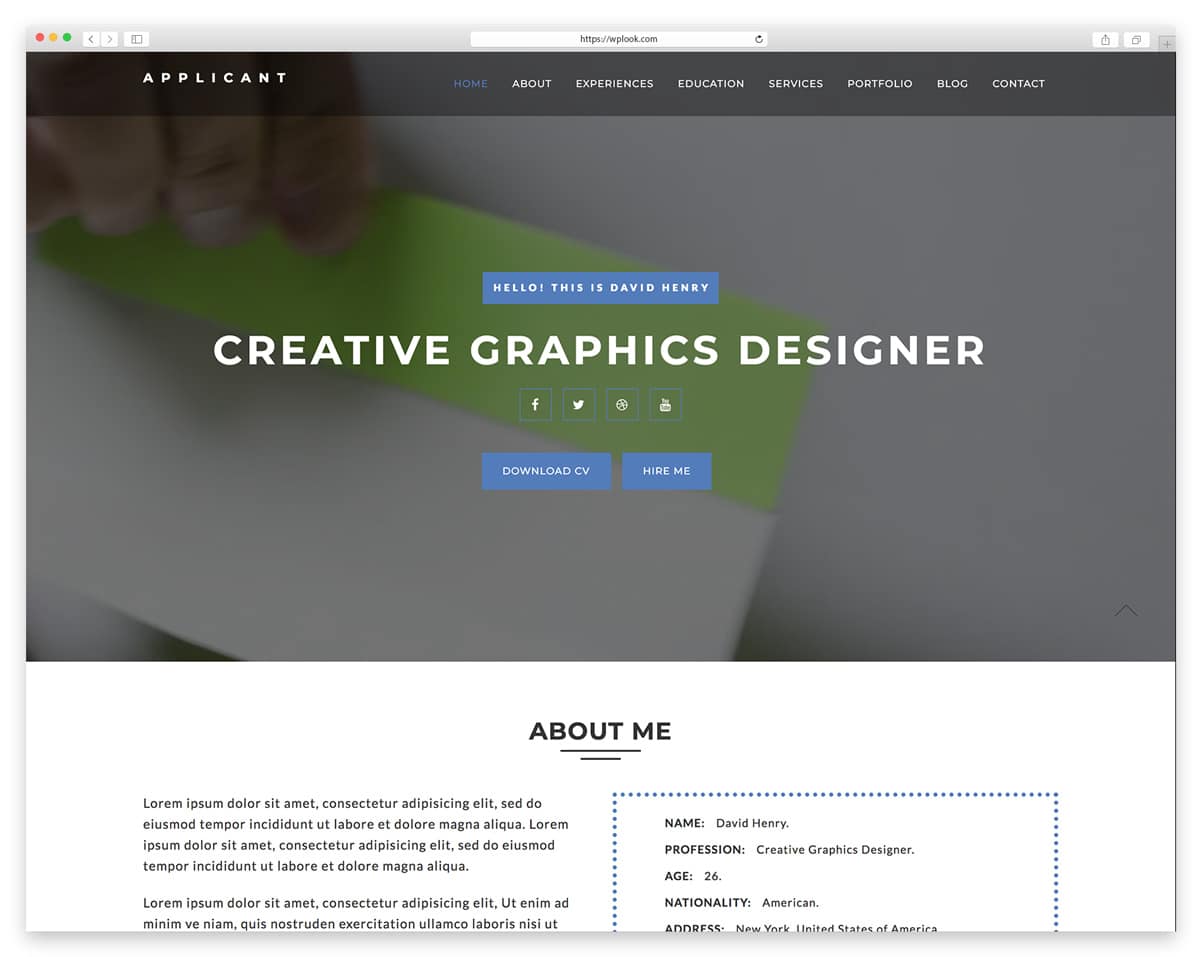 If you are a professional or creative person then this Personal CV/Resume Template is for you. This Applicant CV template looks attractive with a simple white, blue and grey style. There is ample space for all the information you need to put on your resume, in addition to some space for an image in the header. There are 3 different homepage styles depending on what you are looking for and there are also links added to your social media pages, blog.etc. It's built with Bootstrap, using HTML5, CSS3, JS and jQuery.
Applicant resume template is laid out perfectly and is extremely user-friendly. This resume will really give you the chance to show future employers what you can do and hopefully get hired. If you want to showcase yourcreativework in a flexible and beautiful way, then ApplicantPersonal CV/Resume Template is for you!
Key features:
Total 44 HTML Pages
11 Color Variations
One Page Parallax Template Style
Bootstrap Responsive
3 Home Page Styles
HTML5 Code Validation
Learn More about Applicant
Get Hosting
Conclusion
You do not have to be technical on computers to have a good CV available online. By just using one of the Best Resume Website Templates that have been mentioned, you are guaranteed to stand out from the crowd and get one step closer to the role.
When you create your resume, you can literally put it anywhere online and then it's time to wait for the job offers to come rolling in. First impressions mean everything and you can get the job you have always wanted by using one of these templates!
Personal Blog, Resumes Template, Studio 8, Templates