Despite the rising popularity of social media as an effective marketing strategy, email still remains a valuable channel preferred by millions of people. Just like any other form of content marketing, a well-designed email newsletter is a vital tool for any type of business or organization. It helps to increase your exposure, build your authority, generate higher conversion rates and keep you connected with your audience. The quickest way to bore your readers is to send them those plain text emails. The trick to engage them is knowing how to use email marketing to capture their attention. The right newsletter builder will enable you to harness the power of email outstandingly through managing contacts, creating campaigns and analyzing results.
Unlike a few years ago when tools for designing email newsletters were unheard of, there are plenty of tools to choose from today. They come with features such as list-building capability, adaptable email newsletter templates, and marketing automation tools. You no longer have to break your bank to hire a professional designer.
With the recent technological advancements, many web designers second guess their ability to generate aesthetically-pleasing email newsletters. By making use of free online design tools, you gift yourself the ability to create your ideal email newsletter in minutes. The world of email marketing is ever-evolving. New tools are designed every year and finding the best ones can be frustrating.
"How do I do it?" This is a question we get a lot. As mentioned, the increasing number of email newsletters and marketing tools may overwhelm you, especially if you are a beginner. If you are among this clueless lot, today is your lucky day. With your priorities and special requirements in mind, we have gathered 9 tools and resources that will turn you into a digital artist and help you to design engaging emails for your readers.
MailChimp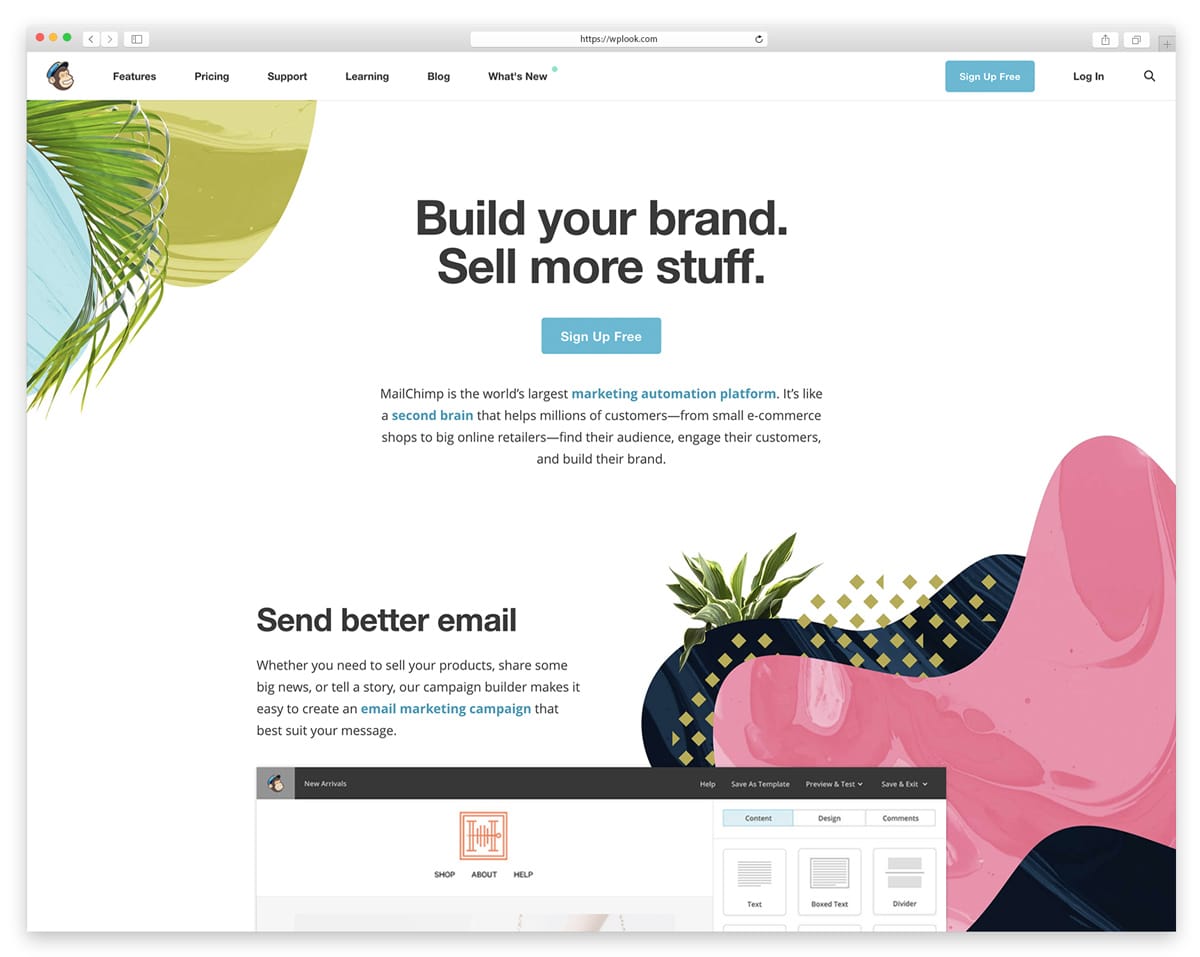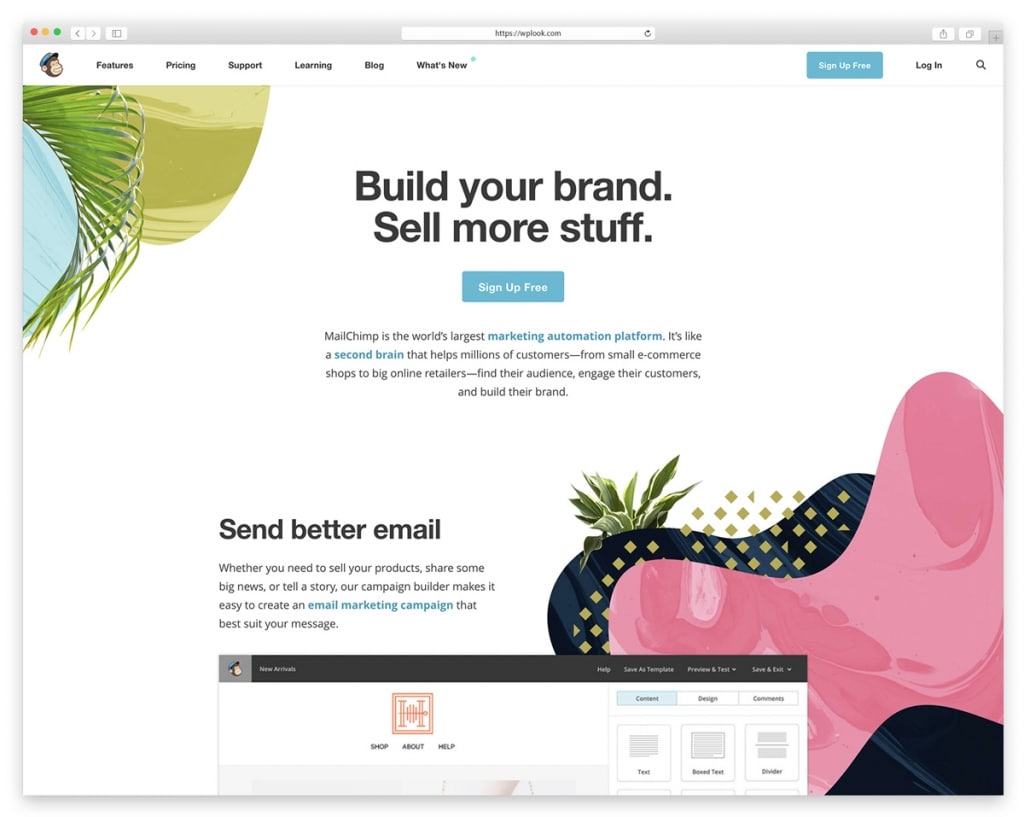 It is no surprise that MailChimp tops our list – it is one of the most popular marketing automation platforms. MailChimp is the designing tool of choice for many marketers due to its ease of use and reasonable pricing. Once you discover how fun and easy it is to create an email newsletter with MailChimp, you may be hooked. With 400+ email newsletter templates, you will never run out of newsletter ideas.
MailChimp has an in-built monitoring service that will enable you to track the profiles of your subscribers. This way you will learn about their behavior and determine the clients that interact with your content most. Other notable features include autoresponder, spam checker, Social Media integration and dedicated mobile apps for iOS and Android. You receive an indefinite free trial on 12,000 emails/month for 2,000 contacts or fewer. For additional contacts, you have to part with just $10/month. If you are working on a tight budget, the free version has some pretty handy features that you will find useful.
Learn More about MailChimp
Emma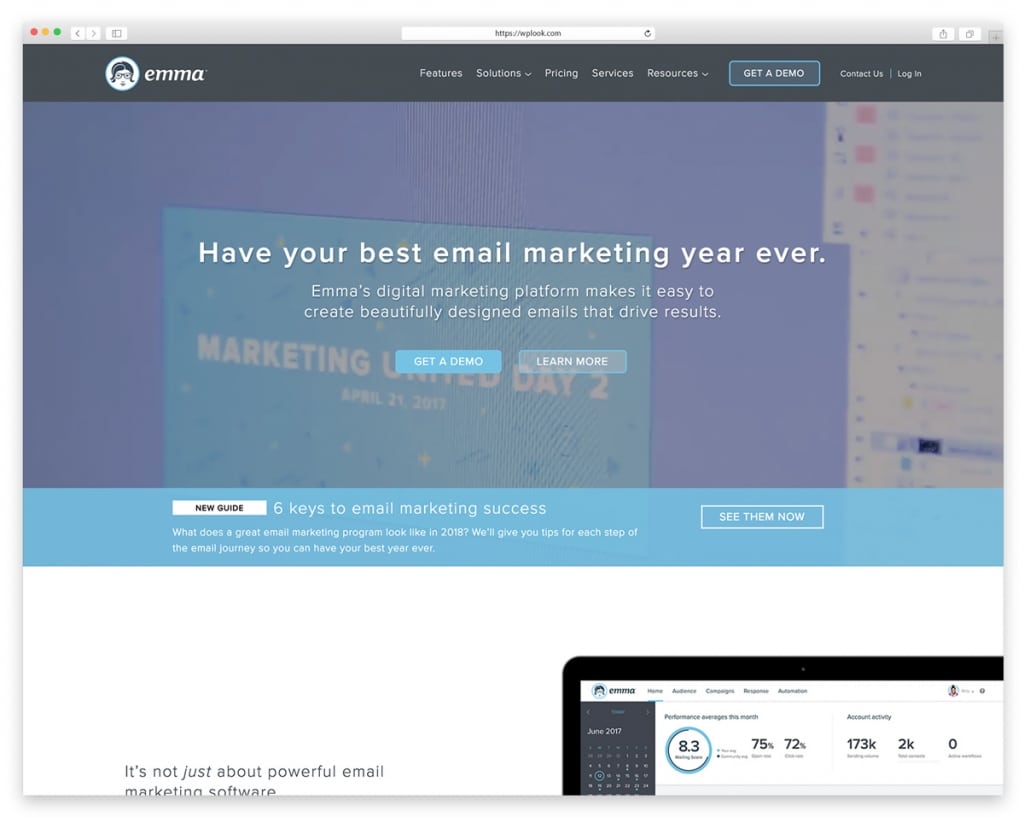 Second on our list is Emma, an email newsletter and marketing tool that will help you improve reader engagement. Emma is well-known for its autoresponder capability, user-friendly design and customer support. Emma has an array of built-in email newsletter templates for every event meaning you get matchless creative options. The team behind Emma strives to continually improve their designs and content to help you get better results.
With all these features, you will wonder how you ever lived without it. Pricing starts at $89/month for 10,000 contacts. Other plans include +Plus and Enterprise that go for $369/month for 25,000 contacts and $729/month for 75,000 contacts respectively.
Learn More about Emma
Benchmark
Benchmark is another simple and clean email editor on our list. This tool has wide-ranging email newsletter templates, both for multimedia and text use. Choose from a variety of color schemes to build accents that will make your brand stand out. You will never go wrong with Benchmark's contact management system and its effective statistics reporting. The drag and drop editor helps you to make the best email campaigns. Benchmark also gives its users with storage function where you can store videos and images for future use.
With offices in 15 countries, Benchmark has one of the best international customer support. This awesome tool provides different plans to satisfy the varying needs of website owners. Available in 9 different languages, pricing for Benchmark starts at $13.99/month.
Learn More about Benchmark
Canva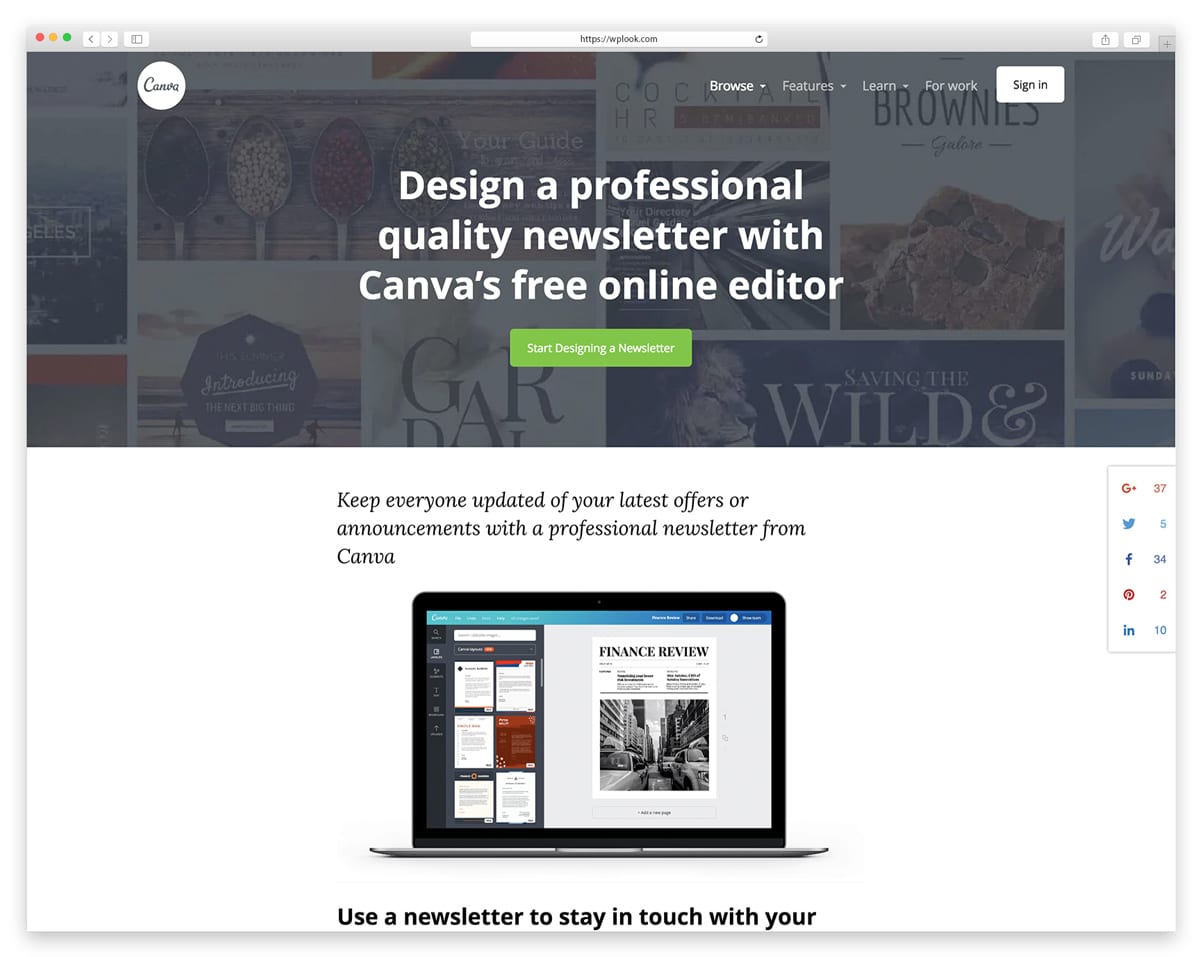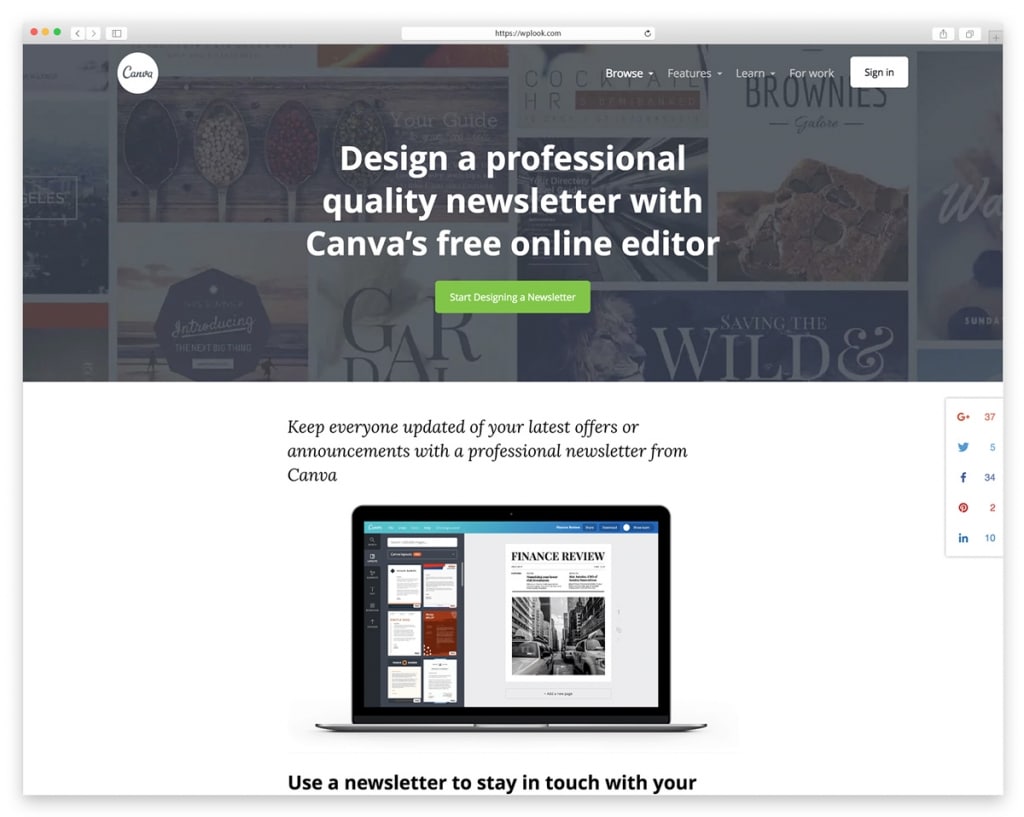 Canva is a free online service that was designed to help you come up with well-designed newsletters that will blow your readers' minds away. If you have been unsuccessfully searching for a creative and modern tool with an extensive library of professional-looking email newsletter templates, look no further than Canva. The broad range of stock images will enable you to pick a picture that best portrays what you want to express.
You will have fun adding different elements like banners, texts, and buttons to build customized images for your campaign. You can edit images and content easily with Canva's drop and drag visual editor.
Learn More about Canva
Inbox Inspector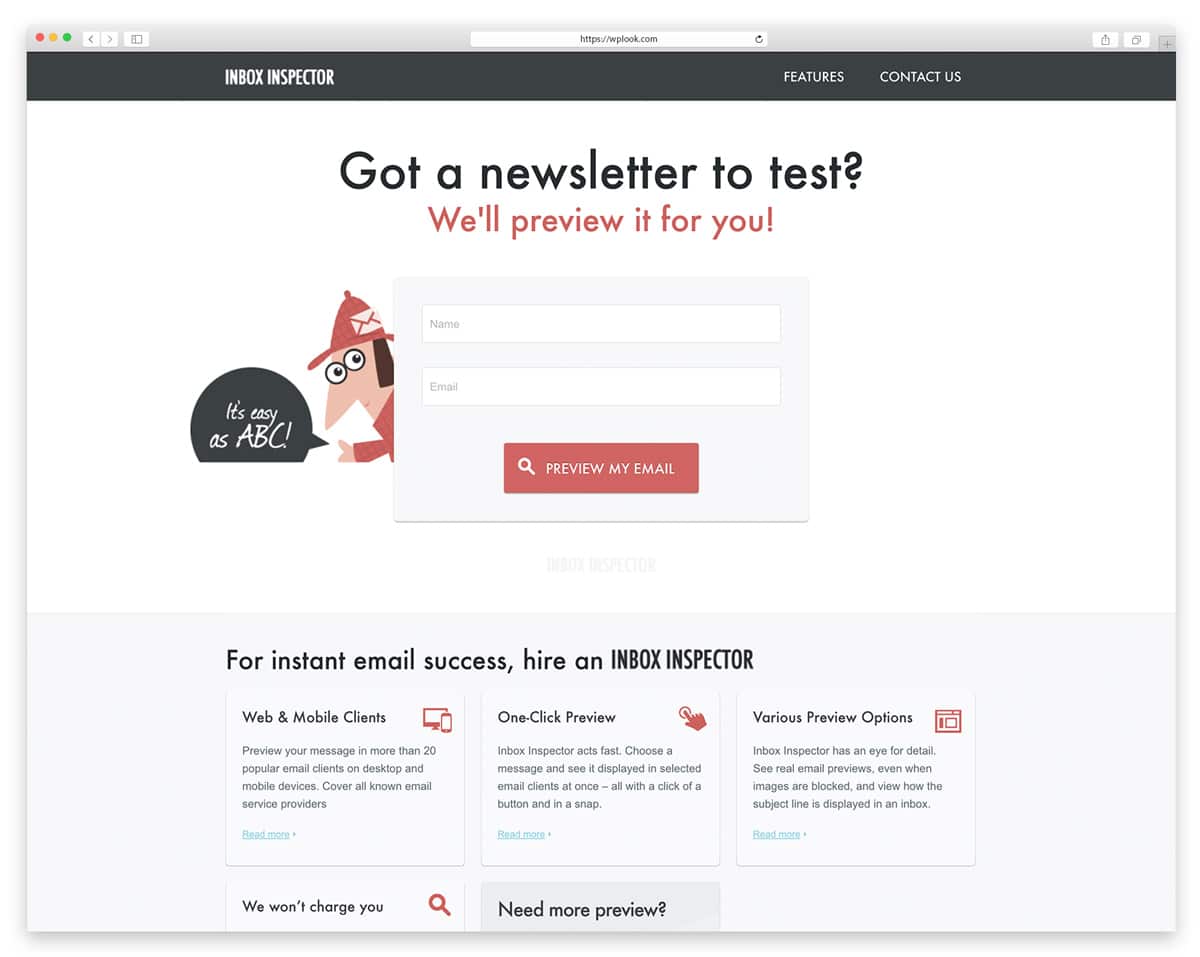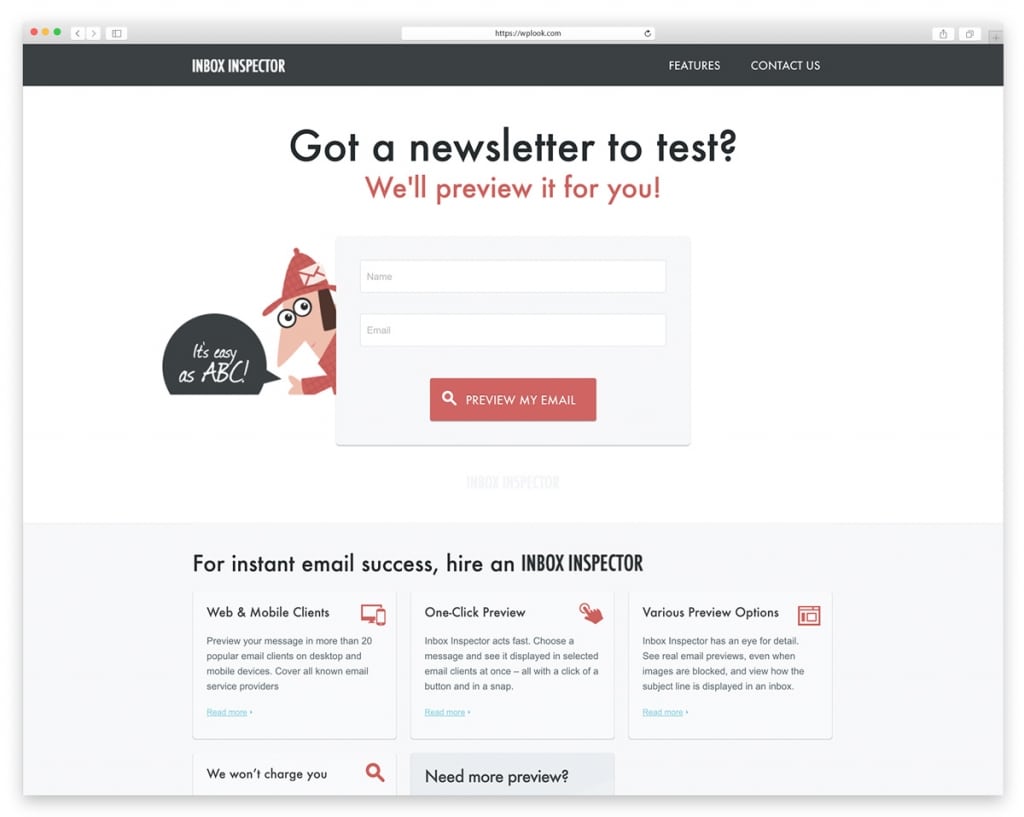 Your email newsletters need to stand out from the crowd, and using boring email layouts won't get the job done. Inbox inspector is a huge asset to the email marketing community. The free preview tool helps you build engaged audiences. If you are searching for a simple email preview tool, try out Inbox Inspector.
It is an effective and easy testing tool known for its impressively accurate results. You can test is for free to determine whether you like it not. Also, you will be able to preview your emails in more than 25 most-used email clients all in one place. The feature includes all popular standalone webmail, desktop clients, and mobile email apps.
Learn More about Inbox Inspector
MailUp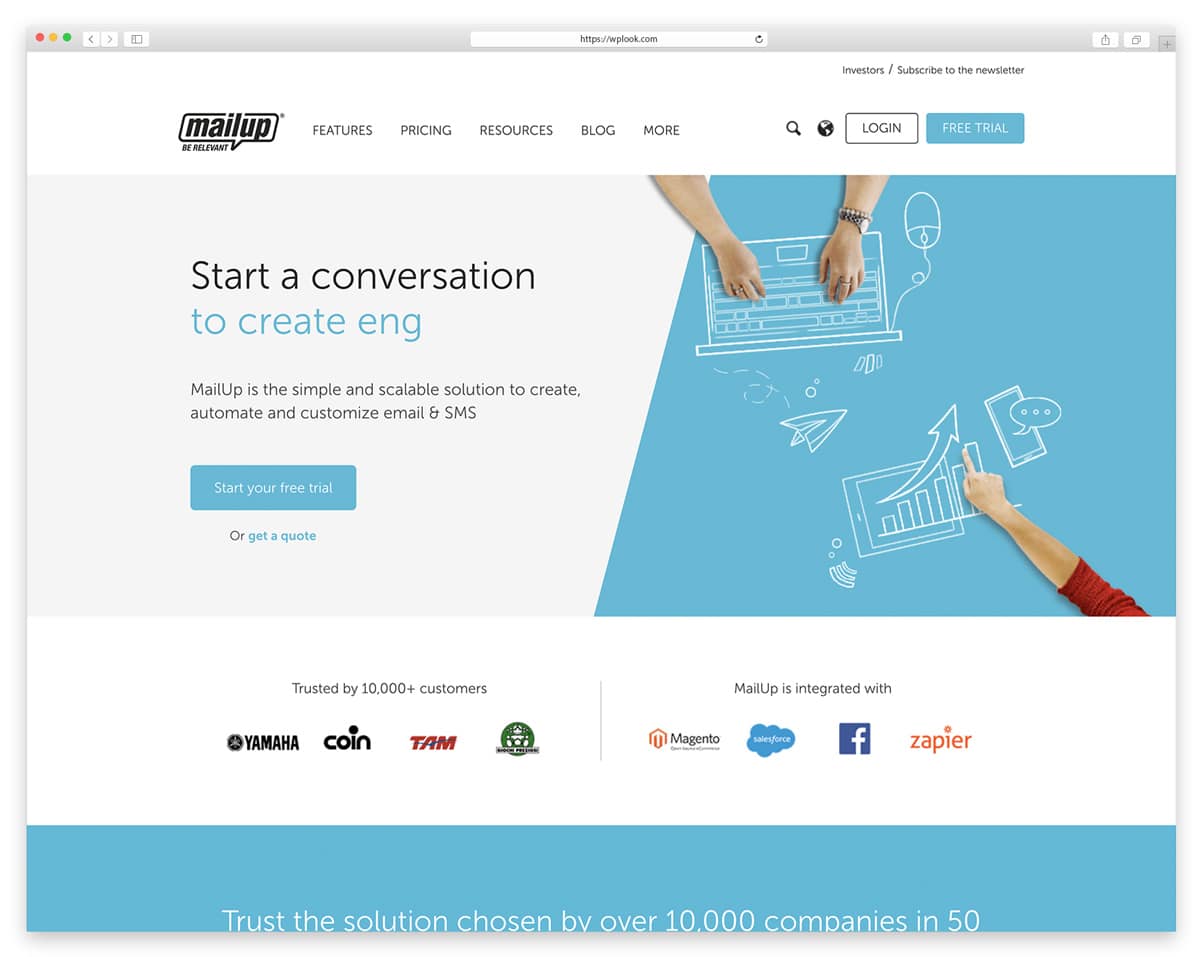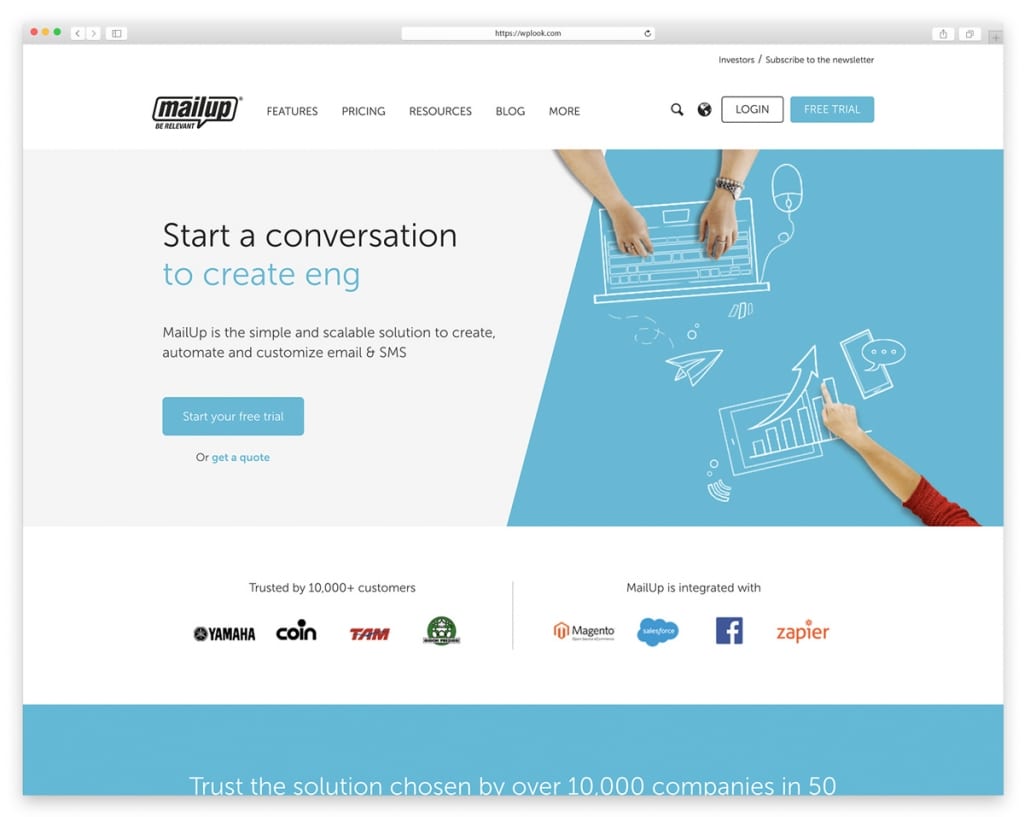 Known for its contact management and professional email newsletter templates, MailUp is the preferred newsletter builder for Nonprofits and small businesses. It is used by 10k+ companies in over 50 countries around the world. Mailup makes it easy to create, customize and share awe-inspiring emails regardless of whether you have technical experience or not.
This way, you generate more exposure for your brand. MailUp has an interesting pricing structure. Prices depend on the speed at the start at $51/month. If you prefer your messages to arrive quickly, you will have to dig deeper into your pockets. Also, you can integrate MailUp with CRMs, e-commerce platforms, external databases, CMS, ERPs, Business Intelligence systems, etc.
Learn More about MailUp
Sendloop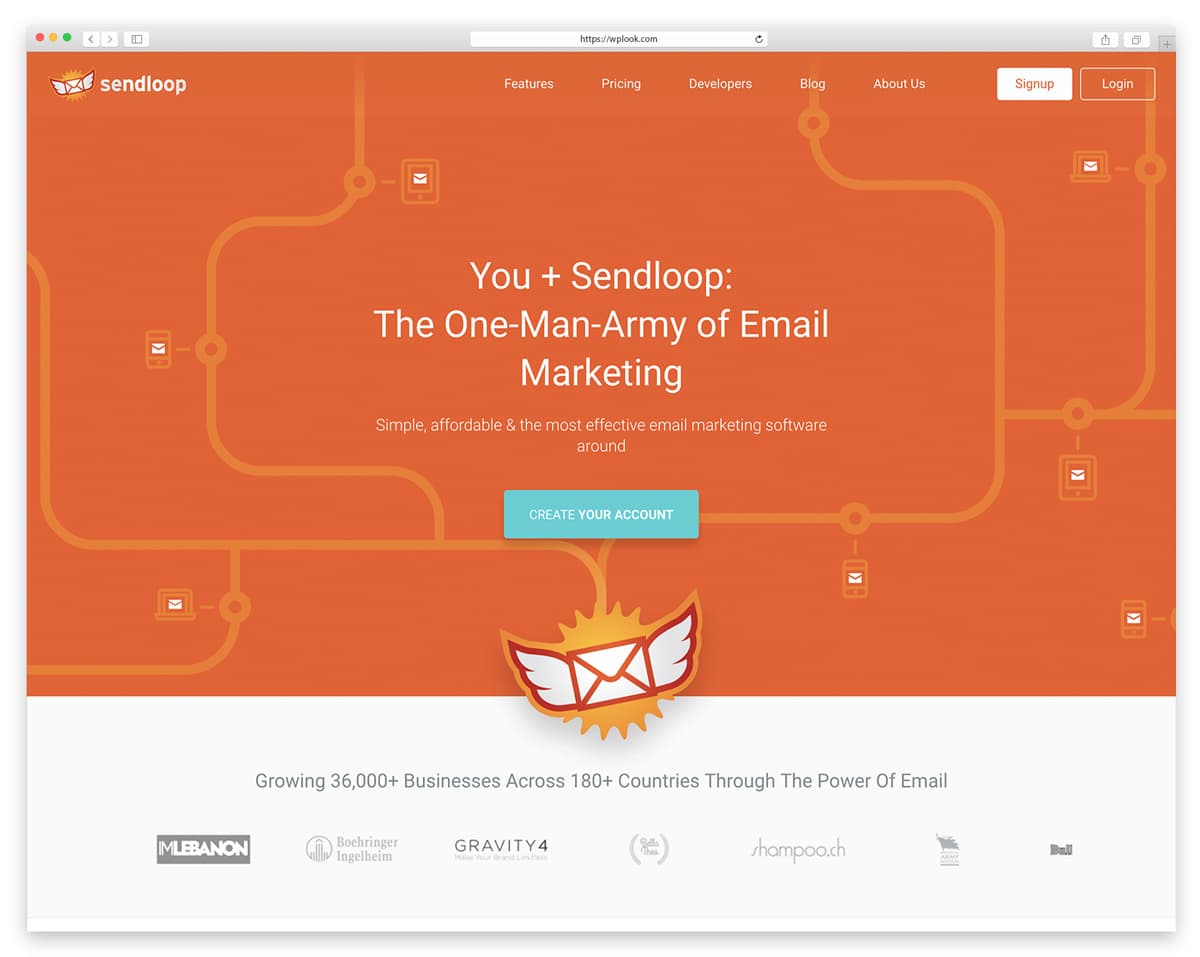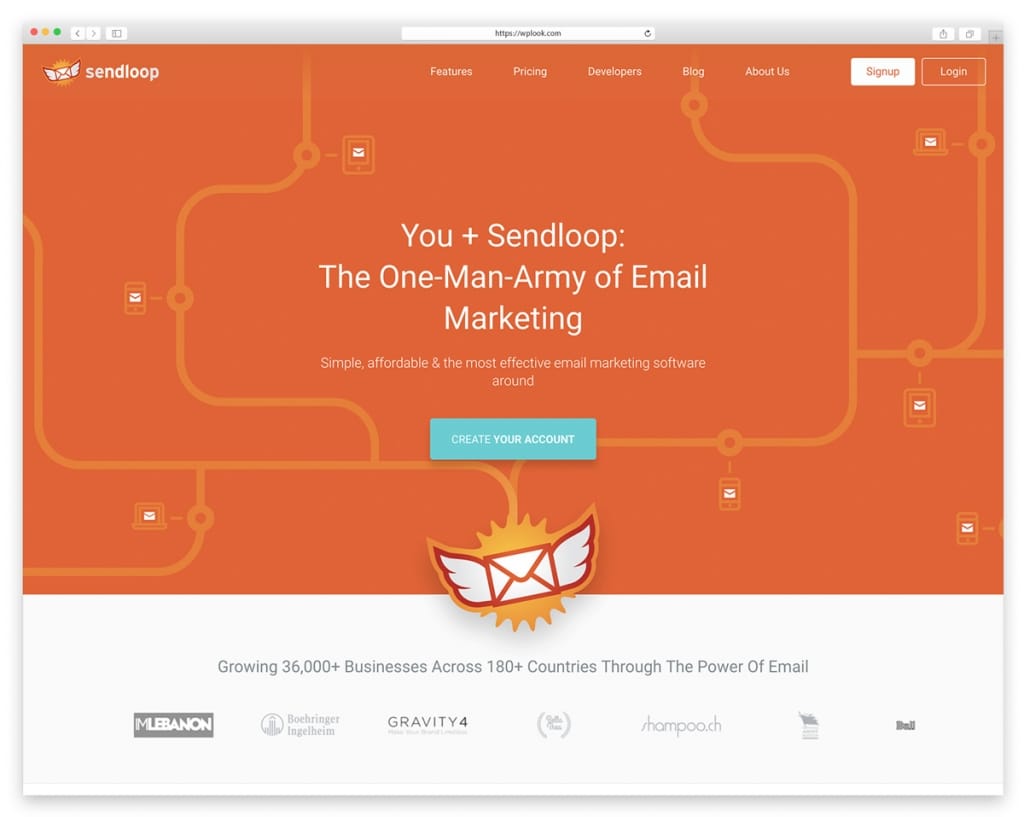 Sendloop has some really nice features that will allow you to send email to your readers. Many email marketers like this tool for its perfect blend of useful features and affordable pricing. If you are a beginner, you should seriously consider Sendloop for your email marketing campaigns. Announce new promotions, upcoming events and keep your readers informed on new projects.
With 36,000+ businesses around the world in over 180 countries, you will never go wrong with Sendloop. You can sign up for free and the pricing starts at just $9/month. With this monthly plan, you can enjoy unlimited email delivery, have 100+ mobile-friendly email templates, 500+ third-party integrations and much more.
Learn More about Sendloop
Mailjet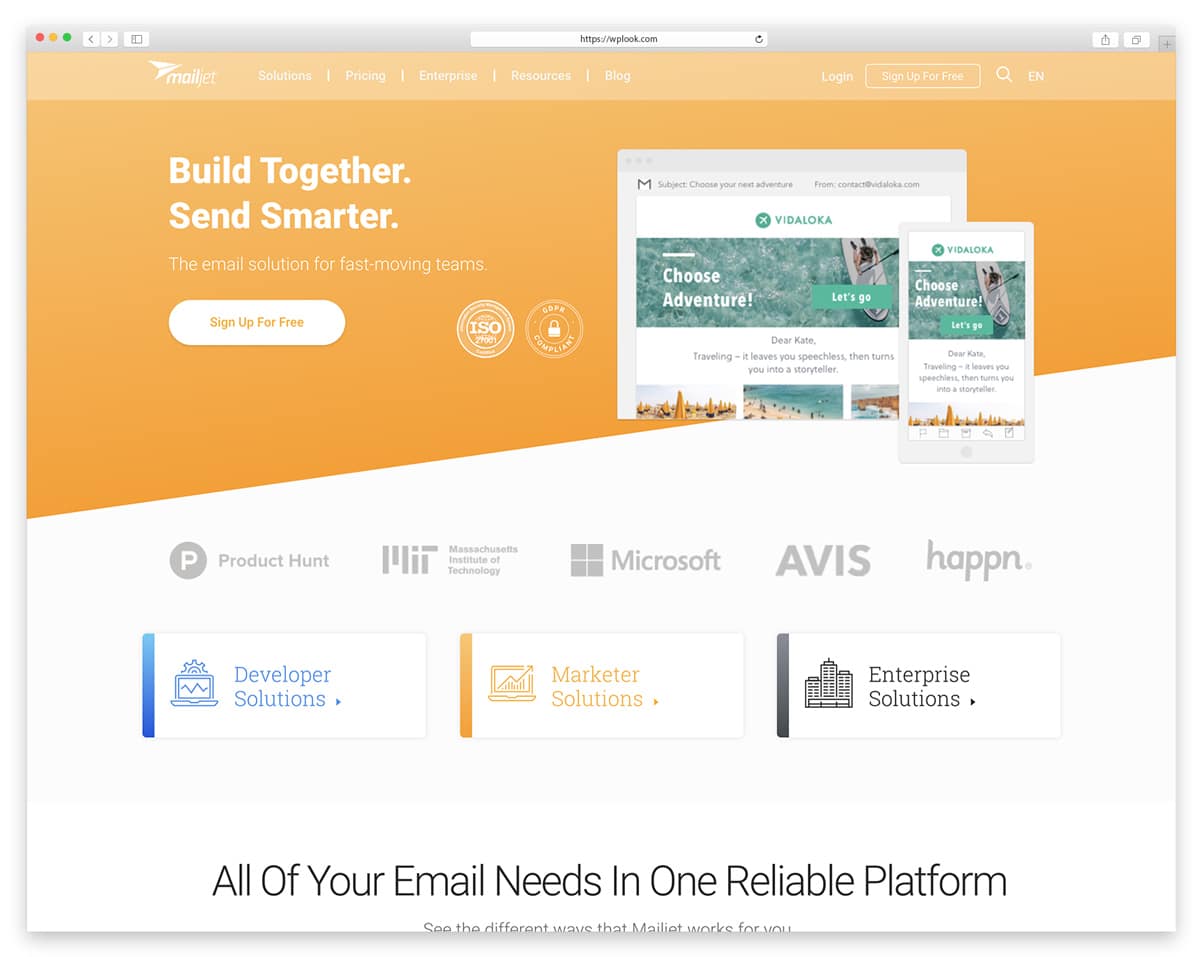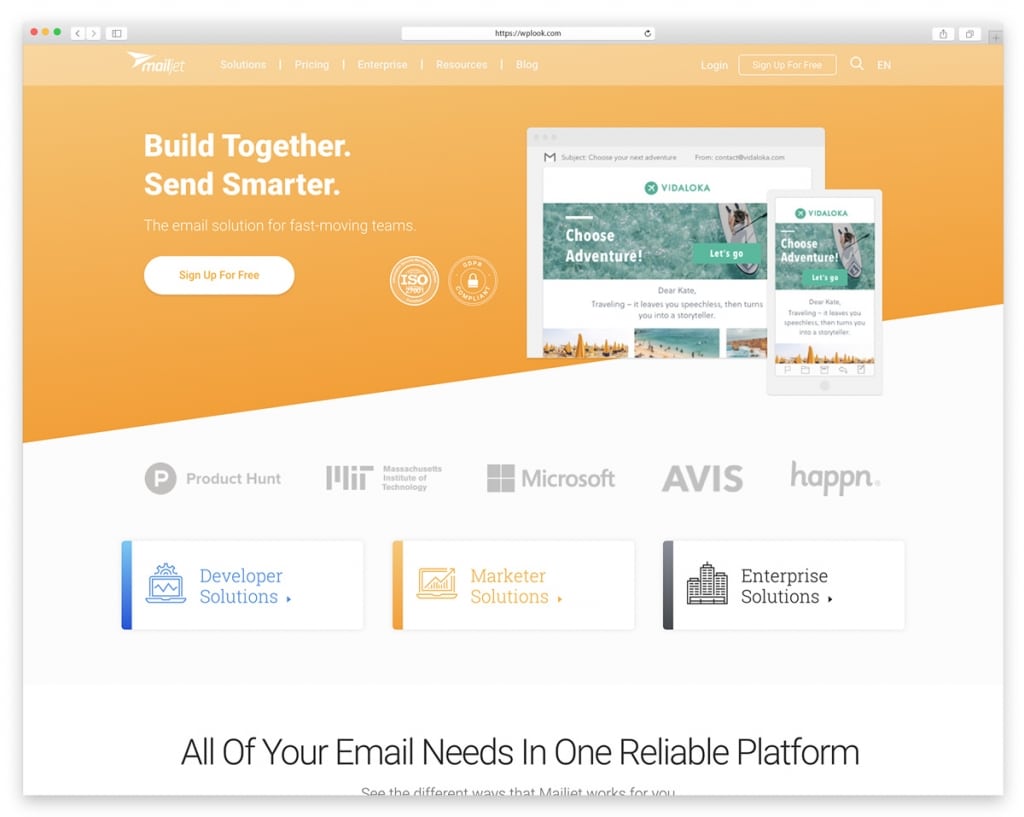 Known for its speed, Mailjet is the perfect tool for you if you want to deliver emails promptly. Timing is essential when it comes to sending email newsletters to your readers. If you are a sucker for slow mail delivery, make Mailjet your friend. For 200 emails per day, you are not charged a dime and you get Unlimited Contacts, Full API Acces, Advanced Email Editor, Advanced Statistics.
When you hit 30,000 emails per month, you pay just $8.04. Mailjet supports 4 languages and has offices in 7 countries. Also, Mailjet has customized solution for high-volume senders and large companies.
Learn More about Mailjet
Campaign Monitor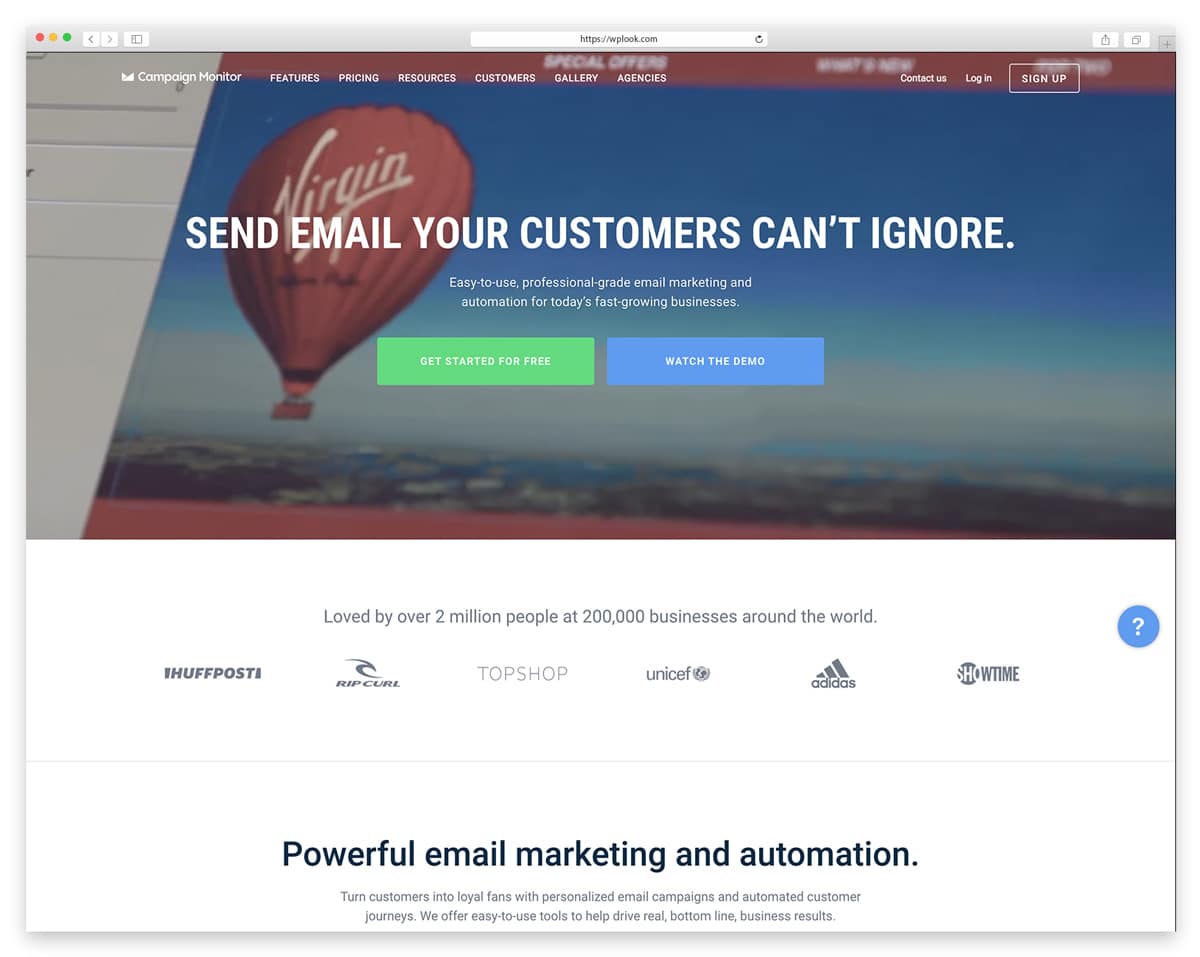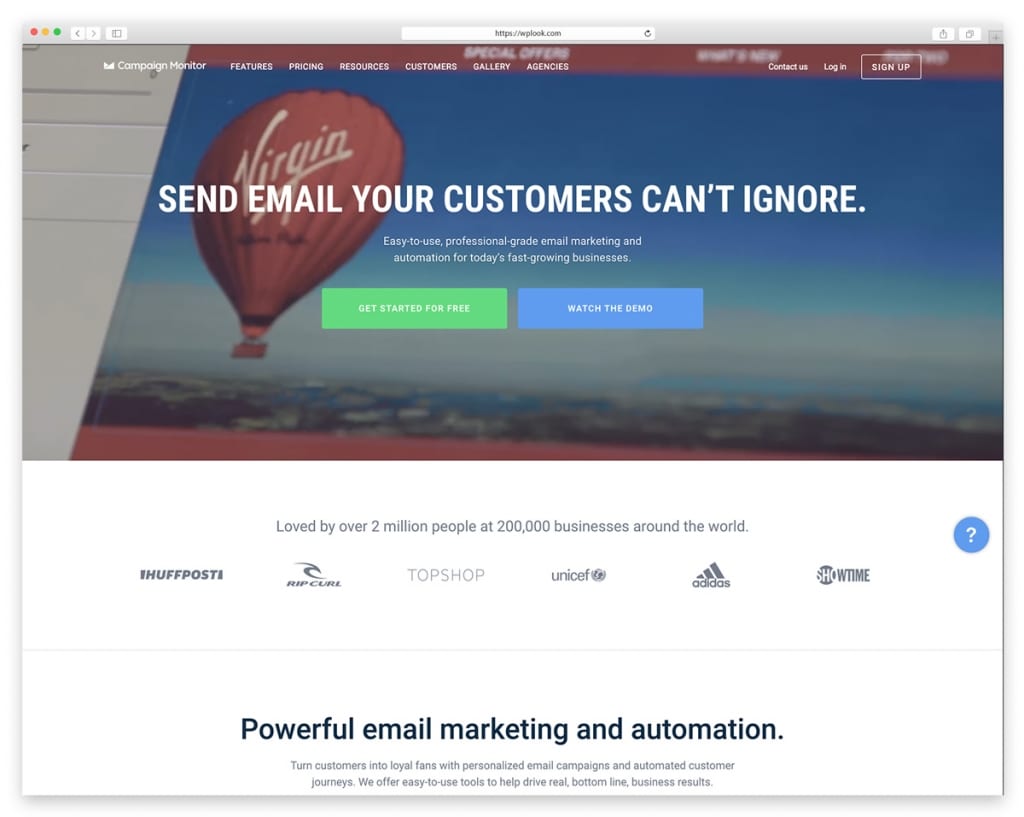 Campaign monitor is another great tool that sums up our list. This tool is popular among designers due to its usability and assortment of incredible templates. The unlimited image hosting allows you to be as creative as you wish. Choose from 40 templates to come with that email newsletter you've always wanted. The drag and drop feature will enable you to customize your newsletter to your liking. Ever wondered how your emails look on hand-held devices? Campaign Monitor is mobile optimized meaning that it will look good on all devices.
They provide 24/7 Global customer support. The Basic Plan will cost you just $9/month for 2,500 emails. Other plans are Unlimited and Premier that goes for $29/ month and $149/month respectively for unlimited emails.
Learn More about Campaign Monitor
Final thoughts
With a rising number of email campaigns fighting for your readers' attention, quality newsletters will give you the edge over your competitors. Nothing else capturer's your readers' attention like a well-designed email newsletter.
The 9 tools and resources discussed above will help put your mind at ease by helping you come up with better looking and better-performing email newsletters. Pick a tool that addresses your needs in order to create an email marketing campaign that brings you more conversions and revenue.
Email Newsletter