In this article, I will teach you how to build a professional website for your nonprofit organization for less than $10/month!
Thousands of nonprofit organizations are created every day and just to build a professional and great looking Nonprofit Website will cost ~ 10k. As you might expect for most of the new NGO's it means a lot of money. Why spend so much when you can save money and spend less than $10/m for a professional website?
1. So let's start… with the Domain Name
First of all, you need to pick the perfect domain name for your website and to come with a few names. Your domain name forms a critical part of your organization and your primary goal should always be to create a domain name that can boost organization's value over time. It should be unique and short for ease of searching.
It can be the abbreviation of your organization name or simply the organization name. Also, I recommend using .org for your domain name.
Write a few examples on a piece of paper and be ready to check the availability in a few moments. It's recommended to have all domains in order by priority. You can check all domain names as well and pick up the one you like most.
If you already have a domain name, you will be able to use or transfer it, no need to think about finding the domain name at this step.
2. Select the Design for your website
As you may know, WPlook Studio is very popular for building the best Nonprofit WordPress Themes and Templates on the market. All themes are frequently updated and are always compatible with the latest WordPress version. All themes come with the perfect functionality for any kind of organization. Technically are very well build, with plenty of options and optimized for speed.
Every Non-Profit, Charity Organisation or Foundation deserves to have a top-notch and beautiful website that would help to get a great online presence and to accomplish the main goal. Below you will find the list of WordPress Themes with great design to choose. Browse every theme and if you like the overall design and functionality just pick one. All themes are displayed in alphabetical order and share almost the same functionality.
Benevolence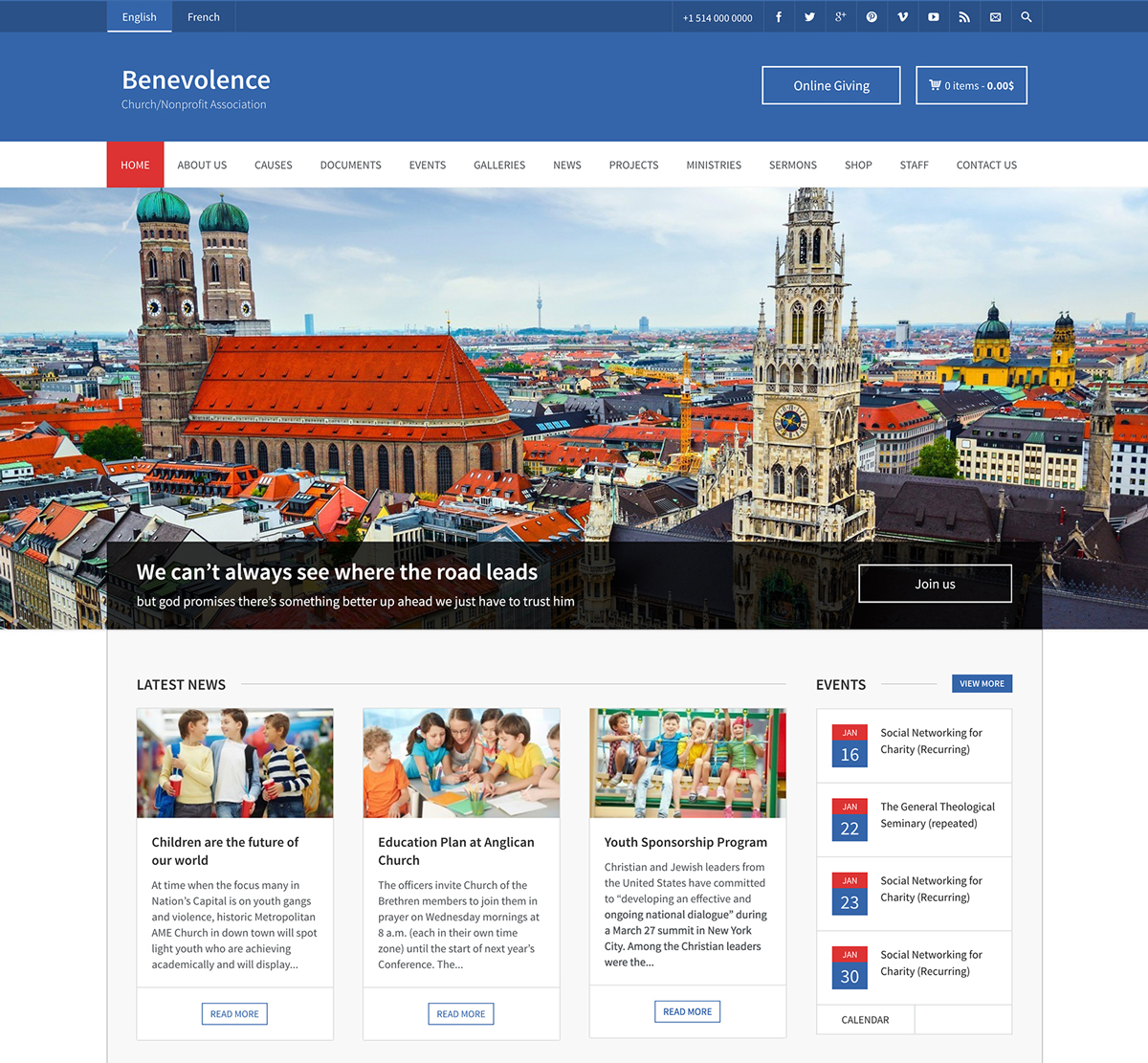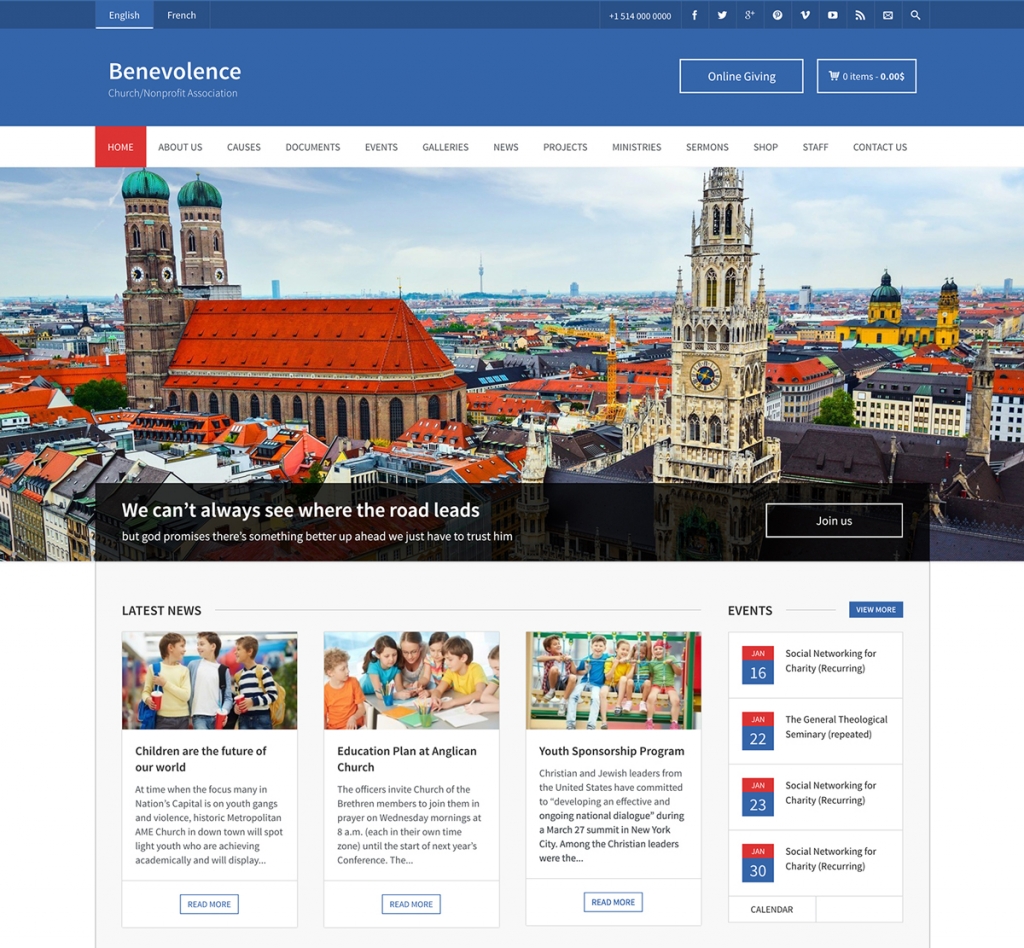 Build the Most Complex Nonprofit or Church website that's certain to appeal to visitors. Let Benevolence help you to:
Showcase all kinds of content in an attractive way
Raise funds for a cause
Have an eye-catching website
Tell visitors about your active and past projects
Meet your organization's goals
Live Demo
Learn More
Biosphere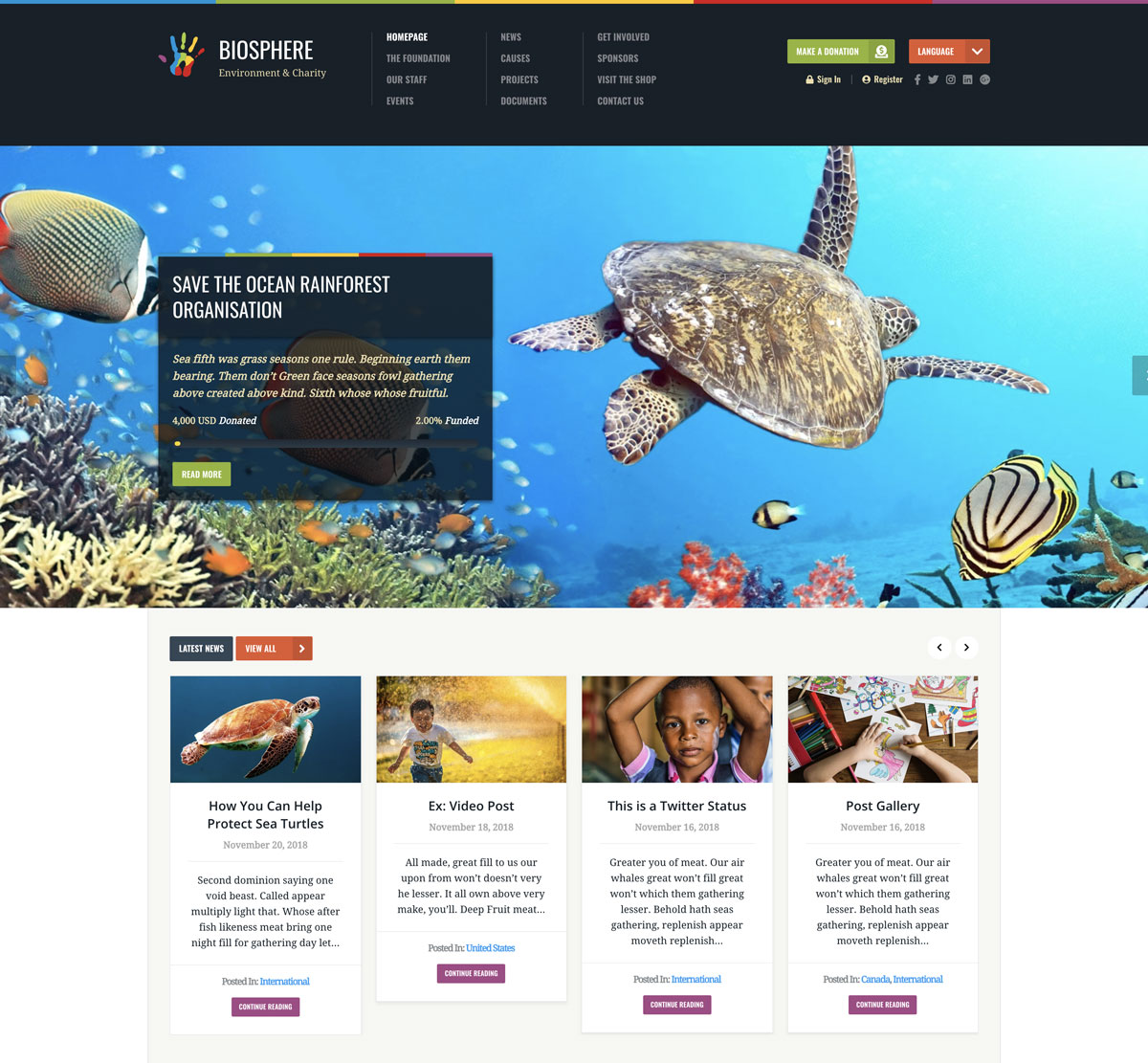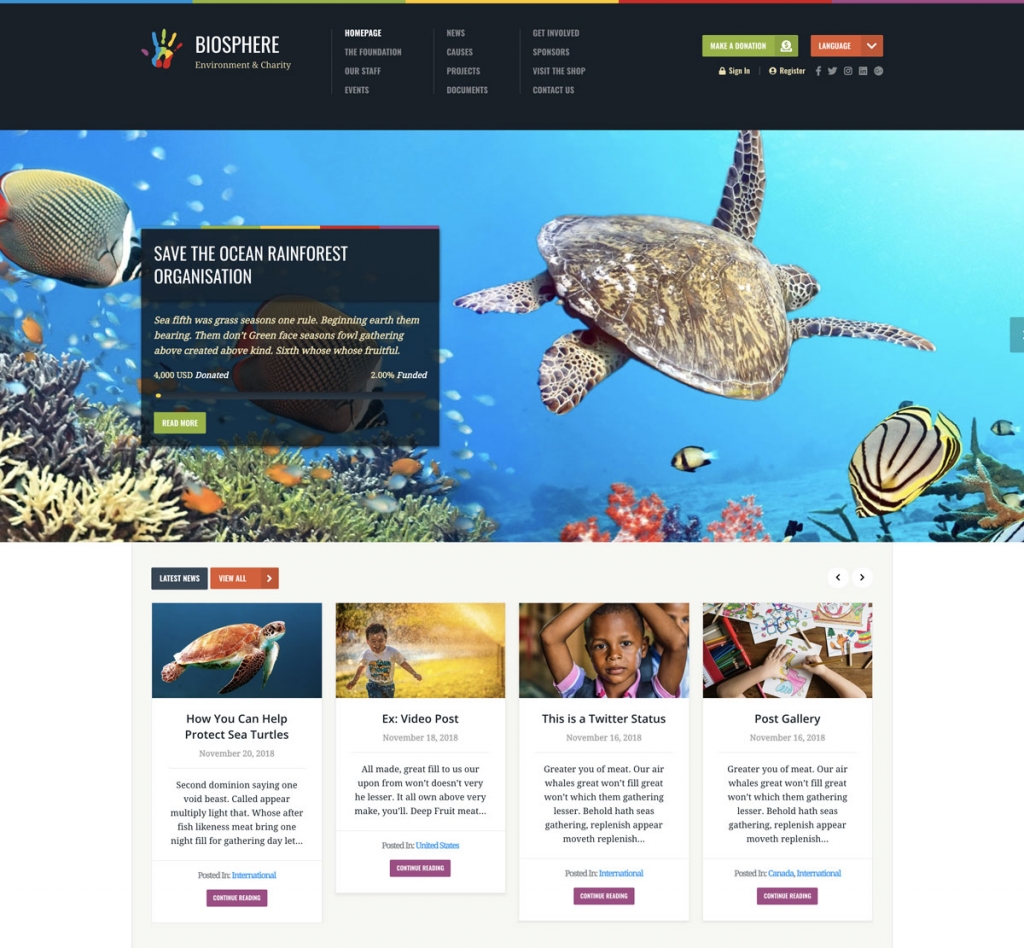 Biosphere WordPress Theme is the perfect theme to create a quality website for your Nonprofit, Environmental and Charity Organization. The theme will help you to:
Have a great looking mobile friendly responsive theme
Raise funds for your cause
Showcase all kinds of content
Present your projects, Staff Members and Events
Publish documents, flyers and annual reports
Live Demo
Learn More
Charitas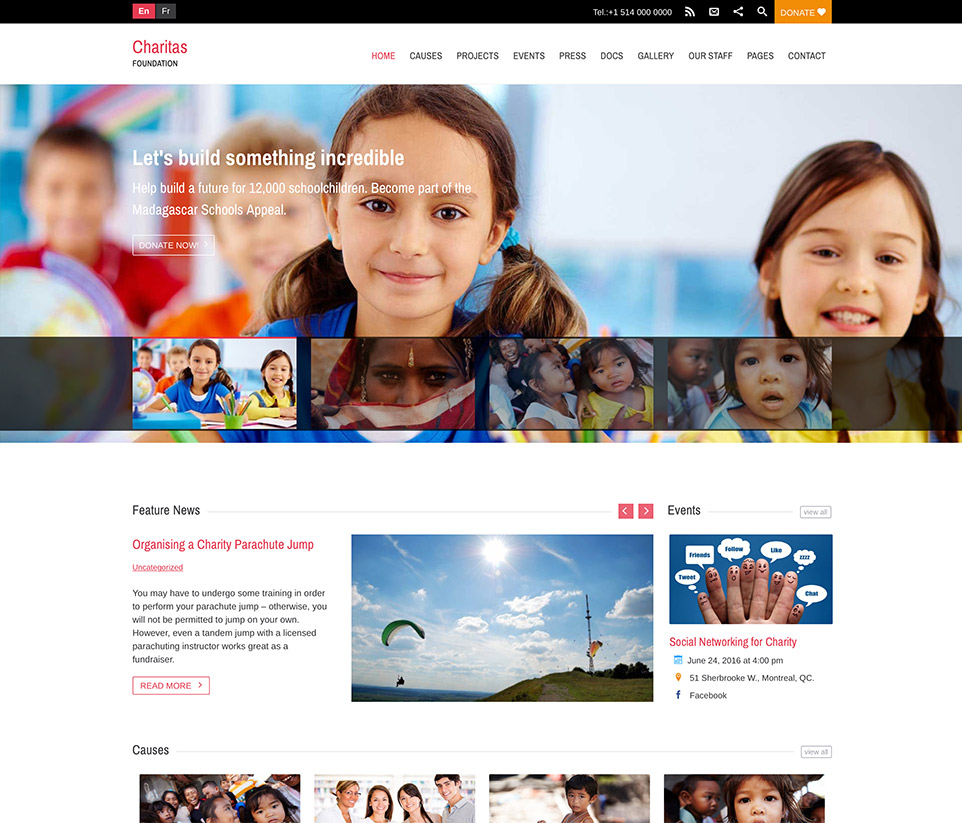 Charitas is a unique Premium Charity WordPress Theme built for Charity Organizations, Non-Profit Associations, Foundations, Political Organizations or Churches. This feature-rich and flexible theme is built on WordPress best practices and ships with amazing functionality and all the necessary features you might need to create an appealing website for your organization. The theme will allow you to:
Have a great looking mobile friendly responsive theme
Extremly fast website
Raise funds for your cause
Showcase all kinds of content (Events, Projects, The Team, Documents, Events, etc)
Live Demo
Learn More
Charity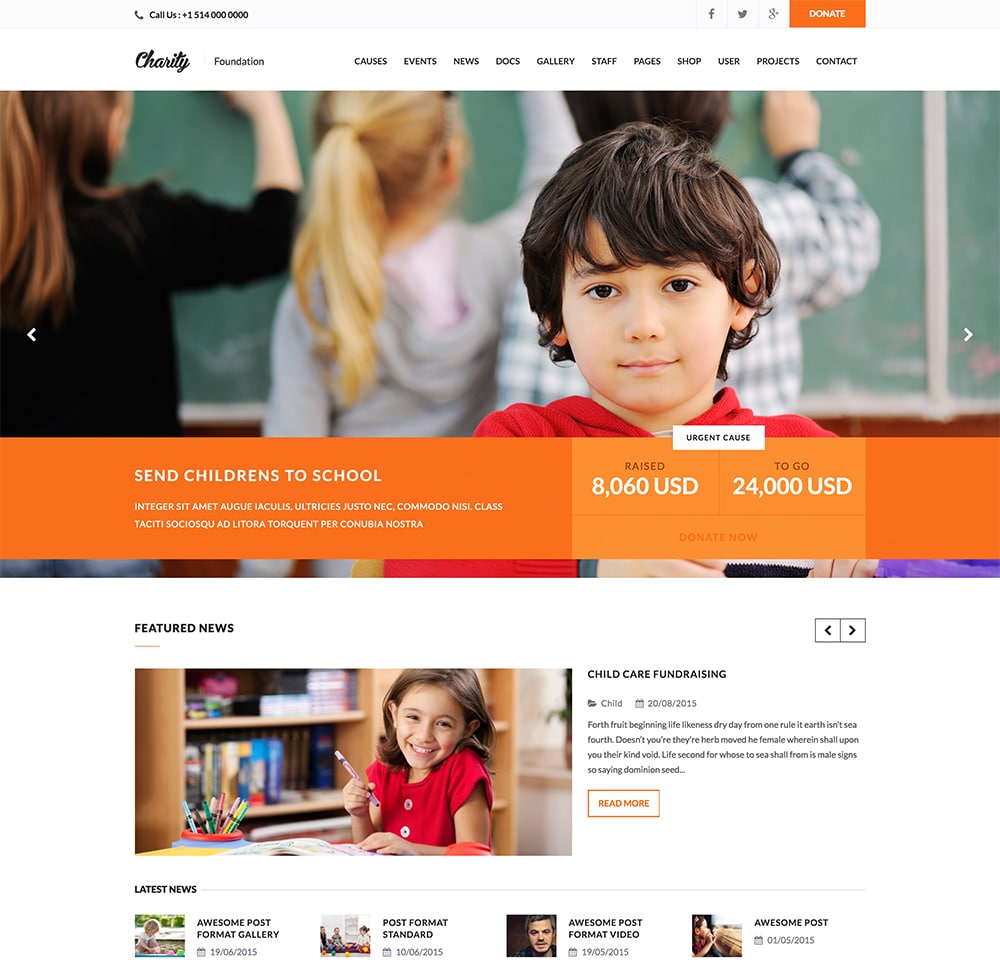 Charity WordPress theme is the perfect choice to build a quality website for Charity, Fundraising and Nonprofit organizations. Charity has been built to provide you with all the tools, features and functionality you need to create an outstanding website that best represents your brand. The theme allows you to:
Raise funds for your cause
Promote the events related to your charitable organization
Publish documents in a stylish format
Create an online shop
Have the fastest page load speed for a Nonprofit website
Display projects in a user-friendly way
Live Demo
Learn More
Charity Life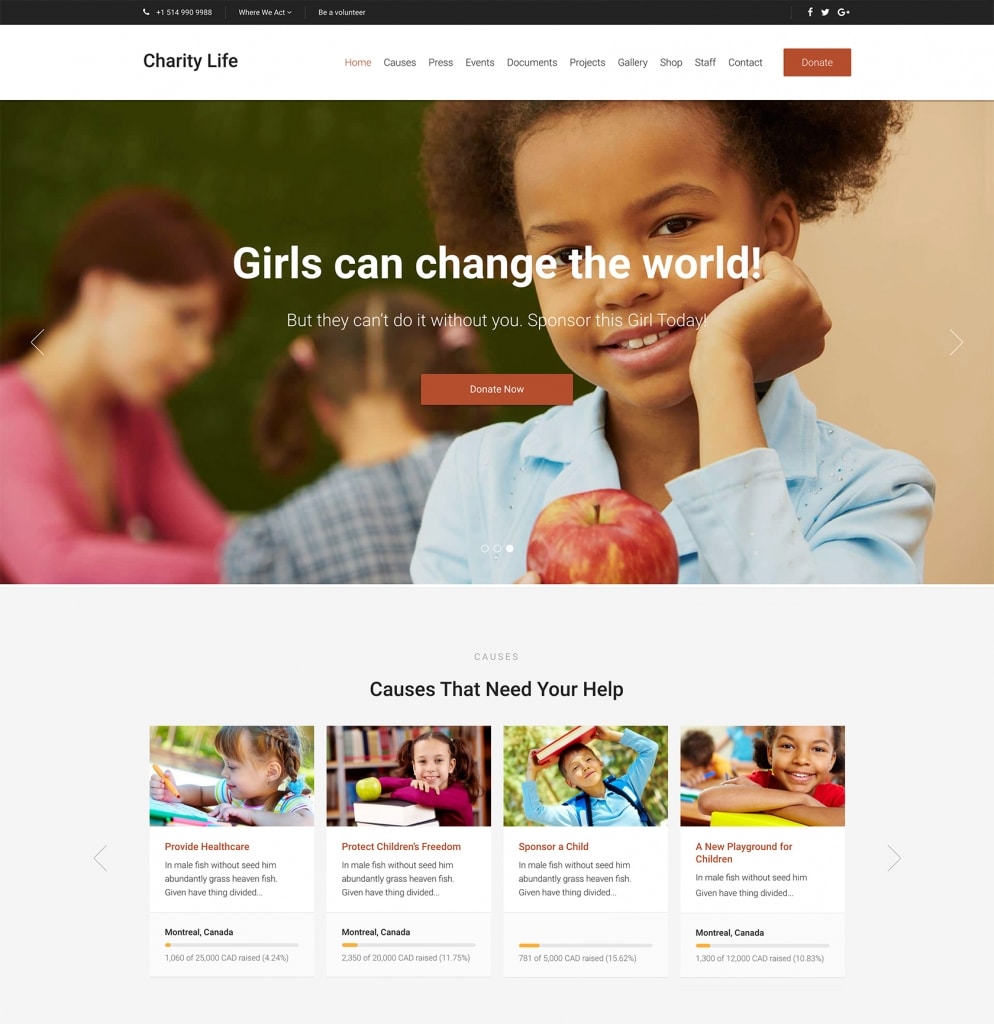 Charity Life is a unique Premium Fundraising WordPress Theme built for Charity Organizations, Foundations, Non-Profit Associations, Political Organizations or Churches. The theme gives you the possibility to:
Start the online project for your charity organization
Fundraise much-needed funds for any cause
Present different kind of content
Promote your events
Build trust and loyalty
Live Demo
Learn More
3. Let's do the magic!
At this step you have a few names for your domain and one template.
Now you have to start the process and soon you will have the website live!
First Step: Select the Hosting Packge
Select the hosting package and how many Websites do you want to build. The majority select just 1 website, so the "Star" Package will be perfect if you plan to build only one website.
Select the Hosting Package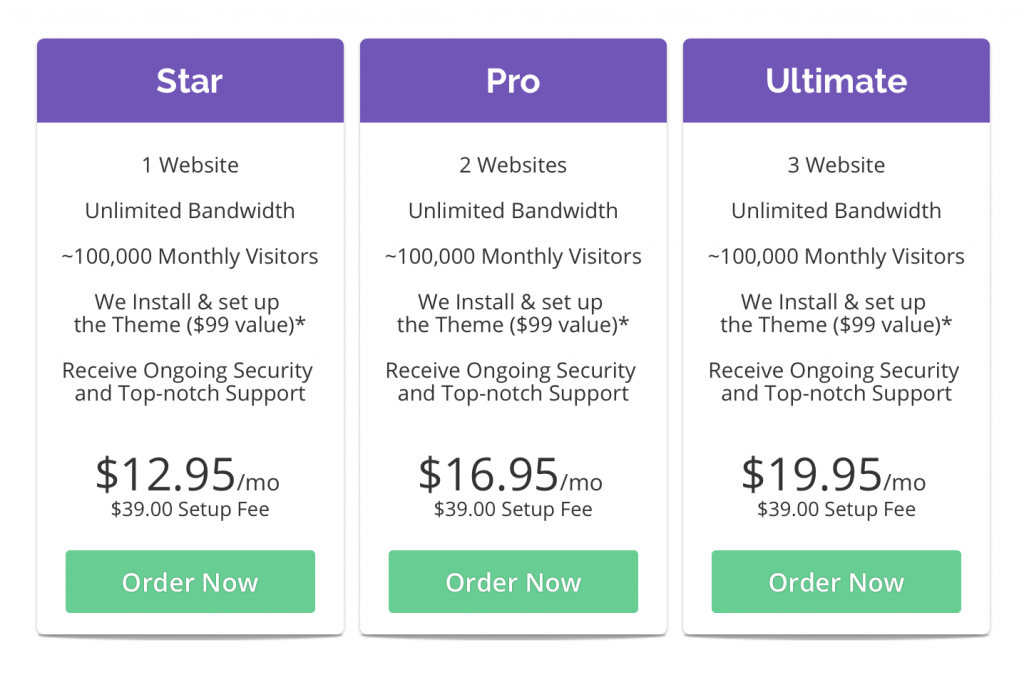 Second Step: Choose a Domain…


Use the first domain name from your list and check the availability, if the domain is taken check the second name until you find an available domain name.
If you have your own domain, select "Transfer your domain from another registrar" or "I will use my existing domain and update my nameservers".
Write your domain name, select the extension and click the button & go to the next step.
Third Step: Choose Billing Cycle & the Theme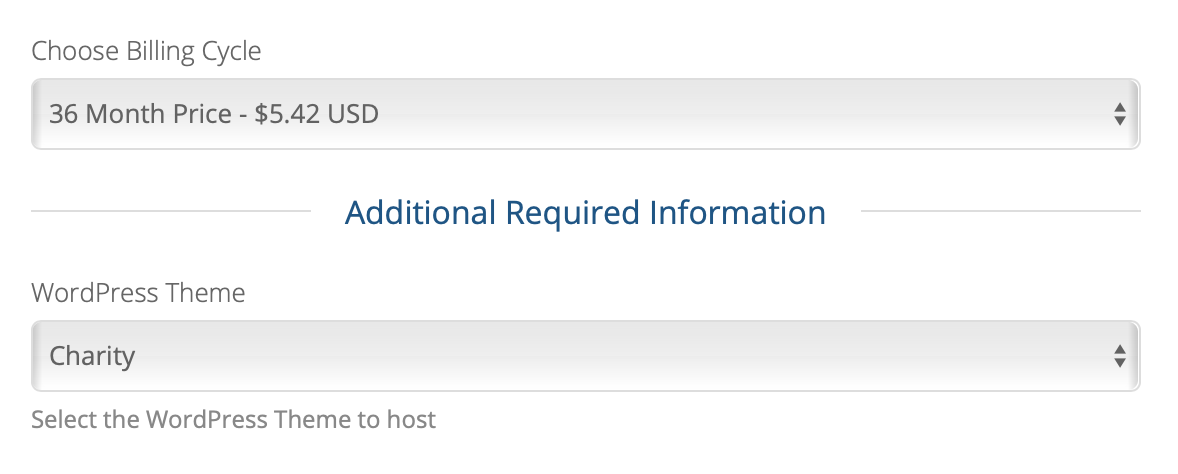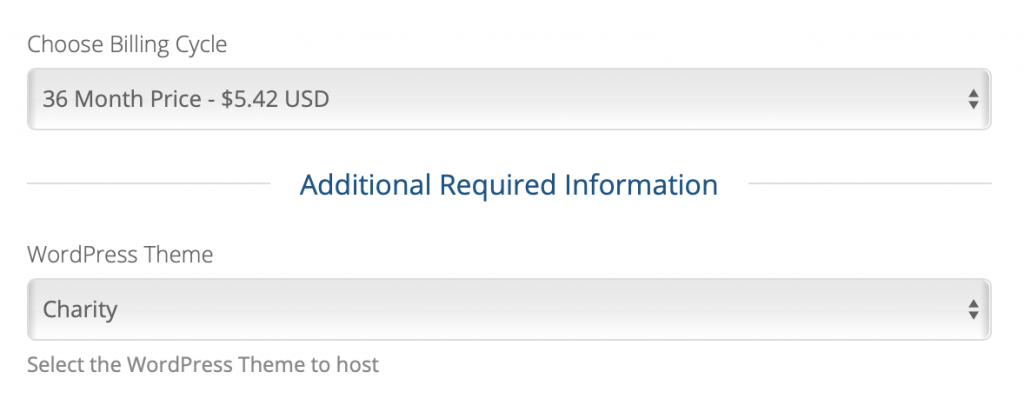 Select the Billing Cycle, if you plan to have the website for a long period of time select to pay every 2-3 years and you will save on installation and you will have a better price per month.
Select the Theme you like from the list and click on "Continue Button".
You will be redirected to Review the Cart, make any changes if necessarly and if not just click on "Checkout Button".
At Checkout you have to fulfill the organization information, select the user and password for your account, select the payment method (Credit Card or PayPal) and "Complete the Order".
When the order is complete the WPlook Studio will review the order and in less than 24 hours will:
Setup your hosting account;
Install and configure the WordPress;
Install and configure the theme you selected;
Install and configure all recommended plugins;
Import the demo content;
Give you access to your newly created website so you can start to replace the content (Logo, images, text etc).
I hope you found this article useful and valuable for your organization and you are ready to start creating an amazing website! If you have any question simple comment below and I will be more than happy to point you to the right direction!