Charitas PRO WordPress Theme
Charitas PRO is a Premium WordPress Theme especially created to help you to build a professional WordPress website for your Foundation, Charity or Nonprofit Organizations.
The theme is optimized for speed. It follows proper code standards and is constantly updated. Charitas PRO works with the majority of plugins and the latest WordPress Version.
Clean Code
Easy to install
Optimized for speed
Compatible with PHP 7.3
Top-notch Support included
Child theme Included
Demo Content Included
Responsive Design
Integrated with PayPal
Integrated with WooCommerce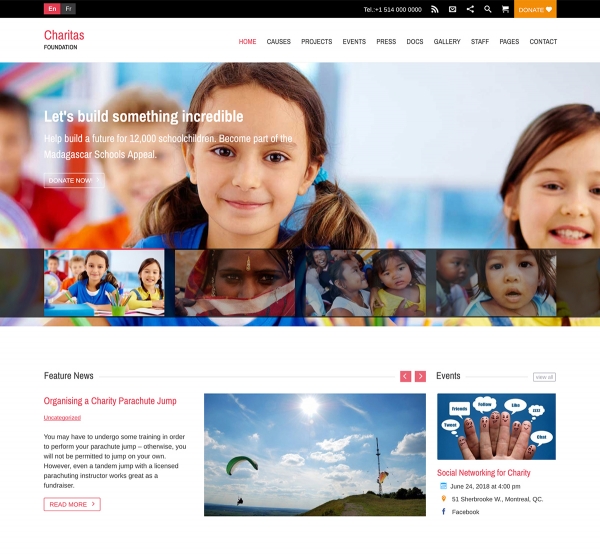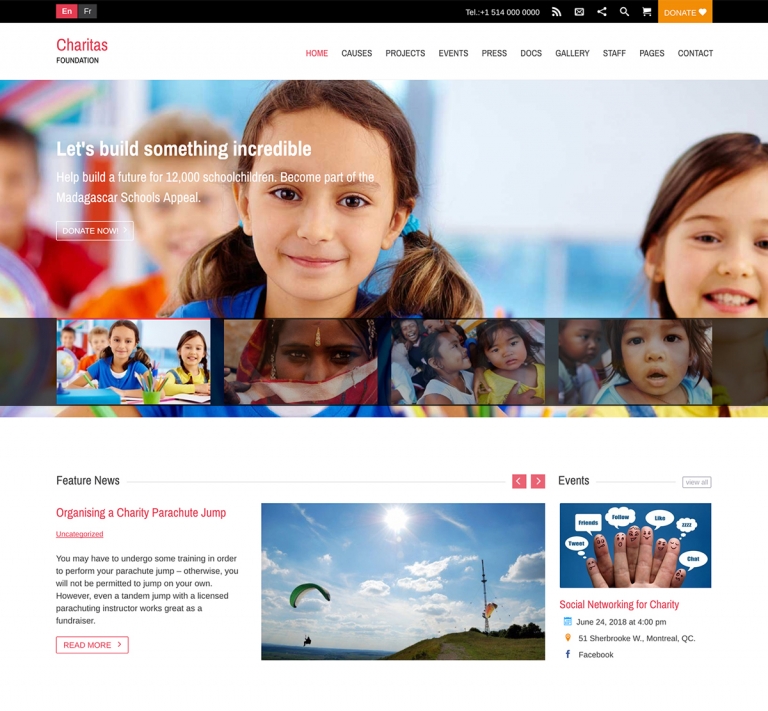 Charitas WordPress Theme
is used by more than 5 000 Non-Profit Organizations
Charitas ships with many amazing features that will enable you to create a unique look and effectively showcase your organization's work and message to the donors. They can then make contributions for any cause online by simply clicking a button, thanks to PayPal integration. Charitas WordPress Theme is highly flexible and customizable, with 7 Custom Post Types and 18 visually stunning Widget Areas available, and more on the way.
The theme is Retina Ready and Fully Responsive, meaning that web visitors will crawl your website without any difficulty on their smartphones, tablets or computers. The great professional design and beautiful gallery in this highly intuitive theme will make your content and messages truly stand out and leave your audience emotionally invested.
Smart Features
What makes the Charitas Theme The Best Nonprofit WordPress Theme:
Extremely Fast
The fastest page load speed for a Nonprofit website; Speed Grade: A90+
Responsive Design
The theme looks awesome at any size and is pleasant to read from any device
Custom Logo
Upload a custom logo that reflects your organization's brand identity
Multilingual Ready
With a multilingual site, you can extend your client reach on a global scale
Clean Code
We use the latest WordPress practices to optimize the theme and the code
Great Support
We offer top-notch, quick and professional support
Child Theme Included
Use the child theme to stay updated on future theme releases
Easy to install
The installation process is quite simple and easy, it takes just about 3 minutes
Custom Share Buttons
Share buttons encourage visitors to share posts and content from your website
Unlimited Color Schemes
The color options keep your site consistent with your brand identity
CPT and Widget ready
Charitas comes with 7 different Types of Posts and 18 Widget areas
Icomoon
The Pixel Perfect Icon Solutions
GDPR Compliant
The theme is GDPR Compliant
Gutenberg Compatible
The Theme is fully compatible with Gutenberg
Publish Documents
You can publish books, flyers, newsletters and annual reports in a stylish format
WooCommerce
Use WooCommerce to turn your website into an online store
Online Donations
Visitors can click a button to make donations. Accept one-time donations via PayPal
Automatic Progress Bar
Automatic Progress Bar for causes after a successful payment is complet
Raise Money
The donation system is the most important part of any Nonprofit website. With Charitas you can turn your website into a fundraising platform for your charitable projects. The progress bar will be your visual dashboard responsible for monitoring your progress. It will allow you to track your donations and give your real-time updates on how far or close you are to achieving your fundraising target. You will receive an update after each successful transaction. Manual entering of donations is also supported in this inherently flexible theme.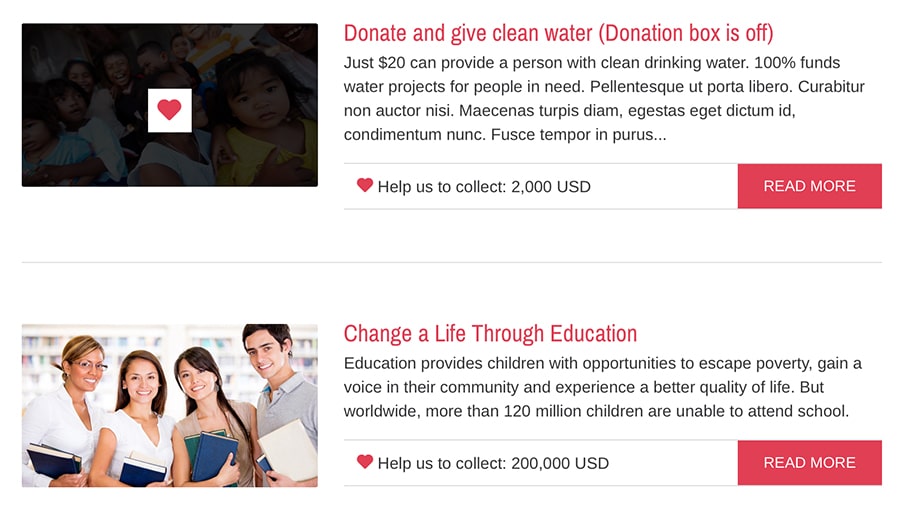 Projects
Donors and Supporters want to know how their money is spent. Charitas will clearly showcase your present and past projects in a convenient and accessible way, all thanks to its clean and well-balanced layout structure. Make use of the ready-made project list to create an overview of all your ongoing and completed projects. You can add more information on each project on individual pages by including vital info like the status of the project, start and end dates. Remember the more details you include on each page, the more functional and resourceful your web resource becomes. Use this feature if you want to see the number of your donors and supporters skyrocket.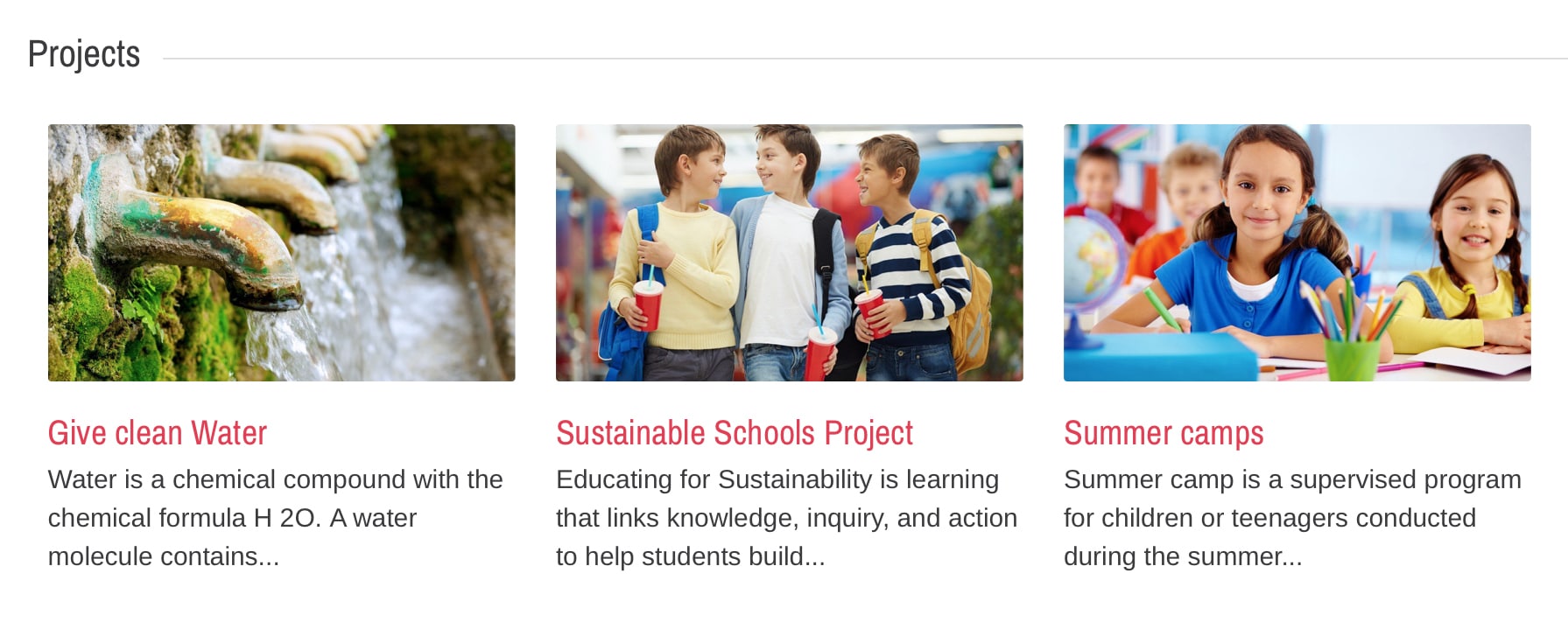 Staff
Your staff is the backbone of your organization. The Staff section of Charitas WordPress theme will enable you to simply display or create different categories to present and promote your team members. The staff categories include positions like Management, Volunteers and Accounting. For accountability and transparency, add your team's contact info including email addresses, phone numbers, social media links and blog URLs.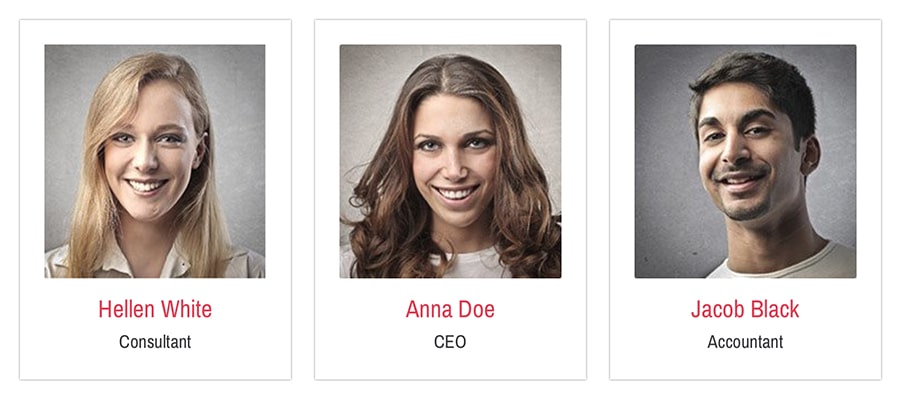 Sell Online
Nonprofit Organizations rely on donors' kindness to operate, but sometimes the financial aid from donors and supporters is not enough to cater to daily operations. Charitas is fully integrated with WooCommerce, the world's leading eCommerce plugin. You can easily setup a beautiful and professional store complete With Product Pages, Shopping Cart, and Checkout and begin Selling Physical and Digital Products directly on your website. WooCommerce will help you handle Payments, Shipping and Inventory. You will also receive reports on customers and products.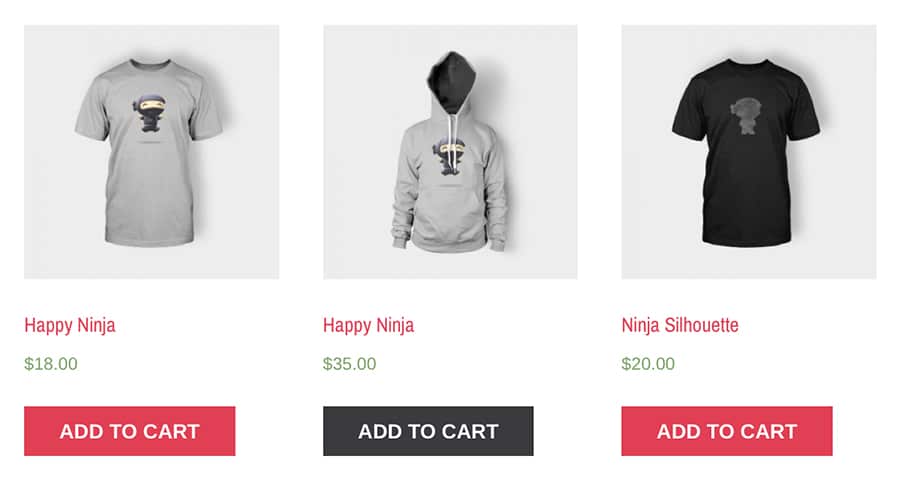 Publish Documents
Best Charity websites need the functionality of displaying documents in a way that will make your Charity or Nonprofit stand out in the sea of similar organizations. Charitas has a heavy focus on publishing documents prominently to showcase your day to-day activities for the members and visitors. You have the ability to publish newsletters, annual reports, books, and flyers in a format of your choice (eBooks, PDFs or .zip files). Whatever the format you prefer, your online visitors will be able to download and share the documents with no hassles.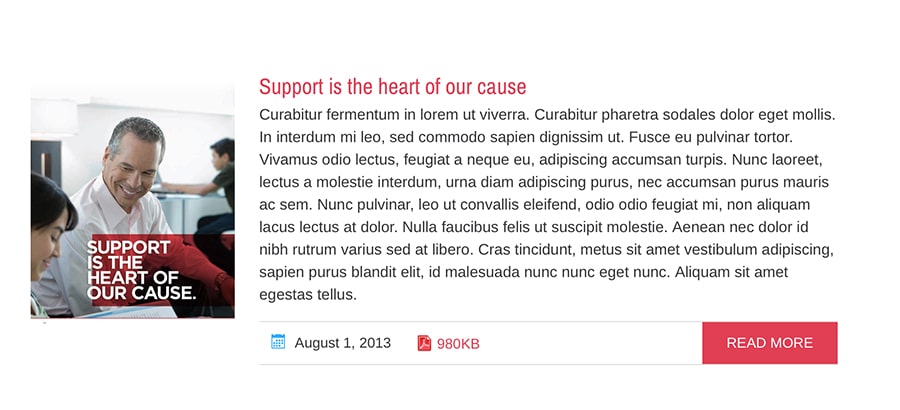 Dashboard Widget
Charitas Dashboard Widget is bundled with graphics and charts display to make it easy for you to get all the information you need at a glance. The dashboard presents you with an overall display of donations you have received for a cohesive branding look. Choose between viewing Top Causes, All Causes or Donation Performance Cause.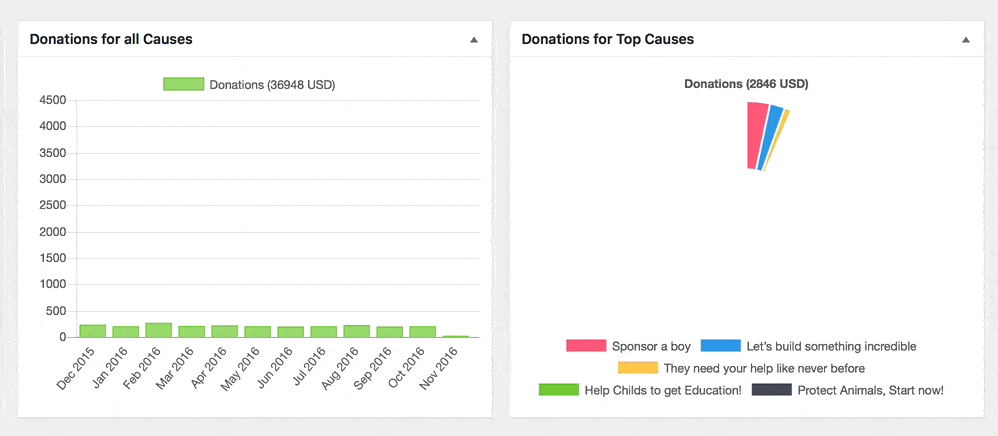 Advanced Theme Options
You can customize Charitas to your own needs and specifications, and preview the changes in real time with Advanced Theme-Specific Customization Options. You will have options that give you never-ending possibilities to create a website that will leave a WOW effect on your audience. Charitas is ready to work right out of the box, and it may be exactly what your Nonprofit or Charity organization website desperately needs! Don't miss out on this resourceful theme, give Charitas a go today!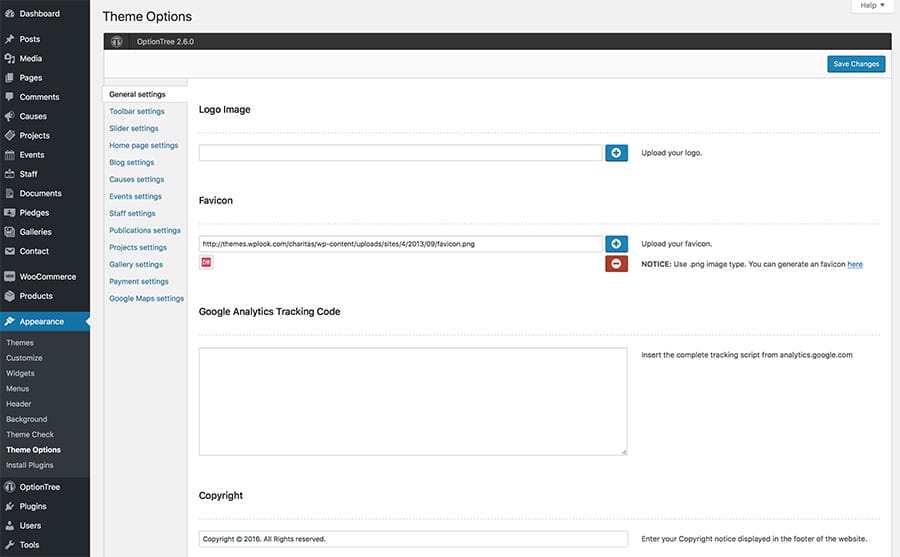 New Gutenberg Editor
The Gutenberg is a whole new way to use WordPress.
Experience the flexibility that blocks will bring. Blocks are a great new tool for building engaging content. With blocks, you can insert, rearrange, and style multimedia content with very little technical knowledge. Instead of using custom code, you can add a block and focus on your content.

Download Our
Free WordPress Themes
Start with our Free WordPress Themes designed to help you build your first blog or Website for your Nonprofit Organization.
Browse our Free Themes