Benevolence WordPress Theme
Benevolence is a Premium WordPress theme thoughtfully designed to assist Churches and Nonprofit Organizations in creating their own professional websites. With its user-friendly features, this theme provides the tools needed to build an effective online presence. Whether you're a church seeking to connect with your congregation or a nonprofit aiming to raise awareness, Benevolence simplifies the process, allowing you to craft a meaningful website that aligns with your goals and values.
Supercharge your site with Benevolence. Optimal speed, updated code, and plugin compatibility guarantee a seamless experience. Elevate your online presence today!
Clean Code
Easy to install
Optimized for speed
Compatible with PHP 8.0+
Top-notch Support included
Child theme Included
Demo Content Included
Responsive Design
Integrated with PayPal
Integrated with Credit Cards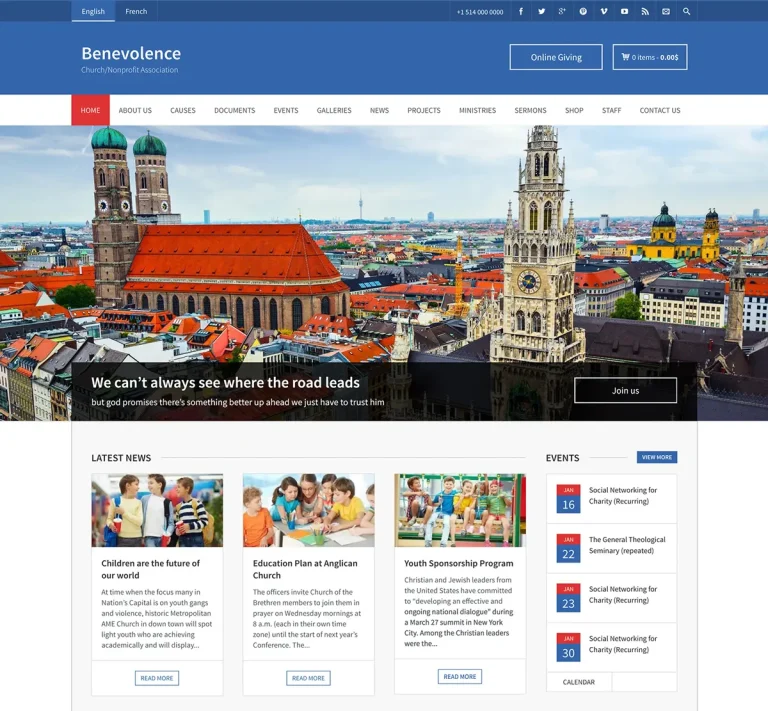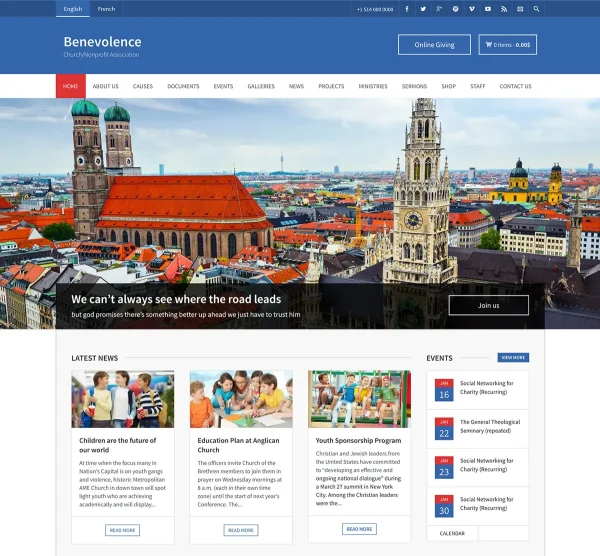 Unlock Your Nonprofit's or Church's Potential with the Benevolence WordPress Theme
Elevate your nonprofit's online presence with the Benevolence WordPress Theme. Crafted for modern functionality and user-friendliness, Benevolence empowers you to effortlessly create an appealing website. Prioritizing user experience, minimalism, and readability, this theme offers 18 widget areas, 11 Custom Post Types, and Unlimited Color Options, all supported by a Child Theme.
Enhance your site's visibility with SEO-friendly, optimized code, ensuring Google and other Search Engines index your church website. Plus, with full responsiveness, Benevolence adapts seamlessly to various devices. Experience a balanced blend of usability and functionality with Benevolence's intuitive back-end features. Additionally, this theme seamlessly integrates with PayPal and Stripe, facilitating online donations for your organization.
Smart Features
What makes the Benevolence WordPress Theme so unique:
Lightning-Fast Performance
Achieve unparalleled speed with an A90+ Speed Grade, delivering the fastest page load times for your Nonprofit website.
Seamless Responsiveness
Experience a visually stunning and readable theme design across all devices, ensuring a delightful user experience.
Distinctive Branding
Effortlessly upload a custom logo that aligns perfectly with your organization's unique brand identity.
Global Outreach
Prepare for global expansion with a multilingual-ready site, extending your client reach beyond borders.
Optimized Codebase
Benefit from cutting-edge WordPress practices, optimizing both the theme and the code for top-notch performance.
Exceptional Support
Enjoy responsive, professional, and prompt support that ensures your experience is seamless.
Future-Proof Child Theme
Stay up-to-date with theme releases by using the included child theme for effortless updates.
Effortless Installation
Simplify the setup process with an intuitive installation that takes just around 3 minutes.
Engaging Shareability
Encourage social engagement with custom share buttons that facilitate content sharing from your website.
Dynamic Color Schemes
Customize your site's color palette to stay in harmony with your brand identity.
CPT and Widget ready
Benefit from 11 Types of Posts and 18 Widget areas, providing a wealth of content presentation options.
Pixel Perfect Icons
Experience the precision of Pixel Perfect Icon Solutions with FontAwesome integration.
Privacy-Conscious Design
Ensure GDPR compliance with a theme that aligns with privacy regulations.
Gutenberg Harmony
Experience full compatibility with the Gutenberg editor, streamlining content creation.
Streamlined Event Management
Easily manage recurring events with the convenience of automatic repetition.
Google Calendar Integration
Sync your Google Calendar Events directly onto your website for easy access.
Elegant Document Publishing
Present books, flyers, newsletters, and annual reports with style and elegance.
Elevated eCommerce
Harness the power of WooCommerce to transform your website into a robust online store.
Simplified Donations
Empower visitors to contribute effortlessly with one-time donations at the click of a button.
Flexible Giving Options
Offer donors the choice of one-time, weekly, or monthly recurring donations.
Visualize Progres
Witness causes thrive with an automatic progress bar after successful payments.
Seamless Fundraising
Effortlessly collect donations through PayPal and Stripe integration, serving as the ultimate fundraising tool.
Empower Fundraising Efforts
Benevolence empowers your website to become a dynamic fundraising hub for charitable projects. Effortlessly create compelling donation campaigns to amplify your funds. Visualize progress through an intuitive progress bar that tracks donations, ensuring you're always connected to your fundraising goals. Receive instant notifications for each successful transaction, staying in the loop with your supporters. Beyond that, the theme provides the flexibility to manually input donations, giving you complete control over the process.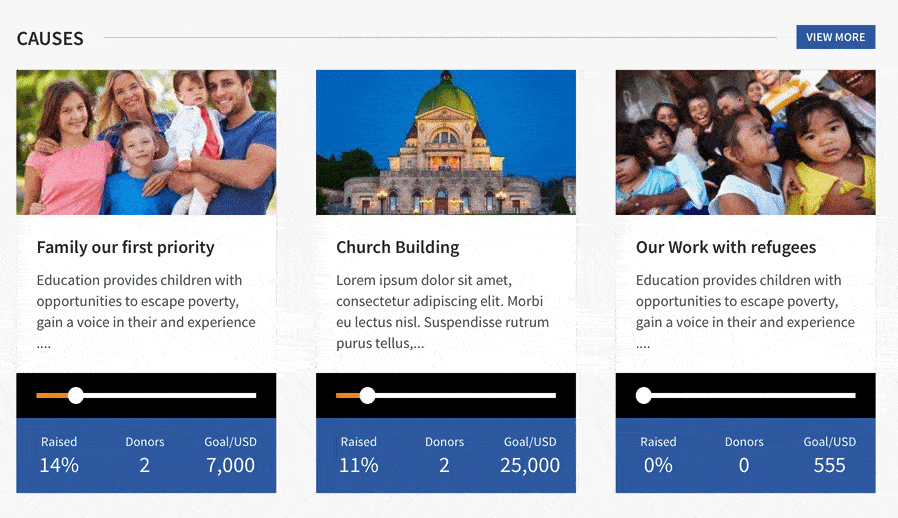 Project Showcase: Share Your Journey
With the Benevolence theme, effortlessly showcase your ongoing and past projects in an accessible manner. Utilize a user-friendly project list or grid to offer a comprehensive view of your endeavors. Delve deeper into each project's specifics on dedicated individual project pages. Seamlessly organize projects by status, and highlight their respective start and end dates to keep your audience informed. Illuminate your journey of positive impact with a streamlined presentation of your initiatives.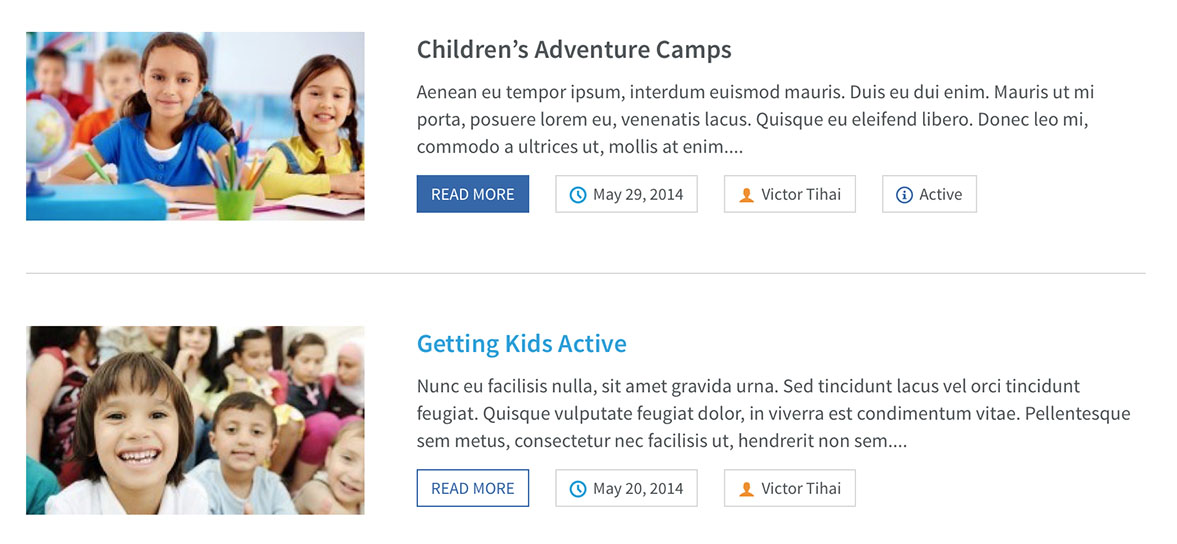 Unveil Your Team: The Heartbeat Behind Your Mission
Your dedicated team forms the cornerstone of your organization. Within this exquisite church WordPress theme, the Staff section provides a platform to introduce your remarkable individuals to your visitors. Present your staff collectively or categorize them as Executive Staff, Board Members, and Volunteers. Highlight their roles and share their contact details, including Phone Numbers, Blog URLs, Email Addresses, and Social Media Links. Together, we proudly showcase the beating heart of our organization.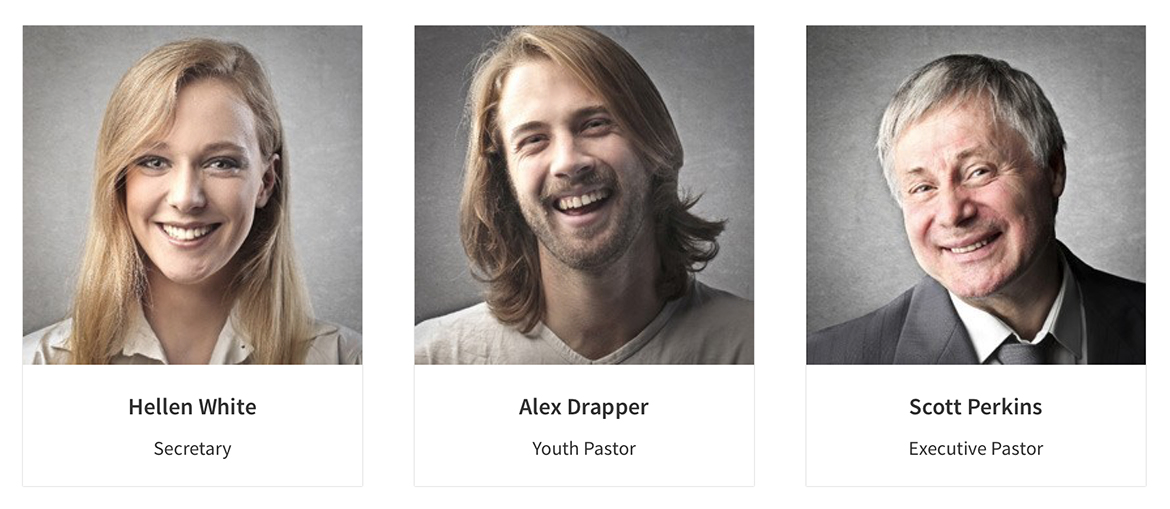 Engage with Consistency: Recurring Events Made Easy
Within the Benevolence theme lies an Event Manager section, designed to highlight categories and upcoming events that keep your followers informed. Experience a dynamic way to share your organization's events effortlessly. Benevolence streamlines your efforts by allowing you to post recurring events with a single input. These events can automatically repeat daily or weekly, freeing you from repetitive tasks. Visitors can conveniently access your complete event history, both past and upcoming, presented in a clear, easy-to-follow format or a convenient calendar view. Make engagement a constant rhythm with Benevolence's Recurring Events feature.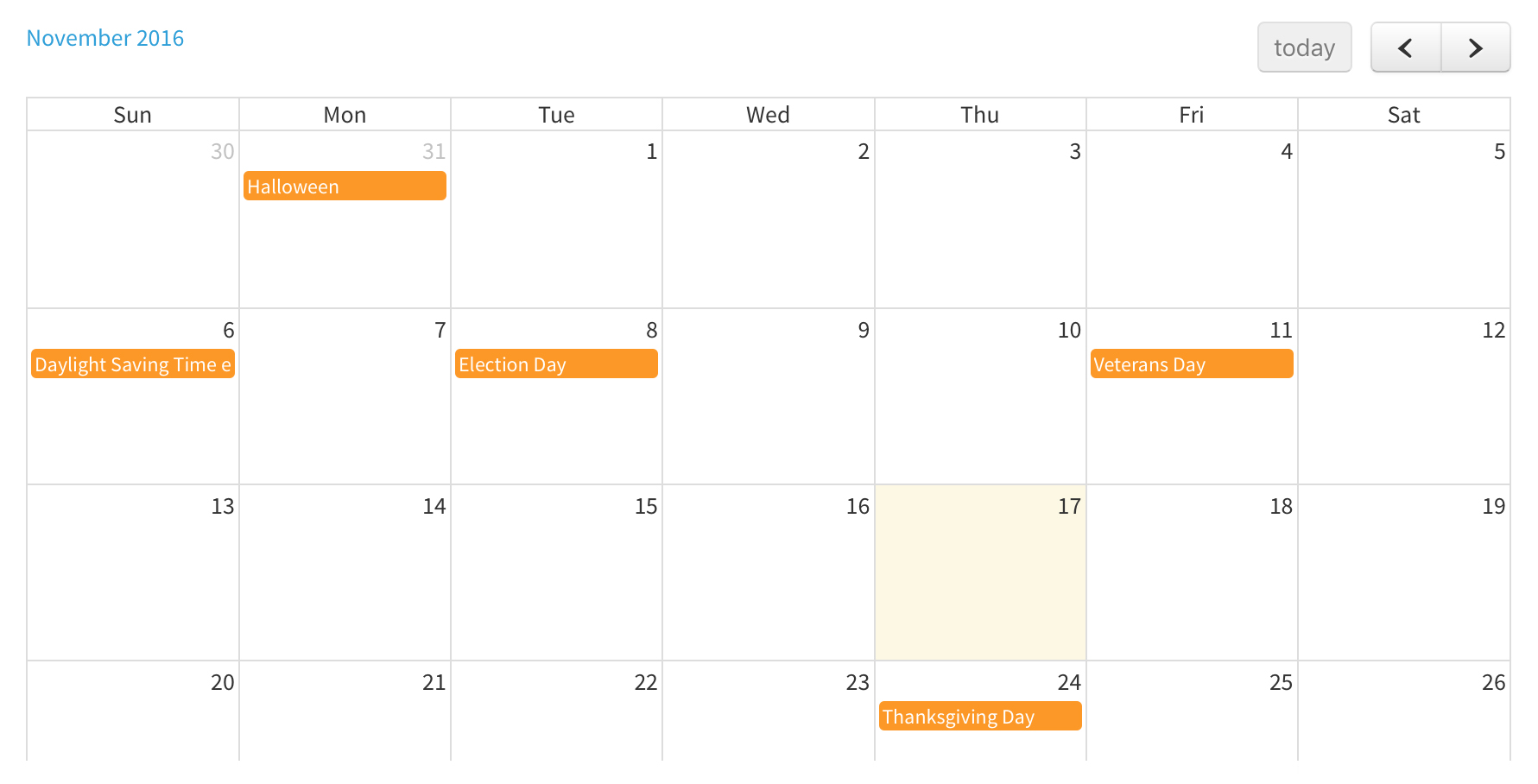 Share Vital Documents: Empower Your Message
Empower your mission by sharing crucial documents through your church website. The ability to publish Books, Newsletters, Flyers, and Annual Reports sends a clear message to your audience, encouraging action and fostering engagement. Benevolence provides a versatile platform to publish these materials in formats like .zip files, eBooks, and PDFs. This accessibility ensures that your valuable communications and ideas can reach a wider audience, enabling your visitors to conveniently share these documents directly from your website. Strengthen your mission's impact through transparent and accessible document sharing with this theme.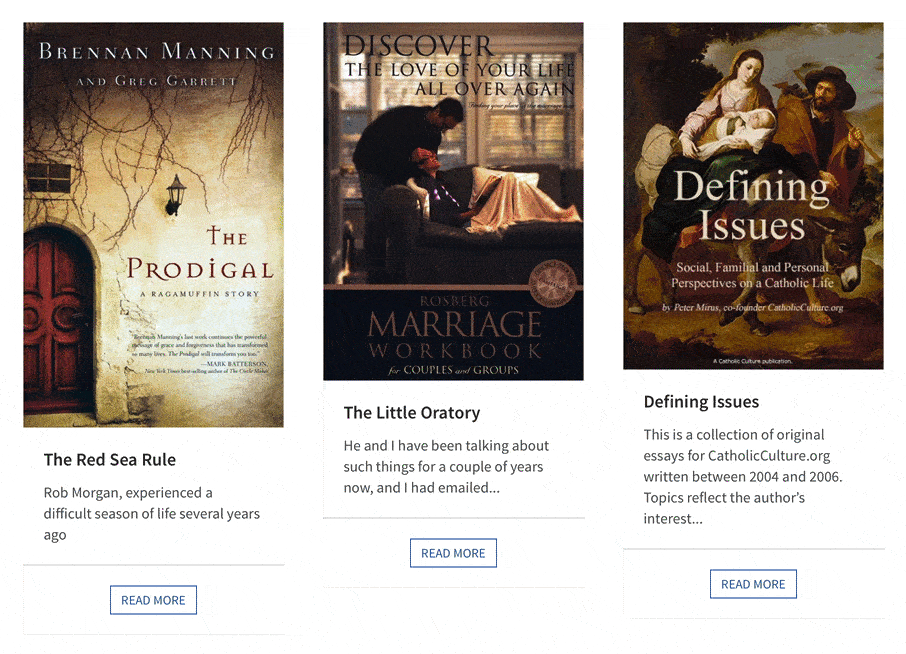 Elevate Spiritual Connection: Seamlessly Manage Sermons
Experience the power of seamless sermon management with the Benevolence theme. This built-in section enables you to effortlessly upload sermons in various formats, including documents, audio, and video. Sermons are a dynamic means to connect with your audience. Showcase them effectively in list or grid formats, thoughtfully categorized for visitor-friendly navigation. Organize sermons by speaker, date, and category, enhancing accessibility and user experience. Benevolence empowers you to facilitate profound spiritual connections through accessible, organized sermon sharing.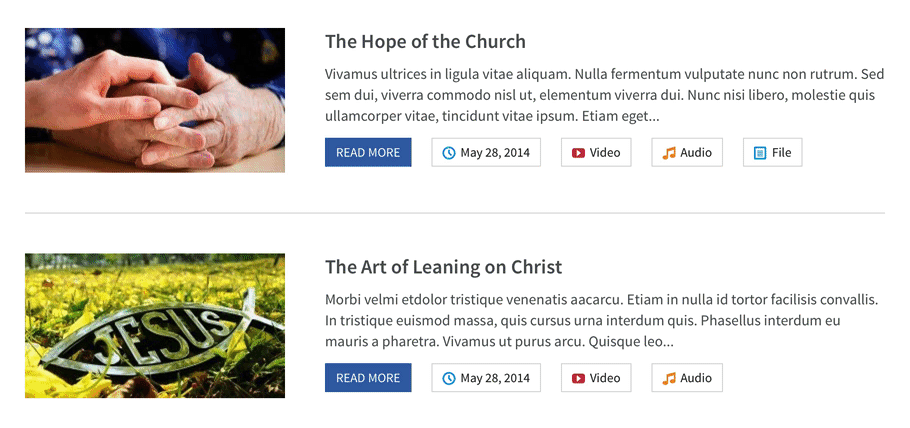 Unleash Possibilities: Seamlessly Start Your Online Store
Harness the potential of the Benevolence WordPress theme with its seamless integration of WooCommerce. Transform your website into a thriving online store, enabling you to sell a wide array of physical and digital products. Fuel your projects and causes by offering your envisioned products for sale. With WooCommerce, effortlessly manage eCommerce intricacies, from Payments and Shipments to Inventory. Gain valuable insights with detailed reports on products and customers, enhancing your store's efficiency. Empower your cause with Benevolence's WooCommerce compatibility, turning your website into a hub for positive change.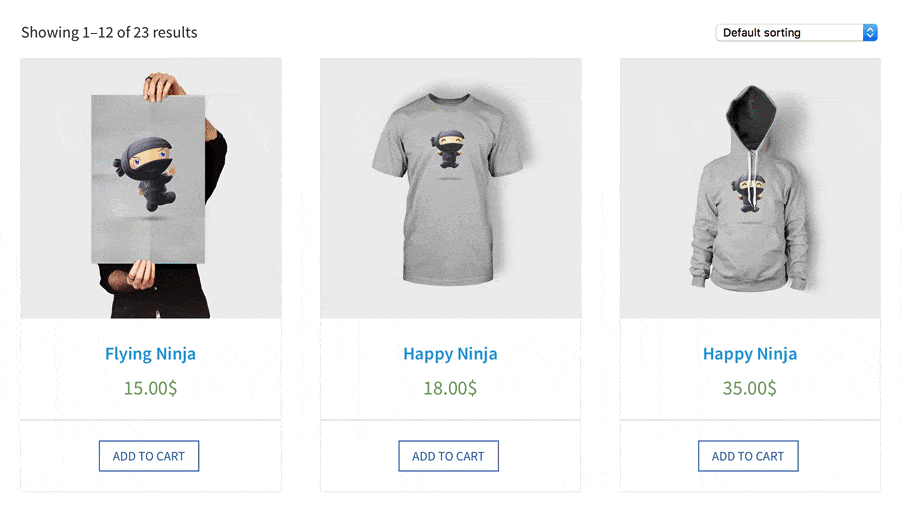 Centralized Insights: Your Donations, Visualized
Navigate your church's financial landscape effortlessly with the Dashboard Widget feature. Benevolence's backend dashboard offers a comprehensive overview of donations through engaging Charts and Graphics, presenting donation statistics in a clear and creative manner. Gain quick access to vital insights such as Top Causes, All Causes, and Donation Performance by Cause. Streamline your understanding of donations and their impact through a visual journey, enhancing your organization's financial transparency and decision-making.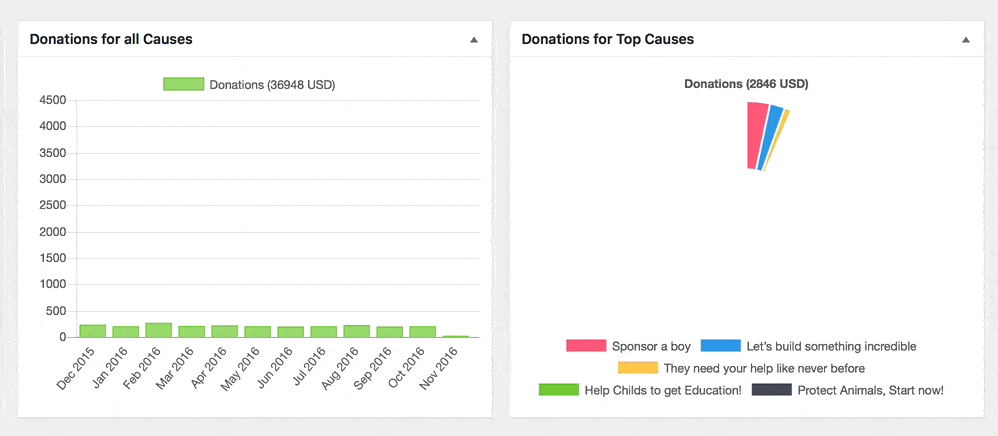 Unleash Your Creativity: Advanced Theme Customization
Experience boundless creativity with Benevolence's Advanced Theme Options. Tailor your website precisely to your vision with a wealth of customizable features. Craft your online presence effortlessly by selecting from a variety of page layouts, meticulously designed to cater to non-profit and church-specific needs. Highlight essential elements such as Causes, Events, Galleries, Staff, Sermons, Ministries, and Projects, all meticulously crafted to align seamlessly with your organization's ethos. Elevate your website's unique identity with Benevolence's advanced customization tools, empowering you to create a truly exceptional online experience.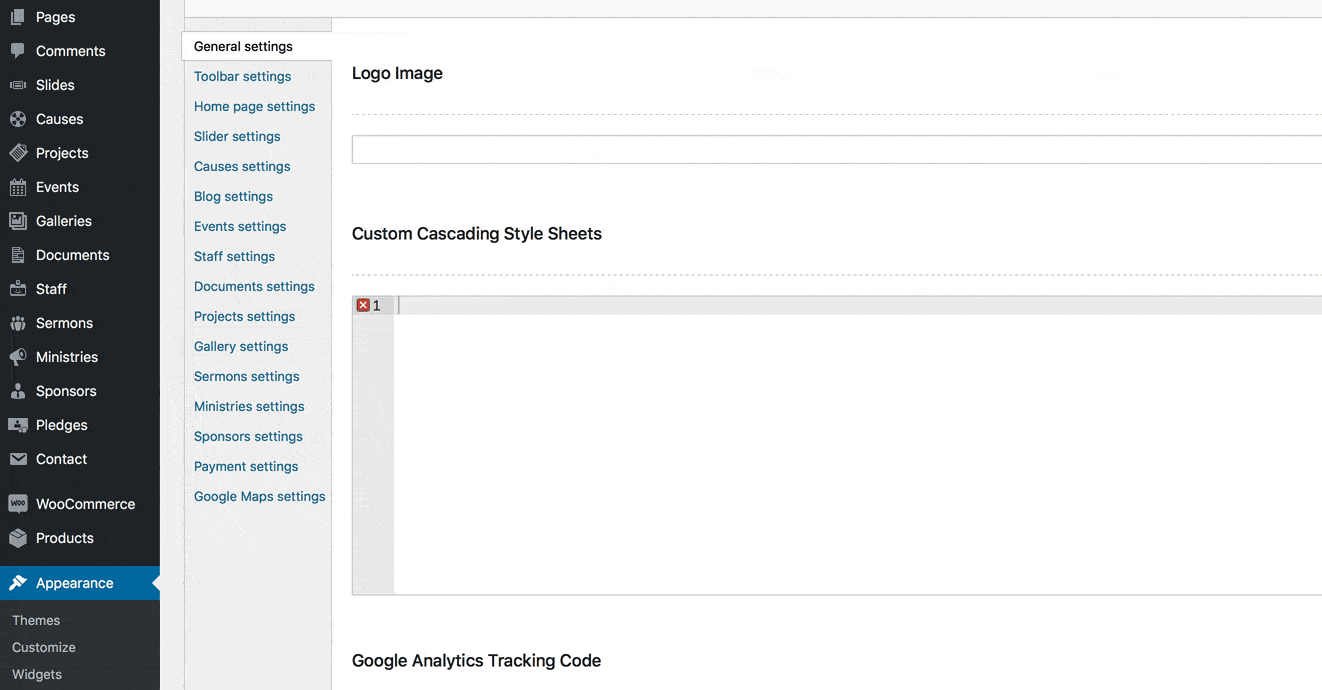 Discover the Gutenberg Revolution: Redefining WordPress
Unlock Unparalleled Flexibility
Embrace a transformative WordPress experience with the New Gutenberg Editor. This revolutionary approach shifts how you interact with WordPress. Dive into the world of blocks, a powerful tool that revolutionizes content creation. Seamlessly insert, rearrange, and style multimedia content with minimal technical expertise. Say goodbye to complex custom code – instead, effortlessly add blocks and immerse yourself in crafting engaging content. Embrace a new era of streamlined content creation with the Gutenberg Editor.

Elevate Your Online Presence with Our Free WordPress Themes
Craft Your Debut Blog or Nonprofit Website with Our Complimentary Themes!
Discover Free Themes