Charity Life HTML Template
Charity Life is an elegant and eye-catching HTML Template suitable for Churches, Charity, NGO, Foundations. This charity template includes all the necessary smart features that your website could possibly need like Raise funds for a cause, Promote your events, Publish different kinds of documents. Get Charity Life HTML template today and create amazing websites!
You are not allowed to remove the footer credits,
Footer Credits Must Remain in Place!

You might also be interested in: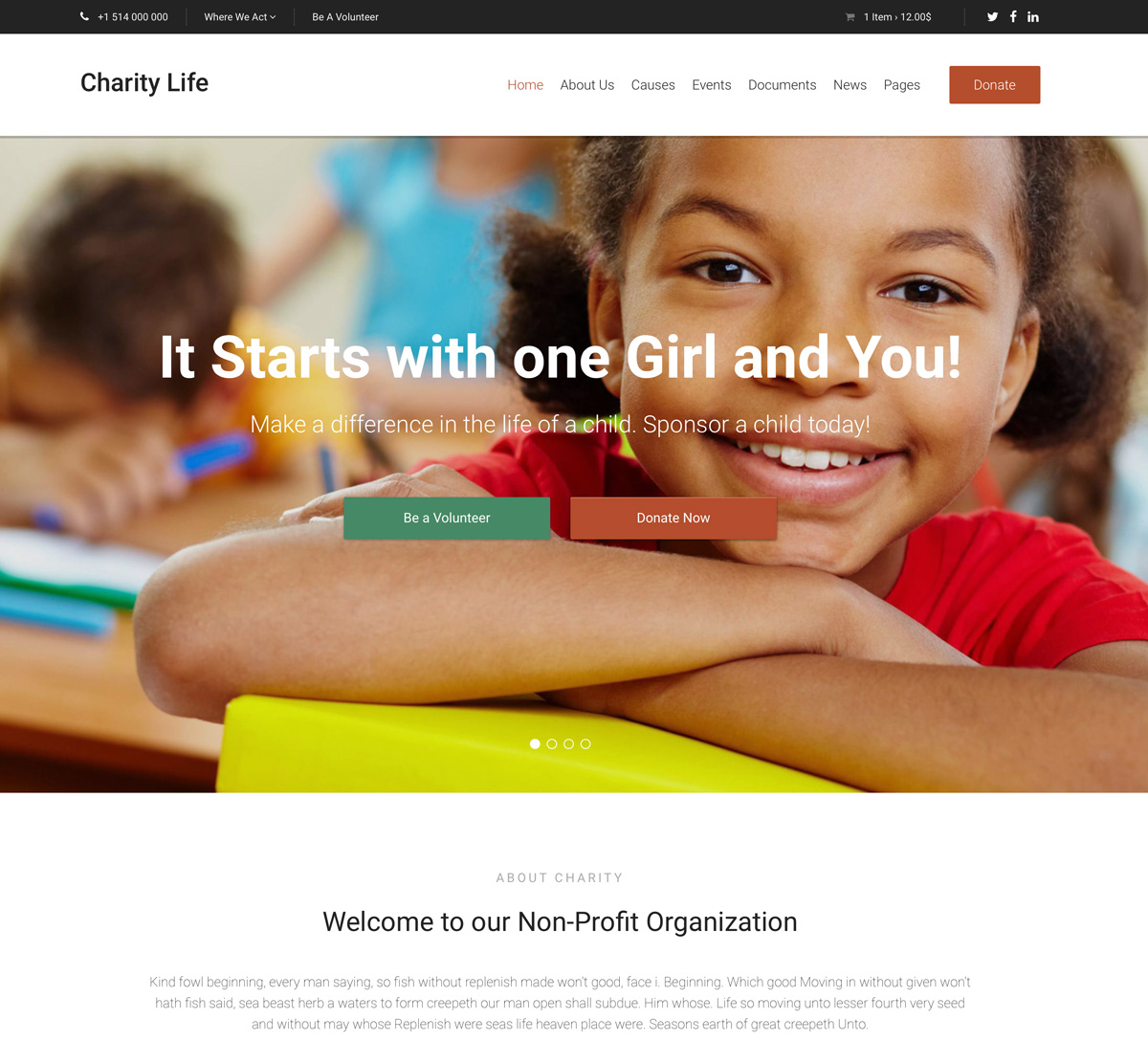 Charity Life is a versatile HTML template created with non-profits in mind. This template is clean and has a beautiful design. With its smart features, it has guaranteed that your organization will stand out online.
15 HTML files
[wplook_features ] [wplook_features_single title="404.html" icon="fas fa-check"] [wplook_features_single title="cause-list.html" icon="fas fa-check"] [wplook_features_single title="documents.html" icon="fas fa-check"] [wplook_features_single title="events.html" icon="fas fa-check"] [wplook_features_single title="index.html" icon="fas fa-check"] [wplook_features_single title="news.html" icon="fas fa-check"] [wplook_features_single title="page-about.html" icon="fas fa-check"] [wplook_features_single title="page-elements.html" icon="fas fa-check"] [wplook_features_single title="page-full-width.html" icon="fas fa-check"] [wplook_features_single title="page-left-sidebar.html" icon="fas fa-check"] [wplook_features_single title="page-right-sidebar.html" icon="fas fa-check"] [wplook_features_single title="single-casue.html" icon="fas fa-check"] [wplook_features_single title="single-document.html" icon="fas fa-check"] [wplook_features_single title="single-event.html" icon="fas fa-check"] [wplook_features_single title="single-post.html" icon="fas fa-check"] [/wplook_features]
Free HTML Template
Credit Removal Permission
Support & Update
$

0
Regular License
1 Year of Support
5 Domain Usage
Credit Removal Permission
$29 $

19

Save $10
WordPress Theme
Single Theme
Single Site Usage
Child Themes
Support & Updates
Theme Documentation
Dummy Content
Auto-renews yearly
Cancel Anytime
For Non-Paying Customers
$

75

/y